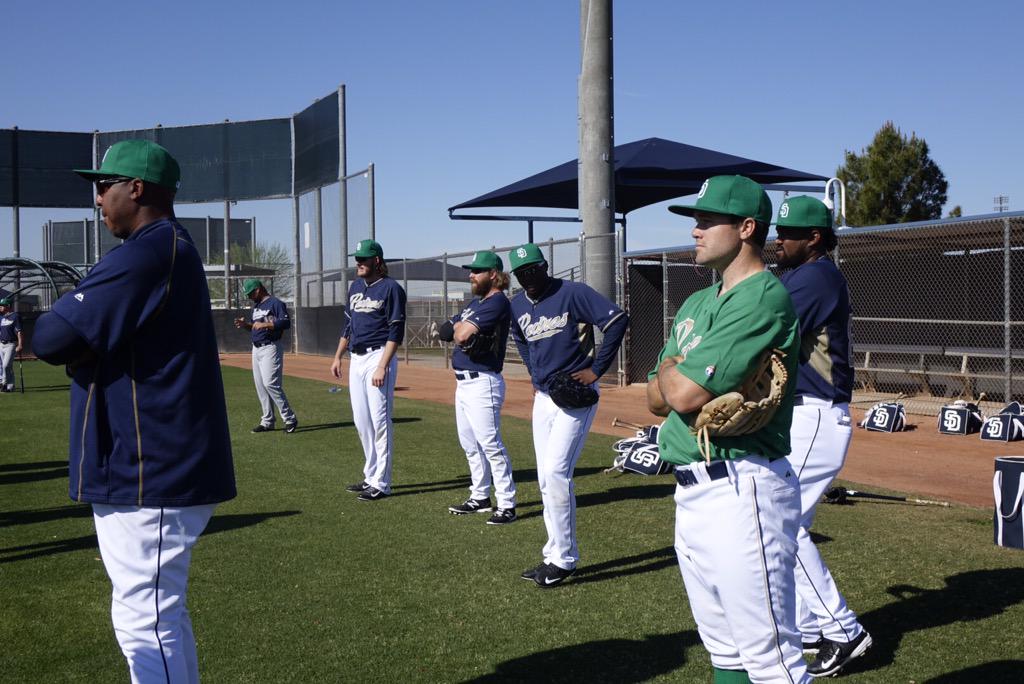 Click to enlarge
Lots of green for St. Patrick's Day yesterday, but by far the best development was at Padres camp, where everyone wore green caps — except for pitcher Dennis O'Grady, who celebrated his Irish heritage by adding a green jersey and green socks to the mix (see above). Kudos to him and to the Padres equipment staff for this maneuver.
The other MLB teams fell into one of two categories. First were the teams that wore green caps:
Astros and Pirates rocking the #StPaddysDay hats. pic.twitter.com/kjefxZSEHX

— Julia Morales (@JuliaMoralesRS) March 17, 2015
Snap-backs in kelly green for the #Braves at @FenwaySouth today. #StPaddysDay #LoveFL @PhilHecken @UniWatch pic.twitter.com/LjcsmbDdN6

— Mike Nessen (@miken623) March 17, 2015
Today's lineup against the Padres in Peoria. First pitch 3:05 CT on @fswisconsin. Webcast: https://t.co/4DI0F6ETck. 🍀 pic.twitter.com/t43LtJFRRA

— Milwaukee Brewers (@Brewers) March 17, 2015
Looks like the @Dbacks will be sportin' the green caps today pic.twitter.com/tGOmI02Lo4 (via @ArchieBradley7 @Dbacks)

— Phil Hecken (@PhilHecken) March 17, 2015
Green caps today. #🍀 #DodgersST pic.twitter.com/bOY5GjEJfV

— Los Angeles Dodgers (@Dodgers) March 17, 2015
— SportsNet New York (@SNYtv) March 17, 2015
Baltimore @Orioles green caps for today's game (pic from @EddieInTheYard) pic.twitter.com/Cvw2Sk456V

— Chris Creamer (@sportslogosnet) March 17, 2015
We're wearing green today! 🍀 We have these three signed caps & we're giving them away! #PiratesSTPatricksDay pic.twitter.com/T11yyp3Xlr

— Pittsburgh Pirates (@Pirates) March 17, 2015
No #MLB logos on the back of the @Rockies #StPaddysDay caps. 🍀 @PhilHecken @UniWatch @sportslogosnet pic.twitter.com/m3JicgP8GT

— Mike Nessen (@miken623) March 17, 2015
Catcher work. #SoxSpringTraining pic.twitter.com/RGMKVVGs1D

— Chicago White Sox (@whitesox) March 17, 2015
Let's do this. PLAY BALL! #RedsSpring pic.twitter.com/ZhhN3GY0tk

— Cincinnati Reds (@Reds) March 17, 2015
Happy St Patrick's Day Everyone / El Corillo Activo @SFGiants @Los_Gigantes !!! pic.twitter.com/nOMJepEqUJ

— Ehire Adrianza (@Ehire21) March 17, 2015
#CurlyW: @stras37 was sharp & the #Nats' bats got to Justin Verlander in 6-4 win over #Tigers: https://t.co/9tlAWTBTl0 pic.twitter.com/XD9D4AeYDU

— Washington Nationals (@Nationals) March 17, 2015
.@HammelTime39 solid as #Cubs win for fifth time in six games. Recap: https://t.co/2uPP0i18zI pic.twitter.com/n1bdGBRDT2

— Chicago Cubs (@Cubs) March 18, 2015
Then there were the teams that went the extra mile by wearing green jerseys along with their green caps:
Cardinals warming up prior to today's game vs. Miami. pic.twitter.com/saXEQBl7US

— St. Louis Cardinals (@Cardinals) March 17, 2015
Happy #StPatricksDay! As tradition #Phils wear their Kelly green jerseys & hats, started by the great Tug McGraw. pic.twitter.com/RbWWPOnDnn

— Phillies (@Phillies) March 17, 2015
The Green Sox take the field! #SoxSpring 🍀 pic.twitter.com/gQQ0G9vNjN

— Boston Red Sox (@RedSox) March 17, 2015
"@Swanee54: The uni's that will be worn today vs. the Cubs in Mesa. pic.twitter.com/BPKe8EF0Ax" @UniWatch

— Leigh Bellinger (@Gunnerleigh) March 17, 2015
Green jerseys in Florida. Green grass in Detroit! Happy St. Patrick's Day! 🍀 pic.twitter.com/UX7gG29Dvx

— Detroit Tigers (@tigers) March 17, 2015
Some additional notes: The Tigers put shamrocks behind the batter's boxes. "¦ The bases at many of the games were either green or shamrock-stamped, but I didn't keep track of all of those. "¦ The New Balance-sponsored players on the Mets wore white cleats with green trim. "¦ For reasons that aren't clear to me, the Nats also wore green caps on March 16. "¦ Teams that couldn't be bothered to wear any green included the Angels, Blue Jays, Indians, Mariners, Marlins, Rangers, Rays, Twins, and Yankees. "¦ And then of course there were the A's, who wore green because that's what they always wear.
Of course, MLB teams weren't the only ones wearing green yesterday. Here are some teams in other sports and leagues that used their uniforms to mark the holiday (I'm sure this list is incomplete, but it at least gives you an idea of what was going on):
College baseball: Furman (green jerseys), Mississippi (green caps), Mississippi State (green-trimed uniforms), TCU (green caps), Texas Tech (green caps and green sannies), Virginia Tech (green caps, undersleeves, and socks).
NHL: Blackhawks (green warm-up jerseys), Bruins (green warm-up jerseys with a Gaelic-style name/number font), Canucks (green warm-up jerseys with NOBs and numbers honoring the late Pat "The Big Irishman" Quinn), Devils (green-trimmed throwbacks), Flames (green warm-up jerseys), Penguins (leprechaun-themed Twitter avatar), Predators (green warm-up jerseys).
Minor league and junior hockey: Kalamazoo Wings (green ice), Orlando Solar Bears (green jerseys), Regina Pats (green jerseys, with "St." added to the team name).
NBA: Nothin'. Surprising, given that the Knicks, Bulls, and others have worn green in the past.
College lacrosse: Hofstra (beeYOOteeful green helmets).
There's another group of people who wore green unis yesterday: Uni Watch readers, several of whom sent me photos of themselves wearing the Uni Watch T-Shirt Club's March design (if you can't see the slideshow below, click here):
Finally, uni designer/historian Todd Radom has written an excellent piece on the history of teams wearing green. Highly recommended.
(My thanks to all contributors, including Jesse Agler, Tony Anderson, Andrew Cosentino, Drew Gardner, Brinke Guthrie, Aaron McHargue, Jerrod Wheeler, Jim Wooley, and of course Phil.)
•  •  •  •  •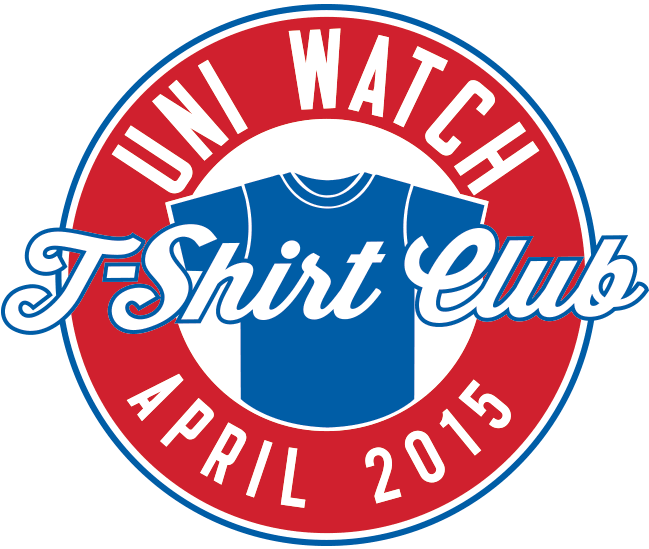 T-Shirt Club reminder: The Uni Watch T-Shirt Club design for April, inspired by Jackie Robinson Day, is now available, with all of my profits going to the Jackie Robinson Foundation. Full details here, or just go straight to the ordering page.
We had our biggest ever one-day sales figure yesterday — thanks to everyone who got on board.
• • • • •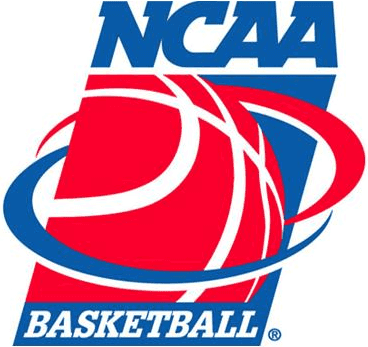 NCAA bracket contest: In case you missed it yesterday, intern Mike Chamernik has set up our annual NCAA bracket contest. To enter, go here and use the password Uni15Watch. If that first group maxes out on the number of entrants, here's a second pool (same password).
Scoring will be as follows: 1 point for a correct pick in the 1st round, 2 for the second round, 4 for the third, 8 for the fourth, 16 for Final Four games, and 32 for the title game. The winner will win a prize from my freebie bag.
• • • • •

Baseball News: St. Pius X High School in Houston has an "SPX" chest insignia that's basically a White Sox rip-off (from Zach Williams). "¦ No photo, but a note on this page indicates that the Marlins have a new team plane that will carry the team's logo. "¦ New bat knob decals for the Biloxi Shuckers. "¦ Awesome find by Todd Radom, who appears to have unearthed the spiritual forefather of Mr. Met, Mr. Redlegs, and all other baseball-headed cartoon mascots. "¦ Reds 1B/OF Donald Lutz has new bat knob decals that celebrate his German-American heritage. "¦ The Braves announced a new deal with Comcast by posing with jerseys with red NOB lettering, instead of their usual blue (from T.J. Sigler). "¦ What might be the biggest jersey ever, worn by someone from a "Fat Men's" team, was recently featured on Antiques Roadshow (from Patrick O'Neill). "¦ No photo, but I noticed during yesterday's Mets/Marlins game that Marlins OF Reed Johnson, who's worn stirrups for pretty much his entire career, was wearing solid socks instead. Hope that's just a spring thing. "¦ Ridiculous new "Red Storm" uniforms for St. John's. "¦ A Pirates spokesman has confirmed for me that the team's matte black helmets, which have been worn during spring training, will be retained for the regular season. Not sure I'd want every team to do this, but I really like how it looks for the Buccos. "¦ The South Pointe High School Stallions, from South Carolina, have this weird Denver Broncos-ish logo, which appears above their back uni numbers. Looks more like an abstract smudge (from Craig Lucas). "¦ New red jerseys for Louisiana Tech. "¦ The Yankees got a bit mixed up between their BP caps and game caps last night. "¦ Ernie Banks will be featured on the Cubs' tickets for Opening Day.

NFL News: A TV commercial currently airing in Pittsburgh features former Steelers RBs Rocky Bleier and Jerome Bettis wearing Steelers jerseys — Bleier's made by Reebok, Bettis's by Nike. "¦ "I am a fan of 'skin tear' tattoos, which show the skin "tearing" to reveal a graphic underneath," says Joseph Gerard. "So I decided to get a skin tear on my upper left arm with the Steelers' sleeve striping revealed 'underneath' the skin."

College Football News: Jon Gruden had some choice words for Oregon's neon uniforms — while wearing a neon shirt. "¦ How awesome is this: unicyclists in full football uniforms!

Hockey News: The Red Wings practiced yesterday at Joe Louis Arena, where the ice had been outfitted for the Big 10 hockey tournament. "¦ Here's another case of an NHL player wearing a football facemask. Not sure who that Stars player was, though. Anyone..?

NBA News: As you know, Adidas announced on Monday morning that it won't seek to renew its apparel contract with the NBA. But word I'm hearing through the grapevine is that the league wasn't thrilled with Adidas and was planning to solicit bids from rival suppliers. So Adidas's announcement was apparently a pre-emptive move to save face — sort of a "You can't fire me, I quit!" thing. "¦ Rapper 2 Chainz, who's from Georgia and is a big Hawks fan, now has his own Hawks jersey T-shirt (from @holycalamity). "¦ The Raptors' purple dinosaur throwback is a top seller (thanks, Phil).

College and High School Hoops News: "Former Michigan basketball player Jordan Morgan recently Instagrammed a Throwback Thursday photo of himself playing basketball as a kid. "Check out Michael Jordan's jersey on the backboard," notes Michael Hersch. "¦ Here's a breakdown of the NCAA tournament teams by uniform manufacturer. "¦ Lowell High School apparently had at least two players with triple-digit uni numbers back in 1956 (from Joe Lovallo).

Soccer News: NYC FC sold out of scarves at their home opener. "¦ Here's the ball design for the 2015-16 Champions League finale. "¦ "I saw this image promoting MLS on Sky Sports," says Todd Richard. "They clearly Photoshopped Robbie Keane's jersey onto Steven Gerrard. MLS clubs aren't wearing the American flag patch anymore, and it is missing the fifth star above the crest, so Gerrard will never actually wear that Galaxy shirt."

Grab Bag: Another cricket player is trying out that new helmet attachment thingie. "¦ This is fascinating: The ad exec who came up Nike's "Just do it" slogan was inspired by firing squad victim Gary Gilmore's last words (from @SoCalMindset). "¦ Mark Willis, who I interviewed two years ago in the wake of his excellent soccer/baseball hybrid jersey project, has a great new project: state-themed T-shirts. He's done five of them so far, with five more in the works. Really nice stuff. "¦ "I recently entered a sock design contest over at Sock 101," says Thomas Qualls. "They just posted the finalists, and my tequila sunrise design made the cut." Let's give the lad some votes, shall we? "¦ Here's a video showing 75 years' worth of Delta Airlines flight attendant uniforms. "¦ Under Armour has quietly been enmeshing itself into the fabric of Baltimore's civic and governmental culture, the latest example of which is that the company is giving UA boots to Baltimore firemen (thanks, Phil). "¦ Nike has filed a motion to dismiss the lawsuit filed by a photographer who claims that the company's Jumpman logo was taken from one of his photos (from Andrew Cosentino). "¦ A Pennsylvania high school has to change its school crest because it included the Olympic rings. The International Olympic Committee put the kibosh on that (from Brian C.).