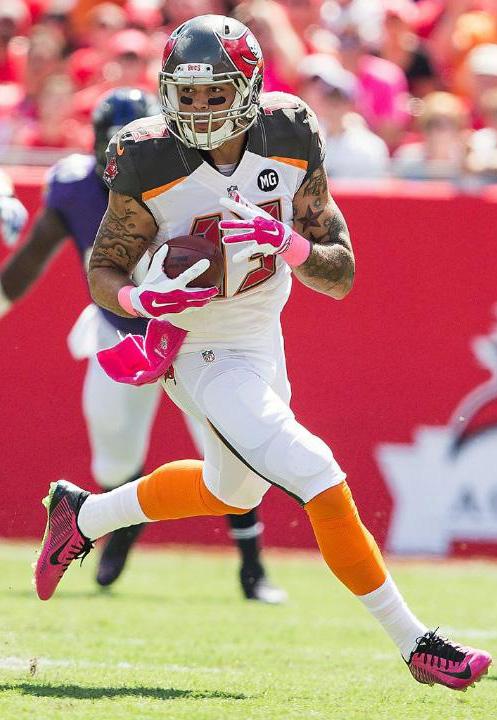 Notice anything different about the Bucs yesterday? Before you say, "Nah — they looked like shit and played even worse, as usual," take another look at their socks. First time they've worn orange hose with the new unis! They had previously paired the white pants with the dark-pewter socks. In fact, the orange socks weren't even shown during the unveiling back in March (although it was mentioned that they'd be part of the wardrobe). And keep in mind that there's also a set of red socks that they wore two weeks ago. Anyway: Lots of additional photos from yesterday's orange-socked game are available here.
In other news from around the NFL yesterday:
• Speaking of orange, the Bengals wore their orange alternates for the first time this season.
• The Eagles, still waiting for those geniuses at Nike to figure out how to manufacture a fucking green jersey already, made good on their threat to go black over black for the first time in team history. But let the record show it could've been worse: Not a Pinktober accessory in sight. Lots of additional photos here.
• In a related item, the Eagles did manage to wear green jerseys for their Sunday Night Football intro shots. Retail replicas, presumably.
• What's worse that Pinktober or G.I. Joe? Pinktober and G.I. Joe, as exemplified yesterday by Packers cornerback Tramon Williams.
• From that same game: Dolphins linebacker Koa Misi apparently had a helmet-to-helmet hit and ended up with some Packers helmet paint on his own helmet.
• One more from that game: Dolphins free safety Louis Delmas was wearing Nike Magista soccer shoes.
• Looks like Bills running back Fred Jackson's captaincy patch was coming loose.
• At one point the Cowboys sideline featured a cluster of players wearing three different sideline caps.
• This trend of the Bears' players modifying their socks so that the stripes end up down at their ankles needs to stop. Like, yesterday. Interestingly, when I tweeted that photo yesterday, a surprising number of people immediately said they liked it. Morons, I tells ya. (Fortunately, some players still wear the stripes at the proper calf level.)
• Speaking of the Bears' socks, check out how many hosiery layers Martellus Bennett was wearing yesterday.
• Several players were wearing non-Bose headphones during pregame warm-ups. But according to this article, that's okay. Key quote: "Sources say the league will allow any player to wear headphones during media interviews if the logo of that brand is covered up. The league also will allow players to wear headphones with competing logos off the bus, into the stadium, and on the field for warm-ups before they get into uniform."
• Speaking of pregame, I've never seen a uni-numbered pullover like the one Russell Wilson was wearing yesterday. Maybe they're common and I just never noticed..?
• Looks like Giants quarterback Eli Manning's helmet was painted over his neck bumper.
• When Giants wide receiver Victor Cruz was carted off with a leg injury, the trainers examining him cut open his sock.
• Teams wearing white at home (besides the aforementioned Bucs): the Titans and Dolphins.
• And while this isn't uni-related, it nonetheless feels appropriate to mention that Raiders fans egged the Chargers' team bus:
Keep it classy Oakland #eggsthrown pic.twitter.com/Jq4Q22I4Ai

— Jennifer (@JMichy) October 12, 2014
(My thanks to all contributors, including Blain Fowler, Stephen Hayes, Craig Justice, Greg Kantor, Matt Larsen, Jeff Moulden, Chris Perrenot, Tommy Turner, and of course Phil.)
• • • • •
ESPN reminder: In case you missed it on Friday afternoon, my annual NHL goalie roundup is now available on ESPN.
• • • • •
Raffle winners: Garrett here. Thank you to everyone who the Nolan Ryan cookbook and bobblehead raffle. Here are our winners, all of whom will be getting a bobblehead, plus the first two people on the list will also be getting a signed cookbook:
Nick Jurista
Robert Erdtmann
Jason Allen
Wilson Moore
Tim Reyes
Chad Cate
Andrew D. Kacvinsky
Jeff Mendenhall
Brian Frasier
Rocky Bonanno
We'll be mailing out everything soon, so watch your mailboxes.
• • • • •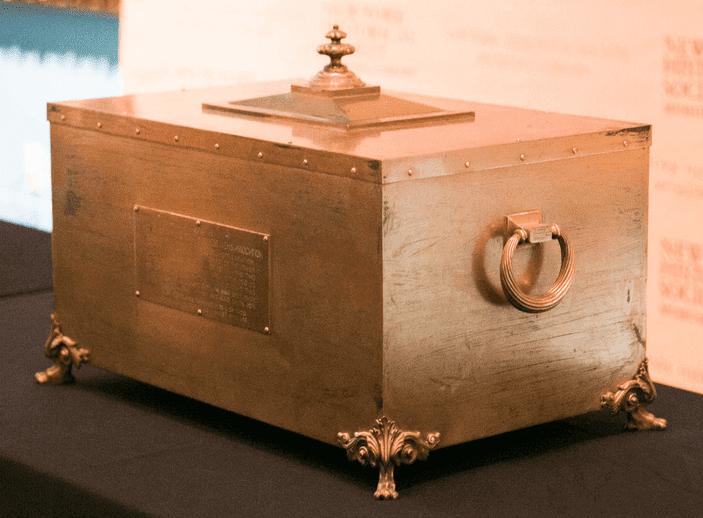 PermaRec update: Time capsules (like the 100-year-old one shown at right, which was recently unsealed here in NYC) are a very PermaRec-ish topic that I've never addressed — until now.
Also: When I launched the PermaRec blog in 2011, I figured it would be mostly — or even completely — about the Manhattan Trade School report cards that inspired the PermaRec project in the first place. So I never created tags or categories for the individual blog posts, because I thought the blog would have a very narrow focus. (Tagging every post as "Report Cards" didn't seem worthwhile.)
As those of you who follow PermaRec are aware, that's not how it worked out. The blog now covers storylines emerging from all sorts of found objects. With the site's archive now totaling nearly 200 entries, I've often found myself wanting to refer back to an earlier post and realizing it would be much easier to do that if I had tagged each post by category. I assume some of you readers have thought the same thing.
So a few days ago I sat down and added tags to every entry. You can see the breakdown in the site's right-hand sidebar. I hope this will make the site easier and more enjoyable to explore.
• • • • •

Baseball News: Check out this Dutch artist who carves baseball bats into super-cool spiral shapes (from my pal Friederike Paetzold). "¦ The Giants normally wear this cap and this jersey for Sunday road games, but they didn't go with either of those uni elements last night (as noted by Richard Paloma). "¦ Meanwhile, Fox Sports analyst Harold Reynolds mentioned that the Cardinals' uniforms looked unusually bright and white, especially compared to the previous night. Someone else in the booth — can't recall who — explained that they had worn the off-white alternates that night. … Randal Grichuk of the Cardinals was using teammate Matt Adams's glove last night (thanks, Phil). "¦ After Kolten Wong's walk-off home run last night, his teammates tore his jersey off him and ripped it in two, revealing a base-layer shirt that no doubt caused a bit of agita up at Nike HQ (from Seth Moorman).

NFL News: The Rams will be wearing their "Greatest Show on Turf" alternates tonight against the 49ers. "¦ Funny to see Brett Favre wearing a logo-less Packers uni in this MicroTouch commercial (from Steve Schutt). "¦ Here's a helmet logo that's sort of a Jets/Eagles mash-up (from Jeff Flynn).

College Football News: Not uni-related, but this investigative report on how the Tallahassee police have routinely looked the other way regarding criminal acts conducted by Florida State football players — and not just Jameis Winston — is essential reading. "¦ Good piece on how the Maryland state flag has become a symbol of Terrapins football. "¦ Mississippi State is outfitted by Adidas, but DB Justin Cox was wearing Under Armour compression shorts the other day (good spot by Connor Ginos). "¦ Following up on a prior item: That guy on the UNC sideline wearing NFL jerseys is the team's self-proclaimed morale officer. "He wears the jerseys of current NFL players who played at UNC," explains Akshay Bhavsar. "¦ Whoa, check out what Slippery Rock will be wearing for the Big Game at the Big House. Interestingly, at least one guy there is wearing Nike cleats. Additional info here (from Kevin Olivett).

Hockey News: "Looks like the Wilkes-Barre/Scranton Penguins are wearing their regular gold/black pant shells with their new late-'60s-inspired baby blue throwback jerseys," says Rob Ullman. "I don't know if they're waiting on new shells or just hoping no one will notice, but it looks like hot garbage and ruins one of the best looks in hockey history." "¦ "Sunday's Ticker mentions that Union College wore their garnet sweaters for Friday's home opener," writes Benjamin Engle. "They probably wore the garnet in celebration of raising the 2014 NCAA Hockey D1 championship banner. That was the jersey they wore in Philadelphia in May to win the championship. Incidentally, the history of Union wearing garnet is very interesting and dates back to the early 1800s." "¦ Remember how Chris Kreider of the Rangers was wearing a jersey with an outdated Reebok logo last Thursday? Same thing happened last night for another Ranger, Lee Stempniak (from Justin Foley). "¦ From that same game: No photo, but Dan LaRose says Rangers goalie Cam Talbot was wearing last year's Stadium Series mask.

Soccer News: Here's one designer's concept for Miami's upcoming MLS team. "You have to admire the attention to detail he put into this," says Cort McMurray. "I think the design needs some orange, but it's still pretty impressive." … Opposing teams don't want to swap jerseys with Sierra Leone's national team because of Ebola fears.

Grab Bag: Someone one there has documented and categorized every tattoo in the NBA (from Ben Fortney). … Pinktober jack-o-lanterns? Jeez (from Keith Goggin). "¦ The cycling helmet manufacturer Louis Garneau is recalling 2000 helmets after they failed cold-weather impact tests.
• • • • •
FYI: I'm heading out to Long Island today to visit my mom. I'll be checking in on the site, but only sporadically. Everyone play nice while I'm off the grid, okay? Okay.