[Editor's Note: Remember our recent entries about NHL-themed neckties? The same anonymous DIYer who created those is back with a DIY jersey project. Enjoy. "" PL]
By Anonymous
I recently found an inexpensive roll-end piece of really nice navy wool material and decided to use it to make a early-1900s-style baseball jersey for a fictional team I made up called the Blue Whales, loosely based on the Chicago Whales of the Federal League. I'm not a great sewer, so I decided to simplify the design to make sure it was easy to make, with plenty of shortcuts and cheating. Here's how I did it:
1. I didn't have a pattern but took basic measurements from a modern baseball jersey I have. I noticed from old photos that the cut of early-1900s jerseys tended to be really boxy and untailored — perfect for working without a pattern. I cut out the front and back but cutting identical pieces measuring 30″ high by 20″ wide. I cut out the hole for my head, making sure my head would pass through easily. I then sewed the two pieces together at the shoulders [for all of these photos, you can click to enlarge]:
2. I then cut out two identical sleeves, both 18″ long by 9″ wide. With the good side of the body pieces facing up, I pinned and sewed the sleeve with the good side down. This is an easy way to attach sleeves as opposed to the much more difficult inset sleeve method normally used:
3. I sewed the sleeves onto the body. Here's how it looked with the four panels (front, back, left sleeve, right sleeve) all sewn together:
4. I wanted this jersey to have a point collar (like on a regular men's shirt). I made the collar from two long strips of material. Using two pieces with a center seam in the back made it easy to position the collar correctly for sewing. I initially made the pieces longer than needed to fit into the hole and then pinned them in place. I then trimmed the collar to the proper length and turned over and sewed three sides (leaving one long side unturned) to make the finished edge of the collar. This photo shows the strips of fabric:
In this next photo, the collar is pinned in, with the good side facing the inside of the jersey, ready to be sewn into place, so that the good side will show when the collar is folded out:
This next photo shows the steps to the completed collar: The yellow arrow shows the underside of the finished edge to the collar; the white arrow shows collar sewn into the neckline along this seam, with the collar inside the jersey and with the good side facing inward; and the
green arrow shows how, once the collar is sewn in, it's flipped out and down so you see the good side up and the seam is hidden under the collar.
5. Here's a major shortcut: I wasn't sure I'd be able to do the buttons correctly (sewing buttonholes can be a pain, and you have to get the buttons and holes to align perfectly), so I came up with a major shortcut: Instead of using functioning buttons, I sewed on a fake placket. It's just a strip of material sewn onto the front. This is why I needed to make sure the hole was big enough to put my head through, as I wouldn't be able to unbutton it. You can see the fake placket in this photo, which also shows the finished collar folded out:
6. I created rounded shirttails by trimming the bottom corners of the body panels, using a dinner plate to get the correct rounded look as found on the original jerseys. I pinned over the edge and sewed it to get the finished edge. I thought this step would be really difficult, but this material turned out to be really easy to work with:
7. I cut out the "B" logo (for "Blue Whales") from piece of very nice cream wool material. I lightly hand-stitched it on then sewed it on with the machine, using a matching cream topstitching thread. I followed a similar process to create a whale logo patch for the left sleeve:
8. Now it was time to close up the jersey. I turned it inside-out and sewed it together on both sides from the bottom all the way to the end of each sleeve:
9. With the jersey still inside-out, I turn over the edges of the sleeves and sewed them to finish the ends:
10. Remember, I wasn't planning on having functional buttons. But I still wanted to add some buttons to the placket, even if they'd only be ornamental. I was able to find some real mother-of-pearl buttons in an antiques shop — perfect for the old-timey feel I was trying to achieve:
The feel and quality of the finished jersey are far better than I thought I'd be able to achieve. A lot of this has to do with the beautiful wool materials and the antique buttons. Still, there are a few things I would do differently next time. First, I'd use functional buttons and buttonholes, which would give me a truly functional collar. As it stands now, the neck opening is too wide for the proper vintage look. Second, I would have tapered the arms to make them wider at the body and narrower at the cuffs, as is typical for most garments. I didn't think of this and made them the same width all the way.
Overall, though, the look and feel are really nice, and the price was right — my total cost for materials was about $12. And I still have plenty of the cream-colored wool for another project, which will probably be a cadet-collared version with working buttons.
+ + + + +
ESPN update: In case you missed it yesterday (and you probably did, because it wasn't posted until fairly late in the day), my latest ESPN column is another look at MLB firsts and lasts. Enjoy.
+ + + + +
"C" section: Remember my recent ESPN column on MLB teams with logo inconsistencies? Reader Chris Scott has identified another one. Take a look (click to enlarge):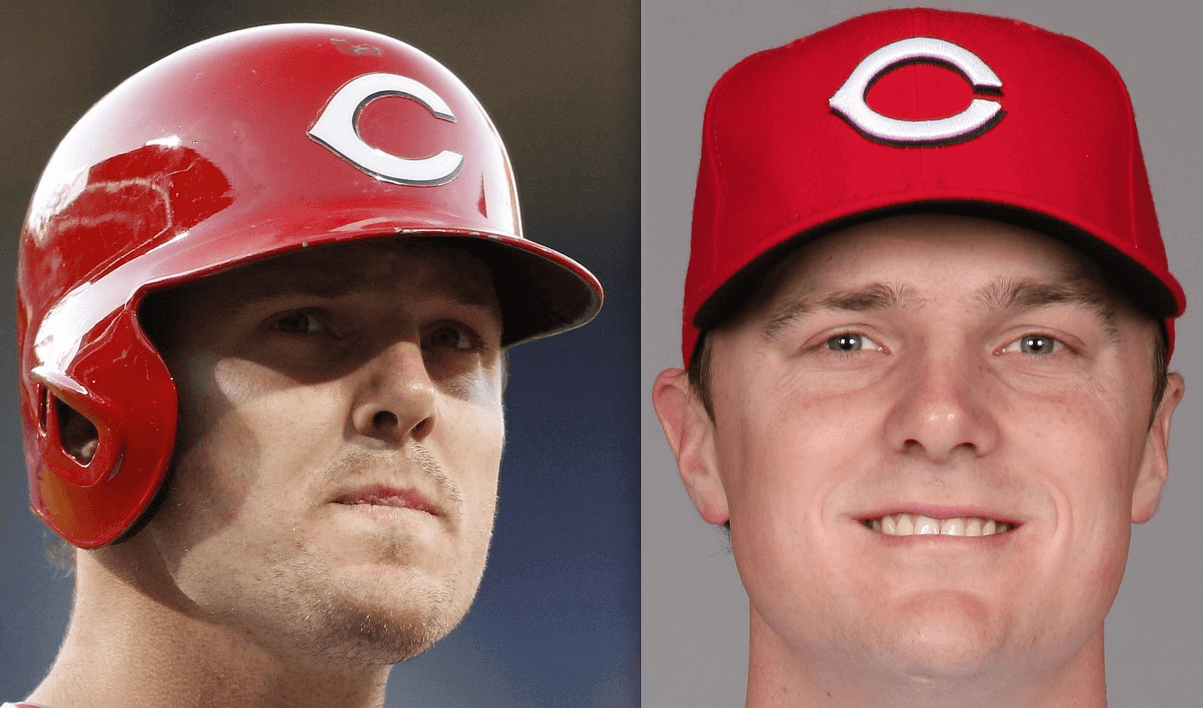 As you can see, the wishbone-C on the Reds' helmet is much more "open" than the one on their cap. I assumed that the cap version was the correct design and that the helmet version was a bastardization of it, because (a) that was the case with the Dodgers and Braves (or at least it was until the Braves recently changed their helmet to match their cap), and (b) caps are the cornerstone of MLB's merchandising program, so I figured they'd get that right.
But then I checked the MLB Style Guide and was surprised to find that the Reds' official headwear mark is actually the helmet version! Look (click to enlarge):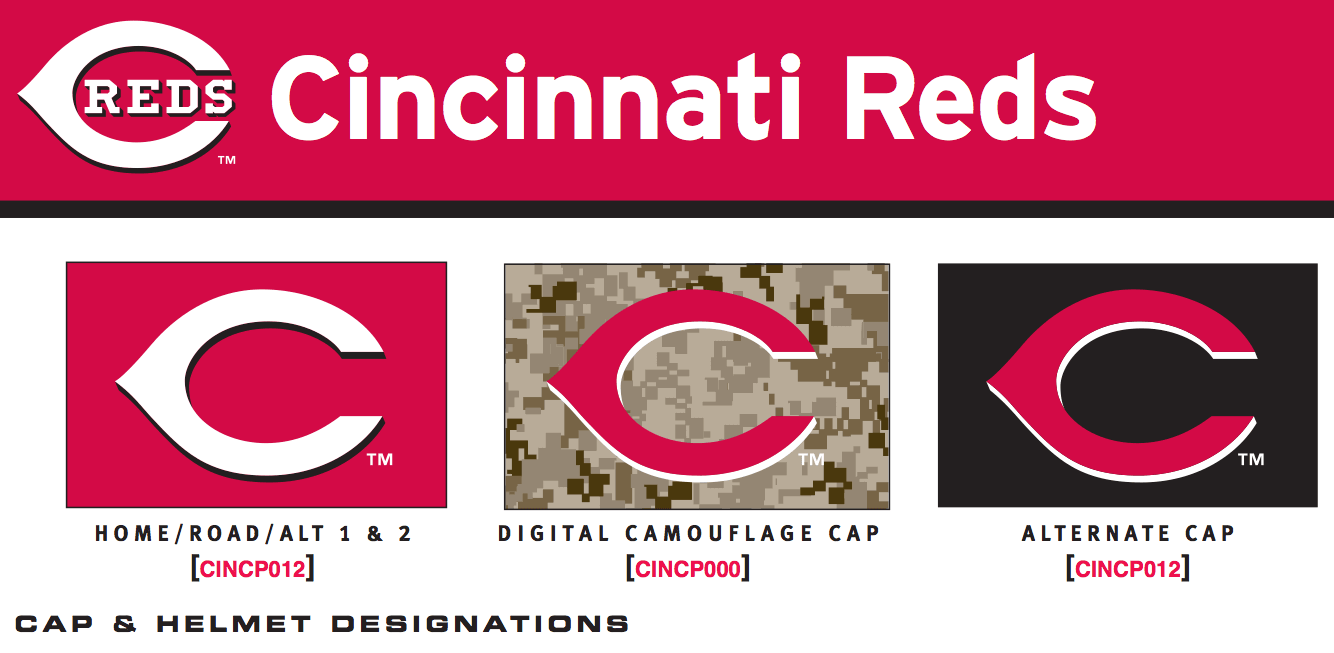 So all those caps that the Reds wear — to say nothing of all those caps that the Reds sell — have the wrong logo. Incredible.
Reds fans, what do you think about this? Were you aware of the mismatched logos? If so, did you know which one is official and which one is bogus? And if you own a Reds cap, how do you feel about it now that you know it features an unofficial logo?
It's worth noting that both logos have evolved over the years, as you can see in these old photos that Brinke Guthrie sent along (click to enlarge):
It's not unusual for team's logos to evolve, of course, but it's interesting to see that the Reds' helmet mark seems to have opened up while the cap mark has closed up. Let's just blame it all on the drop shadow.
Finally: If anyone from New Era is reading this and can shed any light on why your company is using the wrong Reds logo, feel free to be in touch. I'll protect your anonymity, of course.
+ + + + +
Culinary Corner: When the New Girl and I started dating, she'd been a vegetarian for a long time but was ready to dip her toe back in the carnivorism pool — and I, of course, was only too happy to oblige. She's tried a lot of meaty things over the past year and a half, and it's been a mixed bag — some things she likes, others she doesn't, a few she's changed her mind about, and several depend on her mood.
But there's one thing she's always happy to eat. She's decided she loves — loves — hamburgers. Anytime, any way. She hasn't had one for breakfast yet, but I'm fairly certain she'd do so if the opportunity came up.
I like burgers, too. I frequently order them at pubs and such, and I used to cook them a lot at home when I was younger. Over the years, though, they'd kinda fallen out of my repertoire as I moved on to fancier forms of meat cookery.
But thanks to the New Girl's newfound burger-thusiasm, I've been cooking a lot of burgers, and it's been fun to rediscover the simple pleasures of making them. We've made them in the cast iron skillet, on the grill, in the broiler. I even reached deep into a cupboard and pulled out the old George Foreman grill I got back in 1995 (I was writing an article about products featured in infomercials and had to test-drive all of them). Still works fine!
There are lots of things to be said about the best way to cook a hamburger — which kind of meat to get, what to add to it, how to form the patties, and so on. But I don't want to talk about any of that today.
Instead, I want to talk about the bun.
I've gotten kinda fussy about burger buns over the years. The standard-issue supermarket bun is crap — it has no flavor, it's too squishy, and it turns to mush once the burger's juices start flowing. The whole experience ends up becoming a race to finish the burger before the bun completely disintegrates. Most of the other options are maddeningly imperfect: Kaiser roll? Too big, too thick. Brioche? Too puffy, too eggy. Portuguese roll? Close, but a little too dense. And on and on.
With all the burgers the New Girl and I have been cooking lately, I've come to the conclusion that there is only one acceptable bun option: Thomas' English muffins. They're sturdy enough to hold up to a burger's juices but not so thick or dense that you have to fight your way through them when taking a bite. They provide a solid, strong surface that feels good in the hand as you pick up the burger. They're visually appealing, adding a nicely rustic look to the burger. And you pretty much have to toast them (the very thought of eating an English muffin right out of the package is sort of gross, no?), which is good, because a burger bun should always be toasted. And if you think an English muffin tastes good fresh out of the toaster, wait until you toast one on the grill — mmmm. Hell, you can even butter the muffin before putting the burger on it, which would be gilding the lily with a conventional bun but is somehow permissible with an English muffin because, hey, it's an English muffin.
The burgers we've been making have been fairly generous-sized — eight ounces a pop — so at first we used Thomas' Sandwich Size muffins, which are a bit larger than the standard size. But lately we've been using the standard size (translation: I was too lazy to run to the supermarket to get more of the Sandwich Size) and it's worked out fine. If you favor a wider patty, however, the Sandwich Size would definitely be better. I leave that choice up to you.
But for the larger question of which kind of bun to use, there's only one answer. Thomas' or don't even bother.
+ + + + +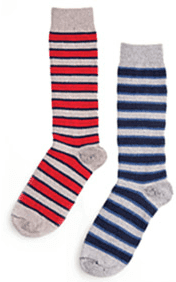 New advertiser shout-out: As you may have noticed in the right-hand sidebar, we have a new advertiser: American Trench, whose striped socks have made a distinct improvement to my wardrobe over the past month or so (I'm wearing a pair of them right now, in fact). Their socks are super-comfy, really good-looking, and USA-made — a rarity in today's sock marketplace. I'm very, very pleased to have them on board as a Uni Watch advertiser. Please check out their fine products.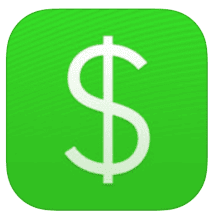 Incidentally, American Trench paid for their ad with Square Cash, a new-ish service from Square — the same folks who let you swipe a credit card on your iPhone. Square Cash launched last October, but this was the first time I'd used it, and I was impressed. It's really easy, and it's free — all you need to send or receive cash is a debit card.
I've now added Square Cash as a payment option for Uni Watch Membership sign-ups and stickers. Of course, you can still pay via Amazon Payments, or by sending an old-fashioned check. (Sorry, still no PayPal — a long, frustrating story.)
+ + + + +

'Skins Watch: The Lingerie Football League has a new team in DC, which was going to be called the Redskinettes. Given the controversy about the 'Skins name, however, the team has now decided to go with a different moniker (from Cary O'Reilly). "¦ Champ Bailey is the latest former 'Skins player to come out against the team's name (from Mike McLaughlin).

Baseball News: There are soooooo many things wrong with this photo. That's Cathedral (baserunner) and St. Peter-Marian (first baseman), two high schools in Massachusetts (from Scott, who didn't give his last name). "¦ The excellent Mets Police blog asks a fine question: Should we celebrate the Mercury Mets' 15th anniversary? "¦ No photo, but SNY roving reporter Kevin Burkhardt donned a Citi Field groundskeeper's uniform and raked the infield along with the grounds crew after the bottom of the 6th inning during last night's Brewers/Mets game. He was mic'd up and described what he was doing the entire time. As he and the rest of the crew walked off the field, play-by-play man asked Burkhardt, "Do you get to keep the uniform?," to which Burkhardt replied, "I'm gonna keep it on the rest of the night. "¦ In a related item, last night was CosPlay Night at Citi Field. Hey, the Mets even dressed up as ballplayers! "¦ Love this vintage Phillies necktie (thanks, Phil. "¦ New research has confirmed what appears to be the earliest appearance of Babe Ruth in a Yankees uniform (from Tom Shieber). … MLB 14 The Show shows Rangers reliever Darren O'Day's NOB without an apostrophe (from Harrison Hamm). … Zombie jerseys for the Inland Empire 66ers (thanks, Phil). "¦ Whoa, look at this 1906 baseball uniform advertisement. … Even better: this Ohio Umpire Association patch. … Taylor Teagarden was recently called up by the Mets and has joined the ranks of catchers who wear their helmet with the brim facing forward. He wasn't doing that during spring training or during his stints with the Rangers and Orioles, so he must have become a front-brimmer during his time at triple-A this season. "¦ Here are the 1964 throwbacks that the Phillies will be wearing tonight and on Sunday. "¦ Yesterday's Ticker linked to a photo of Derek Jeter holding a cap with a white sweatband, instead of the usual black. That prompted an interesting communiqué from someone who works in New Era's European office (and who prefers to remain anonymous): "It looks like that might actually be the new gray sweatband, which seems to be used in hats featuring technical attributes, like moisture wicking. It's my understanding that it is currently only in Diamond Era products [i.e., BP caps "" PL]. So if Jeter was using a Diamond Era cap, then that might be why the sweatband was gray." "¦ Neglected to mention the other day that the Pirates and Cubs wore their Memorial Day G.I. Joe uniforms on Tuesday. Why? Oh, no reason in particular — just because. See, that's the thing with this stuff: It's never just for one holiday, or one game, or one anything. It seeps into the fabric of the culture and spreads, like a virus, until we reach the point where some corner of the sports world is playing dress-up soldier practically every day. It's absurd, and it needs to stop. "¦ In a related item, lifelong Pirates fan Tom Reynolds was so disappointed by the team going G.I. Joe that he wrote this open letter to team chairman Bob Nutting. … Also worth noting: When the stars/stripes caps — the ones being worn on July 4 — began circulating this week, lots of people said, "Well, at least they're not doing camo on July 4, which is a good thing, because Independence Day isn't about the military." But net proceeds from the sales of the stars/stripes caps are going to the Welcome Back Veterans Fund — a military charity. Is WBV a worthy organization? Probably (although, as with all charities, it's hard to know for sure until you see their books). But there are plenty of other worthy charities out there, too. Again and again, the message from teams and leagues is to celebrate the military to the near-exclusion of everything else, and to conflate patriotism with militarism (and, of course, consumerism). I'll say this much for the teams and leagues engaged in this behavior: They sure know how to stay on message. Too bad the message is such a bad one. Not all soldiers are heroes, not all heroes are soldiers.

NFL News: Odd sight: Bernie Kosar in a Bears T-shirt. "To most NFL fans, that photo is a non-story, but for die-hard Browns fans, even almost 30 years later, Bernie wearing that T-shirt and working with the Bears is the number one topic of heated conversation and controversy on Cleveland sports talk radio," says Jim Mason. "We just can't quit him." "¦ On Wednesday I linked to this shot of some Jags in shorts and at least one guy in hemmed game pants. "This hemmed pants are usually worn by centers around the NFL, because the shorts would get in the way of their snapping motion," explains Eric Hurd. Interesting! "¦ Next-to-last item on this page indicates that the Steelers will wear their bumblebee throwbacks on Oct. 26, and that news led to the funniest tweet of the night (thanks, Phil).

College Football News: There was a report yesterday that Washington State was going with two different colors for its end zones, but later in the day the school put out its own report, which shows both end zones in red (from Mike McLaughlin). "¦ Former USC coach John McKay didn't wear Nikes. But the statue of him at USC's John McKay Center shows him wearing swoosh-emblazoned footwear. Key quote: "It couldn't be related to the fact Nike owner Phil Knight donated money to the McKay Center. Of course not." Douchebags (from Scott Rodriguez).

Hockey News: Now that's a hockey jersey. "That's the inimitable crest of the Finnish squad Jokerit," says Ty Nicholson. "Also, because it's a Euro Trophy jersey, no pesky ads." Of course, if they really want to take the jester concept all the way, the uniform's pant legs should have been two different colors, and then the socks should have reversed the pant color sequence.

NBA News: The sports reporter for a San Antonio TV news show has had the Spurs' logo shaved into the back of his head, which would be an ethically dubious move if anyone took TV news sports reporters even a little bit seriously.

Soccer News: This is awesome: Bill Radocy has created a monster document listing the rosters and stats for each World Cup team, and if you scroll to the end you'll find TV listings. A total public service, Bill — well done! … Here's a piece on the writer who designed Brazil's World Cup uniform (from Matt Dowell). … Faaaascinating article about the correlation between women's dress hemlines and soccer shorts length (thanks, Phil). … Even Russell has created a series of really cool World Cup player illustrations — definitely worth checking out. … Here's how the start of the World Cup was handled yesterday on 10 different newspapers' front pages. "¦ Love this World Cup beer display (thanks, Phil). "¦ World Cup referees are wearing vibrating smartwatches (from Yusuke Toyoda). "¦ Also from Yusuke: "AC Milan's new unis caused confusion over the team's logo. The Milan city crest is on the home jersey and the logo of Casa Milan, the club's new headquarters, is on the away jersey, causing some supporters to think the logo had been changed without the fans having been consulted."

Grab Bag: A Silicon Valley startup company placed a Craigslist ad seeking an office girl to grill meats for the staff. Rumors that I once placed a similar Craigslist ad are almost completely untrue. "¦ Nice Payne Stewart tribute yesterday by Rickie Fowler (thanks, Phil). … More and more men are wearing sneakers as dress shoes. If you want to join them (which I don't recommend, but whatever), here are tips on how to wear sneakers with a suit. … In a related item, here are some recent sneaker sales figures (from Tommy Turner). … Here's a little piece about Jimmy Connors's tennis gear (thanks, Brinke). "¦ A little birdie tells me that Jewel Osco, a Chicago-based grocery chain, will soon be issuing red Converse shoes to cashiers and baggers. "¦ As you've probably heard, Iraqi police forces have been responding to the latest crisis in their country by tearing off their uniforms.
+ + + + +
One last time, because I worry that it was easy to miss in the midst of today's lengthy post, my latest ESPN column is another look at MLB firsts and lasts. Enjoy.
•  •  •

• • •