Sometimes the outside-the-lines part of the sports world creates a ripple effect that has consequences within a given game. And sometimes those consequences are uni-related.
That was the case yesterday in Oakland, as the Clippers' players felt the need to respond to the racist remarks attributed over the weekend to team owner Donald Sterling. They staged a multifaceted silent protest, which included the following:
1. When the Clippers came out for pregame warm-ups, they met at center court, removed their warm-up jackets, and left them on the floor.
2. They then warmed up while wearing their warm-up tops inside-out, so the Clippers' logo wouldn't be visible.
3. During the game, the Clippers wore black socks and black armbands.
4. Chris Paul wore a black base layer (instead of his usual white).
And there was more. Shortly after the Clippers/Warriors game ended, the Rockets and Trail Blazers tipped off for their own playoff game, with both teams wearing black socks as a gesture of solidarity with the Clippers. And there was even a cross-sport gesture from Dodgers outfielder Matt Kemp, who was mentioned in the Sterling tape and responded by changing his walk-up music yesterday to Michael Jackson's "Black or White."
This all presents a tricky situation for the NBA. I'm sure there's some sort of regulation about warm-up tops, which means the players would normally be subject to a fine for wearing the tops inside-out, but it's hard to imagine that the league would levy the fine in this case.
Meanwhile, I'm trying to think of other situations in which a team has come up with a uni-centric silent protest in response to ownership or management, but I'm drawing a blank. Wasn't there a situation a year or two ago in which a college baseball team blacked out its chest insignia in response to something or other..? Can't recall the details. I suspect there have been other examples, but I'm coming up empty. Little help..?
Update: Thanks to the many excellent suggestions that many of you came up with in today's comments, I've been able to whip up this ESPN column on team-wide uni protests. Thanks, people — couldn't have done this one without you.
+ + + + +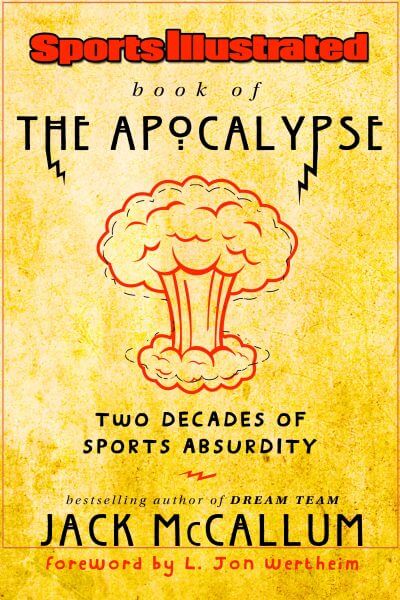 Apocalyptic fun: Most of you are probably familiar with Sports Illustrated's long-running "Signs of the Apocalypse" feature, which, amazingly enough, has now been running for 20 years (and a fair number of the entries have been uni-related).
The "Apocalypse" series has now been compiled into a book, The Sports Illustrated Book of the Apocalypse: Two Decades of Sports Absurdity, and our friends at Diversion Books are making the e-version of that book available to Uni Watch readers for the exclusive low price of $1.99 — that's half off the Kindle price.
That price will only be good for this week. This one seems like it should be right in the wheelhouse for many of you — go for it.
+ + + + +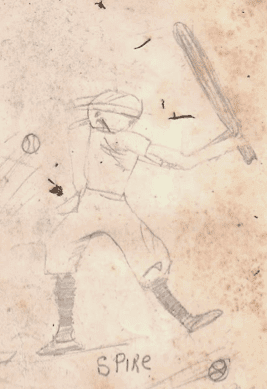 PermaRec update: A bunch of old doodles created by a high school student in 1922 (including the baseball player shown at right) are featured in the latest Permanent Record entry.
+ + + + +
Baseball News: Diamondbacks pitcher Oliver Perez was forced to remove his undershirt during Saturday's game against the Phillies after Phils skipper Ryne Sandberg complained about the slits that had been cut in Perez's sleeves (thanks, Brinke). … The Rockies wore their black vests on Saturday — first time since September of 2012. The culprit was manager Walt Weiss, who said, "I'm going to take credit for that one, that's my idea. I've been pushing the black vest since I got the job, really. I think it's a good connection to our past. The run we had in '07 [when they wore black at almost every opportunity until the World Series, where they lost to the Red Sox], I think it's very important to stay connected to that stuff" (from Perry Sailor). … Still more photos from Wrigley's 100th-anniversary game, this time from Leo Strawn, who was in attendance. Of particular note (at least to me): Arizona pitcher Oliver Perez didn't have his jersey buttoned to the top like his teammates did. Also: The ushers wore birthday party hats! … I was listening to Saturday's Yankees/Angels game on my bike radio when Yanks color analyst Suzyn Waldman offered this pearl of wisdom regarding backup catcher John Ryan Murphy: "He's a backup now, but he played every day in high school." Um, I'd like to think every player good enough to make it to the bigs played every day in high school. … Good story on the identity design of the Richmond Flying Squirrels. "¦ The Sugarland Skeeters wore autism-awareness jerseys yesterday (from Chris LaHaye).

NFL News: When does Pats coach Bill Bellichick not wear a hoodie? When he's running a half-marathon, apparently (good one, Brinke). … The NFL will once again use an eighth official for preseason games this year, and is contemplating other changes. "¦Brice Wallace spotted this helmet with a DIY 49ers logo at a thrift shop in Ogden, Utah. "Dang cute," he says, and I agree.

College Football News: Rutgers QB Gary Nova changed his uni number for the team's spring game as a tribute to a friend who recently died from cancer. Meanwhile, what's on his back of his helmet?

NBA News: Former NBA player Steve Francis attended yesterday's Bulls/Wizards playoff game and wore his own Rockets jersey. "¦ Interesting note from Matt Manley, who writes: "I just turned 33 years old and immediately thought, 'I'm turning Larry Bird.' Does anyone else thinks of numbers as uniform numbers? As a rugby guy, my list would look different from those of most American sports fans, but it would be interesting to hear who people associate with certain jersey numbers."

Soccer News: Soccer-centric designer Stephen Wong has launched his World Cup Brasil collection. "¦ Thieves in Rio de Janeiro stole a van with 300,000 collectible soccer stickers featuring stars of the upcoming World Cup (from Yusuke Toyoda).

Grab Bag: I just scored this really nice vintage varsity jacket. More details when I receive it from the seller. … Nike may be moving away from the "wearable technology" sector. … New brand identity design for the Jewish Museum in NYC. Key quote: "Everything from the logo mark, logo typography, patterns, and illustrations were drawn on the same geometric grid from which the Star of David was formed" (from Jim Mason). … Daren Landers was out for a drive and spotted a caboose sitting on Central Manitoba Railway with a buffalo-head logo that looks a lot like the old Buffalo Sabres logo.
+ + + + +

What Paul did last night: Back in early February I wrote about the death of musician/artist/filmmaker Ricky Luanda, the former frontman of Chain Gang and all-around bohemian genius. There was no funeral service for Ricky at the time, but yesterday there was a memorial service/celebration at a gallery in the East Village, and I was very happy to be among the dozens of people who showed up to celebrate Ricky's life and work.
I first encountered Ricky in 1982, when I was still in high school. I had just recently discovered punk rock and had scored a ticket to see the L.A. band X at the Palladium in NYC. The opening act was Chain Gang, who I'd never heard of and, frankly, didn't care for. I remember thinking, "What the fuck is this, and how soon can it finish so X can start playing?" My sonic parameters weren't yet broad enough to process what Chain Gang was doing, although I'd later become a huge, huge fan.
Anyway: That night I bought an X T-shirt. At some point I cut the sleeves off of it (I no longer recall why, but it seemed to make sense at the time) and I still have it — it's the oldest T-shirt I own. Since the shirt has a Chain Gang connection, I figured it made sense to wear it to Ricky's memorial service yesterday. I explained all of this to Ricky's widow, Randi, who looked at me with amazement and said, "The Palladium show? That's the night Rick and I met!"
Amazing. I offered to give her the T-shirt, but she declined and asked if we could take a photo together instead:
Thanks, Randi. And RIP, Ricky.