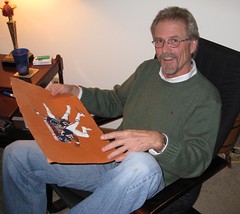 Big news on the Ricko front is that ESPN has given me the green light to do a video segment on our resident uniform archivist. Won't happen until early next year, but until then he's still got plenty of clippings to share. Por ejemplo:
• You probably know Wisconsin used to have that big "W" on the front of their helmet. But did you realize it was also on the back?
• More exterior-padded helmets, seen here worn by Baylor and Davidson.
• Here we see two different St. Olaf QBs wearing that odd facemask usually associated with Joe Perry.
• "Don't know what kind of cleat this is," says Ricko. "SpotBilt, maybe? From a 1969 Twin Cities area high school game."
• Good view here of those oddly rounded Nebraksa uni numbers from the 1960s.
• I had no idea Miami once dressed like this — gorgeous! Let's please see a throwback treatment of this asap.
• I also didn't realize that Cal once wore Princeton-style sleeve stripes. That shot's from 1961.
• Here's color-on-color game from 1963. "That's Navy at Minnesota, with Navy in navy, Gophers in maroon," says Ricko. "I was at the game, by the way. Remember Carl Eller grabbing Roger Staubach by the facemask and flinging him like a rag doll (this was before the facemask rule)."
• Speaking of Staubach, here he is in solid gold (that shot's from Army/Navy, 1962; note that neither team is wearing any white) and in the famous Jolly Roger game (more info here), along with Ricko's index card from that game.
• I think we've discussed this uni element before, but it's always worth taking another look at Ohio State's very odd late-1960s TV numbers (also note the helmet numbers for Michigan). And hey, speaking of OSU, check out the uni number typeface here.
• And we conclude this round of Rickosity with a bunch of great shoulder yoke treatments: Ohio State, 1964, Purdue, 1968, Texas A&M, 1974, Tennessee, 1973, and Kansas, 1973.
Raffle Reminder: I've added an additional prize to the holiday raffle. The updated listing of prize offerings, along with all other raffle details, can be found here.
Uni Watch News Ticker: There's a really thorough — like, really thorough — treatment of the Redskins' recent jersey history here. You have to register for the site, but it's free and totally worth it (with thanks to Brandon Diamond). "¦ In the same vein as the 1972 Sunoco football stamp books, there's this 1975 NHL stamp book. "In Philadelphia they were issued at Acme, and in Canada by Loblaw's," writes Mike Hersh. "Not sure where they were available in other markets." "¦ New logo and uni set for the Charlotte Stone Crabs. If any of the logos look familiar, Paul Barrett thinks it's because the designs are cribbed from the Southern Maryland Blue Crabs. "¦ For years I've used this photo to show Kevin Seitzer's facemask-equipped batting helmet, but now Andy Chalifour has found a much better view. Plus it turns out Seitzer wore the mask during his days with the Brewers, which I hadn't been aware of. "¦ Nice article here about the Winter Classic equipment managers (with thanks to Dan McCue). "¦ Looks like the Washington Huskies may have new uniforms next season. "¦ The Iolani Classic, a high school hoops tourney in Hawaii, has its own shoe (with thanks to Bill Sodeman). "¦ Jennifer Muller attended the New Jersey Ironmen home opener and noted some very odd rear-jersey typography for the visiting Chicago Storm. "After the game," she adds, "teams from the Jersey City Fire and Police Departments played in something called the Heroes Cup. The teams had 'The Bravest' and 'The Finest' as their NOBs. "¦ Major douchebaggery news here. "¦ Alan Borock points out that if Nick Swisher's gonna Photoshop himself into a Yankees uniform, he should have erased the chin whiskers while he was at it. "¦ Loads of old Packers/Bears photos now available on the Green Bay Press-Gazette site. These are from the 1940s, these are from the '50s and '60s, and this batch is from the '80s (and includes the classic shot of Chester Marcol in glasses; all this courtesy of Jeff Ash). "¦ Not sports-related, but this is some uni photo. … Check this out. That's Habs netminder Carey Price test-driving some very old-school gear. Full details here, and lots of additional pics here (big thanks to Casey Barcomb). … This article about the Lions' misfortunes was featured on ESPN's home page last, night, accompanied by this photo. … Unusual scene last night in DC, as the Caps and Blues both started rookie goaltenders wearing plain white masks (with thanks to Joe Barker). … The Redskins will be wearing a "33" memorial decal this Sunday for Sammy Baugh (as reported by Chris Willis).