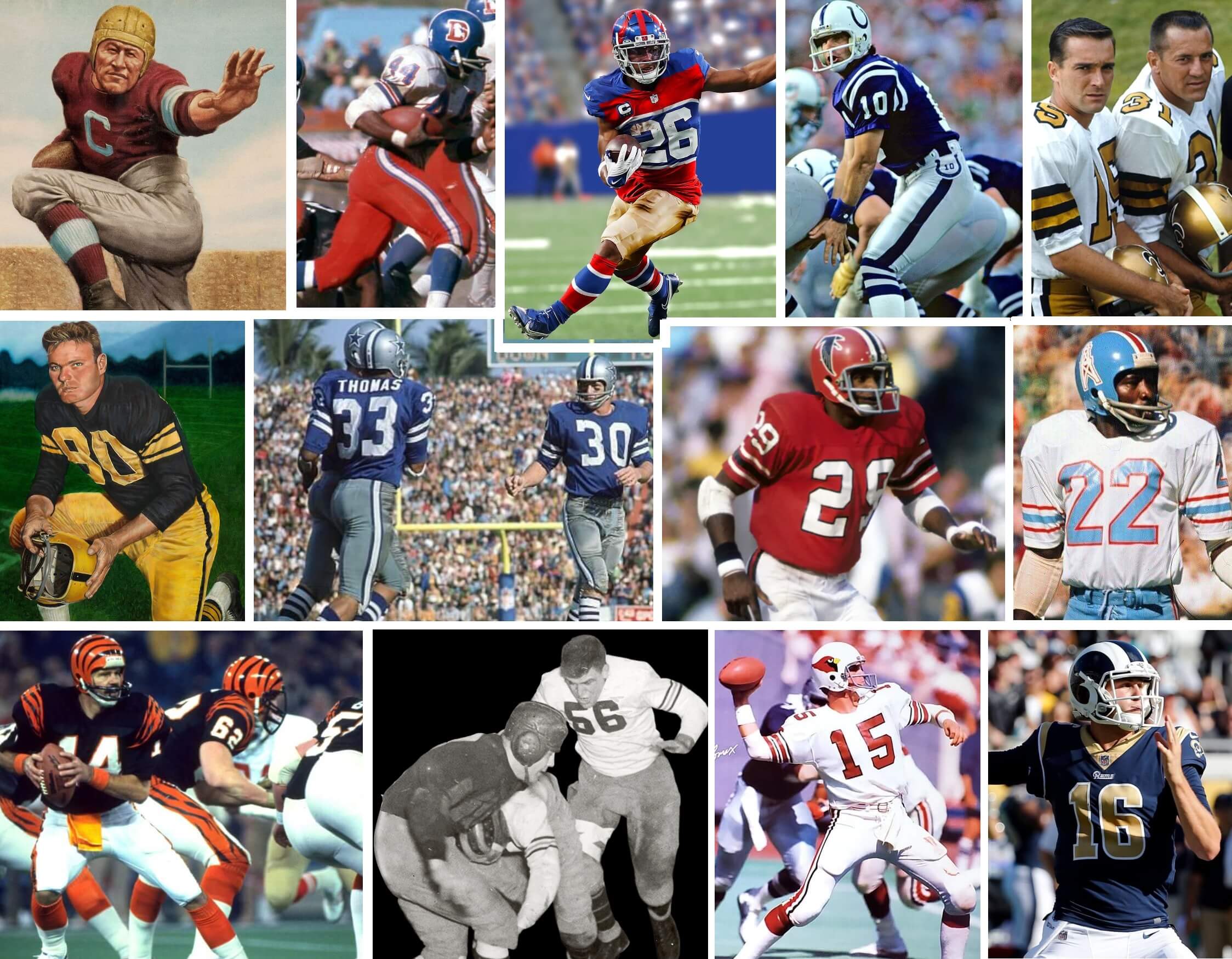 Good Saturday Morning, Uni Watchers. I hope everyone has had a good week.
Those of you who subscribe to Paul's Substack know that a couple weeks ago, his column was entitled "10 Throwbacks I'd Like To See," and you might be thinking, "Jeez, did you just copy Paul's idea and slightly change it?" Well, Mr. Five and One Jimmer Vilk and I had actually planned on doing this column for a couple weeks, and honestly had no idea Paul was going to run with his. Rather than just scrap it, we decided to plow ahead. Our plan was for each of us to select six uniforms that had never been worn as throwbacks, plus one which we both agreed we need to see. Our rules were: two each from the pre-1960 era; two each from 1960-1980; and two each from 1980-present. Early on we both agreed the orange-pantsed Broncos would be our "mutual" choice.
So, we each selected six throwbacks we'd like to see; Jim has his, I have mine. After each selection, each of us was allowed a one sentence rebuttal (In some cases we agreed with the other's choice, other times we did not). But one thing we always agree upon is that throwbacks are almost always good for the game, both as a history lesson and (usually) aesthetically as well. In some cases, we think the throwback we've selected is probably good as a "one and done," but in others, teams could (and should) seriously consider making them permanent. Obviously, with modern cuts and such, throwbacks sometimes can't really capture the original. But as long as they are as true to the originals as possible, these are the ones we'd like to see.
And now, let me turn this over to Jimmer for his introduction, and then we'll get into our 15 selections.
Jim here. At first I didn't think I could come up with enough throwbacks to make a list of my own. Once I started looking I finished quickly, and I could easily do another list or two! So many good looks have been resigned to history. Unfortunately, some of them will never return because a lot of football owners, coaches, players and fans are too superstitious for their own good. I have no qualms whatsoever with so-called "unlucky" or "unsuccessful" uniforms. In fact, I think throwing back to them is a shot at uni-redemption. Anyway, not all my throwbacks are from losing teams. The one thing they have in common is they all deserve to be seen again. I know you won't agree with all of them, so let's see which ones you'd like and which ones you'd rather be forgotten.
For each uniform below, you can click the link embedded in the year/team to see the Gridiron Uniform Database graphic of the uniform.
__________
Pre-1960
1920-22 Canton Bulldogs (Jim)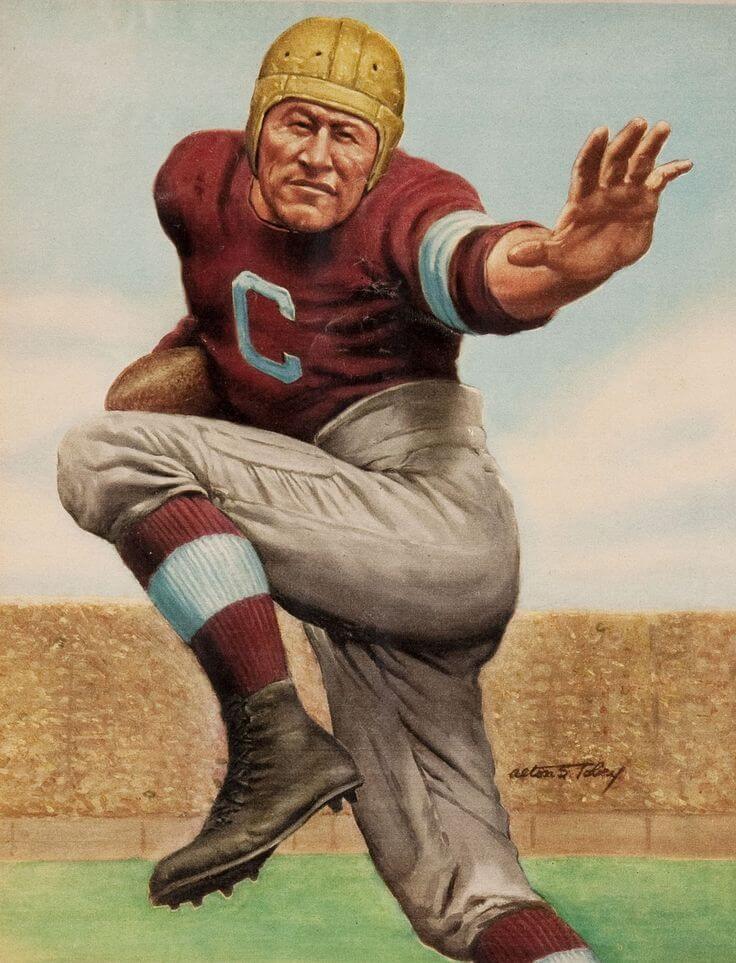 Let's go way back to where the league began…time-wise and location-wise. Canton no longer has a team, but a short drive up I-77 will take you to Browns Stadium. How about putting Cleveland in this simple but effective beauty for a game or two? They should have done it during the NFL's 100th anniversary, but the one-shell rule was in effect. It isn't now, so let the Dawg Pound cheer on the Bulldogs! Just add a front number to the jersey somewhere. And there was a Cleveland Bulldogs team as well, but I like these uniforms better.
Phil's rebuttal: I didn't think Jim wanted to throw back this far, but this could be awesome — Love the maroon!
__________
1932 Portsmouth Spartans
(Jim)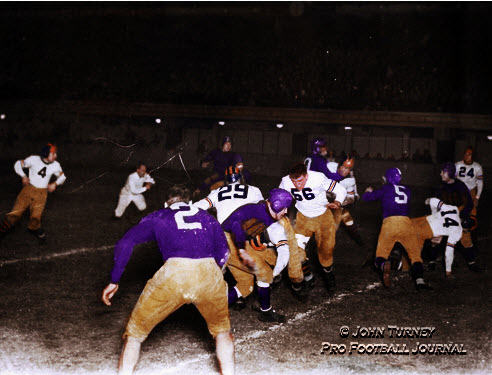 The forerunner of the Detroit Lions made it to the first-ever NFL championship game, an indoor affair at Chicago Stadium. Now that the Lions play indoors, they should invite the Bears to wear their '32 throwbacks for a revenge game. Love the color, and the properly sized numbers on the back! Same as with the Bulldogs, add a front number and let's go.
Phil's rebuttal: Unlike the Bulldogs, I'm not sure I love this uniform, but I do like the idea of a 1932 Spartans/Bears rematch.
__________
1933 New York Giants
(Phil)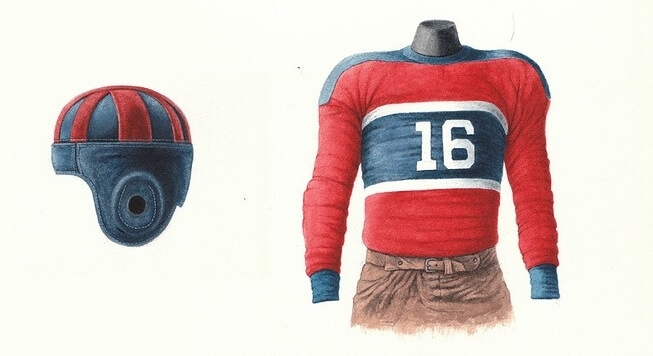 While the Giants, aka "Big Blue" have remained so (at least for their dark jersey) for the better part of 70 years, they wore red or red and blue for much of their early years. The 1933 team had an almost 50/50 red/blue split for their jerseys, and to good effect. I was wondering how this might translate to a modern throwback, and I stumbled on this amazing mockup (I believe on a Reddit thread), and I knew this was something I'd want to see on the gridiron. It's often difficult for teams to create throwbacks for almost-100 year old looks, but this one could be a modern classic.
Jim's rebuttal: Go Big Blue/Red/Khaki!
__________
1959 Pittsburgh Steelers
(Phil)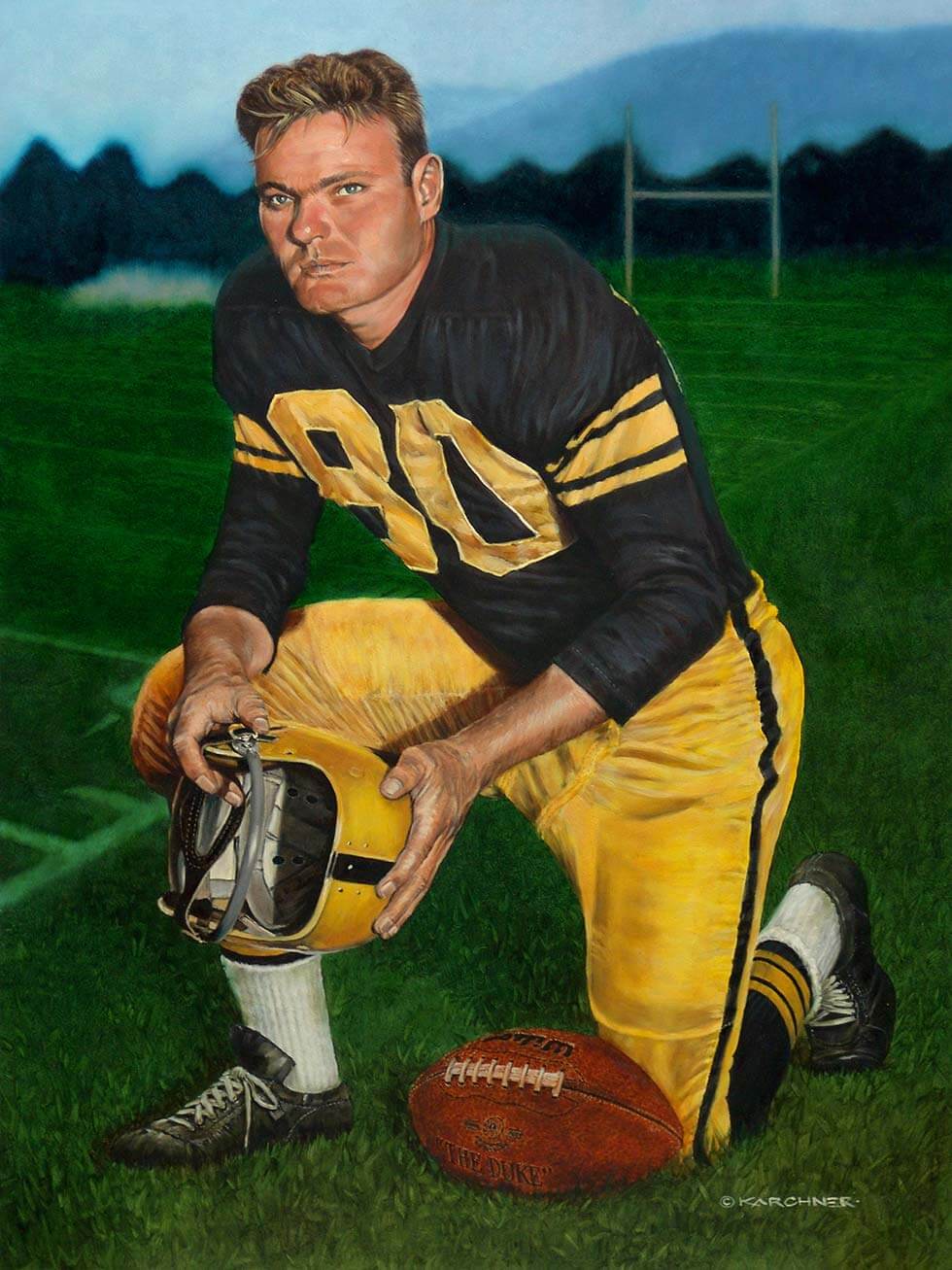 The Steelers have worn a number of throwbacks over the years. But for some reason, they've never worn this gold/black/gold beauty. The team has worn black helmets (and had incredible success) for sixty years now, but even as a kid I wondered why they didn't wear gold helmets, like the Packers. Maybe they'll never wear gold hats again, but I'd love to see this uniform (with NO white!) as a throwback. The one time they wore a gold-helmeted throwback, they ruined it by wearing white pants. This rectifies that mistake.
Jim's rebuttal: Very good, although they're not as fantastic as the 1962 road unis.
__________
1960-1980
1967 New Orleans Saints (Phil)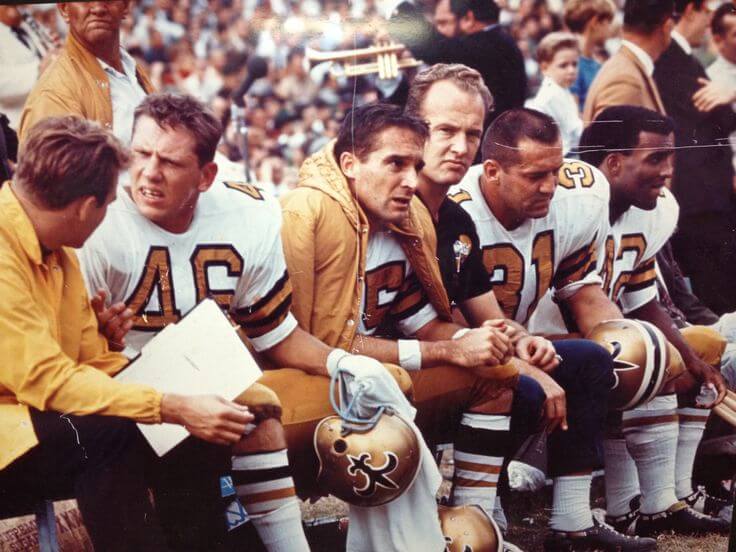 There are a few teams that "got it right from the start," and the 1967 New Orleans Saints most definitely fit that bill. Somehow they were able to figure out how to make "old gold" the proper shade, and those gold helmets, gold numbers outlined in black, and gold pants were just fantastic. I mean…c'mon…how great is this? They've never looked so good. They have a fauxback now that looks good, but the current metallic gold helmet looks awful, and the white pants and socks don't look nearly as good as the 1967s. It seems like Nike can actually make a decent old gold now. It's time they do this for the Saints.
Jim's rebuttal: They got it right the first time, and it's time to make them right again.
__________
1971 Dallas Cowboys
(Phil)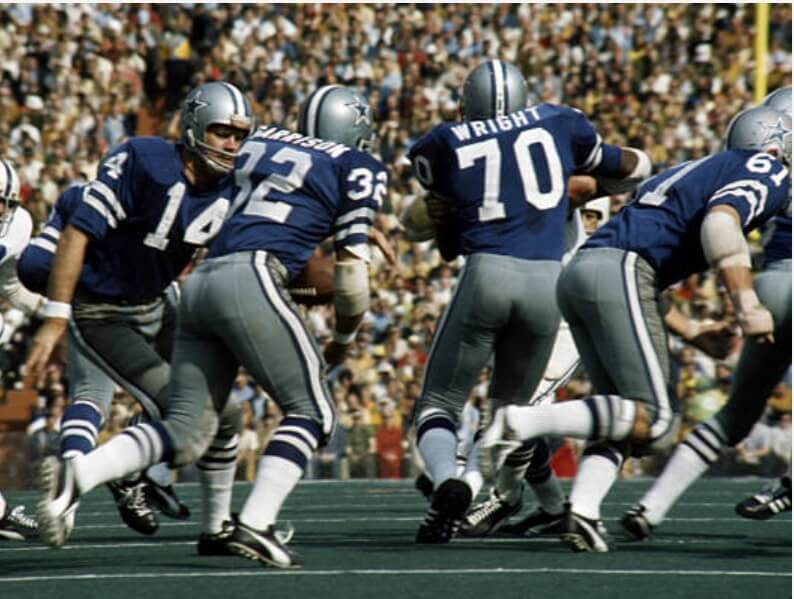 The Cowboys have never looked as good as they did when they played the Colts in Super Bowl V. And it's time the Cowboys returned to royal blue and gray. As Paul noted many years ago, the Cowboys have the quirkiest uniforms in football. But they needn't and shouldn't. They simply need to return to the royal/gray (and yes, they can still wear white at home a lot) — but the navy they added in 1981 was a mistake that has never been rectified. Just return to the Supe V look and make everyone happy again.
Jim's rebuttal: One of those so-called "unlucky" uniforms, and Dallas fans need to get over that already so we can enjoy this look.
__________
1972-74 Houston Oilers
(Jim)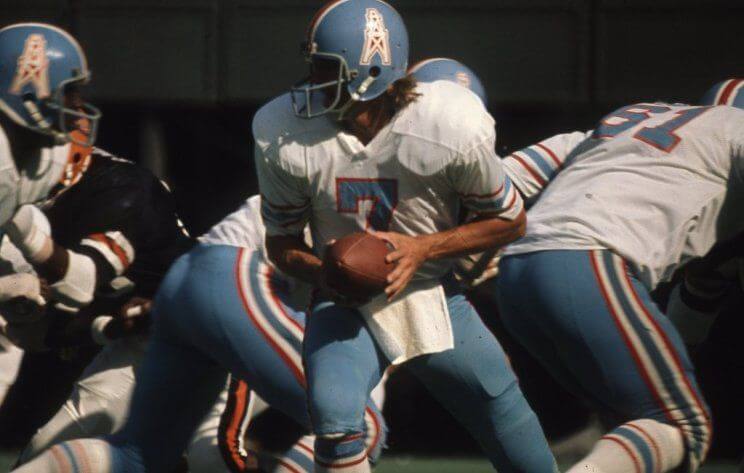 You KNEW I was going there! The. Best. Uniform. Ever. I was aware of the Oilers as a youngster in 1971. When these came out the following year, I had myself a new favorite team. Sure, they had two consecutive 1-13 seasons in them. However, in 1974 they vastly improved to 7-7. The players even carried coach Sid Gillman off the field in the last game for those glorious blue helmets. With an exit like that, why not bring them back and relive the feeling?
Phil's rebuttal: It's not my favorite Oilers uniform, but it's still pretty good, and I'd like to see this one (again).
__________
1971-77 Atlanta Falcons
(Jim)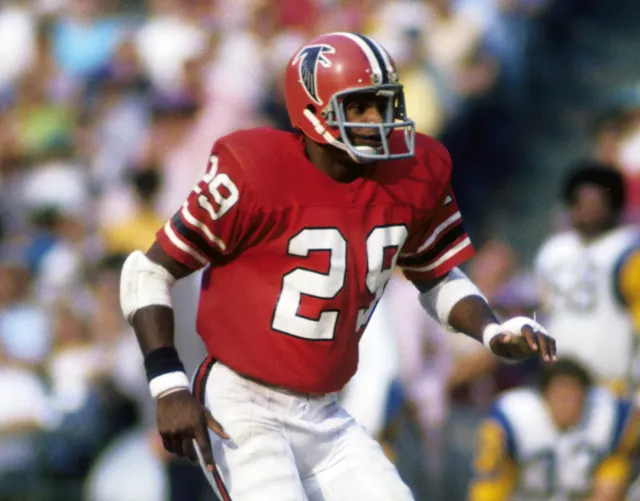 One of the best looking games ever featured these Falcons hosting the '72 Oilers. How I'd love a rematch! Now don't get me wrong…I'll take ANY pre-Jerry Glanville Falcons uniform, so if you told me the current throwbacks would become their new regulars, I'd be ecstatic. If you give me the choice, though, I'll take the red helmets and jerseys with white numbers and pants.
Phil's rebuttal: I almost picked this one myself!
__________
1980-Present
1981 Cincinnati Bengals (Phil)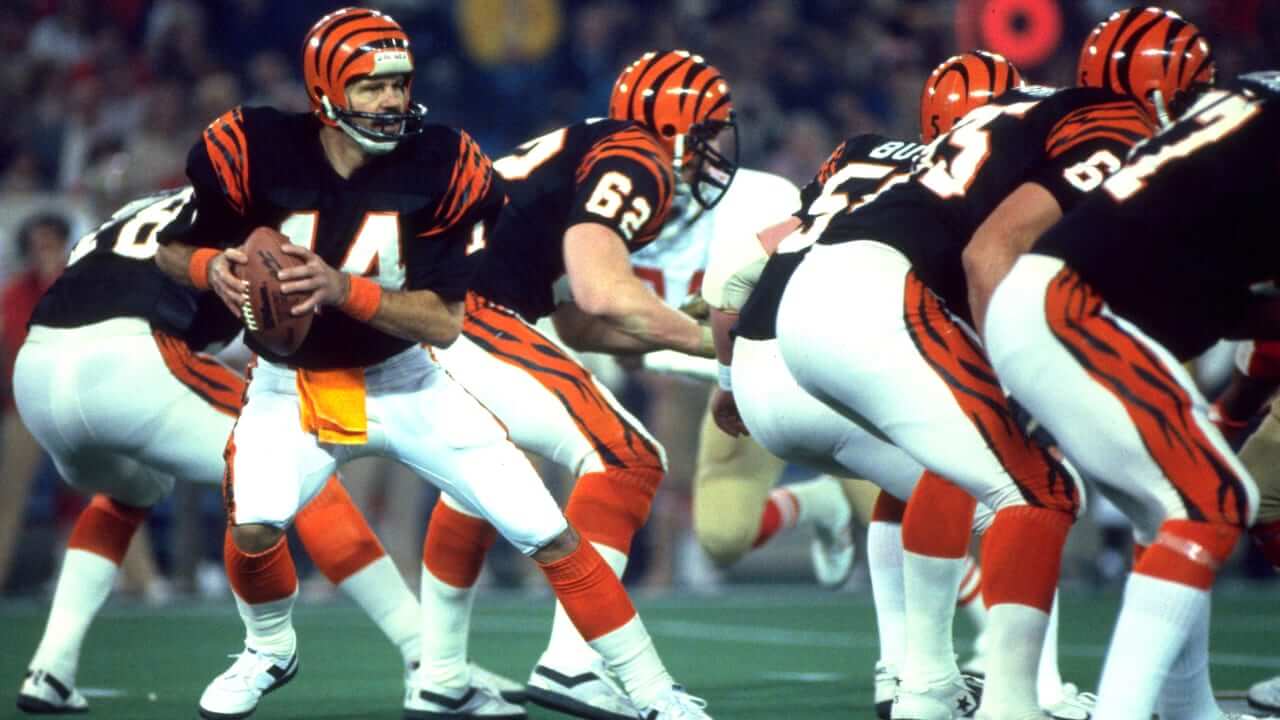 It's hard to believe that this uniform — really the first modern classic — was considered radical and almost dismissed by many old school scribes at the time. But it looked great back then, and would still look good today. Each and every stripe on the shoulders and pants was unique, but as a whole the uniforms were neither radical nor garish. It's hard to believe it's been 20 seasons since they last wore this iteration. It's time for a throwback (or better yet…just return to these full time — just keep the white tiger as an alternate). Done and done.
Jim's rebuttal: You had me nodding in agreement until you got to the part about the white tiger zebra alt.
__________
1982-87 Baltimore/Indianapolis Colts
(Jim)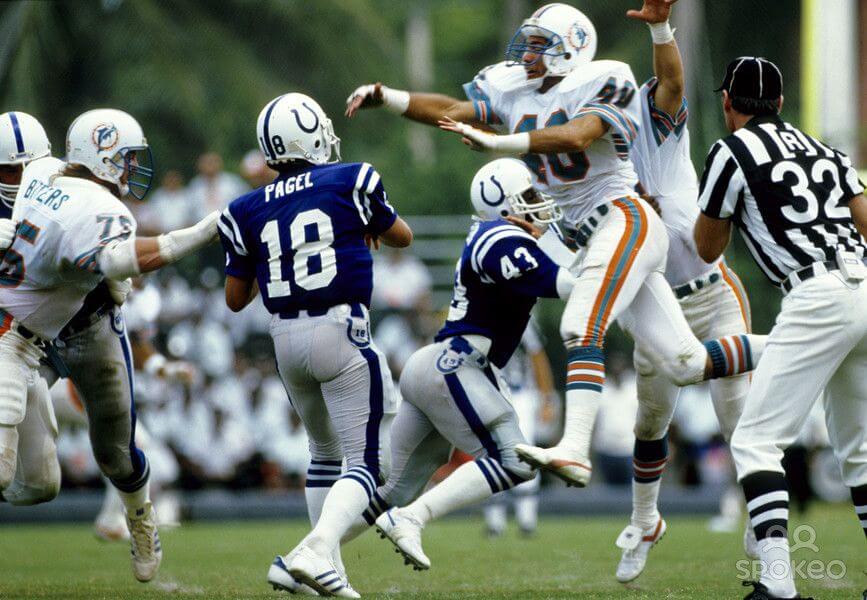 The Colts wore these in their first season in Indianapolis. They wore them for the last couple of seasons in Baltimore, and for a few seasons after '84. These would have been great to wear this season as Indy is celebrating 40 years of NFL football. I always liked the white facemasks, gray pants, and the hip numbers (even if they're a little too small inside the horseshoe).
Phil's rebuttal: If there is a team that should have a royal/gray throwback, it's the Cowboys, not the Colts.
__________
1987 St. Louis Cardinals
(Phil)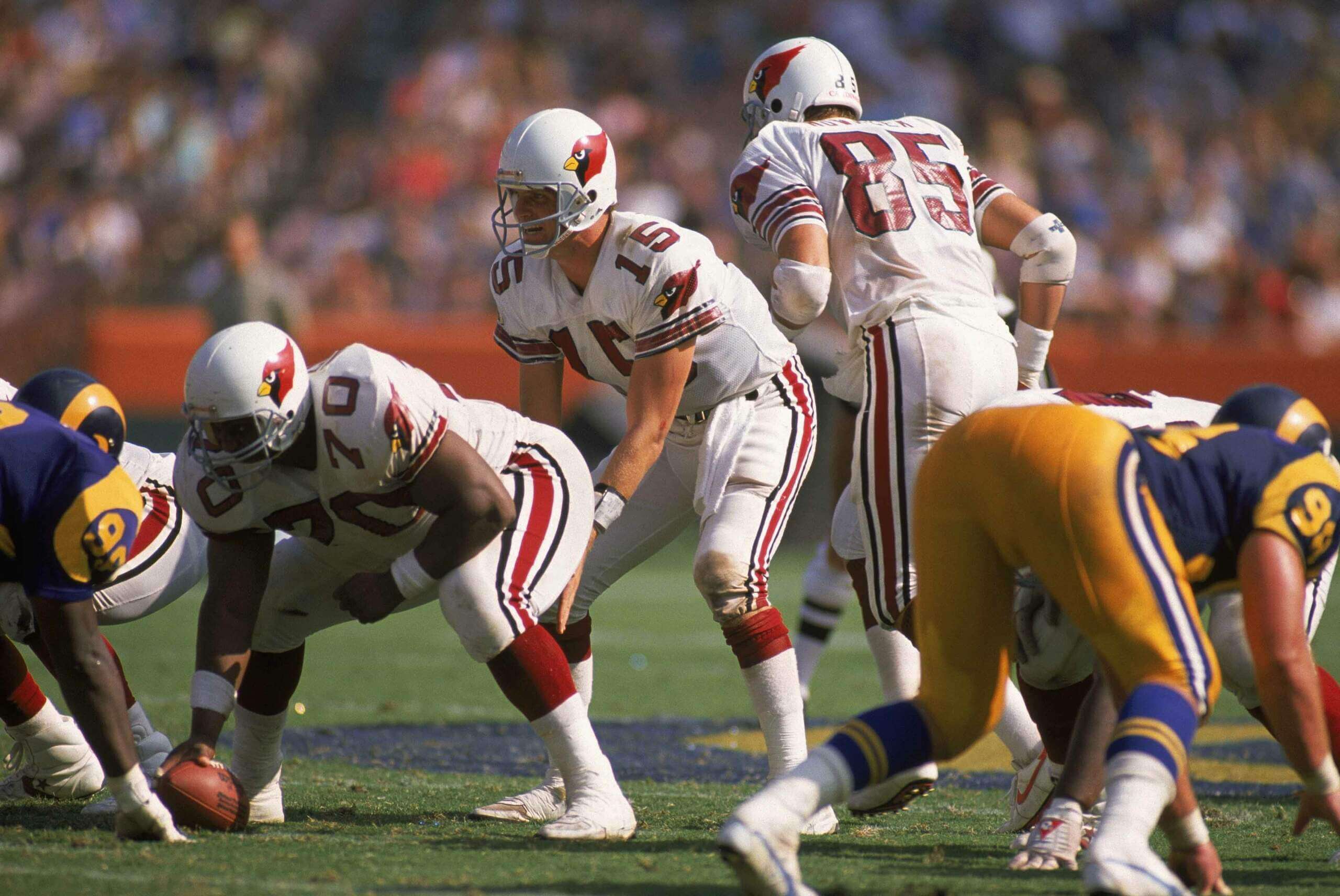 Let's be honest…the Cardinals had the worst uniforms in football with their last set. They got new uniforms this year, and yet they're still pretty much the worst uniforms in football. But they used to have really fantastic uniforms, especially in their final St. Louis years. Never has a "mono white" uniform looked so good. Sure, you could never replicate those sleeve stripes today, but you could come close. This is a throwback that needs to happen. Once fans see this on the field, the redesign clock will be ticking.
Jim's rebuttal: Needs red pants, but this is very nice.
__________
2017 Los Angeles Rams
(Jim)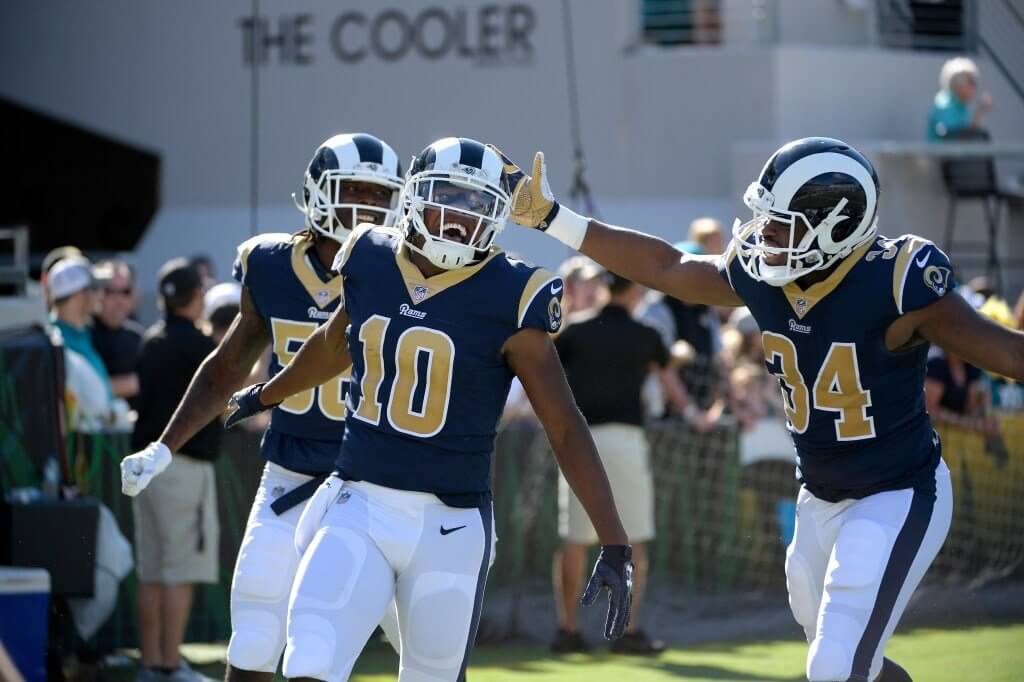 This is Exhibit A when I have to correct people who think I don't like anything new. Not only do I like this mishmash, I think it's LA's best ever look (well, I could have done without the mono-blue option). This gives me a bit of a 1970s Maryland vibe. Not every part of the uniform has to have every team color, as long as the uniform as a whole does. I also get a vibe from one of my guilty pleasures: the anthracite Washington State unis. The white helmet logos and facemasks really pop on both of them.
Phil's rebuttal: I know Jimmer really likes these, but still, I almost feel he's trolling us here.
__________
1971 Denver Broncos
(Phil and Jim)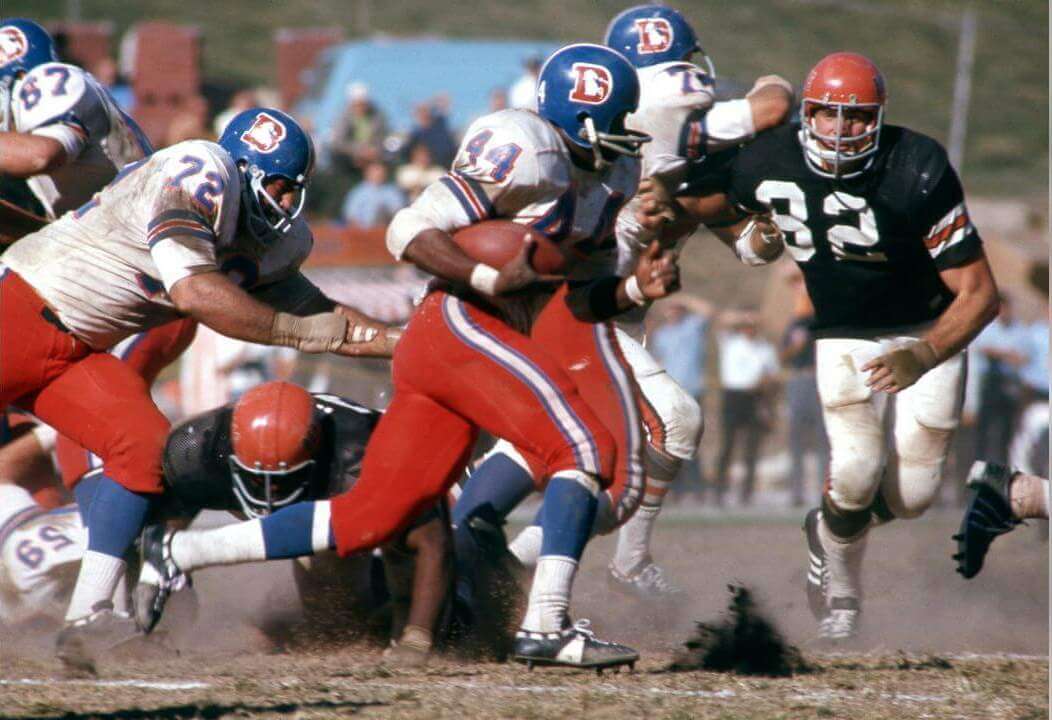 Jim: There was a time when Denver looked good in white road pants. That was when they wore the orange helmets with the bucking bronco logo. Since then, they never looked right to me in blue/white/white. Whether it was the royal blue helmet or the navy blue didn't matter, and usually I don't mind navy over all white. I would have forgiven them for being superstitious cowards in Super Bowl 50 for wearing white jerseys if they would have worn orange pants, and I would have cheered for them like mad if they threw back to this colorful royal/white/orange combo. This on-again off-again on-again look should have stayed on and on and on.
Phil: I am generally not a fan of three "mis-matched" uniform elements — in this case royal/white/orange. There are a few exceptions, and Denver is definitely one of them. It's a shame the only time we've seen Denver in orange pants in the past 44 years has been in their CR getup. We know Denver is going to redesign soon — and they'll likely base their new uniforms on that CR template. All they need to do is keep the orange tops and bottoms separate and lighten up the navy shells they currently wear. But until then, let's see this royal/white/orange beauty on the field. YMMV.
• • • • •
And there you have it. Thirteen throwbacks we'd like to see on the field at least once.
What say you readers? Any of these you too would like to see? Any you'd rather constrain to the dustbin of history? Did we miss any? Let us know in the comments below!