The Indiana men's hoops team tweeted a photo of this year's squad last night. It contains a really subtle uni glitch. Can you spot it?
While you're looking, I'll note that there are at least 44 Adidas logos visible in that photo, which is fucking nuts!
I'll also mention that I heartily approve of the portrait's symmetry, although I think it would've been better if No. 21 and No. 4 in the back row had swapped places.
Okay, that's enough stalling. Did you spot the uni anomaly?
Answer: No. 53 and No. 22 — the two guys at the right end of the front row — are wearing different uniforms than everyone else.
It's easier to see the differences if we zoom in on No. 3 (conventional uni) and No. 53 (aberrant uni):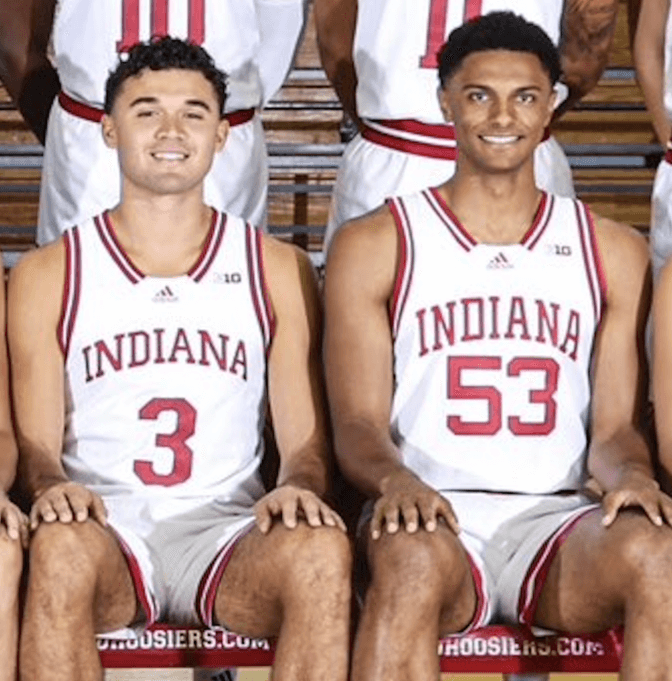 I see three differences:
The striped collar/armhole trim: For No. 3, the double red stripes are the same width; for No. 53, there's one thick red stripe and one thinner red stripe. (This may also be the case on the shorts, but it's hard to be sure.)
The "Indiana" lettering: The two fonts don't match (look at the "A"), and No. 53's letters are clearly more vertical.
The numeral "3": Again, the fonts don't match.
The version worn by No. 3 (and almost all the other players in the photo) is what the team wore last season. As for the other version — the one worn by the two guys at the right end of the front row — I don't follow the IU hoops team enough to know if it's from a previous season, or a throwback, or what. Anyone know more?
In any case, it's interesting that two guys wore a slightly different uniform for the team portrait — and that those two guys happened to be sitting next to each other!
Update: Several people have informed me that the two outliers are wearing a recent throwback uni.
(Kudos to Patrick Felts for spotting this one, and to @iufbcommenter for bringing Felts's observation to my attention.)