Our story so far: The Yankees began wearing their sleeve ad on July 21. Five days later, on July 26, Yankees pitcher Carlos Rodón's jersey sleeve was rolled up in a way that just happened to obscure the team's advertising patch. Afterward, Rodón claimed to have "no idea" that this had happened. Then, last week, Rodón's ad patch just happened to be missing for the first four innings of his start, after which the patch mysteriously reappeared for the fifth inning.
So as you can imagine, I was paying close attention to Rodón's right sleeve when he took the mound for yesterday's Yanks/Pirates game in Pittsburgh. And sure enough, as you can see above, his right sleeve was blank — no ad patch!
But there was a new development that I hadn't counted on: Rodón was wearing the ad on his left sleeve! Check it out: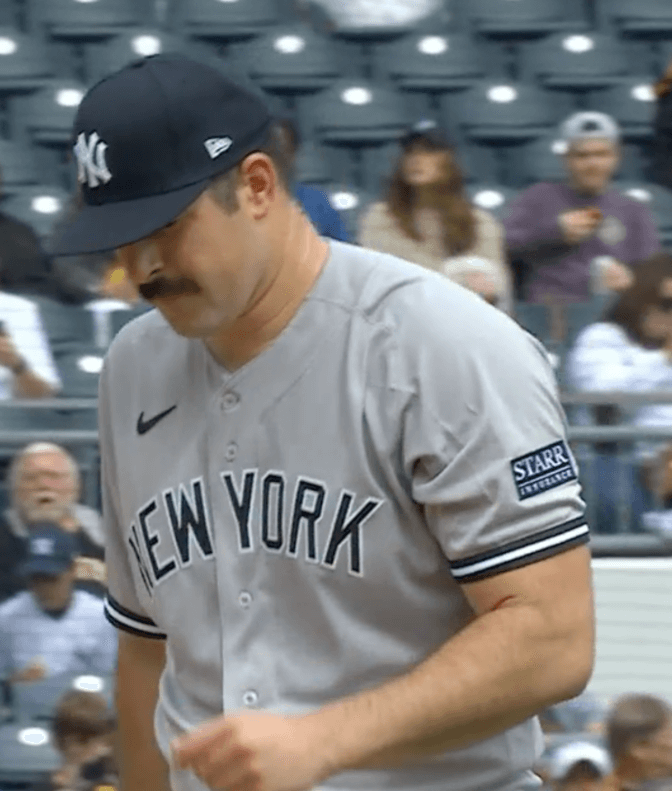 That shot is from the first inning, but Rodón wore the ad throughout his 6⅔-inning stint.
When Rodón has worn the sleeve ad, it has always been on his right sleeve, which is his non-throwing sleeve. That's the case with most pitchers, which is understandable, because you'd want your throwing arm to be as unencumbered as possible. There are some pitchers who wear the ad on the throwing sleeve, but not many. In any case, I'm not aware of any other players besides Rodón who've had the ad jump from one sleeve to the other in the middle of the season. Just one more bit bizarre aspect to his increasingly uni-wacky 2023 campaign.