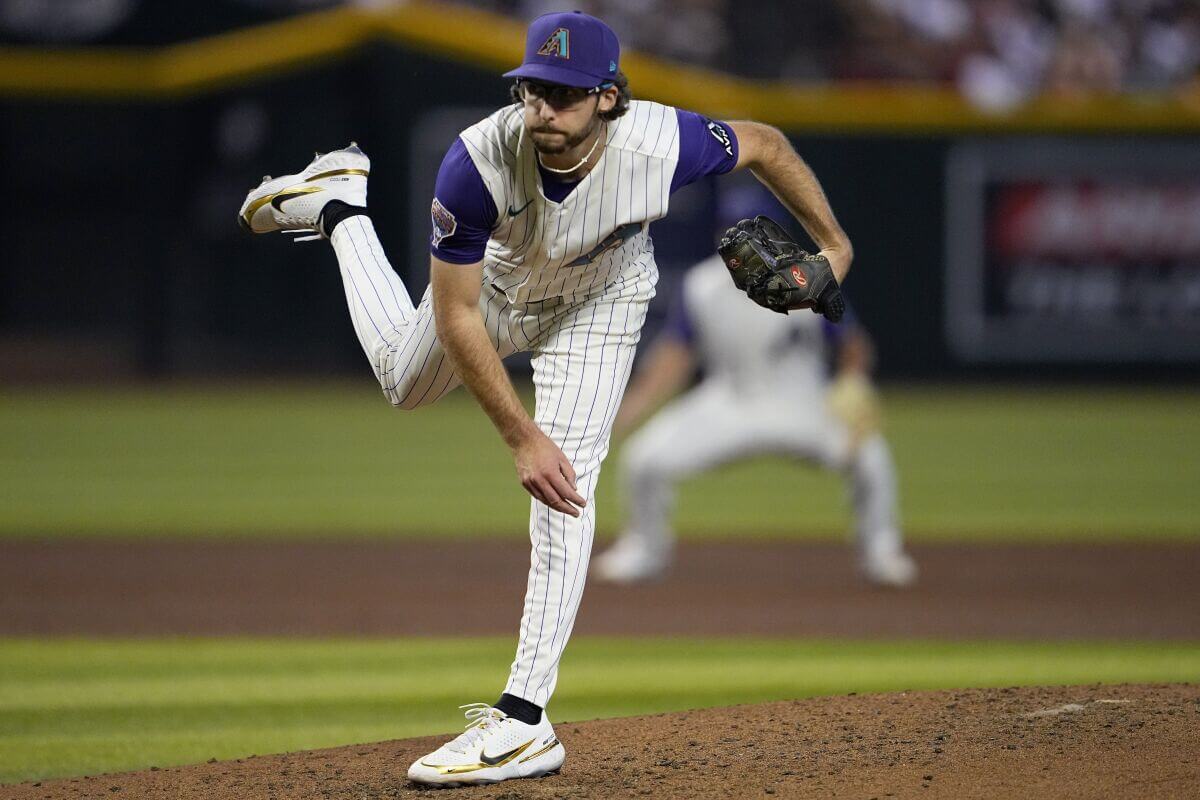 While professional athletes surely have opinions on the uniforms they (or other teams) wear, most of the time they simply put on that day's given uniform and go about their business on the diamond, gridiron, court, ice, field, etc. Other times we'll see new uniforms introduced and player reactions are recorded — mostly always positive ("dope," "fly," "sweet," etc.).
So it was refreshing when Arizona Diamondbacks hurler Zac Gallen reacted to a photo of himself in the D-backs purple vested throwbacks, and tweeted "We should wear these more (permanently) lol" and included the "eyes" emoji.
Purple> Red. We should wear these more (permanently lol) 👀 https://t.co/0qLAtHU7V0

— Zac Gallen (@zacgallen23) August 13, 2023
He's right of course — the throwback uniforms the Diamondbacks brought back last weekend, when the D-backs were celebrating the franchise's 25-year anniversary, are certainly better looking than the team's current set. (At first it seemed he was specifically speaking of the team's red alternates as noted in his "Purple> Red" portion of that tweet). Still, he's a big fan of the look of the "purple" (throwbacks).
But it's one thing for an athlete to tweet his approval (or preference) of a particular uniform. Gallen took it a step further when he followed up that post with a separate poll, in which his preference for the throwback uniforms versus the current ones was echoed by respondents:
Just curious

— Zac Gallen (@zacgallen23) August 13, 2023
The 14,000-plus who voted in that poll were emphatic: an outstanding 91 percent of those who replied agree with Gallen. That's an even more emphatic showing than the 81.7% who know that a hot dog is NOT a sandwich.
When asked about his poll, "I just kinda had been throwing it out to the front office, the purple looks good, maybe we should bring it back," Gallen said. "So I just put up a Twitter poll to see if the fans agree with me. And honestly, I didn't think it was gonna be that big of a landslide in terms of the votes and the responses. We'll see what happens."
It's interesting to see that Gallen has even approached the return of the purple/teal uniforms with the front office. It's one thing to publicly like and support a particular uniform on the Twitter, but it's another to take it two steps further: a poll and a discussion with those who make uniform decisions.
Hopefully they'll listen!
I'm not in a position to offer Gallen an honorary Uni Watch membership, but if I were, I'd totally give him a UW membership card in D-back throwback colors, and he wouldn't need to wait until Purple Amnesty Day to get it! (Interestingly, on PAD in 2020, Paul listed the D-backs Purple Vest Uniforms as his favorite [least hated?] purple uniform across all sports.)
Good for Gallen for making his uniforms preferences known and trying to promote their return on a full-time basis.
Yep. Zac Gallen GetsIt™!