Up until now, our "best players by uni number" series has looked at cities, states, and leagues. But Uni Watch reader Greg Mays has taken a more narrow-focused approach by examining the teams at his old high school — Hastings High in Hastings, Neb., whose teams are called the Tigers. In addition to being an alum, he now teaches English there and coaches the girls' basketball team.
Here's Greg's explanation of the project:
I have been working on a sports history of my high school for several decades now, so I had a pretty good knowledge base to work from and good lists of all-staters and state champions to comb through. My brother and I do a weekly internet show about current Hastings High sports news, and we usually end with a quick history segment. This fall we decided to play the "numbers game" each week and compare our choices for the best player at each number. It led to some fun debates and reminiscing, which both of us enjoy quite a bit.

The resulting graphic is heavy on the school colors of orange and black, but we honored a few athletes in their summer American Legion baseball uniforms because the school has only had baseball for a few seasons.

We did encounter some problems. A high school just doesn't have as many great players as a city or league. Also, high schools tend not to use a great variety of numbers. So our graphic relies on football quite a bit after No. 55, and high school football teams re-use jerseys, which means there are some numbers that Hastings may never have even had in its inventory!

So when it became evident that we were not going to fill every number, we started to get creative. Right away, we gave No. 7 to Doug Phelps, who never wore that number in football or basketball but was the first seven-foot high jumper in Nebraska prep history. We were stuck at No. 26, so we honored our current wrestling coach who won a state championship as a Tiger at 126 pounds. At No. 36, I gave up all pretense of a connection to the number and just put Dennis Albers in that spot. He was a two-time state gymnastics champion and one of the greatest gymnasts the state has produced — but of course, gymnasts don't wear numbers. After that, we did all the numbers we could and filled in the other spots with great athletes from non-number sports — our greatest swimmers, wrestlers, runners, and so on. When I could, I tried to model their jersey icon on the uniform they really wore. Some examples:

Albers and the 1959 gymnastics team wore a plain white jumper with an orange H, so I added a silhouette of a gymnast on the rings to that and added Albers's name.

I modeled all of the golfers' name cards after polo shirts worn by two of our best teams, one boys' and one girls'.

The spots for Nos. 60, 63, and 83 are filled by the great champions of our late-1980s track teams, and I recreated the distinctive three stripes of their tank tops.

For other track champions, I recreated the sash-styled uniforms they wore. I am particularly proud of Gil Young's uniform at No. 65, which shows the orange/black sash but also includes the blue numerals he wore.  Those blue numerals (worn on small diamonds) were a statewide program run by the University's track coach where tracksters were honored for achieving certain preset marks.  They were very common in Nebraska from the 1920s through the 1950s.

At No. 67, I honored a grandfather and grandson who were state discus champions in 1957 and 2010.

At No. 30, I chose to go FNOB for four-time cross-country state champ Shona Jones. I went with the FNOB in part because we have had several Joneses and also because she was one of those athletes known by her distinctive first name. We used her basketball number because she was pretty good at that sport as well.

At Nos. 26, 87, 93, and 98, I tried to honor our multiple-year state wrestling champs with a representation of the singlet they wore for their last title.

For our two honorees from the Class of 1911, Paul Schissler (a great basketball player who became a major college and NFL football coach – and may have invented the Pro Bowl!) and Dazzy Vance (a Baseball Hall of Famer), I tried to recreate the look of the classic letter sweater worn in that era with the H centered on a black pullover.

I did a little cheating at No. 40. Paul Thomas wore that mod Tiger jersey in 1941, but his road orange jersey was No. 41. Still, I wanted the orange version of the jersey, and its pairing with black shorts is represented on the graphic.

Finally, in the No. 99 spot, I honored one of Hastings's greatest ever, Johnny Hopp — another major leaguer, who played in the pre-numbers era — by recreating his American Legion baseball jersey.

My brother and I had a blast debating and remembering the players, and I was really happy with how the graphic turned out.  I even had a poster-sized print made for my classroom! Hope you find it interesting.
Very cool stuff! Obviously, most of us have never heard of most of this school or these players, but I love how Greg has taken the "best by number" idea and run with it. And the backstories are really interesting — nicely done!
Here's a shot of Greg with the poster version of the graphic (which, as you can see, is in a room jam-packed with lots of other Hastings memorabilia):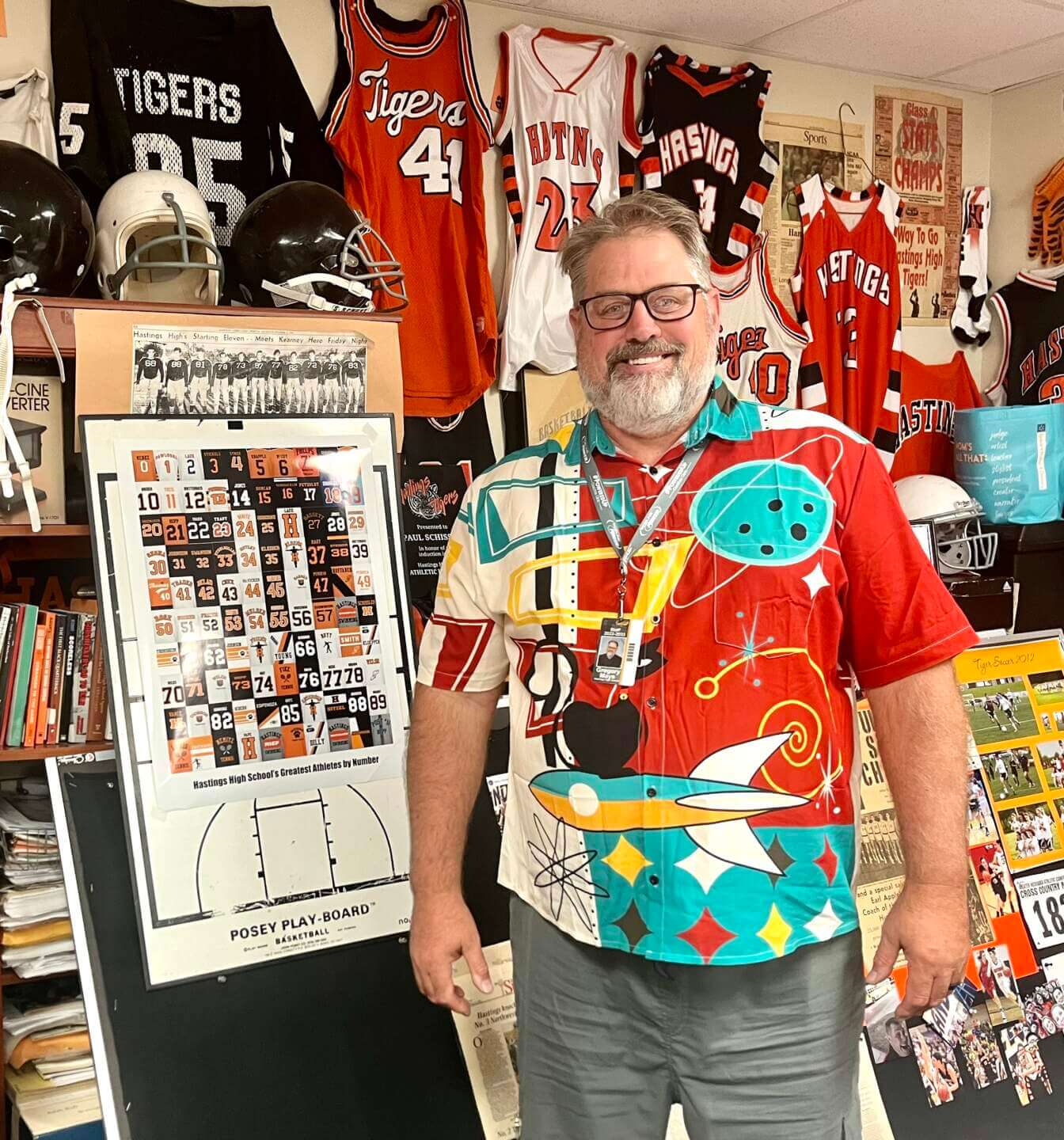 If you want to see more "Best Players by Uni Number" graphics, look here.
---