Some MLB teams wear their alternate uniforms whenever they feel like it, or when the starting pitcher wants to wear them, or when they're on a winning streak, or when they just want to change things up. Other teams have specific protocols for when they wear their alts, and the Phillies are one of those teams. They wear their cream alternates and blue caps for non-Thursday afternoon home games, their red spring training tops for road getaway games, and their powder blue throwbacks for Thursday home games.
The Thursday throwbacks haven't been an issue so far in the postseason (the Phils haven't played on a Thursday, at home or even on the road, since Sept. 29), and they weren't supposed to be in play for the World Series either, because this Thursday was originally supposed to be a travel day. But after Game Three was rained out on Monday night, the entire Series schedule was bumped back a day, which means Game Five will take place tomorrow — Thursday. That led to this tweet last night from Phils beat writer Matt Gelb: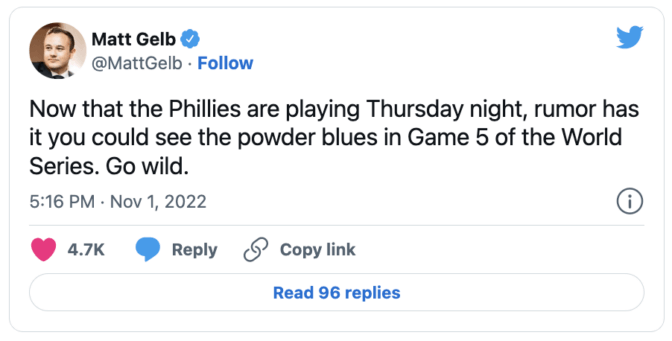 That makes sense. The Phils wore the home creams for the NLDS clincher against Atlanta because it was a day game, so they're apparently sticking with their basic uni guidelines for the postseason. I'd be surprised if they don't wear the blues.
Update: It's now official — the Phils will indeed wear the blues tomorrow night: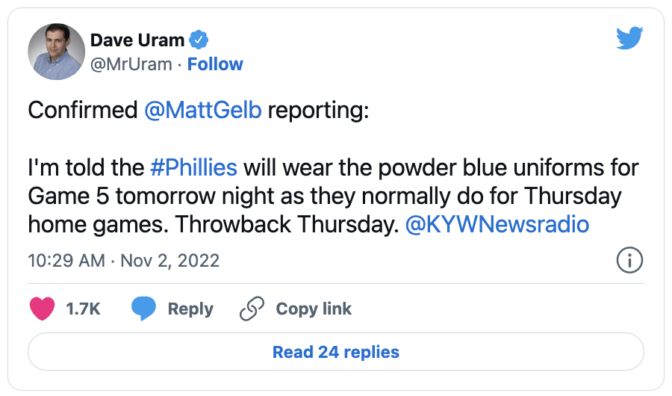 I should probably acknowledge here that I've never loved the idea of wearing a road throwback at home, but whaddya gonna do. In any case, this will be the first time a full powder blue uni has been worn in the World Series in many, many years. How many? I think you have to go all the way back to the 1985 Royals!
Also: Since the Phils won last night, there's a chance, however slight, that they could close out the Series in Game Five, which could result in a powder blue dogpile on the field.
Meanwhile, here's a fun coincidence: Philly and Houston won't just be facing each other on the baseball diamond on Thursday night — they'll also be squaring off on the gridiron, because the Texans will be hosting the Eagles for Thursday Night Football.
---