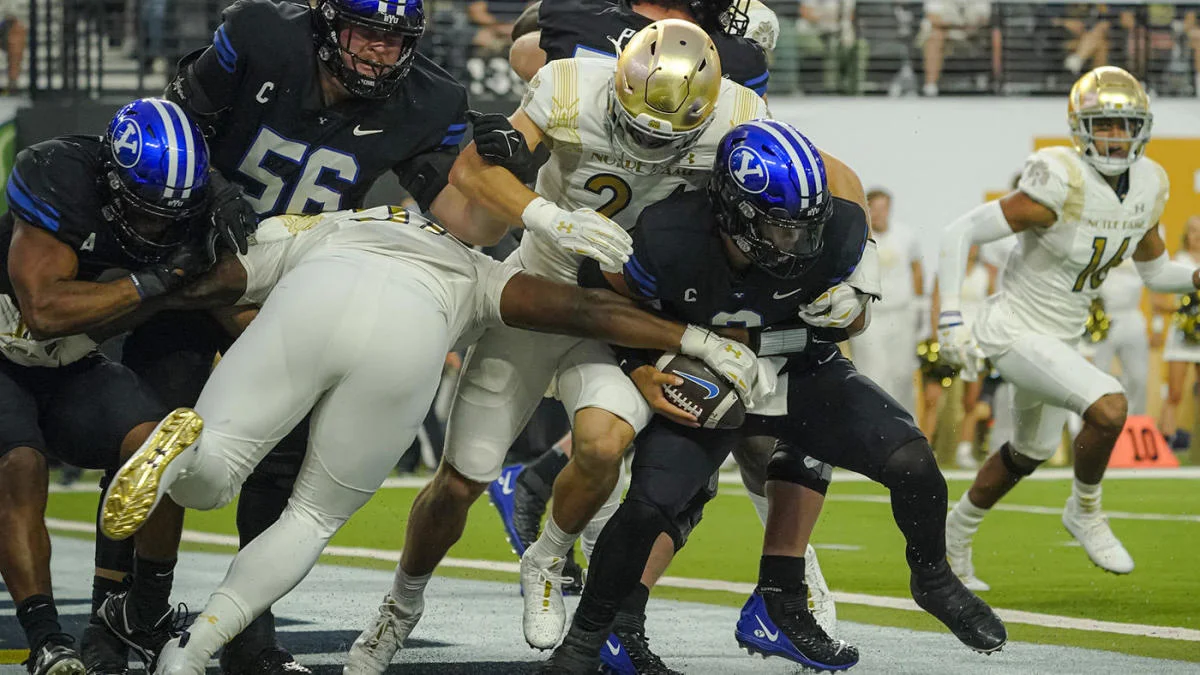 A good Sunday Morning, Uni Watchers. Welcome to Week Six of your Sunday Morning Uni Watch. As always, I'm joined by SMUW veteran Terry Duroncelet, who'll bring you all the Week Six uni action and shenanigans in the first section, followed by Canadian University Uni Watch(er) Wade Heidt, who has some choice looks from America's hat.
I have a confession: for the first time in several years, I didn't even see one minute of the Notre Dame/BYU game (today's splash photo), since I was deeply invested in the Mets/Padres tilt. Fortunately, my team ended up staving off elimination, and the two teams will face each other in a final, winner-take-all game tonight. All the other MLB Wild Card series ended in two game sweeps (congrats to the Phillies, Mariners and Guardians).
Both Notre Dame (wearing their newest "Shamrock Series") and BYU (with a new royal>black fade helmet and BFBS) wore combos neither had previously worn yesterday. While I liked Notre Dame's minimalist look, BYU didn't look like BYU. Although, I have to say, their helmet was one of the better "fade" jobs (helmet gradient/fades don't generally look as good on the field as teams think they will, but BYU did seem to pull it off).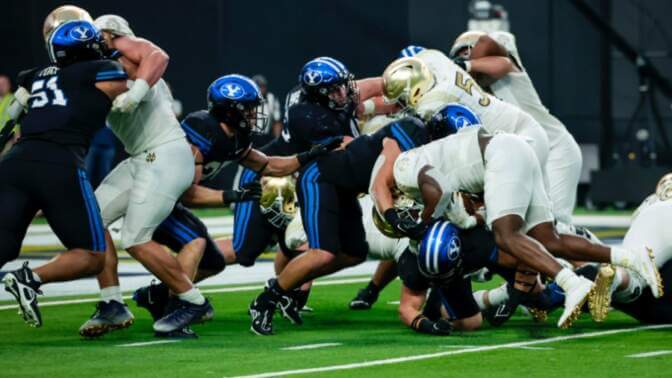 As for ND? Well, considering some of the uniforms they've trotted out for their "Shamrock Series" looks, this one was pretty nice. Basic gold helmet, white jersey and pants (the jersey contained some intricate shoulder stripes). You can read all about the uni here.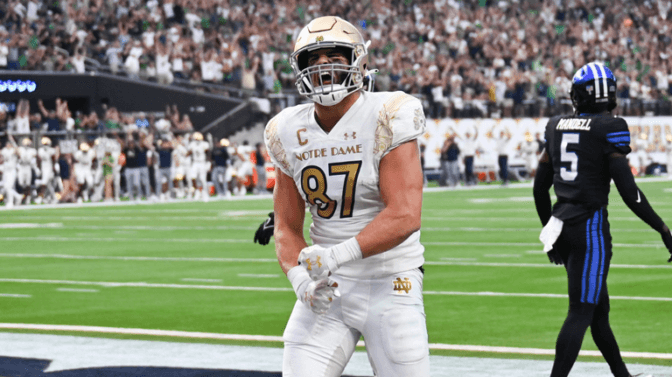 You can read more about BYU's new helmet and BFBS unis here.
And with that (and apologies for not watching that game), I'll now turn it over to TJ for your…
• • • • •
Sunday Morning Uni Watch
by Terry Duroncelet, Jr.
I heard someone call the brain an "electric meatball" earlier in the week, and now I will never refer to it as anything else ever again. Now before I get on with Week 6, I need to note a couple of things: Firstly, I goofed, and forgot to mention a kinda-sorta-DEFINITELY important FCS game last week: Sam Houston State and Stephen F. Austin! This was a color-vs-color game, too. Oops. Secondly, I noticed that some pictures in the columns just won't open when you click them. I don't know why that is, as I test all my links before going through with them, but ye, sorry for the possibly out-of-context premature link rot. With that out of the way…
From Wednesday:
• UCF/SMU: It's hard to see (at least, without a close-up), but UCF wore decals with a touch of the Florida State flag against SMU, who wore their Dallas unis, but with blue facemasks (they normally wear red), and I don't think I remember seeing them with blue pants. Are those new? It's always interesting how different priorities given to one color can have a huge effect on the other(s). With their usual garb, the red accents shine through and really tie in with the rest of the look, but here, the red accents are substantially more subtle, but still pop in a different way. And before you ask, yes, this is the menswear stylist part of my brain that's overthinking this.
From Friday:
• Rutgers/Nebraska: In this battle of the B1G transplants, I'd normally be giving the Scarlet Knights the business for wearing not-exactly-scarlet, but for the month of October, I'm allowing virtually all aesthetic crimes (as long as they're not advert-fueled, of course. *cougholemisscough*), so this becomes a delightful fright. Just as well: this uni is Rutgers's best-contrasting look against the Cornhuskers.
• Nevada/Colorado State: The Wolf Pack (two words) debuted some brand-new, mono-black "Battle Born" unis (ironically without their usual Battle Born helmets) against the Colorado State Rams (source for that BB helmet, BTW). As for the helmets that they DID wear on Friday night, they seem to have a similar treatment to Notre Dame's helmets.
• San José State/UNLV: There's a Chargers vs Raiders joke here somewhere.
From Saturday:
• Troy/Southern Miss: On the banks of the Red Cedar, There's a school that's known to all; Its specialty is winning, And those Trojans play good ball; Trojan teams are never beaten, All through the game they fight; Fight for the only colors: Cardinal and White (and silver and black). Troy wasn't the only one with a retro-minded lid on Saturday…
• Michigan State/Ohio State: The Spartans wore throwback helmets to 1998 against THE.
• Arizona State/Washington: New script unis and helmets for the Sun Devils. I'm always torn on Arizona State's looks, I don't know whether to respect the drip or hate them with extra conviction. I think this comment sums it up best. Endzones were fire, tho. Plus, we were treated to the rare sight of Washington in the gold/purp/white combo. I guess this could be considered color-vs-color.
• Yale/Dartmouth: Another rare (but important) FCS mention. Yale football turns 150 this year. That's right, they've been playing handegg almost as long as the game of college football has been around, and they marked the occasion with some sweet sorta-throwbacks. Here's some lore behind the unis (I just wish they wouldn't call the entire uni a "jersey"), and some more action shots. The helmet stripe features the last names of every past captain for the Bulldogs.
• LSU/Tennessee: Smokey the Bear uniforms for the Vols. Meanwhile, LSU took white-at-home to a new extreme. For the month of October, I can actually get behind Tennessee's grey alts, especially since not only do the (actual school color) numbers contrast well with the grey base, but the colors together are also season-appropriate. And LSU's all-whites are not something I'd want to see full-time, or even more than once a year, but in that one game out of the season that they do, they're always clean.
• Boston College/Clemson: The Eagles wore their Red Bandana uniforms against Clemson. I'm sure at least 98.69 percent of you already know the story behind the unis, but just in case, here's the backstory. Also, from Justin Hicks: a bit of One on One defense.
• UAB vs MTSU: UAB wore their Children's Harbor uniforms for Homecoming against Middle Tennessee State. As always, you can learn more about them here.
• Florida/Mizzou: this game would've been PERFECT if Florida had worn orange trou. Also for those who follow LSU and are missing your weekly dose of a Tigers team in the SEC wearing gold/white/gold, here ya go.
• Bowling Green/Buffalo: Color-vs-color??? between the Falcons and the Bulls. As a reload of the previous bullet point, this game would've been top-tier if BG's orange pants were present.
• Northwestern/Wisconsin: Northwestern wore THE most Halloween unis in college football: the Gothic Blacks, which are probably some of my favorite guilty pleasure uniforms in college football, and perfect for the month of October. Meanwhile, Wisconsin broke out the red pants, with an… INTERESTING pairing of the white facemasks. I would think they would wear red here. I don't HATE it. In fact, I think it looks pretty cool and adds a nice sort of cooling factor to the unis, kind of like when you see a red and white Christmas fixture in that cool-toned Winter daylight. I just figured that they'd play the facemasks accordingly, since I usually see the white masks with their all-whites.
• Pitt/Virginia Tech: A stellar sight between the Panthers and the Hokies.
• Kentucky/South Carolina: Throwback lids for the Gamecocks.
• Indiana/Michigan: A sight that seems far more seldom-seen than it should be: Michigan in white-over-maize! HELL YES– oh, and Indiana's in full-ketchup, I guess. But Michigan! In the maize pants! NEAT!
• Georgia/Auburn: White facemasks for Auburn.
• Iowa State/Kansas State: All-black for the Cyclones.
• Georgia State/Georgia Southern: Georgia State in their Spooky Best on Saturday.
• Illinois/Iowa: [eyes emoji intensifies]
• • • • •
Thanks, TJ! Great coverage as always. See ya next Sunday!
_____________________________________________________