[Editor's Note: Paul is on his annual August break from the site. Deputy editor Phil Hecken is in charge from now through the end of the month, although Paul may be popping up here occasionally.]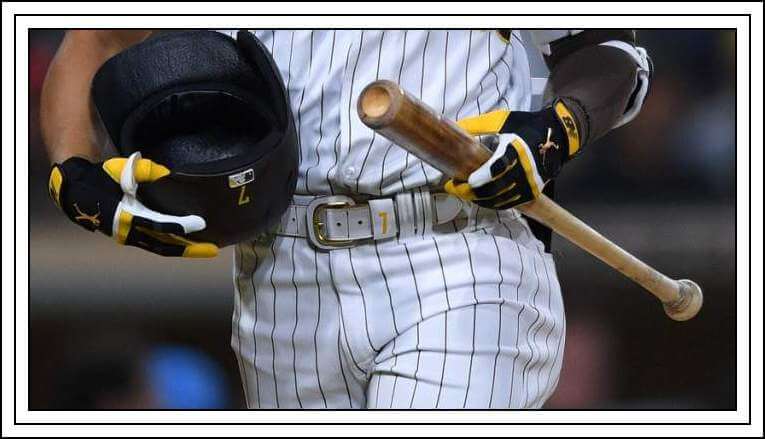 By Phil Hecken
Follow @PhilHecken

Good morning Uni Watchers! Short lede today, as Paul has a new Bulletin piece today (instead of his usual Friday slot), which follows directly below.
Paul pointed out (via Padres broadcaster Jesse Agler) a very cool and unique uniform modification which was adopted by the San Diego Padres second sacker Ha-Seong Kim on Wednesday, which you will notice in today's splash. In case you missed it, he has either added pinstripes to his belt, or has an actual pinstriped belt, but I'm pretty sure they're hand-drawn. How cool is that?
Here's a full-size look at Kim: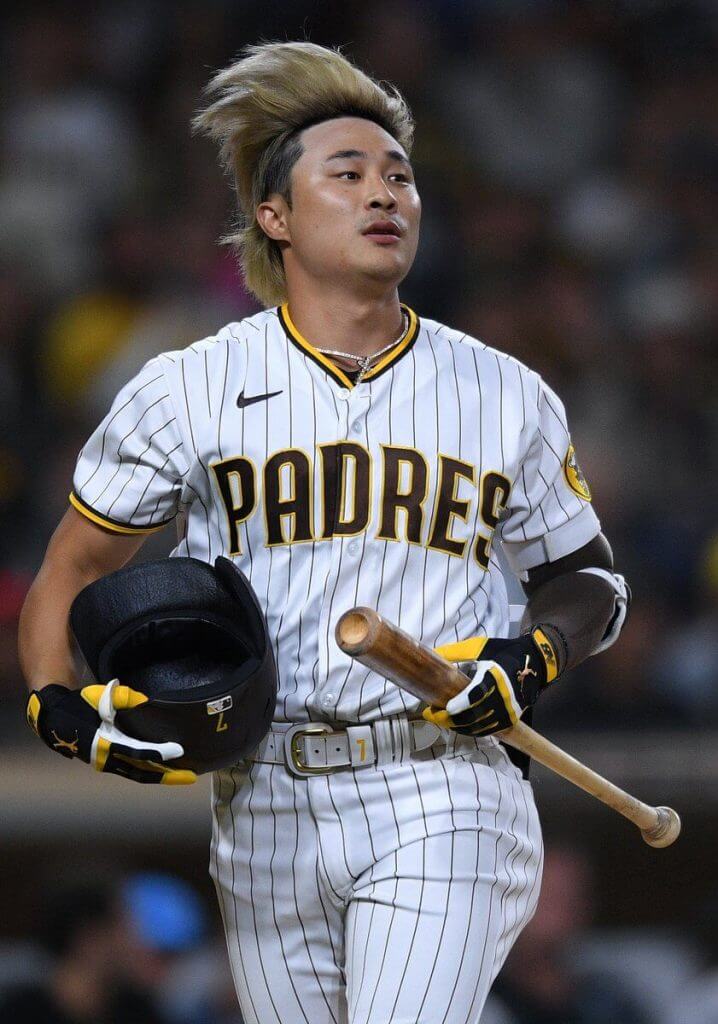 If you look closely at the belt, it definitely looks like Kim (or someone else) has actually added the pinstripes with a sharpie, and most of them line up perfectly with the vertical stripes on the Padres uniform.
I'm not sure if Wednesday night was the first time Kim actually wore the belt, but I couldn't find any photos of him with it before the game. There was one Getty photo from Wednesday which also gives a look at the uni-mod.
That's not as good a look, since the Padres already have pinstriped belt tunnels and a good chunk of what's visible in that photo is the belt tunnel (and the two loops of the belt fastener), but you can still make out the hand-drawn pins. How cool is that? Almost all other photos of Kim have shown him wearing a black or dark brown belt, so the white belt with added pinstriping is new. It will be interesting to see if this was just a one-off thing or if he continues to wear the new look.
I'm not sure I'd want to see every team/player that wears pinstripes going this route, but if Kim is the only player to do it, and continues to do it, then I love it!
• • • • •
• • • • •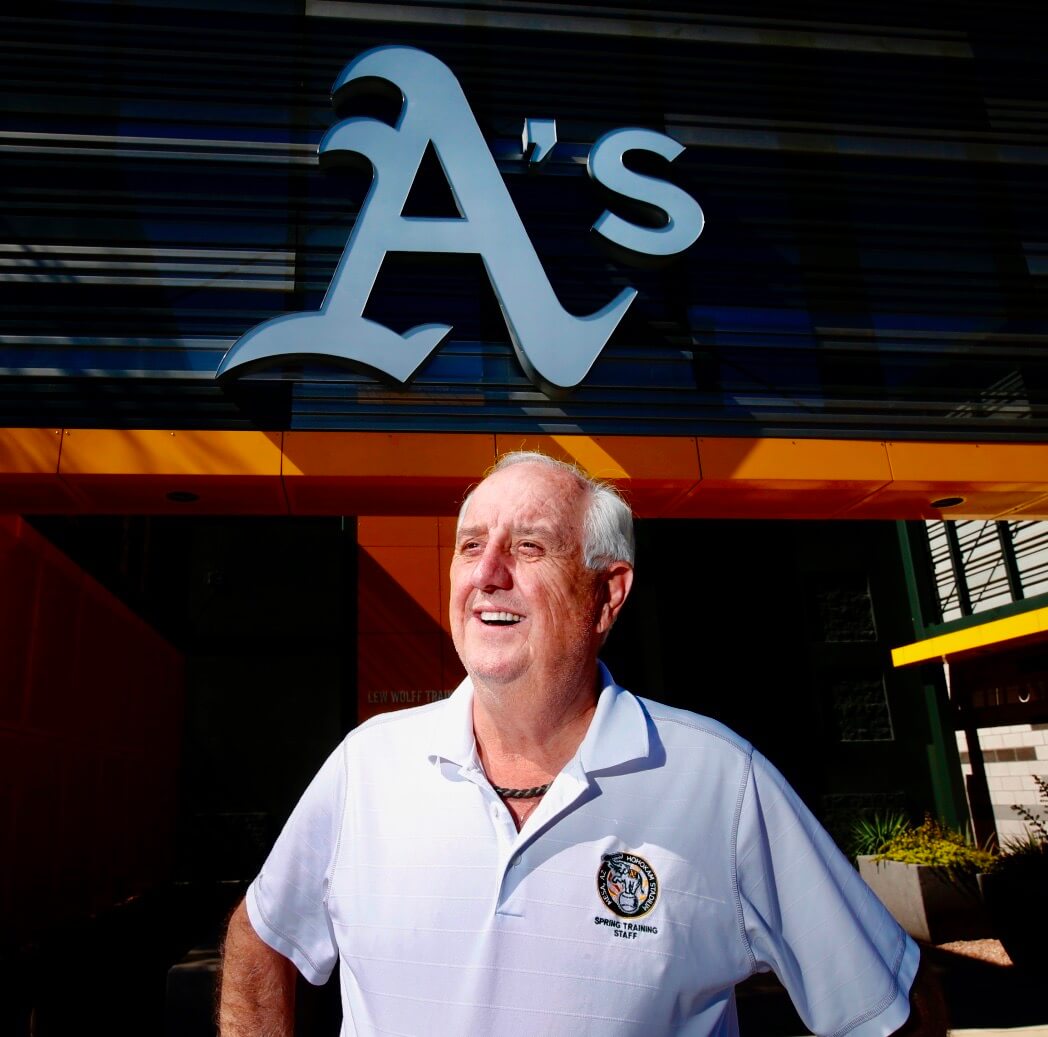 And now a few words from Paul: Hi there. My latest piece for Bulletin (running on Thursday this week instead of the usual Friday) is an interview with longtime Oakland A's equipment manager Steve Vucinich, who's now in his 54th year (!) with the club. It's a really fun interview, full of stories, insights, and a dirty little secret — literally.
Those of you who've subscribed to receive my Bulletin articles via email should already be seeing this piece in your in-boxes. It's also available on the web on my Bulletin page. Enjoy!
Also: I'll be doing a Zoom presentation today at 6pm Eastern as part of the Worcester Museum of Art's exhibition about baseball jerseys. It's free for museum members and kids, $5 for everyone else. If you're interested, you can sign up here.
Okay, back to Phil!
• • • • •
• • • • •
Introducing the BaseballBBQ Forkballers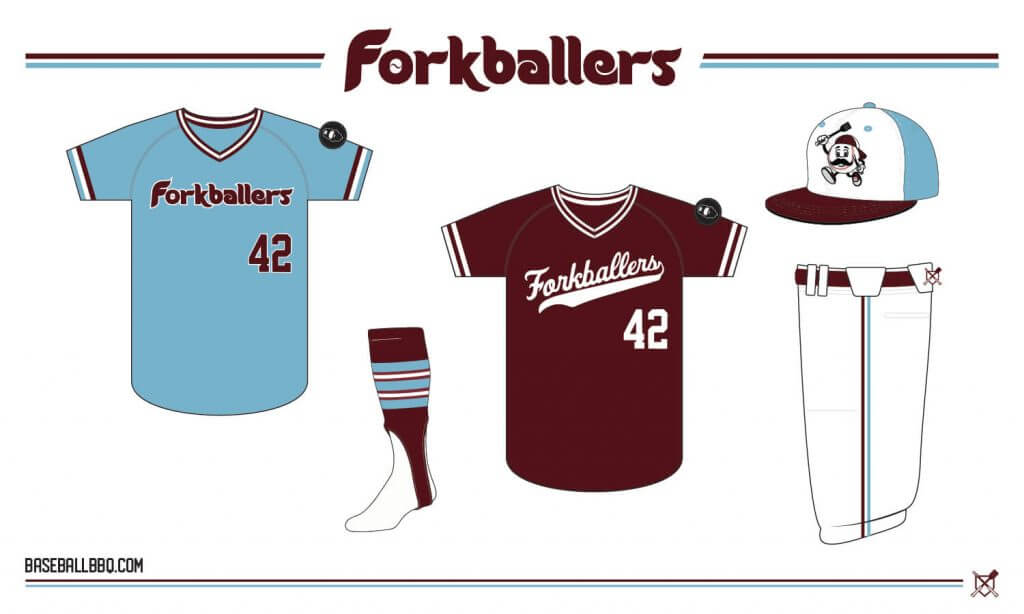 What's that you see above? Some kind of fantasy baseball team? A reader designed uni concept?
Nope and nope (although, I suppose, the second descriptor could technically apply here, but it's most definitely NOT a fantasy team).
I received the following e-mail from reader Brett Mandel who shared with me the uniforms he and his teammates will be wearing when they play in the 2021 Men's Senior Baseball League World Series this fall! It's not so much that the uni concepts (which will be actual uniforms) are so good — because they are — it's the tremendous detail involved in designing the uniforms.
Check it out!
_________
Phil:

I'm reaching out as a big Uni Watch fan — and fellow Hamilton College alum (Class of '91). My 40+ team is preparing for the 2021 Men's Senior Baseball League World Series in October and putting together a uniform set up that we are very proud of and thought you would enjoy seeing. Last year, a number of guys on our team started a company selling a line of patented baseball-bat-handle BBQ tools and accessories — www.BaseballBBQ.com (maybe there's a Uni-Watch collaboration in there somewhere) — and so our old-guy team will be the BaseballBBQ Forkballers this year.

Since we are based in Philadelphia, we are rocking the powder blue and maroon of the Phillies of our youth and since one of us interned in the Expos front office years ago, we have an awesome Expos-inspired hat featuring the BaseballBBQ mascot. Stirrups, of course, are a must and even the wrong-thinking guys on our team who wear socks will have to wear fake stirrups so they at least look like real ballers! You may also notice a patch for a former teammate who passed away this year and will be missed on the trip.

Of course, we are extremely excited about our look and offer it to you for critique or anything else you might want. The inside story about how a law partner, a bat maker, a marketing communications manager, and a baseball author spent weeks obsessing over every uniform detail as our wives and others teased us about how seriously we were taking decisions about whether the brims of our hats should match our belt, is a fun one and we can't wait to show these uniforms off at the MSBL World Series in October.

Hope all is well.

Brett
That's awesome, Brett. And the detail in designing the unis I spoke of earlier? Check out this presentation Brett shared with me: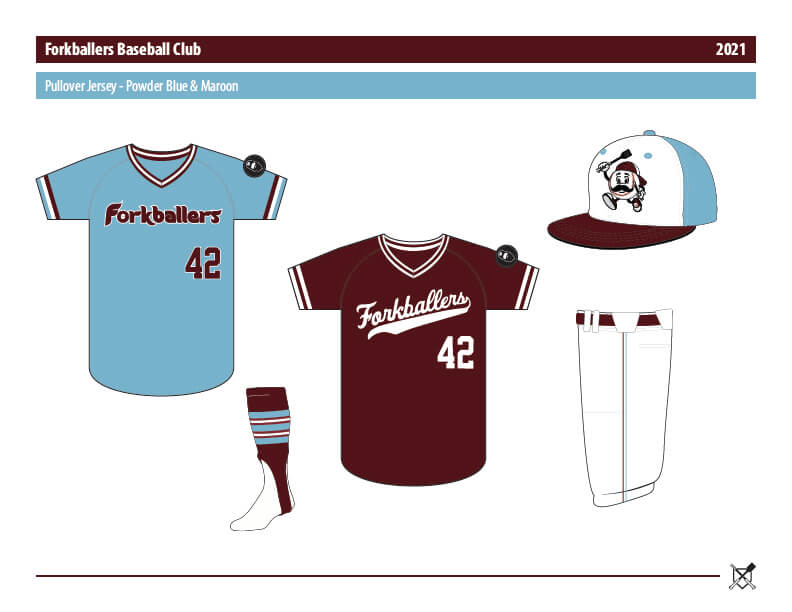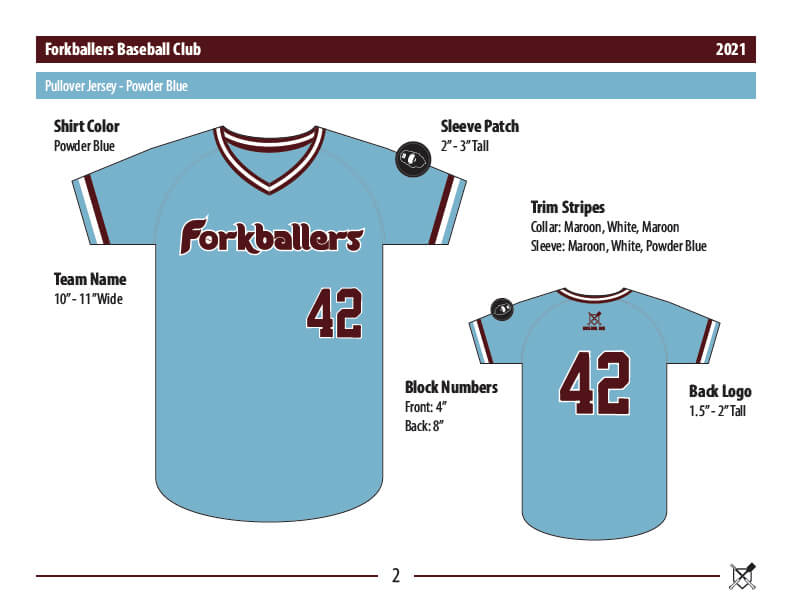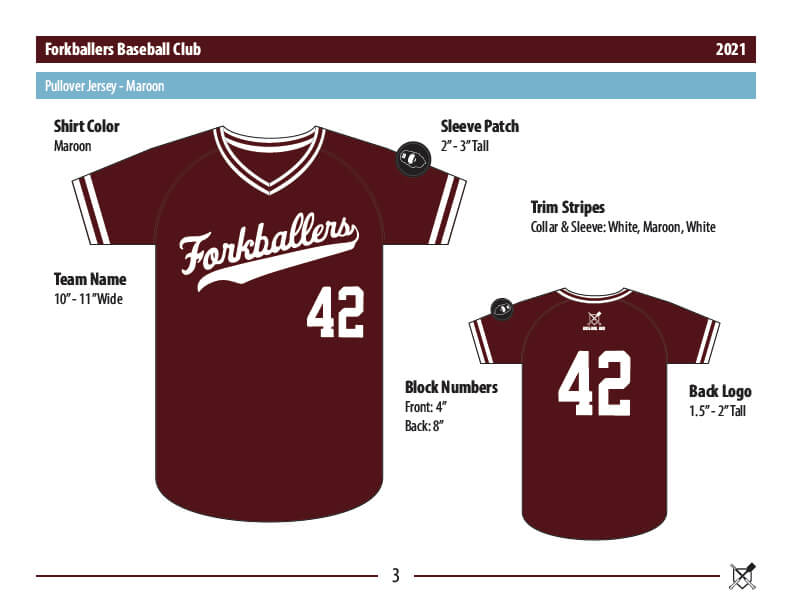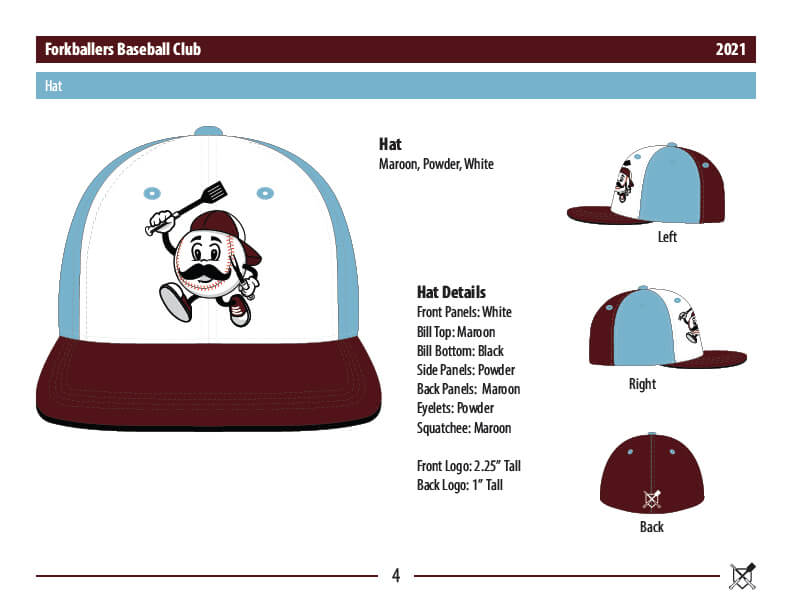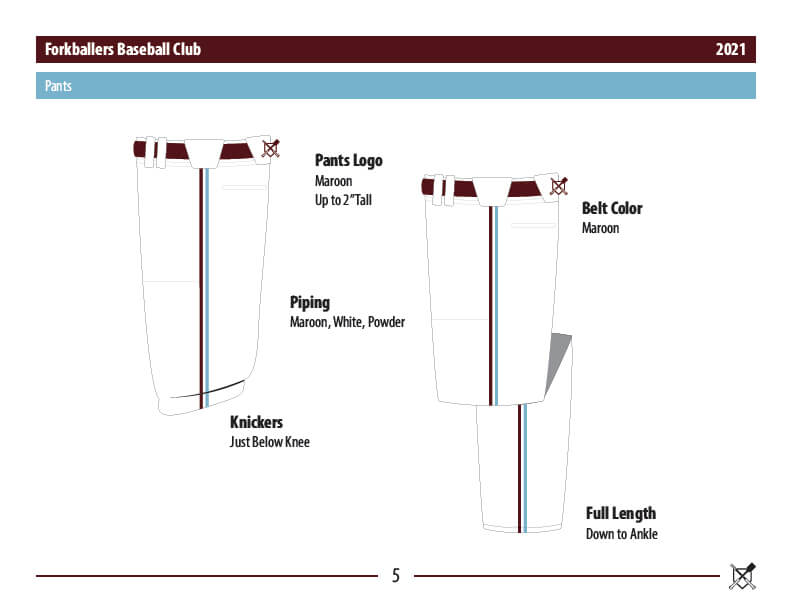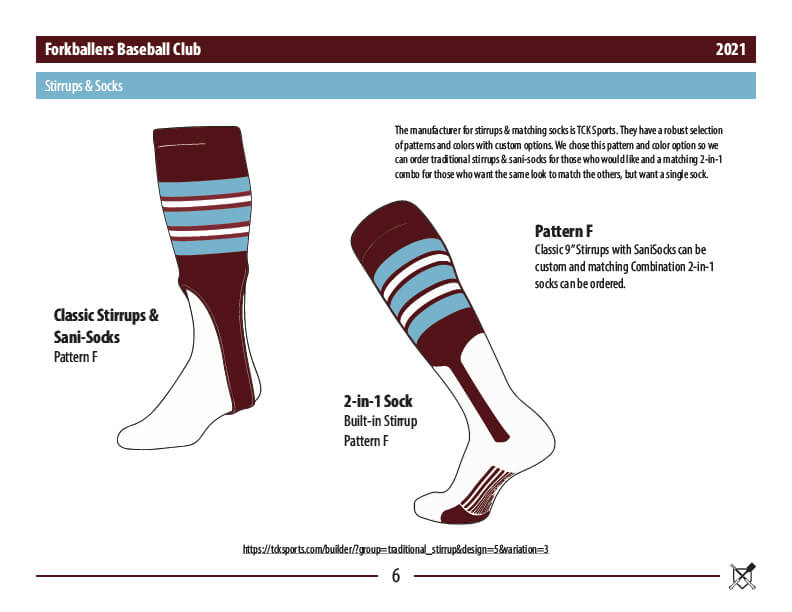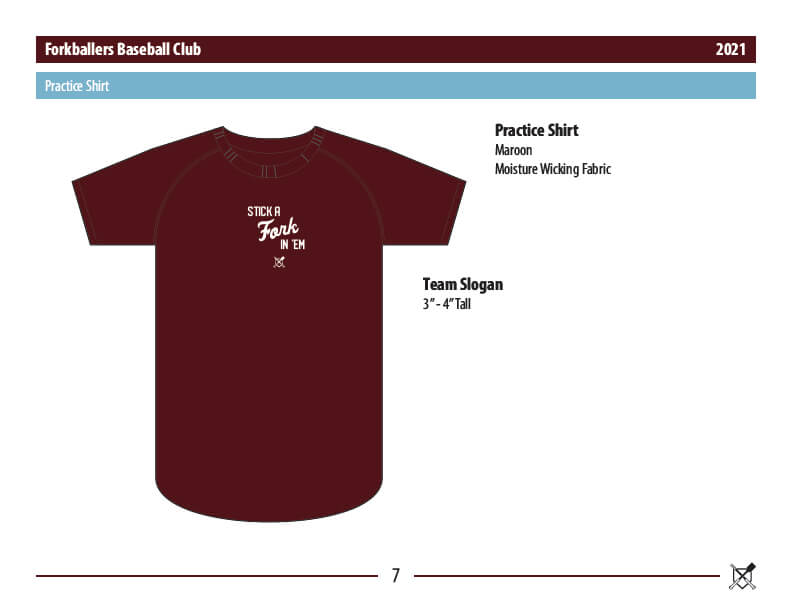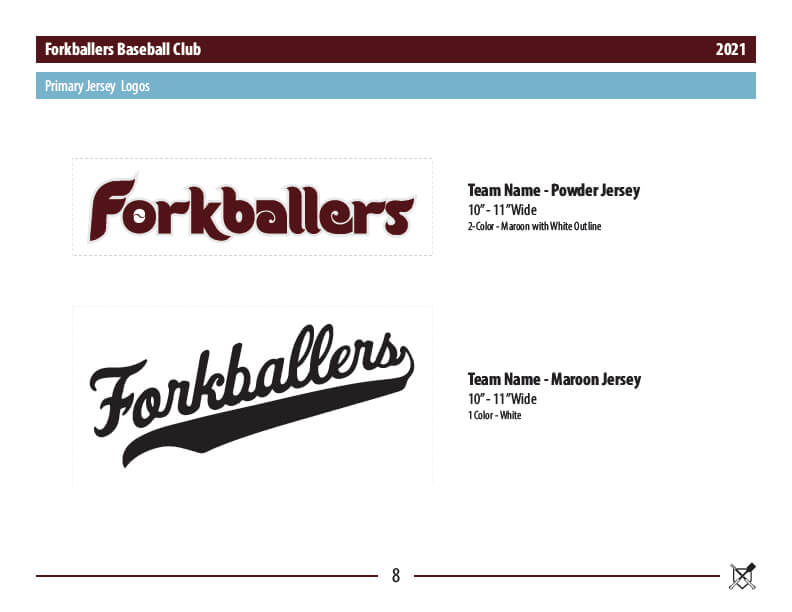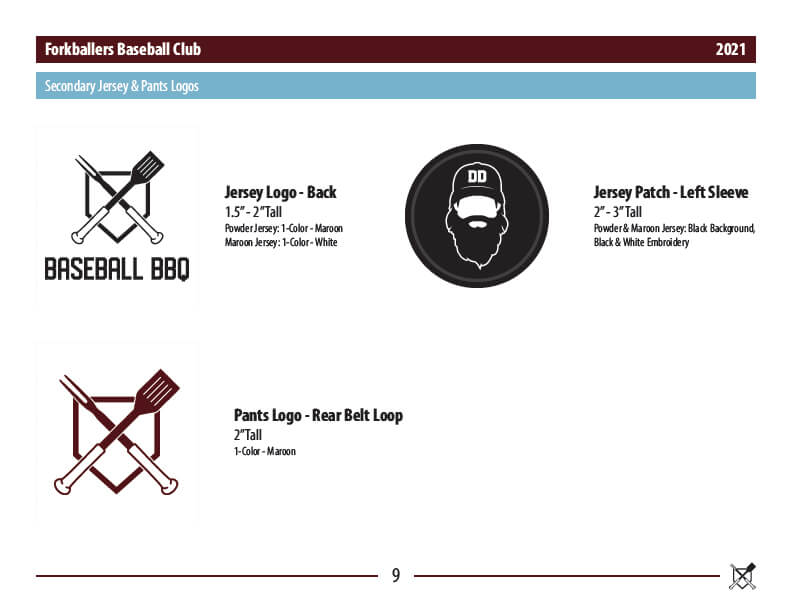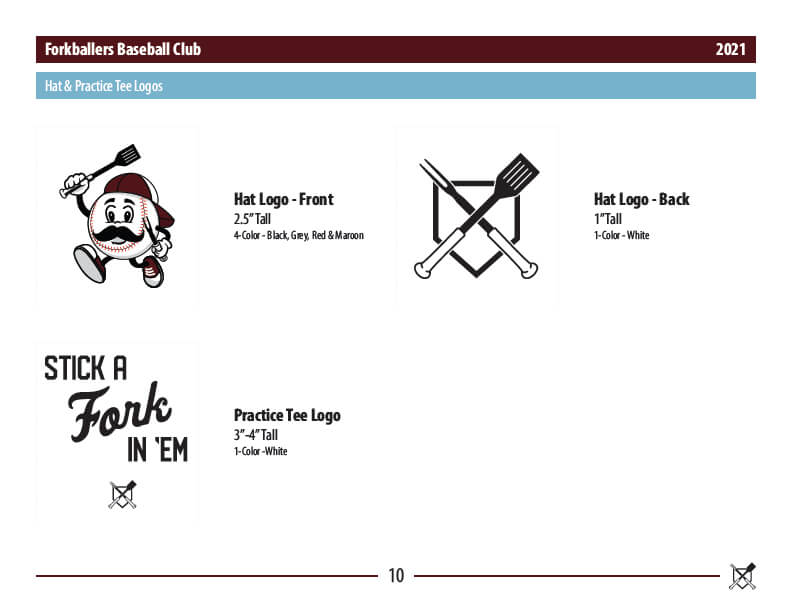 Wow! Pretty amazing detail there, right?
Brett also provided a couple additional images.
Blue Jersey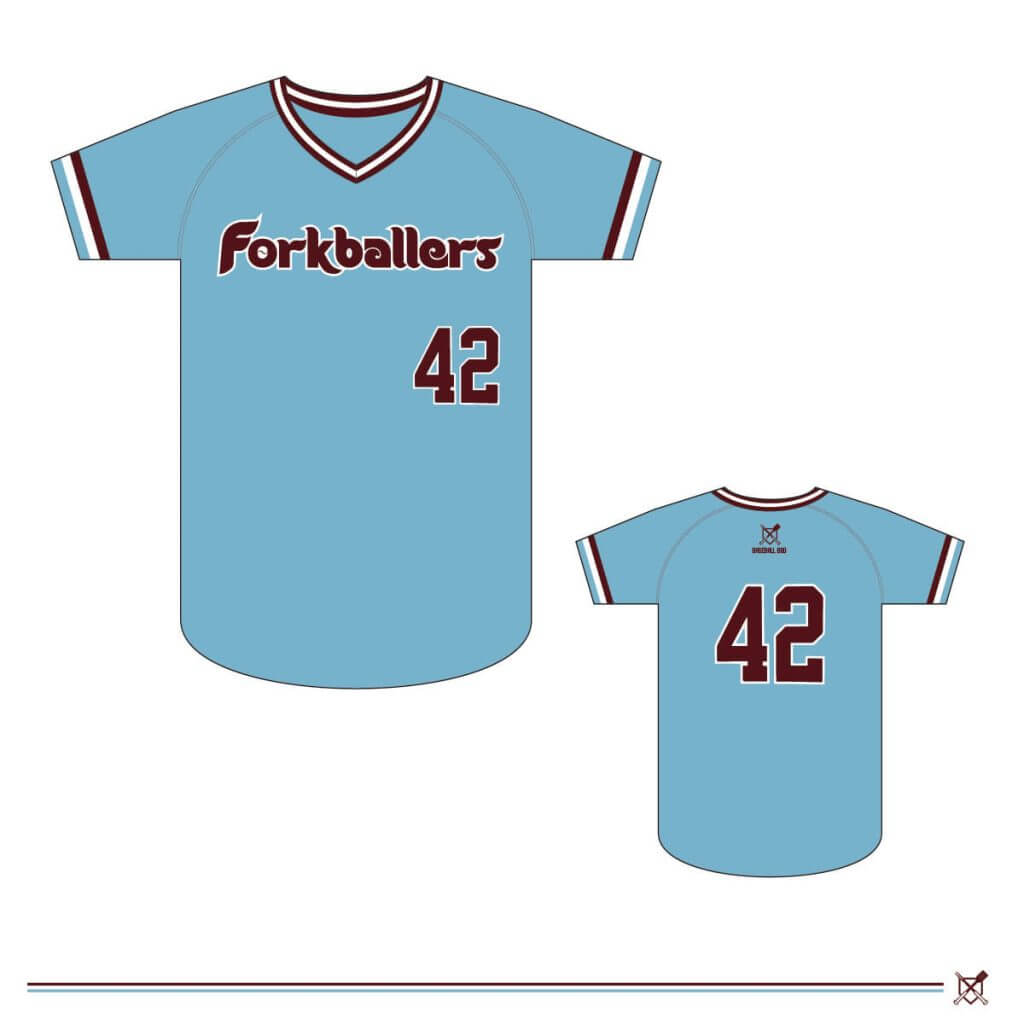 Maroon Jersey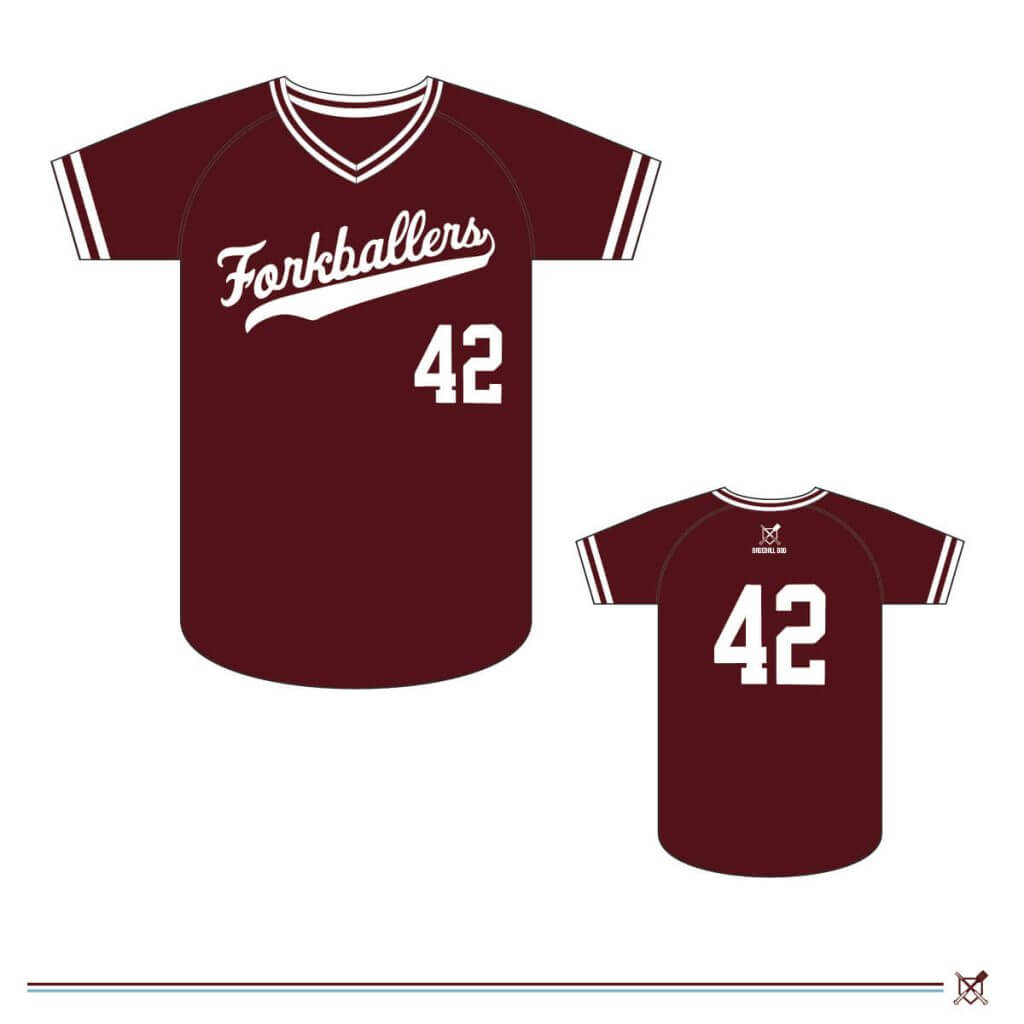 Cap Detail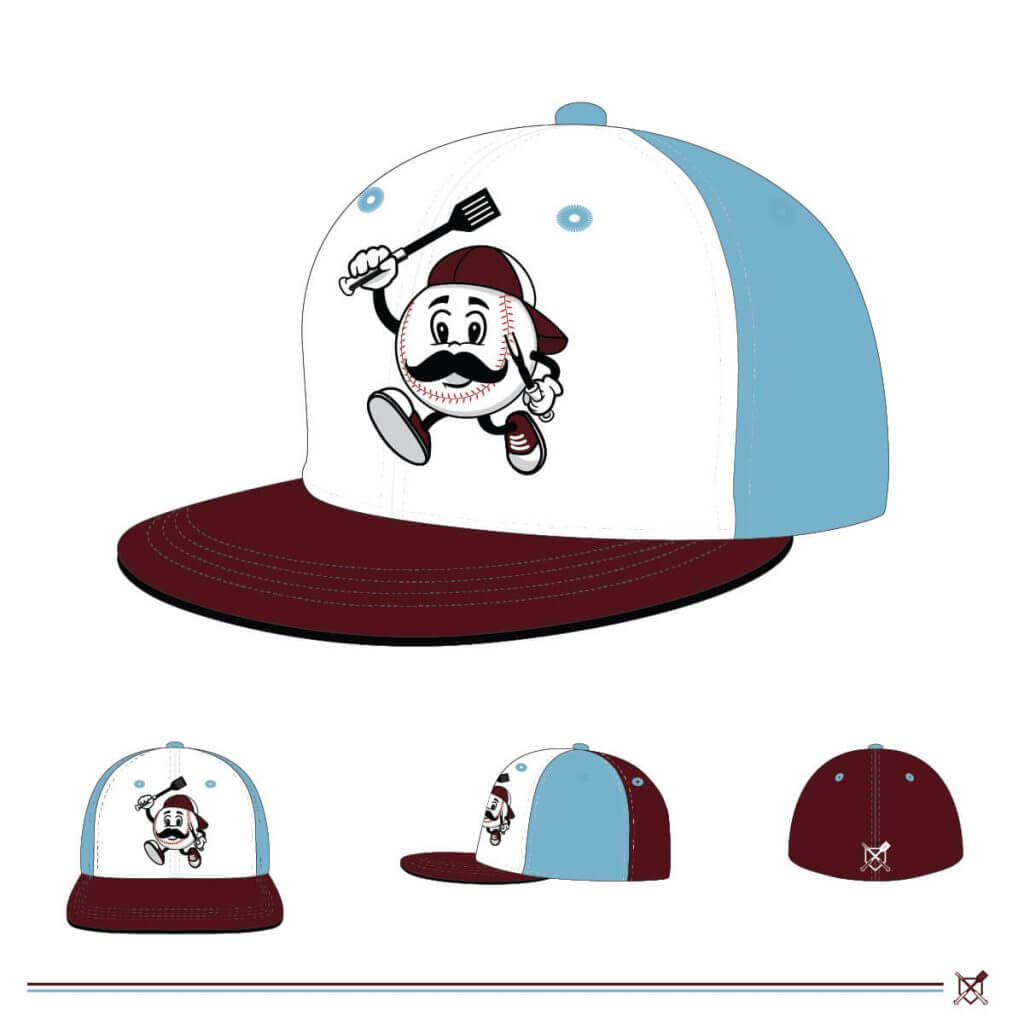 Pants/Stirrups/Socks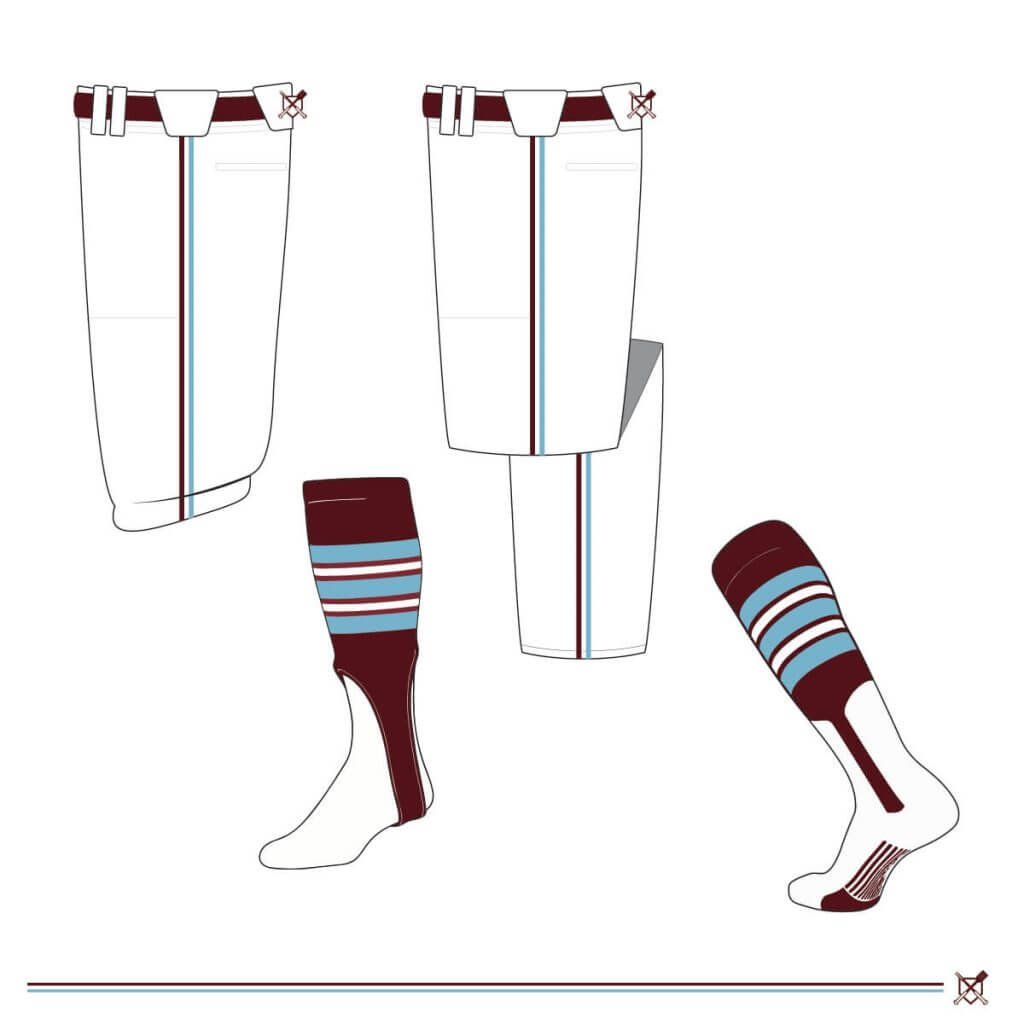 Memorial Patch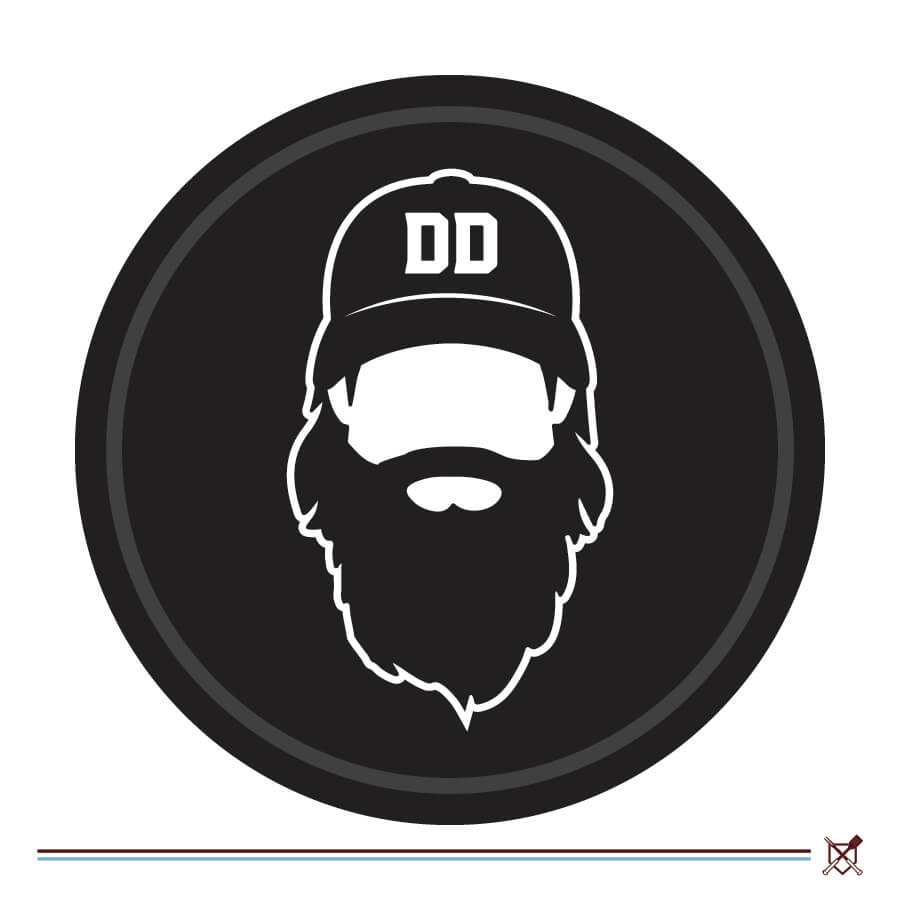 __________
Tremendous stuff, Brett — thanks for sharing, and best of luck to you in the Senior Baseball League World Series this October!
• • • • •
• • • • •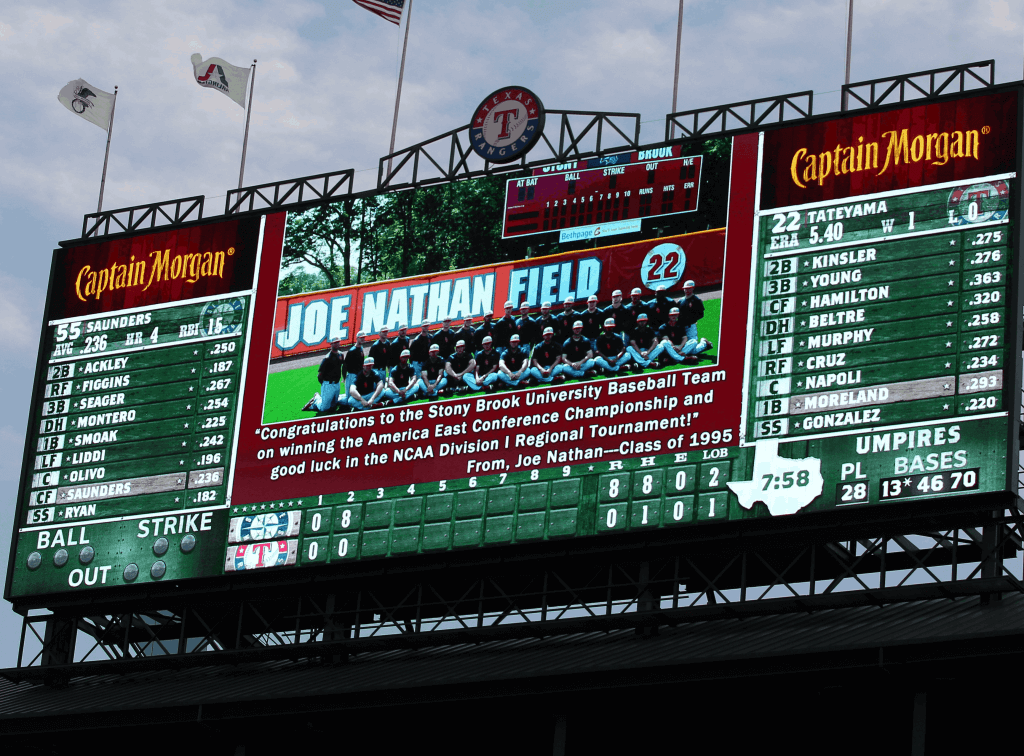 Guess The Game…
from the scoreboard
Today's scoreboard comes from Rupert Everton.
The premise of the game (GTGFTS) is simple: I'll post a scoreboard and you guys simply identify the game depicted. In the past, I don't know if I've ever completely stumped you (some are easier than others).
Here's the Scoreboard. In the comments below, try to identify the game (date & location, as well as final score). If anything noteworthy occurred during the game, please add that in (and if you were AT the game, well bonus points for you!):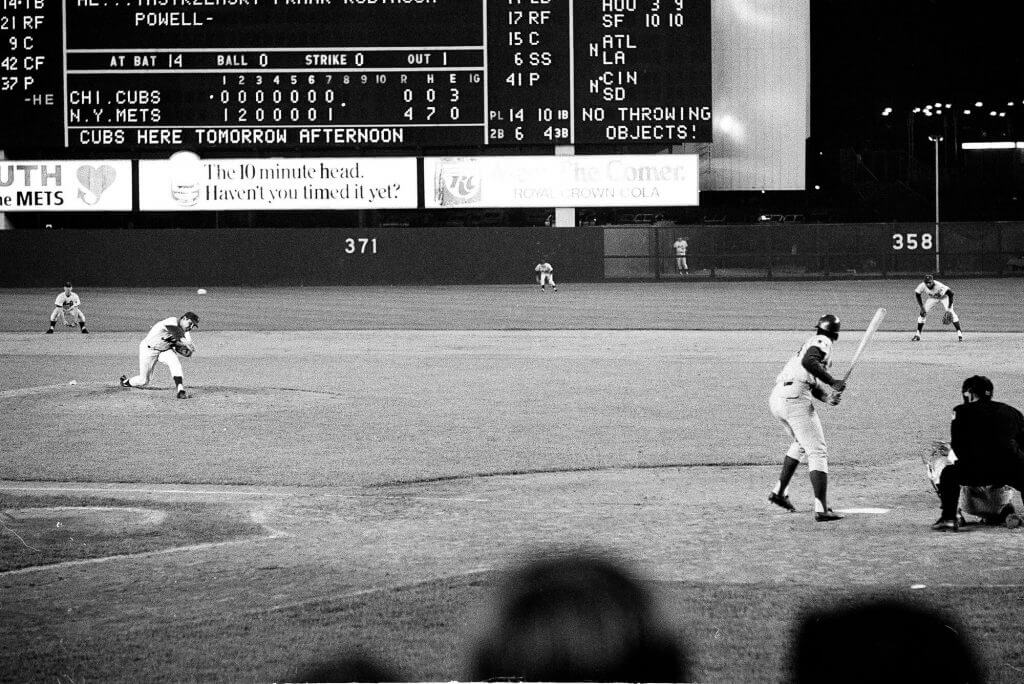 Please continue sending these in! You're welcome to send me any scoreboard photos (with answers please), and I'll keep running them.
• • • • •
• • • • •
The Ticker
By Anthony Emerson


Baseball News: Yahoo Sports has issued grades for the Yankees' and White Sox's Field of Dreams game unis (thanks, Phil). … How old is this headshot of Pete Alonso ESPN was using? He's been out of college for over five years! (from Tyler Kepner).

NFL News: Skott Schoonover noticed that Chargers players are wearing pants without the lightning bolt stripe. It makes for an odd look, no?
.

College/High School Football News: Phil's uni tweet of the day yesterday was this rendering of Nebraska's "Lil Red" unis. Of course, it was fake, but plenty of people were fooled. … Speaking of Nebraska alternates, Bryan Schiffbauer was perusing Facebook when he found a low-quality photo of the back of Nebraska's patriotic uniforms to be worn on Sept. 11 against Buffalo.

Hockey News: The city government of Oklahoma City is selling its Zamboni. Which begs the question — why did the city government of Oklahoma City have a Zamboni in the first place? (from Dan Brewley).

Pro Basketball News: ESPN has listed the best player to wear every number in WNBA history (from Timmy Donahue). … Another day, another slew of uni number updates from Etienne Catalan.
.

Soccer News: Some retailers are already selling Arsenal's third shirt before it's been formally launched. Can't really blame them, I think it's pretty nice. … New third shirt for the Bundesliga's Bayer Leverkusen (thanks, Jamie).

Grab Bag: The Six Nations Chiefs of Major Series Lacrosse have unveiled a uniform honoring the thousands of victims of Canada's residential school program. The Chiefs are the official lacrosse team of the Six Nations of Grand River, the largest First Nations reserve in Canada (from multiple readers). … Staying in MSL, the Brooklin Lacrosse Club has unveiled their alternate jerseys (from Wade Heidt). … New unis for Grand Rapids Community College volleyball. … One more LAX update from Wade: Panther City LAX, an expansion team in the National Lacrosse League, has unveiled their inaugural unis. … Florida State University Schools, a lab high school that works in collaboration with FSU, has unveiled new athletics logos and branding (from Adam Cowhey). … Mike Wissman noticed that Bruce Willis's star on the Hollywood Walk of Fame uses an upside-down 'M' for the 'W' in his name. … The town board of Chicago suburb Mount Prospect, Il., narrowly voted to remove the Thin Blue Line flag from its police patches (from Eric Bangerman).
• • • • •
• • • • •
Uni Tweet of the Day
Not quite as good as yesterday's "Li'l Red" fake, but it's up there…
🚨 BREAKING NEWS 🚨

COLLEGE STATION, TX — Texas A&M set to unveil new SEC uniforms to celebrate Oklahoma and Texas' joining of the conference#AggieFactThursday pic.twitter.com/v7NmjpsVfn

— Kyle Umlang (@kyleumlang) August 11, 2021
• • • • •
• • • • •
And finally… that's it for this Thursday. I'm personally looking very much forward to tonight's "Field of Dreams" game between the Chicago White Sox and New York Yankees in Dyersville, IA. There's more than just lots of uni goodness in store — hope you guys will be able to check it out too (it's a nationally televised game on FOX, with the festivities starting off at 6:00 pm Central). Tomorrow, I'll have more on the throwbacks both teams will wear tonight, plus we'll have our own Jamie Rathjen bringing us this year's Premier League uni preview — so you definitely want to check back in then.
Everyone have a good Thursday and I'll catch you on the morrow.
Peace,
PH