Good morning! It's that time of year again — the time when I give something back, literally, to the comm-uni-ty. Or, if you prefer to be more cynical about it, the time when I clear out all the freebies that have accumulated here at Uni Watch HQ over the past year (along with some things that readers generously donated). Either way, for the 12th consecutive year, it's the day I run a big raffle that all of you can enter.
As in past years, some of you may recognize a few of these items as gifts that you thoughtfully sent my way over the past year. I realize people often frown upon regifting, but sometimes I have duplicates on certain things, or I don't have room for everything, or something is too big or too small for me to wear, or I've gotten some enjoyment out of an item and am now ready to let someone else enjoy it. No offense intended, and I hope none taken. Thanks for understanding.
For shirts and jerseys, you'll see a size followed by a measurement (L, 21″, for example). In each case, that's the tagged size, assuming there is one, followed by the pit-to-pit measurement across the chest. If the back side of an item isn't mentioned or shown in the photos, you can assume it's blank.
Unsurprisingly, there were fewer freebies in 2020 than in previous years (and, obviously, I didn't attend any unveiling events or Puppy Bowl shoots this year, so I don't have any press passes to give away like I usually do), so this year's raffle is a bit smaller than usual, but there's still some cool stuff. Ready? Here we go (for all photos, you can click to enlarge):
1. A complimentary Uni Watch membership card.
2. A Buffalo Sabres hoodie with my name on the back. All graphics sublimated (M, 23″):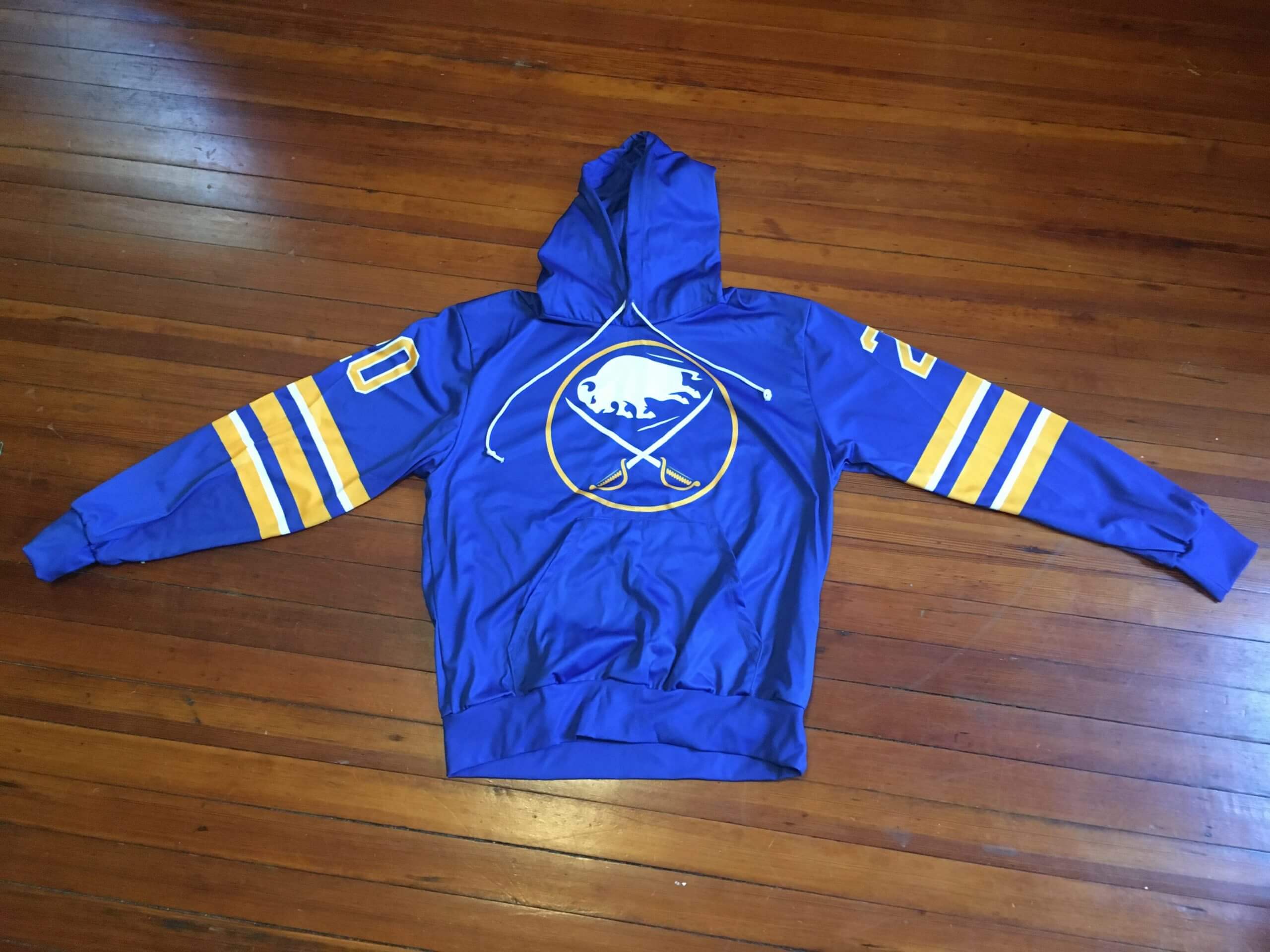 3. A Cleveland Browns replica jersey with Odell Beckham Jr.'s number and NOB, still with its original tagging (L, 21″):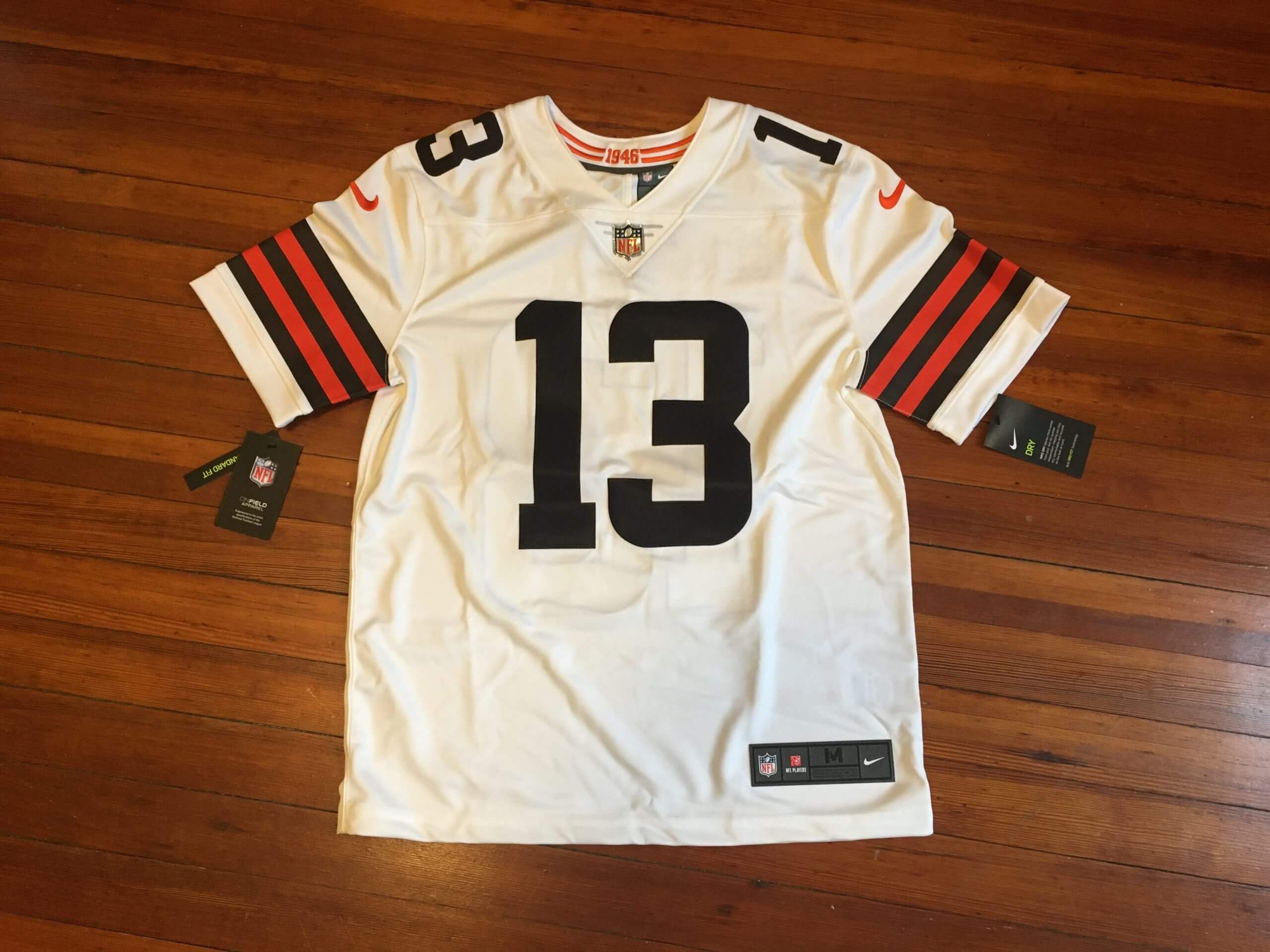 4. A Philadelphia 76ers T-shirt showing Ben Simmons wearing the team's new Boathouse Row-themed alternate uniform. "76" logo on left sleeve (XXL, 24″):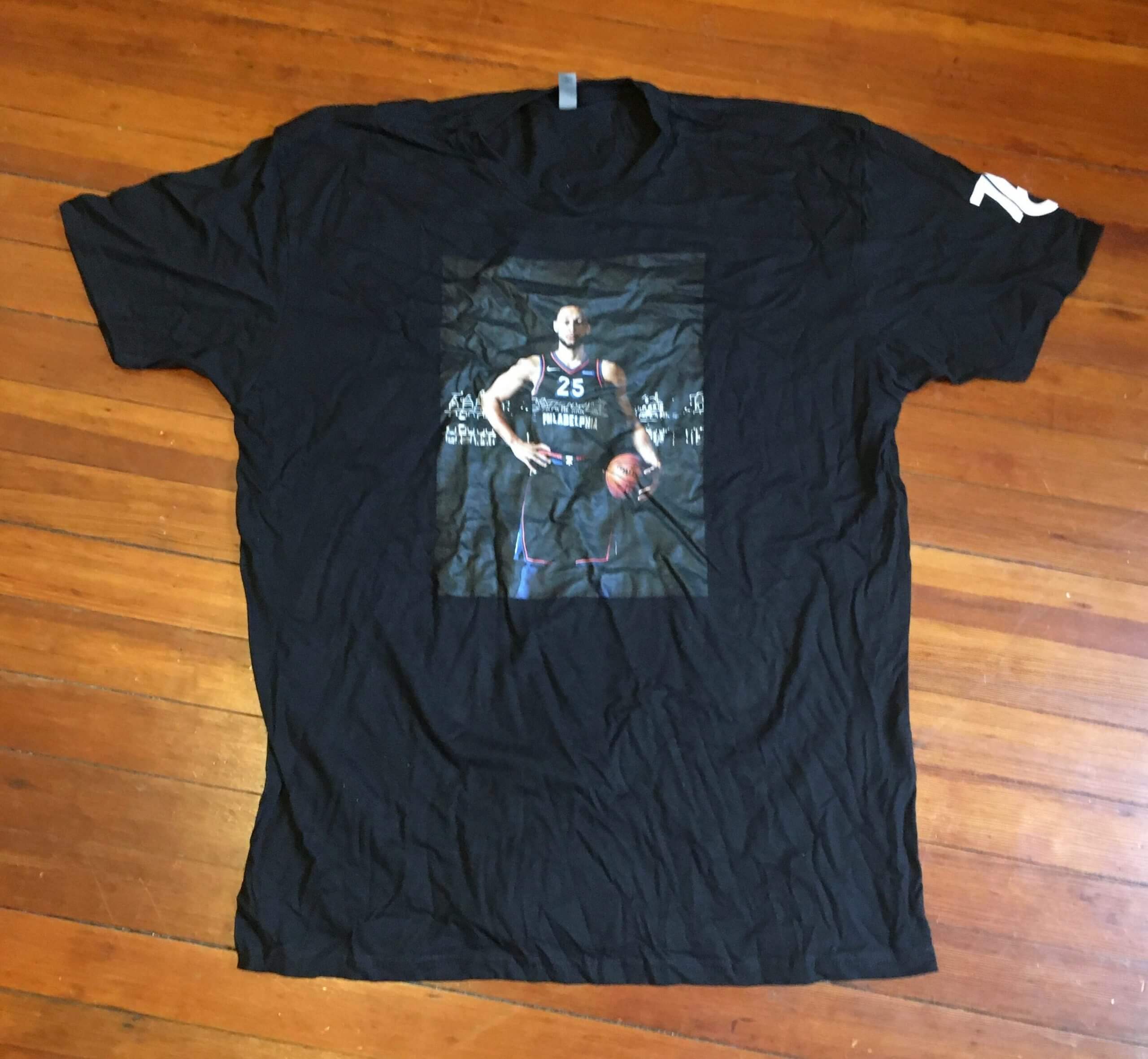 5. A Philadelphia 76ers "Summer 76″ T-shirt. Annoying StubHub ad on left sleeve. (L, 21"):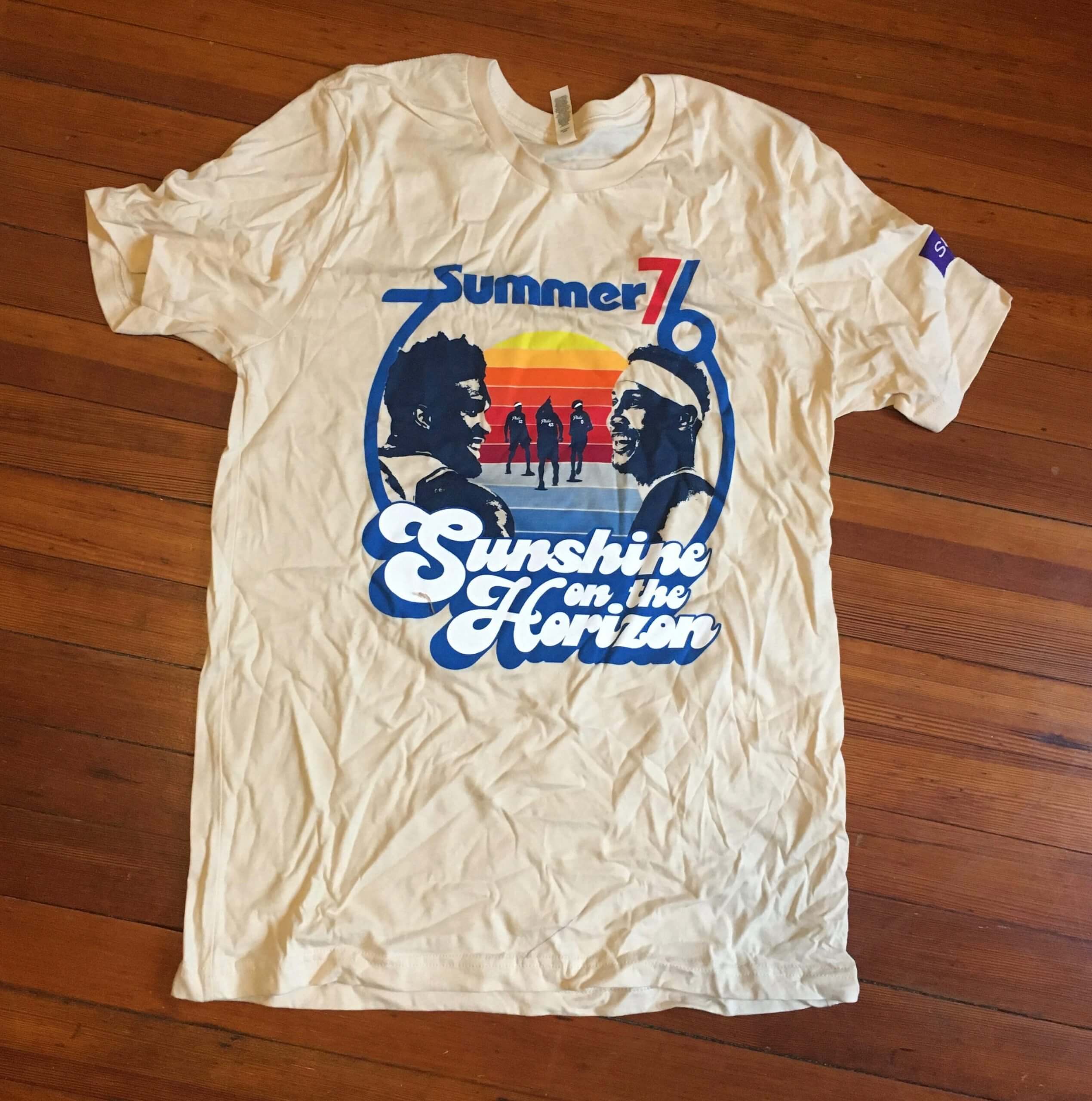 6, 7, 8, and 9. Four Philadelphia 76ers "Summer 76" masks. Each mask is a separate raffle item: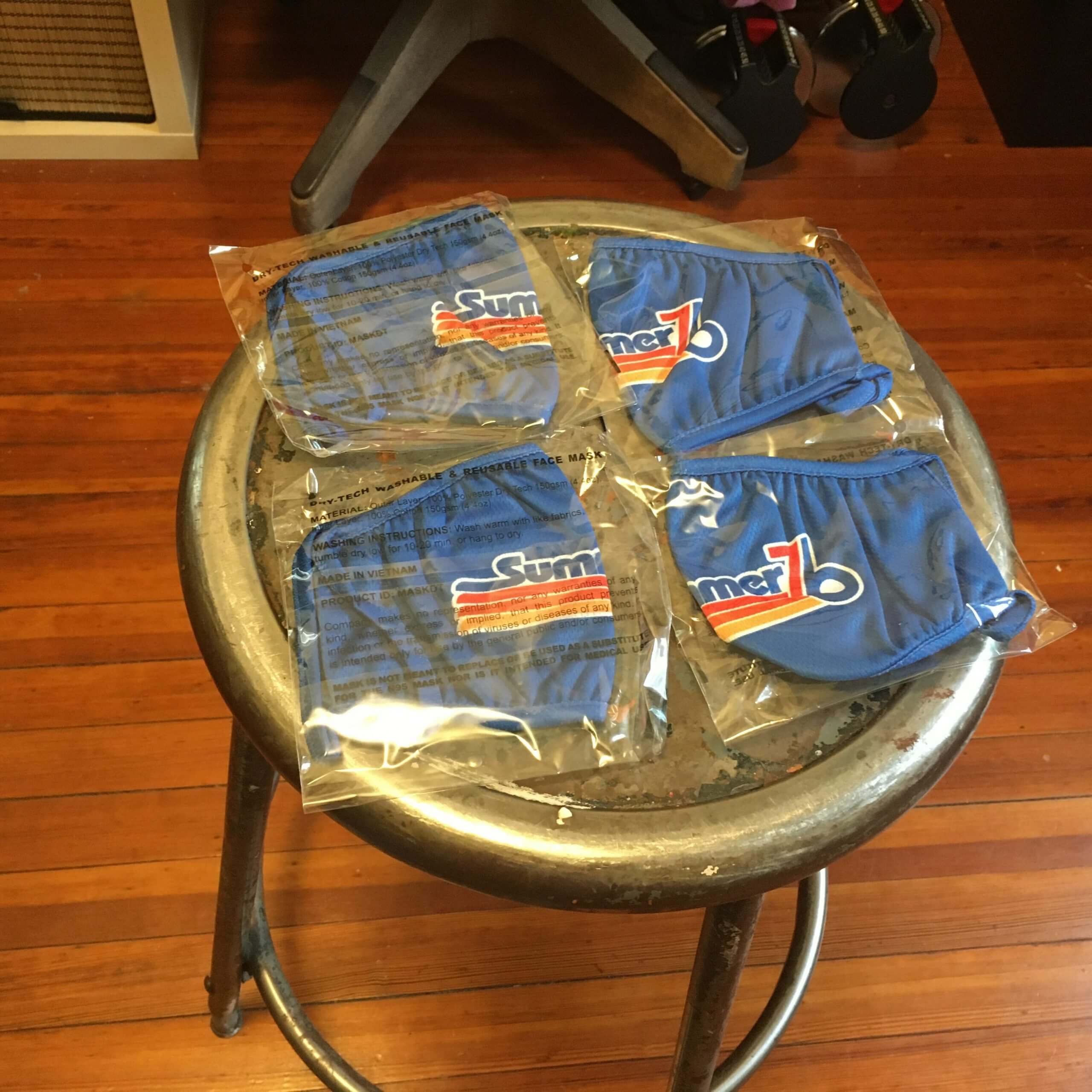 10. A Cleveland Browns "Hats Off to Our Heroes" patch (the patch by itself, not including the display card, measures 3″ x 4″):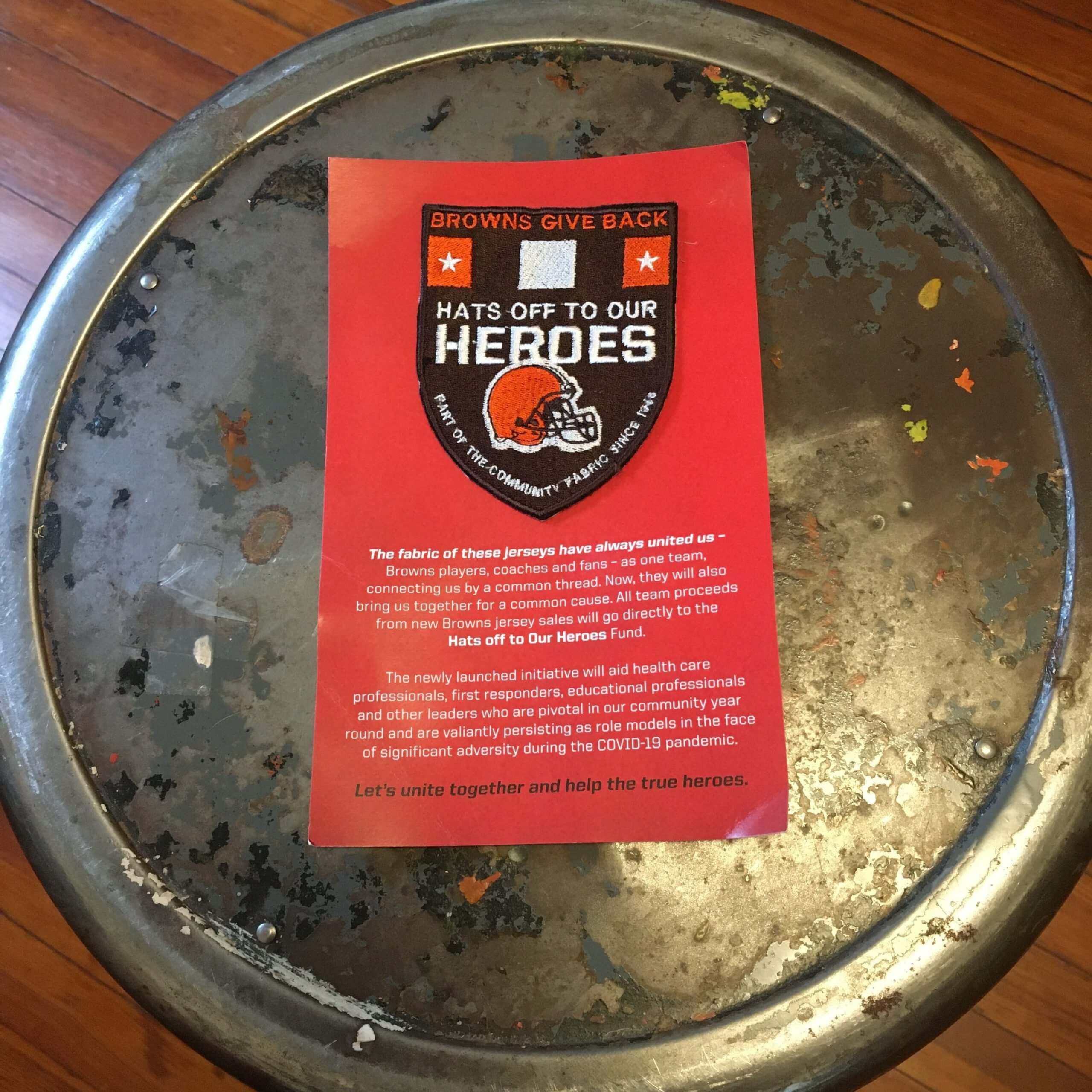 11. A pair of curling-themed socks. SportsLogos.net's Chris Creamer sent these to me after seeing them in a Canadian shop, so these socks have been handled by both of the uni-verse's preeminent writers, whoop-whoop!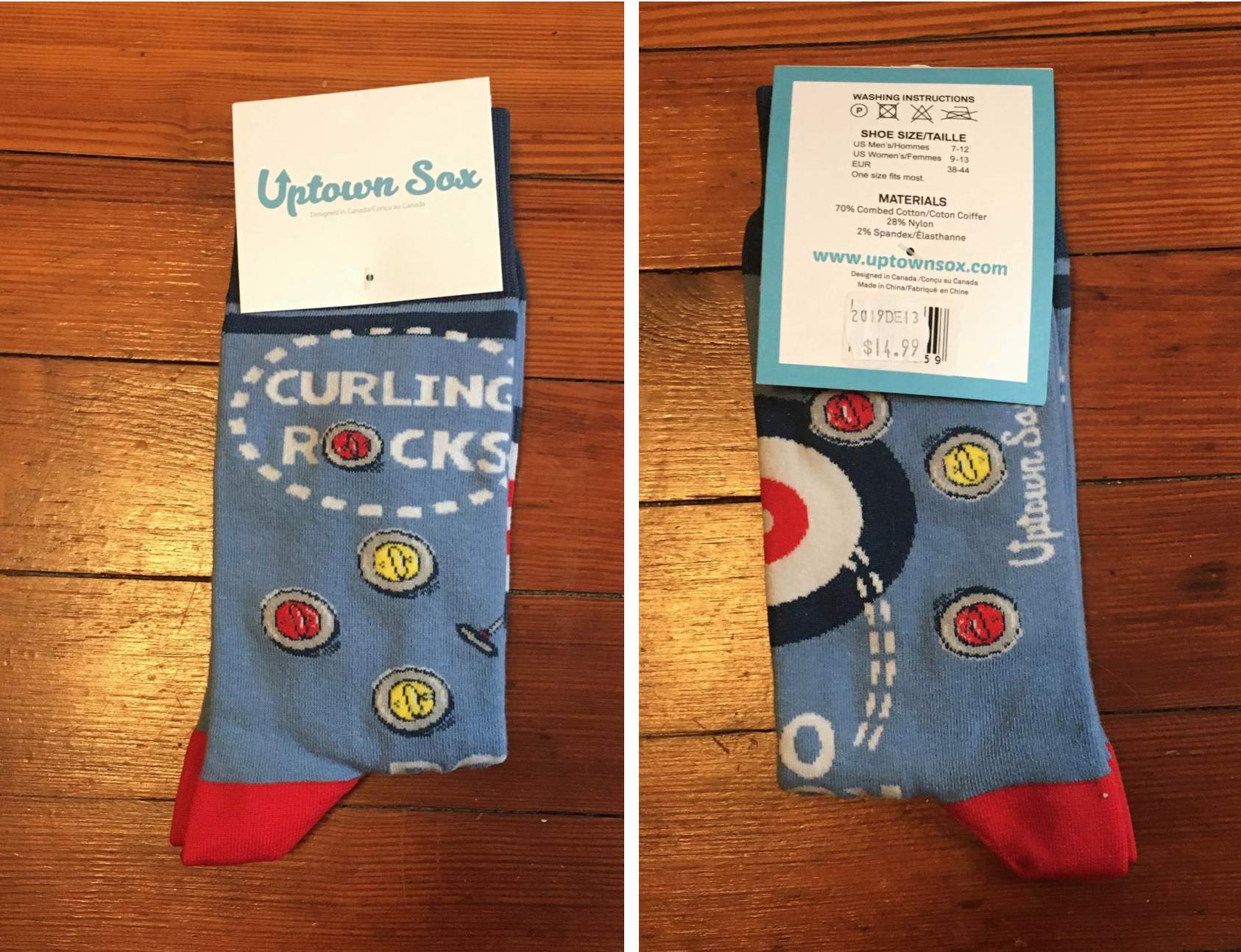 12. A Uni Watch 2019 Purple Amnesty Day shirt. Donated by reader Steve Heller, who says, "It's been worn two or three times and is still in great shape" (L, 22″):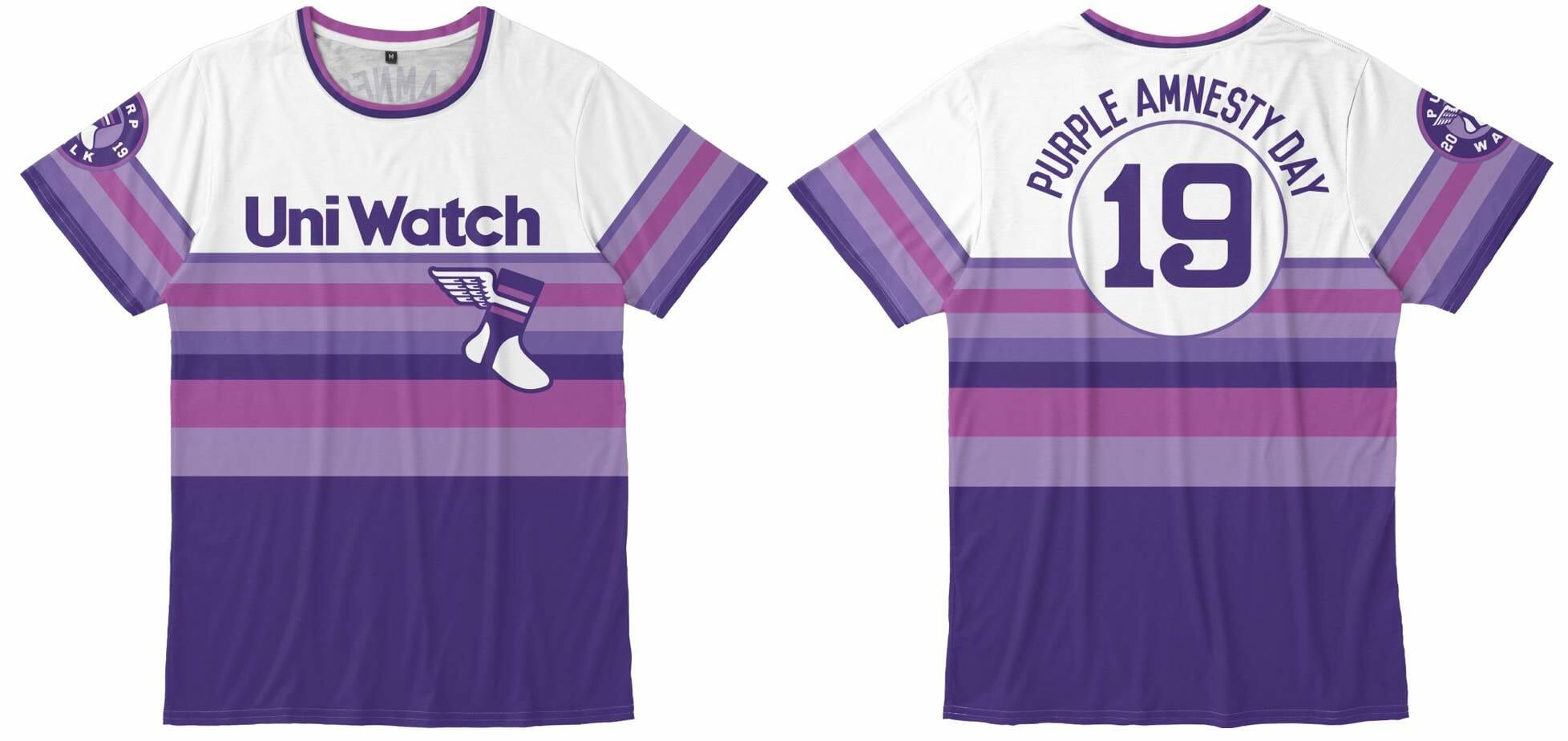 13. A copy of the book Big Sexy by former MLB pitcher Bartolo Colón: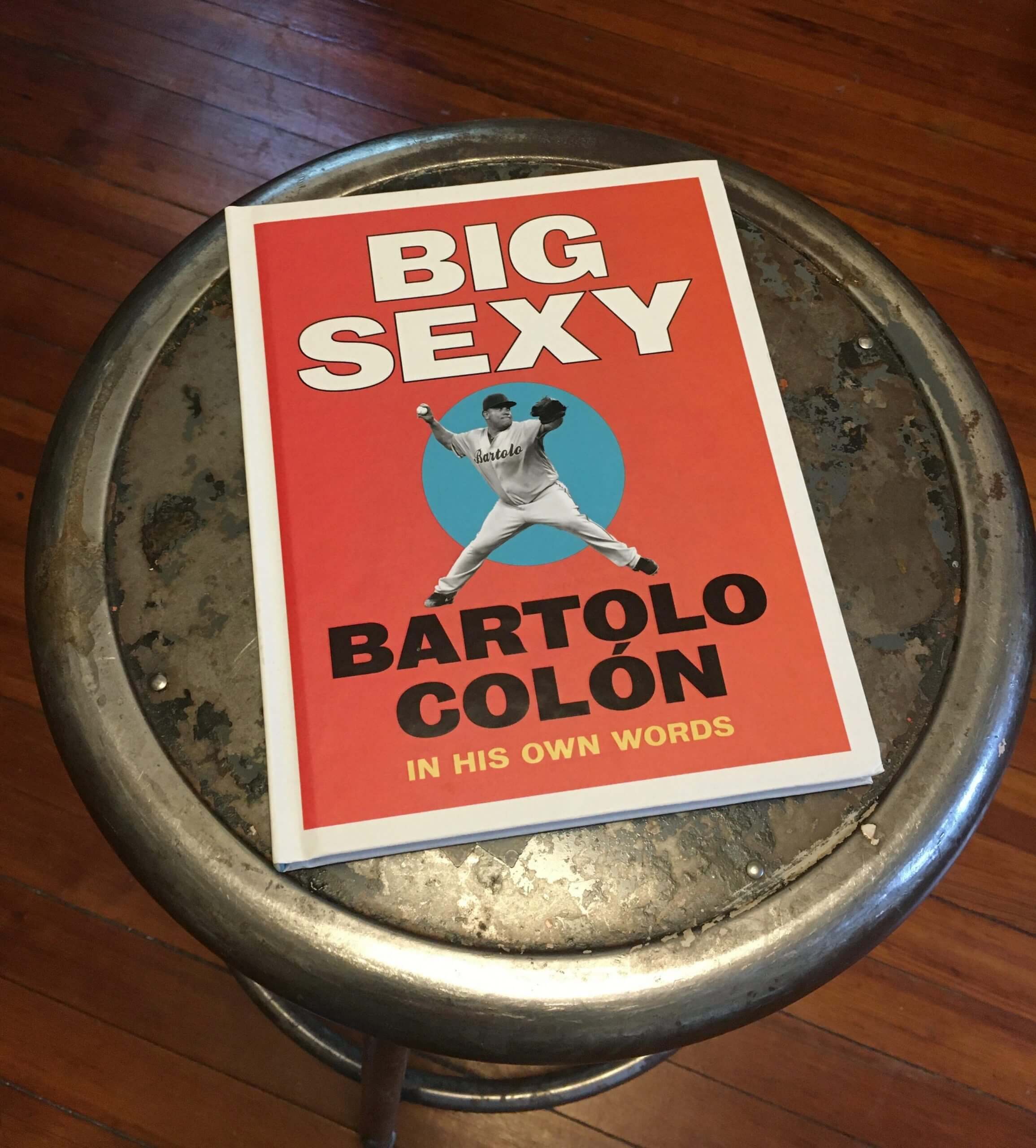 14. A pack of Philadelphia 76ers trading cards: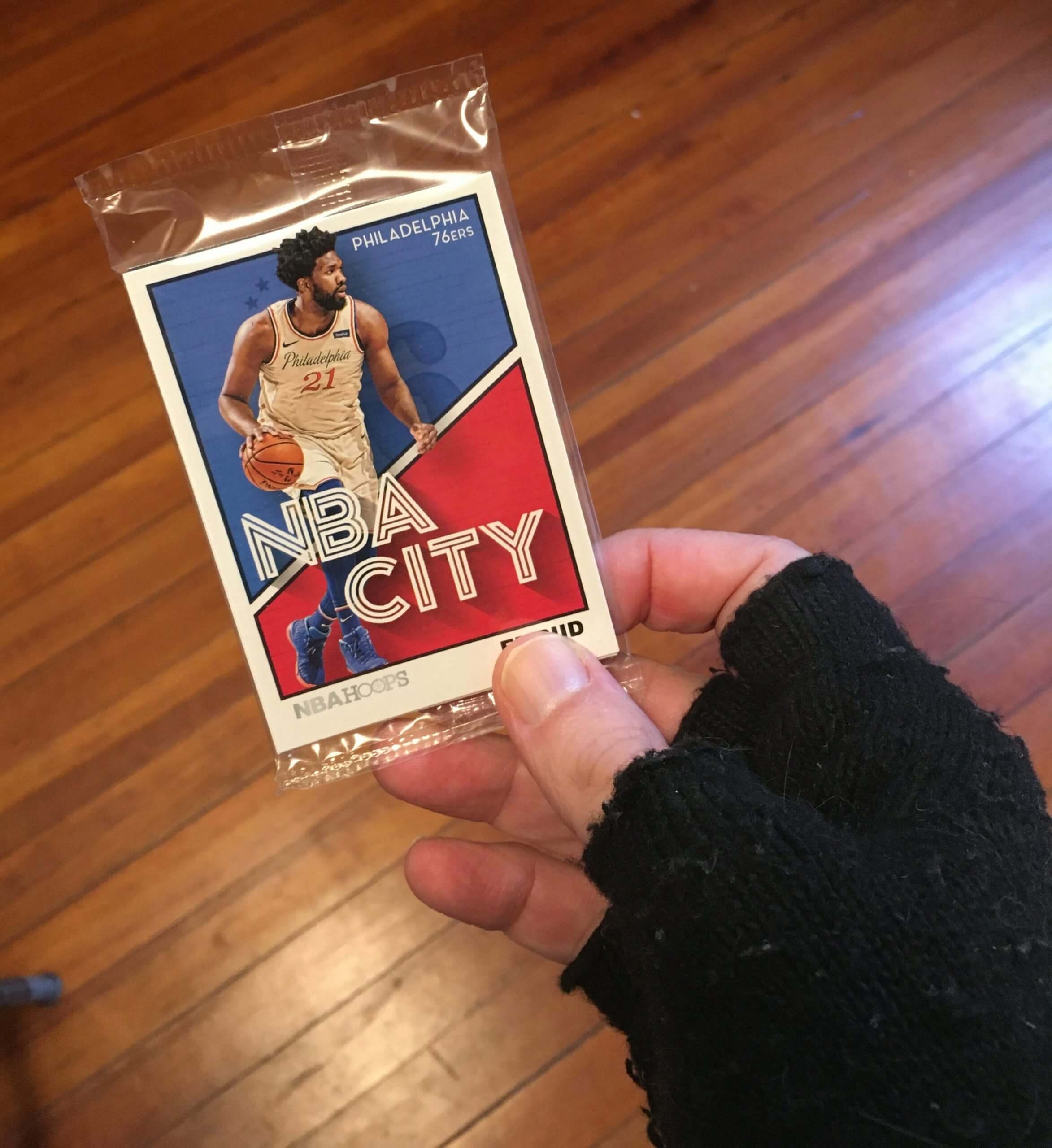 15. A Philadelphia 76ers Vari-Vue card. Don't know what Vari-Vue is? It's this:
16. A pack of Repacked Wax baseball cards (if you don't know what Repacked Wax is, look here):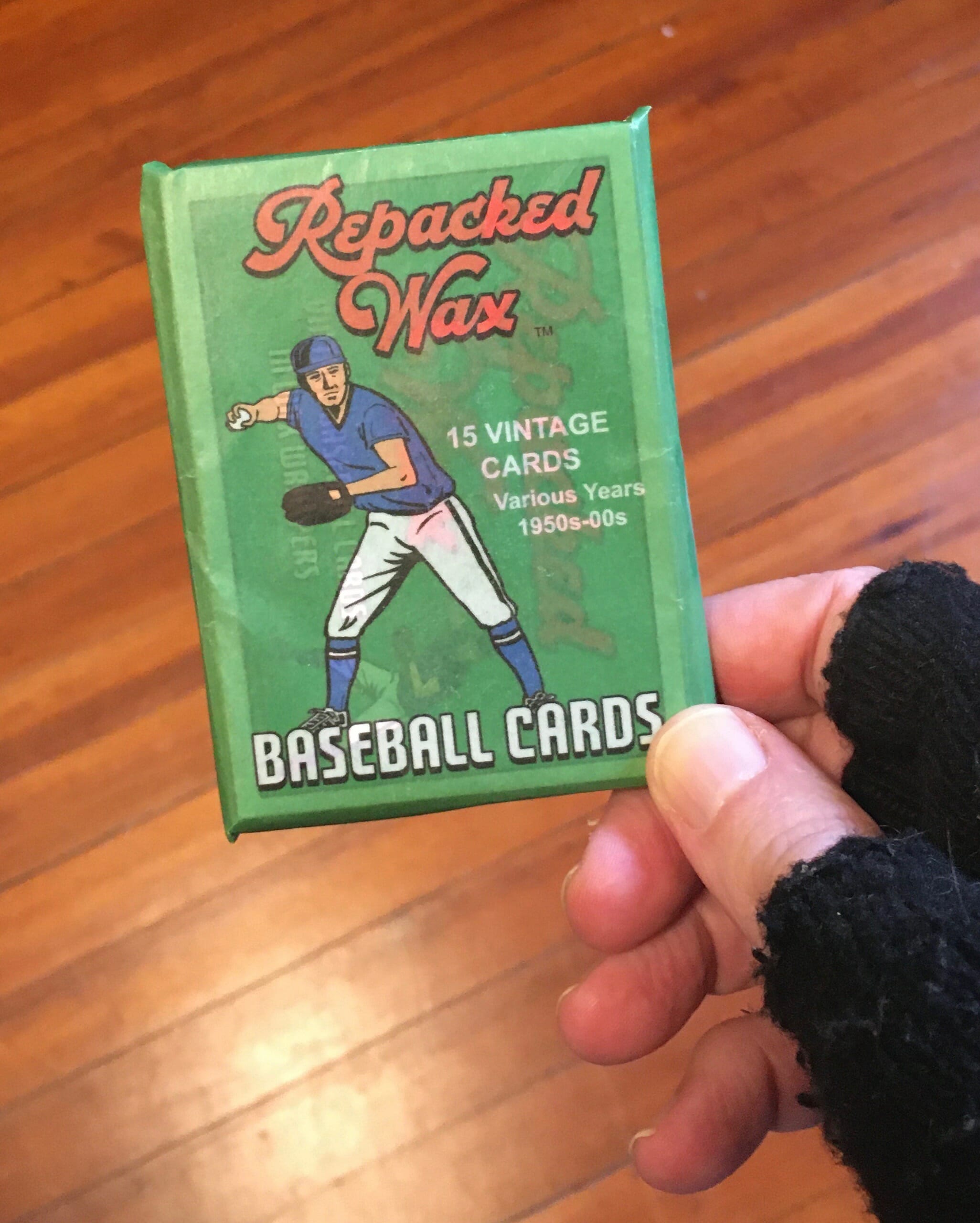 17. A set of five autographed Hal the Hot Dog Guy trading cards: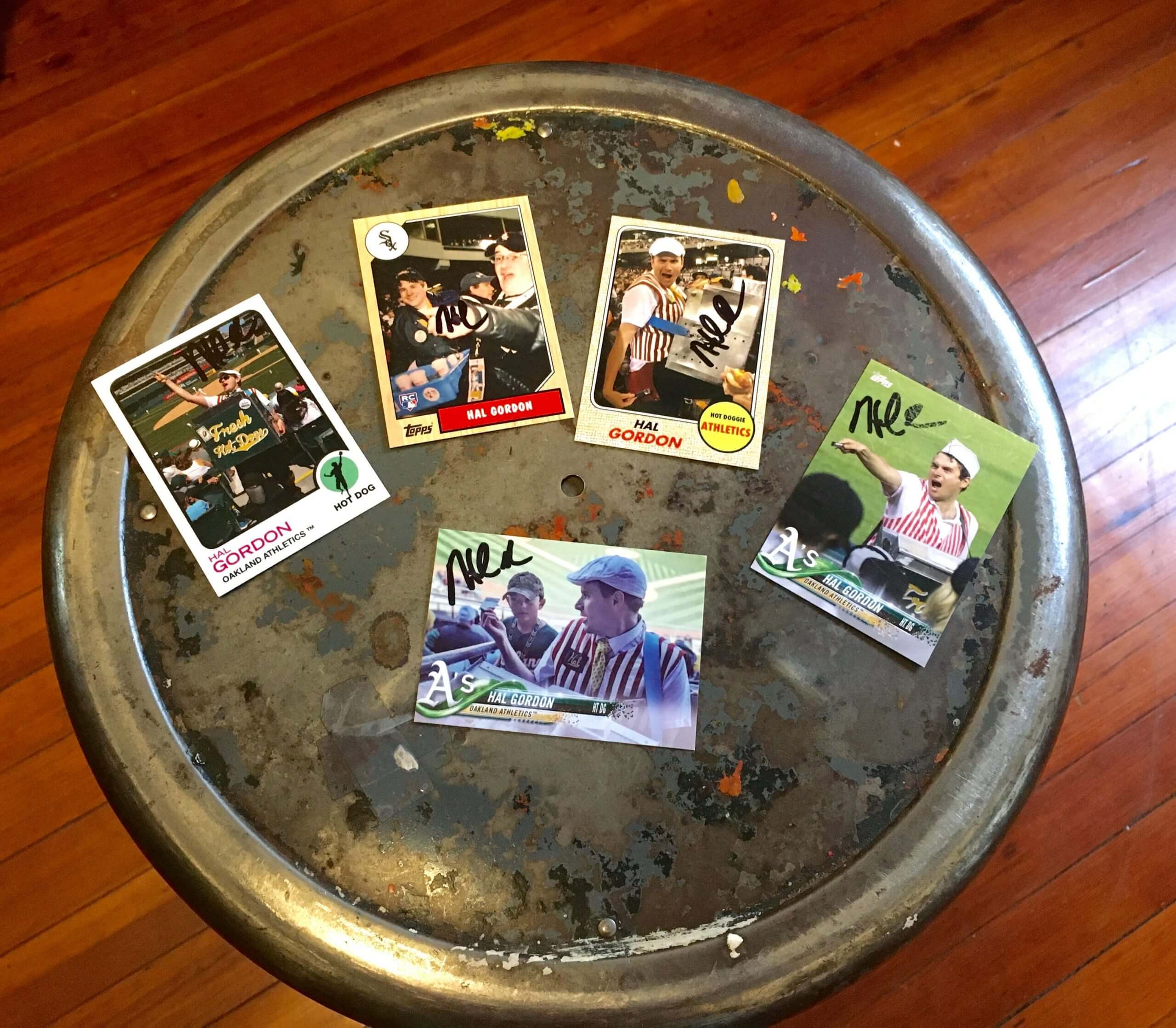 19. A deck of NHL vintage sweater-themed playing cards: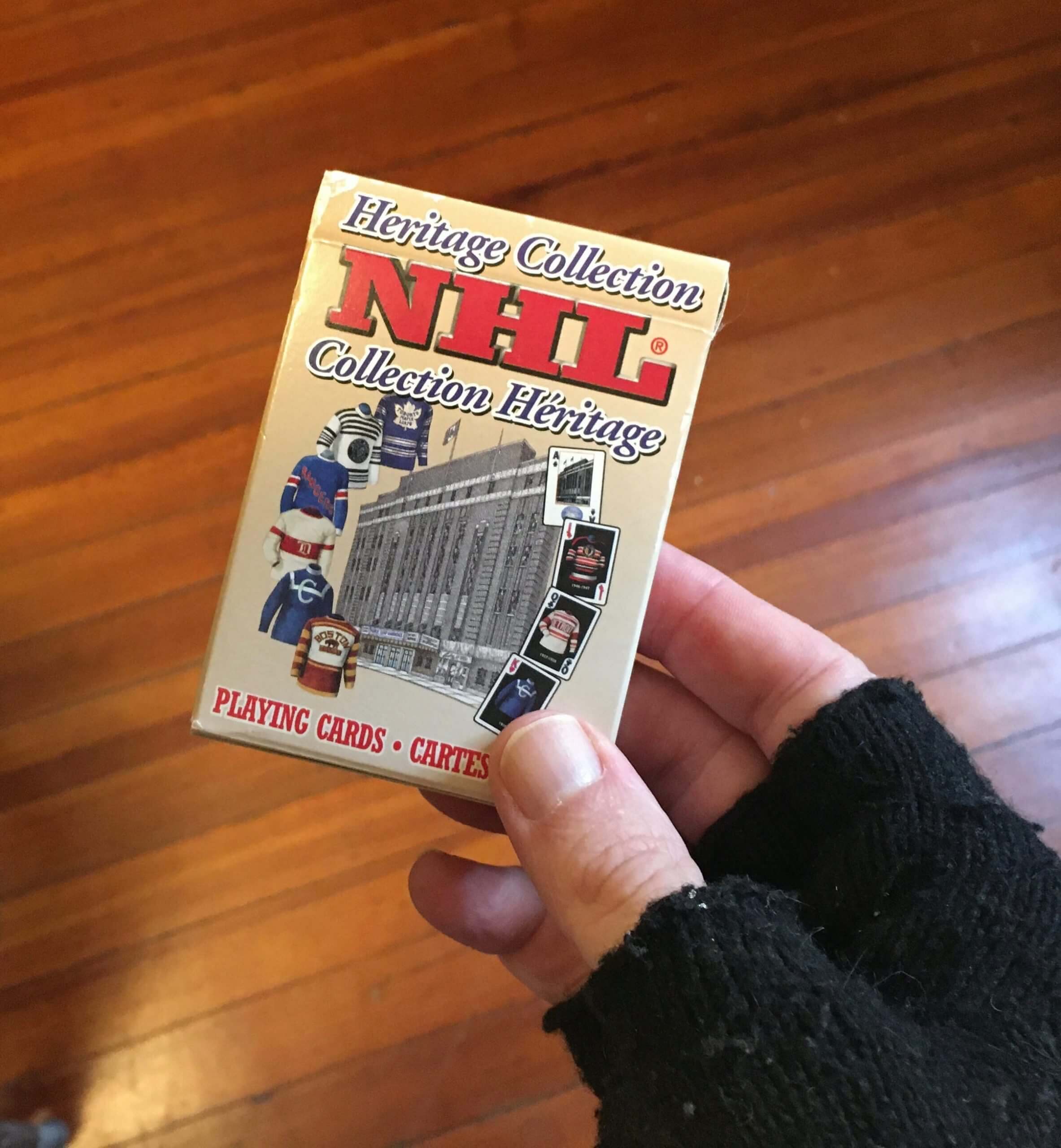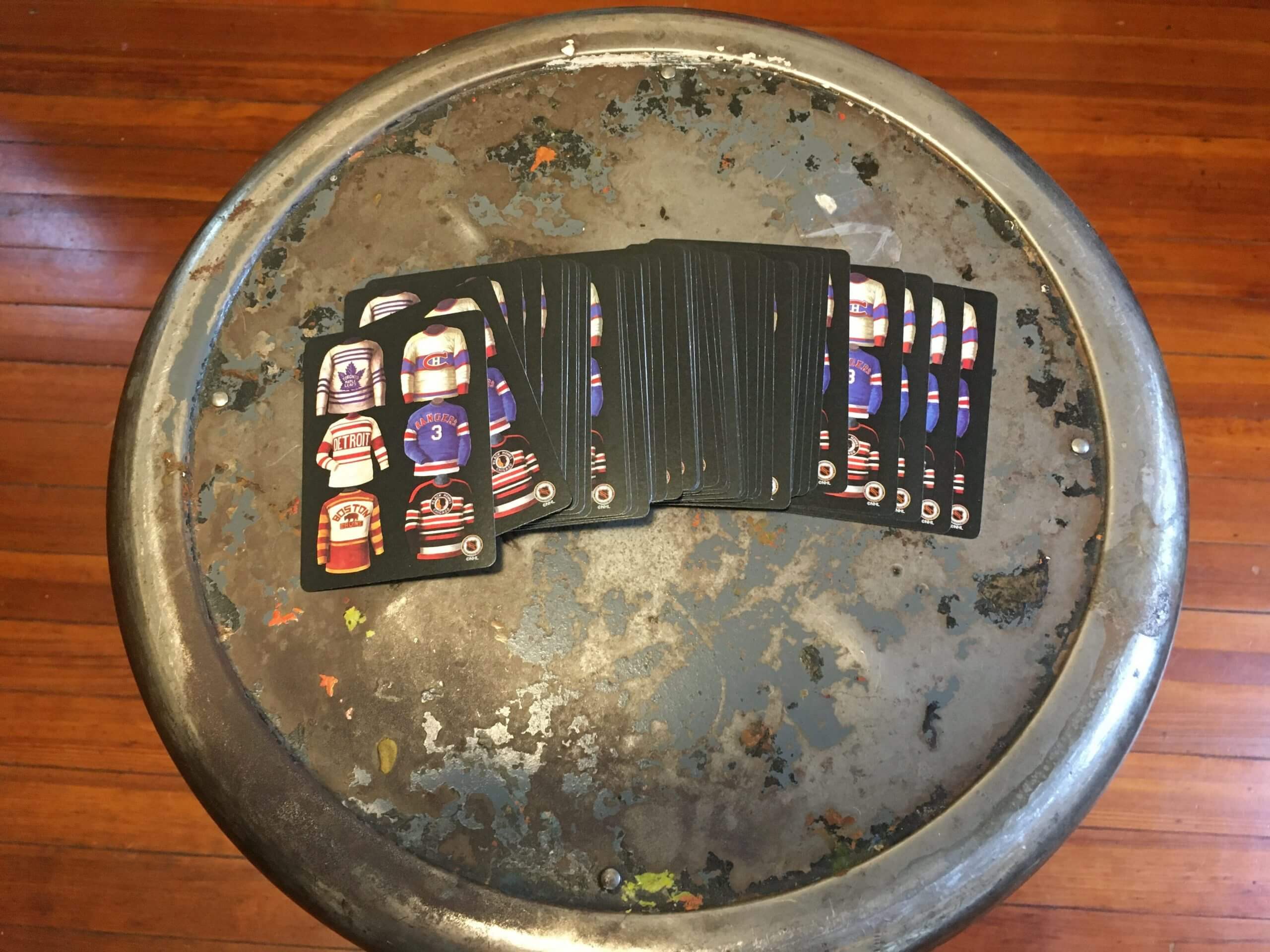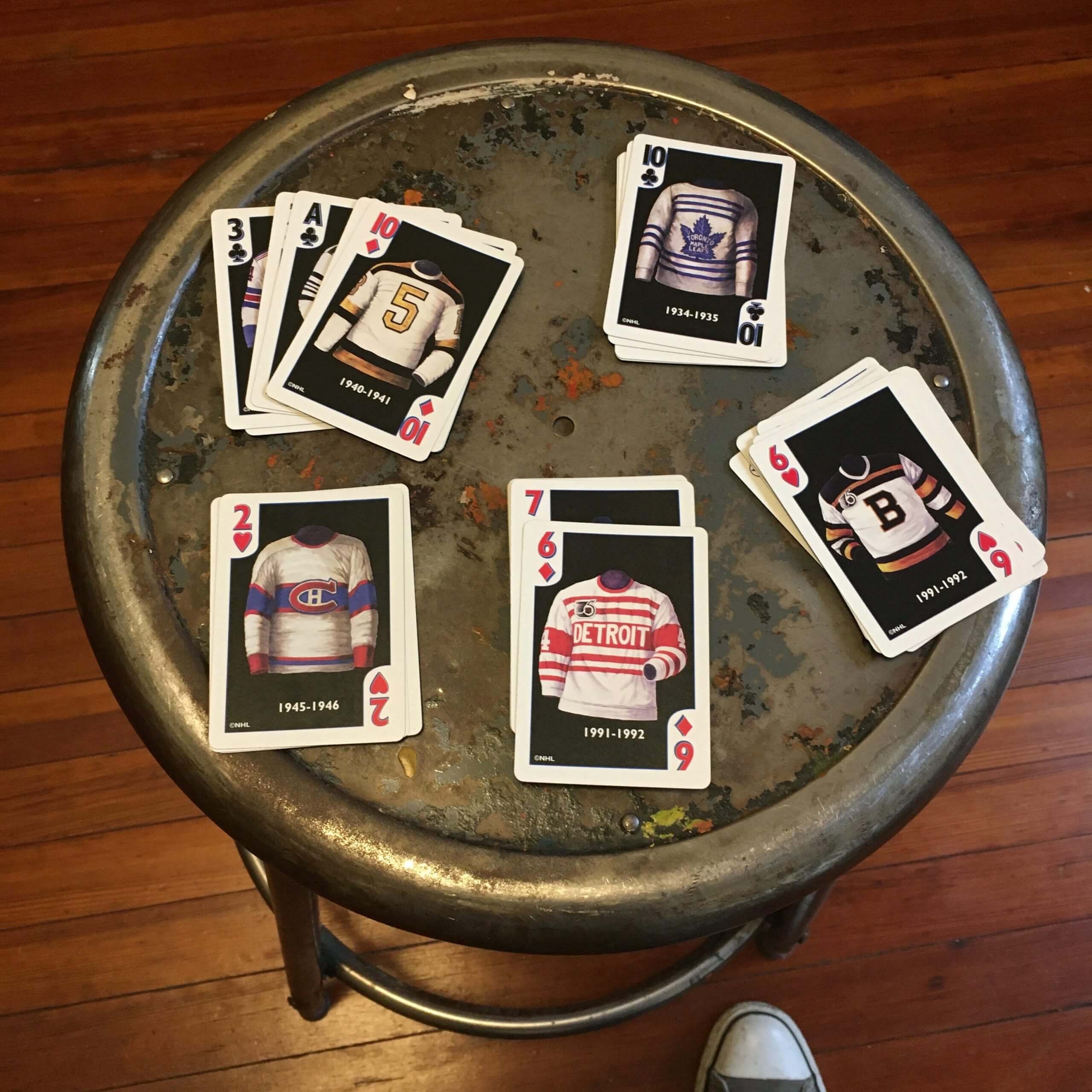 20. Toronto Blue Jays baseball, used to promote their then-upcoming uniform unveiling: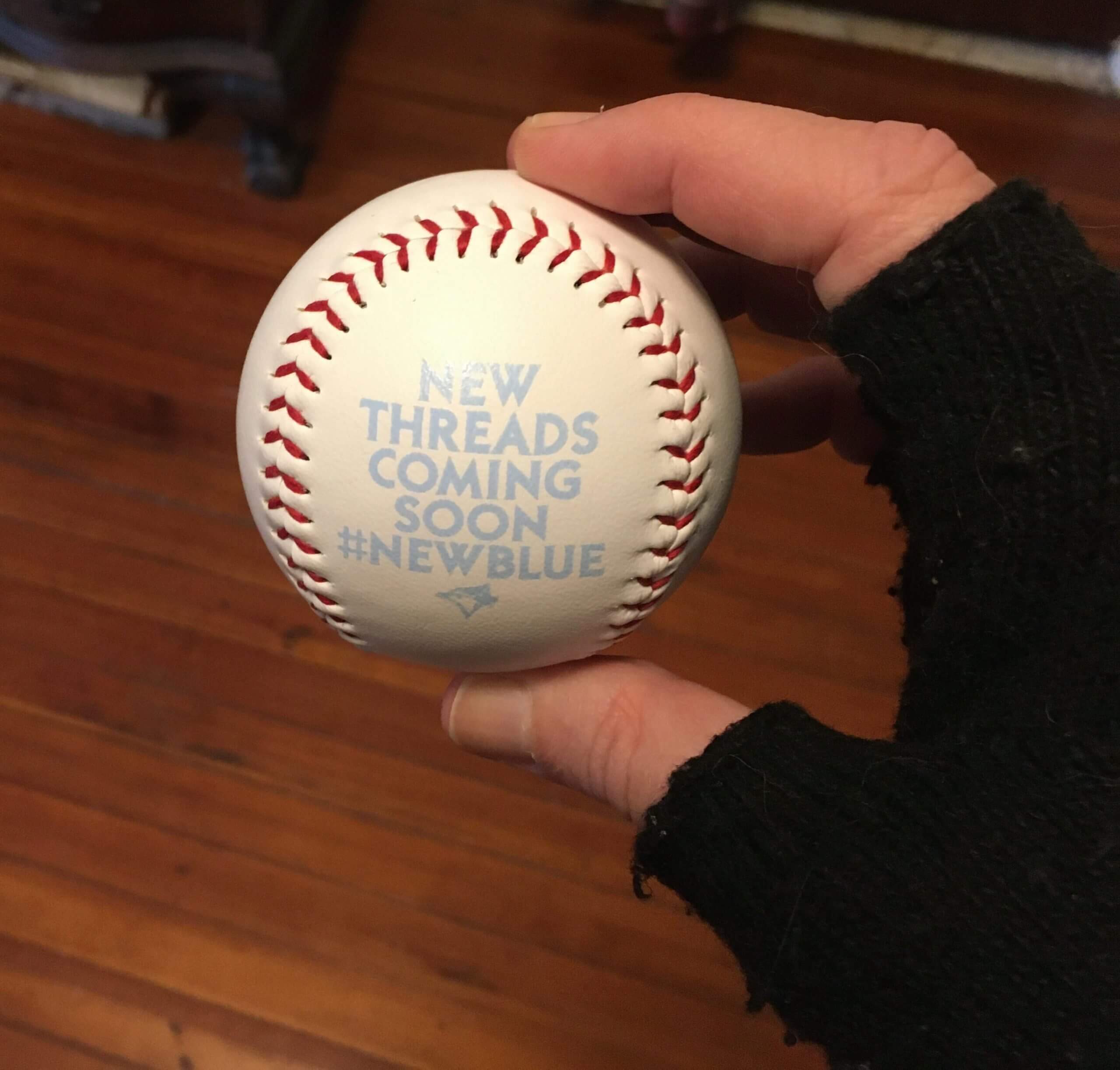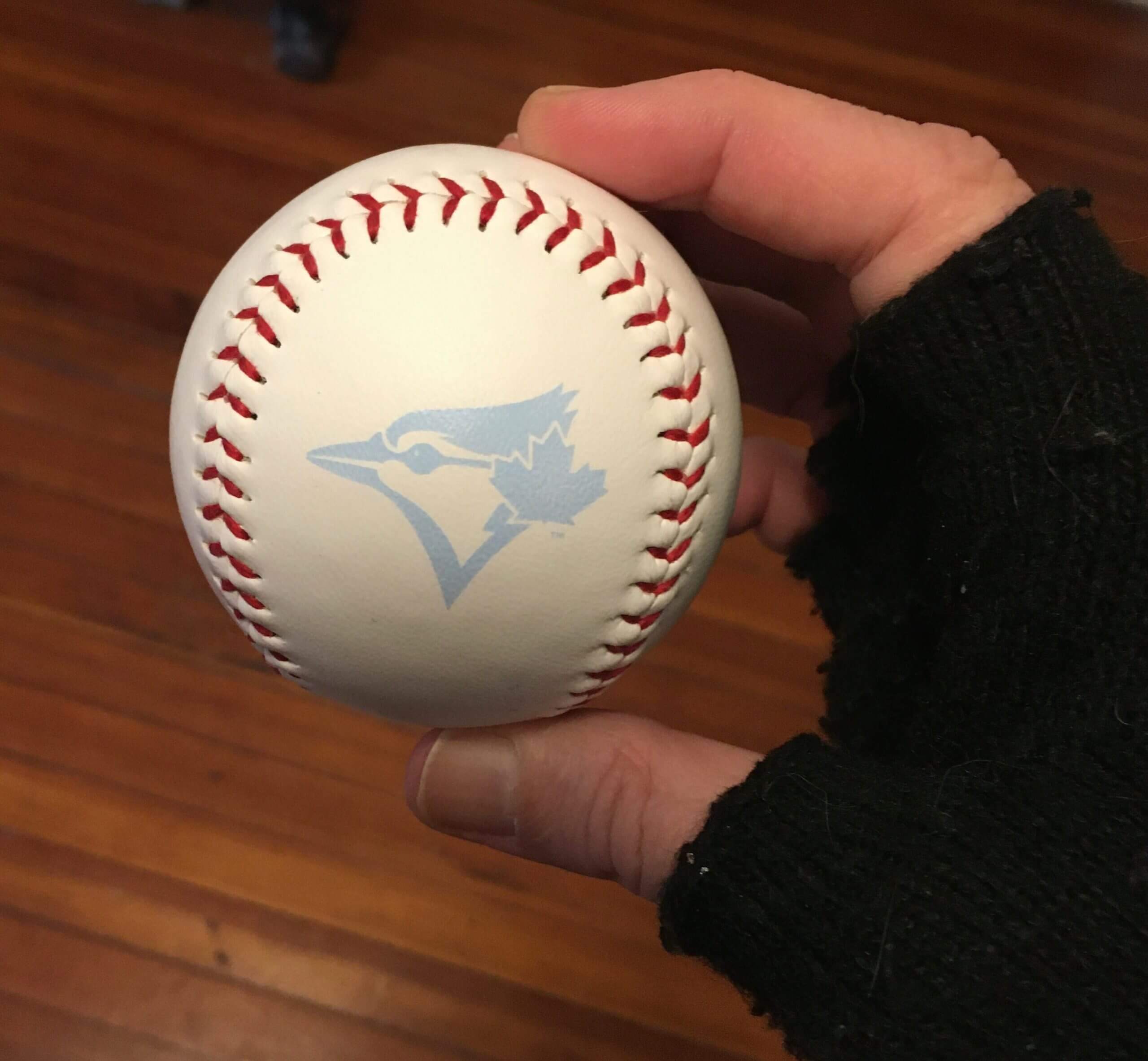 21. A set of 10 acrylic Uni Watch key rings. I had these made as samples but decided to go with the rubberized style instead. In addition to serving as key rings, you could repurpose them for some sort of Uni Watch craft project!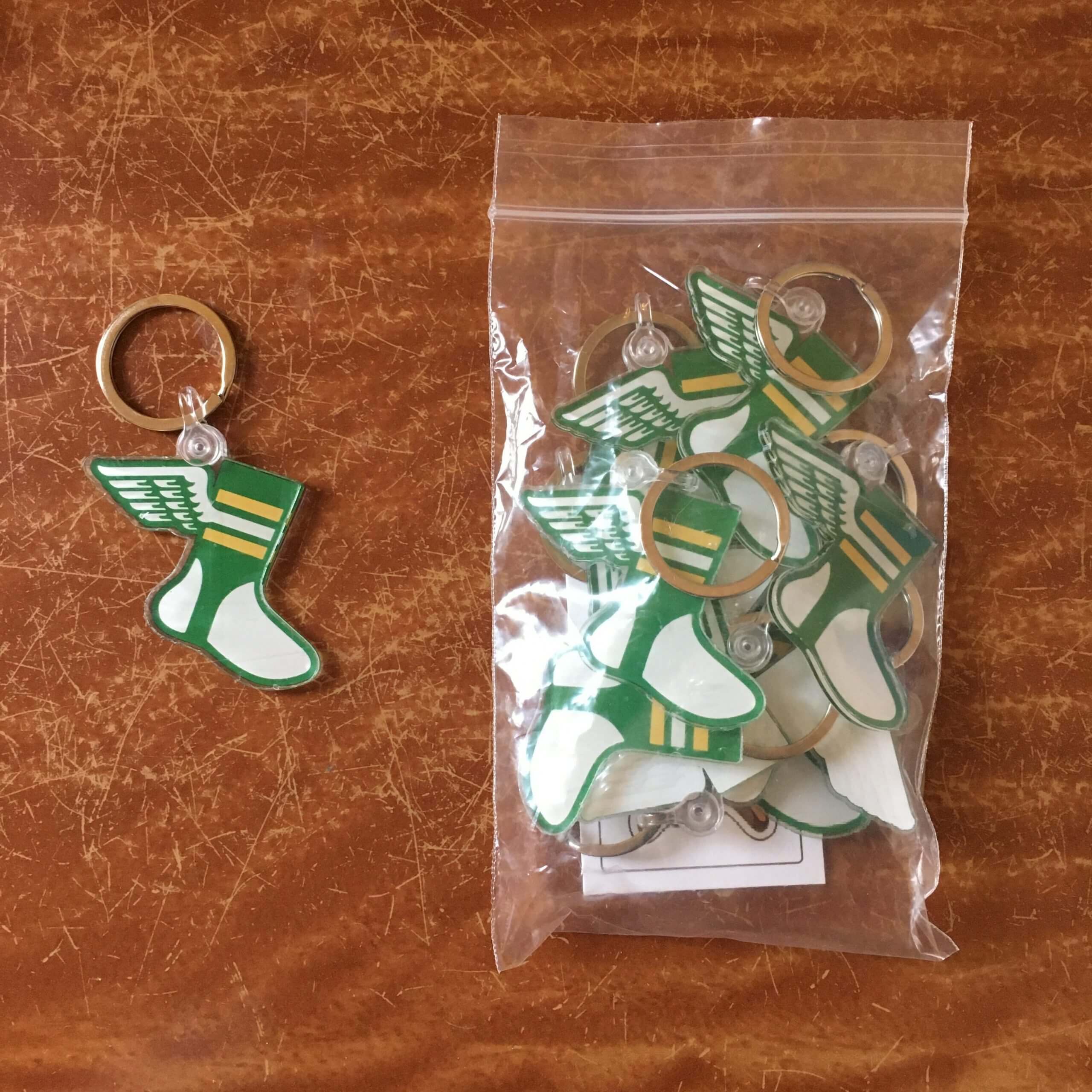 22. A vintage Majestic bag, I think from the 1980s. I got this back in June, when I purchased a vintage Majestic jersey on eBay and it came in this bag with a cool logo I'd never seen before. I posted photos of it — you know, just for show-and-tell — and was surprised by how many people expressed interest in owning it! So I decided to put it into this year's raffle. Measures 9″ x 14″: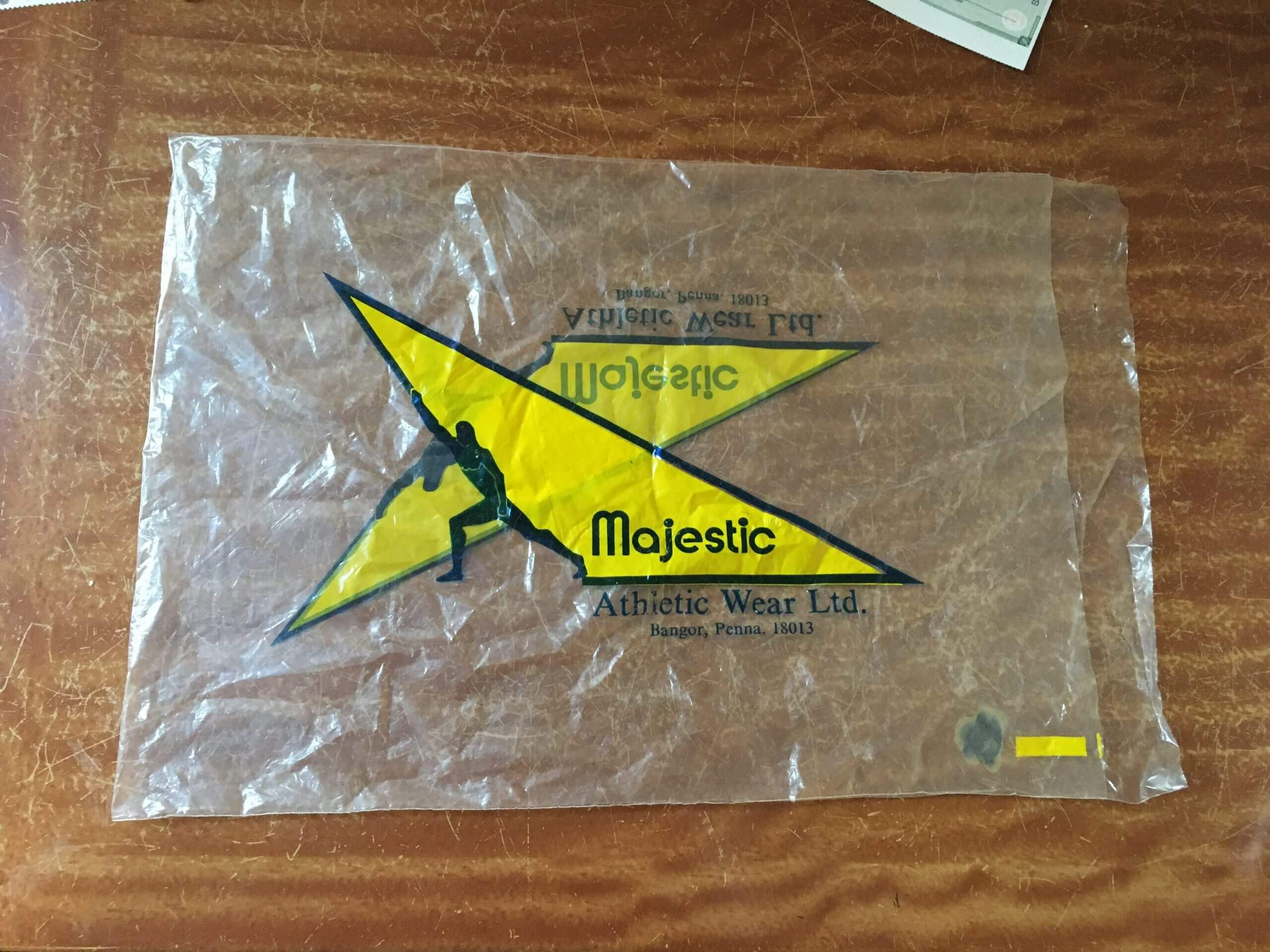 23, 24, 25, 26, and 27. Five Brooklyn Branches lapel pins, cut from the actual Branch Rickety itself! Made by the awesome Wafflebored. Standard butterfly clutch on the back. Each pin is a separate raffle item: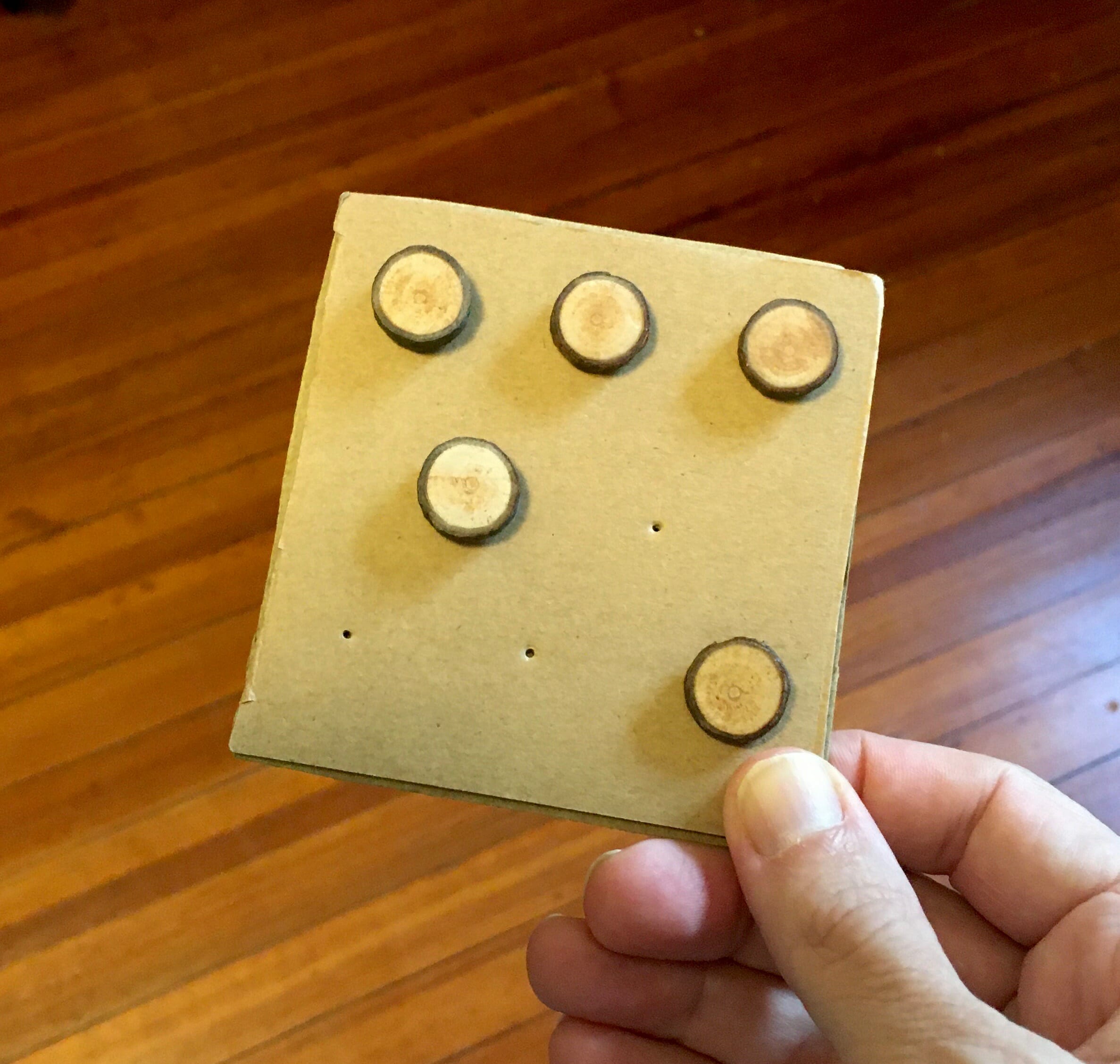 28, 29, and 30. Three Uni Watch trading cards, complete with relic fabric swatch. Each card is a separate raffle item, and I can guarantee that a random one of them will be one of the few remaining signed/numbered cards: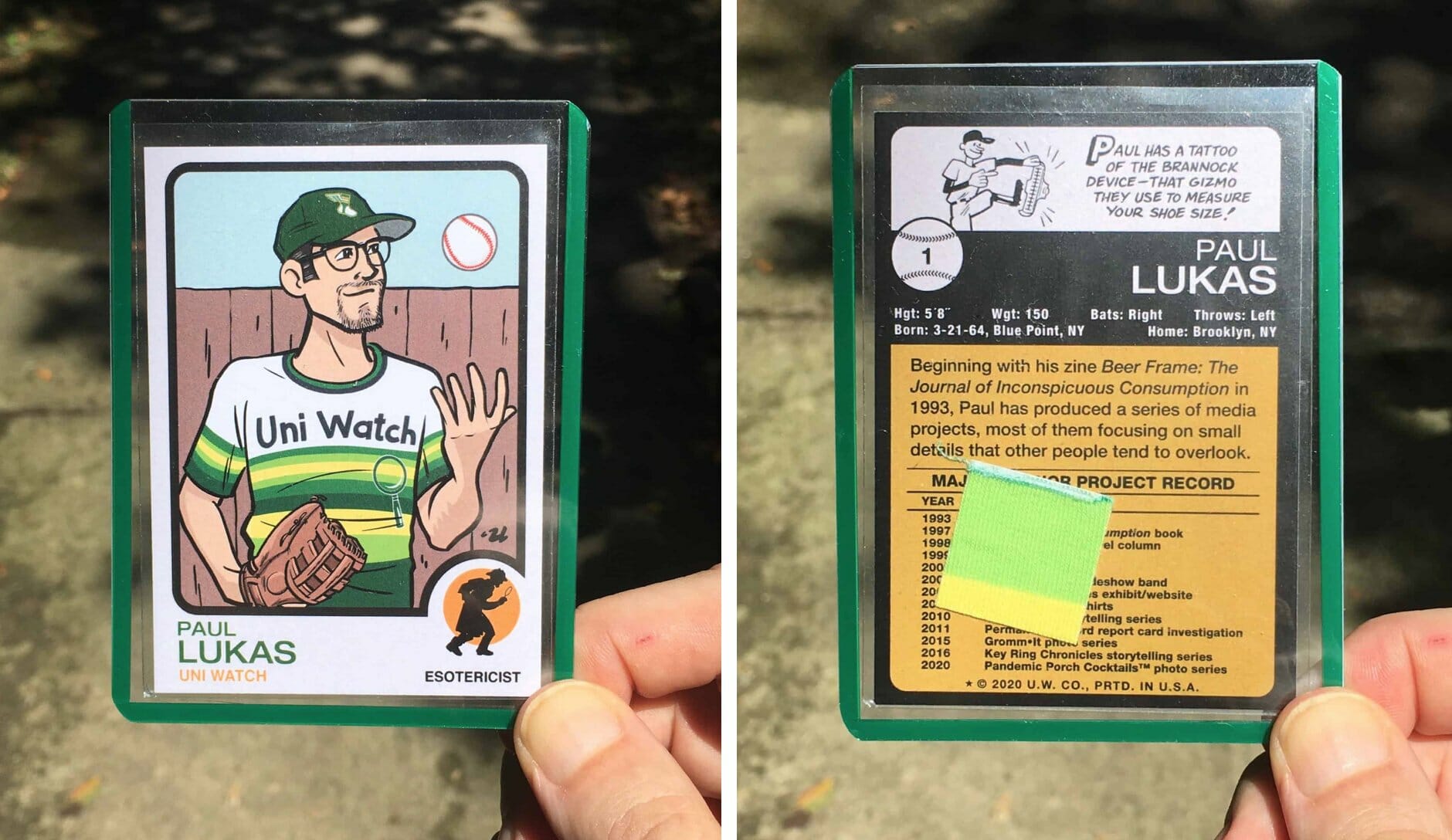 31. A vintage Walker's Concrete flannel baseball jersey, donated by longtime Uni Watch reader Ryan Connelly. Possibly used for Little League. Russell Southern tagging (18″):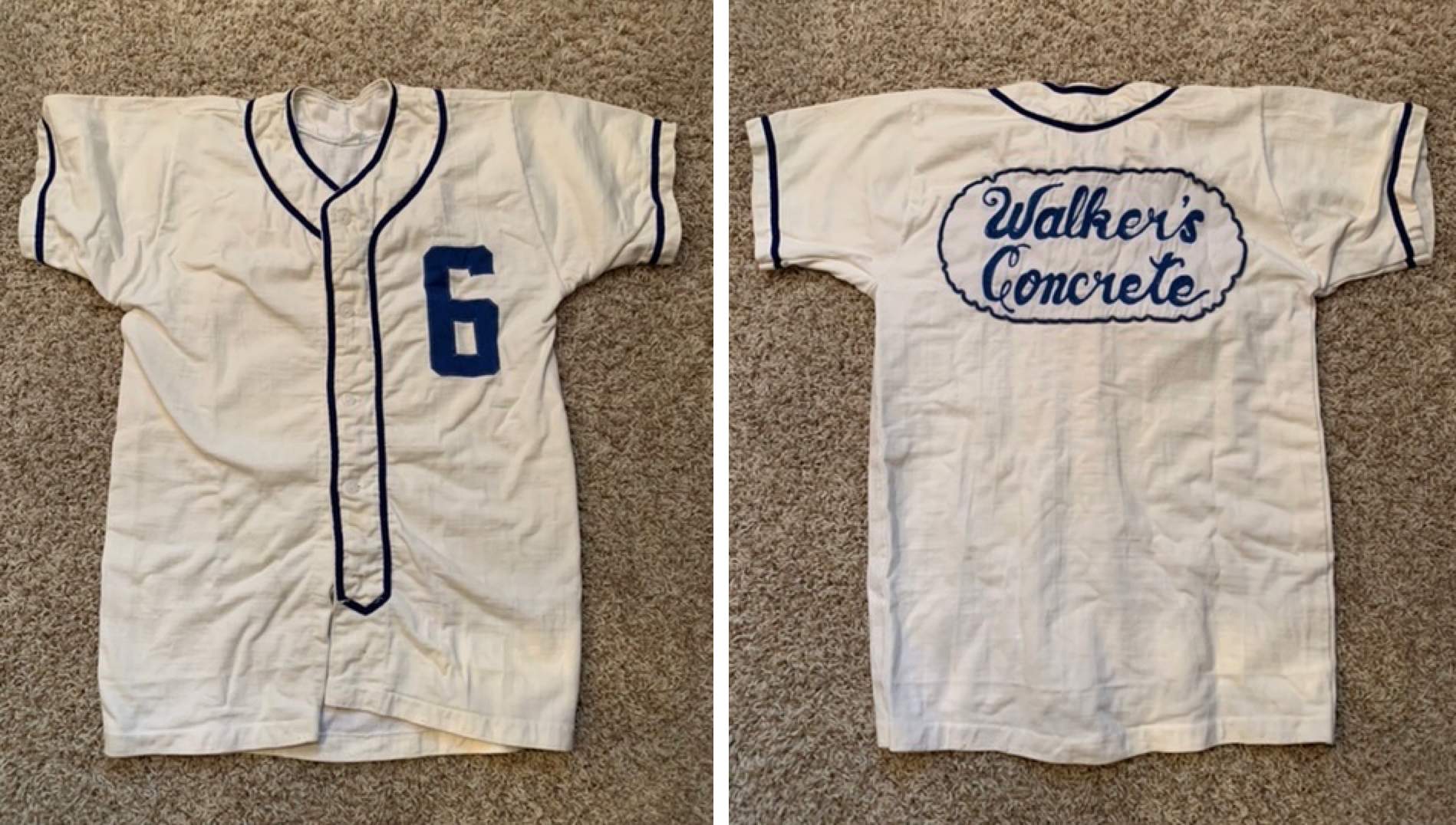 32. A vintage Walker's Concrete windbreaker, again donated by Ryan Connelly (25″):
33. A Philadelphia 76ers zip-up hoodie, donated by reader Matthew Weidner (XL, 26″):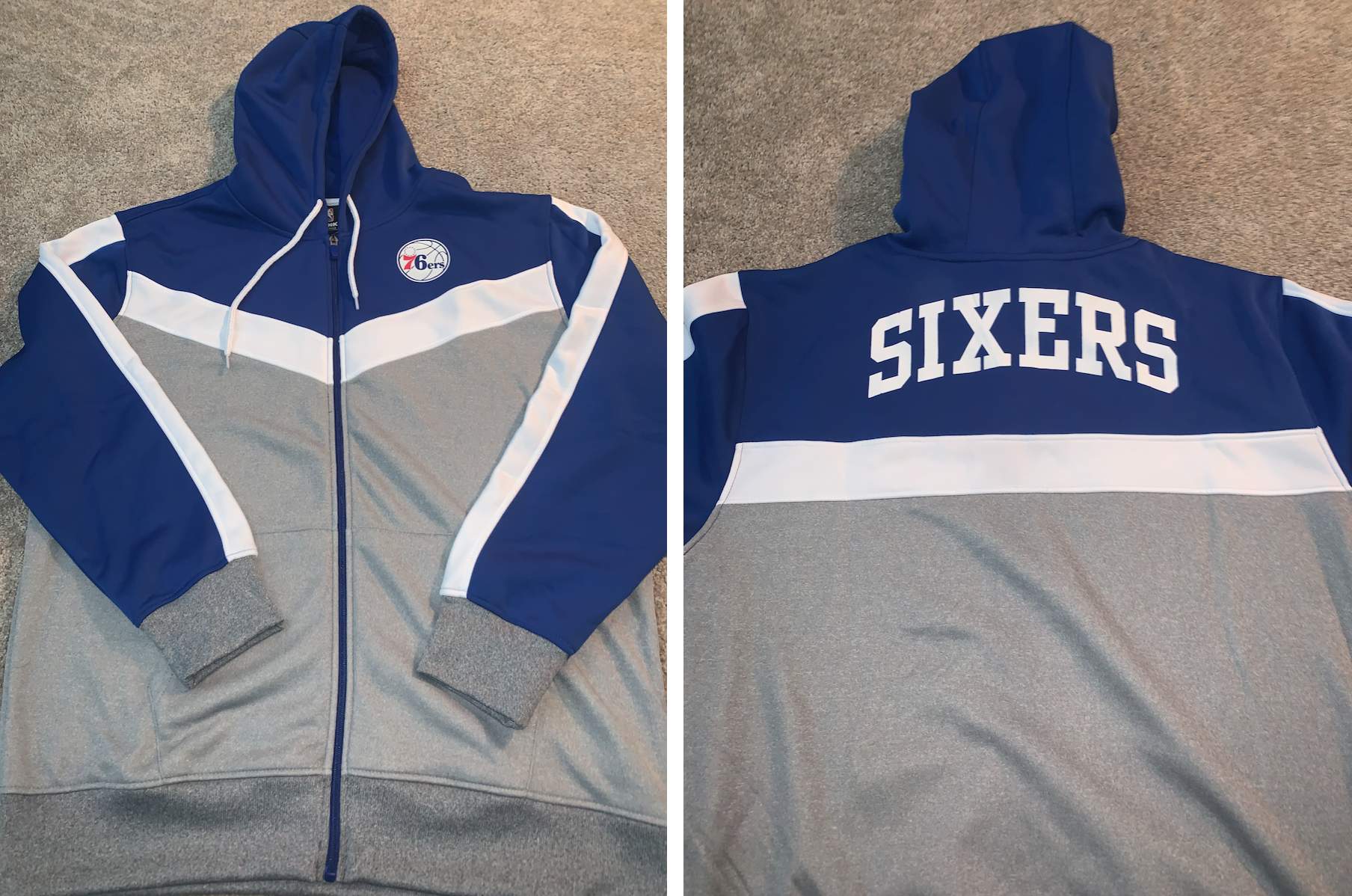 34. A flex-fit Nike golf cap. Donated by reader Matthew Weidner, who says, "It's marked as L-XL. It's too big for me, and I typically wear a 7-3/8 fitted hat, so it would be ideal for someone who wears 7-1/2 and up":
35. A Uni Watch koozie: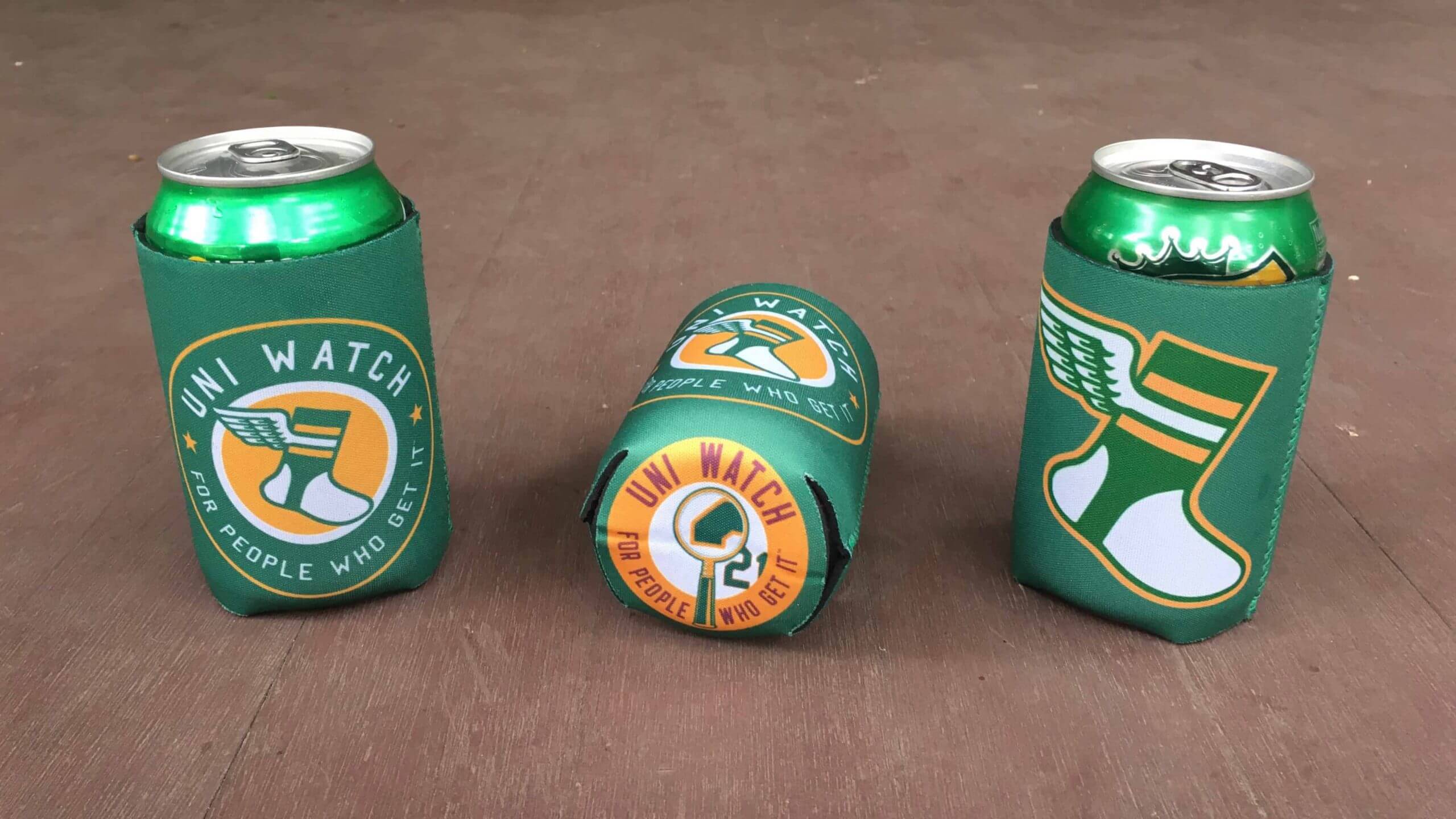 Update: It has come to my attention that there is no raffle item No. 18 — the lot numbers skip from 17 to 19. That is an error on my part, but I'm leaving it as is because some people have already made their item choices based on the misnumbered sequence. Sorry for any confusion!
———
And there we are. Here's how to enter the raffle:
1) Send an email to the raffle address.
2) In the body of the email, please indicate (a) your name and shipping address and (b) your top 10 prize choices, in order of preference, by number. If you're only interested in, say, seven items, then just list your top seven choices; if you want to list more than 10, you can do that too (hell, include all 35 items if you want!), but I don't expect anyone to go that far. I'll do my best to accommodate the winners' choices.
3) One entry per person. Non-USA readers are welcome to enter, although I may ask you to chip in on the shipping charges if you win something heavy. Entry deadline is next Wednesday, Dec. 23. As per our longstanding annual tradition, the winners will be announced on Christmas Day, and I'll try to get everything mailed out by New Year's.
Please join me in thanking Ryan Connelly, Steve Heller, Wafflebored, and Matthew Weidner for generously contributing (and in Wafflebored's case making) items for this year's raffle. I'd also like to thank all the rest of you who contribute in various ways to Uni Watch. Honestly and truly, I wish I could provide gifts for all of you — especially this year.
• • • • •
• • • • •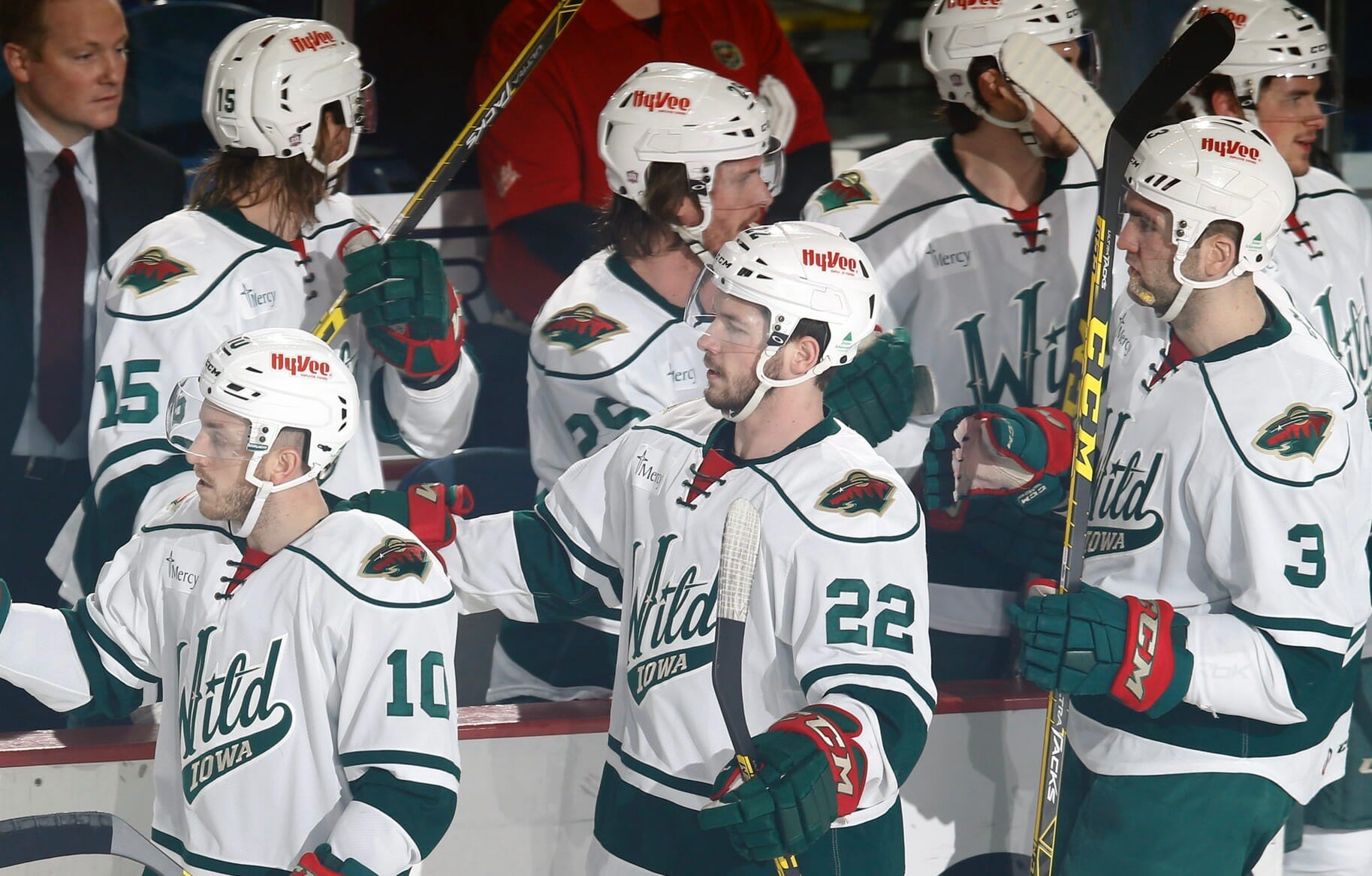 Click to enlarge
NHL helmet ad update: Yesterday morning, Sports Business Journal reported that the NHL was "likely" to approve the addition of helmet ads for the coming season at a Board of Governors call later in the day.
As it turned out, that didn't happen — apparently because, as hockey writer David Pagnotta reported about four hours after the SBJ article was posted, there was no Board of Govs call yesterday. But multiple reports indicate that the call (which will address lots of other issues besides helmet ads) will likely take place today or tomorrow, so helmet ads may indeed be happening for the coming season.
As the SBJ report notes, helmet ads are common in the AHL, which is why I put that Iowa Wild photo at the top of this section. See those HyVee ads on the sides of the players' helmets? That's the type of thing we may soon be seeing in the NHL. I took the liberty of compiling a few other representative examples from the AHL (click to enlarge to get the full effect):
I know, I know — it's better than jersey ads. But boy does it look like shit.
Some of you may be thinking, "Well, it's not ideal, but they need to replace all that revenue they lost due to the pandemic." But as the SBJ article makes clear, this isn't about revenue. The helmet ads, if they happen, will simply be "make-goods" for naming rights holders and other advertisers. In other words, the companies that didn't get the full bang for their advertising buck last season (because the playoffs were played in the bubbles, so companies that paid to slap their name on an arena and/or slap ads all over the arena didn't get any of the exposure they had paid for) will get these helmet ads instead.
The SBJ article goes on to say:
Beyond being a make-good for significant sponsors, sources characterized the one-year initiative as an opportunity for teams and the league to gather media impression data, on-air screen time and other metrics before potentially taking the new asset to market as part of a larger sponsorship package.

At this time, conversations are ongoing for what helmet ads could look like beyond the '20-21 season, sources said, with one individual referring to the possibility of selling helmet ad sponsorships in the future as a significant revenue opportunity.
In other words: No, they're not doing it to make up for lost revenue now. But they might keep doing it to grow new revenue later. Shocker.
• • • • •
• • • • •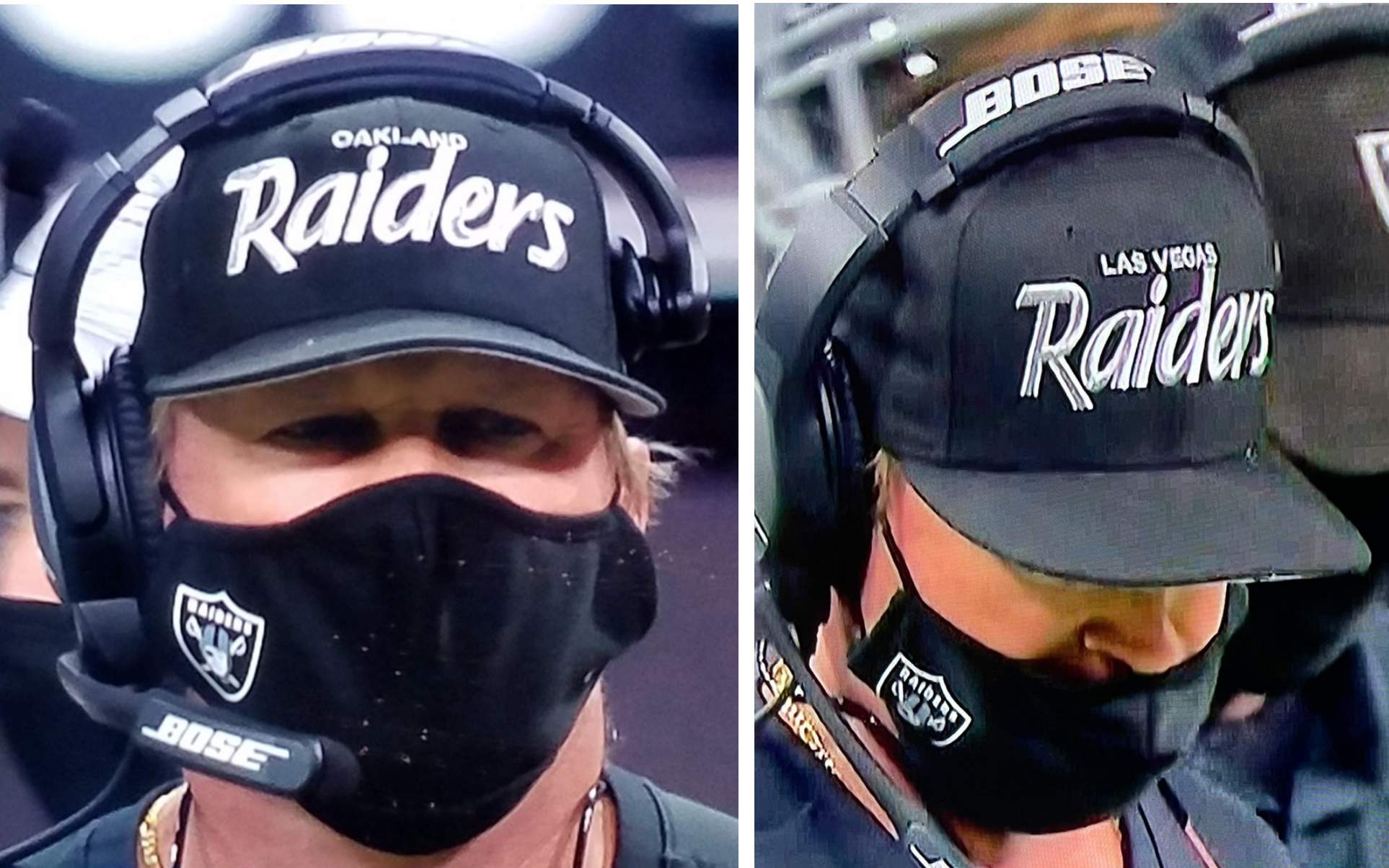 Click to enlarge
A tale of two cities: Funny moment in last night's Chargers/Raiders game, as Raiders coach Jon Gruden began the game wearing an Oakland cap. Someone must have told him, because he quickly switched to a Vegas version.
Here's another weird thing about that game: Chargers defensive lineman Joey Bosa appeared to have some sort of electronic device under his jersey. If you watch this video clip, you can see a little red light blinking through the jersey fabric, in between the "9" and the NFL logo (it's easier to see if you make the video full-screen):
Joey Bosa is a monster 😤 @jbbigbear @Chargers

📺 #LACvsLV on NFLN/FOX/PRIME VIDEO pic.twitter.com/8EeZLimrT2

— The Checkdown (@thecheckdown) December 18, 2020
Anyone know what that's about?
(Thanks to all who shared Gruden pics, and to @_KRNA_ for the Bosa spot.)
• • • • •
• • • • •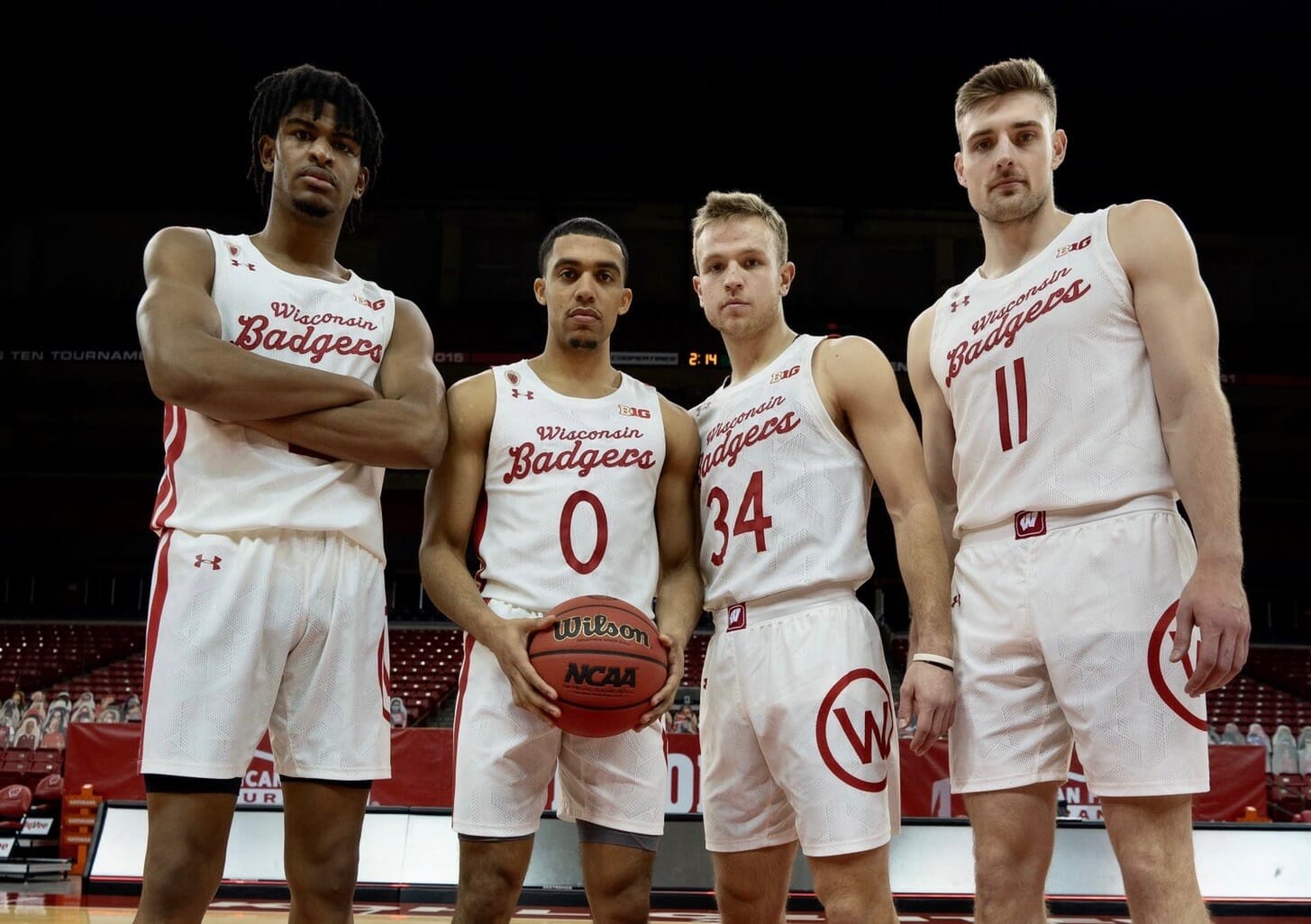 Click to enlarge
Failing grade in penmanship: Wisconsin hoops unveiled a new retro-styled uniform last night. It's exactly the sort of thing I'd normally like — except for the last two letters in "Badgers." Seriously? Like, have people really abandoned cursive writing to such an extent that they don't know what a script "r" looks like? Then again, the uni was apparently designed by four of the team's players, so maybe they're young enough to have grown up without learning cursive letters. Hmmmmm.
The Suxers could not be reached for comment.
(My thanks to @waynerboardman for this one.)
• • • • •
• • • • •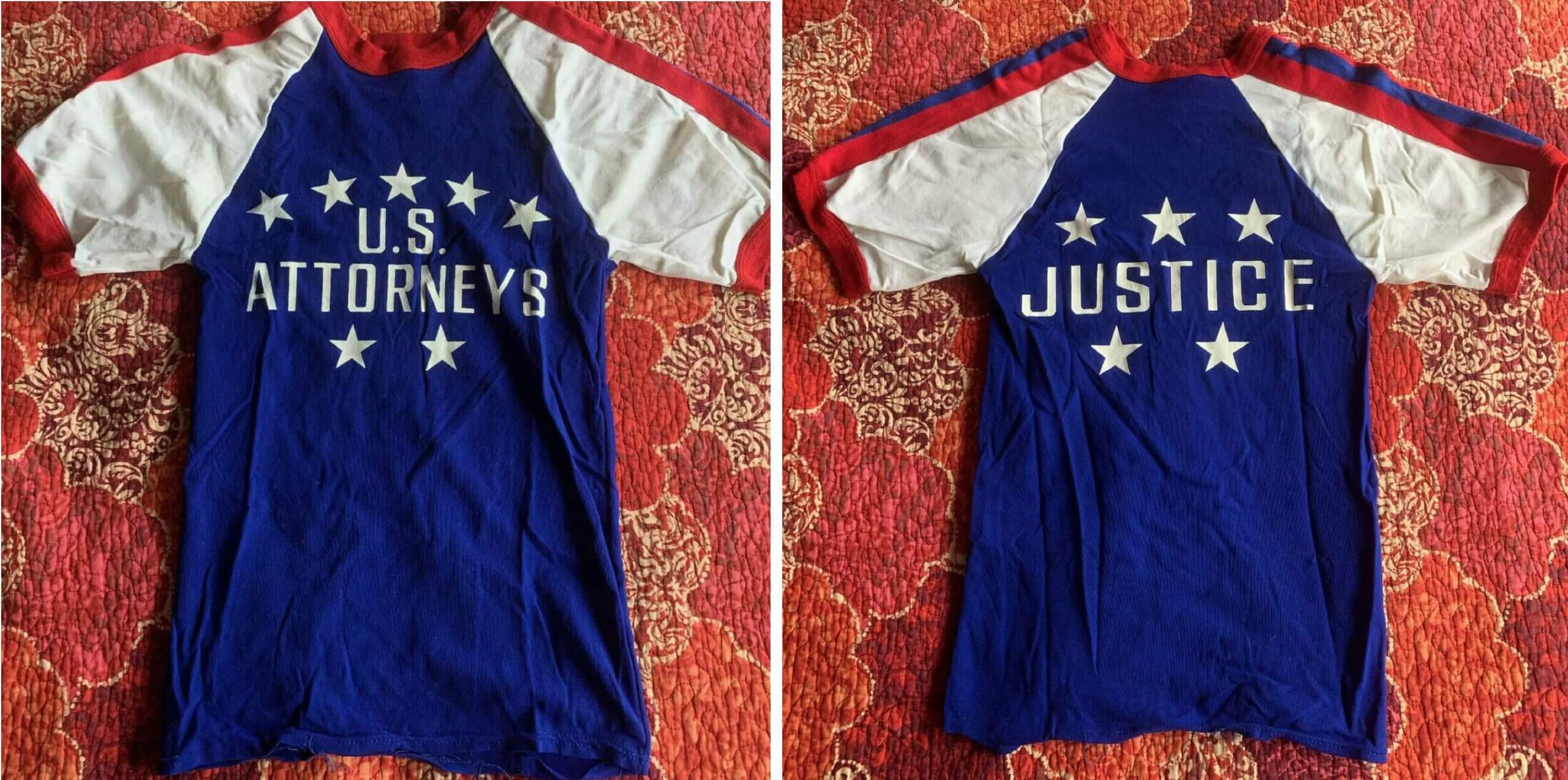 Click to enlarge
Too good for the Ticker: Stumbled across this jersey yesterday on eBay. Never seen one quite like it before.
This was presumably for a Dept. of Justice softball team or something like that. But wouldn't it be better if U.S. Attorneys wore this type of uniform as their regular work attire? Their press conferences would immediately become more interesting, and judges would no doubt give them more respect in court. A proper uniform for an important job!
Anyway, the jersey is too small for me (plus I'm not an attorney). But if you're interested in it, it's available here.
• • • • •
• • • • •
The Ticker
By Anthony Emerson


Baseball News: The website for Polar Park in Worcester, Mass., the new home for the Red Sox's triple-A affiliate, has some nice drawings of what the stadium will look like when completed (from Kary Klismet). … College Baseball Hub is running a bracket-style a Twitter tournament to determine the best uni in college baseball (from Timmy Donahue). … Also from Timmy and also posted in the college football section: The Rangers' stadium has a somewhat awkward football setup. … Oh man, check out the St. Louis Browns jacket Bing Crosby wore in the 1944 film Going My Way. Absolutely gorgeous (from Willie Gabel).

NFL News: It appears the Washington Football Team still has its old name and logo on the field of the team's indoor practice facility. … Also posted in the NBA section: Dallas Mavericks players Luka Dončić and Jalen Brunson had a bet about a recent NFL game and Dončić won, so Brunson arrived at last night's Mavs preseason game wearing a customized Cowboys jersey with No. 77 — Dončić's number — with the NOB reading "Luka's Son" (from Mike Chamernik).

College/High School Football News: Cross-listed from the baseball section: The Texas Rangers' baseball stadium has a somewhat awkward football setup (from Timmy Donahue).

Hockey News: A few weeks ago we Ticker-linked a shot of Bobby Orr wearing No. 27 during preseason of his rookie year, but has anyone ever seen him wearing No. 30 before? (From Justin Hicks.) … The Knoxville Ice Bears of the SPHL are wearing Predators-themed jerseys for "Preds Night" on Jan. 16. SPHL teams do not have formal affiliations with NHL teams, but the Ice Bears and Predators have partnered up in the past (from Chris Mayor).

NBA News: In a fairly transparent attempt to move more merch, the NBA has christened Dec. 22 — opening day — as the first-ever "NBA Jersey Day" (from Mike Chamernik). … Also from Mike and cross-posted from the NFL section: Mavericks players Luka Dončić and Jalen Brunson had a bet about a recent NFL game, and Dončić won, so Brunson arrived at tonight's preseason game wearing a customized Dallas Cowboys jersey with No. 77 — Dončić's number — with the NOB reading "Luka's Son." … After last night's preseason win, Jazz G Donovan Mitchell came back out on the court to work on some shots — while still in uniform (from @ezbutton11).

Soccer News: Universidad de Chile have unveiled their 2021 home kit. … FootyHeadlines has surmised the 2021-22 third kit colors for a handful of big Adidas clubs, including Bayern Munich, Manchester United and Real Madrid.

Grab Bag: At the finals of the 1969 U.S. Open tennis tourney, heavy rain cut up the court, so Rod Laver switched to shoes with spikes on them for better footing (from Graham Clayton). … Arizona State has received final approval to move forward with construction on a new multi-purpose arena (from Wade Heidt). … A couple of high school team name changes from Kary Klismet: Saint Louis Priory School in Missouri is changing from "Rebels" to "Ravens" and Northfield High in Minnesota is sticking with "Raiders" but updating their logo, which has long been criticized as being insensitive to Asian people. … Indian cricketer Mohammed Shami has cut a hole in the big toe area of his shoe to relieve pressure on his landing foot (from Ash Norris). … Under Armour is buying its way out of its outfitting contract with the U. of Cincinnati. The Bearcats are expected to keep wearing UA uniforms for the next three years, but the deal will now end five years earlier than it was originally slated to run. It's the latest development in what has been a brutal year for UA.
• • • • •
• • • • •
• • • • •
That's it for this week. Stay safe, mask up, enjoy Phil's weekend content, and I'll see you back here on Monday with my usual MMUW round and the annual Uni Watch NBA Season Preview. See you then. — Paul