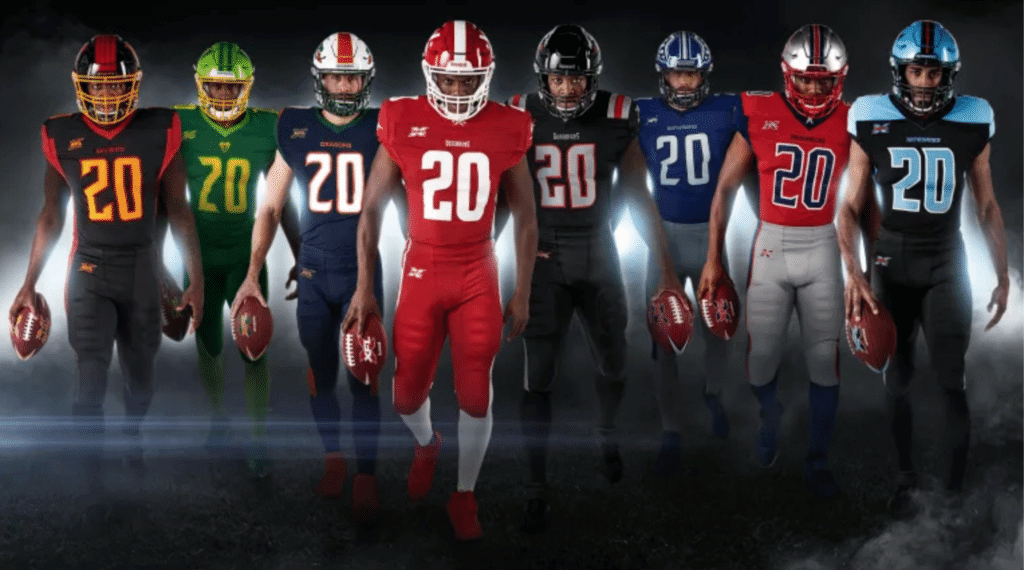 The new XFL, which is due to debut on Feb. 8 (thankfully, I'll be in Cooperstown to participate in a fun event that weekend — more info on that soon), unveiled the inaugural uniform sets for all eight of its teams last night. Before we get to the team-by-team breakdowns, a few general thoughts:
• Surprisingly, there are no maker's marks on the jerseys or pants. Even the merch shop has no indication of who the manufacturer is. I have a feeling that this will change by the time the season opens — like, maybe they're still negotiating with Under Armour, or whomever — but we'll see. For now, the lack of maker's marks arguably makes all of these uniforms better than any NFL or college uniform.
• As you can see in the group shot above, each team has a distinct number font, but they all seem very similar (and similarly awful). It's like eight very close cousins.
• If the XFL is any indication, grey is going to be a very popular color in 2020.
• As you'll see in a minute, they did an excellent job of showing full-body front and back views of every team's home and road uniforms. That may seem like a simple enough thing, but so many teams only show the jersey, or only show the front. Kudos to the XFL for providing good visuals.
• Not a single jersey in any of the unveiling photos had a "He Hate Me" NOB, which really seems like a missed opportunity, no?
Okay, without further ado, here are the home uni, road uni, and helmet for all eight teams, along with links for more pics and hype-o-rama info that I dare you to read without laughing:
DC Defenders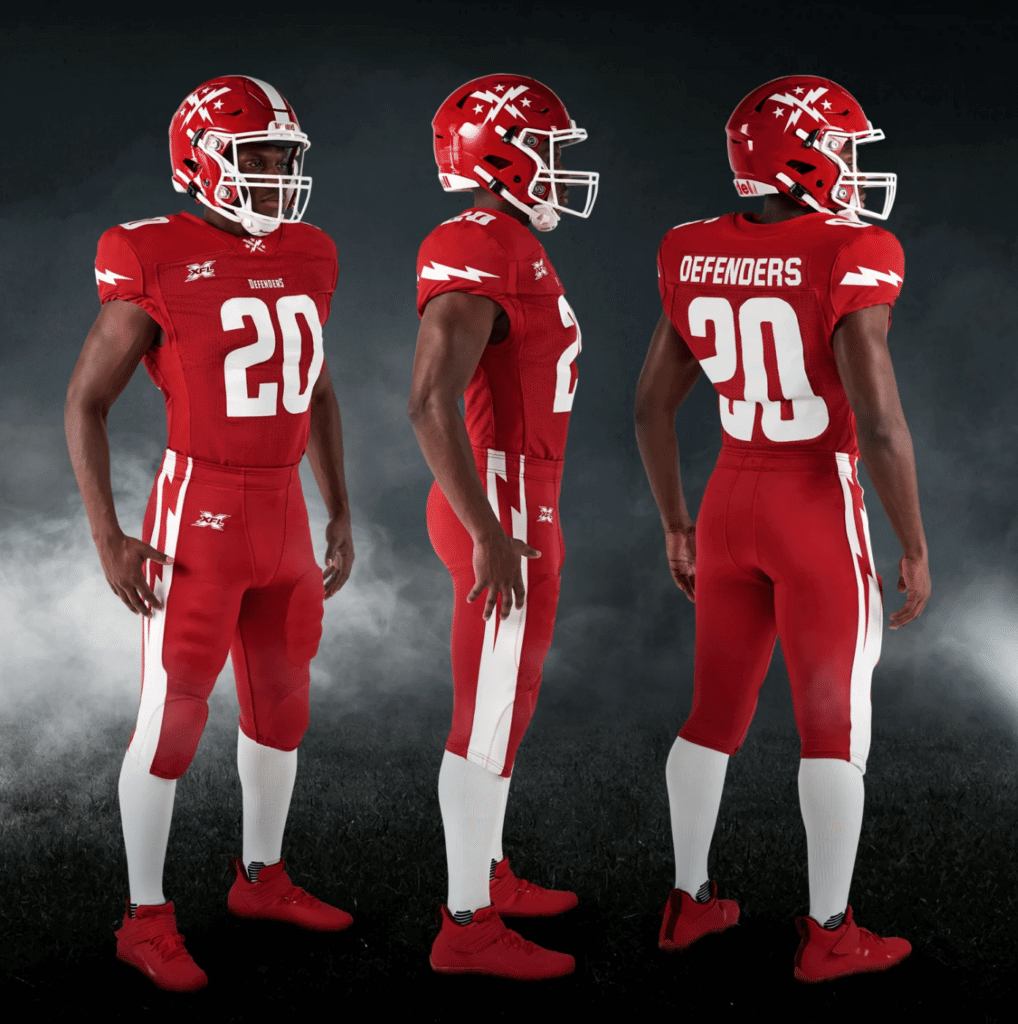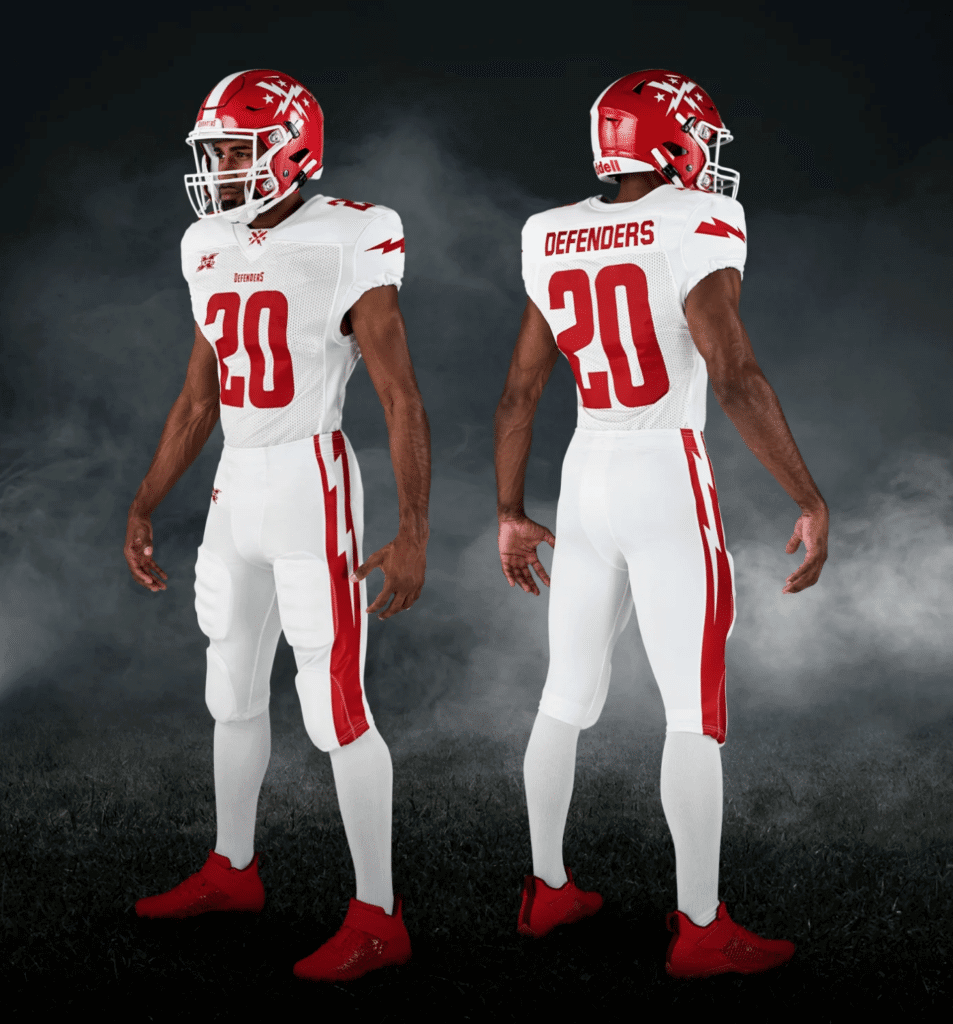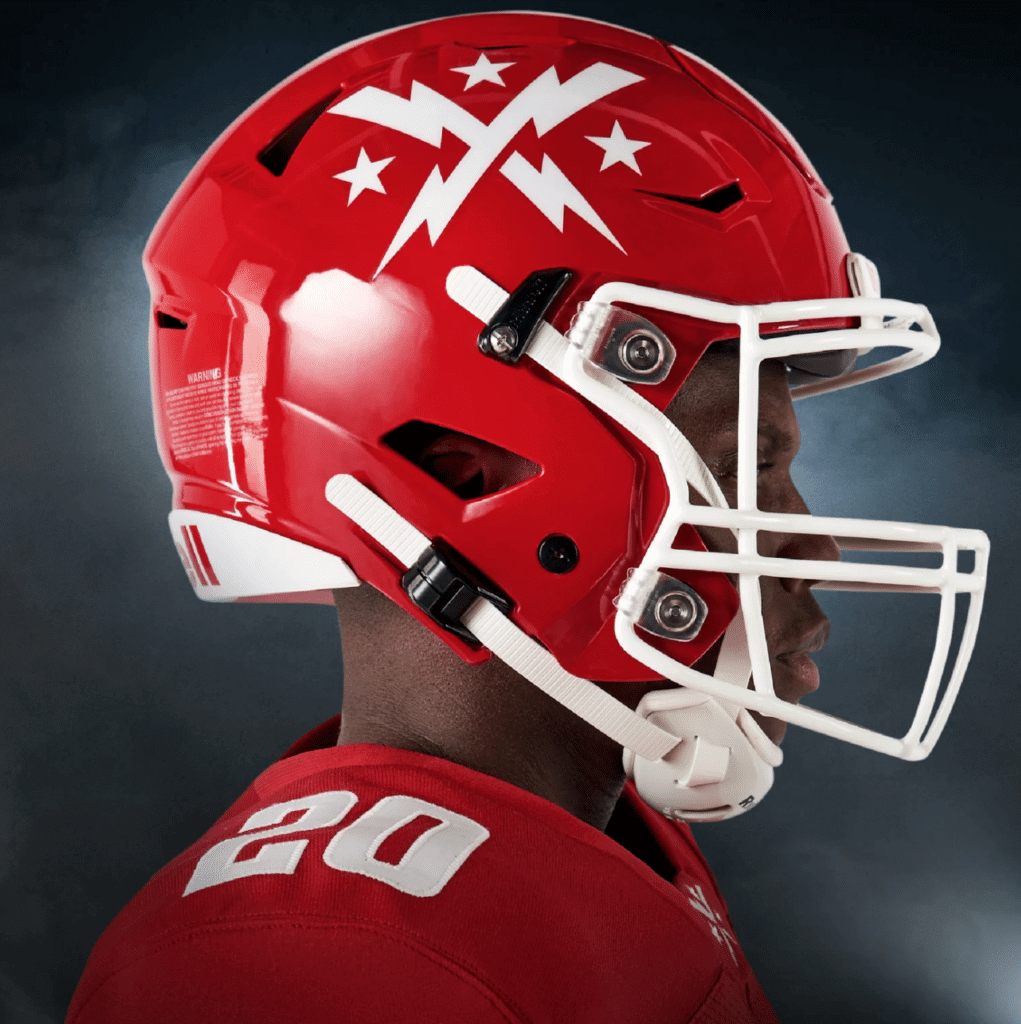 This is basically a high school uniform. The mono-red, the lightning bolts (Chargers-derivative on the pants, laughable on the sleeves) — it's not awful, but it's what I'd expect from a middling-level Uni Watch design contest submission. Additional photos and embarrassingly worded info here.
———
Los Angeles Wildcats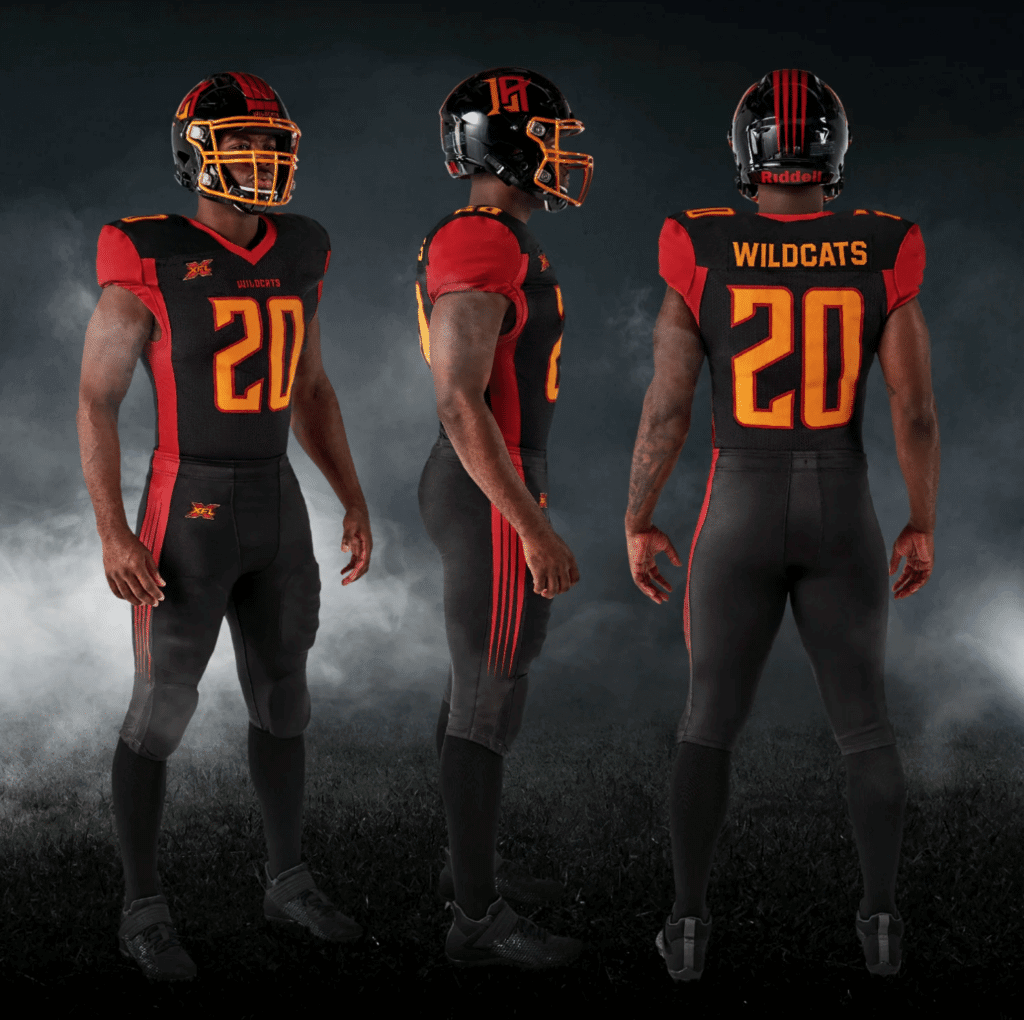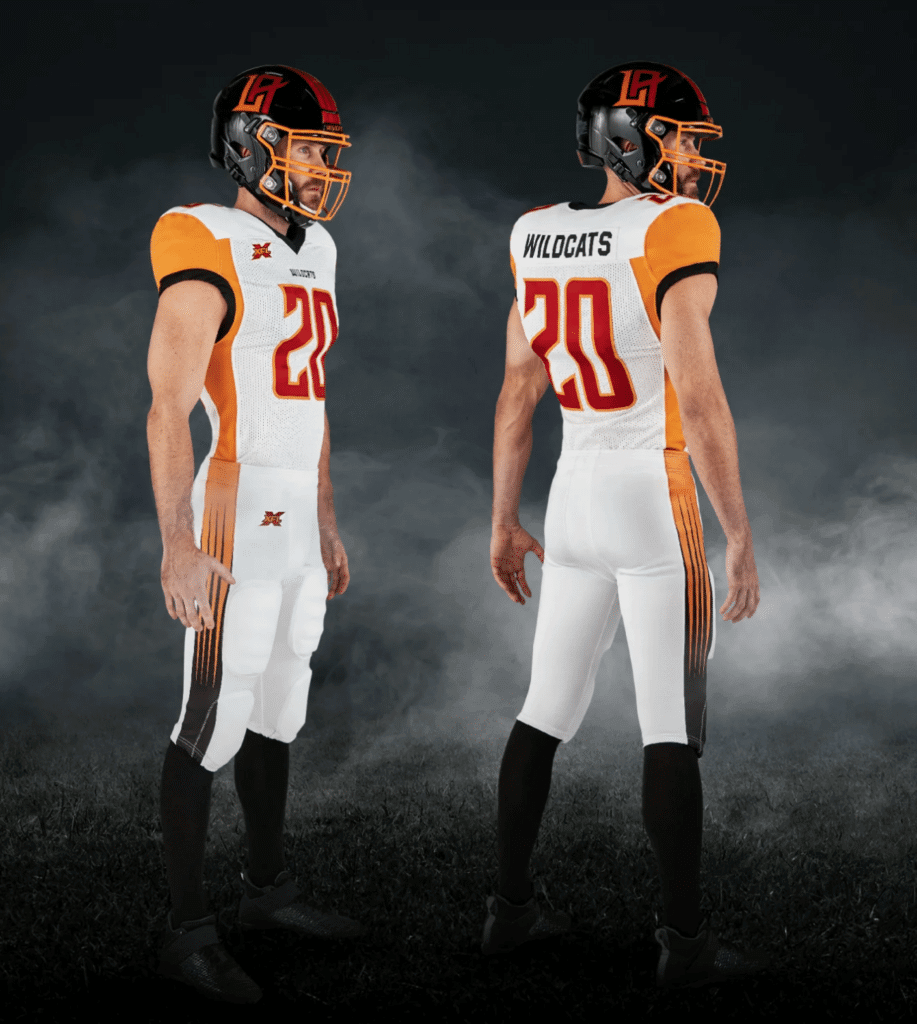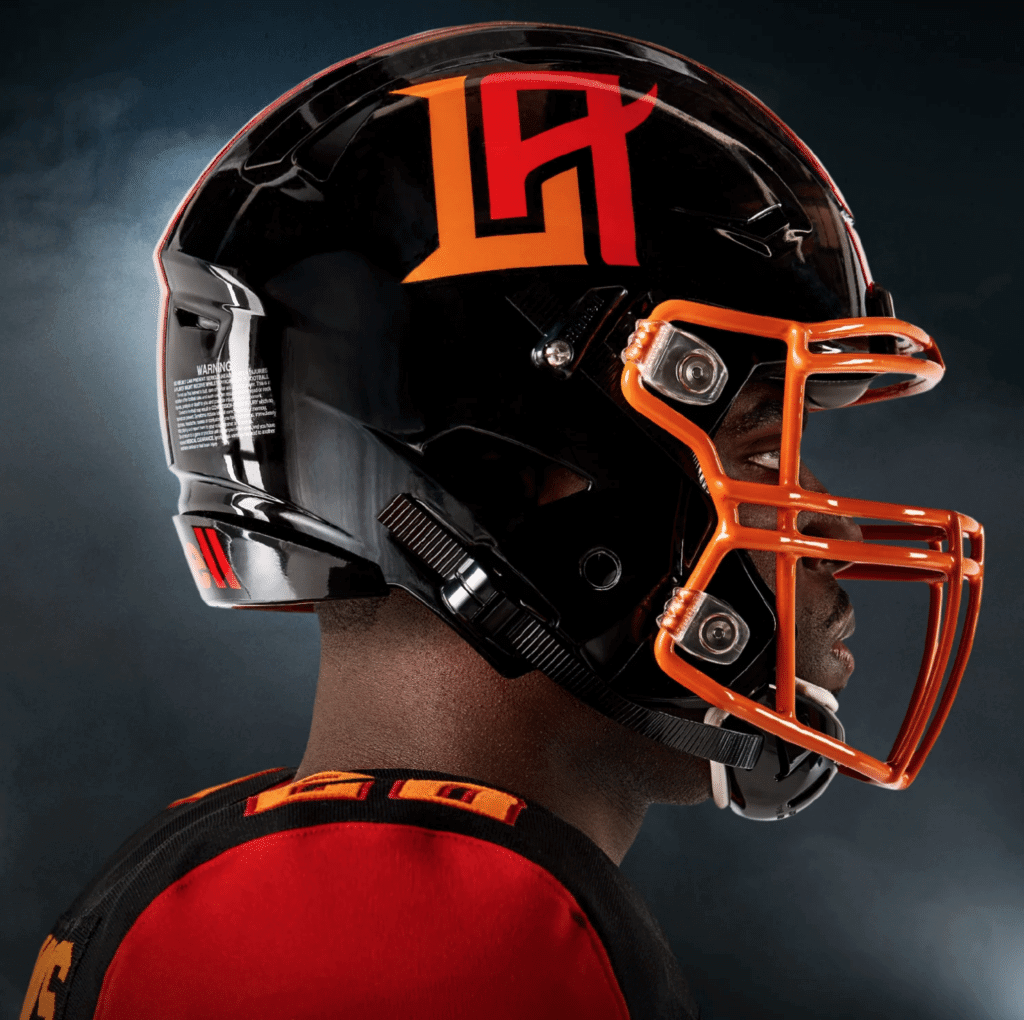 Love the color combo. Love the facemask color. Love the helmet logo. Love the pants striping. Hate the mono-format and the jersey side panels. Additional photos and embarrassingly worded info here.
———
Seattle Dragons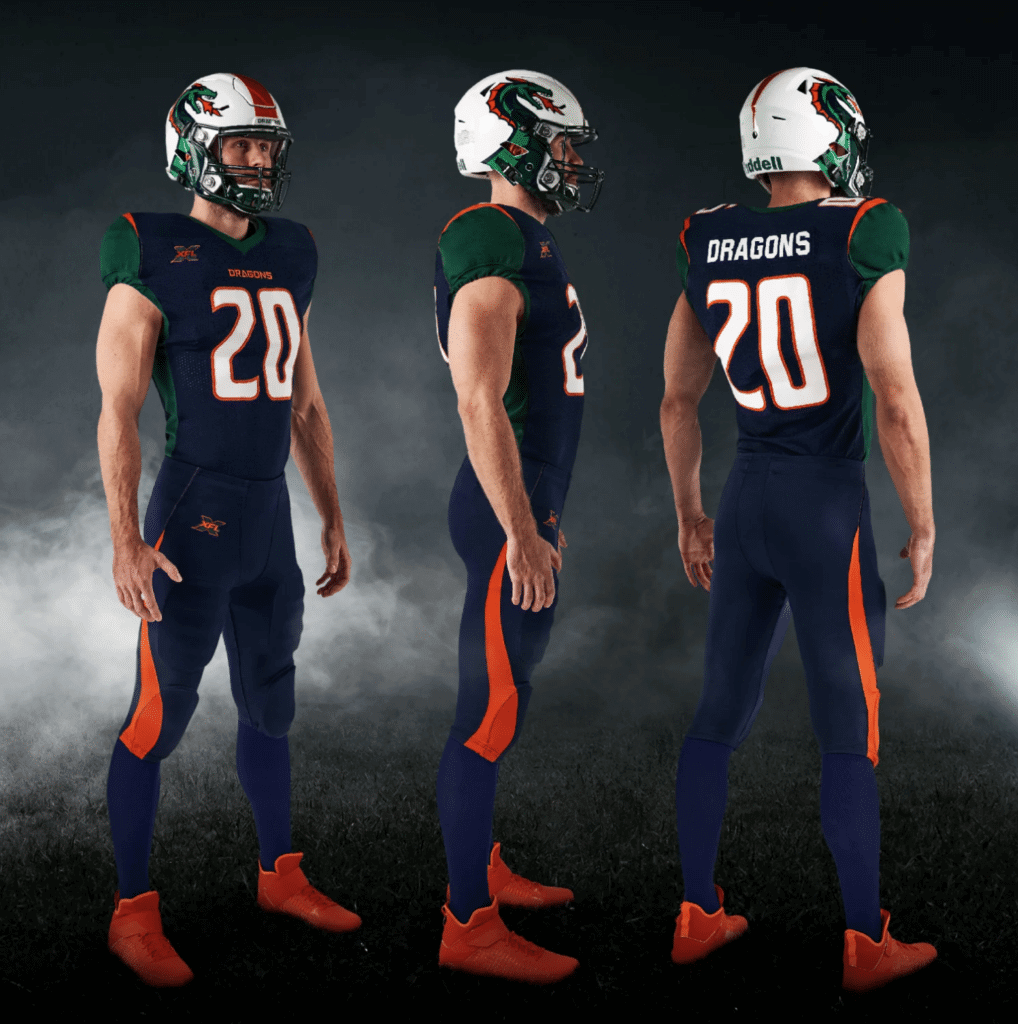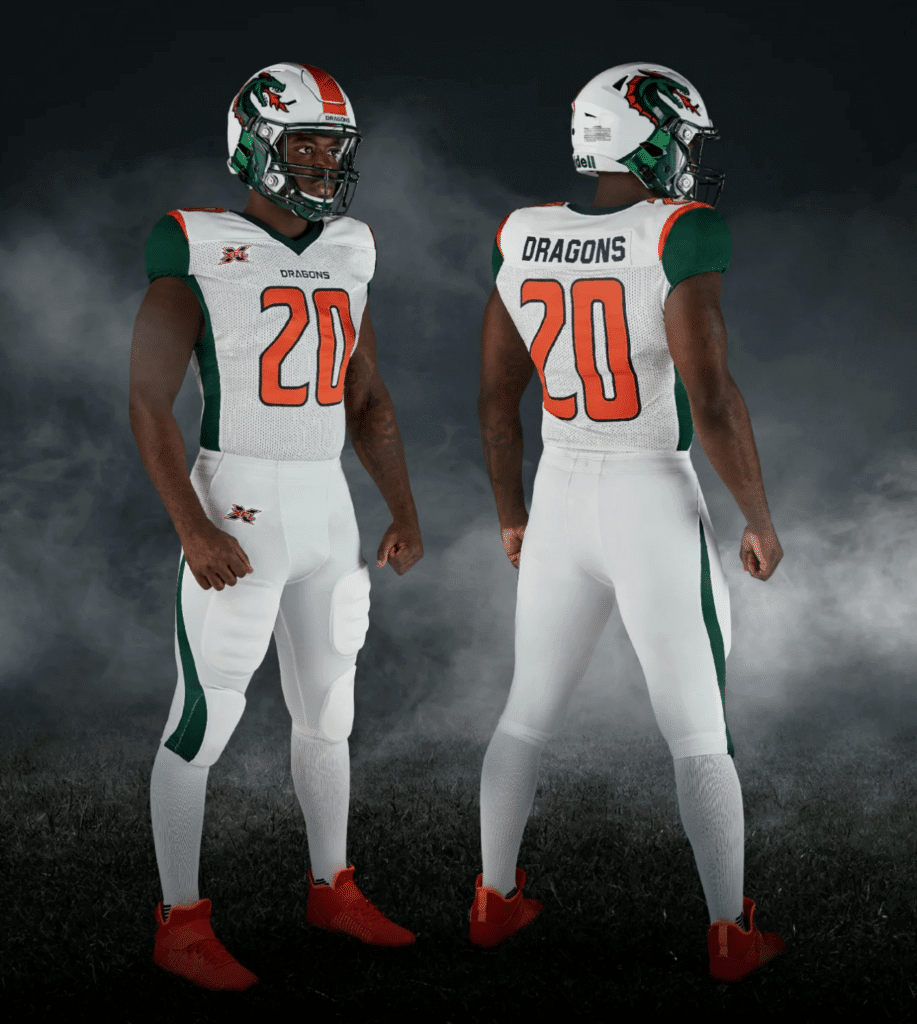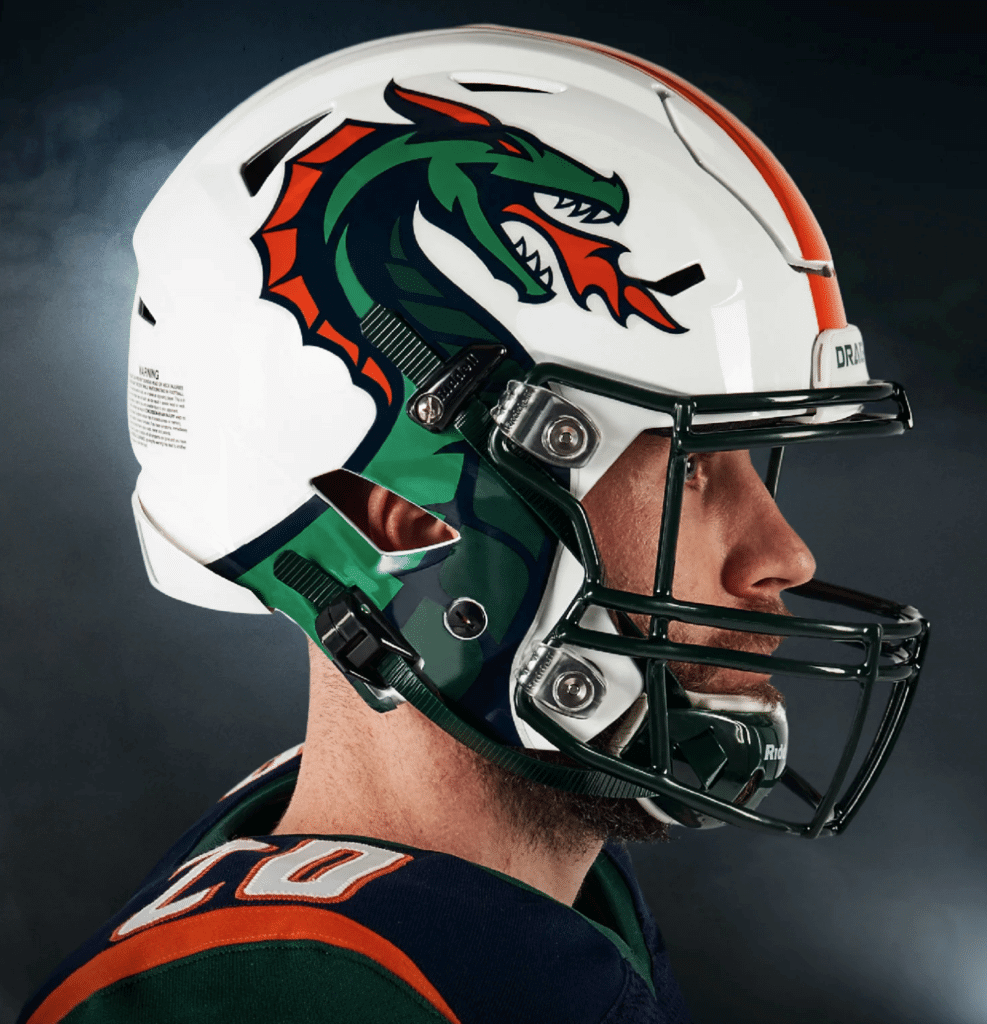 Green and orange is a completely underrated color combo — tremendous! Too bad about the jersey side panels and the pants piping, though. And I'm assuming that UAB's legal department will be in touch shortly regarding the helmet logo. Additional photos and embarrassingly worded info here.
———
St. Louis Battlehawks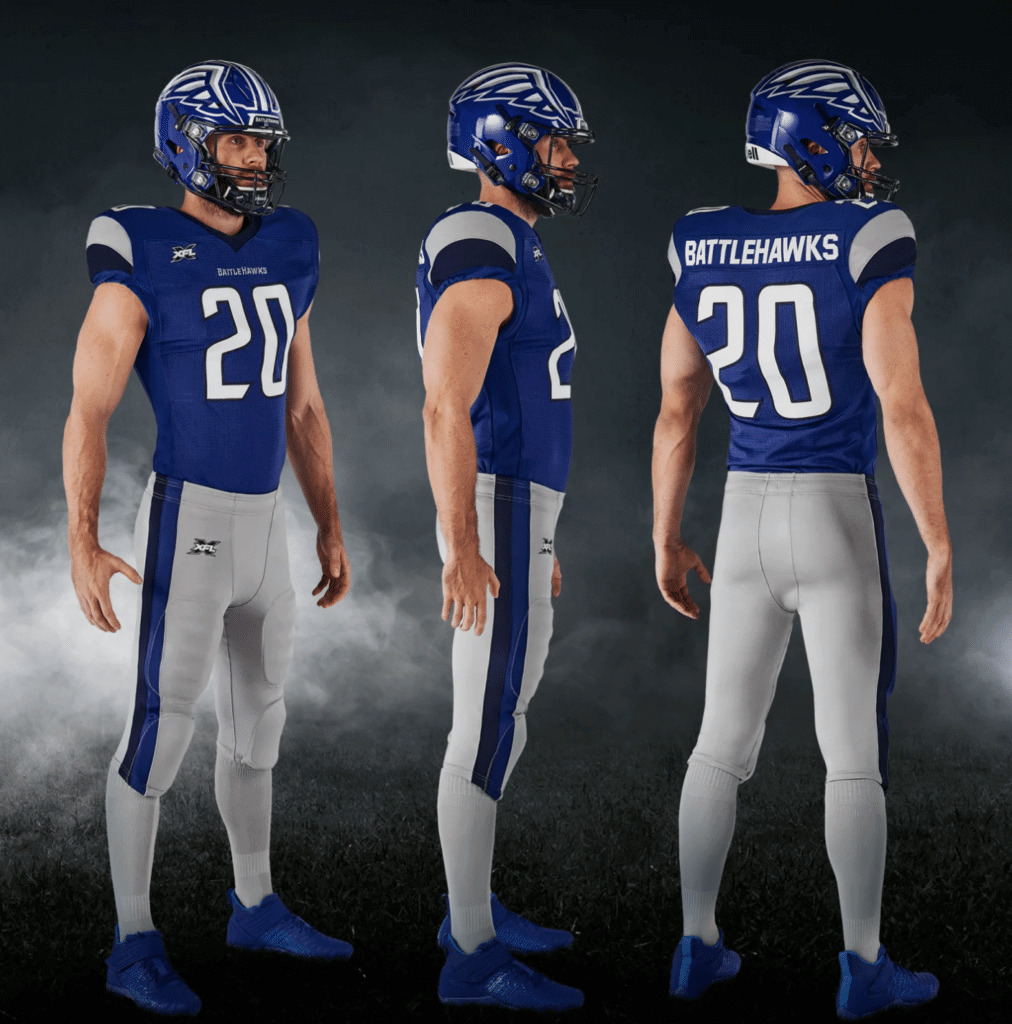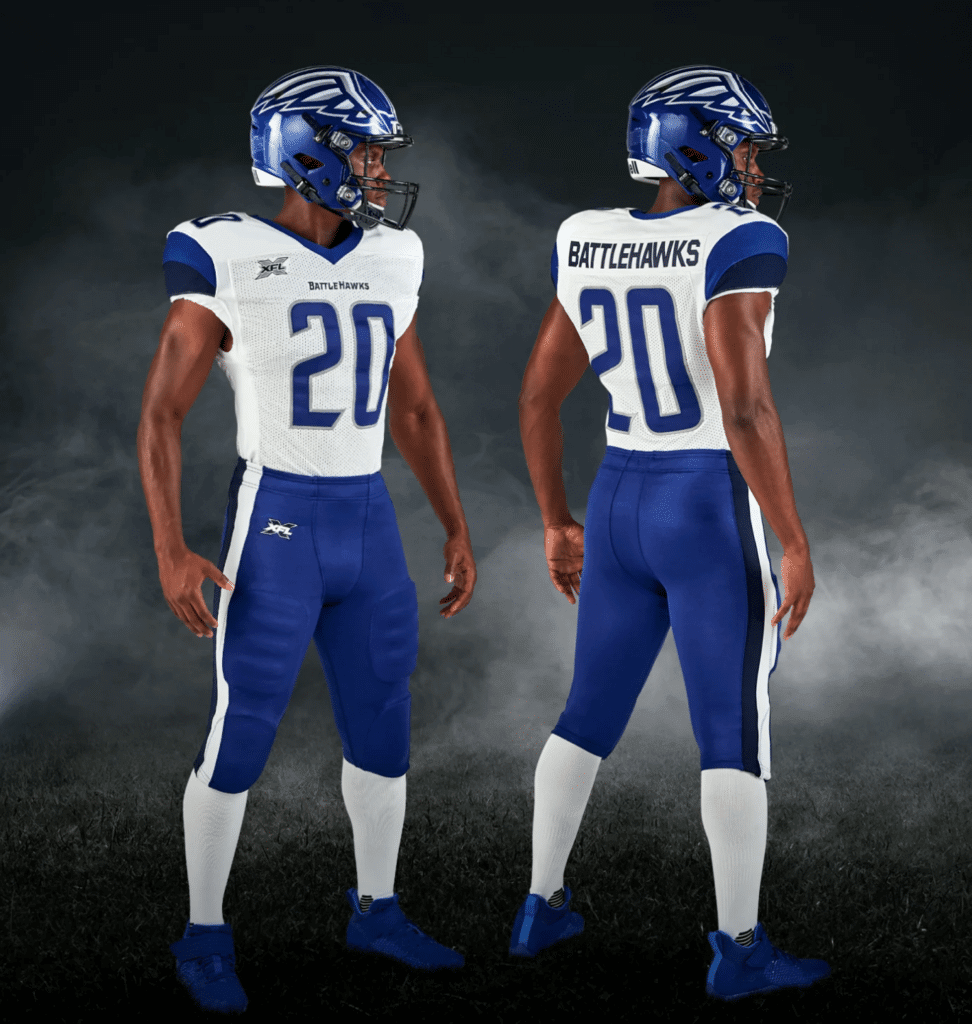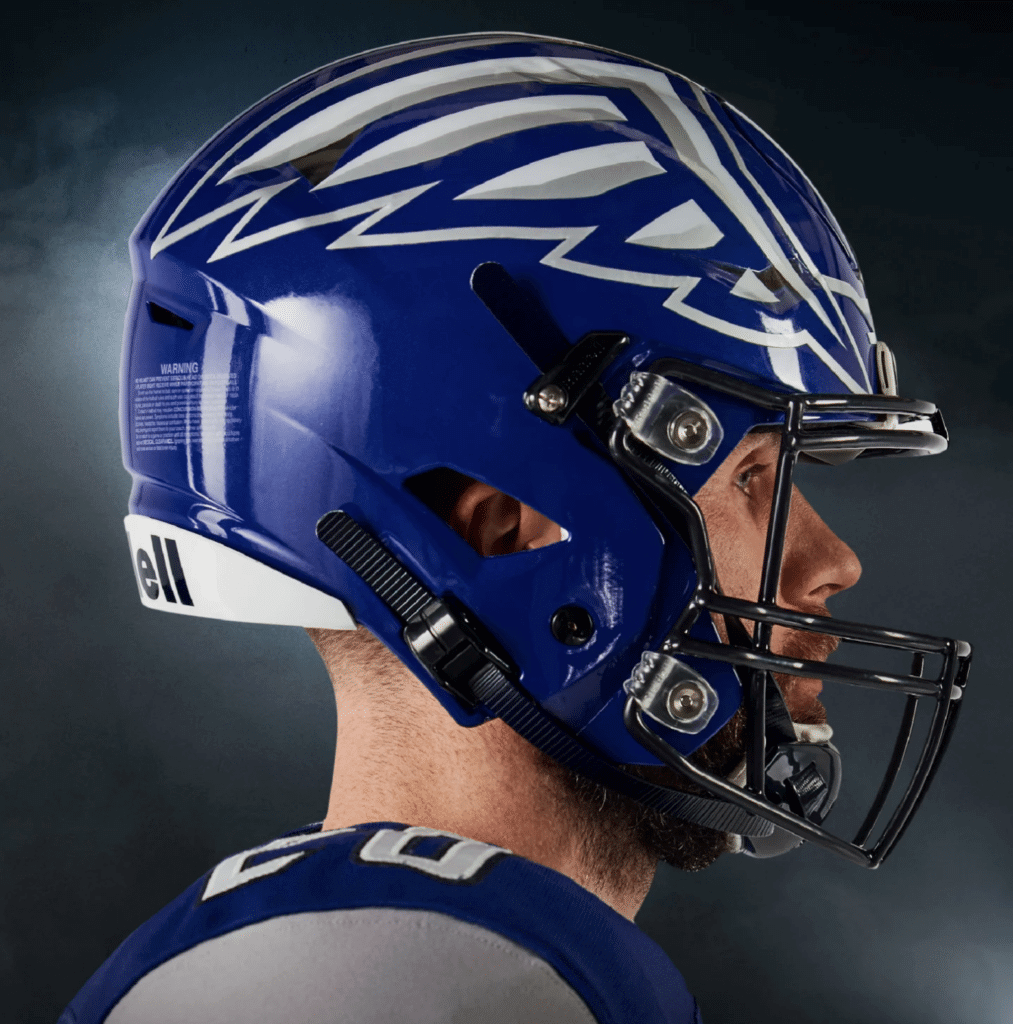 Looks like a stock uniform from the New Balance catalog. But hey, no mono! Additional photos and embarrassingly worded info here.
———
Tampa Bay Vipers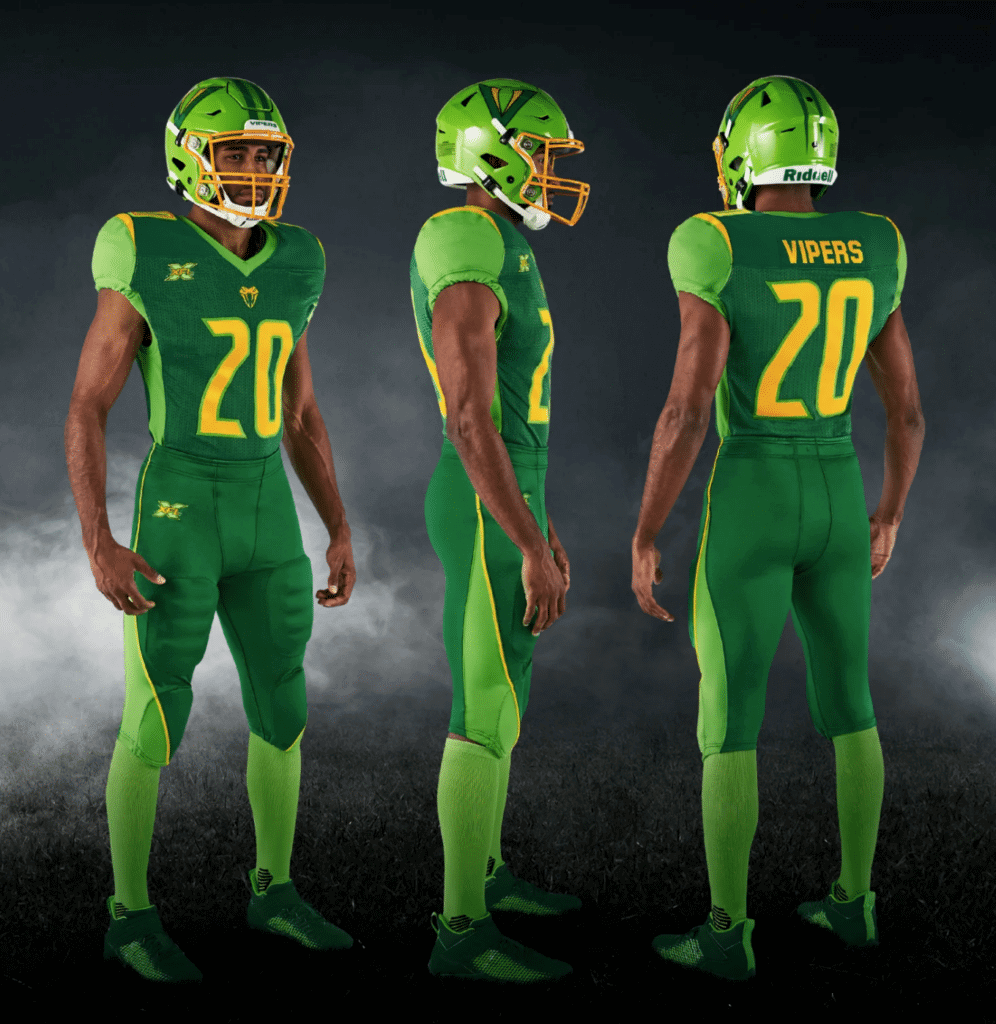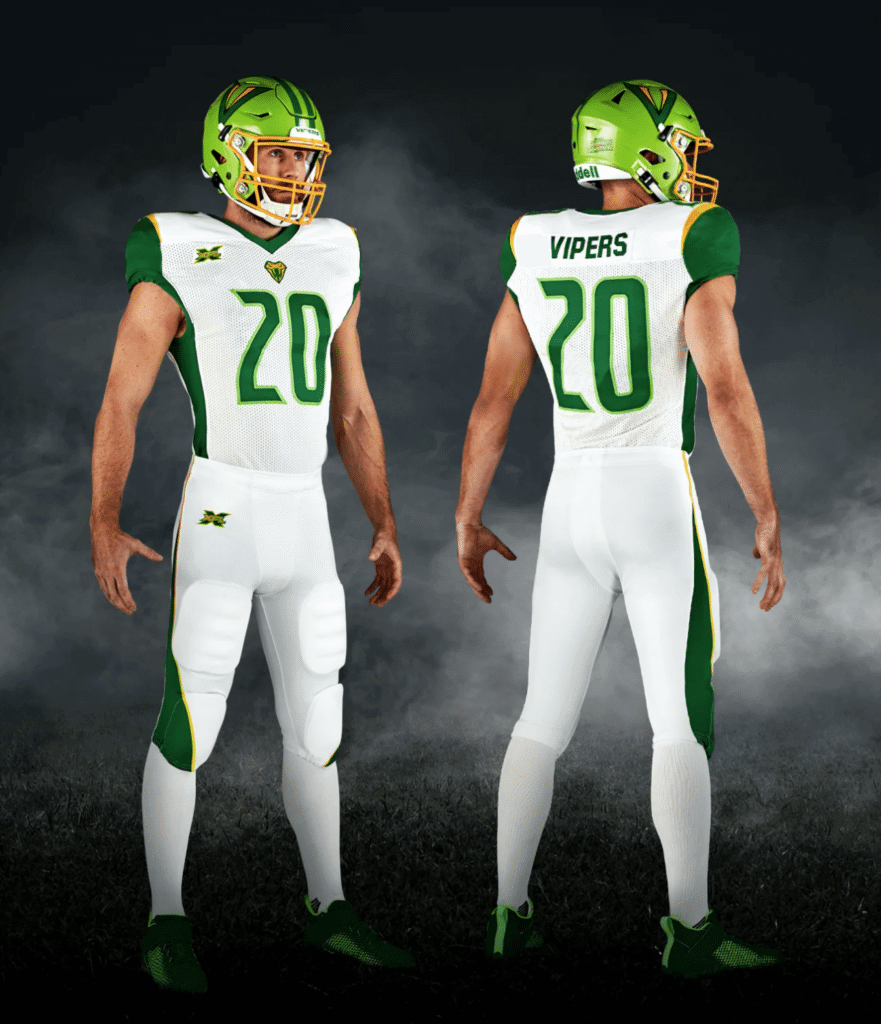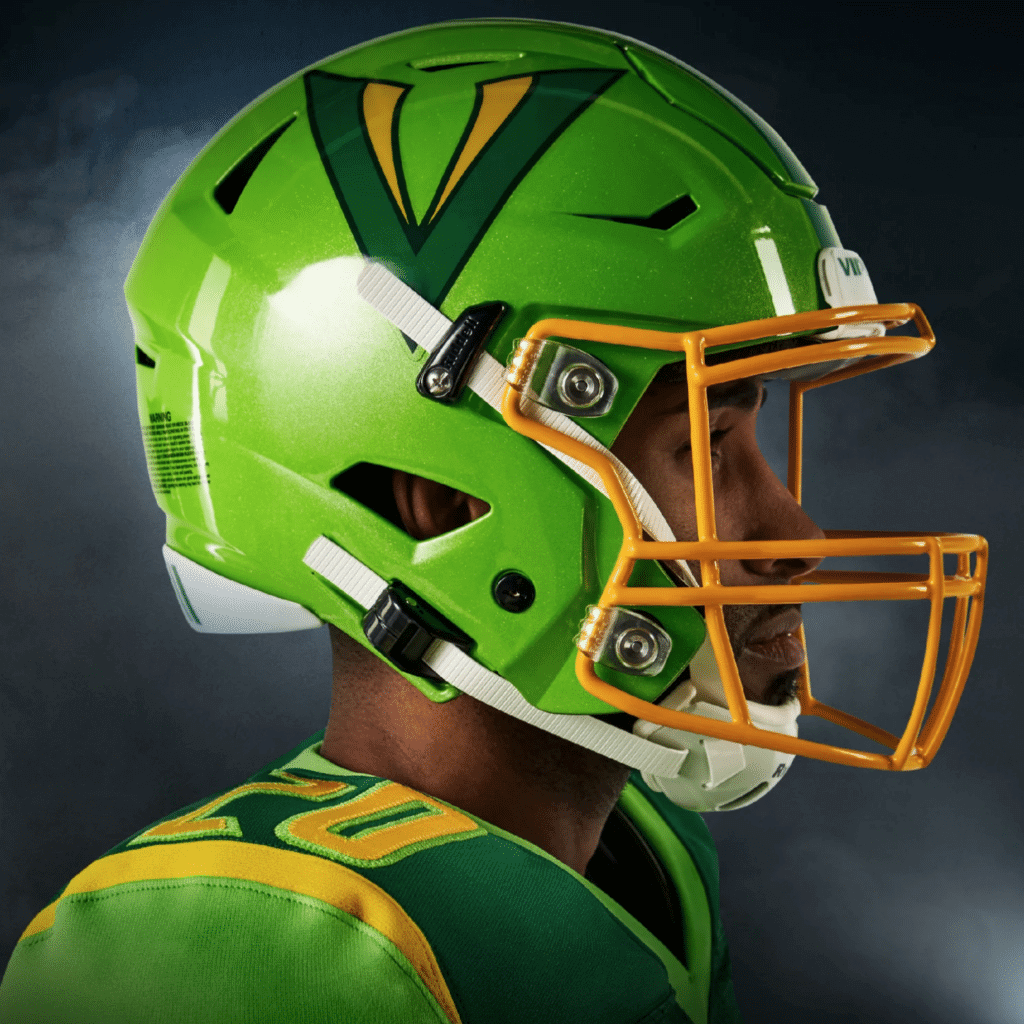 More or less what everyone was expecting the whole league to look like. Sort of refreshing in its transparently Oregon-aspirational approach. Additional photos and embarrassingly worded info here.
———
Houston Roughnecks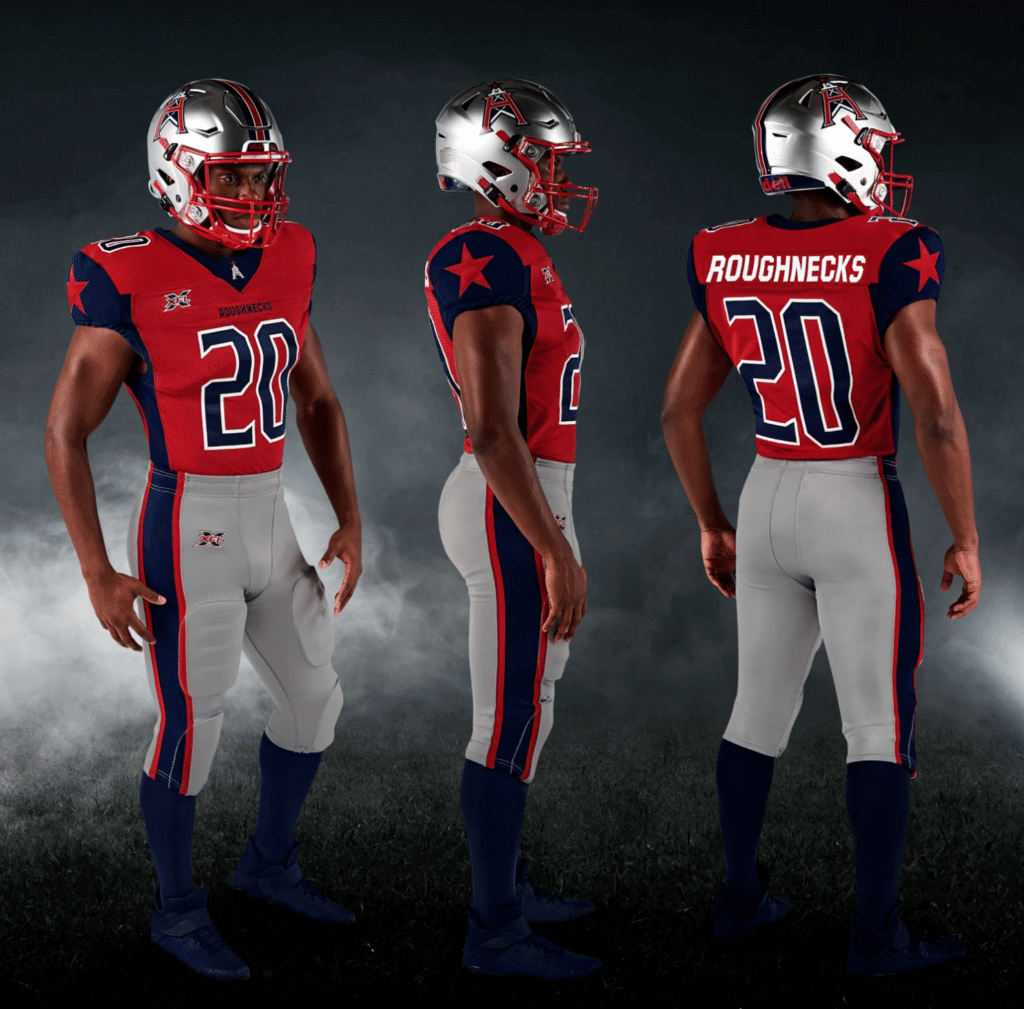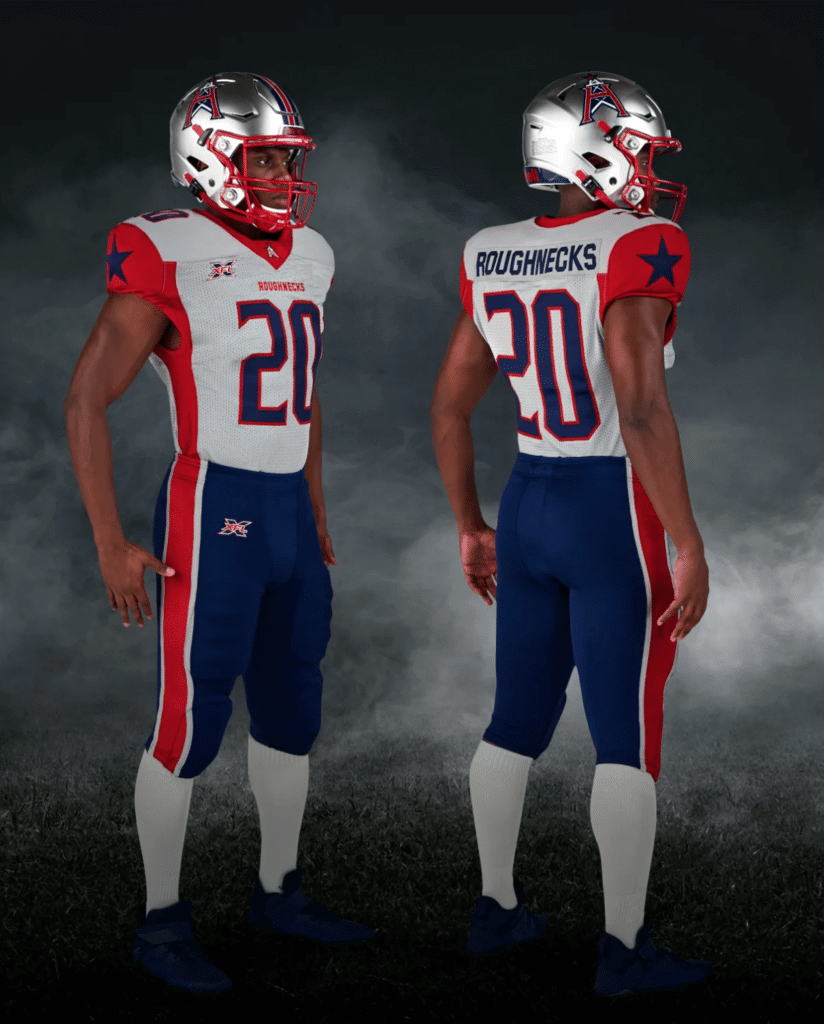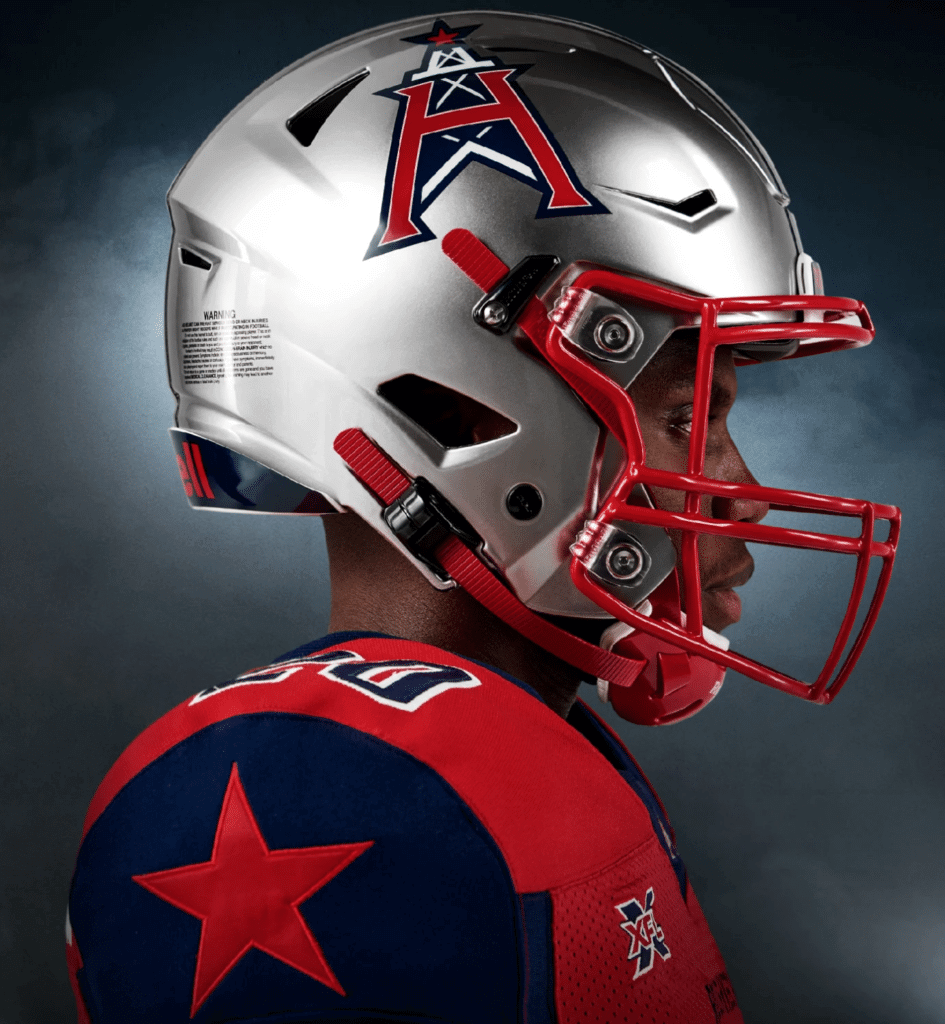 Don't they know it's supposed to be red, white, and blue (not red, grey, and blue)? Why do they hate America? Also, pairing a bright, shiny helmet with all those drab, grey tones makes no sense. Meanwhile: Something-something, Oilers-ripoff logo, something. Additional photos and embarrassingly worded info here.
———
Dallas Renegades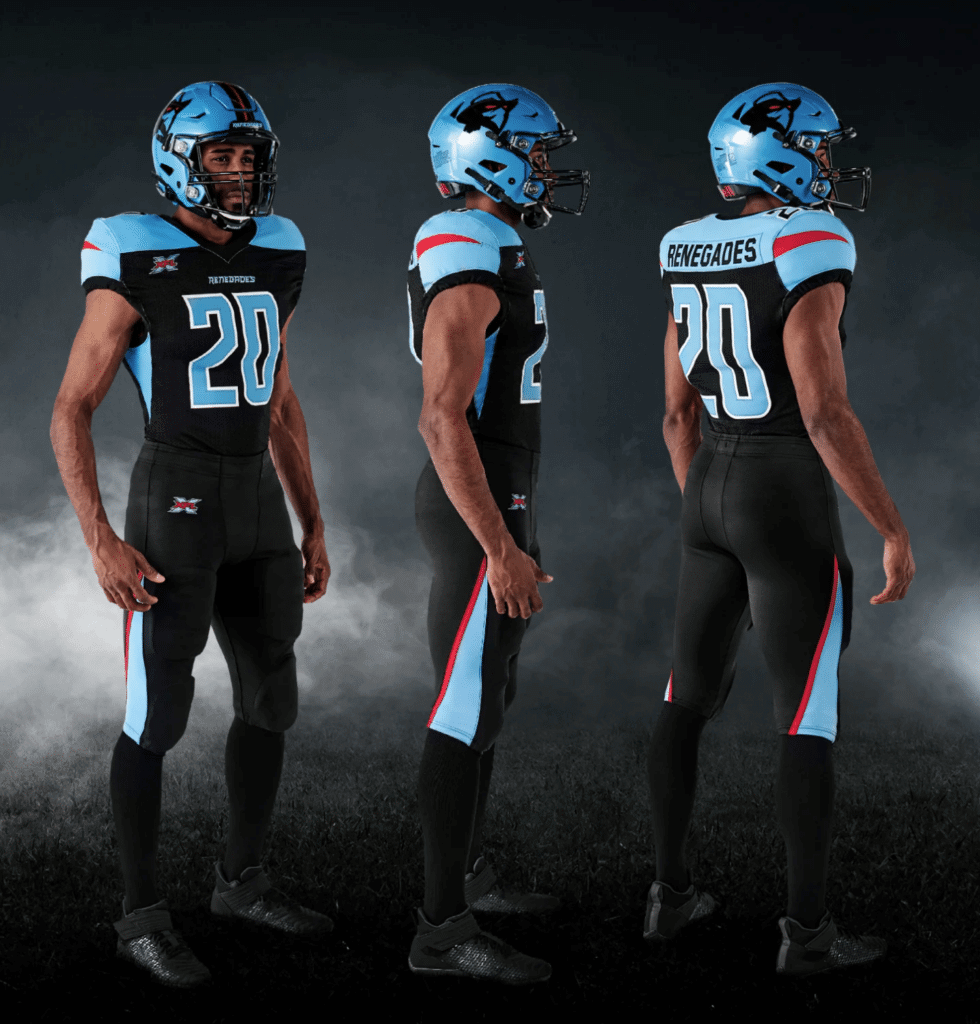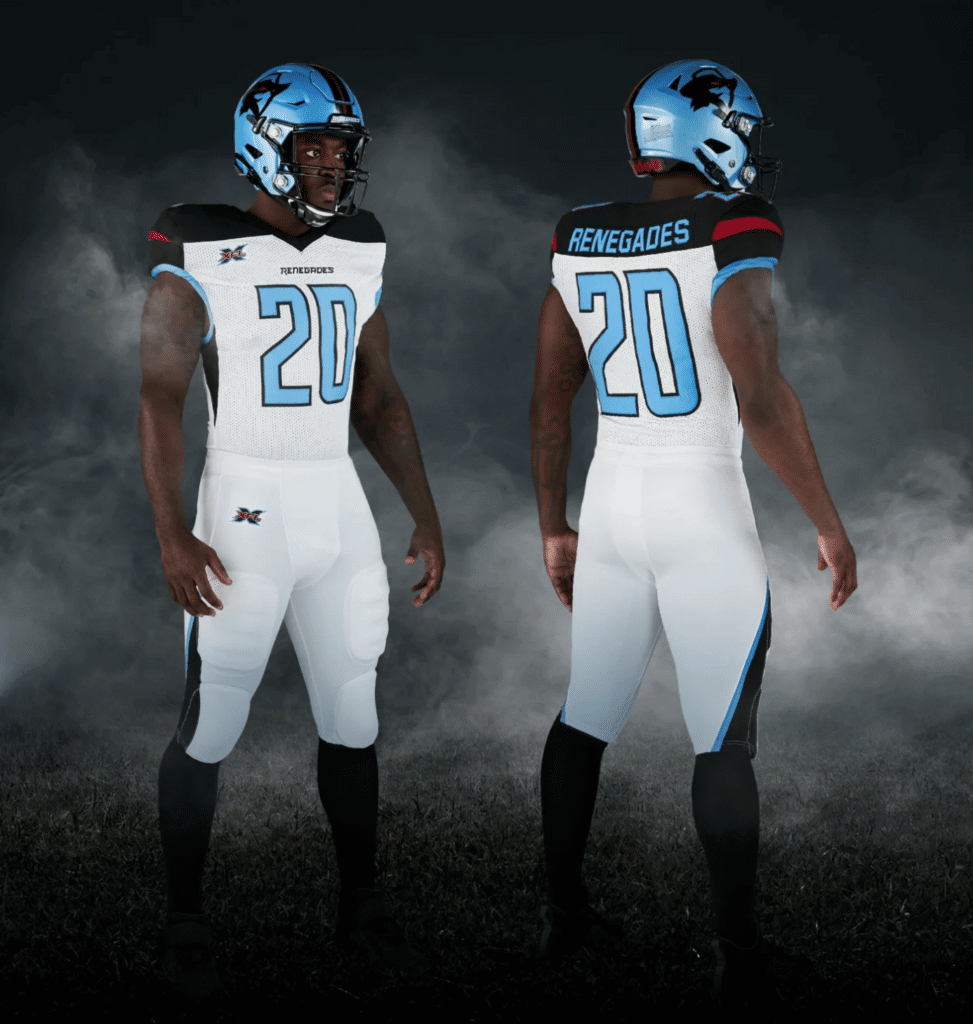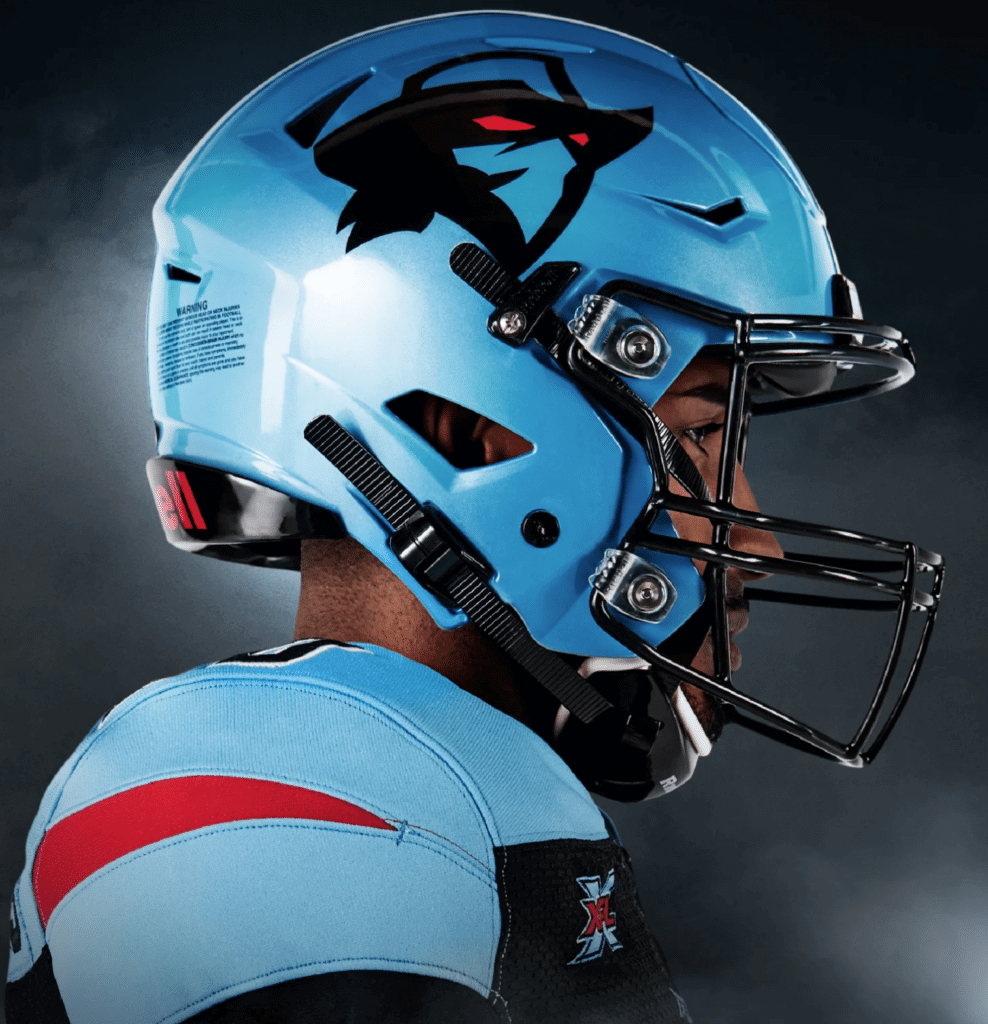 From the helmet logo to the color scheme, this uniform fairly screams, "Arena league!" Probably the worst set of the batch. Additional photos and embarrassingly worded info here.
———
New York Guardians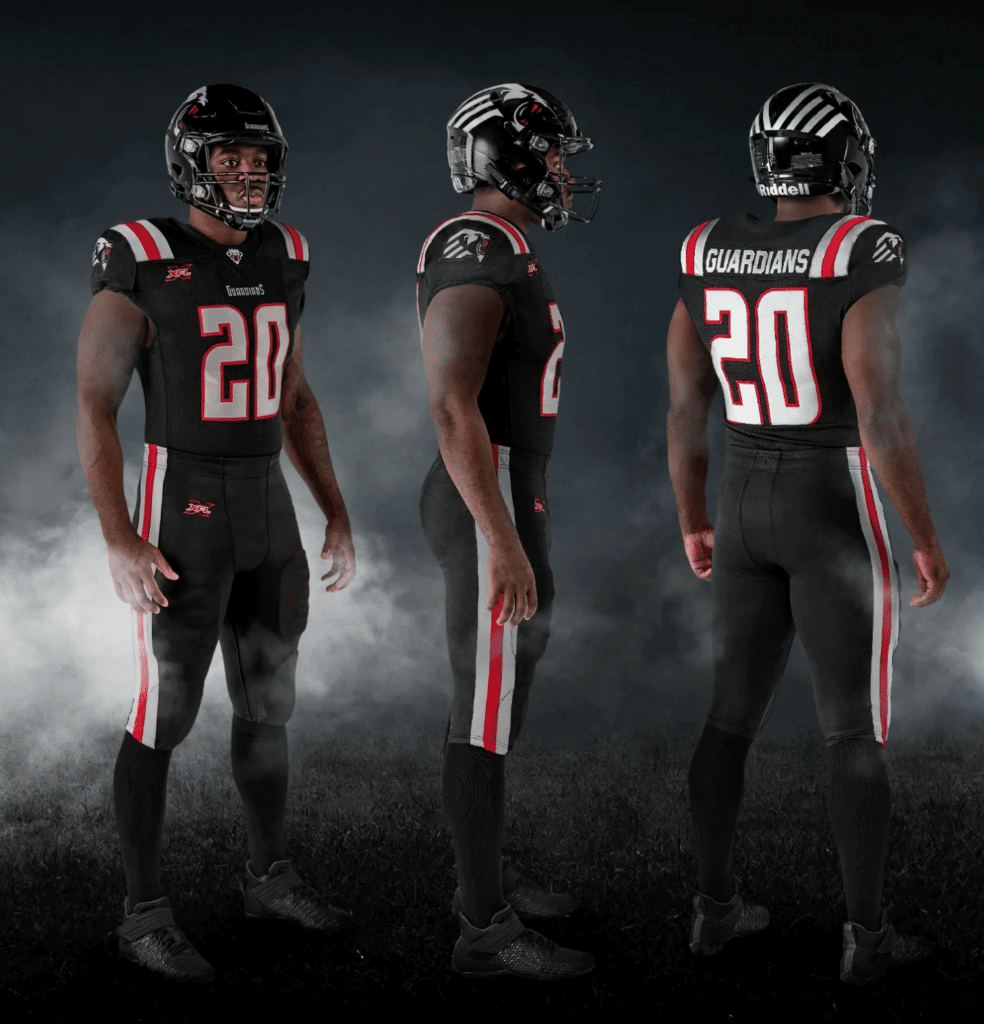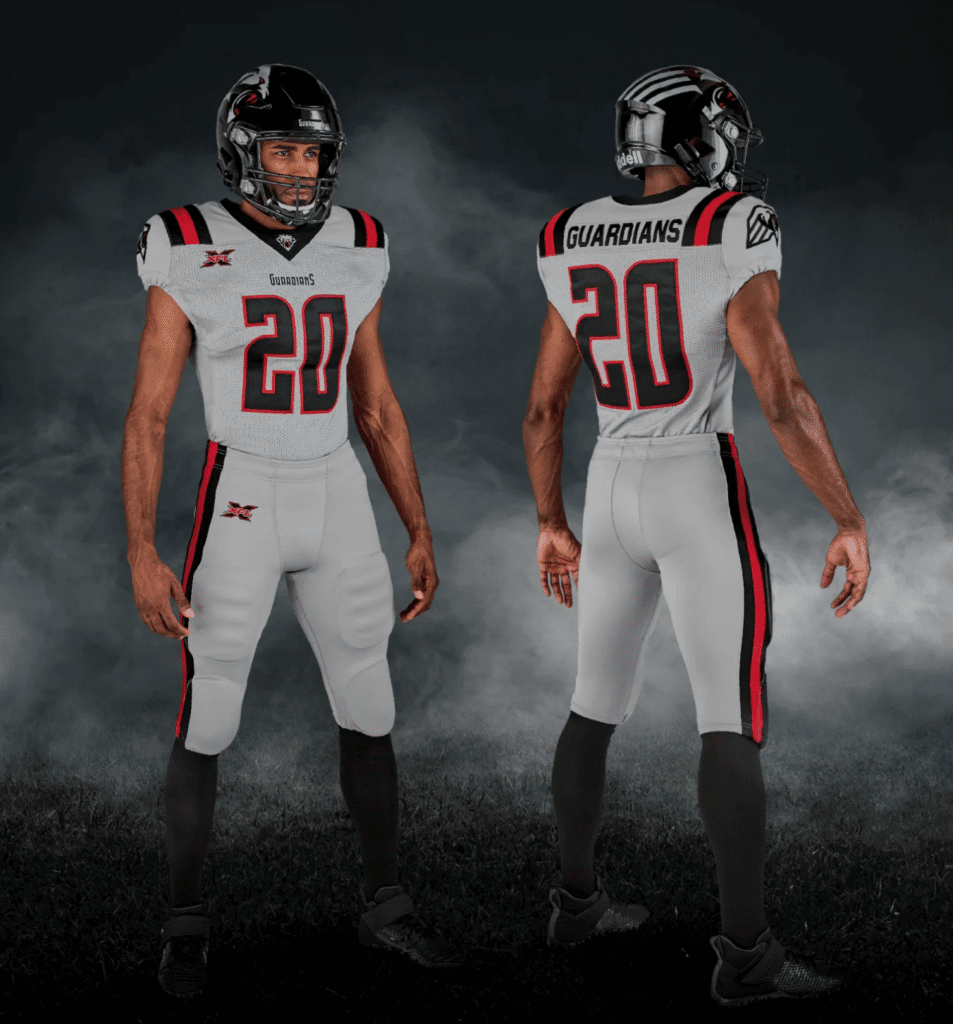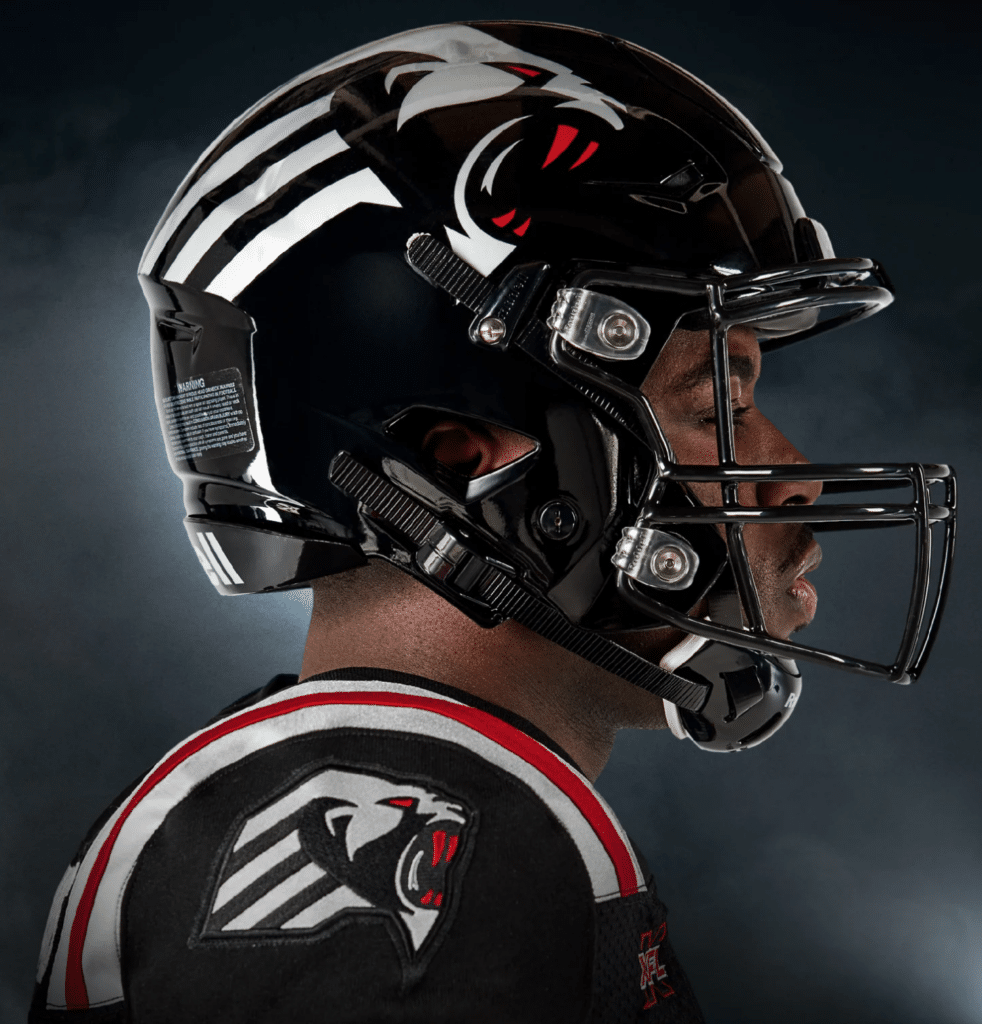 Another high school uniform. But hey, no side panels on the jerseys! How will the players know how to line up their pants striping? Also: No TV numbers! But nobody will be watching on TV, so it doesn't really matter. Additional photos and embarrassingly worded info here.
———
And there you have it. Personally, I'm disappointed — not because the designs aren't good (let's face it, nobody expected them to be good), but because they're so boring. Total snoozers. Who'da thunk?
Meanwhile, in case you've forgotten what the original XFL uniforms looked like back in 2001, here's their original style guide.
• • • • •
• • • • •
Click to enlarge
Gift Guide drops today: The annual Uni Watch Holiday Gift Guide, featuring all sorts of cool stuff (including artist Aaron Stilley's hockey-themed collages made from cut-up hockey trading cards, shown above), is now available for your enjoyment over at InsideHook. My thanks to everyone who suggested items for inclusion!
• • • • •
• • • • •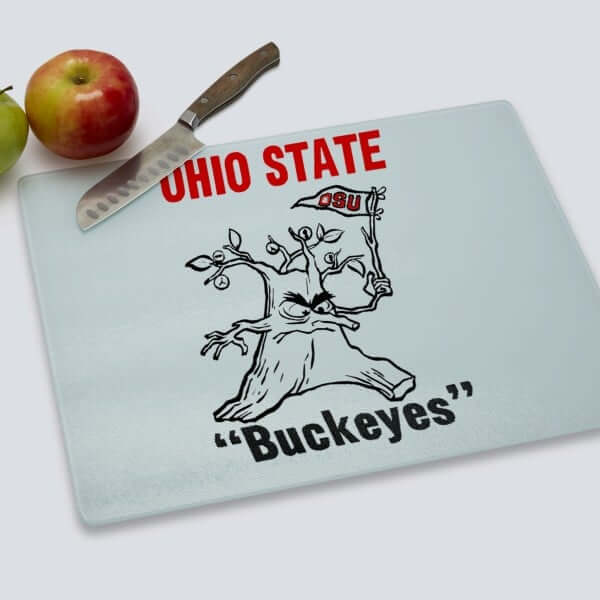 LAST CALL for the Vintage Brand raffle: Today is the final day for our latest Vintage Brand raffle. The lucky winner will get to choose any item from the Vintage Brand website (including the hilarious Ohio State cutting board shown above — they really need to bring back that logo!).
To enter, send an email to the raffle address by 8pm Eastern tonight. One entry per person. I'll announce the winner tomorrow (and then we'll have a new raffle that day to boot!).
• • • • •
• • • • •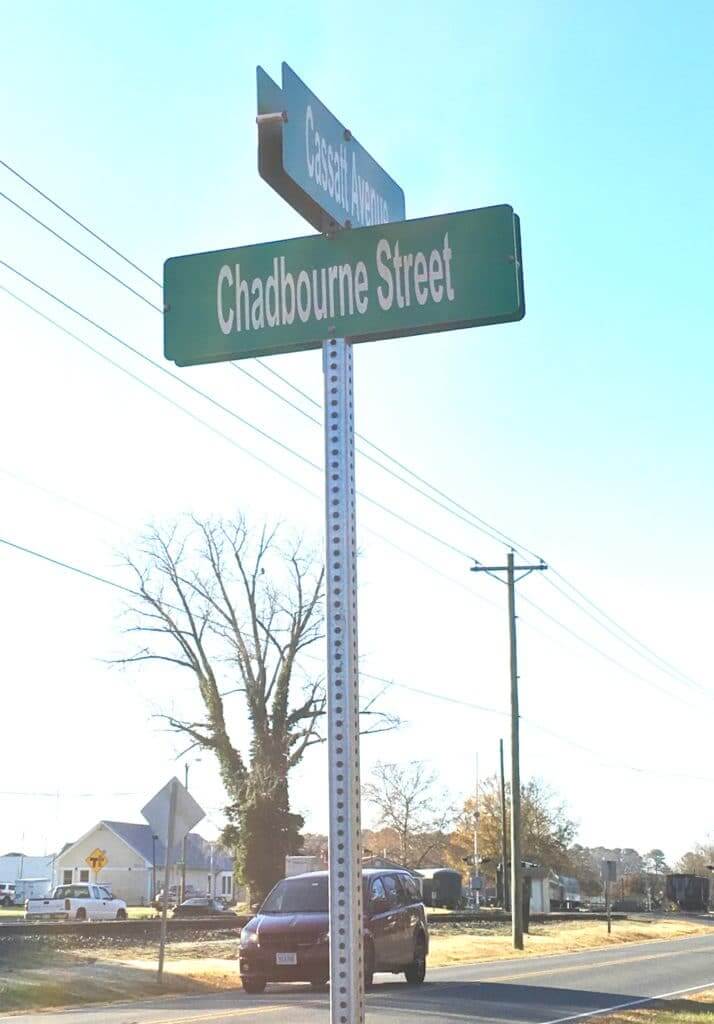 Click to enlarge
Design matters: Forgot to mention last week that when I recently went down to Virginia's Eastern Shore for that annual oyster roast I always attend, I was struck once again by the absolutely brutal typography on the local street signs. Looks like they use a super-compressed version of Arial, plus they don't abbreviate "Street" or "Avenue," plus-plus they don't even use all of the allotted space. The result is barely legible.
Seriously, who approved this? Terrible municipal design.
• • • • •
• • • • •
The Ticker
By Lloyd Alaban

Baseball News: George Shuba, who famously struck a blow for racial equality by shaking Jackie Robinson's hand after Jackie homered in his minor league debut in 1946, was a native of Youngstown, Ohio. Now there's an effort in that city, spearheaded by the brother of longtime Uni Watch reader Michael Planey, to create a statue depicting the handshake. "Although not mentioned in the article, the effort has been approved by both the Jackie Robinson Foundation and Major League Baseball," says Michael. … The Fort Myers Mighty Mussels, the newly renamed Single A affiliate of the Twins, revealed their new logos yesterday (from multiple readers).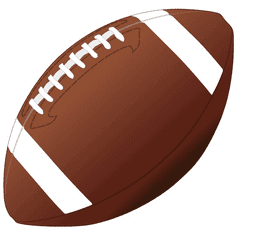 Football News: Throwbacks for Da Bears tomorrow (from our own Phil Hecken). … The UNC equipment staff did an amazing job getting RB Javonte Williams's jersey white again after he got NC State red all over it (from James Gilbert). … Hysteria Brewing, based in Columbia, Md., made a beer can featuring the consensus NFL MVP frontrunner, Ravens QB Lamar Jackson. Great design touch with the football, which is a hop (from Andrew Cosentino). … Blaise D'Sylva closes out the helmet history of the Mountain West Conference with Wyoming.

Hockey News: New Golden Knights C Chandler Stephenson's gloves can be seen uniquely taped in this photo (from @the_casserole). … Arizona State released a teaser video for their new uniforms (from Chase Drieberg). … Avalanche RW Mikko Rantanen carried his own skates onto the team plane yesterday (from Harvey Lee).

NBA News News: The Suns are 6-0 in their purple uniforms (from Josh Pearlman). … Last night, Wizards G Isaiah Thomas lost his shoe, put it back on while defending his man, and then drilled a three at the other end. Announcers were impressed (from Mike Chamernik).

College Hoops News: Louisville wore white alternates last night (from multiple readers). … As we previously reported, Pitt wore black and yellow unis against Rutgers, which went with red. Also notable is a missing maker's mark on F Eric Hamilton's jersey (from @unixsadm). … Color vs. color for Gonzaga and Michigan and Butler and Ole Miss (from Josh Hinton and Derek Bailey, respectively). … Difficult game to watch, as New Orleans and LSU went white vs. silver last night (from multiple readers). … Throwbacks last night for New Mexico State (from Jeremy Fallis). … New court for the University of Wisconsin-Green Bay (from Eric Fischer). … Apparently Duke men's has an archive of posters at the school's library, and yes, it's awesome (from James Gilbert).

Soccer News: From Josh Hinton: Yesterday we reported a leak of FC Cincinnati's away kit. Here's the official release. … Here's what the Premier League will wear this week. … The 2019-20 Chivas Guadalajara third kit has leaked. … As always, you can keep track of all the latest kit news by following Josh on Twitter.

Grab Bag: Here's how PlayStation's logo became a streetwear fashion trend. … Here are the designs for the medals and trophy of the 2019 Women's Team Handball World Championship in Kumamoto, Japan (from Jeremy Brahm).
• • • • •
• • • • •
Click to enlarge

What Paul did last night: Last night the Tugboat Captain and I went to Manhattan to see the world's greatest living graphic designer, Milton Glaser (in the center of the photo above), and his longtime collaborator Walter Bernard (on the right) discussing their new book, Mag Men: Fifty Years of Making Magazines, which is about their design and art direction work on such publications as New York (which Glaser co-founded), Time, Fortune, The Nation, and many others.
It was fascinating stuff, as they talked about the transition from analog magazine production to digital, the relative virtues of photography versus illustration, and a lot more. Glaser is now 90 years old but is still sharp and insightful, and he has this sonorous voice that I could listen to all night. A true American original, and a heroic figure in the world of design. It was a treat to see him in person.
• • • • •
Tomorrow: The Texas Rangers are unveiling new uniforms this afternoon, so I'll have coverage of that tomorrow.