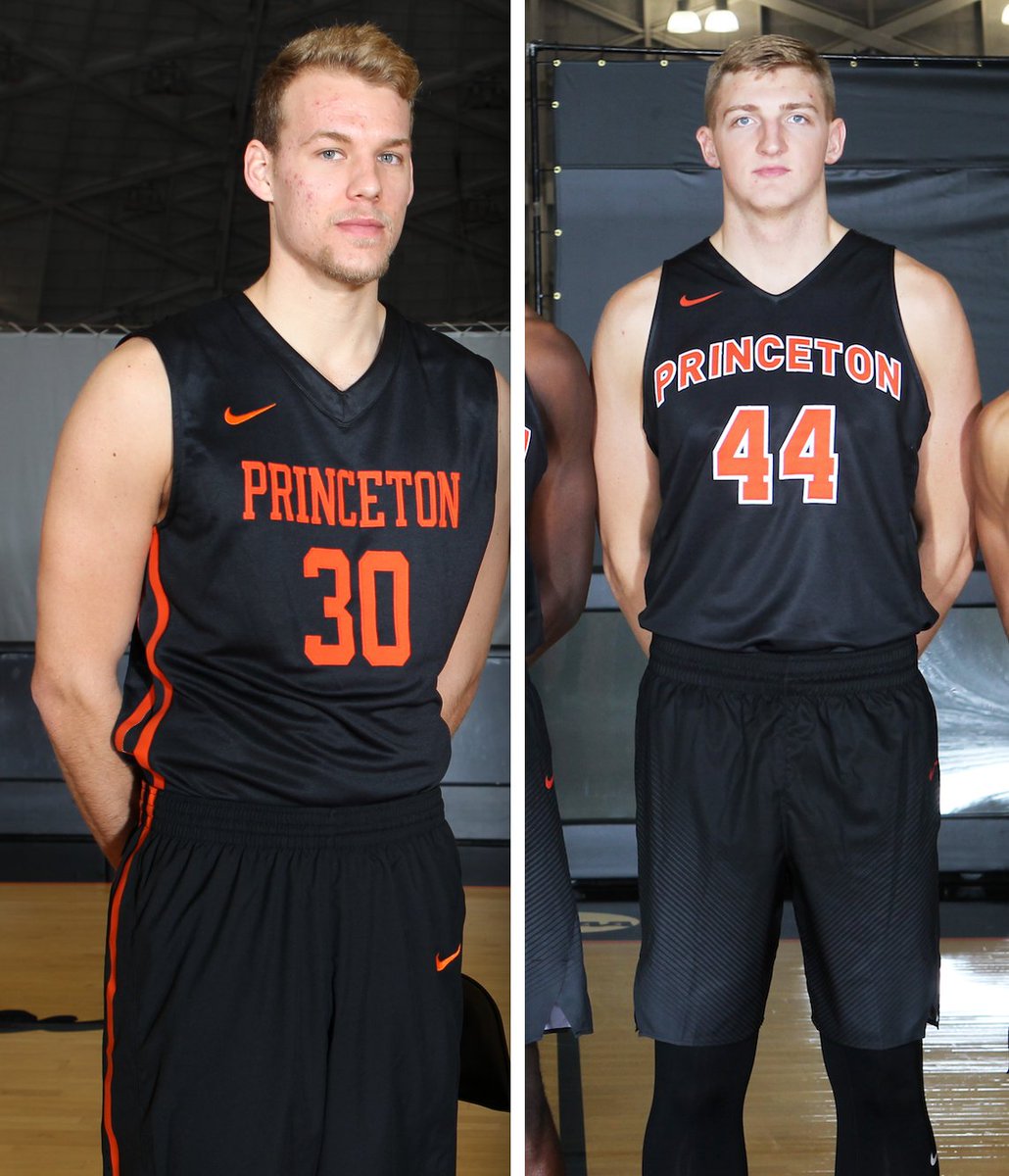 So here's a question: Yesterday I tweeted the before and after photo pairing shown above. The shot on the left is last year's Princeton basketball uniform, and the one on the right is what they'll be wearing this year.
I almost never express opinions on Twitter — I just put information out there. So I didn't say which version I preferred. I just said, "New uniforms for Princeton. Old version on left, new on right." But to me, it's a no-brainer: I much prefer the new version. The white outlining makes the typography pop a bit more, and the vertical arching is way better than the straight-across treatment. The old one looks like a stock uniform from a catalog. The new one — well, I suppose it looks like a stock design as well (almost everything in college basketball is now a templated stock design of some sort), but it looks like a much better stock design, from a nicer section of the catalog.
To my surprise, many people felt otherwise. Within a few minutes of my tweet, 10 people had posted replies, all of them saying the new version was a downgrade. (An 11th person eventually said he liked the new version.)
I realize Twitter is just, you know, Twitter. I'm also generally comfortable with my own opinions about uniforms, regardless of whether they fly in the face of public taste. (As we've discussed before, that's part of a critic's job.) Still, I'm puzzled by this one. There are plenty of times when I understand why people disagree with me, but I honestly don't see the appeal of the older design here. Am I missing something? What do you folks think?
•  •  •  •  •
Buy all our stuff already: As you may be aware, the Uni Watch T-Shirt Club's football-based design (shown at right; click to enlarge) is now available for ordering. It's being offered in three colors — grey, black, and green.
Also, the second batch of StripeRite socks, which takes inspiration from each of the four major sports, is available for pre-ordering. The socks will begin shipping on Nov. 21.
My thanks, as always, for your consideration.
•  •  •  •  •
Got any good Gift Guide gets? I'll soon start working on my annual Uni Watch Holiday Gift Guide, which will appear on ESPN shortly after Thanksgiving. If you know of any good uni- or logo-related products that would make good additions to the guide — or if you sell any such products yourself — please feel free to let me know. Thanks.
•  •  •  •  •
The Ticker
By Paul

Baseball News: The Mariners are adding a 40th-anniversary patch next season. Interesting that they're square instead of round — we don't see much of that these days. Additional info here. … While looking for something else, I noticed that comedian Fred Willard wore a Red Sox jacket while introducing Devo on an old episode of Saturday Night Live. … The Pirates appear to have a new spring training logo (from Fletcher Keel). … Here's the coolest ticket stub you're likely to see in the foreseeable future. "It's strange that MLB teams used to play exhibitions in the middle of the season, and stranger still the ticket was repurposed for an entirely different game involving a different MLB team," says stub savant Russ Havens. "It looks like this was reused for a game against the New York Giants on Wednesday, July 13, 1949, instead of the original game slated against the Philadelphia A's on August 21, 1948." … Here's a good history of why umpires wear suits (from Dave Robertson). … Cubs reliever Aroldis Chapman is another player who appears to be using the same cap he used earlier in the postseason. … The Jacksonville Suns — that's the Marlins' Double-A affiliate — are changing their name to … wait for it … the Jacksonville Jumbo Shrimp. We can all go smack ourselves repeatedly in the head with ball-peen hammers now (blame Andrew Mallory).

NFL News: A customized Steelers jersey was featured on the TV series Man with a Plan the other night (from Chris Flinn). … Apparently the Browns will be wearing white at home this weekend, which will force the Cowboys to wear blue (from @AndyDTID). … Jamie Collins, traded earlier this week from the Pats to the Browns, will have SrOB (from Robert Hayes). … Remember when the Steelers wore mono-white? Eh, you probably don't, so take a look at this video from 1970 (from Kenny Kaplan).

College and High School Football News: I was planning to interview Pitt DL Ejuan Price about his absurdly short pants, but my ESPN colleague Andrea Adelson beat me to it and did a great, great job. Highly recommended. … Ohio State will have 1916 throwbacks this weekend. Phil will have an in-depth look at this uniform on Saturday. … You can vote for the best high school football uniform in Michigan (from Alex Dewitt). … Flag-desecration uniform on Nov. 12 for Louisville. … Northwestern will go GFGS on Saturday (from John Muir). … Military Appreciation Day uniforms for Cincinnati (thanks, Phil).

Hockey News: Blues D Jay Bouwmeester had a tag sewn inside his jersey last night to commemorate his 1,000th NHL game (from Brendan Mongey). … New military-themed jerseys for the Green Bay Gamblers (from Brian Kerhin). … The Tulsa Oilers will wear a jeans jacket-styled jersey on Friday (thanks, Phil).

NBA News: If you've been thinking, "You know, what the world really needs is a $1600 NBA sweater," then today's your lucky day (from Tommy Turner). … Starting on Jan. 1, car owners in Indiana can order a Pacers license plate. … The Hawks are planning renovations for their arena (thanks, Mike). … The 76ers and Magic went color vs. color last night in Philly. … Meanwhile, the Cavs wore wine at home, forcing the Rockets to wear white on the road.

College Hoops News: Indiana and Kansas will both wear commemorative uniforms with inspirational NOBs for the Armed Forces Classic on Nov. 11. Kansas will wear that uniform again against Siena on Nov. 18. … New uniforms for Texas. … New "Look how champion-y we are" court logos for UConn (from Andrew Beard).

Grab Bag: American Airlines flight attendants had recently complained about skin rashes and other problems caused by their uniforms. Now their union has released the results of tests showing which chemicals are in the uniforms. … A popular Japanese girl band caused a controversy by wearing Halloween costumes that resembled Nazi uniforms. The band's label, Sony Music, issued an apology. … New poppy-themed Remembrance Day jersey for Gloucester Rugby (from @Stumpy7780). … Speaking of rugby, the jersey for the British & Irish Lions' 2017 tour to New Zealand has been spotted. "It's the first time since 1993 the Lions have had a jersey made by a company other than Adidas," says Eric Bangeman "The Lions are an all-star team made up of the best players from the Home Nations (England, Scotland, Ireland, and Wales). They play a series of matches against one of the three Southern Hemisphere powers (New Zealand, South Africa, and Australia) every four years."