By Phil Hecken
The Phoenix Suns unveiled a new set of uniforms last evening, via a "fashion show" at the Fashion Square Mall in Phoenix. After a rather lengthy introduction (which was rather well done), featuring the uniforms and players from 1968 up to the present, three sets of unis were (finally) seen. A home white, road purple, and a sleeved alternate in deep orange (click on any photos below to enlarge):
The uniforms were apparently two full years in the making, from design to execution, and so far, I like what I see. They're (of course) made of all adidas' space age materials and fabric, but they are pretty minimalist, and combine some interesting "flair" (that's probably the first and last time you'll see me use that word to describe a uniform element) with a basic colorscheme of white, orange, purple and black. It was the bold orange uni that will probably attract the most attention, especially since you can see it's sleeved, but lets take them one at a time.
____
The home whites:
This is probably my favorite of the three. The new wordmark is orange (on the uniforms trimmed in black) and features a really neat font — one that looks the same upside down as right side up. I particularly enjoy the "interlocking" attributes. Front and back numbers are black (for optimal definition) and the NOB is in orange. It's difficult to see in any of the pics I grabbed, but there is a slight orange piping down the side, and a two-tone collar of orange and black finishes off the striping. There is a slight gradient to the "SUNS" wordmark, and a series of parallel lines forming the outline of a sun under the wordmark.
According to the Suns, these are called "speed rays," and "the nine speed rays coming off the numbers symbolize the nine former players in the team's Ring of Honor, the Phoenix-basketball logo is now on the waistband of the purple shorts and the sleeve of the orange uniform, and the gradient colors in the word 'Suns' symbolize the rising and setting sun."
On the back of the collar is the secondary logo.
____
The road purples:
Though not quite a "mirror" image of the whites, these feature all of the same elements, save for a road Phoenix wordmark, rendered in the same interlocking font as "Suns". As you can see from the above photos and graphic, there is an orange stripe running down the shorts, which wraps around the back of the shorts. This is also on the white pants as well. At the base of the shorts, at the seams, is a graphic that looks like a half-sun/basketball with phoenix wings extending upward.
____
The orange alternates:
The orange alternates have sleeves, making the Suns the second NBA team to officially have a sleeved alternate. While similar in marking/striping to the white/purple, these appear to have shorts in a different shade of orange from the jersey (you can see it more clearly in the first shot — you can also make out the striping and the new sun/wings logo). You can also see that the orange for the phoenix wings seems to match the jersey orange, while the pants are a redder orange. I'm not sure if this is simply the lighting/camera tricks. It's slight, but it is noticeable.
____
I actually enjoyed this unveiling, and it was nice that the Suns brought back many of their former stars (and not-so stars) and they all posed together wearing the various styles of uniforms the Suns have worn throughout their history.
It was a nice walk down memory lane. I'll end with a graphic I believe Todd Radom put together prior to the unveiling showing all the previous styles of uniforms worn by the Suns — and they were all seen in one form or another last evening:
Well readers? I think this is one of the better uniform sets we've seen unveiled in recent years, and one I would definitely give a "GOOD" or Paul's "Is it good or stupid" scale, and probably a B+/A- overall. I'm not such a fan of the purple roads (and not because I don't like purple, it's just not a good color for a uniform) and I will really need to see the oranges in action before I can pass further judgment. But I like the new wordmarks, the simplicity, and the entire package. I could do without that ass striping, but that's really my sole major (and it's not that major) complaint. Otherwise, well done, Phoenix. Well done.
If you'd like, I believe you can watch the video of the unveiling here.
~ ~ ~ ~ ~ ~ ~ ~ ~ ~
Baby, won't you carry me…back to Tennessee
The other big uniform unveiling yesterday was, of course, The University of Tennessee. And of course, the big surprise was the introduction of a gray or, as UT is calling it, "smokey". What the hell is "smokey" you say? Well, it turns out it's actually a school color. It's got it's own PMS color even (PMS 426). But they also officially introduced new orange (which we'd seen before, but never officially) and white uniforms.
First, if you want to see the unveil in all its glory, here's the full video (it's about 25 minutes long, so feel free to skip it if you don't have the time):
I was all prepared to do a writeup on these, but as fate would have it, I was contacted by a reader who is far more interested and invested than I, Jason Roberts, who approached me with his own review. And rather than regurgitate adidas corporate-speak or reinvent the wheel to describe these, Jason has done a far better job. So, allow me to present his review of these unis:
. . .
My thoughts as a Vol fan in his forties
by Jason Roberts
Though I am an ETSU graduate, I have been a lifelong Tennessee Vols fan (May be a requirement for males in Northeast Tennessee).
I know you had the Tennessee uniform teaser video, but thought I'd send another link to photos.
___
The home and road jerseys are basically the same, just with new elements.
Home (orange) jersey
:
There would have been mass revolt had big changes been made here. The Tennessee fans love their orange. Noticeable changes
1) The power T logo on the front under the Adidas logo
2) An outline of the state of Tennessee is above the name on the back of the jersey. In my opinion, this was intended as a statement to Vanderbilt that U-T is "Tennessee's school". Butch Jones indicated that the state's university should have the state on its back (paraphrasing)
3) The pattern of the material is new this year.
____
Away (white) jersey:
As with the home jersey, only minor changes.
1) The black outline around the numbers has been removed. This was added back in the 90's to assist broadcasters with seeing the player numbers on the field. While I'm not against incorporating the color black like some Vol fans, I never liked only using it as an outline. I like this change. The road jersey numbers have a faint checkerboard pattern. This is in reference to Neyland Stadium's checkerboard end zones created coach (later athletic director) Doug Dickey in the 60's.
2) The name "Tennessee" has been added to the front of the jersey above the numbers.
3) Tennessee outline is not on the road jersey. The power T is above the NOB on that one since Tennessee is spelled out on the front.
___
Alternate (Smokey grey) jersey/pants combo:
This is the first alternate jersey we've seen from Tennessee since the South Carolina game during (He whose name we don't mention)'s lone year as head coach a few years back. Frankly, I loved those black jerseys. If you believe the story, they were a last minute decision, down to the week of the game. The decision was made so quickly that they weren't actually Adidas jerseys. They were made by a company in Knoxville. Adidas logo was printed on them to satisfy terms of the school's contract with Adidas.
Back to the story…these new grey jerseys have this Vol fan excited. Naysayers spout words like "tradition" when they object to changes. I say give the players and fans what they want. Kids want alternate jerseys. Good enough for me. The only tweak I would suggest is to go all the way and include a pewter helmet with an orange power T on them (just for the Smokey grey combo).
Butch Jones seems to be exactly what the Vols need right now. A player's coach who can instill discipline and rally the Vol Nation like the early Fulmer years. He also seems to be a marketing genius who knows how to connect with high school and college kids.
My grade on the changes: A on an A+ scale. My prediction is that Tennessee will become a Nike school when the Adidas contract expires.
. . .
Thanks, Jason. Pretty nifty review there — I wouldn't necessarily give the changes an "A" (I'm not sure any new adidas uniform which has the trademark treadmarks can rate an "A," but on Paul's "good" or "stupid" scale, I will certainly give these a GOOD). Readers? What say you?
And now a few words from Paul…
Membership update: Although I'm on blogcation, Scott Turner and I are still processing membership orders, and we just added a new batch of designs to the membership card gallery (including Kevin Lassiter's card, based on Maryland basketball's "pride" uniform, shown at right). The printed/laminated versions of these cards shipped out yesterday, so you new enrollees should be seeing them in the mail momentarily.
As always, you can sign up for your own custom-designed Uni Watch membership card here.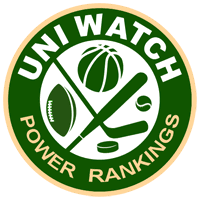 Meanwhile, one last reminder that the second annual Uni Watch Power Rankings will roll out on Monday over on ESPN. Remember, there's a format change this time around: Last year we ranked the 122 Big Four uniform sets by going worst to first over the course of five days. This time we're ranking each league's uniforms one day at a time — MLB on Monday, NBA on Tuesday, NFL on Wednesday, NHL on Thursday — and then presenting the intermixed 122-team chart on Friday. Putting the finishing touches on it right now!
UWFFL Preseason Week 3:
By Rob Holecko
It's time for another week of games here in the UWFFL. First let's take a look back at last week's results.
Curtis Peddle's minor league Iowa Corn were the big winners of the week, scoring an upset victory over the UWFFL Chicago Cyclones.
In other games, the St. Louis Slaughter prevailed in the Harvest War, the Brooklyn Uni Watchers defeated the New York Sharks and the Sacramento Scorpions also scored a close upset victory over the UWFFL San Francisco Reign Fire.
In this week's games, we'll see two of Adam Cain's New York teams go against each other as the UWFFL Sharks go up against the Garbologists, while two of Andrew Seagraves' teams, the UWFFL Storm and the Rapid City Badlanders also face off. The Portland Gamblers open up their 2013 season wearing 1974 throwback uniforms against the Seattle Superbeasts, we see the debut of the East Bay Executioners (complete with their blood red shoes, which symbolizes the blood of their victims), and the debut also of another of our "concept" teams – the Los Angeles YouTubers.
When the regular season begins, you will vote on the six UWFFL games plus one minor league showcase game every week. The remaining minor leagues games will be voted on outside of Uni Watch via a seeparate linked page. Due to scheduling, the minor leagues actually begin their regular league schedule with two games this week. You can vote on those, if you so choose, via the link below today's games.
Enjoy the voting, and we'll see you next week.
Link to additional minor league games.
Uni Watch News Ticker: We begin with Leo Strawn today who writes, "The AFL goal umpires looked like lab techs in the past when they wore white lab coats and white fedoras. In recent years, the league has gone with rather normal shirts (albeit, in bright colors that don't clash with the clubs on ground) worn with baseball caps for those umps. Now, it looks as though they may be trading hats in for a headband thanks to NASCAR technology. The headbands hold a goal-review camera that, along with other mounted cameras, will provide extra views for the video umpire in addition to the broadcast feed and will be trialed at this weekend's Richmond Tigers v Carlton Blues match on Saturday." … Oops! What team is Joe Mauer on? (nice catch by Mark Kaplowitz). … Good spot by Aaron Soucy, who saw something that more lends to an edit made by the production company for the WSOP on ESPN. In the first photo (he apologizes for the poor quality of the photos), Phil Ivey appears to have an additional sponsorship patch on his tshirt. In the second, it is gone, and actually Aaron doesn't believe it shows up in the rest of the broadcast. … Corporate douchebaggery? Nike dropped sponsorship of 4th in world ranked US pole vaulter because he had to use tape over crappy velcro and covered up the swoosh! (thanks to Gordon Harvey. … Check out this New York Jets pennant from an episode of everybody loves Raymond–the episode Robert gets gored by a bull (h/t Alex Allen). … Here is a piece Todd Tobias did on Ben Davidson's Raiders helmet when he visited him in April of last year. Lots of close up photos! … Father Ryan High School, a Catholic school in Nashville, TN, has decided to go "brandless" due to the "un-just" labor practices of apparel manufacturers. They are refusing any incentives or promotional products from apparel companies and refusing to advertise (logo creep) for the brands. "Could this be a first?" asks submitter Joseph Walker. … If you scroll down in this article, you will see "The Royals and Nationals will be wearing uniforms inspired by the 1942 Kansas City Monarchs and Washington Homestead Grays, in what will be a rematch of the 1942 Negro Leagues World Series." Nice! … I think this has been mentioned before, but the Orioles are allowing a fan to design a t-shirt to be given away on Sept. 26 (thanks to Mike Wissman). … Andrew McKillop was combing through some old Air Force yearbooks, and found two photos of interest: Wyoming NOB (1972) and Air Force (two different colored facemasks in game). … A Marshall U. receiver gets his red helmet stripe removed but not because of his on-field activities (good find by Brice Wallace). … A "disturbing article" is how Jacob J. Sherman describes this piece on libraries accepting paid ads just to keep afloat. … Jarrod Leder watching a video that had the Big 12 backdrop behind the speaker and noticed the "dot" on the address above the speaker's head was centered in an odd spot compared to the other addresses. … Kyle Beaudoin wanted to share some designs he has done that are sports related that he thought we'd find interesting. Some of those are pretty clever! … Gary Andersen is part of a corn maze in Wisconsin (thanks to Nate Neumann. … "The story of Hull City AFC's rebranding to 'Hull City Tigers' is a guide to what NOT to do when you're changing your identity," says Yusuke Toyoda. "Don't do it in stealth, without consulting fans, don't refer to the club name as 'irrelevant' or 'common' or 'lousy', don't make a week before the start of the season so you the league won't let you use your new name for a year, and don't talk about global marketing when you own a third-tier club in the English equivalent of Cincinnati, except without the glitz and the glamor." … Joel Dale's father-in-law had this beautiful vintage can of glove conditioner at his house. It's still pretty full and will be used to break Joel's 3-month-old's glove when that day comes. … Here are some results of the "name the team" efforts back when Phoenix became a franchise in 1968. "I especially like the illustrations that go along with some of them," says submitter Keith Winney. … Not uni related, but Michael Cooperman asks, "Is Lincoln going BFBS?" … Here's batting gloves and the helmet from one of the LLWS West players, and a 'sneak peek' at their uniforms for today. Andrew Domingo notes one of his friends is on that team. … The AFL (that's "Arena" Football, kids) is bringing a team back to LA, with a little help from KISS (thanks to Tod Hess) And here's a bit more on that (from Yancy Yeater). … And there's a new football field, grandstand & press box at Hermiston High, Oregon (h/t Alex Allen). … Last night the Carolina Panthers wore their greatest uniform in the history of ever togs. … The Diamondbacks will throw back to their purple & teal unis on August 31st. … Tim Kohn has been watching the Browns preseason games and noticed that local Cleveland affiliate WKYC has been using a weird Browns logo with no ear hole on the helmet in their coverage. … Buncha tweets from Sully (@pal3327): camo cap for Shorebirds fans, and a Shorebirds Rally For Life jersey; Lowell Spinners modeling their Loch Monsters unis. … Nice spot by Rob Holecko who noticed the kerning is very odd on a Bears #11 jersey. It wasn't always that way (h/t to Samuel Lam). … Question/statement from "Jedidiah Springfield" — "This site about the history of Tampa Stadium has lots of cool stuff, but the photo that really got my attention was this one. Ever heard of "Buc Invader"? Maybe other readers have more info about this; I can't find anything." … Think pink is a new uni phenomenon? Graham Clayton notes the rebel World Series Cricket competition that was played in Australia between 1977 and 1979 featured three teams – Australia, who played in a canary yellow strip, the World team, who played in a sky-blue, and the West Indies who played in this all-pink uniform. "The West Indies players had reservations about wearing the uniform, due to the homosexual connotations of pink that were prevalent in the late 1970's." … And finally, here's a look at the USMNT national kit. Nice!
OK, lads and lasses — that's a lot to digest, I know, but what are ya gonna do? Uni unveils are uni unveils. Thanks to all the contributors all week, and I'll be back with you again on Monday, as I have one more week of pinch-hitting for Paul. Johnny Ek will take you through the weekend. Monday should be a pretty full day, as Paul will have his uni rankings series dropping and who knows what uniforms will be broken out over the weekend. There's the Negro League Throwback game in Kansas City (I believe) on Saturday, and there are probably still a few colleges yet to tip their uni-hands for the upcoming NCAA season.
Everyone have a great weekend.
Follow me on Twitter @PhilHecken.
Peace.
.. … ..
"One of the best nicknames anywhere "" Red Foxes! Great part of the world (I realize most people do not use the words "great" and "Poughkeepsie" in the same sentence, but the Hudson Valley is really happening these days), great attitude towards BCS ambitions (ie, fuhgeddaboudit), great potential ironic-detachment fan base in hipsters looking for something after Beacon DIA), overall great uni possibilities."
–Conn Nugent