[Editor's Note: Paul is on his annual August break from site (although he's still writing his weekly Substack column). Deputy editor Phil Hecken is in charge from now through the end of the month.]
Good Wednesday morning Uni Watchers, and a Happy Hump Day to all.
Whenever I do the August weekdays, I always try to run one "Off-Uni" piece, meaning it has nothing to do with sports unis (or logos or equipment or fields, etc.). Today is going to be this year's entry in the Off-Uni category.
I'm pleased to have today's guest author — our own Anthony Emerson — bring you his take on this year's Republican Presidential candidate logos. As the first GOP Debate takes place this evening, the critique is quite timely.
In a way, this is kinda uni-adjacent, (much like any non-sports logo discussions would be), since all of the teams we root for have logos, and Presidential candidates themselves are much more part of a team than they are individuals, so we could almost say these are a group of teams all playing in the same league.
Anthony's previewed candidate logos before (beginning with the Democratic contestants for President way back in 2019, as well as some congressional logos). And no matter what your politics (whether you favor one party, hate all parties, or don't even follow politics at all), Anthony is going to be grading these strictly on the logos' merits. So, worry not about any kind of partisan lean, this is a politics-free look at what the current candidates for the GOP nomination for President have unveiled as their campaign logos. Enjoy!
Here's Anthony:
• • • • •
Republican Presidential Candidate Logos
by Anthony Emerson
It's that time of year again. And by "year," I mean "quadrennial." After initially appearing to only be a contest between former President Donald Trump and Florida Gov. Ron DeSantis, no fewer than nine other major candidates have emerged, most of whom have unique logos (you'll see what I mean in a second).
There seems to be some debate about who does and does not qualify as a major candidate in this race. Ultimately, I chose to include only candidates that FiveThirtyEight included in their major poll tracker.
__________
Former President Donald Trump of Florida

The Trump campaign's visual identity remains largely unchanged in the eight years since he descended the golden escalator, except for a short-lived "TP" logo after announcing Mike Pence as his running mate in 2016. At the time it looked boring and cut-rate (and it still does), but few can deny it's been effective for him. The simple, bold design makes it easily translatable to bumper stickers and flags. Still, it's probably the least graphically-unique logo for a successful presidential candidate since like, what, Nixon? And as we'll see, just as Barack Obama's "O" logo inspired Democrats' designs, Trump's stripped-down look has inspired Republican designs. Overall: C-
__________
Governor Ron DeSantis of Florida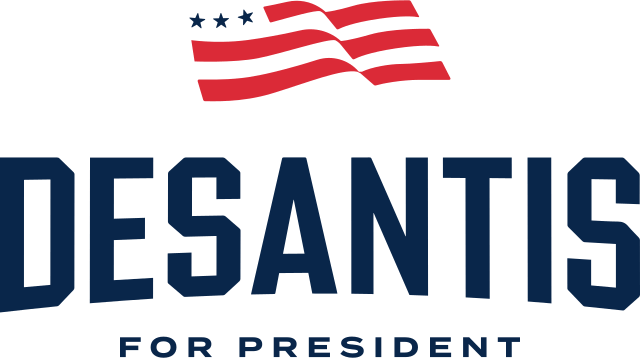 The Florida Governor has gone in a different direction than his recent gubernatorial campaign, choosing to almost completely drop red and going with a new font, vertically arching it, and using a flag design instead of an outline of Florida. The vertical arching gives it a sort of sports-y vibe, which is unique in politics, but it feels staid. Bland. The navy is too dark and doesn't pop enough against light backgrounds. It is better than the lesser-used "RD24" mark which is available on some campaign merch. Overall: D
__________
Business executive Vivek Ramaswamy of Ohio
The 38-year-old Ohio native is the only Republican presidential candidate to have what I call an "Obama-style" logo. By that, I mean creating a logo around one letter and making that the go-to mark for almost all campaign iconography. The difference, of course, is that while Obama's logo was very good, Ramaswamy's logo is very bad. The actual "V" mark is too busy. The stripes on the right-hand side don't make any sense — they connect to close the second arm of the "V", but then there's a third stripe that isn't connected and actually throws off the balance of the entire thing. The fonts used are bad, too. Overall: F.
__________
Former Vice President Mike Pence of Indiana

Mike Pence becomes the first Vice President to run against their former running mate since John Nance Garner challenged Franklin Roosevelt for the Democratic nomination in 1940. I bring this up because Pence's logo is closer to the design sentiments of 1940 than 2024. And I love it. The serif font for Pence's name feels warm and nostalgic to the early 1980s (which makes sense for a guy whose idol is Ronald Reagan), and to be honest, I love the whole vibe. I love this retro-cool look when it's on yogurt containers and I love it on campaign logos. I'm not sure I like the cold, corporate sans-serif of "for President". It sort of breaks the logo's whole vibe. But this stands head-and-shoulders above the rest of the field. Overall: A
__________
Former Ambassador Nikki Haley of South Carolina

And now for something completely different. Haley's logo takes the exact opposite design cues from Pence (though hilariously they are using an identical font for the "for president"). While Pence's feels nostalgic, Haley's design is planted firmly in the contemporary. To give it a very tiny touch of pizzazz, the logo doesn't fully connect the arm of the "A", creating a "slash" effect that the rest of her graphic package uses. The thing is, this could easily be the logo of a law firm or a bank. It doesn't feel authentic in the way that many campaign logos do. It's almost too clean. Overall: C+.
__________
Former Governor Chris Christie of New Jersey

Straight off the bat, I have an issue with the kerning here. It's totally inconsistent and looks completely amateurish. The "C" and "H" feel too far apart, that "T" is out on an island by itself, and that "S" looks like it has two different distances between the "I" and the "T". And on top of that, it's boring. There's nothing going on. When Chris Christie ran for Governor of New Jersey, he used the Impact font for his campaign identity, and it works so much better than what he has now! Christie ran for Governor as a bold, aggressive reformer, and he's attempting to do the same thing with his presidential campaign by relentlessly attacking Trump. The thing is, his logo is that of a boring, don't-rock-the-boat, establishment candidate. It doesn't fit with the brand he's trying to cultivate. Overall: F.
__________
Senator Tim Scott of South Carolina

It is funny we have two candidates from South Carolina, and both have gone with logos where half their name is in one color and the other half in another. Okay, at least I find it funny. Scott has gone in a radically different graphic direction from his Senate campaign, where he used Trajan Pro as his previous typeface, a strong, imposing (albeit overused) typeface. Here, he's gone with a more playful, rounded font than Trajan's firm serifs, but I don't think it works with his name, and the arms of the "C" come too close together. Overall: C-.
__________
Former Governor Asa Hutchinson of Arkansas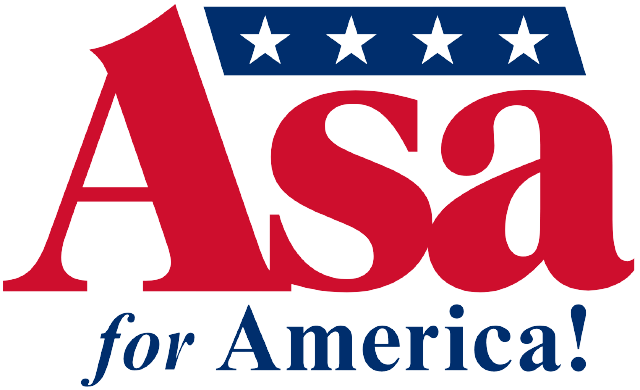 This is like the Great Value version of Pence's logo — like Pence, he has an early-80s-style serif font, but it feels less slick and more half-rate than Pence's. He also loses major points for basically carbon copying his gubernatorial logo to his presidential campaign. And didn't we collectively decide as a society that we were nixing exclamation points from campaign logos after the Jeb! debacle in 2016? Overall: D+.
__________
Governor Doug Burgum of North Dakota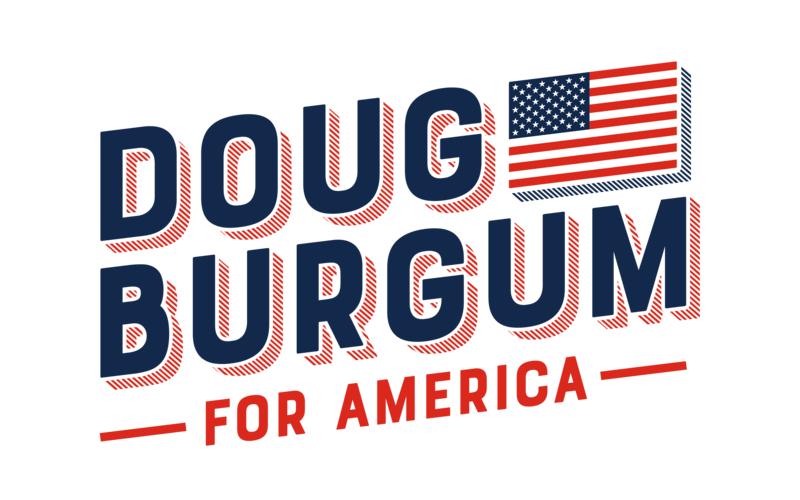 Let's ignore for a second that Burgum is using the progressive tilt and Alexandria Ocasio-Cortez's font. It looks like Doug Burgum's design guy came up to him with a handful of design ideas and Burgum went "These are all great. Let's do them all." Let's tilt the logo and include drop shadows and have a flag and have the drop shadows be stripy for some reason and make the flag 50 stars. It's all too much, but credit to Burgum for trying something at least a little different. Overall: C-.
___________
Former Congressman Will Hurd of Texas

Will Hurd's logo feels very Texas to me, like if you had a TV show set in Texas politics, this would be the title logo. I'm not sure why the "R" is in red — perhaps it's to remind voters that Will Hurd is, in fact, a Republican, despite running on a very moderate platform. Like Pence, Hurd's designer chose to switch to a more modern sans serif for the "For America" portion of his logo, and it doesn't work. If you're going to go with a bold serif font, commit to it. Overall: C+.
__________
Mayor Francis Suarez of Miami, Florida

Is anyone else feeling déjà vu? It appears we are ending where we began, because Francis Suarez's logo is a complete ripoff of Donald Trump's. Even the font is the same. Suarez makes slight alterations, like the inclusion of his first name, no stars and an italicized slogan, but come on, man. Who do you think you're fooling? Overall: F for theft.
• • • • •
Thanks, Anthony — nice rundown of all the logos. I'm definitely looking at a couple differently after your review. Well done.
Readers? What do you think? Do you agree with the grades? If you were to rank them from best to worst, what would you choose (based on logo alone). Let's keep any politics out of the comments, please. Picture these as "team" logos and let's treat them as such. OK? OK!