[Click to Enlarge. Photo Credit: Ben VanHouten/Seattle Mariners]
By Phil Hecken
The Seattle Mariners unveiled their new alternate uniform (pictured above) yesterday, and boy is it gorgeous. It will be worn during Sunday home games at Safeco Field. There is so much to like about this uniform (including a set of fauxback stirrups/socks that are also fantastic). We'll get to these beauties in just a second. Also unveiled yesterday were some changes to the current white home and road gray uniforms. The changes are subtle, but distinct (for this and all images, click to enlarge):
As you can see from the above, the wordmark has changed. The words "Mariners" (for home whites) and "Seattle" (for road grays) in navy letters will be trimmed in silver outlined in Northwest green. Here's a fuller look at the new home and road:
"We've simply reversed the order of the silver and green. The change is subtle," said Kevin Martinez, Vice President of Marketing for the Seattle Mariners, "but the modified color arrangement presents a much stronger and crisper on-field look."
In addition to the slight tweak, which is replicated on the name on back and the numbers (home and road), the Mariners introduced a fantastic new element (which will be worn with their home, road and teal/navy alternates)…striped stirrups!
The stirrups (and they will also have striped socks, in the same pattern, available) will be navy and have seven alternating stripes of white, teal, white, navy, white, teal, and white (the same pattern used by the Cardinals and Rays). Granted, not a lot of guys will wear high cuffs, but for those who do, these are going to be a treat. I asked Kevin about the new stirrups:
"Yes, the stirrups are available as true stirrup and a regular sock. Many players prefer the feel of the sock versus the stirrup/sanitary sock combination. We have added a navy-based stirrup/sock for our home, road and two alternates. So all Mariners uniforms will now have the striped stirrup/sock detail for players who wear their uniform pants at the knee."
. . .
Now then, moving on to the new alternate.
According to the Mariners, "The new jersey and pants are a classic cream color. The lettering and logo are the same as the current uniforms but in the original Mariners colors. The 'Mariners' lettering is royal blue with gold trim outlined in royal. The button placket and sleeves are trimmed in royal, and there is a Mariners nautical 'compass rose' patch in royal and gold on the left sleeve."
Let's take a closer look at those details:
In a "nod to vintage baseball uniforms," these unis are NNOB, and have large block numbers in royal with gold trim. There is a new royal blue cap (featuring a gold "S"), and will have a royal blue with gold-striped stirrup/sock option:
"The royal blue and gold colors of our franchise's inaugural uniforms are blended with the lettering and logo of our current identity in a unique design that pays homage to our club's history," said Martinez, "This new alternate uniform is perfect for sunny Sunday afternoons at Safeco Field."
The Mariners also included a handy-dandy guide to dissecting the new unis:
. . .
I absolutely LOVE the new cream uniform. It's a fairly "light" cream, and I think it will look gorgeous on a beautiful sunny day. The stirrups, which are a nod to the original Seattle Pilots (but which more resemble the throwback stirrups worn during the 2006 season). The gold and royal blue, the nod to their original uniforms, are a great touch — but done in the current typeface and number fonts. So the uniform is more of a harkback than a fauxback. After the unveiling, I asked Kevin a couple of questions about the choice of cream for the new Sunday alts:
We have been intrigued about a cream design for a long time. In 2006, we held a Turn Back the Clock game featuring a Seattle Pilots cream-based uniform. Then, in 2009, we wore a Seattle Rainiers cream-based uniform during another Turn Back the Clock event. We started casually talking about the idea of a cream alternate in 2010 and then we engaged Anne Occi, MLB Vice President of Design Services.

We weren't in a rush to do anything, we simply wanted to do a thorough exploration of the possibilities. We are very pleased with where we landed and the response from our fans today has been terrific. It has been a very rewarding process.
Very nice. I know there are some who feel that cream, as a uniform color, is played out (CFCS?) or that teams who weren't around in the flannel era probably shouldn't be wearing uniforms that evoke that era. I disagree. Kevin has assured me that these uniforms will only be worn on Sundays (or at least that's the plan). I even asked him if they'd stick with that plan if the team suddenly goes on a winning streak in them, or if King Felix loves them: "We've been very good as an organization about sticking to a uniform schedule but there can always be exceptions. All of us in baseball, in sports for that matter, can get a bit superstitious at times," he replied.
As far as the tweaking of the current home white and road gray, I'm on the fence with these changes. Up close, the new navy/silver/teal pattern looks great, but I'm wondering if these will actually be less readable at a distance. Tyler Kepner, who writes for the New York Times, thinks the new pattern "Looks like '07-range Indians. White between outline and letter is unnecessary/distracting.". I think we'll need to see these on the field to make a final judgment.
Following up with Kevin, I asked him if he had any additional thoughts on the the new uniforms and their development:
For the past few years, our fans have been asking us to reintroduce the club's old blue and gold colors into our on-field uniform. While we were exploring the cream alternate concept, it presented us with a unique opportunity to blend our current identity with our franchise's roots. The royal blue and gold looked fantastic on the cream jersey on the very first design sample we received. Through the help of Anne Occi at MLB and the folks at Majestic, we worked hard to dial in the right shades of blue and gold. We then gave a nod to baseball's rich history by adding the oversized numbers without player names on the back of the jerseys. Lastly, we added a striped stirrup to complete the uniform.
My only other "complaint," and this is not specific to the Mariners, but to teams in general, is "why is another uniform necessary?" (don't answer that, I think we all know why). They have a very sharp home and road, but also have a home teal and a road navy. The new cream alternate (even if only worn on home Sundays) makes five different tops (and three sets of pants). Kevin also tells me the Mariners will have a a "Salute to the Negro Leagues" Turn Back the Clock night on Saturday, May 16 vs. Boston.
If, however, a team must add an alternate uniform, then this new cream alternate is a home run. Perhaps we can all start a campaign to get the players to go high-cuffed on Sunday and show off those gorgeous new stirrups. In that regard, these are truly the cream of the crop.
I've prepared two slideshows below, showing more looks. The first are screenshots or photos I grabbed, or Paul (thanks buddy!) took from the uniform unveiling yesterday, or were provided with the Mariners' release. The second set was prepared for me by for all their assistance with info and photos used today. Enjoy the slideshows (I'll also provide direct links to my sets if you can't view slideshows).
Link Here
Link Here
.
OK readers? What say you?
Classic Ballpark Scoreboards
I'm pleased to continue with a new weekend feature here at Uni Watch, "Classic Ballpark Scoreboards," which are created by Gary Chanko. You probably know Gary best for his wonderful colorizations, but he has been a solid contributor for many years, and this is his new project. This segment will appear every Saturday on Uni Watch.
Here's Gary (click on image to enlarge):
. . . . . . . . . .
Classic Football Scoreboards – Eighth in a Series
by Gary Chanko
This week the series features a classic NFL scoreboard from a venue best known as one of baseball's most revered cathedrals, Old Yankee Stadium. But OYS also had a storied football history. Over 100 college football games were played in the stadium between 1925 and 1973. And it was home to professional football for over half a century.
Old Yankee Stadium

Home of: NFL New York Yanks (1950-1951), NFL New York Giants (1956-1973), various pro football franchises 1923-1949, Army (selected games 1925-1969), Gotham Bowl (1962)
First football game: 1923, Last football game: 1987; Demolished: 2008-2010
The NFL Championship Game was played on December 28, 1958, at Yankee Stadium between the New York Giants and Baltimore Colts. It was the first NFL game to go into sudden death overtime and became known as "The Greatest Game Ever Played."
As a teenager, and a Baltimore Colt fanatic at the time, I watched the original TV broadcast. If you missed that broadcast, it's available online and now includes digital colorization of the original b&w video tape.
With seven-seconds remaining on the clock, the Colts Steve Myhra kicked a 19 yard field goal to tie the game at 17 and send it into the historic overtime. The graphic illustration recreates the scoreboard as it appeared moments after the field goal.
A Few Things to Know
• If you lived in the greater New York area when the 1958 NFL Championship game was played, you likely never saw the TV broadcast – the game was blacked out!
• The first college football game was played on October 20, 1923 when Syracuse defeated Pittsburgh 3-0.
• The last football game ever played at the old Yankee Stadium transpired on September 12, 1987, Central State University of Ohio defeated Grambling, 37-21.
• The football scoreboard was located to the left of the larger "Ballentine Beer & Ale" baseball scoreboard in right field. The history of the dedicated football scoreboard is vague. This 1948 game photo between the 49ers and New York Yankees (AAFC) shows an earlier, but similar version of the scoreboard. By the early to mid-sixties the dedicated football scoreboard was gone as this photo shows.
Next time in the Classic Football Scoreboard series we'll visit one of college football's oldest stadiums, the Yale Bowl.
~ ~ ~ ~ ~ ~ ~ ~ ~ ~
If anyone is interested in purchasing a digital copy of these posters, Gary is working on an online purchase option. In the interim you can contact him directly at Classicscoreboards@gmail.com.
Colorize This!
Occasionally, I will be featuring wonderful, high-quality black and white photographs that are just begging to be colorized.
Back today with our good friend and long-time colorization expert, George Chilvers, who has two wonderful renderings today. You'll never guess what sport…
Here's George with the first (click to enlarge):
. . .
Hi Phil

This is the 1911-1912 team, showing the League Chamionship trophy they won for the 1910-1911 season.

The picture is taken at Old Trafford, but that ground had only been opened in February 1910, and it was perhaps an omen of what was to come that they won the League Championship at the end of the first season there.

The boss of the team was Ernest Magnall, back row far left, and it is a fact that probably most Man United fans won't know, that only Magnall, Sir Matt Busby and Sir Alex Ferguson have led the team to Championships, even though they have the record number of championship wins in England, currently 20.

Sandy Turnbull (middle row, third from right) scored 25 goals in 30 games, while the superstar of the day was Billy Meredith, "The Welsh Wizard", sitting far left of the middle row.

This was where it all began. And not a sponsor in sight :)
And here's the second one:
Just had a little look at my files and I haven't shared this one although meant to.

A little thought-provoking as it dates from August 1935, and shows the visit of the President of the Volyn Regional Football Federation, Major Leopold Okulicki, to ZKS (Jewish Sport Club) Hasmonea from Rowne in Poland (now Rivne in Ukraine). Hasmonea Rowne were one of the major football clubs in the regional set-up, their manager being the tall guy in the middle, Karol Kossok.

My wife's parents lived in that part of Poland at the time. Hasmonea's existence of course came to an end with the German invasion of Poland in September 1939, and the fate of many of these players is unknown. However, that part of Poland was subject to Russian occupation, and my in-laws were deported by Stalin's army to Archangel, up in the Arctic Circle, in February 1940. Grim times indeed that we cosseted in the current day, cannot imagine.

George
. . . . .
Thanks George — stupendous work as always!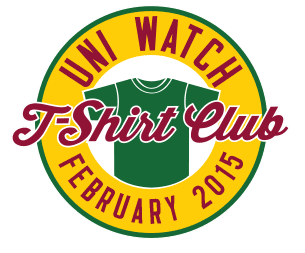 T-Shirt Club reminder: In case you missed it earlier this week, the Uni Watch T-Shirt Club's February design is now available, but only until Monday night — then it will be gone forever. Full details here, or just go straight to the ordering page.
Uni Watch News Ticker:

Baseball News: The Jamestown Jammers (a wooden bat summer league) will have new logos and caps (thanks, Paul). … The Kenosha Kingfish are searching for artistic area middle and high school students who want to design the 2015 road-game uniforms. … USF shot some video of its baseball players in uniform for the 2015 season (thanks to Cedric P.). … Reader Chris Perrenot saw these baseball pennants ("Ndians" and "San Franc") on an 80's game show called Sale of the Century and noticed that part of the names were removed from both of them (before the days of Photoshop). He adds, "I assume some sort of issue with MLB and the television network." … No joke — the As will be having a Hello Kitty bobblehead promotion this year. …The Seacoast Mavericks, a Portsmouth NH-based summer collegiate wooden bat league team, contacted fans to choose between two proposed mascots — Mick or Mack (one of which is a cheesy Mr. Met look-alike) — thanks to Dave Garabedian. … "Found this old reel footage of 1939 in Taylorsville, NC, a small county-seat town north of Charlotte," says Jeff Frye. "After a few minutes of boys swimming in a 'swimmin' hole,' there are crowd shots of a informal baseball game (no uniforms but some interesting attire, nonetheless). The baseball action starts at the 4:00 mark." Check out this guy's hat. Here he is pitching. Here's another baseball shot. And I love this Esso patch on the gas station attendant. … This beautiful photo of the 1914 Houston Buffaloes at Union Station features one of my all time favorite uni elements: TNOP (Team Name On Placket) — great shot from @AstrosDaily). … Here's a great photo of Uni Watch friend Tyler Kepner hoisting the World Series trophy. … "I was watching Game 4 of the 1980 World Series on YouTube," says Lucas Hoffland, "and saw what I'm assuming is the bat boy in the Phillies dugout during one of the games at Kansas City, wearing a *pullover* powder blue jersey with a different striping pattern from the usual racing stripes of that era."

NFL News: "Just stumbled upon this article," which lists how every NFL team got its nickname, writes Dave Garabedian. "If you've already linked to it I'm sorry I missed it if, but I love the vintage images, and the photo of Paul Brown with various Bengals helmet designs is particularly intriguing. Is there a back story on this, I wonder?" … Here's a look at Oregon State the Irvin(?) team for tomorrow's Pro Bowl (I think team Irvin is in the blackish/orange). Does anyone know/care? Here's a look at the practice shirts (thanks Paul). And here's a closeup of a pair of cleats (CAUTION! you may need some form of eye protection). … One of my hometown papers, the Daily News remains classy with their "deflate-gate" coverage. Of course, the Post was not to be outclassed. … Reader Joseph Bailey saw this photo of a classic Rams/Packers game in a local sports bar. Says Joe, "I'm not a Rams fan but I really think this look is beautiful. I like the classic navy over the throwback royal. Anything is better than what they have now."

College Football News: Not much going on in the College Football world (well, aside from the Reeses Senior Bowl), but here's one that only Jim Vilk will love: Coastal Carolina has begun the installation of their teal colored field. I'm just going to leave that there (thanks, or blame, goes to Jeff [@saintwarrick]). … Also from Jeff Frye (who provided the old time baseball links above), this footage is from Statesville, NC, the slightly larger town about 25 miles east of Taylorsville and about 45 miles north of Charlotte (where I-77 and I-40 intersect). This film captures a football game in 1940 (starting at the 6:52 mark). … Oh, check out this very cool shot of USC offensive players huddled up before a 1965 game against Texas (from the SI Vault — guess we won't be seeing pics like this in the future). … Is there possibly a new helmet in the works for Baylor? (That's from HC Art Briles).

NBA News: The Nets have released their new "ABA inspired" jerseys (thanks to Mike King). Yes, those are sleeves on that there uni. … Those unis, of course are an homage to the 1970s style of uniform the Nets wore. Here's a nice article explaining all about those unis and their original inspiration. … We don't have good photos (yet) of the Rockets' "Pride" uniform, but Conrad Burry has done a tremendous graphical mockup of it. … This one will be interesting: Nike sued over Michael Jordan logo (thanks Paul).

Hockey News: Here are 4 concept uniforms for NHL expansion franchises (not too bad, actually). Thanks, Paul). … Oh, baby! Check out this Game-worn Japanese National Team sweater from the 1960 Squaw Valley Olympics, which comes from the Hockey Hall Of Fame Vault. … Dustin Byfuglien's All-Star skates will match the NHL All Star Game's neon sweater (nice find by Jason Perrier). … As you may know, the lead-up to tomorrow's ASG will have the inaugural NHL Mascot Showdown (which began last night and continues through today), and if all goes according to plan, I hope to have a special correspondent there today to have a report on this tomorrow. … Here's some pretty cool GoPro footage of NHLers (I'm fairly certain the All Star Game and/or the pre-game festivities will feature players wearing the GoPro cams as well) — thanks to Garrett McGrath. … Check out the awesome youth hockey jerseys (from a team in Montreal) that make use of the Chicago Bears logo (great shot by Ron Roza). … Rochester Institute of Technology Mens & Womens Hockey teams will wear special jerseys in honor of a student manager on February 7th. Unfortunately, no pictures of the jerseys yet (from Joe Werner). … Here's a bee-you-tee-ful photo of the 1914 Vancouver Millionaires. Wow, I loved that kit. … Here are the Michigan State Univeristy Spartans' jerseys for the Hockey City Classic. Very similar to their football pro combat unis from a few years back. … Speaking of college hockey, check out this vintage Ohio State University jersey (via Mark Lindsay).

Soccer News: Thanks to the excellent snooping reporting from Conrad Burry, we now have new leaks of Barça home + away kits for 2015-16. I like 'em both. … "Given the recent collapse of West Ham United shirt sponsor Alpari (a Swiss currency trading firm), the Guardian have charted the changing heritage of sponsors since the 1992 foundation of the Premier League," writes Bernd Wilms. "Essentially, EPL shirt sponsorships are now aimed at the growth market du jour, with the English market an afterthought at best." … Also from Conrad Burry: Renders of leaked design details of Red Bulls, Sounders & Impact 2015-16 MLS kits. … Cambridge UTD kits are made by Puma, but the sponsor (Mick George) has a logo similar to adidas (nice spot by Ryan Campbell).

College Hoops News: Grantland's Mark Titus came up with an NCAA All-Star team based on obscure numbers. Says submitter Alex Hider, "Interesting look, and Titus is always a great read."

Grab Bag: Here's a neat DIY project (sent in by Michael Wilson): Marathon runner bib coasters. Looks pretty easy to do, too! … Canterbury North America just launched the new Pacific Rugby Premiership jerseys for the 2015 season. "Rugby doesn't get much love in the States," says Dave Eaton. "A couple of the teams date back over 100 years." …"I'm a veterinarian who had some extra time at work today," writes Jake Graham. "I previously decorated my patients bandages to look like stirrups. Today I DIY'd these logos out of vet wrap (an external bandaging material) in the spirit of the Super Bowl. My color selection was limited so they have a retro feel to them. Now I'm just waiting for a bandage to stick them on." … Here's a great slideshow showing the evolution of police uniforms for the Victorian State police in Australia from the 1850's up to the present day (thanks to Graham Clayton).
That's all for today folks. Huge thanks to Kevin Martinez, Ben VanHouten and Nathan Rauschenberg (plus Paul) for the information and photos/grabs, and of course Gary, George and all you fine readers who tweet and submit. Great stuff today.
I'll be back tomorrow with what I promise you will be a post you won't want to miss. Make sure you check back then.
Follow me on Twitter @PhilHecken.
Peace.
.. … ..
"It's a great day for a ball game; let's play two!"
–Ernie Banks