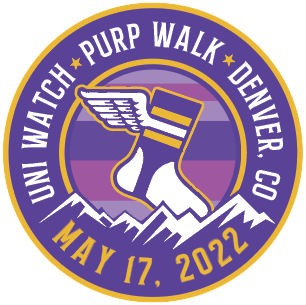 Purple Amnesty Day, which takes place on May 17 each year, has been part of Uni Watch since 2010, but I've never done an event in connection with it — until now. Here's what's on tap for this year's Purp Walk, which is going to be epic:
1. I will be flying out to Denver on May 17 and hosting a Purp Walk party at the Blake Street Tavern, which is just a few blocks from the Rockies' ballpark. (They've even agreed to put up a "Welcome Uni Watch" banner for us!) The party will start at 4:30pm and will run until at least 7:30pm.
2. I encourage everyone attending the party to wear a purple jersey or some other purple attire. And I will be right there with you: I plan to wear purple clothing, I will have a purple case for my iPhone, and so on. I will likely hate every minute of it, but hopefully in a fun way.
3. The Rockies will be playing the Giants that night and we'll be sitting in the famous purple row of mile-high seats. If you want to join us, we'll be in Section 342, Row 20. It's fine if you get tix for Rows 19 or 21, since that will probably make it easier to chat and socialize.
The game starts at 6:40pm. People who want to go from the party to the game can head to the ballpark whenever they like. I will remain at the party until at least 7:30-ish, so I can keep kibbitzing with people and greet any latecomers, and then I'll head to game probably around the third inning.
4. I've once again worked with designer Bryan Molloy to create a Purp Walk T-shirt. Since I'll be in Denver, we went with a Rocky Mountains theme: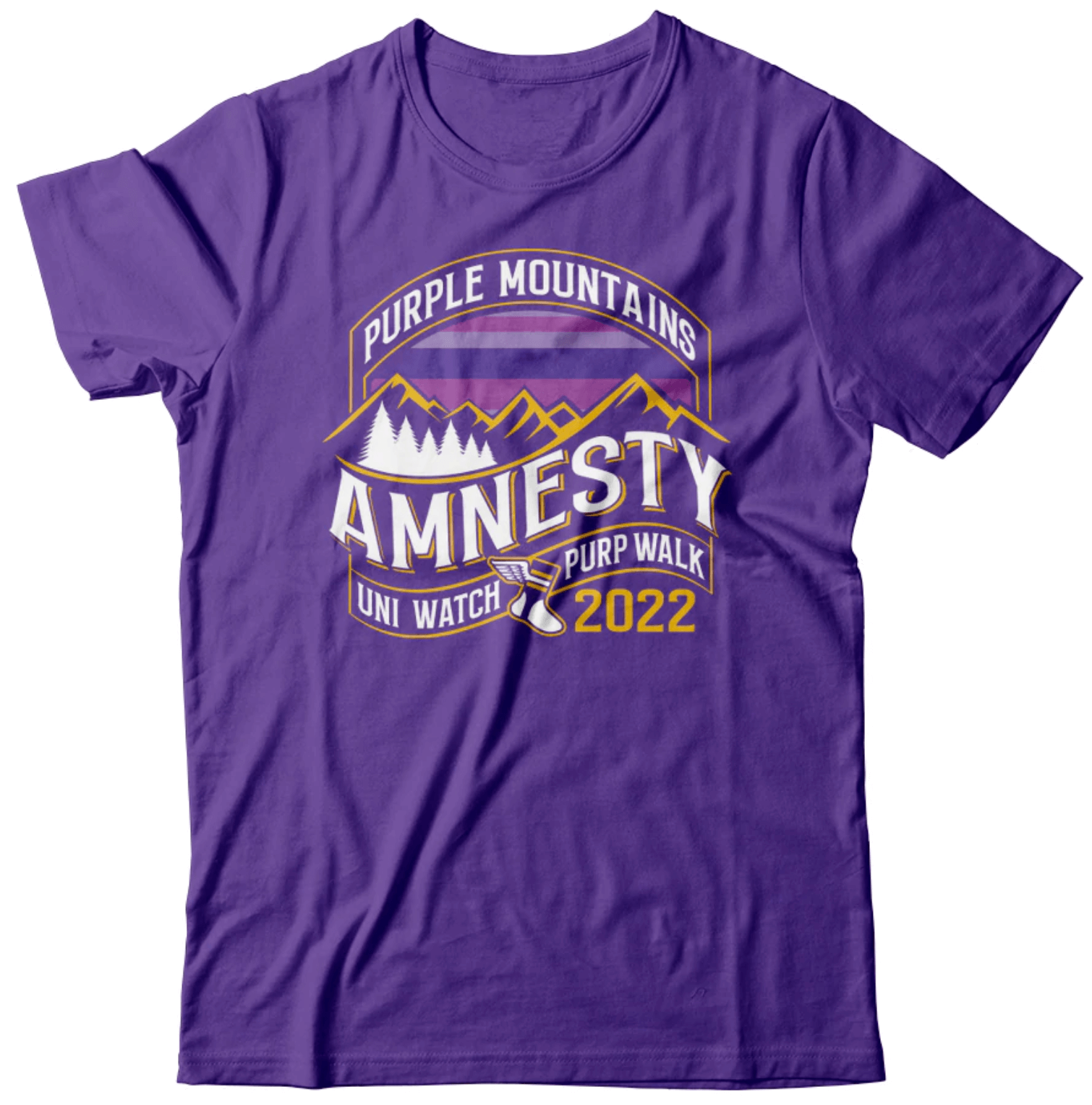 Is that great or what? Bryan really outdid himself with this one.
As usual, the shirt will be available for ordering for only 24 hours — midnight to midnight on May 17. But! We're also going to take pre-orders for a special edition of the shirt that will include a bonus logo on the back: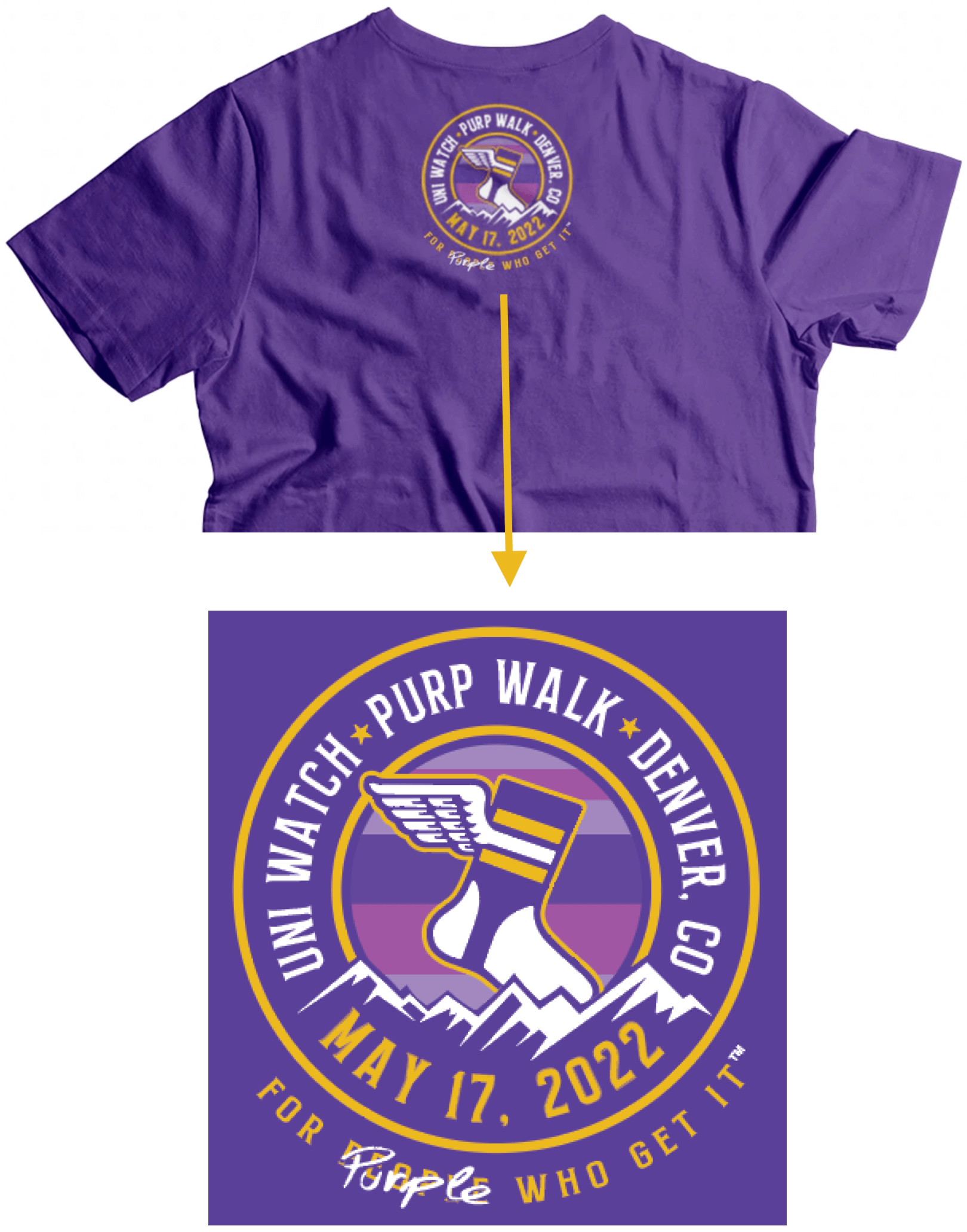 If you're going to attend the party at Blake Street Tavern, you can pre-order the shirt and then we'll give you your shirt at the party. That is the only way to get the shirt with the bonus logo on the back. We will not be shipping this version of the shirt to anyone or setting any of them aside to be picked up later. If you want this version of the shirt, you must attend the party, period. We are taking pre-orders here (go ahead and enter your shipping address when prompted, even though the shirt will not be shipped to you) and will continue taking them through next Thursday, April 28, so get your order in by then if you want to pick up your shirt at the party. Pre-orders are now closed. If you can't attend the party, you'll still be able to order the regular shirt, without the bonus logo on the back, on May 17.
5. Now that the Pillbox Bat Co. has produced a line of Uni Watch baseball bats for us, they've agreed to do a purple bat for Purp Walk! The bat, like the basic version of the shirt, will be a 24-hour offering on May 17 (click to enlarge):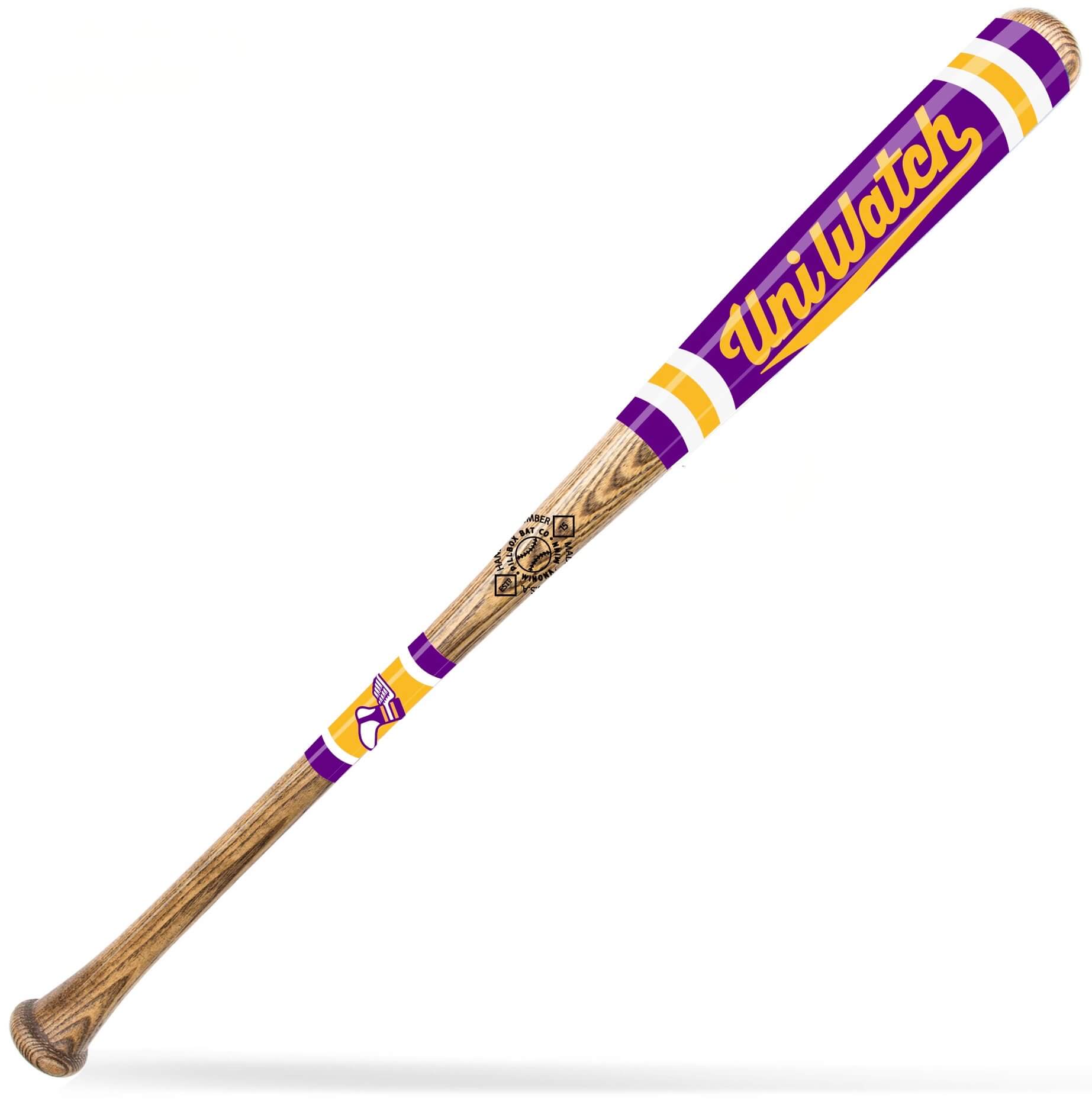 Special thanks to Tim Cox for coordinating the Denver activities (and for coming up with the concept of Purple Amnesty Day to begin with, way back in 2010!), also to Kenny Ocker for suggesting that we sit in the purple row of seats at the ballpark. I'm looking forward to what should be a really fun day!