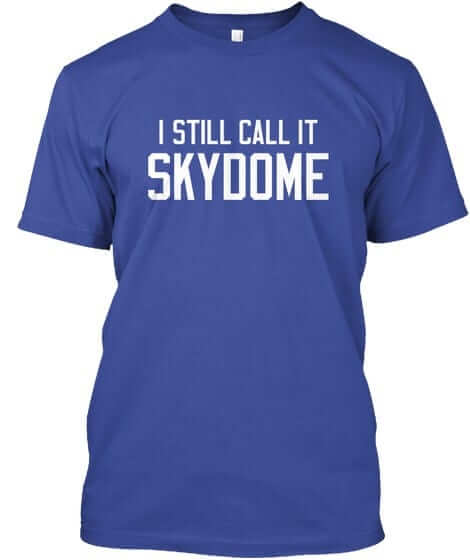 People have had lots of questions and feedback regarding the Naming Wrongs project. Here's a quick FAQ page that addresses most of the responses we've been getting:
What is, you know, the point?
The point of Naming Wrongs is to oppose the selling of stadium and arena naming rights to corporate interests. Many of these names are downright embarrassing (the Smoothie King Center, Minute Maid Park, Camping World Stadium, etc.), and even the less embarrassing ones are still essentially giant corporate advertisements. We prefer non-corporate names, which are more civic-minded, less embarrassing, and more dignified.
Wasn't there an earlier Naming Wrongs shirt project?
Yes. Naming Wrongs began in 2009, as a collaboration between Uni Watch, the clothing brand No Mas, and the musician the Rev. Vince Anderson. That original project, which included shirts for five stadiums, ran through 2013 and then, for various reasons, was abandoned. Uni Watch reactivated the project, with No Mas and Vince Anderson's blessing, in 2017.
Will you be adding more designs for more stadiums and arenas?
Yes. We have a pretty big list, which we'll be getting to over the coming weeks and months. Keep checking our online shop to see what's available.
I like your Skydome shirt, but can you re-do it with the Blue Jays' classic jersey font?
Sorry, but we're not using any proprietary typefaces for this project.
I like your Meadowlands shirt, but can you re-do it with "Giants Stadium" instead of "The Meadowlands"?
Sorry, but we're not using any team names for this project.
I have an idea for a shirt you should do.
Excellent! We're definitely interested in hearing your ideas and suggestions, so feel free to send them here.
Do you have any plans to offer tank top versions of these shirts?
For now we're just offering short- and long-sleeved versions for most of the designs, and hoodies and sweatshirts for some of them. But if you want any of the designs on a tank top — or, for that matter, on a hoodie, a V-neck tee, a women's tee, a women's tank top, a kid's size tee, or a onesie — it's very easy to make that available. Just ask and we'll set things up for you.
I understand what you're doing for the old stadiums that have new names, like "I Still Call It Skydome." But it doesn't make sense to say, "I Still Call It Shea," because Citi Field is a completely different building. Nobody can "still" call it Shea, because nobody ever called it that to begin with.
Right. That's why our Shea shirt doesn't say, "I Still Call It Shea." It says, "I'm Calling It Shea."
That may seem like a subtle difference, but it makes sense to us and to many of our customers. We use "I Still Call It" for old buildings with new corporate names, and "I'm Calling It" for new buildings with corporate names. We've also started doing "I Miss" for older stadiums that were replaced by newer corporate-named facilities.
Also, a little backstory may be helpful here: This project was born in 2009. The country was emerging from the 2008 financial crisis, and Citibank was one of the banks that had to be bailed out by the federal government. When the Mets announced that they'd sold their new stadium's naming rights to Citi, lots of people were saying things like, "They should call it Taxpayer Park!" or "They should call it Debits Field!" and lots of other sarcastic names. The Rev. Vince Anderson basically said, "Fuck it — I'm calling it Shea." It made sense, since the new stadium was built in Shea's parking lot. Same site, same name. That's how the first shirt in this series, "I'm Calling It Shea," came about. It was a big hit, and the rest of the project developed from there.
All these "I Miss" shirts for dumps like Candlestick, the Vet, the Kingdome, Three Rivers — trust me, nobody misses them!
Actually, some people do miss them. Maybe not lots of people, but enough to justify making those shirts, because we got a decent number of requests for all of those. In fact, the vast majority of our shirts were created in response to specific requests from fans, and all of them have generated some sales.
The reality is that a fan's relationship to the stadium he grew up with can be a complicated, emotional thing, even if the stadium in question wasn't such a great place. People have strong memories, they have stories, they have emotional bonds. Nostalgia is a powerful force.
I can tell that some of these won't be very popular. You probably won't sell many of them.
And this bothers you because why, exactly..?
We make and sell these shirts via the Teespring platform, which is print-on-demand, so we don't have any issues with inventory or unsold stock. If we only sell three of a certain design, we have no problem with that — we made three people happy, which is great. (But the vast majority of our shirts sell a lot more than three.)
The White Sox's old ballpark was called Comiskey, but not the current one.
Actually, they were both called Comiskey. The history of the current ballpark's name can be found here.
The San Francisco Giants play in AT&T Park, but I still think of it as Pac Bell Park. Will you do a "I Still Call It Pac Bell" shirt? And will you do "I Still Call It Heinz Field" for the Steelers?
Sorry, but we won't do any designs that honor previous corporate-advertised names. We'll only do shirts that honor previous non-corporate names — that's the whole point of the project.
But I'm a Giants fan, and I really do still call it Pac Bell!
That's great! We definitely encourage you to call your stadium whatever makes sense to you. But this T-shirt project is about pushing back against corporate naming rights, so we're not going to do a shirt for that name. Sorry.
It's great that you did a shirt for "The Ralph," where the Bills play. But I still call it Rich Stadium, which was the name before Ralph Wilson Stadium. Can you do a shirt for Rich?
A lot of people don't realize this (we didn't realize it ourselves when we started the project), but Rich Stadium was a corporate name. In fact, it was one of the first corporate stadium names in North America. So, again, we can't do a shirt for that name, because the whole point of this project is to reject corporate stadium and arena names. (But of course you should still keep calling it Rich Stadium if that's what makes sense to you.)
But if you won't do a shirt for Rich Stadium, or Pac Bell, or any of those earlier corporate-named stadiums, it's like you're criticizing us for saying those names.
No no no. Naming Wrongs is a fan-friendly project, and we're definitely not criticizing any fans here. Like we said earlier, we understand that the connection between a fan and his favorite team's stadium or arena can be complex and emotional, and we encourage you to use whatever name makes sense to you. We're just not going to showcase corporate names on our shirts — that's all. But it's not a commentary on you or your chosen name for your stadium.
I know it's a corporate name, but it would be really funny if you did "I Still Call It Enron Field" for the Astros' stadium.
Yes, it would be funny. But we have no plans to do that.
You're such a hypocrite! You're say you're anti-capitalism but you're selling these T-shirts.
Actually, we've never said we're anti-capitalism. We're just opposed to stadium and arena names being used as giant corporate advertisements. That's all.
I don't have any problem with corporate stadium and arena names. In fact, I kind of like them.
No problemo. But some of us do have a problem with them, and we're going to continue to express our point of view. Thanks.