Good morning! Good-looking game yesterday in Foxboro, as Pat Patriot returned to the field. Too bad the Dolphins didn't take the opportunity to wear their own throwbacks, which would have made this a full-on retro game. Lots of additional photos here.
Here's how the uni matchup looked in motion:
Rook's 1️⃣s INT @chrisgonzo28 | #ForeverNE

📺: @SNFonNBC pic.twitter.com/uNiOwoI2BK

— New England Patriots (@Patriots) September 18, 2023
As usual, the one fly in the throwback ointment was the hosiery, which was all over the place:
Interestingly, Pats coach Bill Belichick wore a red hoodie (which made sense) with Flying Elvis (which did not), while at least one member of his staff went with Pat Patriot: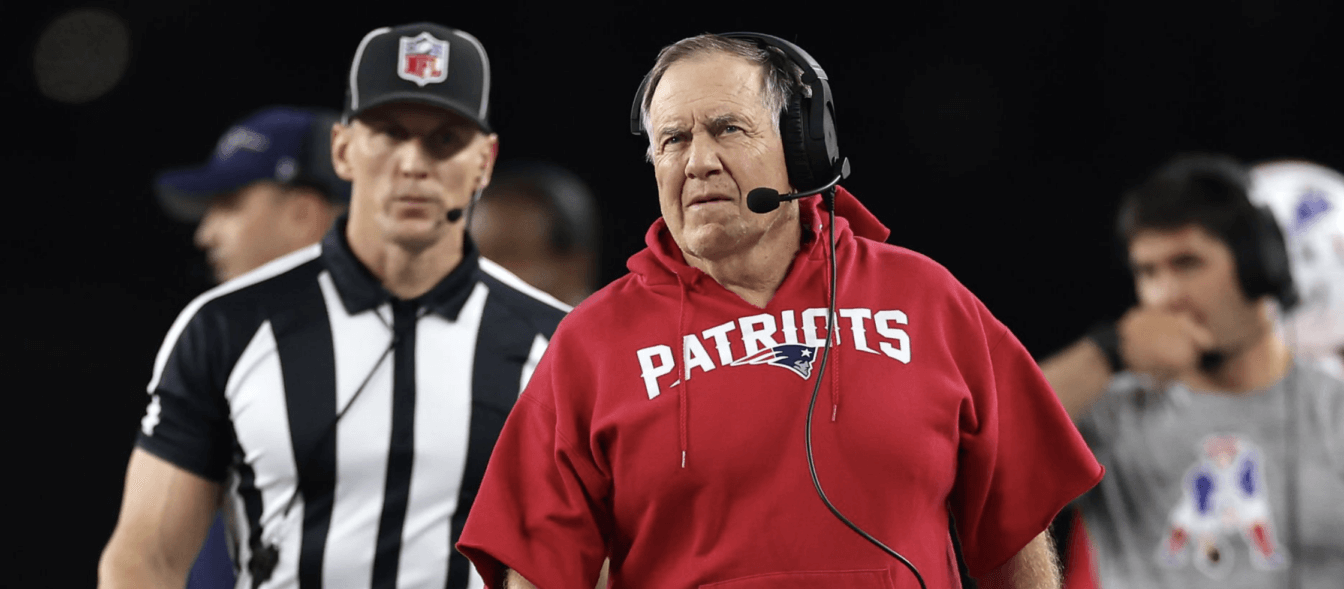 In other news from around the league yesterday:
The Falcons wore their throwbacks, which made for a pretty good-looking game against the Packers, although it would've looked a lot better if not for the terrible lighting in Atlanta's stadium. That noise you hear in the background is America's football fans collectively saying, "They should wear these all the time!" (Lots of additional pics here.):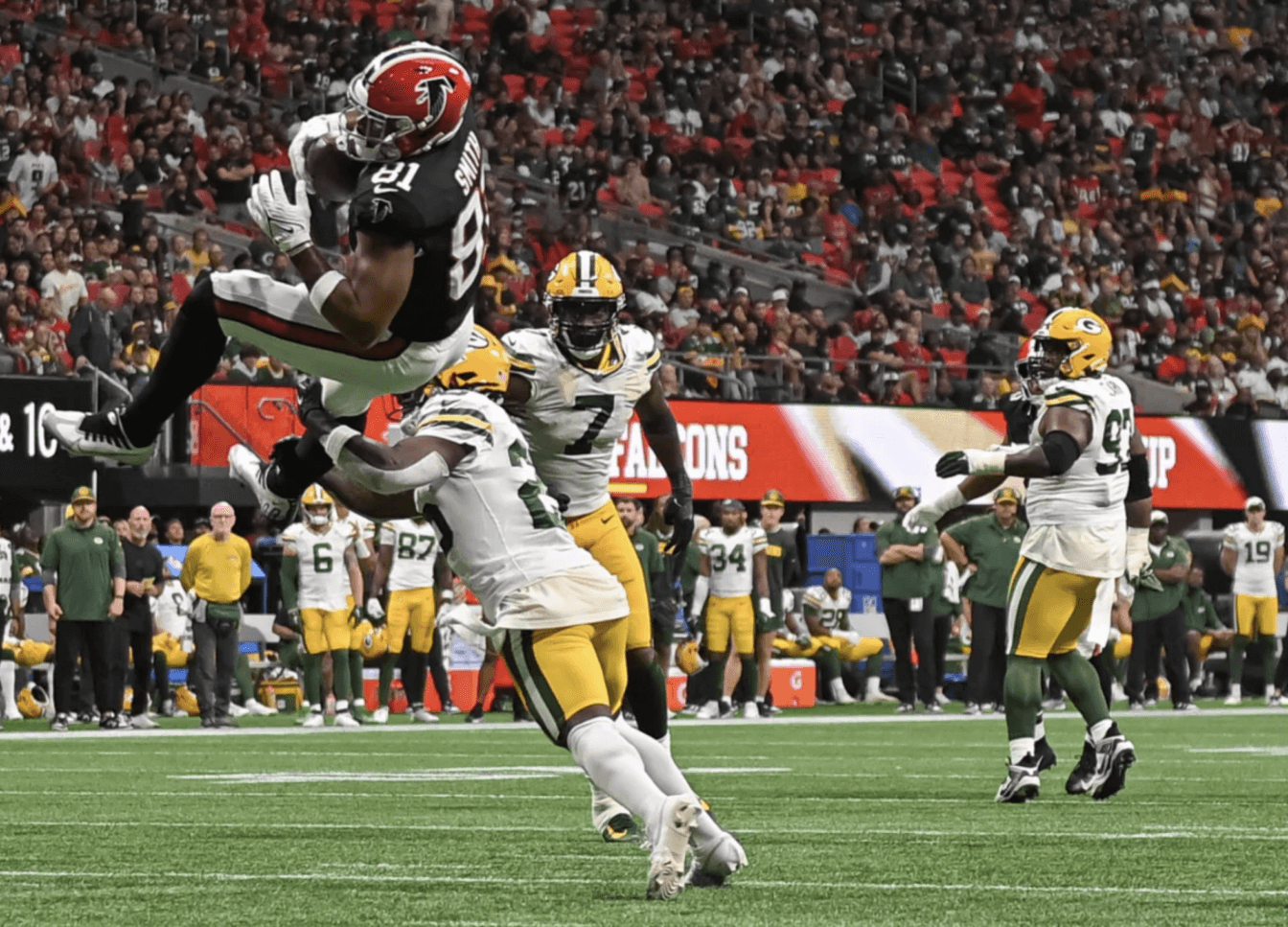 The Bears wore their orange alternates (additional photos here):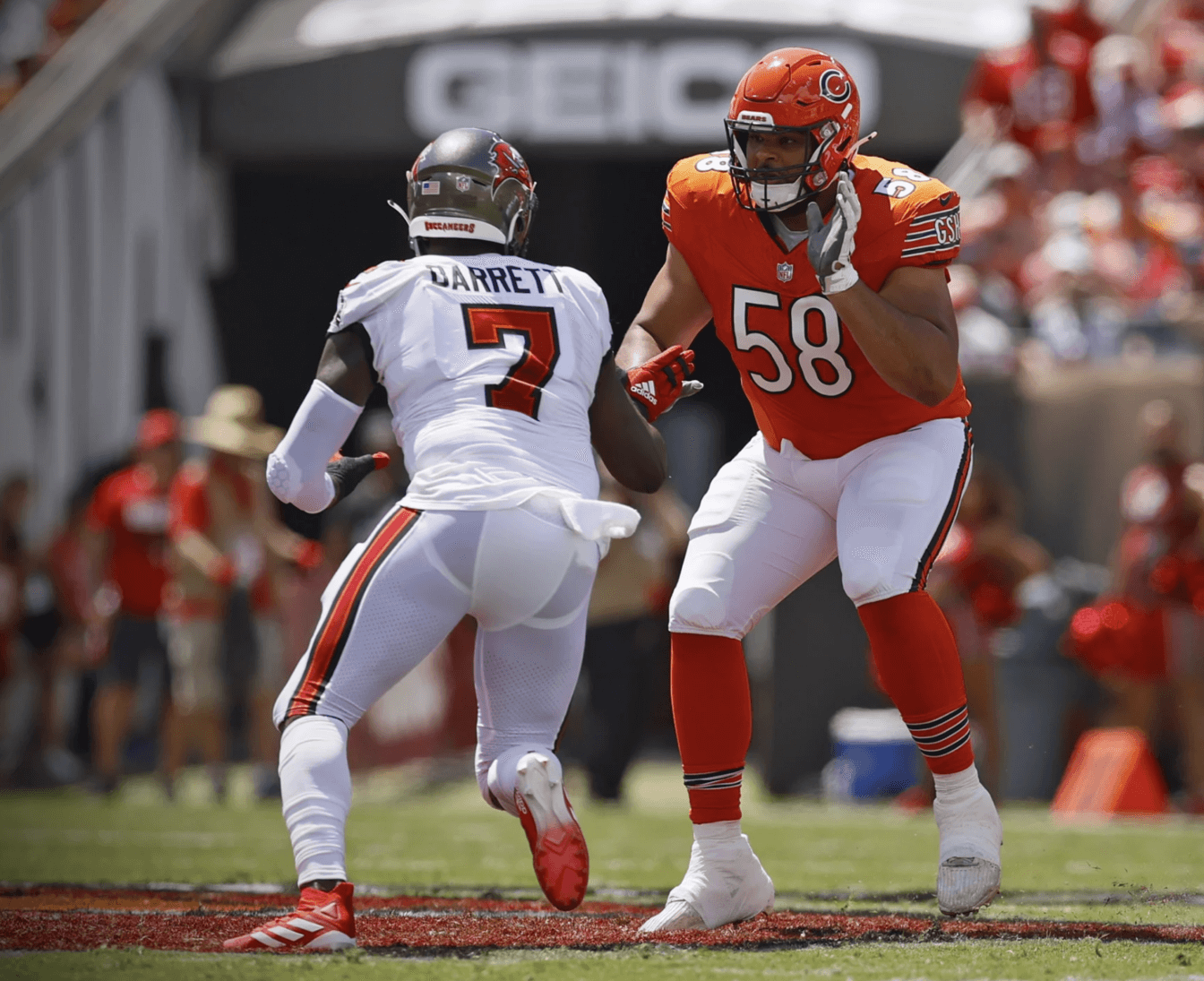 The Cowboys wore their rear-helmet memorial decal for Gil Brandt, which had been announced on Friday. I believe this is a one-and-done memorial, not season-long: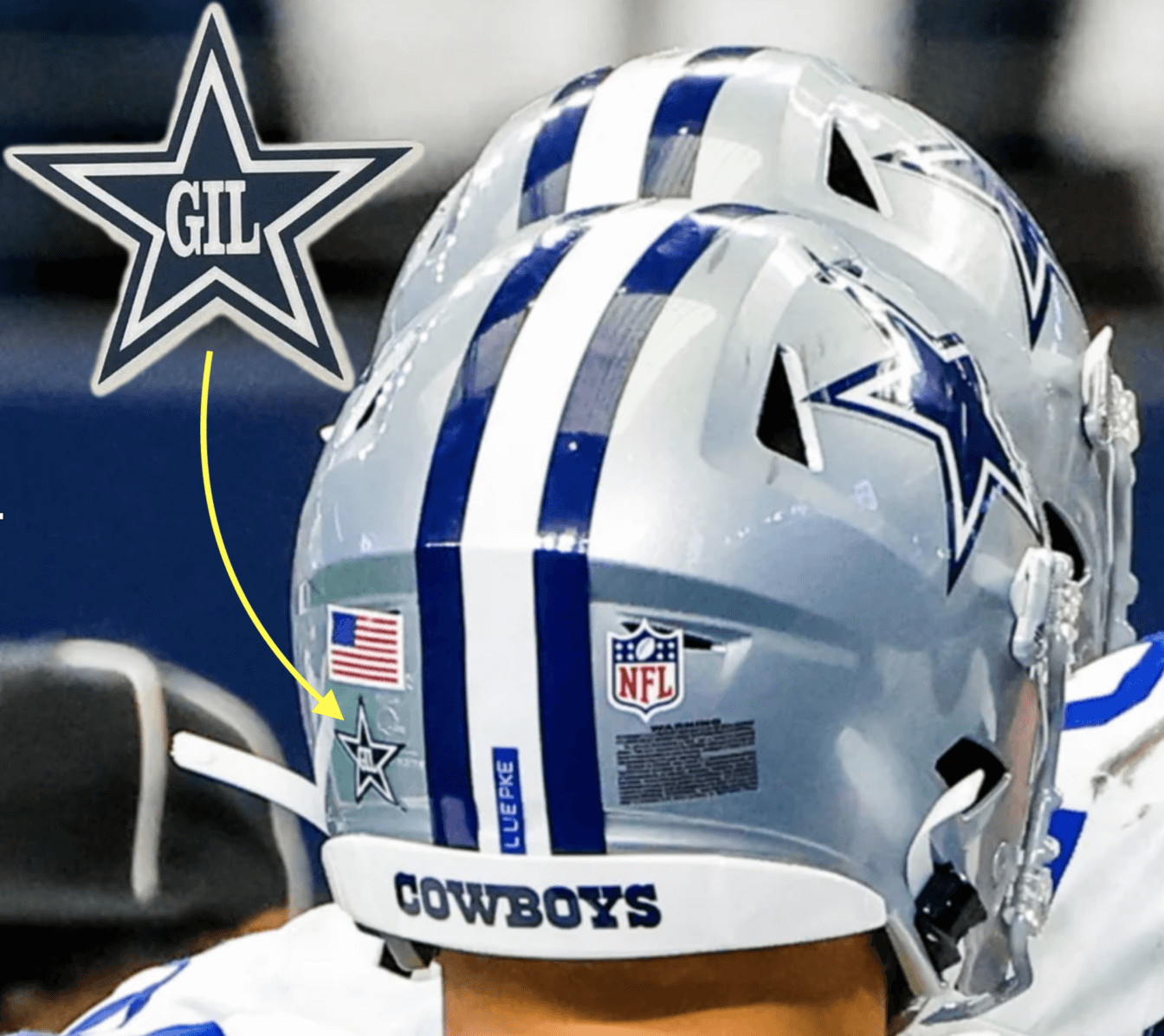 The Broncos celebrated the 25th anniversary of their 1998 season, which culminated in their Super Bowl XXXIII championship. Because they wore white in that Super Bowl (against the Falcons), they also wore white yesterday (against the Commanders), marking the first time in the team's 64-season history that they've worn white at home. Check that: Yesterday was the first time Denver has worn white at home since Nov. 16, 2003, against the Chargers. And that was a highly unusual situation, because the league office made the Broncos wear white as a punishment for bringing the wrong jerseys to an earlier road game against the Chargers. If you want to find the last time the Broncos chose to wear white at home, you have to go all the way back to Oct. 16, 1983, against the Bengals! And look, the Commies actually dressed like a passable example of an NFL team for a change: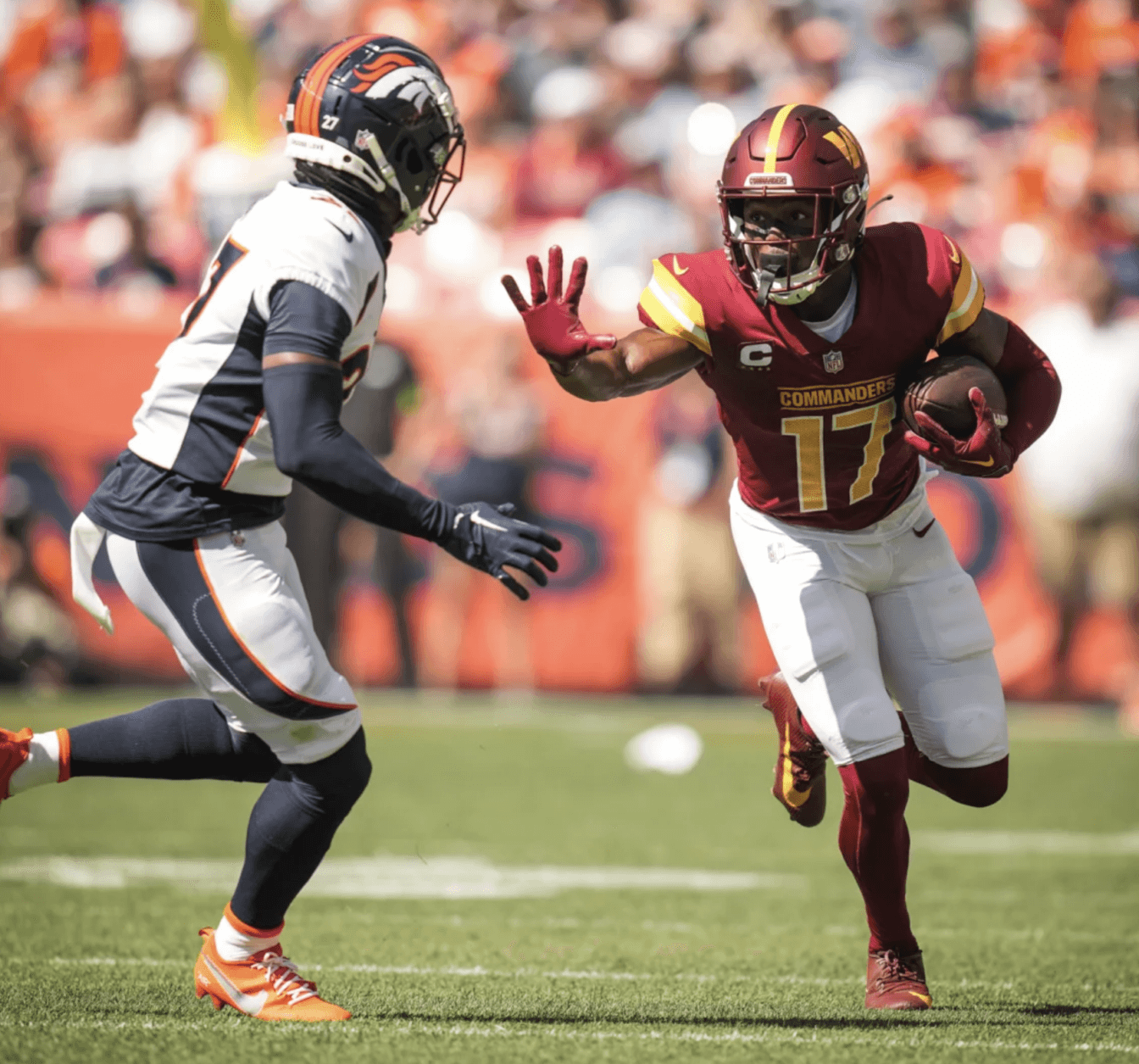 In that same game, the Broncos' live horse mascot, Thunder, wasn't on hand for the first time in 31 years because the woman who usually rides him was competing in a horse show.
The Jags looked completely ridiculous wearing mono-teal against a well-dressed Kansas City team: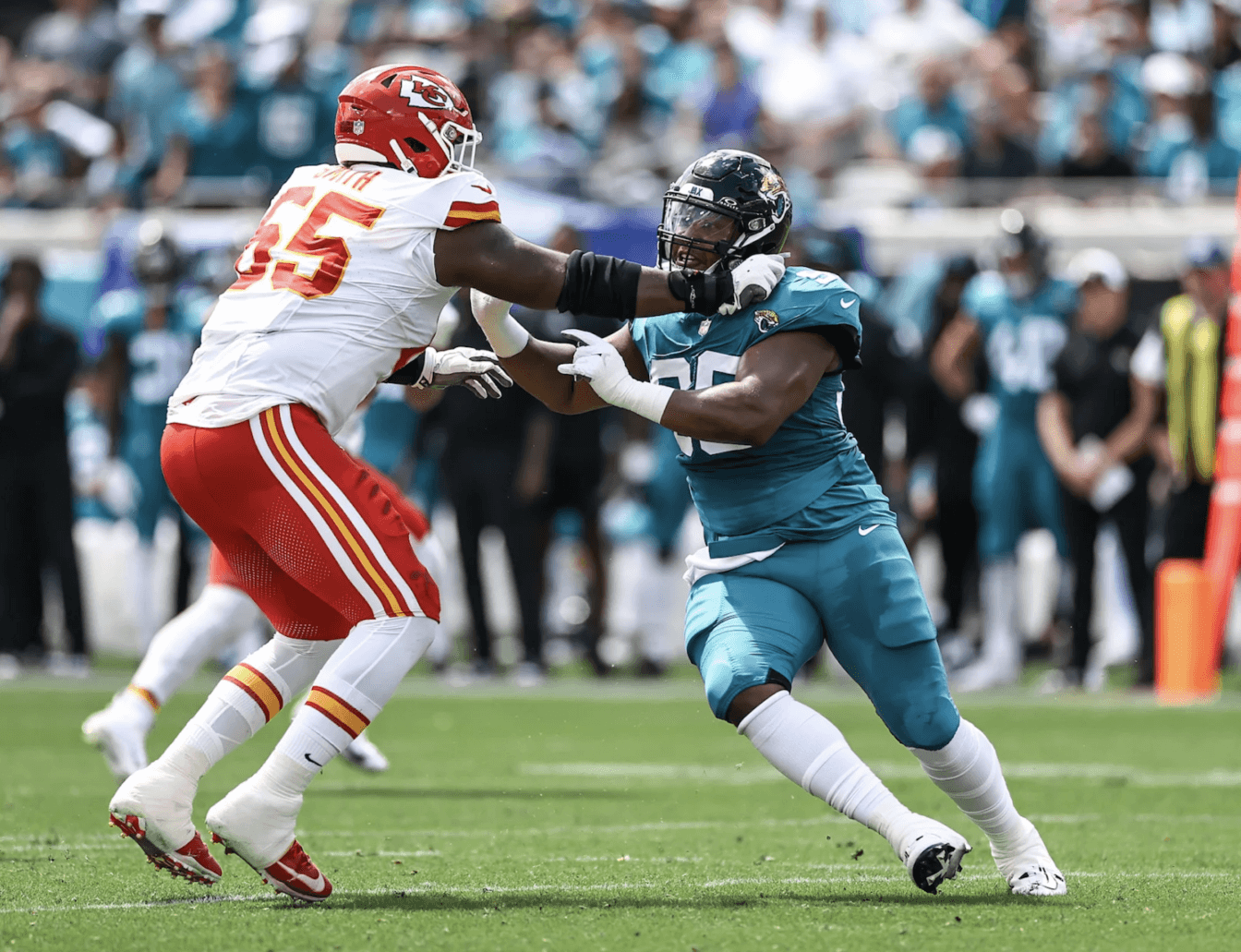 The Lions' 90th-season patch was missing from quarterback Jared Goff's jersey: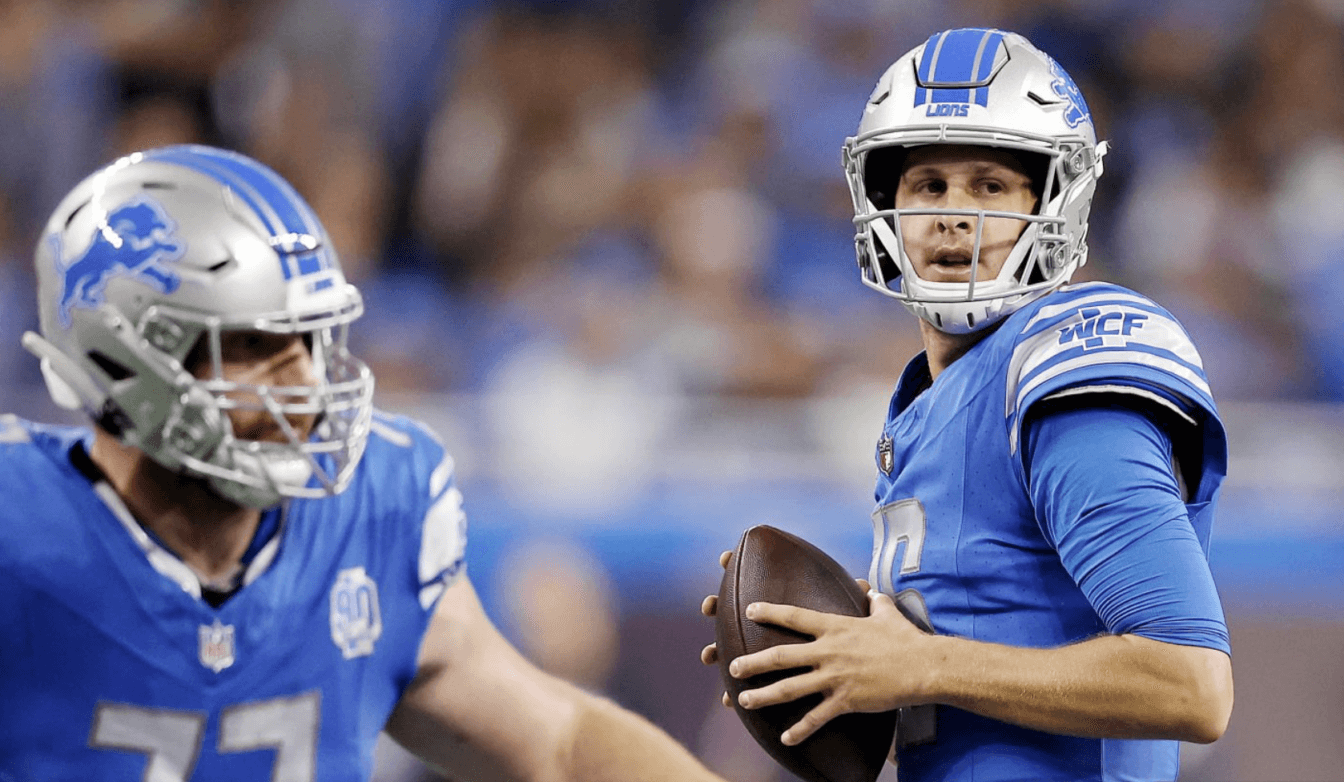 I don't know what Rams wide receiver Puka Nacua thought he was doing with his hosiery, but it wasn't a pretty sight:
Bears wideout D.J. Moore wore a rather short-hemmed jersey. It's not quite a crop-top, but it's definitely shorter than what most other players wear (he did this last week as well, so it appears to be his preferred style):
Dynamic Connection: Bears QB Justin Fields hits WR DJ Moore for the big gain. pic.twitter.com/LREwCIChcs

— Arye Pulli (@AryePulli) September 17, 2023
NFL officials are usually pretty good about having their jerseys tucked in, but back judge Brad Freeman got caught going untucked yesterday: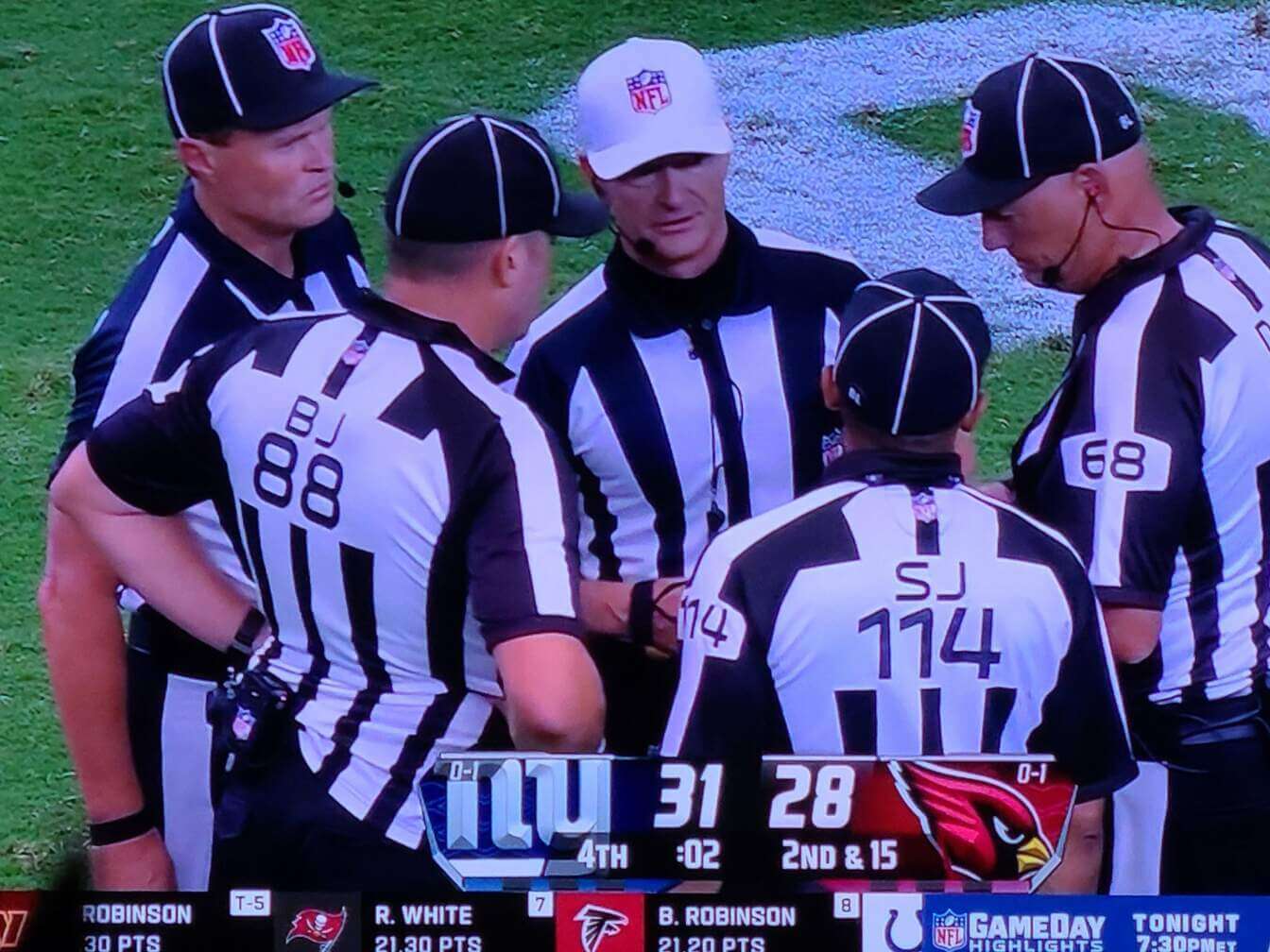 As for this evening, there are two Monday Night Football games on tap: The Browns will debut their new white alternate helmet against the Steelers (an ultra-rare instance of a new uni element debuting on the road), and the Saints and Panthers will have what promises to be a brutal-looking uni matchup.
(My thanks to all contributors, including Brian Campbell, Mike Chamernik, Willie Gabel, Kary Klismet, John Turney, and our own Jerry Wolper.)