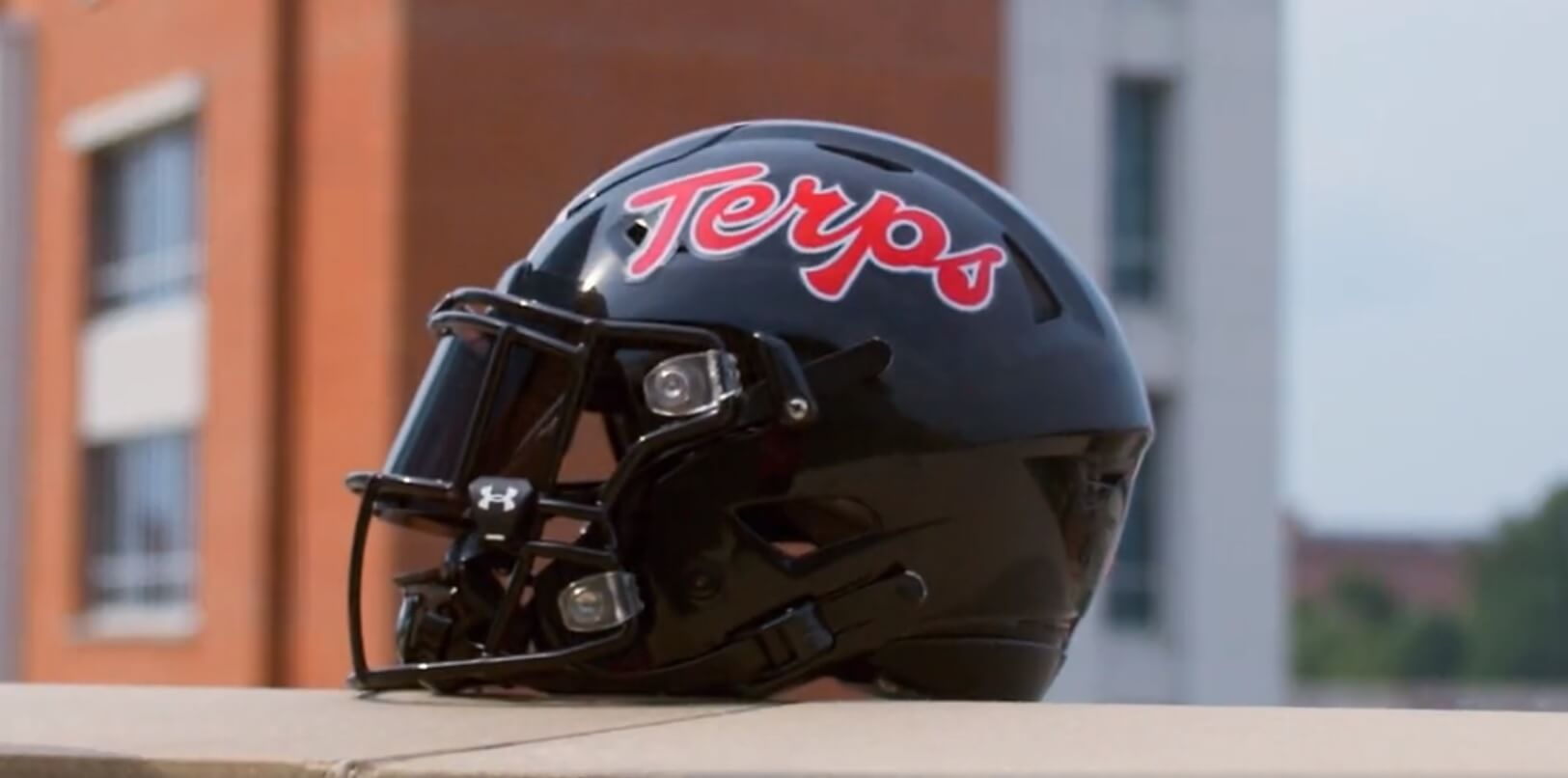 The Maryland Terrapins have unveiled a new black helmet for the 2023 season.
The team debuted the helmet with a post on X (the site formerly known as Twitter):
⚫️ ⚫️ pic.twitter.com/uT99a6lOgA

— Maryland Football (@TerpsFootball) August 22, 2023
While the Terps have had black helmets in the past, this is the first time the team will wear one with the "Terps" script first time since a 2010 "Wounded Warrior" one-off, which had "Terps" in a camo script. Their new current helmet is red, with "Terps" in white with a black outline. The black helmet will have the same script, but in red with a white outline.
As you may recall, earlier this year the Terps announced they will be returning to the "classic" script Terps design full-time this season. If you missed it, Paul had all the details. You can also see many photos of the new (old) red helmet/red jersey/white pants uniform here.
The red helmet has a black/white/black stripe. Unfortunately, in the video posted by Maryland we can't quite make out the stripe pattern, but it appears to be white/red/white (which would reflect the same pattern as the red helmet).
Maryland hasn't yet unveiled any additional uniforms for the 2023 season, but it's probably safe to say the white uniform will be moved to the primary. It had previously been worn as a throwback: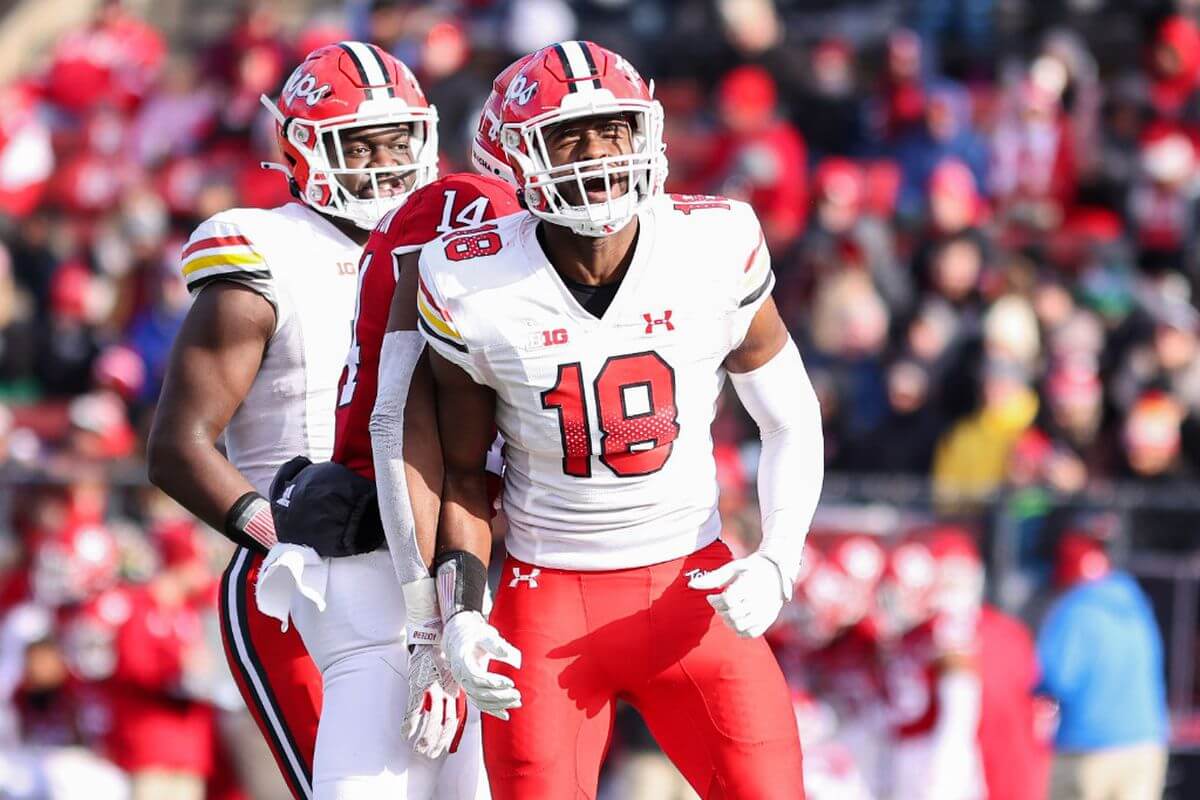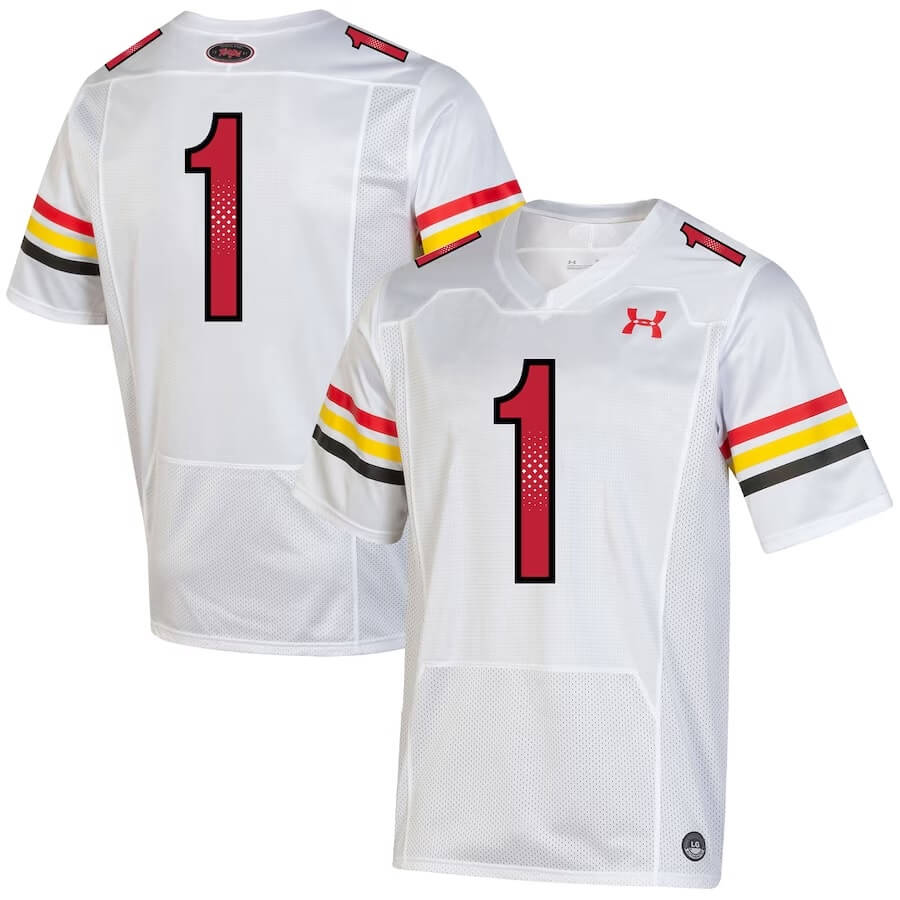 But the black helmet is new and it's not clear with which uniforms the team will pair it. It would "work" with both the throwback red and white uniforms, but will the team unveil a new black jersey (and pants?) in the same style as the now-primary red?
If you go to the University's official fan site, there is no black jersey in the "Terps script" to be purchased; however, the team does have a black jersey which is in the exact style as the new red and white jerseys.
While this isn't 100% proof positive the team will add a new black jersey to their 2023 uni line-up, it's a pretty good indication they will have this option. And it would likely be paired with the just unveiled new black helmet. This remains to be seen, of course, but I'd say it's very likely. The only question is whether they'll pair it with the current white or red pants, or if they'll add a set of black pants to their rotation.