On Friday I wrote about how the Texas A&M football team appeared to be upgrading to a new Adidas tailoring template. At the end of that piece, I wrote, "I assume we'll be seeing other schools using this template as well — something to stay tuned for."
Now we have more info on that, thanks to Uni Watch reader Ryan Cotter. He's an Indiana fan and was recently tweeting about how the Hoosiers' new uniforms looked cheaper than Washington's:
The seams seem to match the Adidas "WVN" jersey as seen in their catalog… where high schools purchase their uniforms /: #iufb https://t.co/7hxyJqmjVF pic.twitter.com/nYYpL4JvKn

— Ryan Cotter (@Rygi13) June 27, 2023
After posting those tweets, Ryan received a DM from a senior designer at Adidas. He's asked me not to reveal the designer's name, but here's a screen shot from their DM chat (with the designer's identity whited out):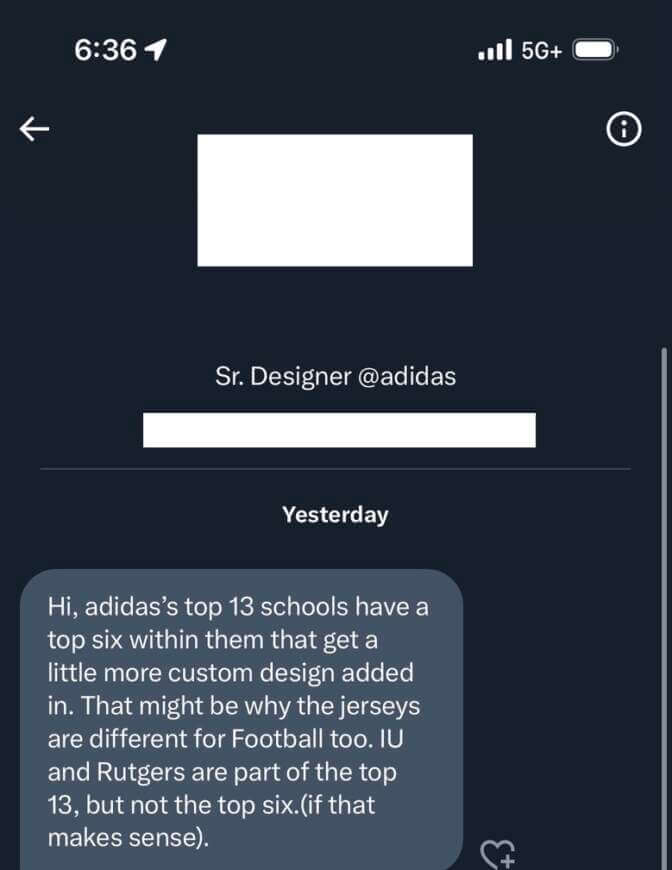 In other words: Texas A&M, Washington, and four other schools are part of Adidas's tippy-top caste and get the best treatment, which is why we've seen the Aggies and Huskies in the newest template. Meanwhile, Indiana, Rutgers, and five other schools are part of the next caste.
Which are the other schools filling out those castes? I got in touch with the designer myself to ask him that, but he didn't respond to my query. Maybe those of you who are more attuned to college football can help figure this out..?
(Big thanks to Ryan Cotter for sharing this with me.)