Can't make this up: Look what was parked directly outside of Uni Watch HQ the other day! It was surely a harbinger of Purple Amnesty Day, Uni Watch's annual grudging celebration of the world's most accursed color, which is now officially underway. For the next 24 hours, it's all purple, all the time!
Today's festivities will take place on several fronts, as follows:
1. Live Events in Greenville Purpleville
I'm currently in Greenville Purpleville, N.C., where we have a big day planned. Here's the scoop:
I'll be throwing out the first pitch at Tuesday evening's ballgame between East Carolina University and Campbell. ECU will be wearing purple, and so will I! The game begins at 6pm and will be streamed on ESPN+ (although I doubt they'll show the first pitch). Uni Watch readers who want to attend the game can purchase discounted tickets for sitting in ECU's outfield "Jungle" seating area.
Shortly before 8pm, I will leave the game and go to a nearby bar, Coco's, to host a Uni Watch gathering. Readers attending the game can go with me, or they can stay until the end of the game and come to the bar later. It's also fine if you want to skip the game entirely and just attend the party. The bar has promised to come up with some sort of purple drink special for us.
ECU's live purple-costumed mascot, PeeDee the Pirate, will visit us at the ballpark. I'm hoping he'll come to the Coco's gathering as well, although that's not yet a certainty.
I'll have a bunch of these amethyst stones (generously provided by reader Will Scheibler, who procured them from a shop called Precious Purple Gemstones!) and will be giving a few to anyone who attends the ballgame and/or the party:
Should be a great day! Looking forward to meeting everyone who comes out.
2. Lots of Purple Uni Watch Content
We'll have purple-centric content here on the website all day long. I expect to publish at least six more posts today, and all of them will be purple-themed. One of them will be Kary Klismet's latest look at teams that wear mismatched shades of purple, which has become an annual Purp Walk tradition.
3. Today Only: Get Yer Purple Membership Cards!
The usual ban on purple-inclusive Uni Watch membership cards has been lifted until midnight Eastern tonight. So if you're a fan of the Vikings, Rockies, Ravens, Sun, LSU, Northwestern, or any other purple-clad team, today is the one day this year that you can order a order a membership card with a design motif that includes purple. But don't delay — at midnight the one-day window will slam shut and you'll have to wait until next year!
4. Today Only: Purp Walk Merch
I've once again collaborated with designer Bryan Molloy on a Purp Walk T-shirt. Since ECU's teams are called the Pirates, we decided to have a purple pirate making me walk the plank over a purple sea (infested by purple sharks!). Here's a mock-up, along with a closer look at the design:
This shirt is available only until midnight Eastern tonight. You can order yours here.
In addition, we're offering the first-ever Purp Walk poster, based on the T-shirt design. It's available here:
And we're also we're offering a purple snapback cap, which is available here: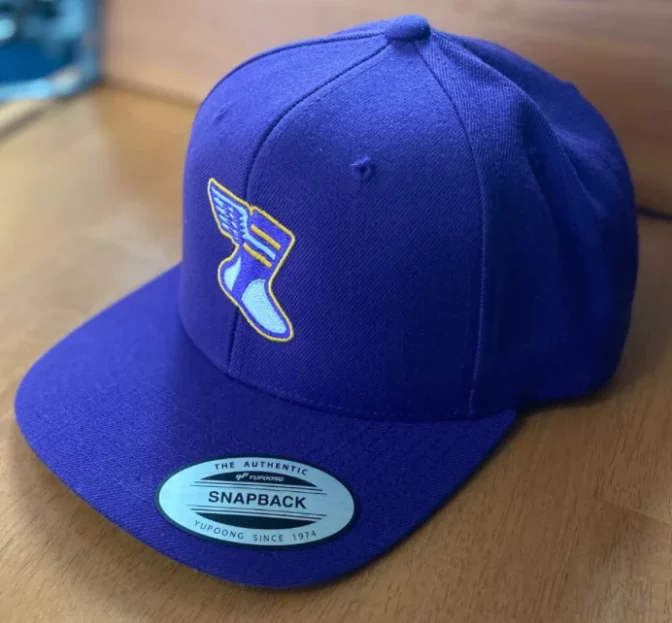 You can access all three products on this landing page.
5. Hashtag It!
If you're engaging in any purple activities today, share your photos on social media and use the hashtag #PurpWalk2023 so we can all see what you're up to. Thanks!
———
In case you're new to this (or just need a quick refresher), the idea for Purple Amnesty Day came from reader Tim Cox, who lives in Denver and is a big Rockies fan. On the blog's fourth birthday — May 17, 2010, which is 13 years ago tomorrow — Tim posted the following comment:
Congrats on 4 entertaining years, Paul & company. I'm a daily reader but not a member because I can't do a Rockies membership card without purple. The 4th anniversary seems like the perfect occasion to grant amnesty to all the Rockies, Vikings, LSU, Northwestern, etc. fans out there.
I then responded:
[Y]our idea for a one-day purple amnesty program is a good one. If anyone wants to sign up for a purple-inclusive membership card, today — and only today — I will honor all such requests!
And just like that — very informally — Purple Amnesty Day was born. It has traditionally been observed each year on May 17, which is the anniversary of the very first post on this blog (not to be confused with the very first Uni Watch column, the 24th anniversary of which is coming up next week), but this year we're observing it a day early to align with ECU's baseball schedule.
Along the way, Purple Amnesty Day has evolved and grown:
In 2015, membership card designer Scott M.X. Turner came up with the ingenious slang term "Purp Walk," which is a nice counterpart to the more formal "Purple Amnesty Day."
2015 is also when designer Bryan Molloy and I began collaborating on Purple Amnesty Day merchandise (all available for only 24 hours, of course).
I believe 2015 was also the first year that I changed all of the website's green elements to purple for the momentous day.
In 2020, reader Kary Klismet began what has become his annual habit of writing about teams that have worn mismatched shades of purple. (His latest installment will be posted later today.)
Last year I convened the first Purp Walk live event in Denver, which was so much fun that I'm doing the ECU event this year.
I love how the culture of the annual tradition has continued to grow and take on a life of its own. It's now one of my favorite days on the Uni Watch calendar, even though I hate looking at all that purple!
Speaking of which: People sometimes say I have "purplephobia." But as I always explain, that's not accurate, because "phobia" means fear. Folks, I don't fear purple; I loathe purple. If anything, purple should fear me.
Why do I detest purple so much? As I always explain when people ask me that question, I actually think purple in nature is quite nice — violets, plums, eggplants, etc. But purple as a human-imposed design element almost always strikes me as tasteless and tacky. It's the diva of colors, the Celine Dion of colors — loud, grandiose, never content to do just enough when it can do way too much. There's a darn good reason why you rarely see a purple house or a purple car (except outside of my house!). Now if we could just eradicate purple from the rest of the built environment. Grrrrr.
Okay, that's enough to get us started for Purp Walk 2023. Enjoy the rest of the day as we continue to celebrate the world's most accursed color!