Umps made Zach Eflin take off his wedding ring pic.twitter.com/BGVmDMzgdF

— Talkin' Baseball (@TalkinBaseball_) May 4, 2023
Bizarre scene in the second inning of yesterday's Rays/Pirates game, as umps threatened Tampa pitcher Zach Eflin with ejection unless he removed his wedding band from his glove hand. The thing is, it wasn't a metal ring — it was one of those silicone rings that have become popular with athletes over the past decade. You could actually see it stretching as Eflin removed it: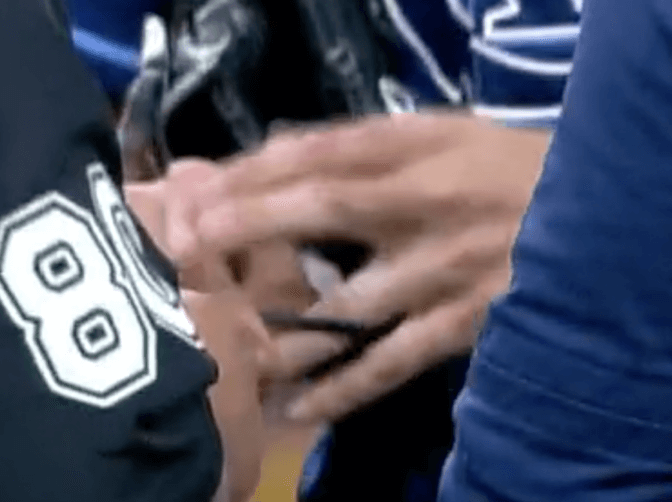 Eflin put the ring in his back pants pocket. This ESPN article mentions that he later put it on his necklace, but I couldn't find a photo or camera angle showing that. (Anyone..?) After the game, Eflin explained what happened, and also provided some background context (transcript after the embed):
Zach Eflin says the umpires gave him two options today:

1) Take off his wedding ring; or
2) Get ejected

So off came the ring. pic.twitter.com/cBpvNyVBbI

— Bally Sports Sun: Rays (@BallyRays) May 4, 2023
"This was the first crew that was really giving me trouble about taking the ring off. I've told every umpire that's asked me to take it off, I've said, 'Hey, I respect what you guys do, but I'm gonna keep it on. It's very important to me.' Most umpires are cool with it, and they'll kind of let MLB take care of it if they need to. But this umpire crew was a little different. They seemed a little on edge, but it's part of it. I said, 'If you're gonna eject me out of the game, then I'll take it off.' And that's what they ended up coming out and telling me on the mound, was that they were gonna toss me out of the game if I didn't take off my rubber ring. So I took it off."
I have to say, this all sounds completely ridiculous. Is a pitcher really going to scuff or doctor the ball with a silicone ring? Whatever rule is being enforced here, it needs to be updated to allow for this type of wedding band.
As it happens, I wrote a fun ESPN piece back in 2011 about athletes wearing their wedding bands on the field/court/ice. You can check that out here.
(My thanks to our own Anthony Emerson for bringing this one to my attention.)