Good morning, and happy May! Hope everyone had a good weekend.
Now then: When Buck Showalter was hired to manage the Mets in late 2021, I wrote an article breaking down the various uni-related quirks and stories that have arisen around him over the past 30 years or so. But there's apparently another such story that I didn't know about at the time. Fortunately, Uni Watch reader Jonathan Daniel has now brought it to my attention.
Daniel belongs to a private Facebook group called For the Love of Uniforms. I'm not a member of this group, so Daniel recently sent me a screen shot of this post (which was posted there by another Uni Watch reader, Bud Parks):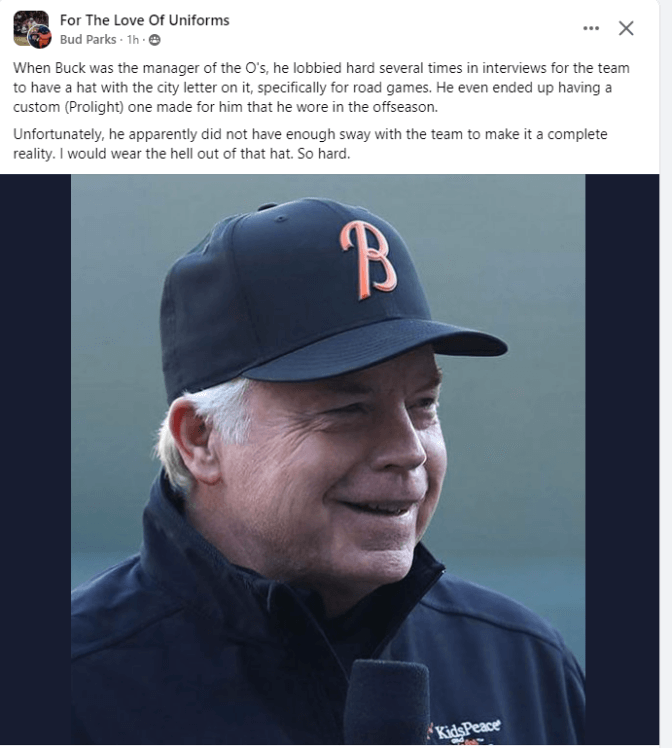 Showalter managed the Orioles from 2010 through 2018. I had no memory of seeing him in this hat, or of hearing about him lobbying for a "B" hat in interviews. So I checked with some sources close to the O's, one of whom confirmed the story. "The 'B' hat was shot down over concerns that Boston owned the letter, so it would look like the Orioles were copying them," one source told me.
As you may be aware (and as I bet Showalter already knew at the time), the O's did wear a "B" cap — at home, not on the road — in 1963. That was the year that the team experimented with a completely different home jersey insignia, along with the "B" cap: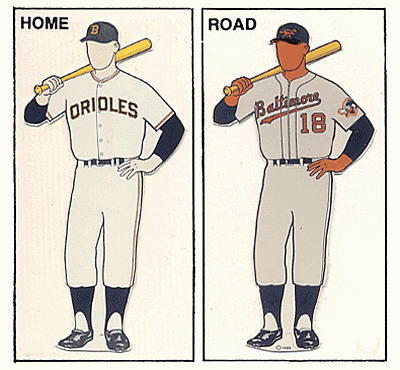 Photos of this cap (and its corresponding batting helmet) are fairly rare, but here are some shots of it:
Now, it's true that some of those photos do make the hat seem rather Bosox-y. But the script "B" that Showalter was wearing, based on the team's road jersey script, is much better and would have worked nicely. Too bad team officials didn't want to give it a try.
Meanwhile: Showalter continues to amaze with his interest in uniforms. He clearly Gets It™!
Update: Reader/commenter Brian Griffiths has found an article about Showalter lobbying for the "B" cap in 2013.