Good morning! Well, that certainly was a letdown.
It's not a newfangled mess like the previous set, but it's not much of an upgrade either. Let's go one element at a time, beginning with…
The Primary Helmet

They changed the grey facemask to silver (most fans won't even notice the difference) and added a bit of shading to the logo while also slightly enlarging it (ditto). In short, they made some largely inconsequential changes just so they can say it's a "new" helmet, but it's basically the same design — which isn't a bad thing.
The Home Uniform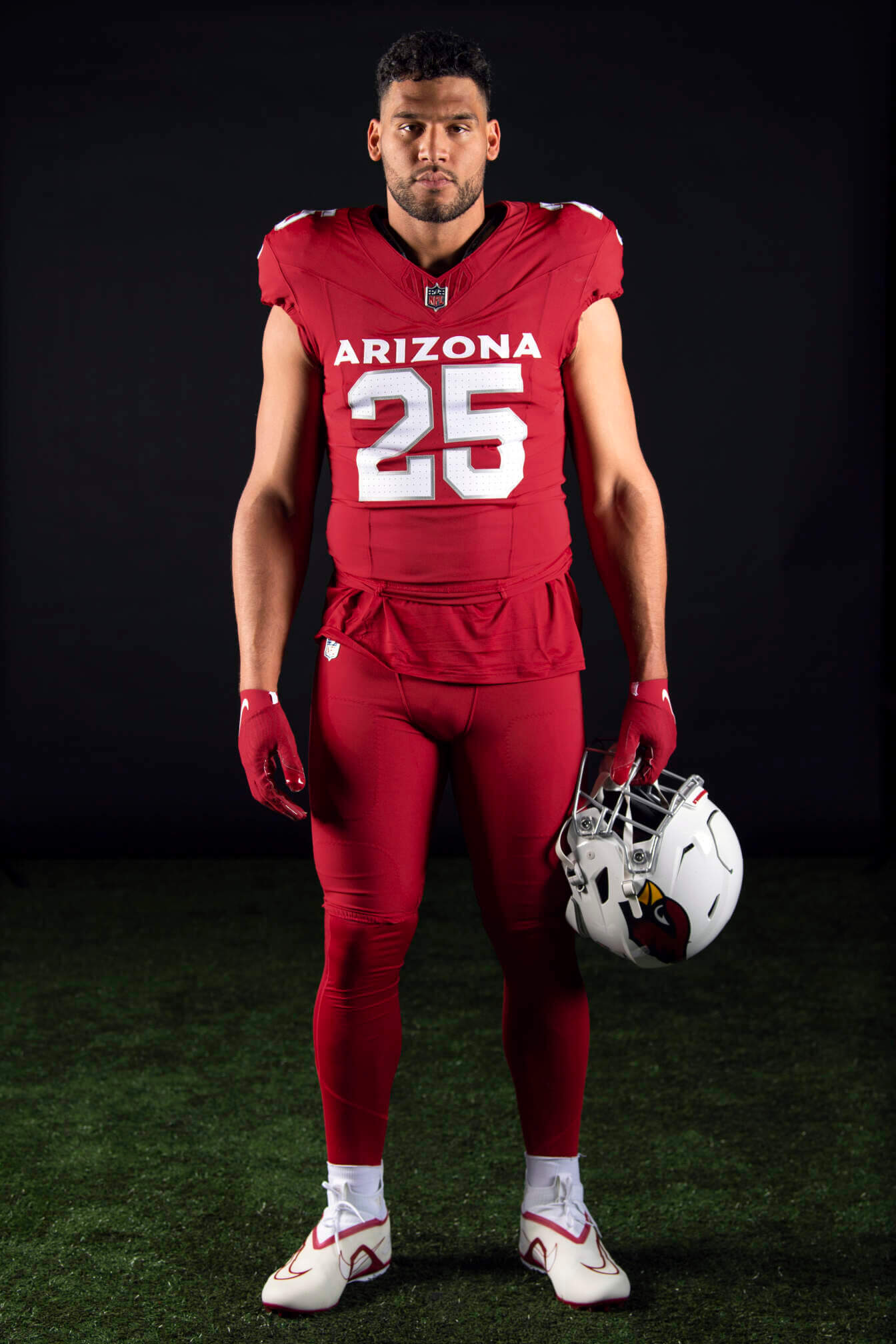 On the plus side, I have no issues with the number font. On the down side, well, how much time do you have? Among the problems:
As lots of people have already said, the use of silver makes the whole enterprise feel very Ohio State-esque.
I hate-hate-hate that big, honking wordmark on the chest, plus it's riding way too low because of Nike's new template.
As of now, the plan is apparently to go blood-clot for all home games, which will look like shite. (I'm hoping that at some point they'll pair the red jersey with the white pants.)
It's possible in the NFL to get away without sleeve stripes. But when you have no sleeve stripes and no pants stripes, you basically look like you're wearing a practice uniform: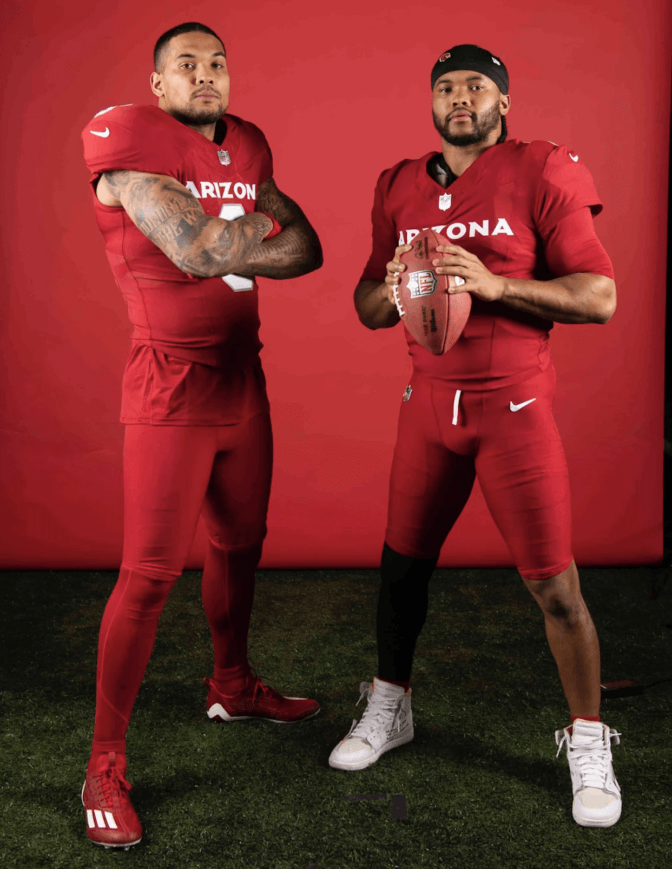 They went from "let's have piping and random shapes for no reason" to "let's just not have anything."

— Matt Markus (@Matt_Markus) April 21, 2023
I hate that they've kept the logo above the nameplate, and I hate even more that they've used a white version of it for this jersey: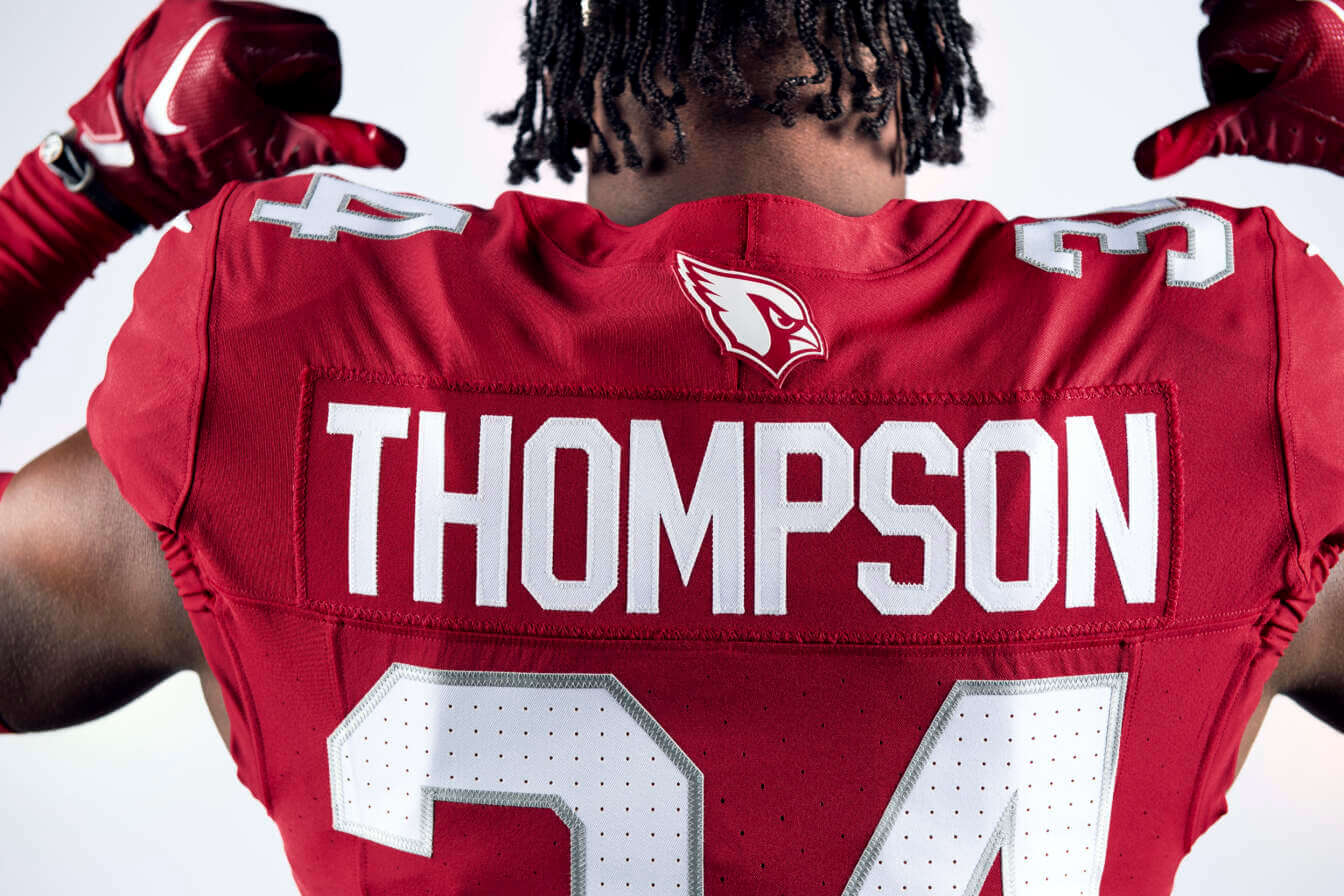 Additional home uni pics here:
The Road Uniform
Not as bad as the home uni, because (a) there's no big, honking chest wordmark and (b) they added some stripes to the sleeves and pant legs. But putting the team name in the sleeve striping feels sooooo Division II. Here's a closer look at that: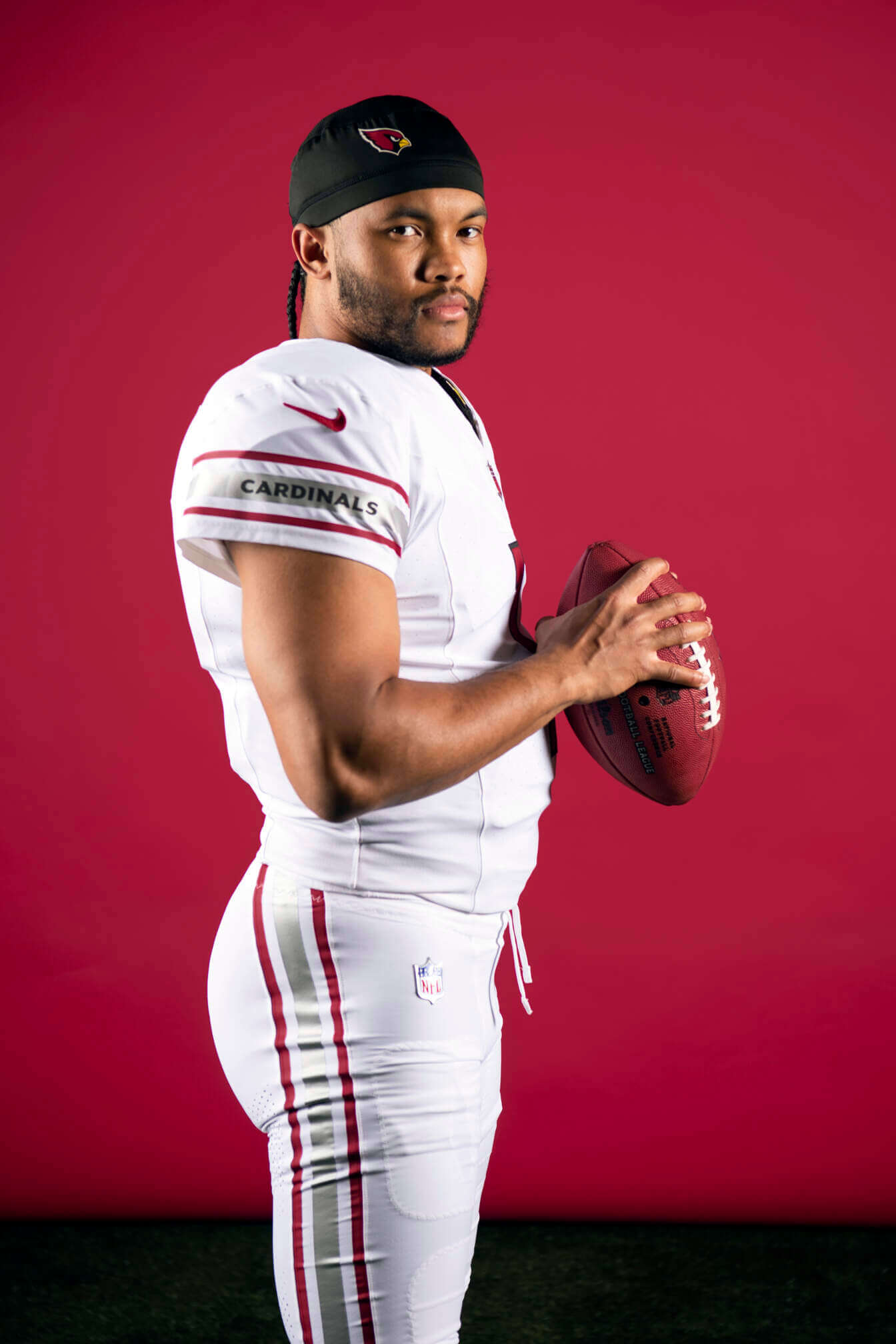 No TV numbers on this one. I guess you can have stripes or TV numbers, but not both. Grrrrrr.
Again, the plan is apparently to go mono-white, although I'm hoping they'll occasionally pair the white jersey with the red pants.
Additional road uni pics here:
The BFBS Alternate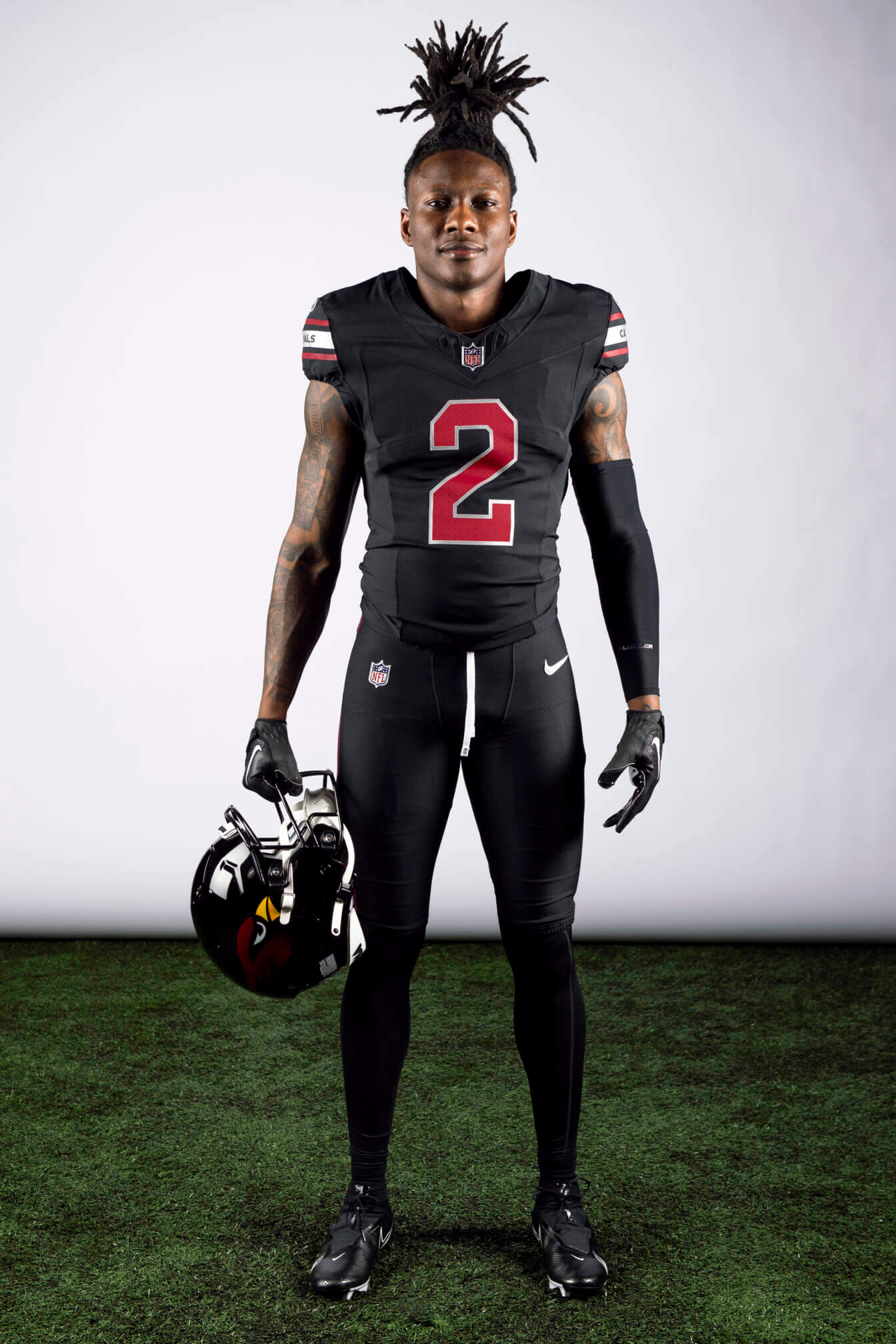 Take a look at that photo above, and then look at this Ohio State photo: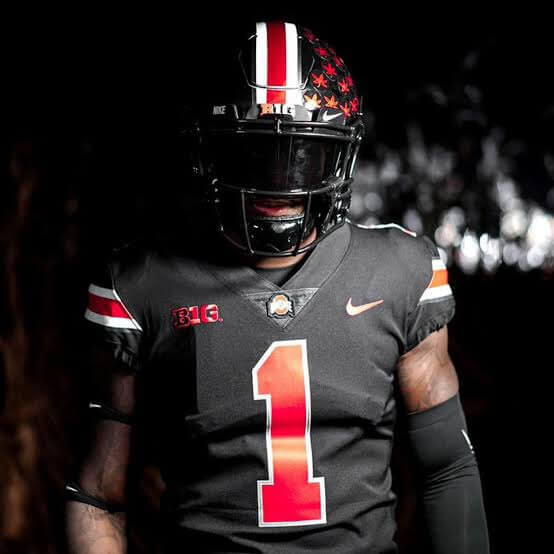 I mean, come on.
Additional BFBS uni pics here:
———
I wanted to believe they'd do a better job than this, but they really don't have a clue. I suppose it's better than the outgoing set, which was a total train wreck, but not by much. Still a lower-echelon team, uni-wise.
A few other notes:
It is very strange that none of the new uni photos shows a player wearing a helmet.
Also not shown: socks. Instead, the players are shown wearing leggings (except for Kyler Murray, who went bare-legged!). I don't blame the team for that — socks have basically become irrelevant in pro football — but I think this may be the first time we've seen a sock-free unveiling. Kind of a sad commentary on the state of NFL hosiery.
Did you notice that many of the players had their undershirts untucked and sticking out? Much like the leggings, this is an accurate representation of how the players dress on the field, but it's interesting that they did it for the photo shoot. Teams usually make the players clean that shit up for promo pics.
The Cardinals are the latest NFL team to move away from TV numbers. Other recent examples have included the Bengals, Chargers, Commanders, Rams, and Patriots. There have been exceptions (the Falcons, e.g.), but the trend away from TV numbers now seems pretty clear.
Here's hoping it doesn't take another 18 years before their next redesign.