Uni Watch got a nice shout-out from White Sox play-by-play broadcaster Jason Benetti during the team's game in Houston on Sunday. It occurred during the bottom of the sixth, when the camera lingered on a fan wearing a space helmet (shown above), prompting Benetti and color commentator Steve Stone to engage in the following discussion:
Jason Benetti: Well, the space program is well-represented here today. That looks conspicuously like a logo that never happened for the Astros. Our friend Paul Lukas over at Uni Watch — he runs a website called Uni Watch, it's all about uniforms, [White Sox radio broadcaster] Len Kasper loves it — Paul's a great guy, studies uniforms and uniform history.
So the Astros, when they first got the name after [being] the Colt .45s, had a couple of logos that were left on the drawing board that are actually pretty cool and might have stuck with the opportunity to see the light of day. And somehow Paul got his hands on these logos, and one of them actually looks like the fan in the in the space helmet over there. There's also one that's got a guy that looks quite like Mr. Spacely from The Jetsons.
Steve Stone: Spacely Sprockets?
Benetti: Yeah. And Cogswell Cogs. Always have to have a rival in the script. Now here are those logo renderings. This is courtesy of uni-watch.com. [Screen shows two of the prototype Astros logos that I wrote about in 2021.]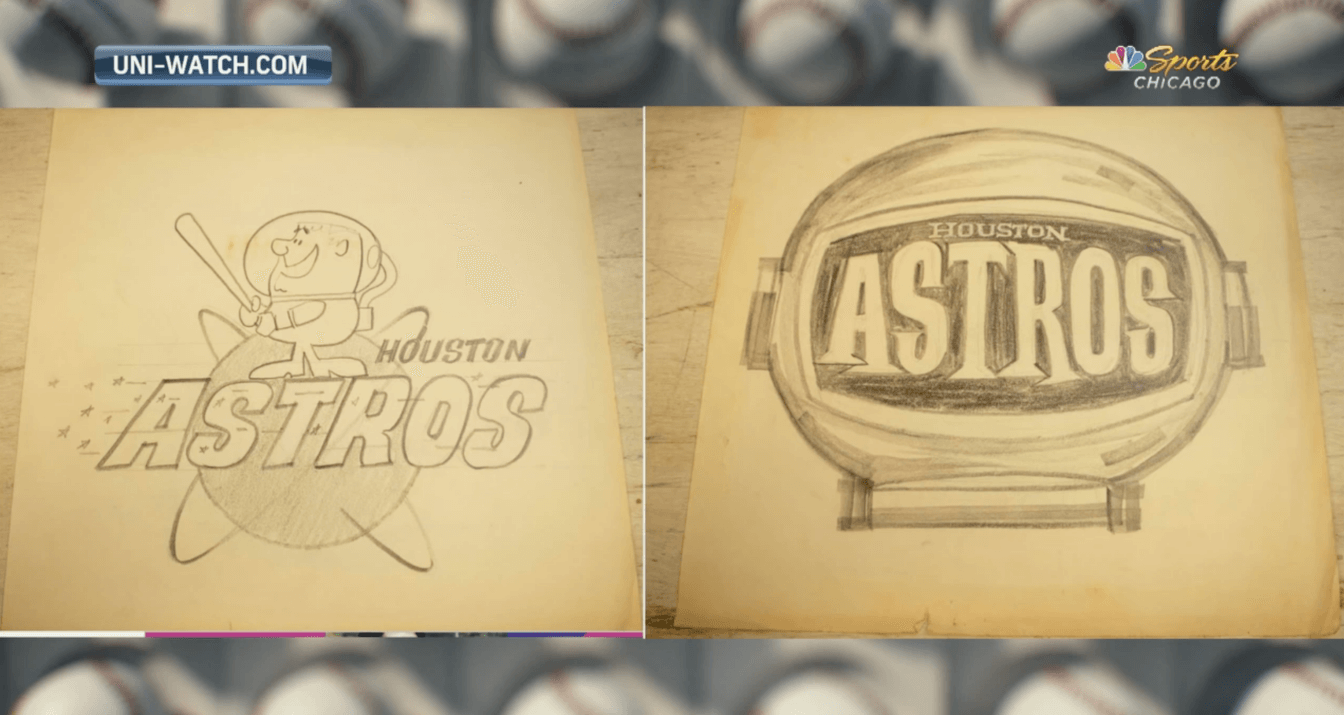 Benetti: The one on the left, it looks very Hanna-Barbera-ish.
Stone: Very much so.
Benetti: The one on the right I think probably would have stuck, don't you?
Stone: No.
Benetti:  Really?
Stone: Uh-uh.
Benetti: But there are people wearing space helmets at the game!
Stone: Well, that's true.
———
And that's where it ended.
A bit of backstory here: Benetti and Kasper have a podcast called Sox Degrees (or at least they used to — there hasn't been a new episode since last August). I appeared as the featured guest for an episode in July 2021, and it was one of the most enjoyable media appearances I've ever done. Benetti and Kasper really know their stuff, and they're super-enthusiastic about uniforms. Anyway, that episode was recorded just a few weeks after I wrote that blog post about the prototype Astros logos, so I guess that made an impression on Benetti. Nice that he gave Uni Watch an on-air shout-out — thanks, Jason!
(Big thanks to reader Clint Wrede for letting me know about this.)