A's utility man Aledmys Díaz has a new look this season. The most obvious thing is that he's wearing a new uniform, having left the Astros as a free agent and signed with Oakland. In addition, he's wearing mismatched batting gloves in non-A's colors: blue on the left hand and red on the right.
Díaz's new teammates noticed and initially thought the colors might refer to the flag of his native Cuba, but the story runs deeper than that. Díaz's six-year-old son, Nathan, is autistic, and the mismatched gloves are meant to send the message that it's okay to be different.
In an article on the website of Díaz's batting glove manufacturer, Bruce Bolt, he said, "Using two different batting gloves, it's a message: We have to accept people the way they are and try to help them to adapt to society." (Sharp-memoried readers may recall that the Bruce Bolt logo was the subject of a Uni Watch story last year.)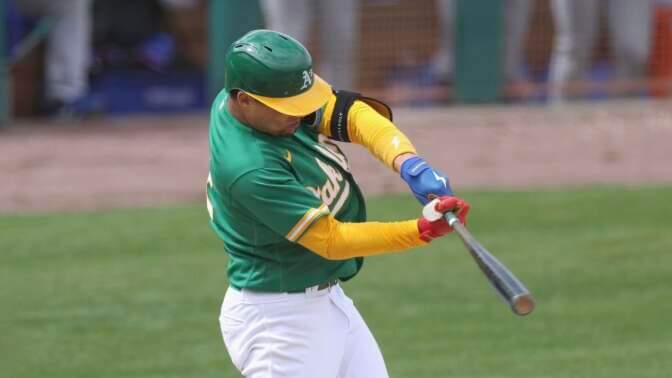 We've seen lots of teams across many different sports wear jerseys to promote autism awareness in recent years, but Díaz is the first player I can think of who's customized his own personal gear for this type of messaging. (Am I overlooking anyone?) He plans to wear the mismatched gloves for the rest of his big league career.
The Bruce Bolt article says that Nationals outfielder Corey Dickerson also plans to wear mismatched gloves for autism this season, but he didn't do that for the first two games of the season and has now gone on the IL, so we'll have to wait a bit to see how that plays out. Meanwhile, kudos to Díaz for advocating for his son, and for reminding us all that it's okay to be a little bit different — a message that I think most Uni Watch readers can probably relate to.