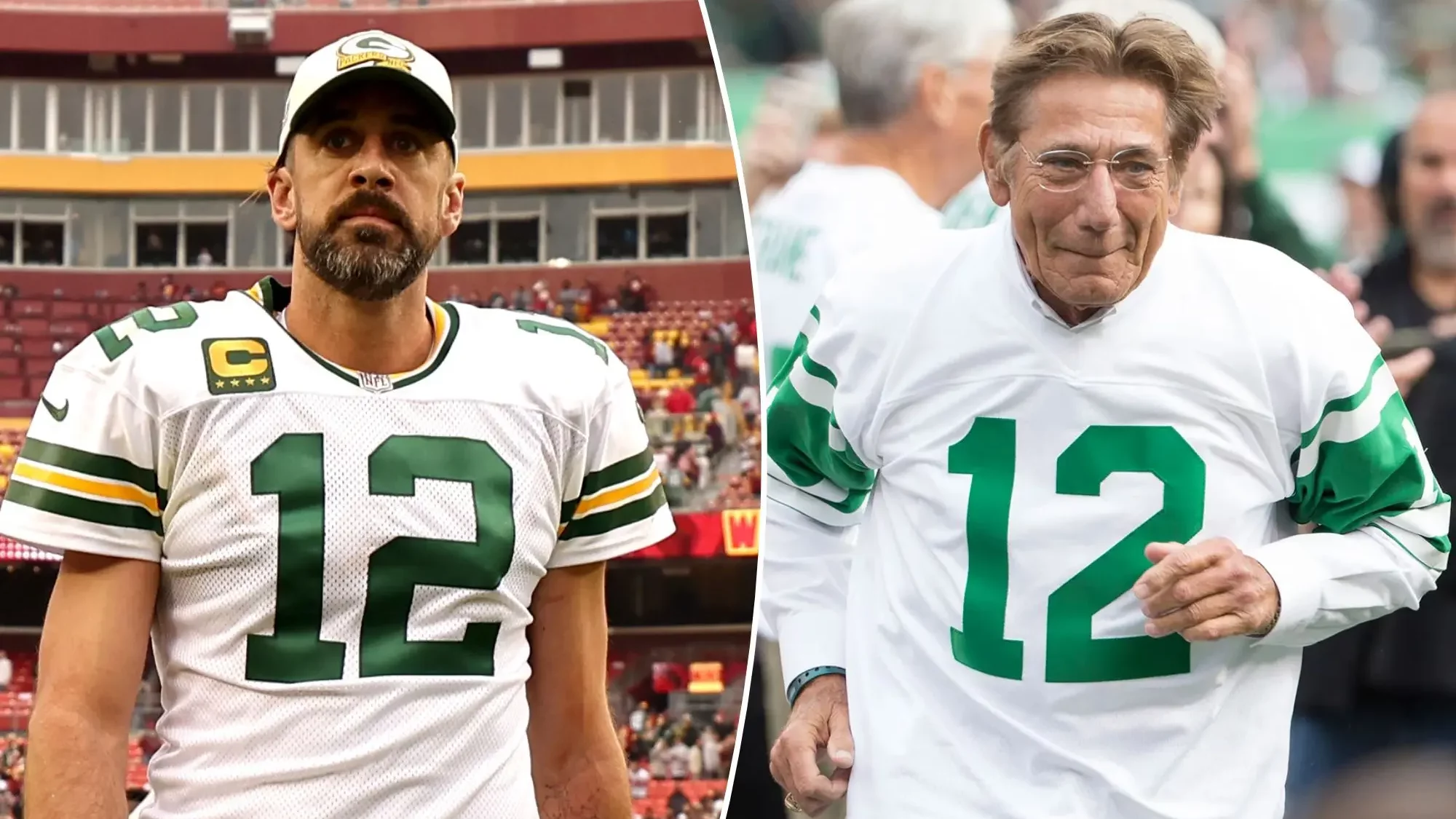 A good Sunday morning, Uni Watchers. I hope everyone had a pleasant Saturday.
As the Aaron Rodgers to the Jets saga (hopefully) nears its conclusion, the question of what jersey number Rodgers will wear begins to loom larger.
As you're probably all aware, throughout his entire NFL career, Aaron Rodgers has worn the #12 with the Green Bay Packers. But that was actually not the number he wanted to wear when he joined the team. Rodgers had worn #8 in his two seasons at Cal-Berkeley, but when he joined the Green Bay Packers, longtime kicker Ryan Longwell was wearing that number. Whether or not Rodgers tried to finagle the number from Longwell isn't known, but the #12 — a classic quarterback number — was available, so he took that instead of #8.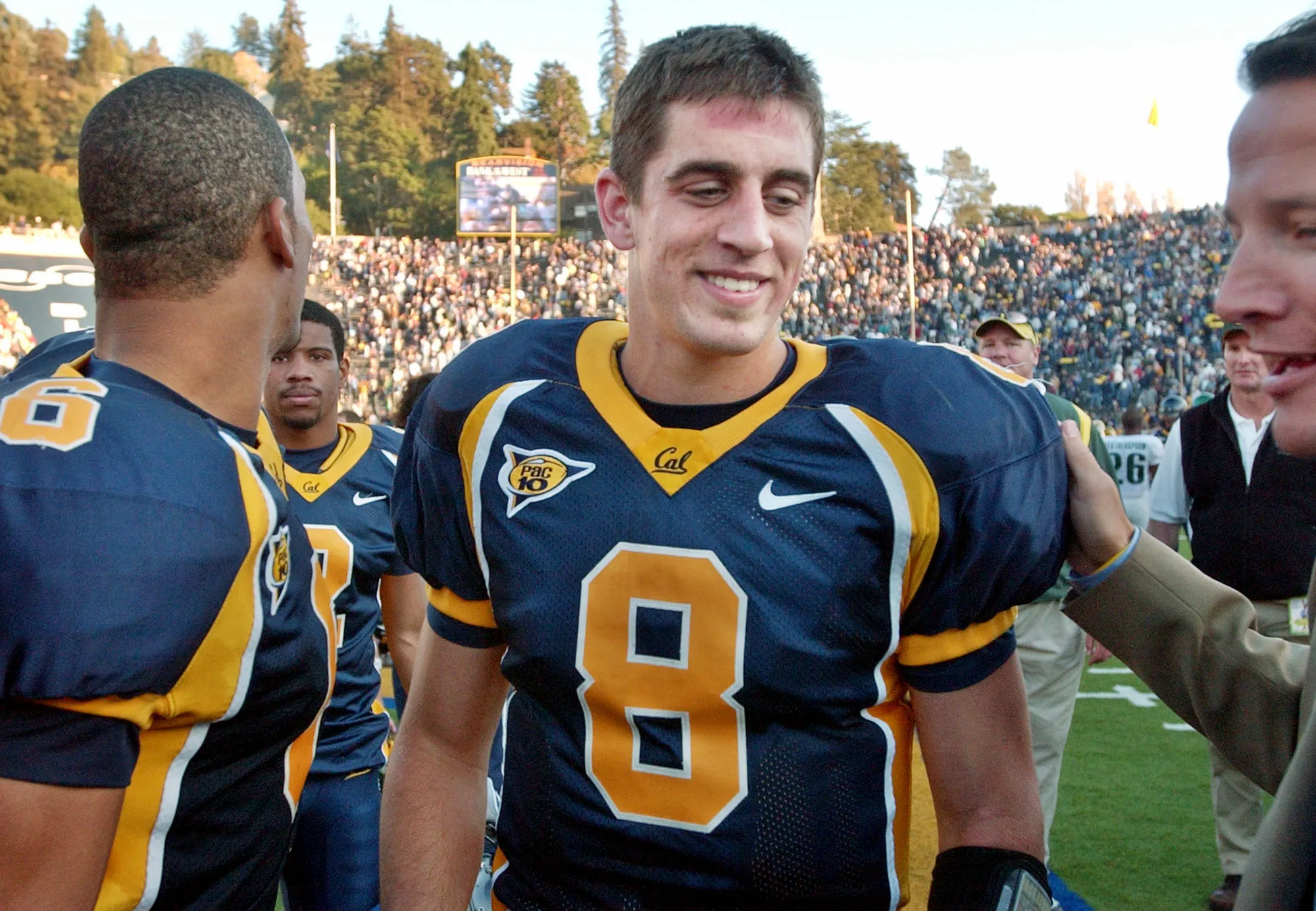 Rodgers did not become a star player in his first season, which was 2005 — Brett Favre was the starting QB, and Rodgers would serve as Favre's backup for three seasons. In his rookie year, Rodgers saw very limited action, finishing the season with a total of 65 passing yards, no TD's and one INT. Following the 2005 season, Longwell, and his #8, signed with the Minnesota Vikings, but Rodgers elected to keep wearing #12. Following Favre's departure from the Packers in 2007, Rodgers became the starting QB, and his legendary status wearing #12 began. It's hard to picture him wearing any other number following his Hall of Fame career with the Pack.
Assuming the trade from Green Bay to the Jets is complete, Rodgers will face a bit of a quandary: His NFL number is #12, but that number is technically not available, due to it being retired for a certain former QB for New York. You may have heard of him.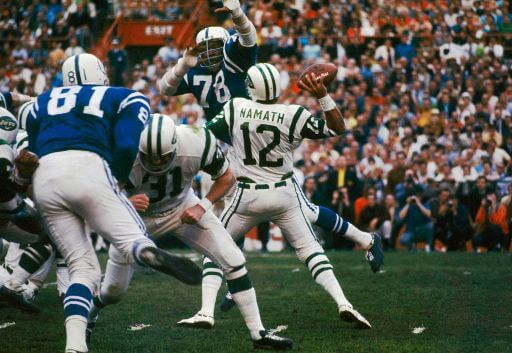 That's right. The Jets have retired #12 for one Joe Willie Namath.
So, with #12 'unavailable,' Rodgers will just choose a new number, right? Not so fast, my friends.
Prior to this trade fully taking shape, Namath was asked about Rodgers possibly joining the Jets. Not only did Mr. Namath say he was on board with the trade, he'd even go so far as to give his blessing for Rodgers to wear #12 with the Jets, should he so desire.
Joe Namath wants Aaron Rodgers to wear his retired No. 12 with #Jets https://t.co/MkO8X62Ixk pic.twitter.com/UVjJ1p6giX

— New York Post Sports (@nypostsports) January 20, 2023
To my knowledge, Rodgers hasn't actually "asked" to wear #12 with his new team — in fact, as of this writing, Rodgers is still the property of the Packers, so Rodgers has apprently been keeping very close to the vest reticent to speak out publicly…at least in terms of his potential future number. You can bet that will change if once the trade becomes official.
Let's assume now, for the sake of argument, Rodgers is traded.
Joe Namath says Aaron Rodgers can "wear his number" if the Jets were to land him 👀 pic.twitter.com/zhUoMGsuMi

— The Sporting News (@sportingnews) January 20, 2023
Obviously, the New York Jets have retired #12 — so the first question arises is "can Joe Namath unretire his own number?" Simply because Namath has given Rodgers his blessing doesn't mean the team will automatically make it available. That's not to say they won't (especially if it's cool with Namath), but certainly the team wouldn't unretire the number if Namath were opposed. Or at least, I suspect they wouldn't.
Let's assume again (which is a fun exercise, but not always wise) that since Namath has given his blessing, the Jets are copacetic with unretiring the number. Would Rodgers wear it? And even if those two conditions are met, should he?
The Jets aren't running "short" on uniform numbers, unlike certain sports clubs, having retired only five numbers in their history. They certainly wouldn't need to unretire any of them in order to accommodate any players.
But let's also remember for whom #12 is currently retired: Joe. Willie. Namath. Both in the annals of NY Jets history and really, NFL history, Namath's impact on the game is hard to measure. Yes, he was a very good, even great, quarterback, and a Hall of Famer to boot. But he's also more than likely not on anyone's Top 10 best QBs of all-time list. He had a couple really really good seasons, and of course was a Super Bowl Champion. Certainly worthy of having his number retired.
But Namath's impact — while certainly felt on the field — was far greater than his individual numbers. Perhaps more than any other player, Joe Namath's guarantee proved that the American Football League was not only on par with the (then still rival) NFL, they could beat an NFL team in the biggest game on the biggest stage. A merger between the AFL and NFL was in the works before Namath's Jets scored perhaps the greatest upset in sports history, but his guarantee of a win was possibly the ballsiest boast ever backed up in the world. Namath said "we'll win" and then he did it.
So, when we consider how important the number twelve is in this instance…not just to Rodgers or to the Jets…but in terms of its overall impact on the sport, we must also weigh this when considering whether the team should unretire #12.
Although I'm not a Jets fan, my pop was, and he was a huge Joe Namath fan. I was too young to have any memories of Super Bowl III, but my dad often regaled me with stories of that game, and the impact it had. He reminded me of Namath's great accomplishment early and often in my salad days. The first professional football game I ever saw was on December 1, 1974, and of course it featured Namath as the winning QB.
To this day, if you attend a Jets game, the number of fans wearing Namath jerseys probably outnumbers any other player. Namath was, and to some still is, a football god. To many — and I might even put myself in this category — seeing #12 on any player but Namath would be sacrilege. Even with Namath's blessing (and assuming Rodgers actually would want to wear #12 on the Jets), I'm not sure the Jets should unretire the number, even for a player with as strong a pedigree as Rodgers.
But wait, you say, Namath has given Rodgers his blessing to wear #12. What's wrong with that?
As great as Rodgers is, let's face it — he's probably going to play for the Jets for a maximum of two seasons. Would that be worth it for someone to wear a number that Namath made iconic for the Jets? If Tom Brady were to come out of retirement and sign with the Jets, would it be OK for him to wear #12? Brady is the friggin' GOAT…but you can be sure there would be plenty of Jets fans for whom seeing Brady in a Jets Green #12 wouldn't sit right (there are other reasons Brady on the Jets wouldn't sit right, but let's concentrate on the number). I'm sure a good chunk of Jets fans wouldn't ever want Brady to wear a Jets jersey, let alone that of Namath. But yet, the chances of Rodgers wearing #12 for the Jets are probably greater than 50%.
Unretiring numbers isn't unprecedented — especially in football. You may recall that #18 was retired by the Denver Broncos for Frank Tripucka (granted, not exactly a household name, but still…). The team unretired it for someone named Peyton Manning. Then there was the legendary Steve Largent of the Seahawks, whose #80 was retired. And then it wasn't. The player who received #80? The great Jerry Rice. In both of those cases, the player receiving the retired number had the blessings of the player for whom the number was originally retired. Rodgers/Namath would follow that precedent.
So here we are. The Jets are on the precipice of obtaining their greatest QB since Joe Namath, and Namath would be on board with Rodgers wearing "his" number. There is precedent for teams unretiring numbers with the blessing of the retiree. Everything points to Rodgers wearing #12 with the Jets. But should he?
I'd love to hear your thoughts.