Good morning! Hope everyone had a good weekend. Today I have an update on the most important March Madness story of the year, and I'm going to need your help to bring it to fruition, so let's get to it.
Our story so far: Earlier this month I wrote about how Hormel was raffling off 68 packs of bacon smoked over maplewood lumber scraps salvaged from the production of this year's Men's Final Four courts. (Note that this was raw lumber from early in the court-production process — no paint, no shellac, no other chemical contaminants.) After I published that piece, Hormel's publicist offered to send me a pack of the court-smoked bacon, which arrived here at Uni Watch HQ last week.
The bacon, shown above, looks good, right? It was accompanied by this promotional kit: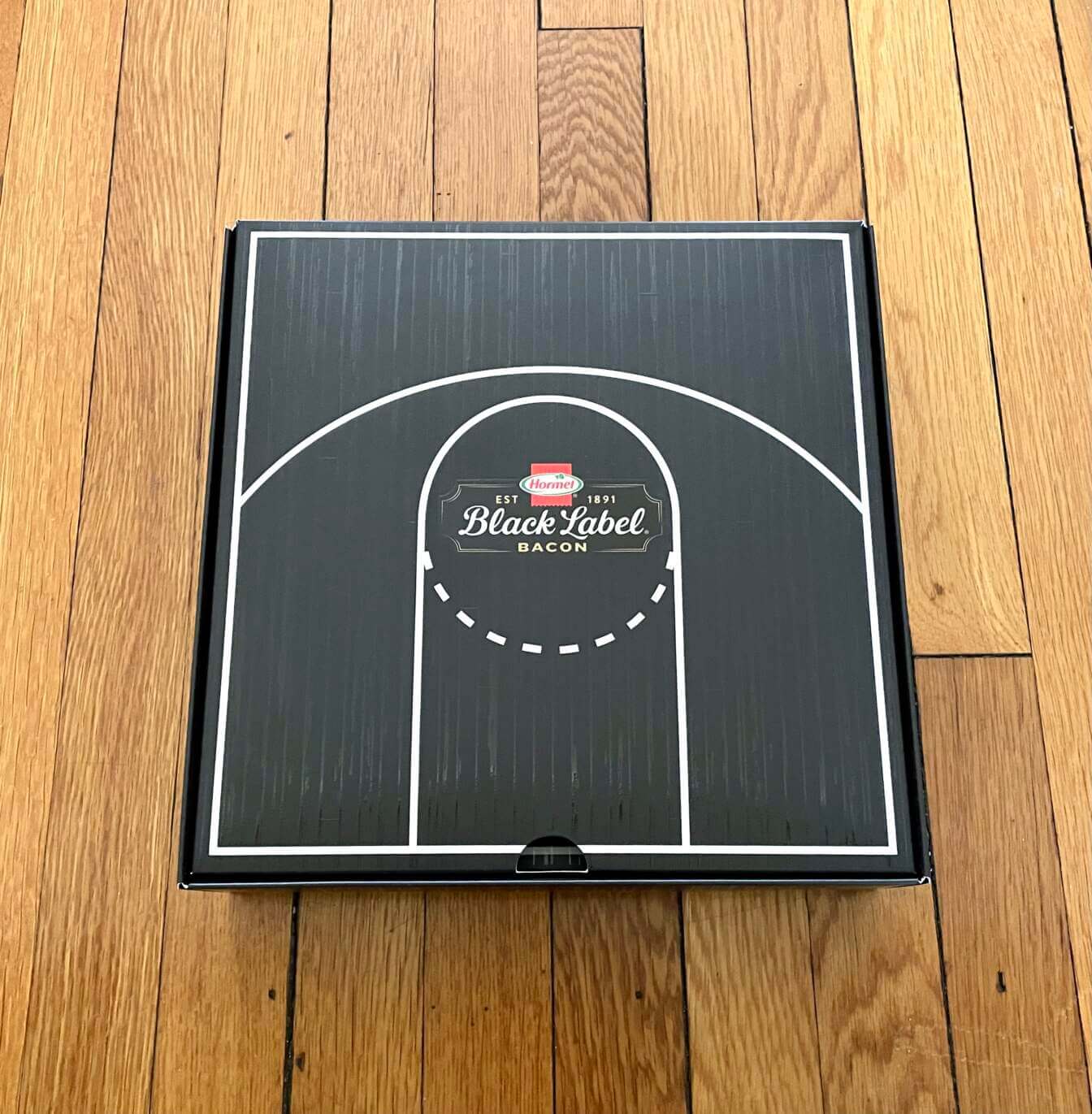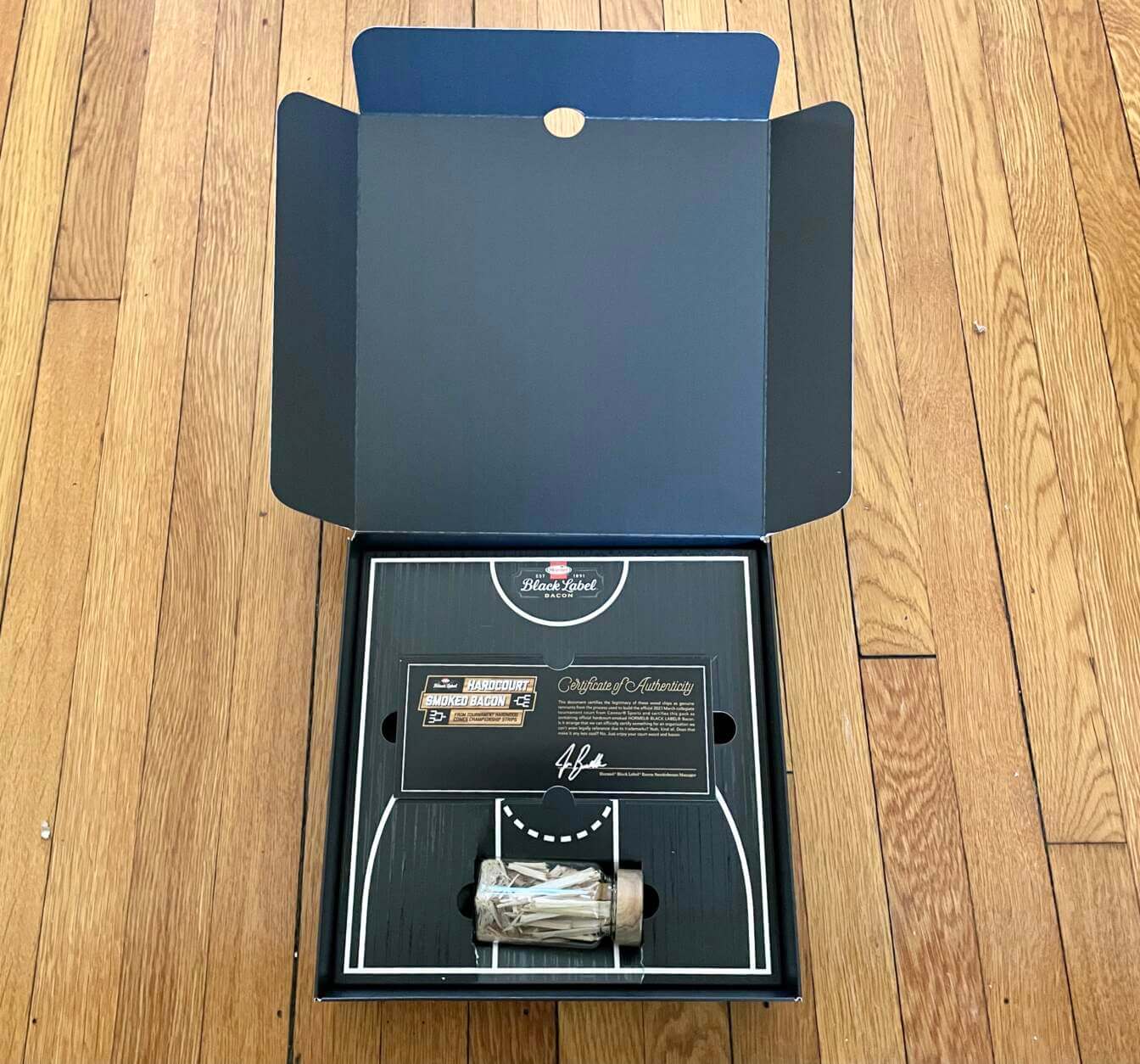 The kit included this little bottle of wood chips, made from the same Final Four court scraps over which the bacon was smoked: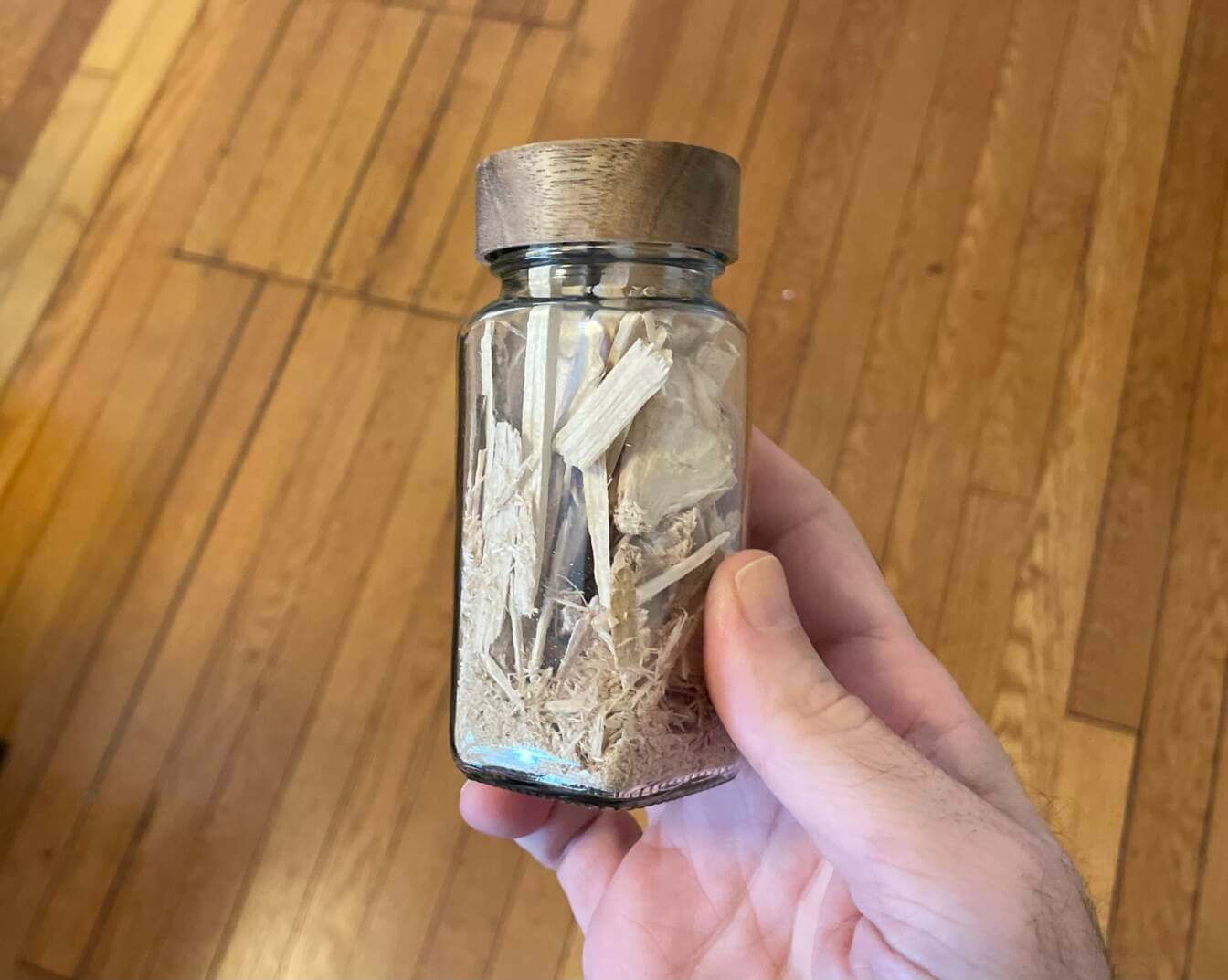 There was also this cover letter: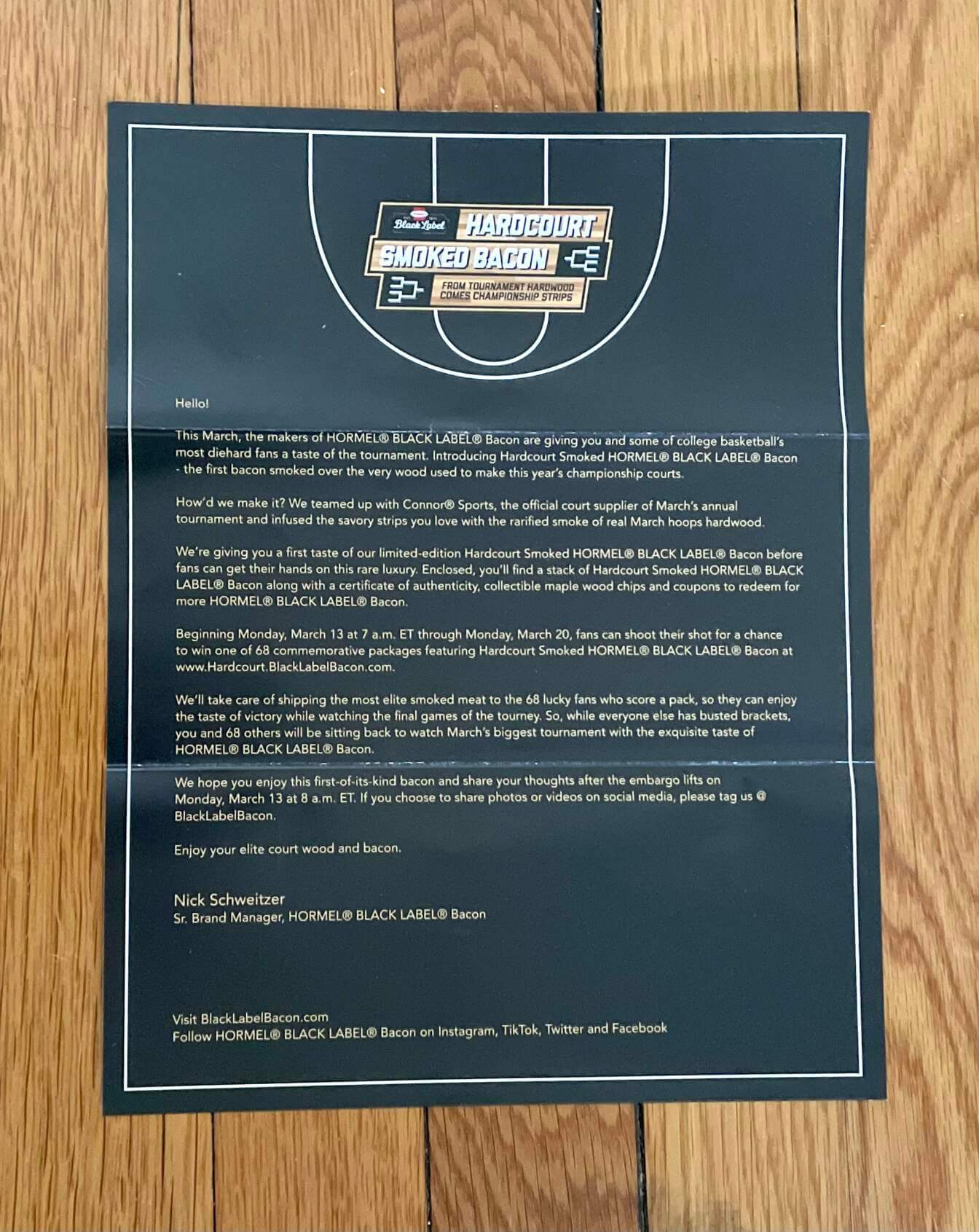 And this certificate of authenticity: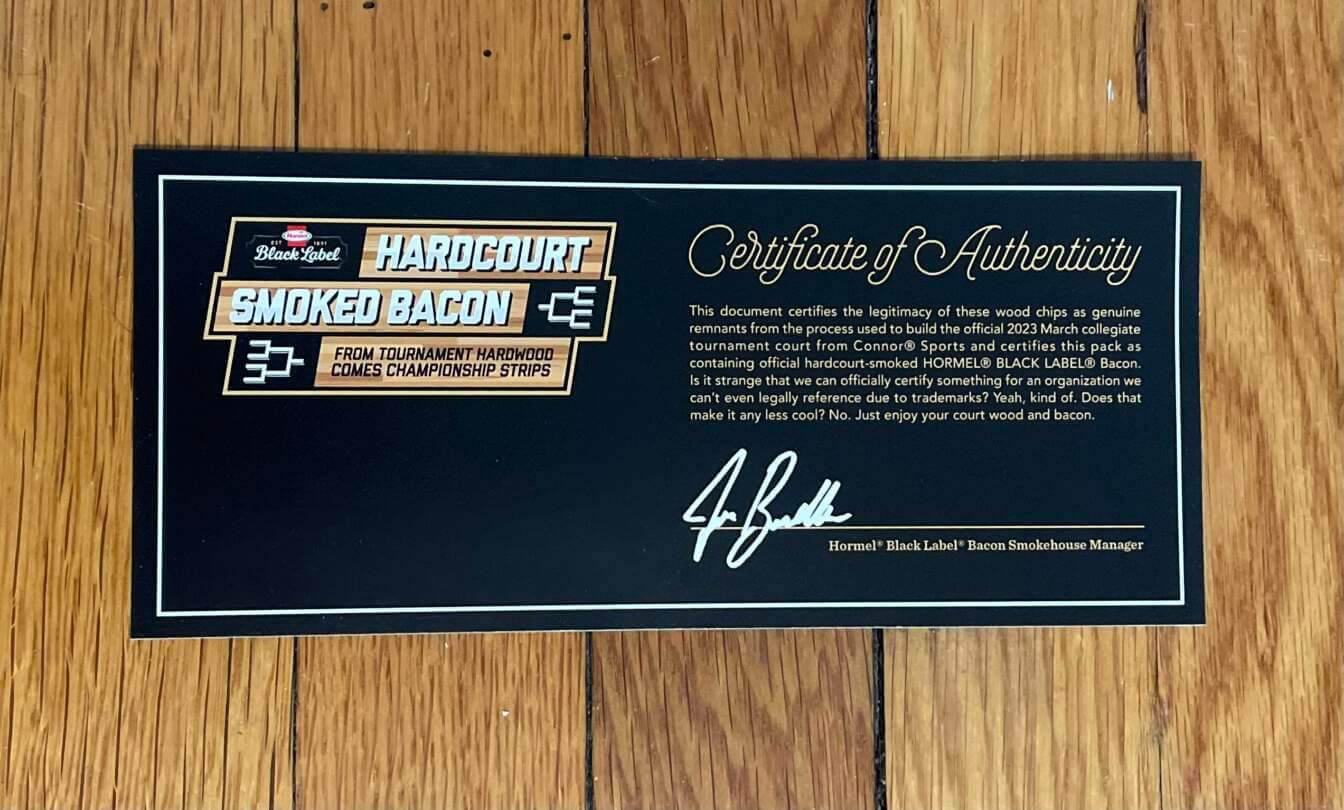 In case that's hard to read, here's what it says:
This document confirms the legitimacy of these wood chips as genuine remnants from the process used to build the official 2023 March collegiate tournament court from Connor® Sports and certifies this pack as containing official hardcourt-smoked HORMEL® BLACK LABEL® Bacon. Is it strange that we can officially certify something for an organization we can't even legally reference due to trademark? Yeah, kind of. Does that make it any less cool? No. Just enjoy your court wood and bacon.
There were also two coupons, each good for a free pack of Hormel bacon, up to $7.99: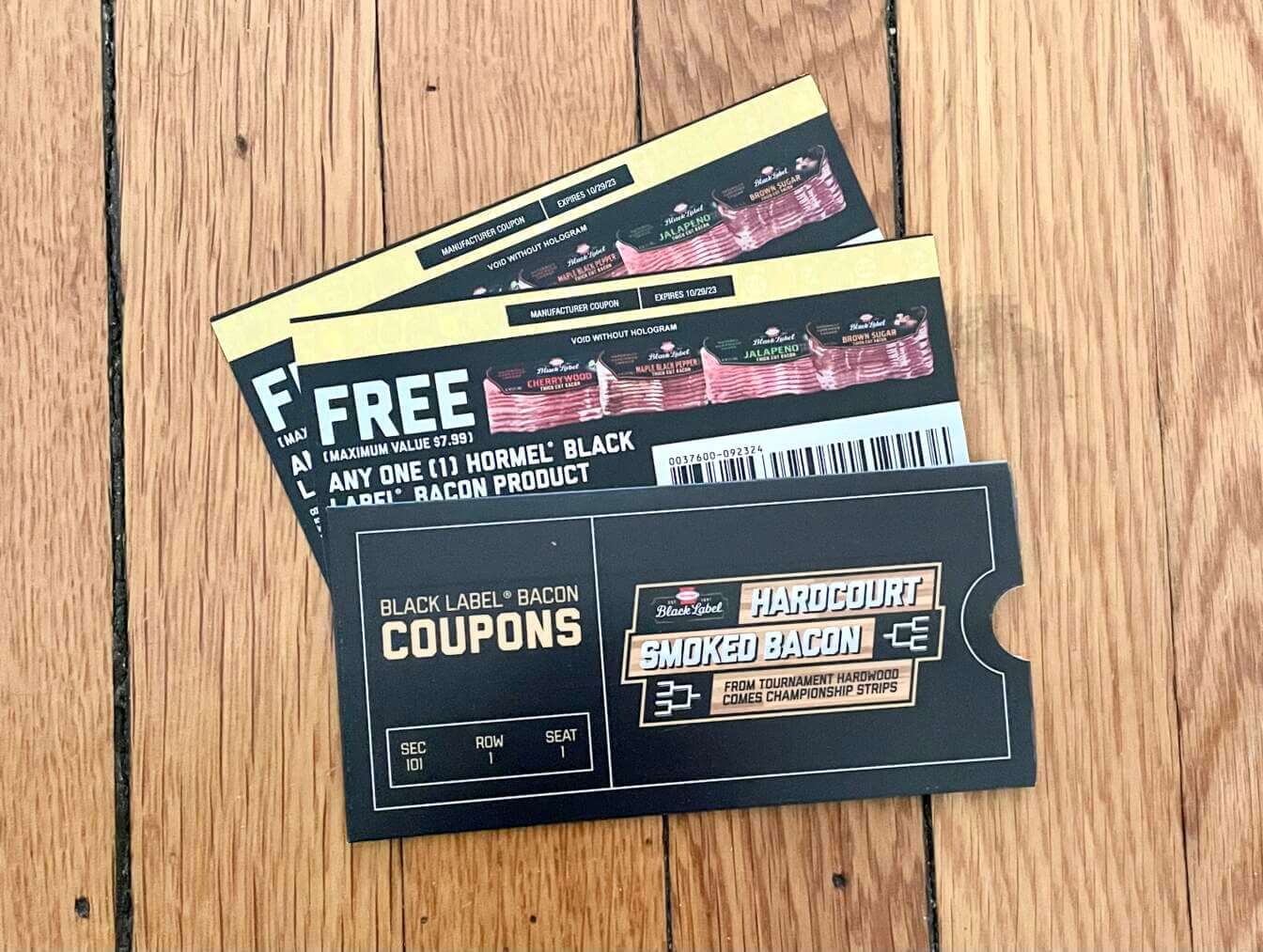 The coupons were handy to have, because my plan all along was to do a blind taste test comparing the Final Four bacon to other Hormel bacon, so I figured I could use the coupons to procure the comparison product. But that turned out to be trickier than I expected, because the Final Four bacon is packaged in a stack pack, while the only Hormel bacon I could find in the supermarkets near Uni Watch HQ came in shingle packs: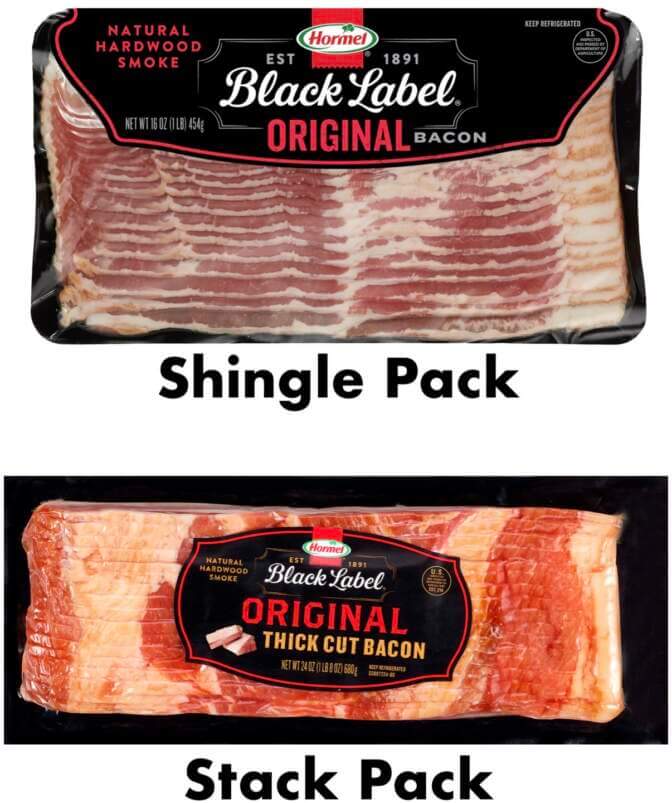 Why does that matter? Because Hormel's stack-packed bacon, including the Final Four pack they sent me, is thick-cut, so taste-testing it against the thinner shingle-packed bacon wouldn't be a fair apples-to-apples comparison. After consulting Hormel's website, I learned that their stack-packed product isn't available anywhere in NYC, a ruinous state of affairs that threatened to scuttle my taste test before it started. What to do?
Fortunately, I already had to attend an activity New Jersey on Saturday (I'll have more on that in a separate post), so along the way I stopped at an NJ supermarket and was able to procure two varieties of Hormel stack-packed bacon to go along with the Final Four variety: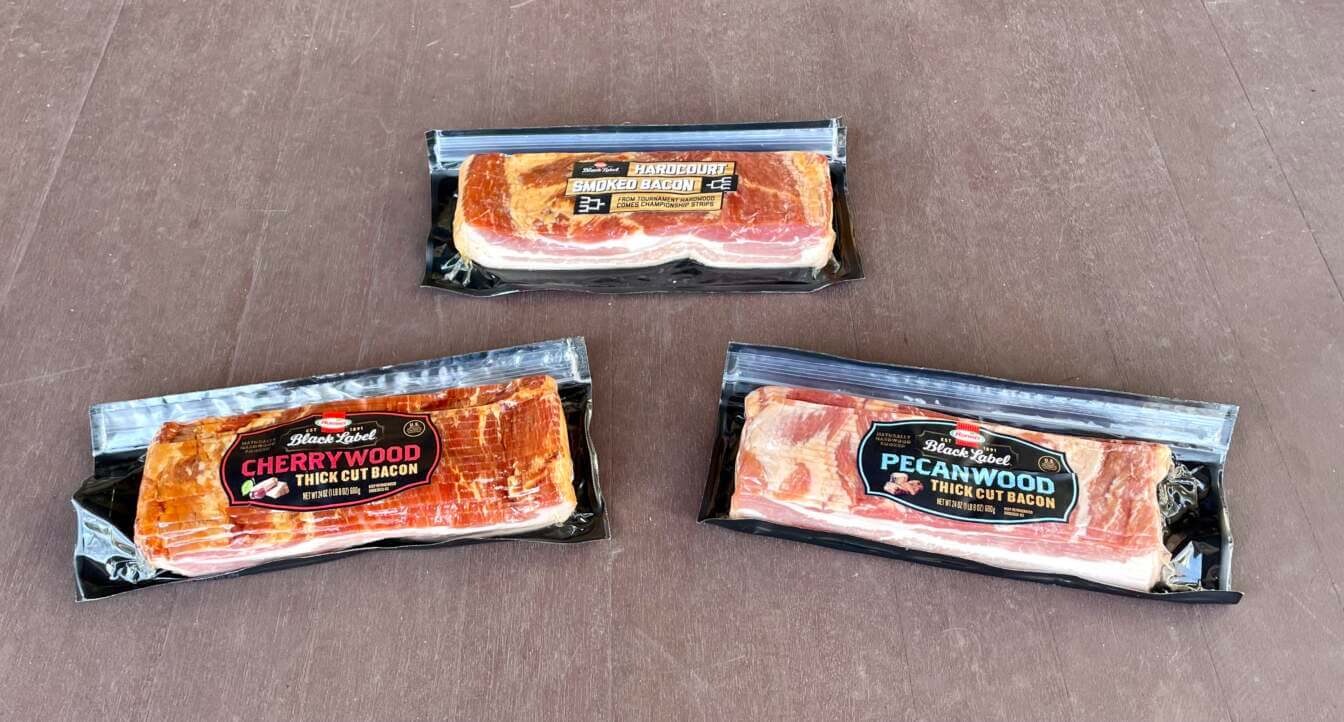 I'm really happy about the three varieties, because they represent three different smoking woods: maple (for the Final Four bacon), cherry, and pecan. Will they really taste any different? If so, which one will be best?
Now that I'm fully stocked with taste-testables, it's time to focus on the logistics of the test itself — and that's where you folks come in, because I'm going to need some help.
First, I've decided to have a Uni Watch reader join me on the tasting panel. If you'd like to be considered for this gig, you must meet three requirements:
You must love bacon.
You must not be allergic to cats.
You must be able to be at Uni Watch HQ this Sunday, April 2, at 2pm Eastern. (If you live in NYC, that's great. If you live far away and can travel to Brooklyn, that's great too. Either way, just be prepared to be on my doorstep at 2pm Sunday.)
If that sounds like you, send an email here and tell me why I should pick you.
In addition, since this is a blind taste test, I'm also going to need someone to cook the bacon while the tasting panel isn't watching, so we won't know which bacon is which. This person must meet the same three requirements as the guest taster and must also be good at cooking bacon. I don't care which method you use — skillet, oven, whatever — as long as you're an experienced and competent bacon chef. (You'll also get to eat some bacon, although you won't be part of the official tasting panel because you'll know which bacon is which.) If you'd like to apply, send an email here and tell me why I should pick you.
Finally, since the chef and tasting panel will be busy with their official duties, I'd also like to have someone on hand to document the proceedings by shooting photos and videos. Same basic prerequisites, except that you must also be adept at creating visual content in an apartment with really shitty natural light. If you're game for that challenge, send an email here and tell me why I should pick you.
I'll take applications for all three positions up until 9pm Eastern tomorrow and announce my selections on Wednesday. Then we'll conduct the taste test this Sunday and I'll publish a full report next Monday, April 3 — the date of the men's NCAA championship game. Should be fun!