[Today we have a Part 2 of a guest article from our own Anthony Emerson, who is going to take a look at the uniforms for the World Baseball Classic. Last weekend we looked at the unis of the teams involved in Pools A & B, and today we conclude with Pools C & D. Enjoy! — PH]
Here is Part 2 of our review of the 2023 World Baseball Classic unis. Part 1 can be found here. Today, we've got some heavy hitters, including the USA, Puerto Rico and the Dominican Republic.
Pool C
Mexico
Mexico has some of the very best unis in pool C — colorful without being ostentatious, and unique as one of only two teams in the entire tournament to feature green (Australia is the other). The white uni is also quite nice, as is the light blue and pink, which is certainly unique in the entirety of baseball, let alone the WBC. The unis do suffer from having Microsoft Word-esque NOBs and uni numbers, but a lot of teams are suffering from that at this WBC. Overall: A.
United States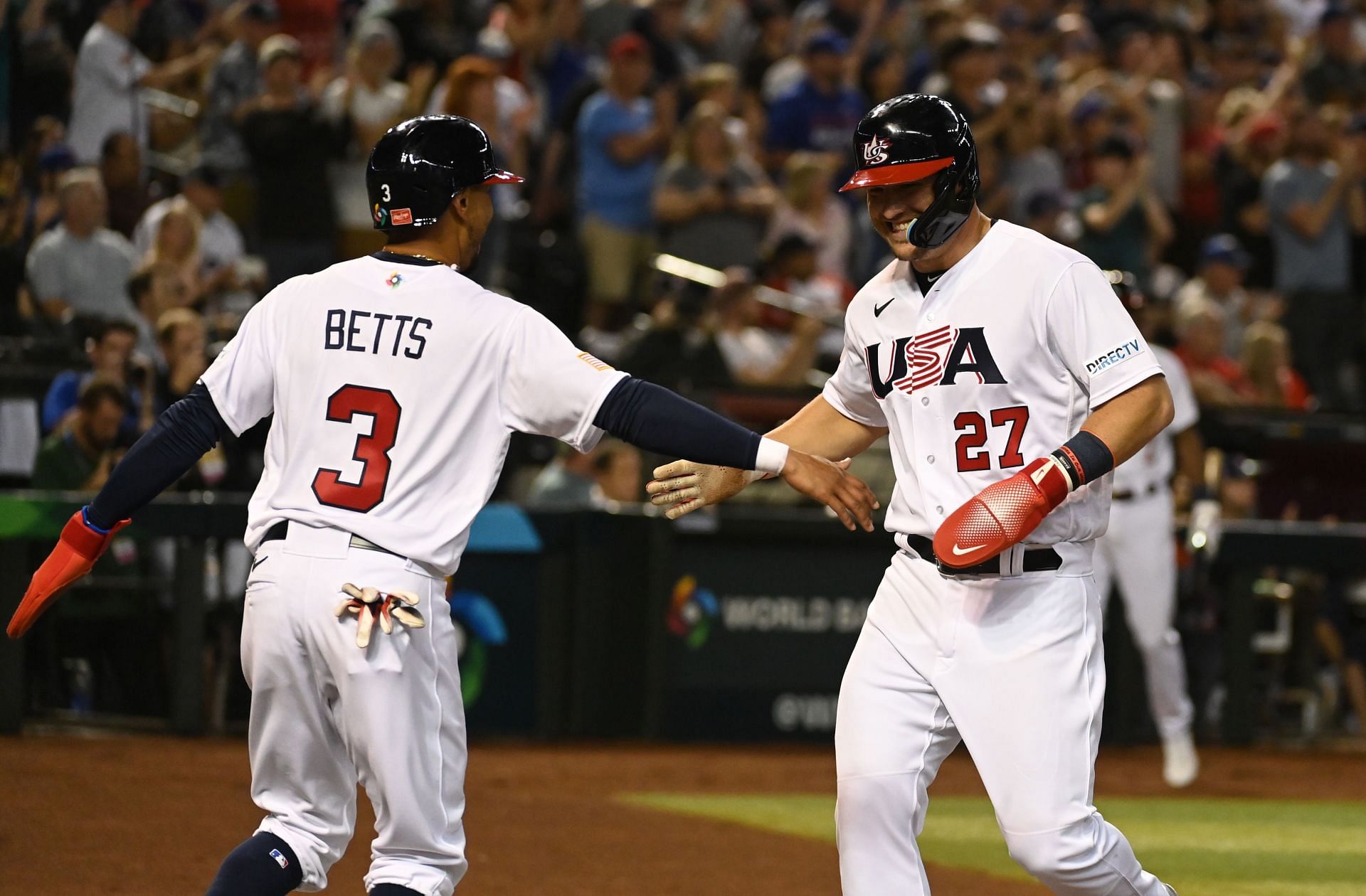 The defending World Baseball Classic champs haven't ever really changed their uniforms since the inaugural WBC in 2006. It's fine, I guess. There just seems to be so much more you could do with this — maybe a fauxback inspired by the 1934 US tour of Japan unis, or anything involving that "US" cap logo. The current cap logo itself feels dated. Something about it screams late-90s to me.
Unlike the past WBC, the USA's gray "road" uniform is lighter than the one worn back in 2017. Overall: C+. Nothing outright offensive but it feels like we should see more from the Americans.
Canada

Oh, Canada. I feel like I should give them credit for at least trying something new (this photo comes from a game against the British, whom we will get to in due time), but why is that wordmark so small? Why is the front number so small and close to the wordmark ? What is going on with that truncated collar? What's going on with those truncated pant stripes? And if you think the greys are better, allow me to disabuse you of that notion. Worst of all, the previous Canadian WBC unis were fine. Nothing spectacular, but nothing obviously wrong.
The real nail in the coffin for these is that inexplicably tiny wordmark though. You know it's bad when the wordmark on the coaching staff's windbreakers appears to be bigger than the wordmark on the actual jerseys. I'm sorry, but how did this get approved? It looks like a manufacturing error. Overall: D-, they get extra credit for at least trying something different.
Colombia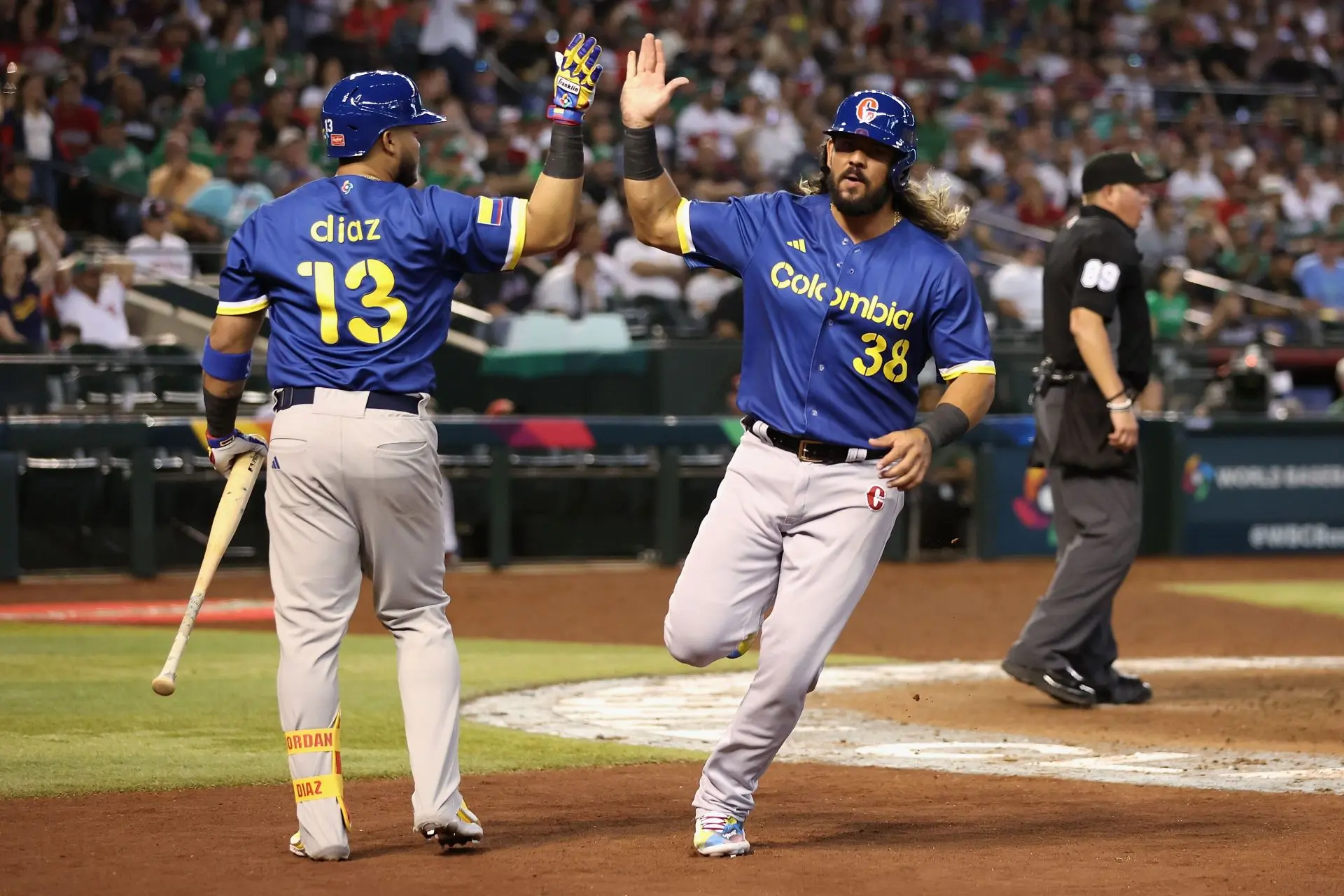 Oh my god, a team actually putting some thought into how the NOBs and uni numbers look! Colombia gets points for that, leaving aside how they look (which is not great, but still). I do like the wordmark, though the total absence of red on the jerseys isn't a great choice — it makes the pant leg logo stand out more, and not in a good way. Speaking of, I do like that Colombia added a pant leg logo. I feel more teams should do that — I really like it for the Cubs, I like it for Puerto Rico, and I like it here. There's also a yellow jersey with white pants — that shot shows that the sleeve cuff striping doesn't go all the way around the sleeve, which I don't like. It probably has to do with the template Adidas is using but how hard would it have been to extend that all the way around? And I'm not sure I dig the cap and pant leg logo being so different from the overall uni design. Overall: B.
Great Britian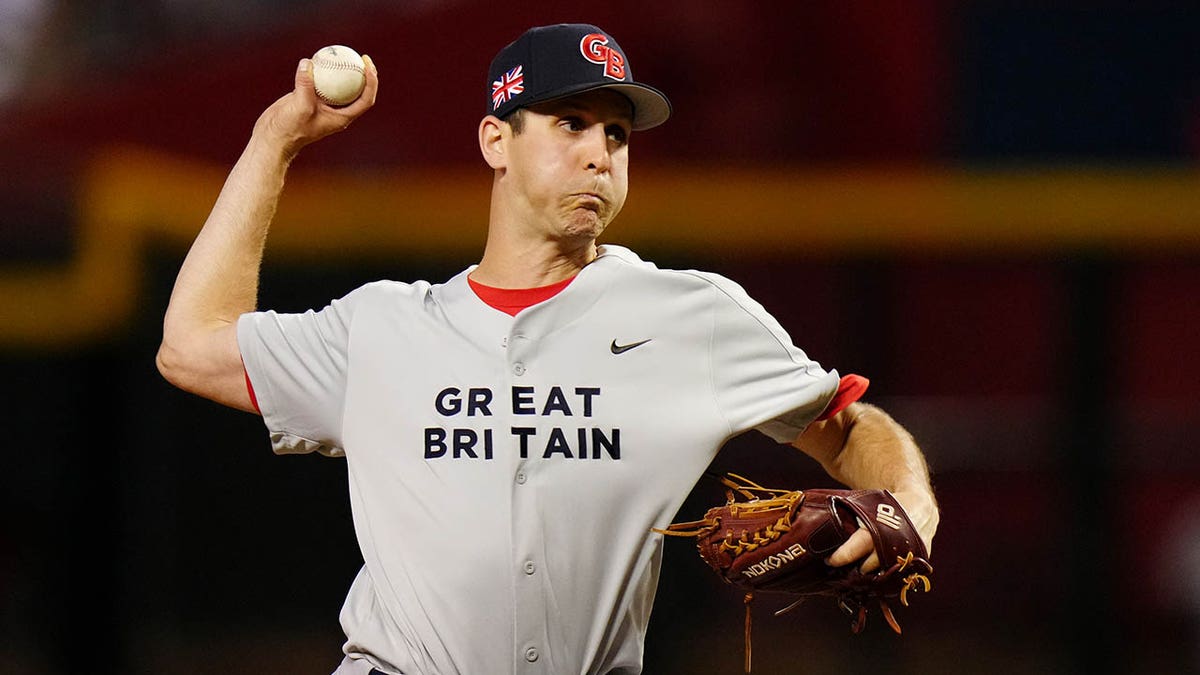 I'll be the hundredth person to make a "not so great Britain" joke. But what happened here? Nothing like putting your wordmark in Arial Black and then saying "I guess this suffices." To make matters worse, P Ian Gibaut lost the "T" in "Great" on his red jersey during their last game, further embarrassing the beleaguered Brits. The red jersey is not much better, but it does look like someone spent five minutes on it as opposed to just one.
During my research for this piece, I came across this image, with multiple photos from the qualifiers, and a much better Great Britain wordmark. How did the actual tournament unis get so messed up? Overall: F.
Pool D
Venezuela
The Venezuelans weren't a pre-tournament favorite despite the nation's rich baseball talent, but they are currently the last remaining undefeated team (at the time of writing). I can already hear the purists saying that these are too busy or that there are too many elements but I'm gonna level with you: I don't care. I love these, and the maroon unis. I love the script (how often do we get a cursive 'z' on a uniform?), I love the sleeve cuff stripes, I love the colors. These unis are fun, electric and vibrant — just like the WBC should be. Overall: A.
Puerto Rico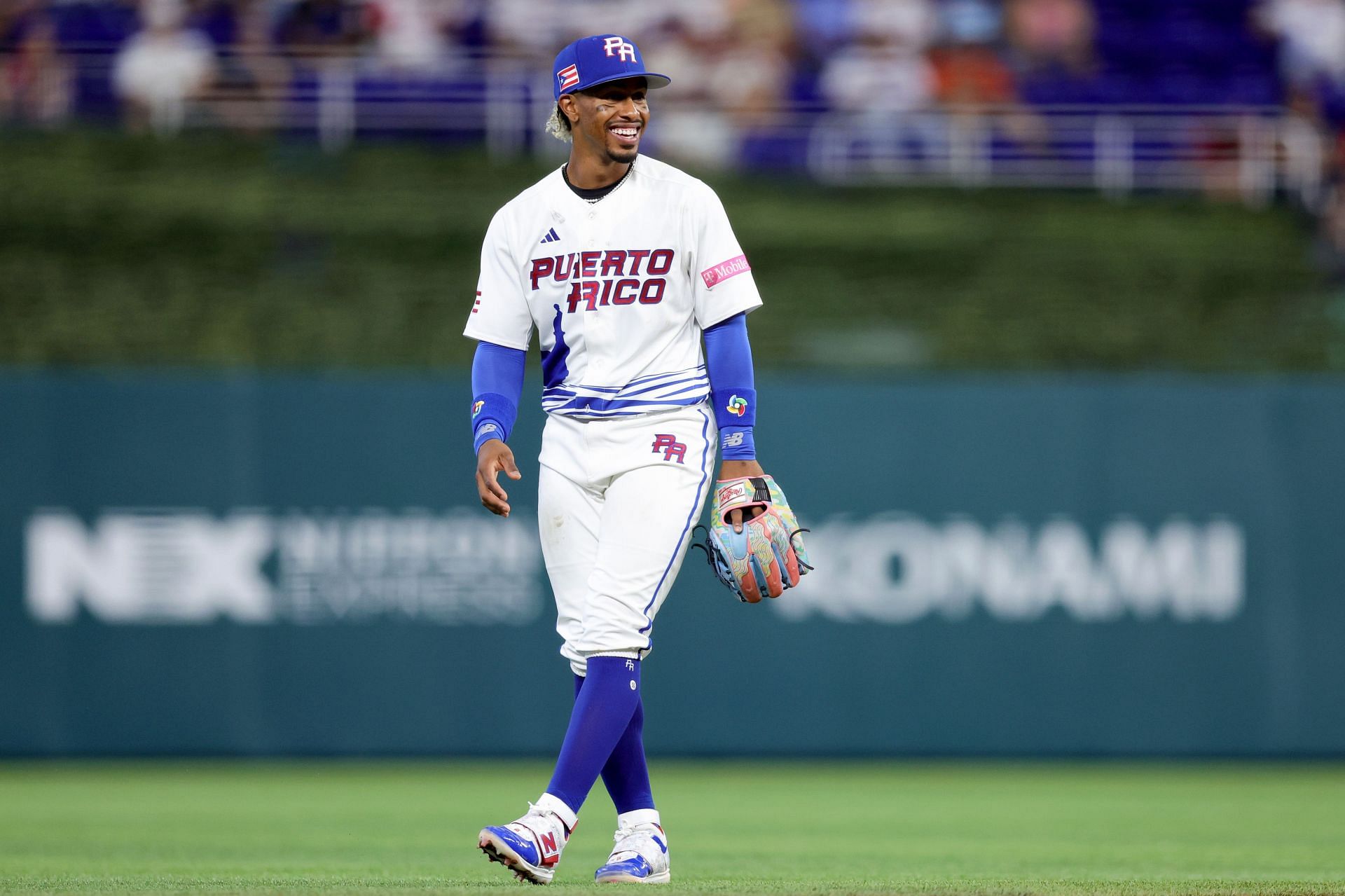 Whether you like these unis comes down to whether you like the waves-and-tower design. And I gotta be honest, I don't. The tower is rendering of the tower of Castillo San Felipe del Morro, a 16th-century citadel built by Spanish colonizers just north of San Juan on the coast of Puerto Rico. It is an iconic landmark of the island, a UNESCO World Heritage site and a US National Historic Landmark, but I don't think it works as an element on a sports jersey, or at least a baseball jersey. Most of the wave effect is also hidden underneath players' pants on the field. I just don't think it really works. There's also a red jersey with no El Morro elements, which is extremely boring. Like Colombia, I do like that Puerto Rico has a pant-leg logo (notably, both PR and Colombia are Adidas teams), and I like that Puerto Rico tried something different, so they get credit for that. Overall: C-.
Dominican Republic

The Dominicans dropped the previous wordmark which was used since the WBC's inception. The new wordmark is certainly less "baseball-y" than the previous one, but for a one-off tournament, I love it. I really like the cuff striping too. The DR also has a gradient jersey, with the opposite gradient of the Cubans'. It is what it is — I don't love it, but I'm certain it's hugely popular among fans. Overall: B-.
Israel
Okay, first thing's first: I love the Star of David cap. It's so simple and perfect it should really become a fashion accessory all on its own. The rest of the uni I'm not feeling so much. I can't decide if these are better than the 2017 unis. I think I like the move to pinstripes but I don't like the move from a script to a wordmark — having a wordmark with inner lining is too busy when on pinstripes, and it hurts the overall readability of the jersey. I do like the new wordmark much more on the blue jerseys, and I do like the striping on the socks, which is only visible on the small handful of players who go high-cuffed. Overall: C-.
Nicaragua

Nicaragua's WBC debut is marred by exceptionally boring unis — the white is an inverse of the blue. A no-frills (unless you count armpit stains) uniform, it's almost difficult to describe this uniform because there's so little to work with. They could've done something with the cap logo and wordmark to salvage some points, but the font used is ugly. At least they're better than the Brits'? Overall: D-.