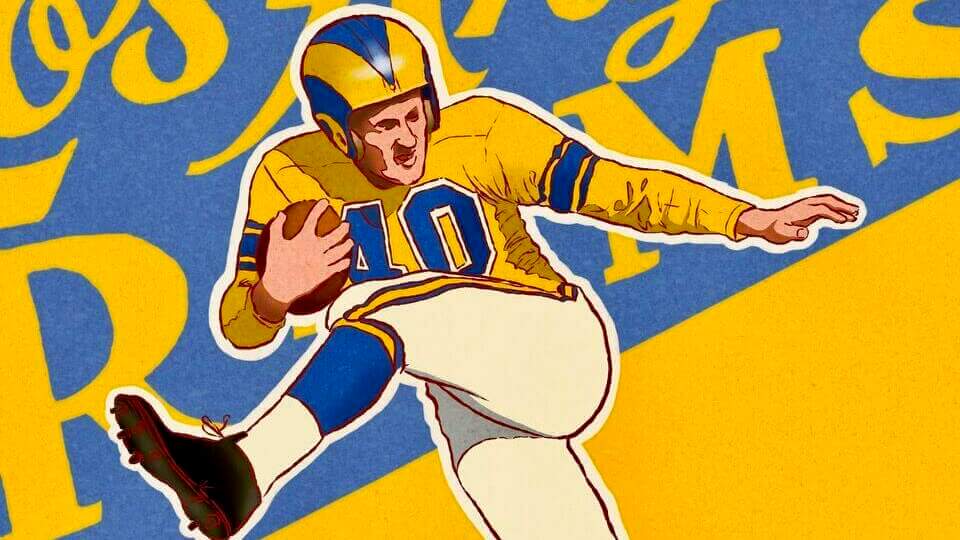 Good Sunday morning, Uni Watchers! Welcome to the shortest day of the year (unless you live in Arizona or Hawai'i) — because most of the rest of the US of A observed Daylight Saving Time at 2:00 am last night. I hope everyone's circadian rhythms get back on track ASAP.
Last weekend, I introduced you to artist Anthony "Ant" Giaccone — if you missed that, click here. In that post I mentioned Anthony has shared with me dozens of pieces of his art, which focus on classic athletes in uniform. We looked at some of the greats of baseball's golden era in that article, and today Anthony returns with a focus on football stars from the mid-twentieth century. I'm sure you'll be familiar with all the names. Classicists like myself will hark back to the time when many teams wore their best-ever uniforms. I particularly like Anthony's renderings, especially — as you'll soon see — how he tailors the unis to show mud and dirt and grime and the effects of play on gridiron fields that weren't as well manicured as those of today. I'm especially enamored of his sketch of Paul Hornung with his pants completely covered in mud! Looks like he just spent an hour on the frozen tundra muck of Lambeau!
So, without further ado, please welcome back Anthony as today we cover…
• • • • •
Football's Gridiron Greats
by Anthony "Ant" Giaccone
Each of these drawings have a few common things in common: each is a full body shot. Each was chosen for the classic uniform they wore. Each has a time period appropriate pennant representing the team.
__________
Fran Tarkenton: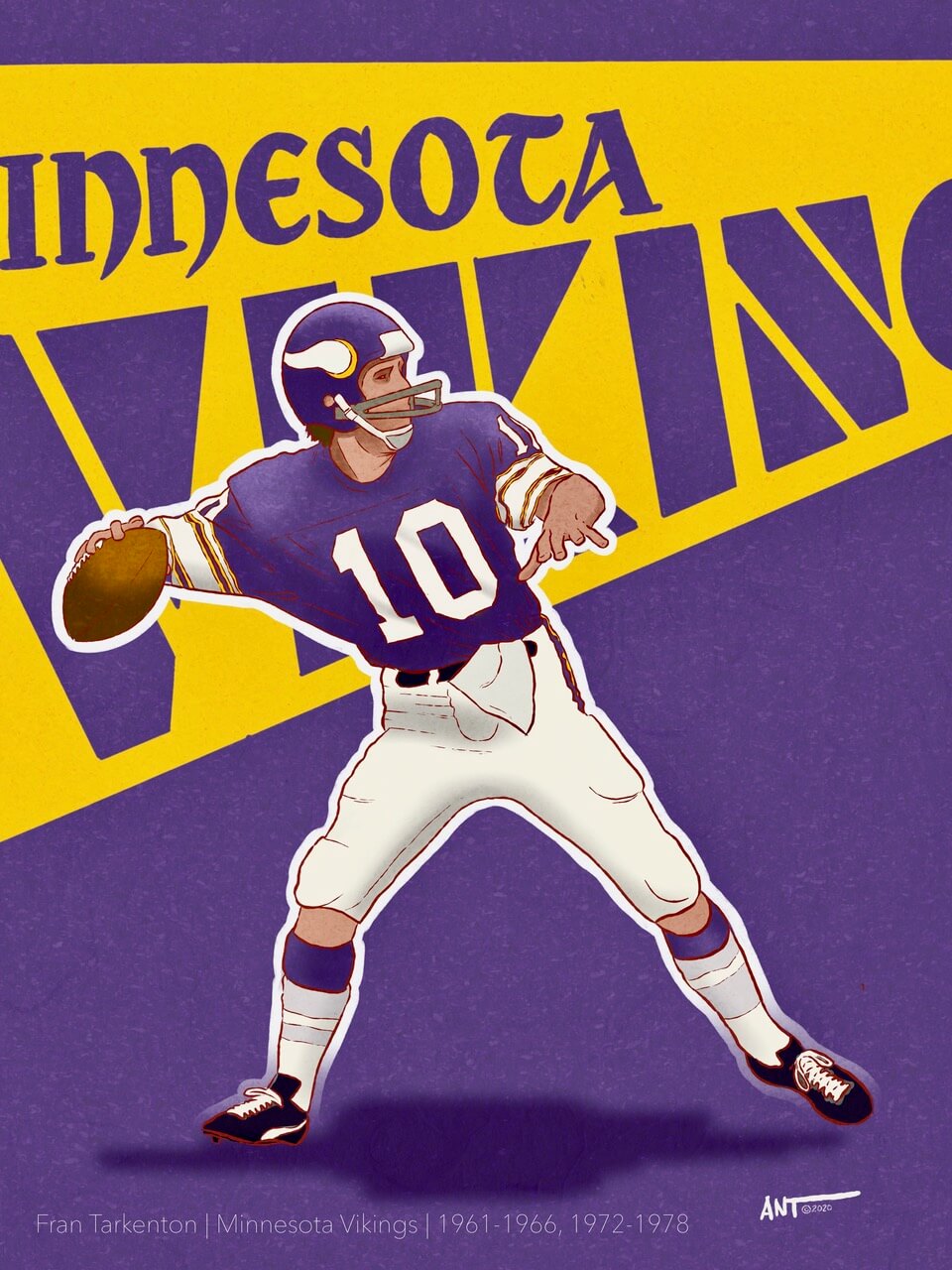 I choose Fran because I really loved the old Vikings uniform and simple round helmet. The stripes on the shoulders are just very striking — especially considering the way uniforms are designed today, you don't really get to see that anymore. This is Tarkenton from his rookie year in 1961. He was the first player in NFL history to pass for 4 touchdowns in his first game.
__________
Johnny Unitas: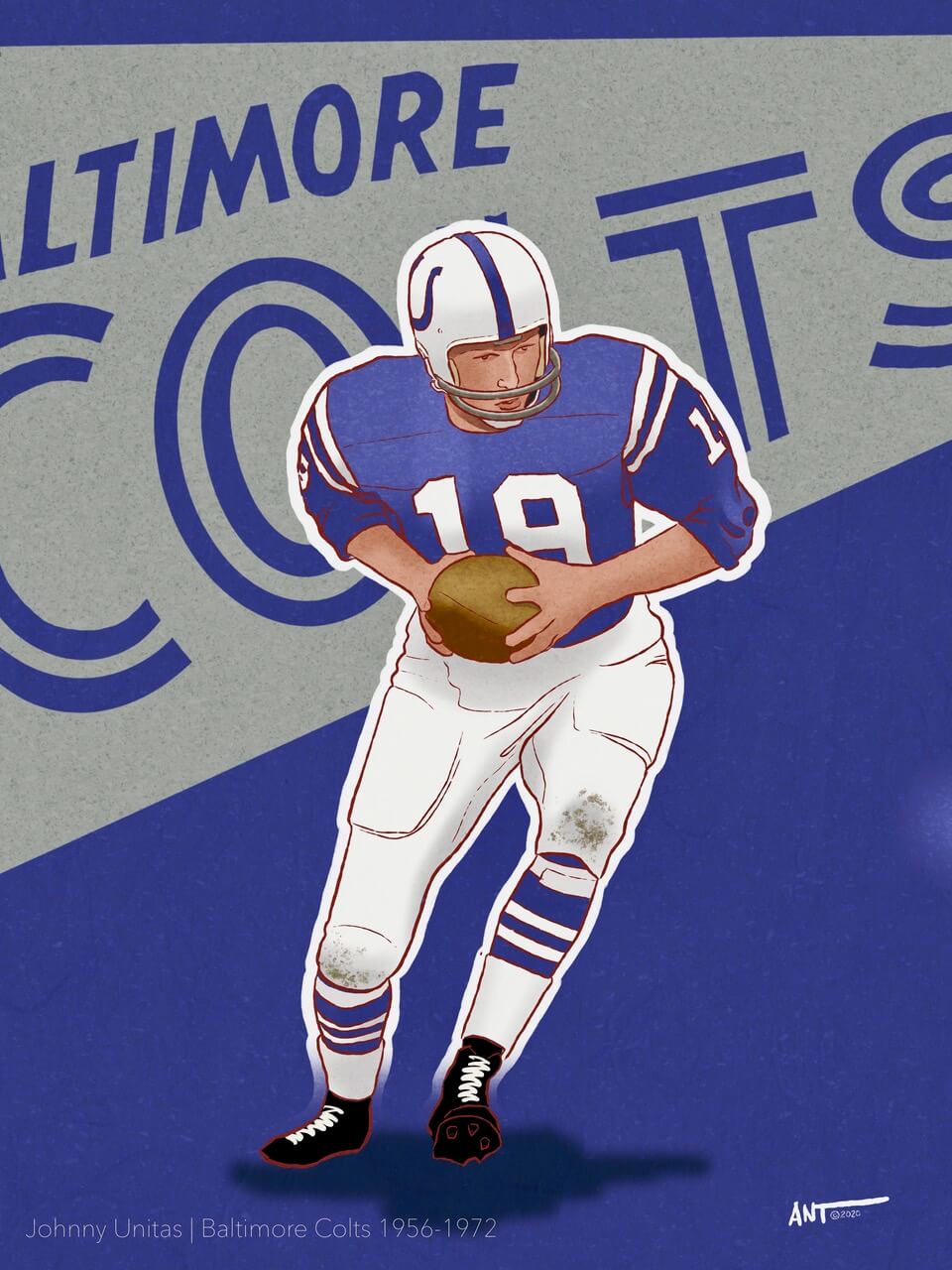 Johnny U was picked again because of the jersey. The 3/4 length sleeve is almost forgotten today. Not to mention the socks With two pairs being worn one over the other…and his high top black leather cleats.
__________
Archie Manning: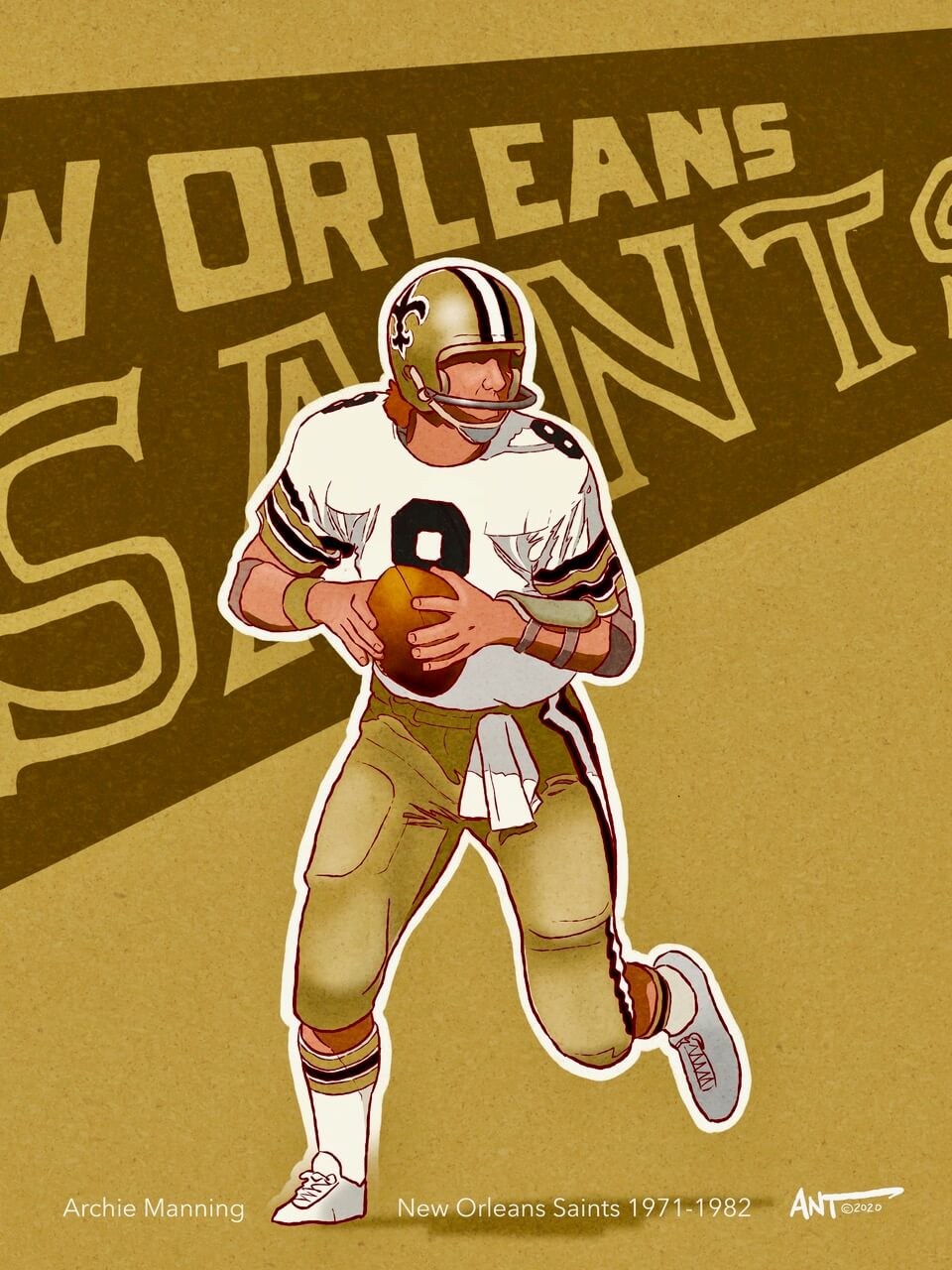 One of my best friends was born, raised, and resides in New Orleans. Needless to say, Archie is a patron Saint (pun totally intended) of The Big Easy. I choose to draw this uniform design based on that awesome jersey and bold stripes on the sleeve.
__________
Ken Anderson: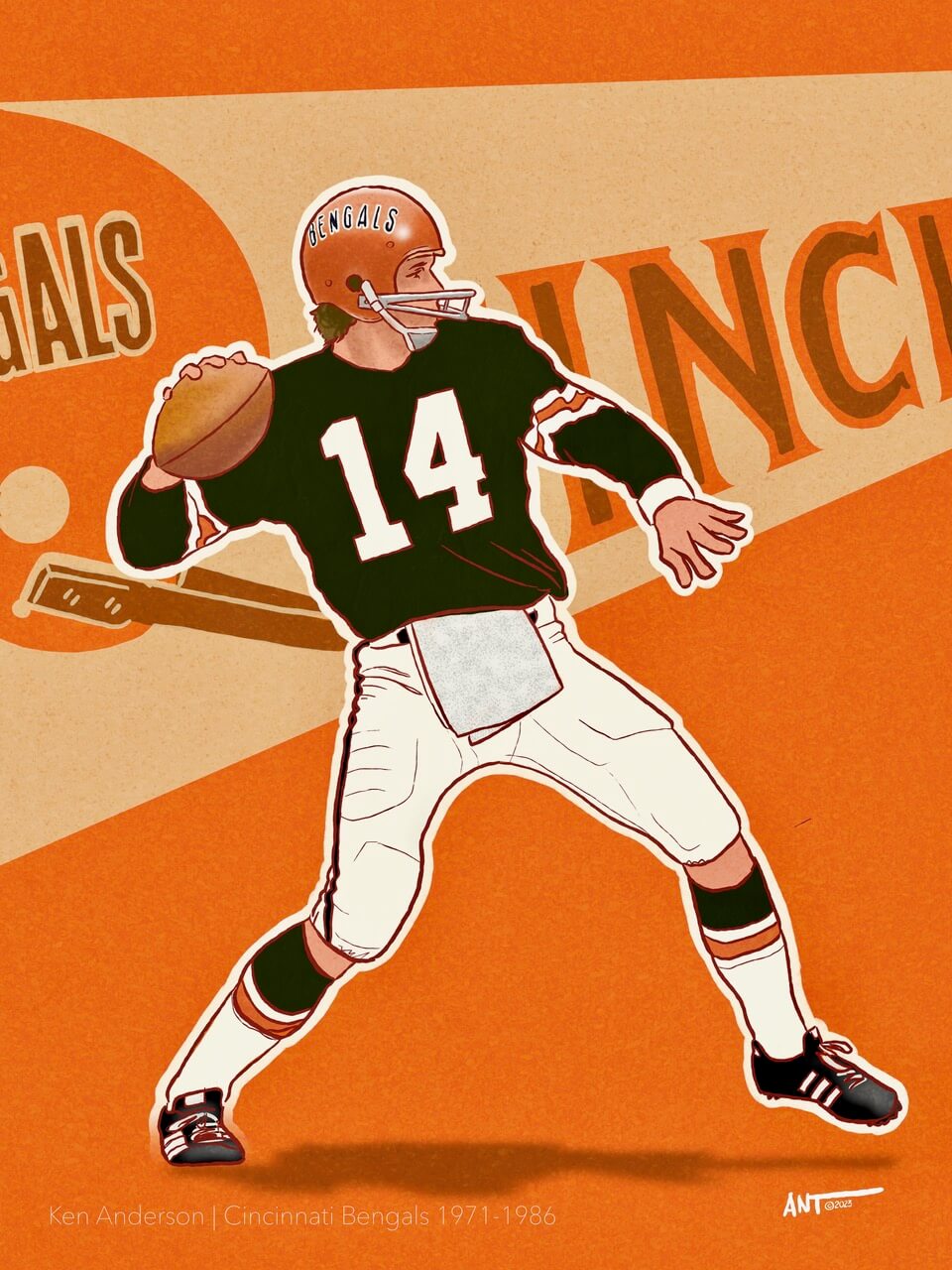 So if Johnny U was wearing 3/4 length sleeves, we have a shot of Ken Anderson in 1973 wearing the original Bengals home uniform, used from 1968-1980: black jerseys with orange and white stripes, white pants with orange and black stripes, striped socks, all orange helmet with the name Bengals on the side. I might be in the minority when I say, "sometimes less is more".
__________
Joe Greene: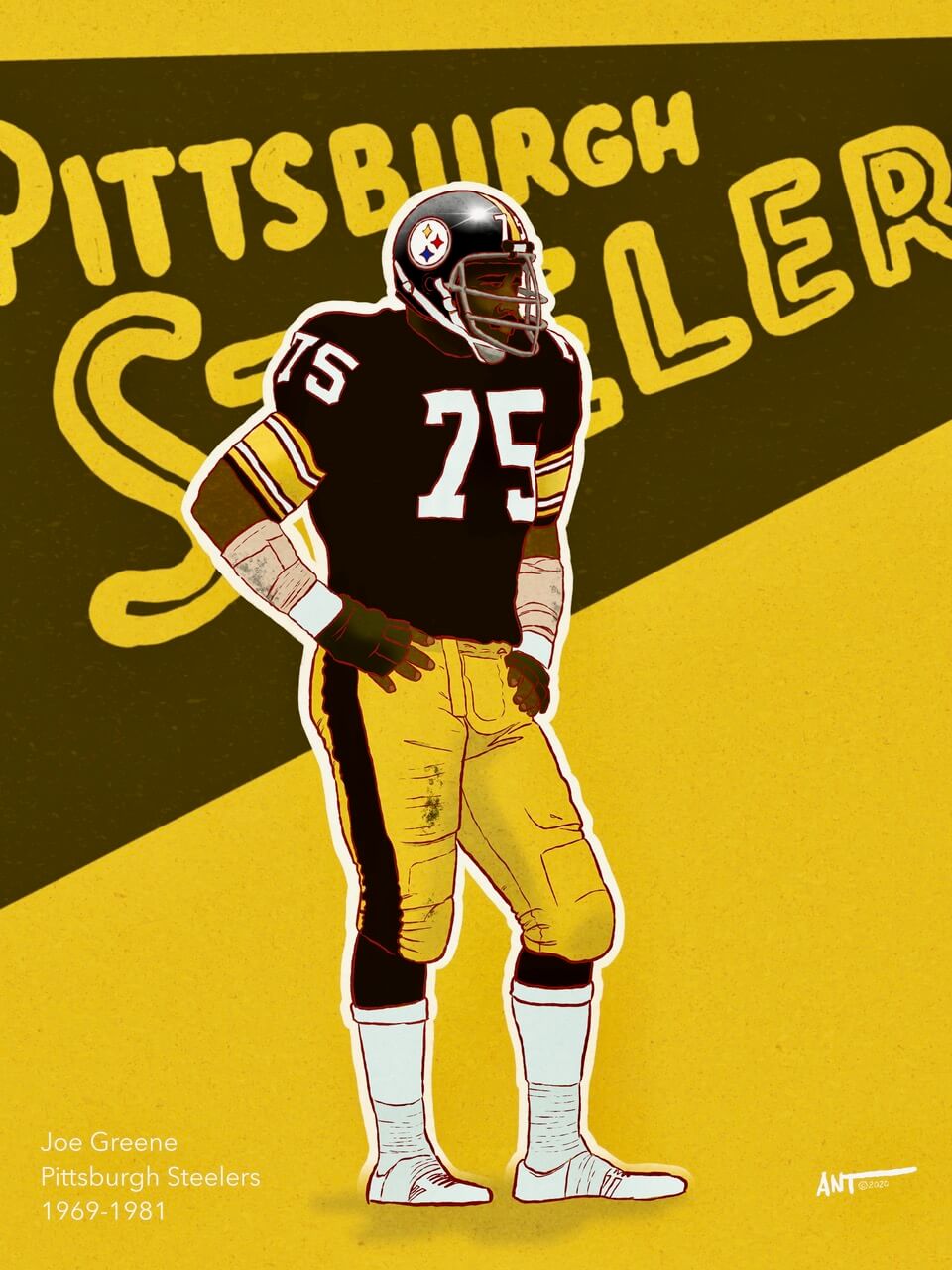 Two words: "Block Numbers". To me this is the all-time classic Steelers uniform. The Sans-serif Italic number font should be banned. But that's just me. This drawing of "Mean Joe" is most likely from 1975. No matter how you draw him, he always looks imposing — even standing still. Fun Fact: in 1936 the Steelers went to a jersey that featured Northwestern Striping on each sleeve, the same design that graces the uniforms today.
__________
Elroy Hirsh: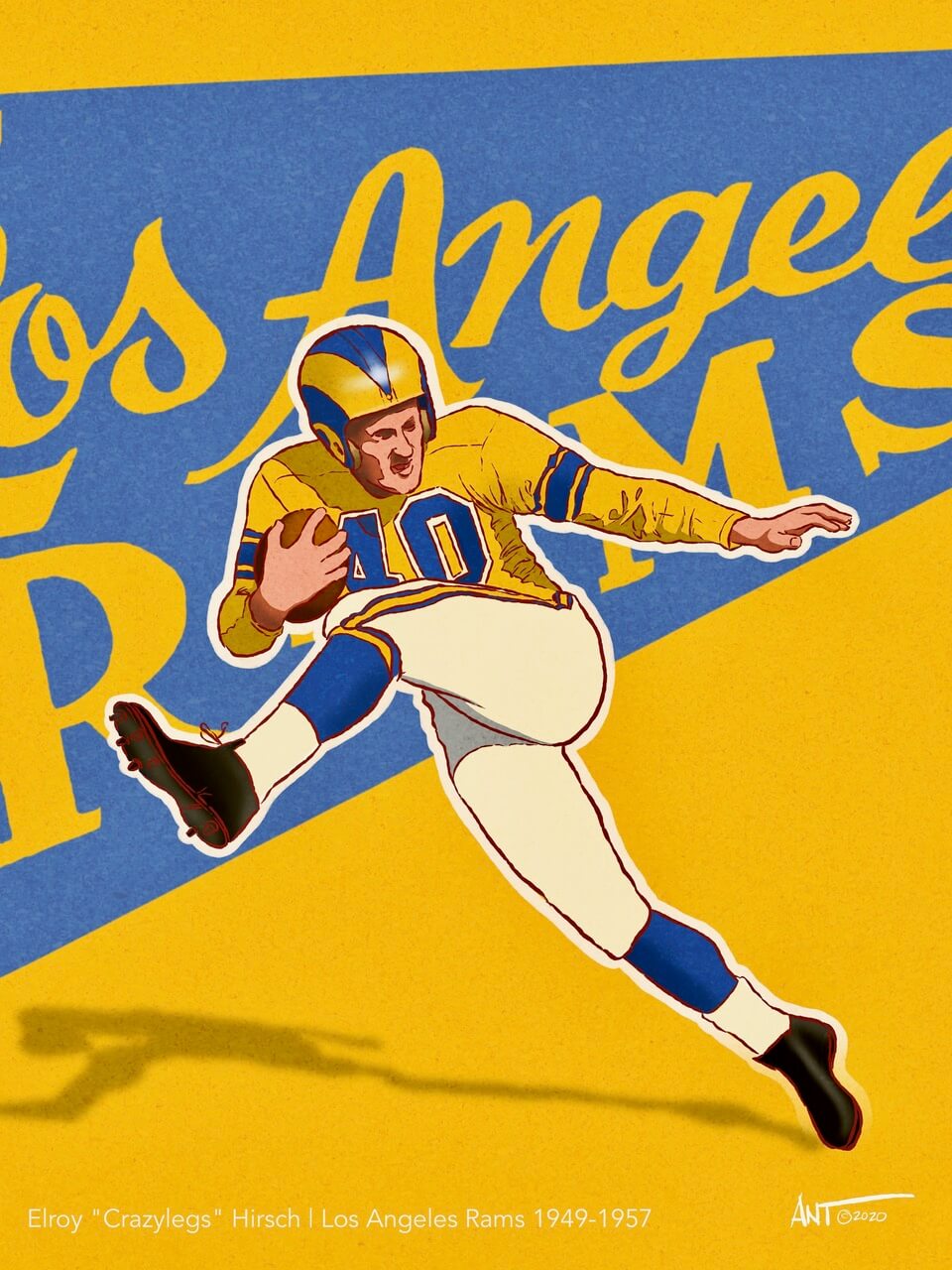 By now you can see that I have a fondness for old-school retro nostalgic images. This classic image of "Crazy Legs" is from 1953. The Rams uniform is now iconic, but the yellow jersey and hand painted rams horns have a very post-war Southern California "look". From what I found on the gridiron database (when searching the colors to draw from a black and white photo), the 1953 Rams only wore this jersey — both home and away.
__________
Dick Butkus: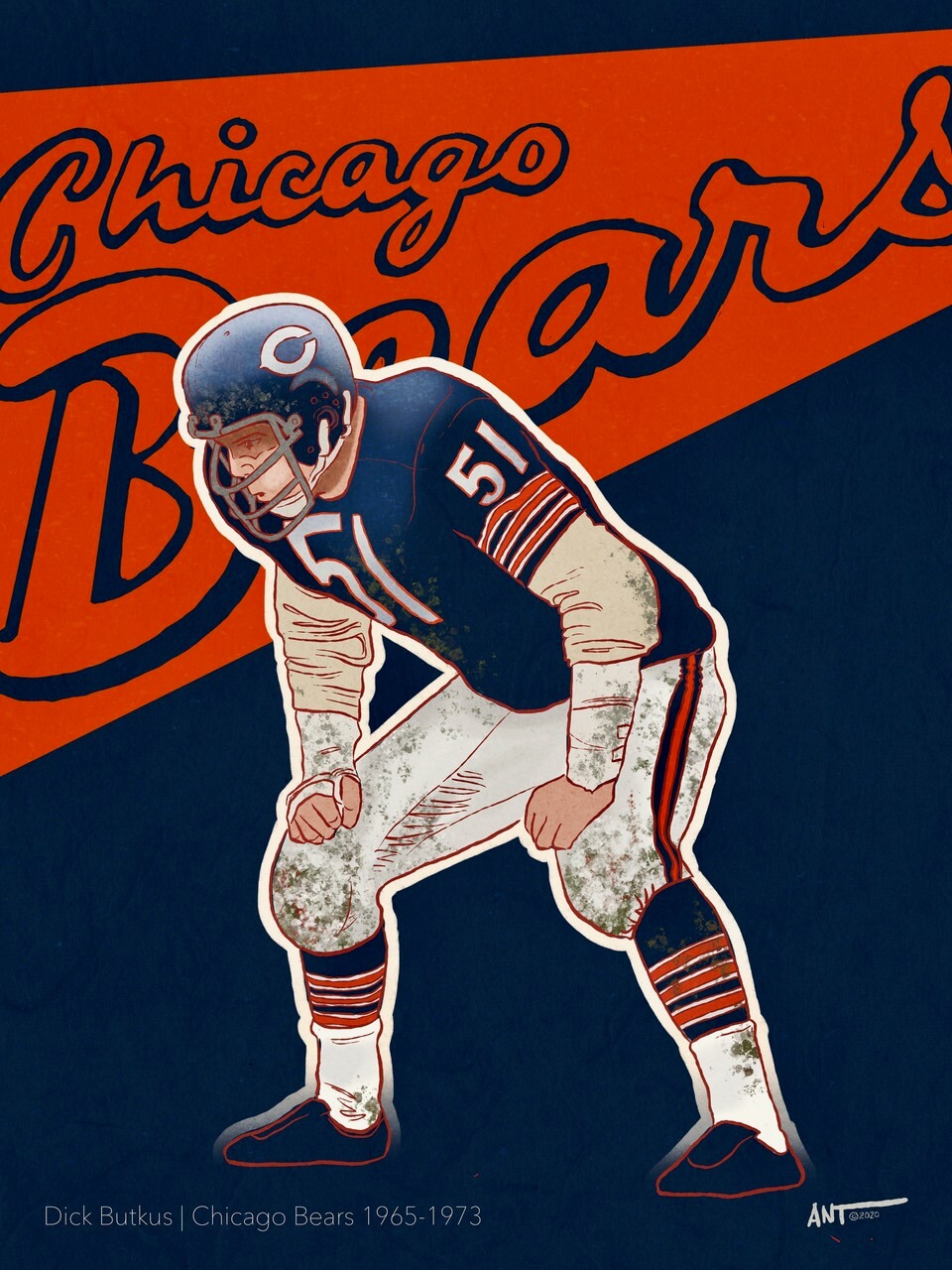 This was a fun drawing to do. It's an image of a ready-to-destroy Dick Butkus in a timeless Bears home jersey from circa 1968/1969. (Before they ruined it with the perpetual GSH on the sleeve). Add a little bit of mud, grass, and blood on this iconic uniform, and you get an image of what is considered classic Butkus in his prime.
__________
Joe Namath: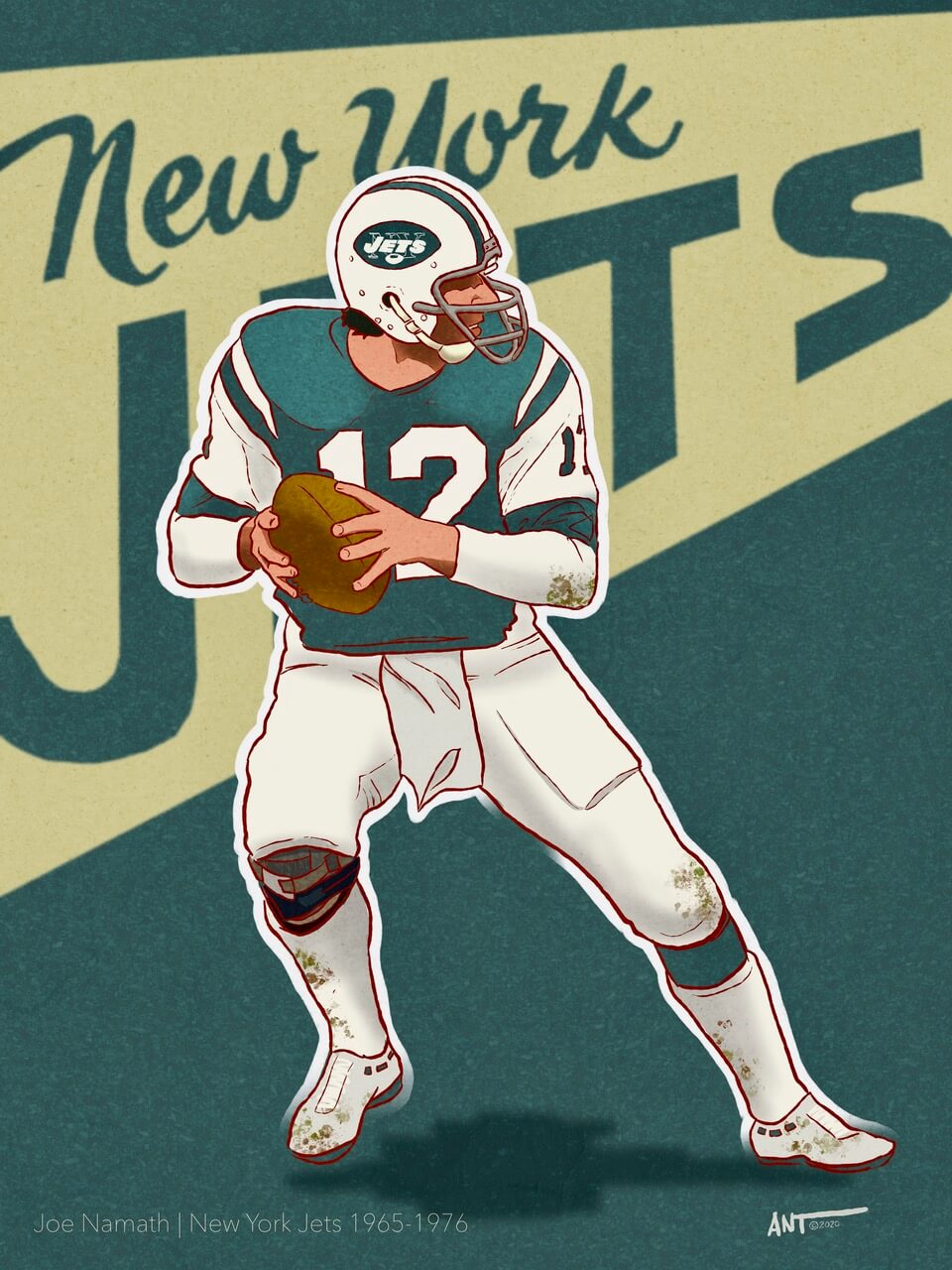 Broadway Joe was a request from a friend who is a long suffering Jets fan. To me, seeing Joe Namath drop back to pass is a signature pose. The old-school 1969 jerseys that had actual sleeves showcased what I feel is a cool looking set of stripes with the number being contained within the larger white stripe. It's the "'67 Ford Mustang" of Jets uniforms.
__________
Paul Hornung: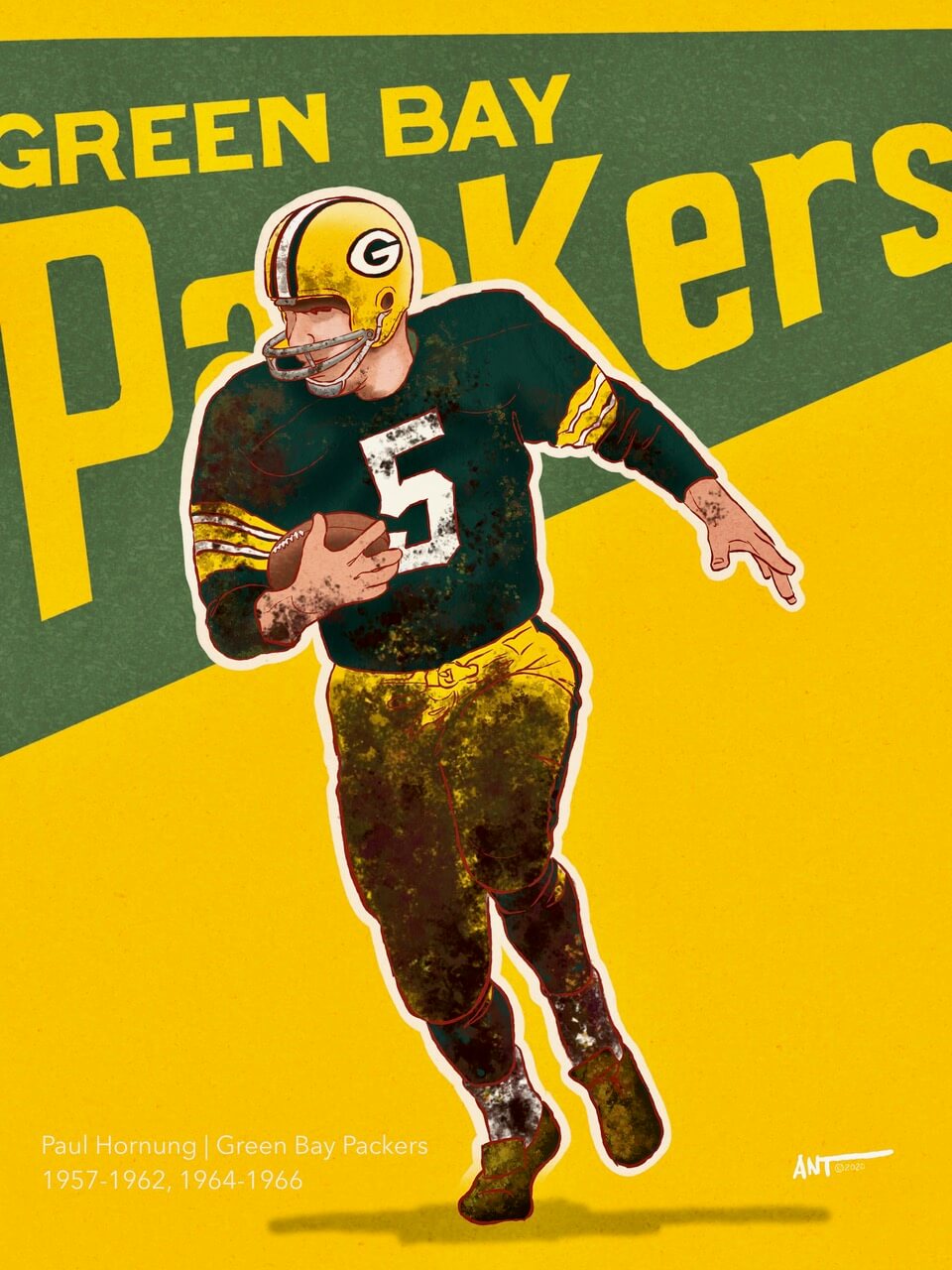 Classic Player? Check. Green Bay Packers Uniform? Check. …just because you learned how to illustrate mud and dirt to a degree you can't even see the uniform. Check. This was cool to illustrate as you totally know who this is based on just how iconic and recognizable the logo and color scheme is. Paul Hornung was "the most interesting man" of his era. How a movie or documentary of his life has never been created is beyond me. Fascinating guy.
__________
Charlie Conerly: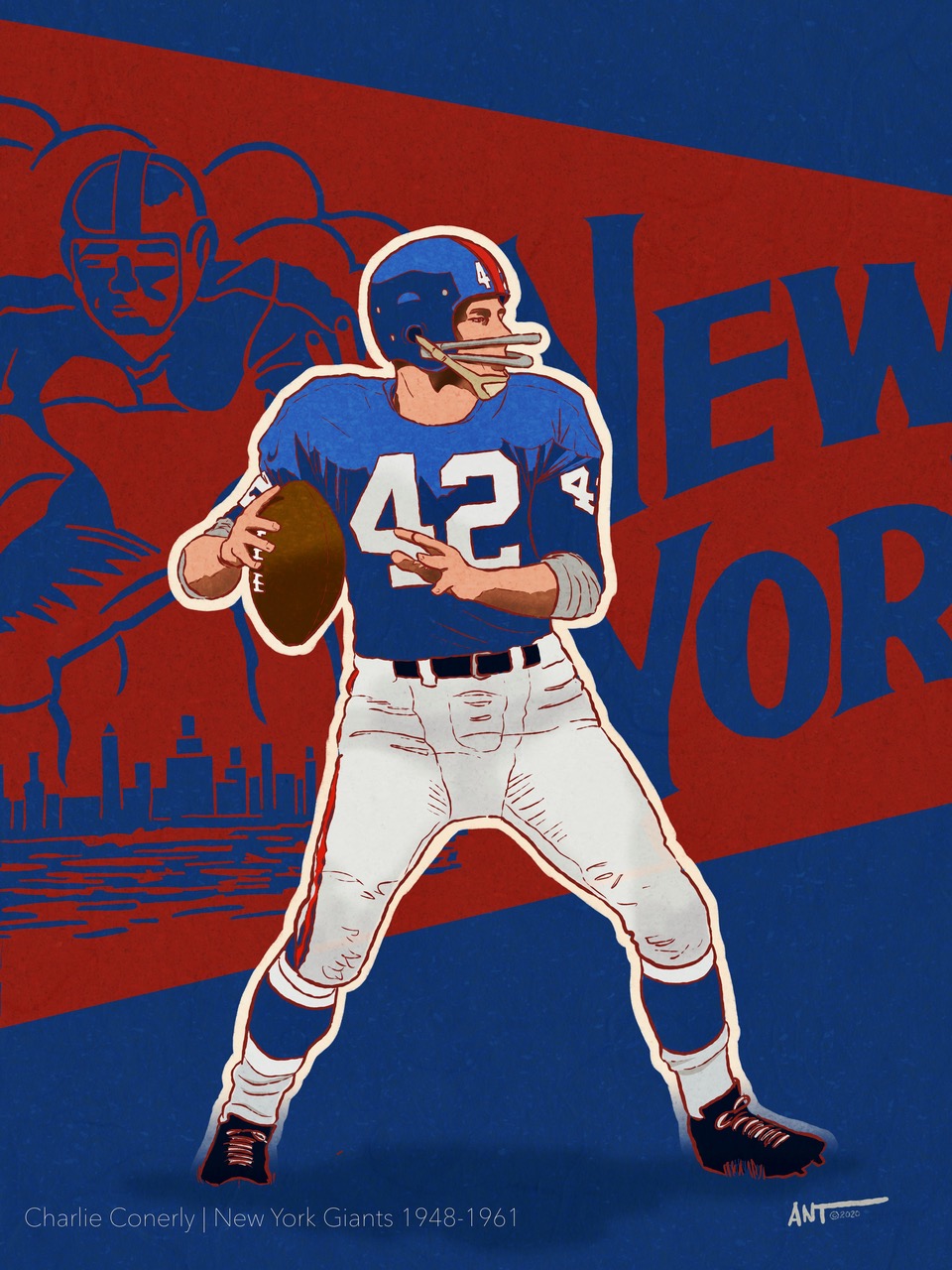 I am a Giants fan by birth. Granted, the classic Giants uniforms aren't really much to draw as they are just a lot of blue with a hint of red — but Mr. Conerly is a pretty interesting throw back player of his era. He holds (or held) over 10 Giants franchise records and was the original "Marlboro Man" after he retired. My dad said he was one of the toughest underrated players of his era. He was also a Marine during WWII, and has yet to be inducted into the NFL Hall of Fame.
__________
Otto Graham: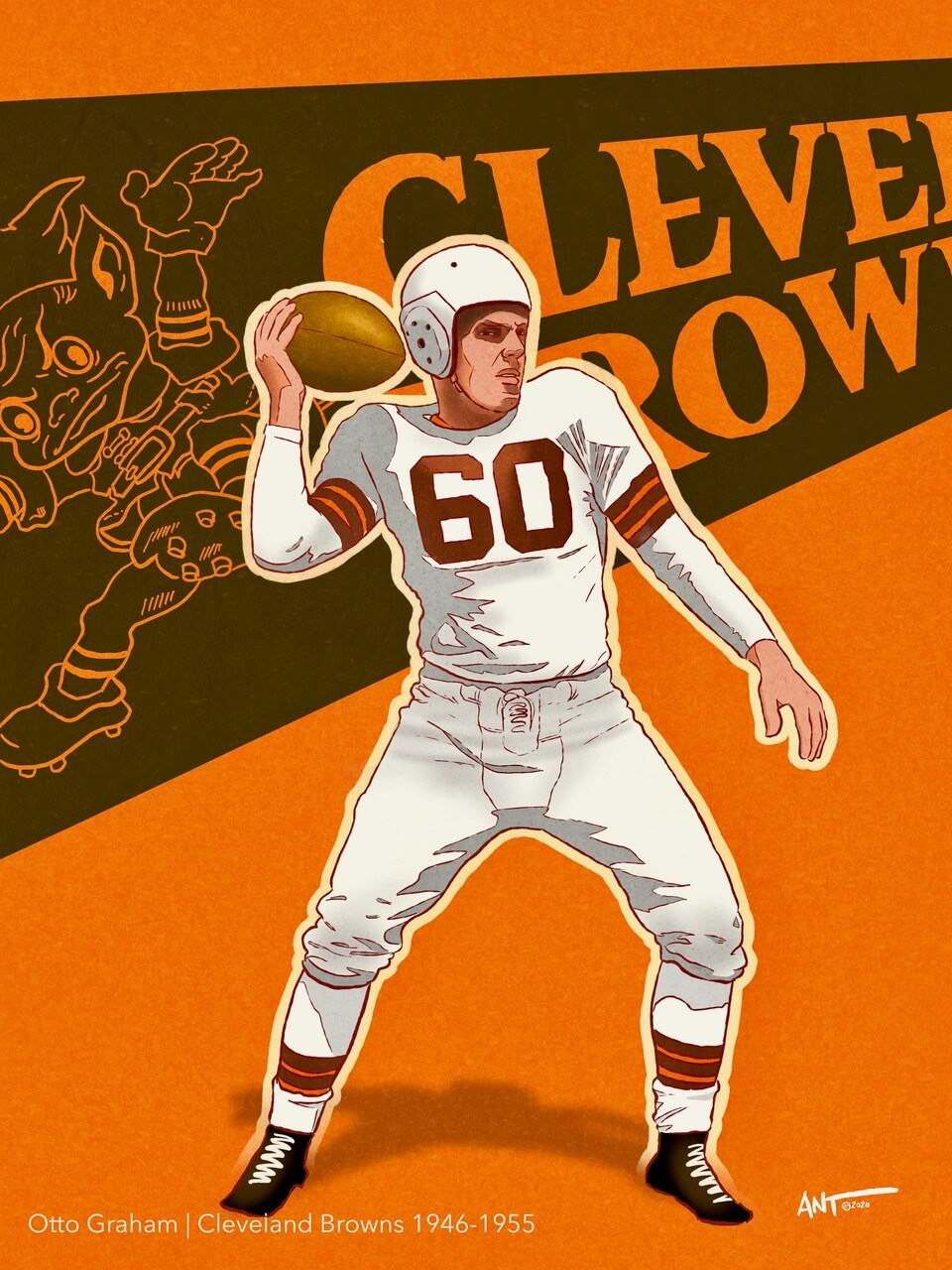 Otto Graham is a forgotten beast of a player, having taken the Browns to league championship games every year between 1946 and 1955, making ten championship appearances, and winning seven of them. With Graham at quarterback, the Browns posted a record of 105 wins, 17 losses, and 4 ties. In one of my earliest digital drawings, I drew him for a number of reasons one being those really awkwardly staged poses they would do back then for sports publications. I can't say it's one of many better drawings (as Graham deserves better) but that pose, combined with Brownie on the pennant was too good to pass up.
__________
Harold Carmichael: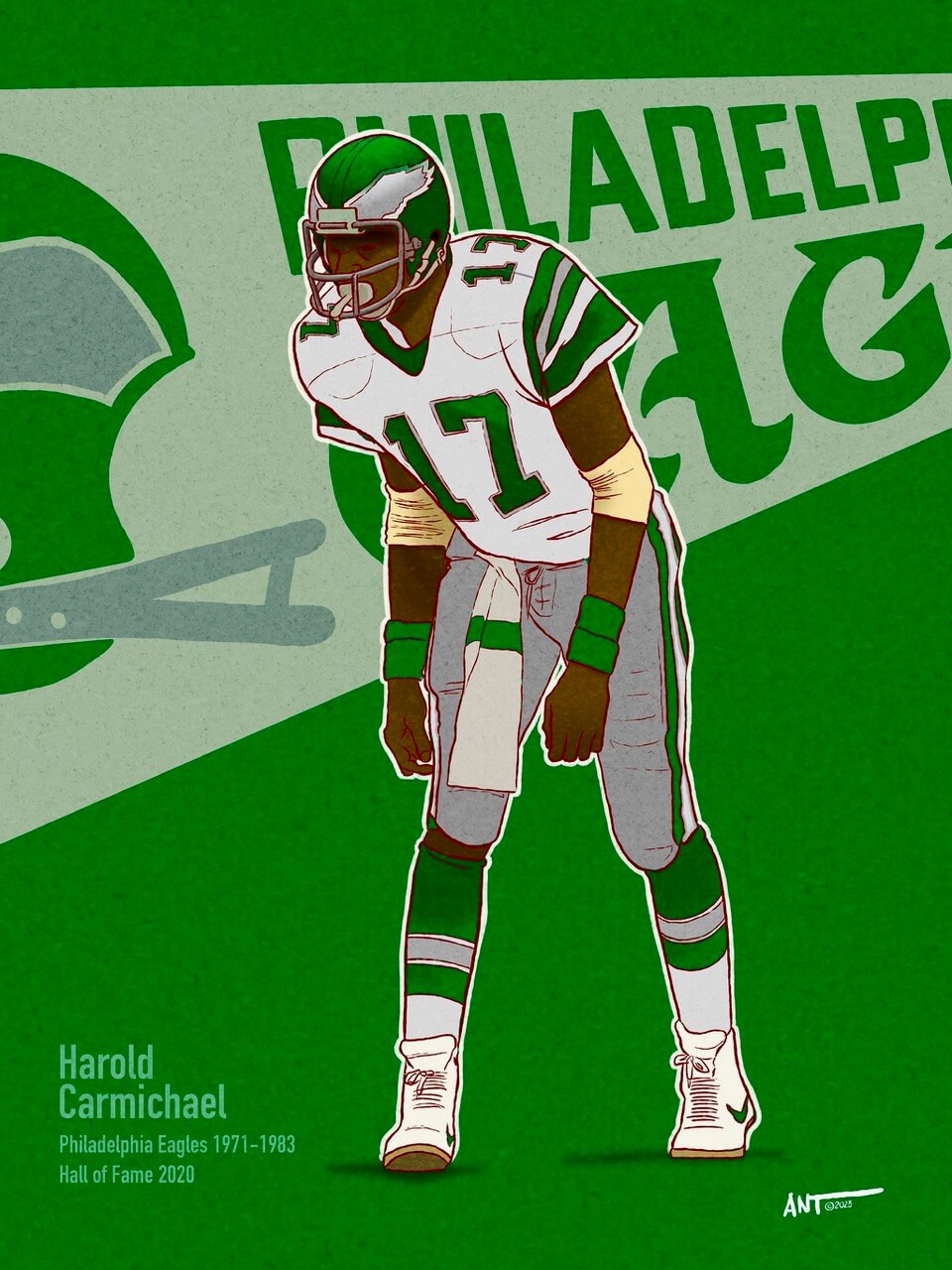 Okay, as a Giants fan, I loathe the Philadelphia Eagles. It is what it is. BUT you have to admire the classic uniforms of the Eagles before they went to midnight green and black. Plus those shoulder stripes are freakin' awesome. I drew Harold for this years Super Bowl. For a wide receiver who was an all-decade player of the 1970s, this pose represents the hall of fame pretty well.
__________
Len Dawson: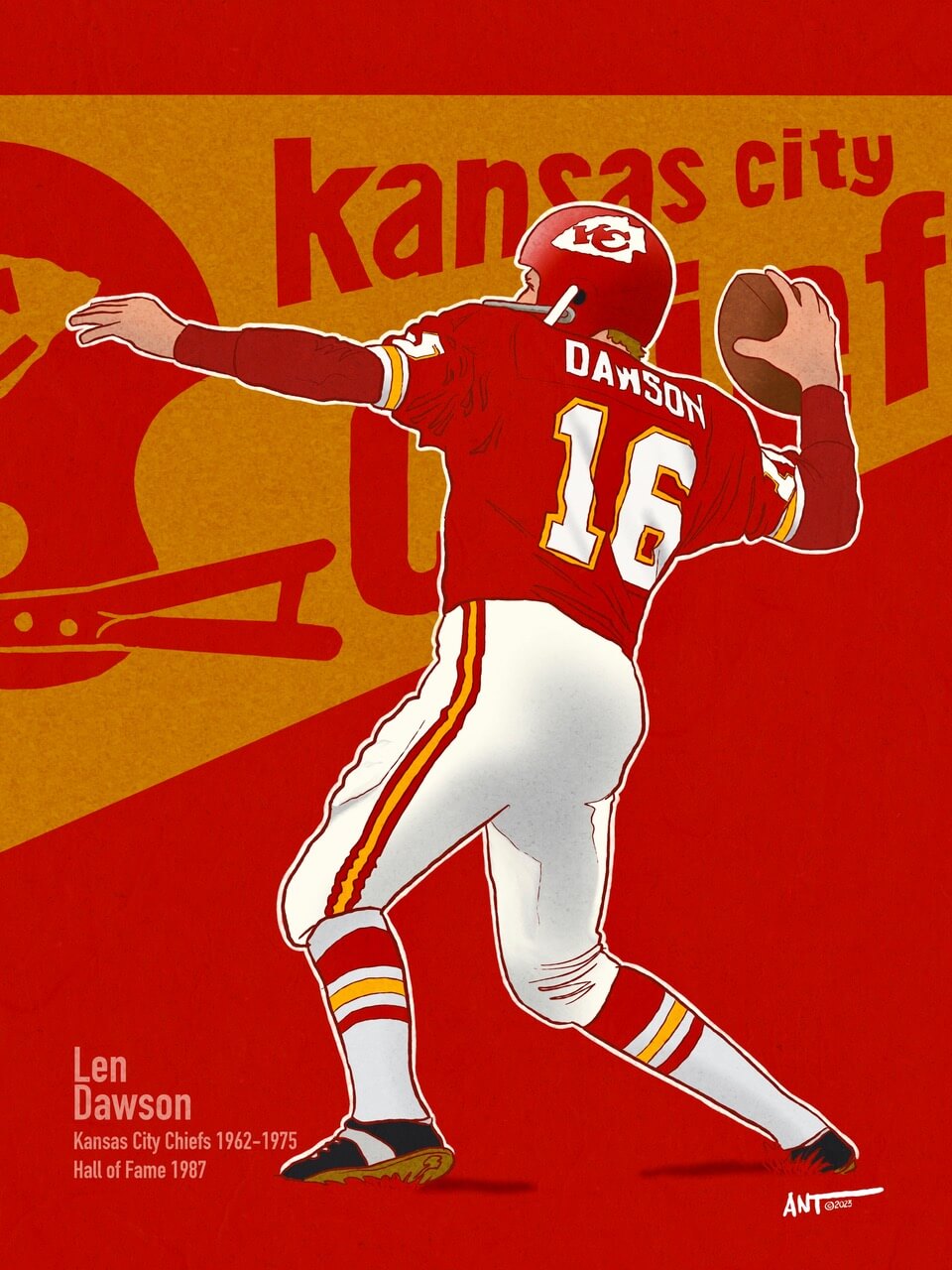 This is the matching image to Harold Carmichael for this year's Super Bowl. Before Patrick Mahomes, there was Len Dawson. This is a great pose that highlights the Chiefs uniform with Dawson's name and number prominently displayed. If I could change one thing on the Chiefs uniform, I would add gold to the helmet so that it has a connection to the uniform (in the way the Bears added orange to the "C" on their helmet). That being said, the uniform has been virtually unchanged since 1963. Len Dawson wore it well.
• • • • •
Thanks Ant! Readers? What do you think?