Good Sunday Morning, Uni Watchers. I hope everyone had a good Saturday.
As most of you are aware, a couple months ago, guest author Chris Diamond embarked on the first of a multi-part think piece in which he imagined every American city giving its sports teams a "Pittsburgh" treatment — that is, what if all the major sports teams from a given city were to adopt the colors of their city flag as colors for all their sports teams, much the way Pittsburgh does today? Following that initial article, Chris returned with Part Two and Part III. Those three articles detailed teams with (usually) four major sports teams — baseball, football, basketball and hockey. Reader feedback was positive, and several folks asked Chris if he'd apply the same "treatment" to cities with only three major sports, which is what today's installment details. With that, once more unto the breach, here's Chris asking…
• • • • •
What if Every City's Teams Were Like Pittsburgh's — Part IV
by Chris Diamond
In previous parts I looked at what other city's teams would look like if the all shared the same colour scheme of their host city. Here in the final Part 4, I look at six cities that have three of the "big four" sports teams – Atlanta, San Francisco, Tampa Bay (Tampa/St Petersburg), Cleveland, Carolina (Charlotte/Raleigh)and Houston. I also look at Chicago who got missed out last time. But first up are redux versions of Arizona and Minnesota from Part 3 that are inspired by UW comments.
__________
Arizona Redux
When I did my first go at Arizona/Phoenix I used colours based on the flag of Phoenix alone. RICKAZ suggested an alternate treatment would be to use the Arizona Flag colours instead. I thought that might look a bit too busy, but I think it's come out really well! For the Cards I re-used some of the elements of the design I did for the Arizona Outlaws in  another of my pieces for UW. I think the D-Backs look great in the state colours and the flag looks amazing on the Coyotes jersey!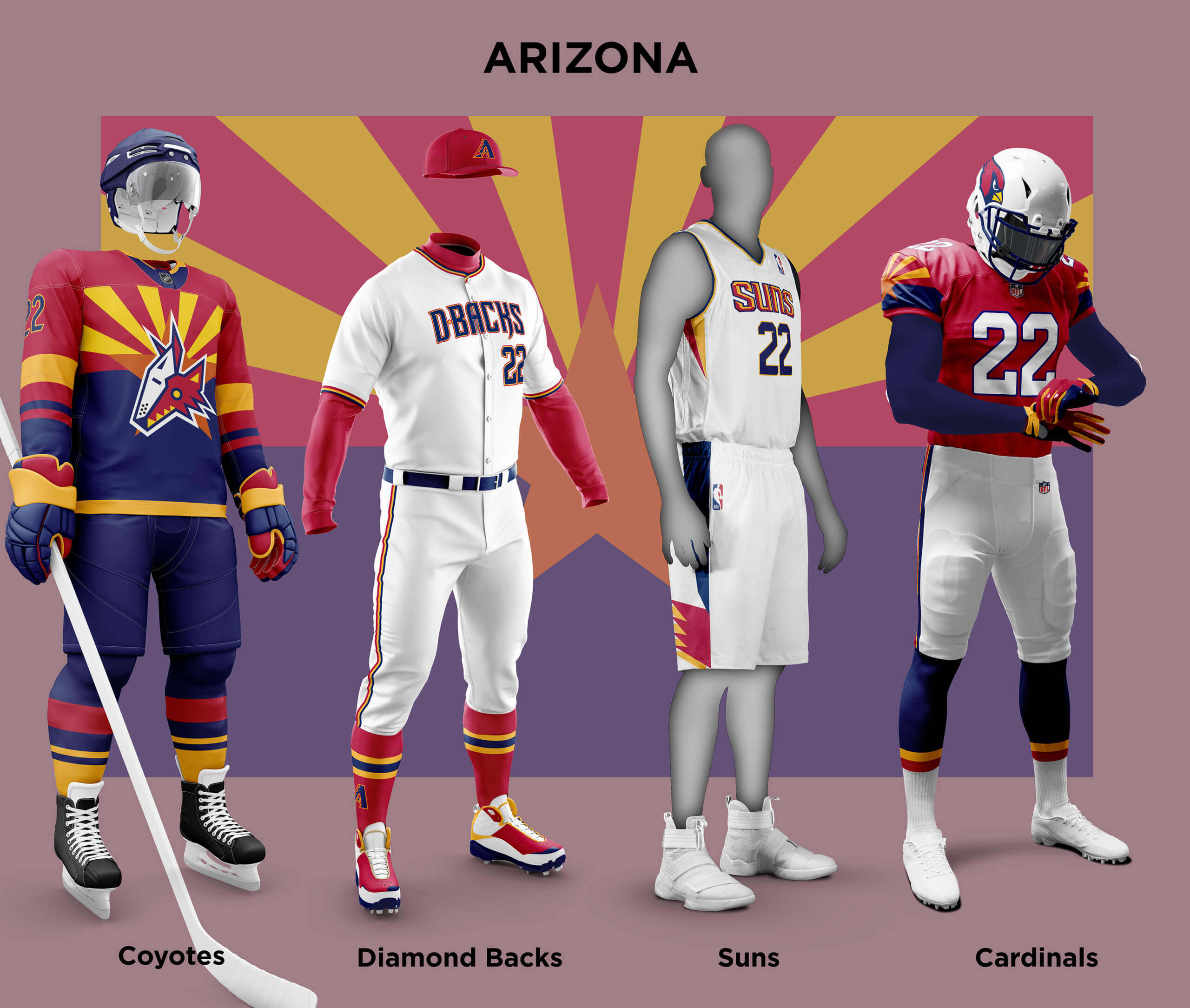 __________
Minnesota Redux
When I did Minnesota in Part 2, I used a prospective replacement for the state flag in blue and gold. But R. Scott Rogers noted that another new flag is actually more widespread. So I've re-done the teams using its blue, green, yellow and white colours. I think it makes for a set that's at least as good the one using the other colours, and the North Stars especially look good!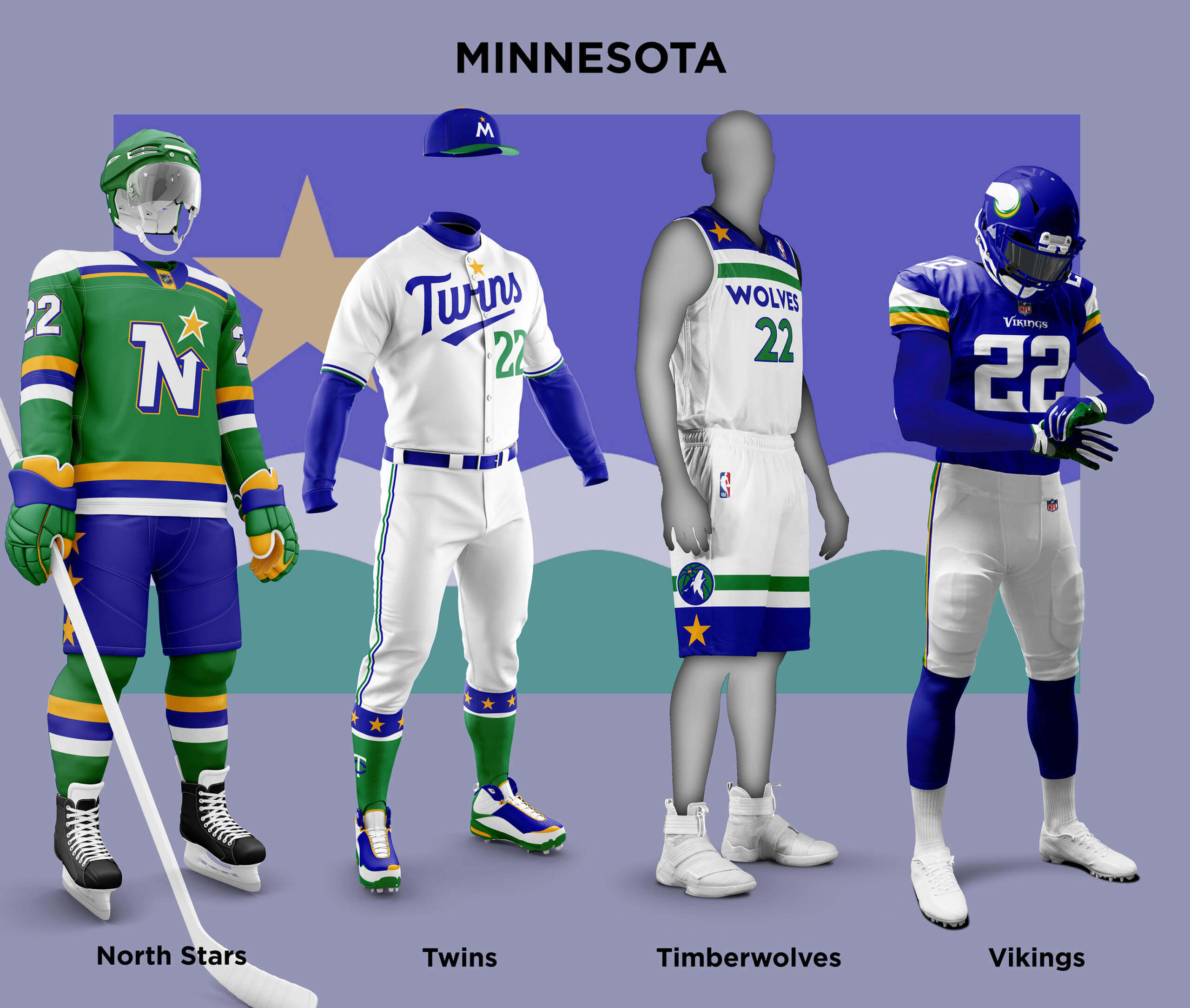 __________
Chicago
I had previously missed out Chicago because of the indigenous appropriation issues around the Blackhawks. But after talking with Phil, I found a way around it. The Flag of Chicago is one of the most well known designs around. For the Bears, it's simply a case of swapping out navy and orange for pale blue and red. Because of the similarities in colour hues it looks sane, even though it makes me think it's like a Bears uniform in the afterlife might look like. Like with the Bears, the Bulls similarity in colours means they also look fine in the city colours. The Cubs and White Sox easily fall in to opposing Blue and Red teams, and of course the White Sox used a similar set in the 1970s. Finally the Blackhawks. Given the team is actually named after the 86th Infantry Division it made sense to have a team logo based on that design.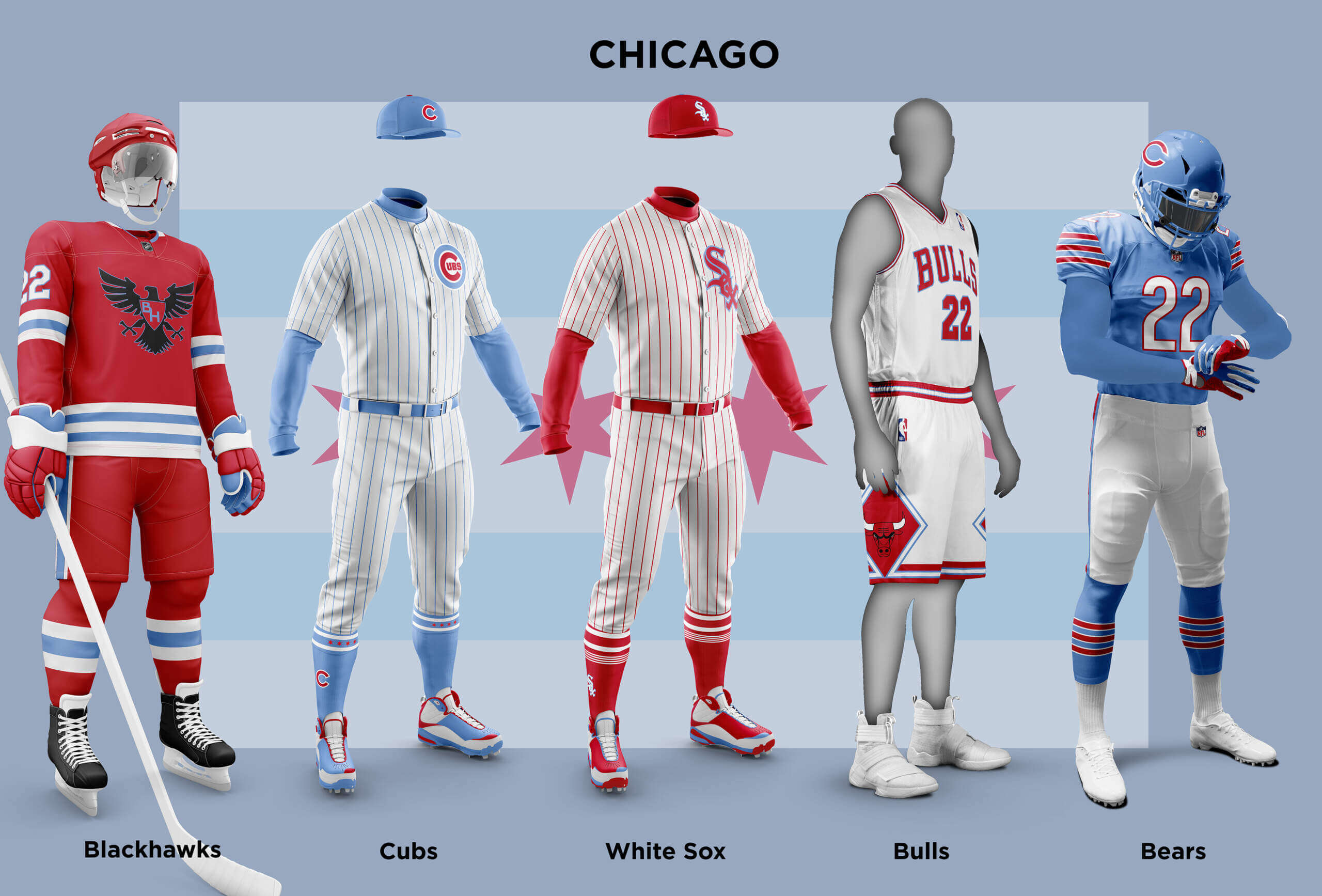 __________
Atlanta
The current Atlanta Flag is one of the seal-on-a-blue-field type so isn't that unique. Like with other cities with flags in need of replacement, there are plenty of competing designs. I chose the one that looked best to me on the Atlanta City Flag website (I wait to be corrected if there is a more popular candidate). The red, gold and blue scheme lends itself nicely to restoring the Falcons red uniforms. The Hawks already use Red and Gold so the addition of the blue fits in well. And of course they are already almost the same as the Braves colours anyway. All-in-all a nice set I think!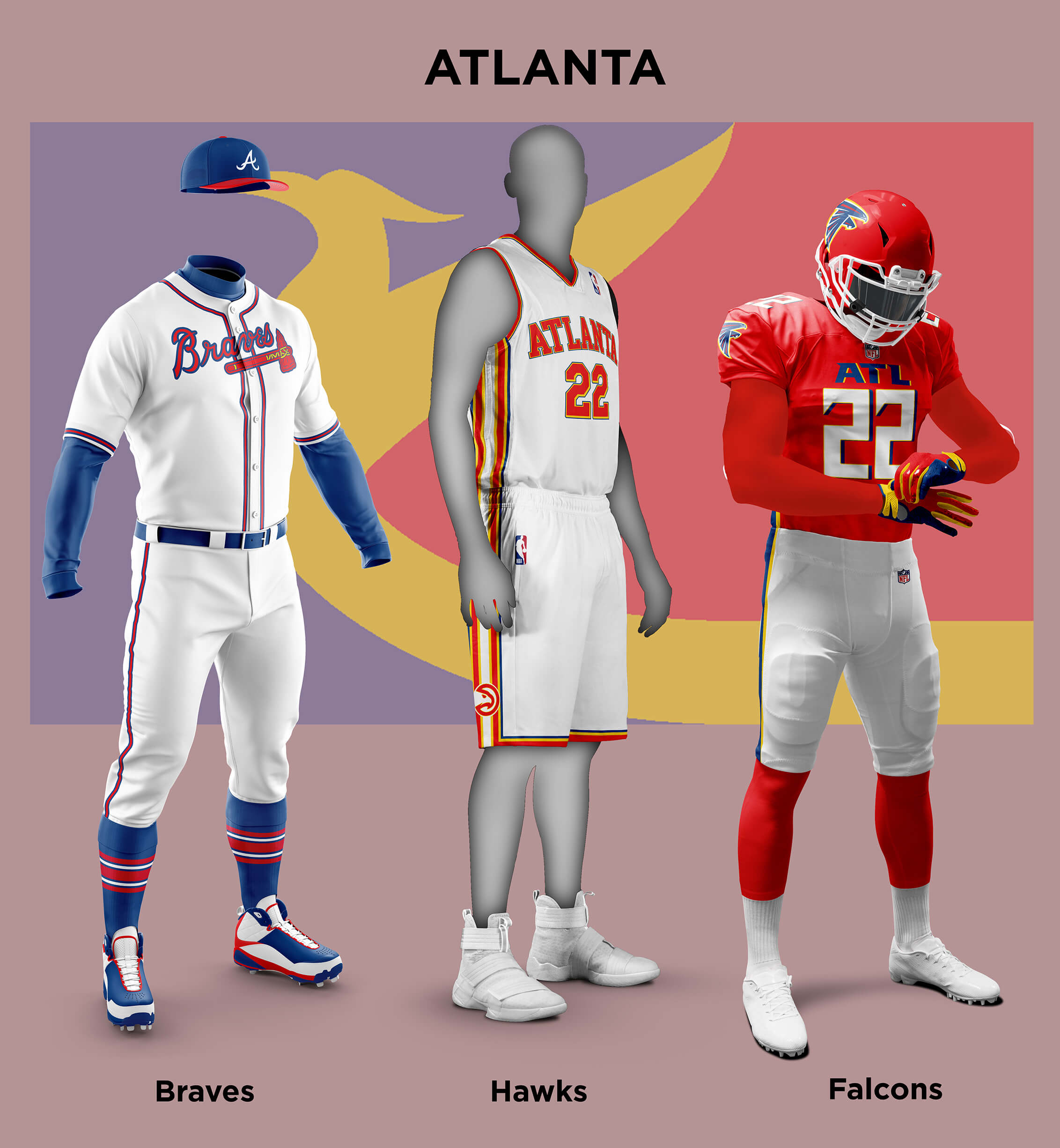 __________
San Francisco
San Francisco is a very interesting case. The current flag is another one where there is ongoing effort to find a replacement. One in particular has gained some traction – the Fog and Gold Flag. Now I think it's a good design, but the field colour choices are a bit wishy-washy, something others agree with. The motto of the City is "Oro en Paz, Fierro en Guerra" ("Gold in Peace, Iron in War"), so it seemed to me the obvious flag field colour choices are iron (grey) and gold which is what I have gone with. The 49ers look strange in iron grey, but once you get over that I think it's a great look. Likewise the Warriors (yes I know they are based in Oakland, but they are a bay area team and sort of represent the city). Finally the Giants colours are very similar already so addition of gold kind of makes it look like a World Series Winning team special uniform.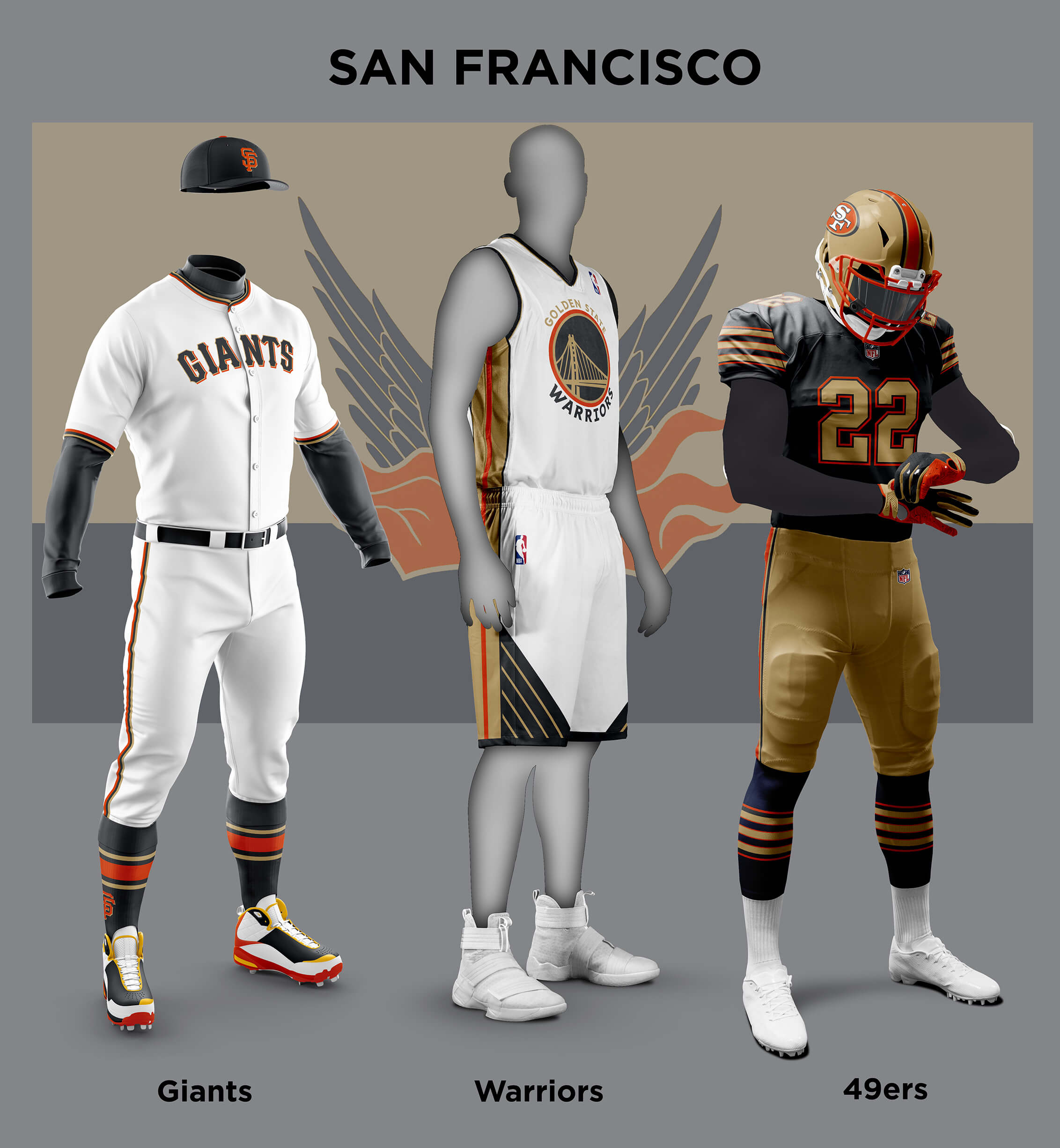 __________
Tampa Bay
Tampa Bay is another tricky one. A bit like the Minnesota teams, the area includes two large cities so the flag of either isn't really right. But unlike Minnesota they aren't the teams in the state, so using the a Florida Flag is not right either. So what are Tampa Bay's colours? Well, there is a Visit Tampa Bay organization who have a rather cool logo in blue, yellow and black versions. Blue is already the main colour for the Rays and Lightning, so I could have used those colours, but they really didn't feel right to me! I don't know if it's my age or being from the UK, but whenever I think of Tampa Bay, the colours I think of are the original Bucs "creamsicle" colours of Florida Orange, Red and White. So for this time only I created my own flag based on the Visit Tampa Bay logo and the Bucs Colours. Of course the Bucs themselves look splendid in those colours, even without Bucco Bruce. But I think both the Rays and Lightning uniforms look a lot better than their rather dull blue ones.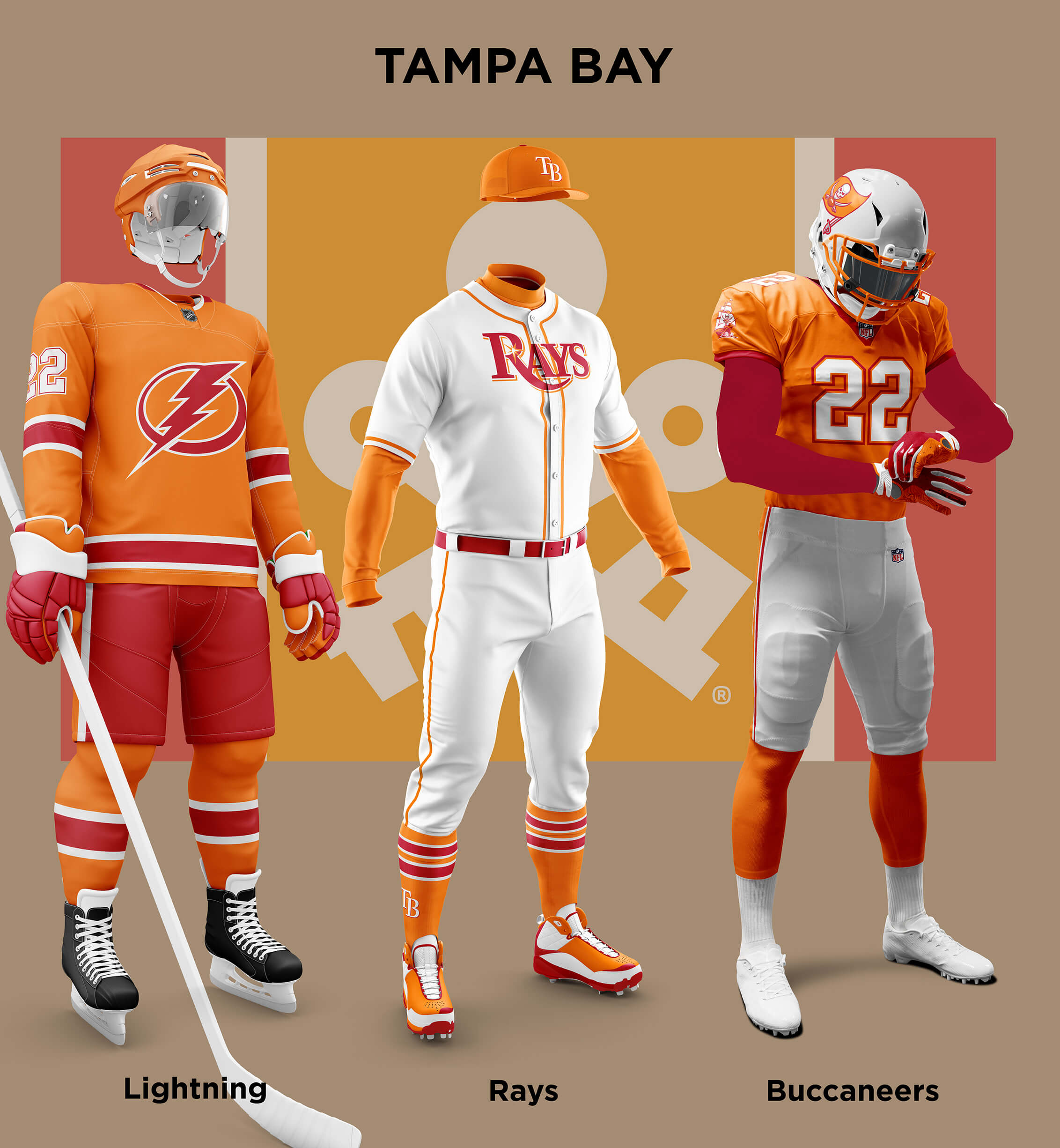 __________
Cleveland
The Flag of Cleveland is a red/white/blue tricolour and so is already in Guardians colours. The Cavs uniform translates quite easily to the scheme and I think it looks sharp. The Browns present a problem though. Swapping out brown/orange for blue/red gives a nice looking uniform, but what about the name? Of course the team is named after Paul Brown, but they are synonymous with the colour Brown too. I sometimes wonder if it's one of the reasons that they alone have never added a logo to their helmet – they *are* brown (at least in the NFL) so need no other identifier. But here they aren't wearing brown so how else could they identify themselves as being named after Paul Brown? I decided one thing that always seems to identify Brown is his hat so I created a logo based around that. I imagine this may have Browns fans howling in rage, and I promise I didn't do it just because I am a Steelers fan! There are already concept logos featuring a hatted Brown that Browns fans like. And it's not as if having a hat as your logo is weird!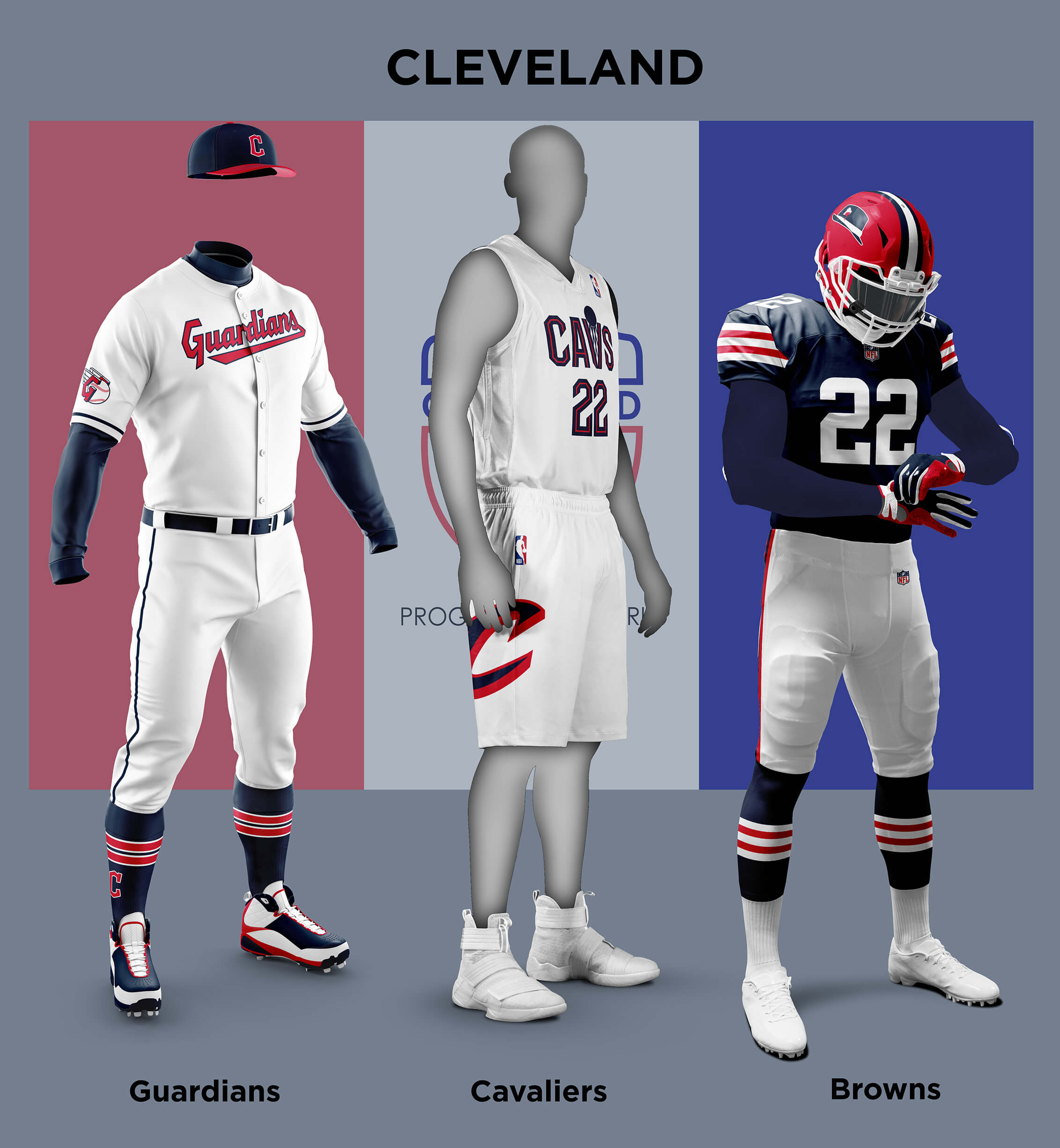 __________
Carolina
The Charlotte/Raleigh/Durham area is another one where a single city flag isn't suitable. Here we can use (North) Carolina as the identifier, but the current flag is another red/white/blue effort. As with other flags there are efforts underway to redesign it and I chose one of these as I liked the way it brought the UNC light blue and NC State red together with the blue and N*C  from the current flag. Having said that, the resulting uniforms for the Panthers and Hornets have a bit of a Franken-uni feel to them! But I much prefer the Hurricanes version to their existing red/black colors.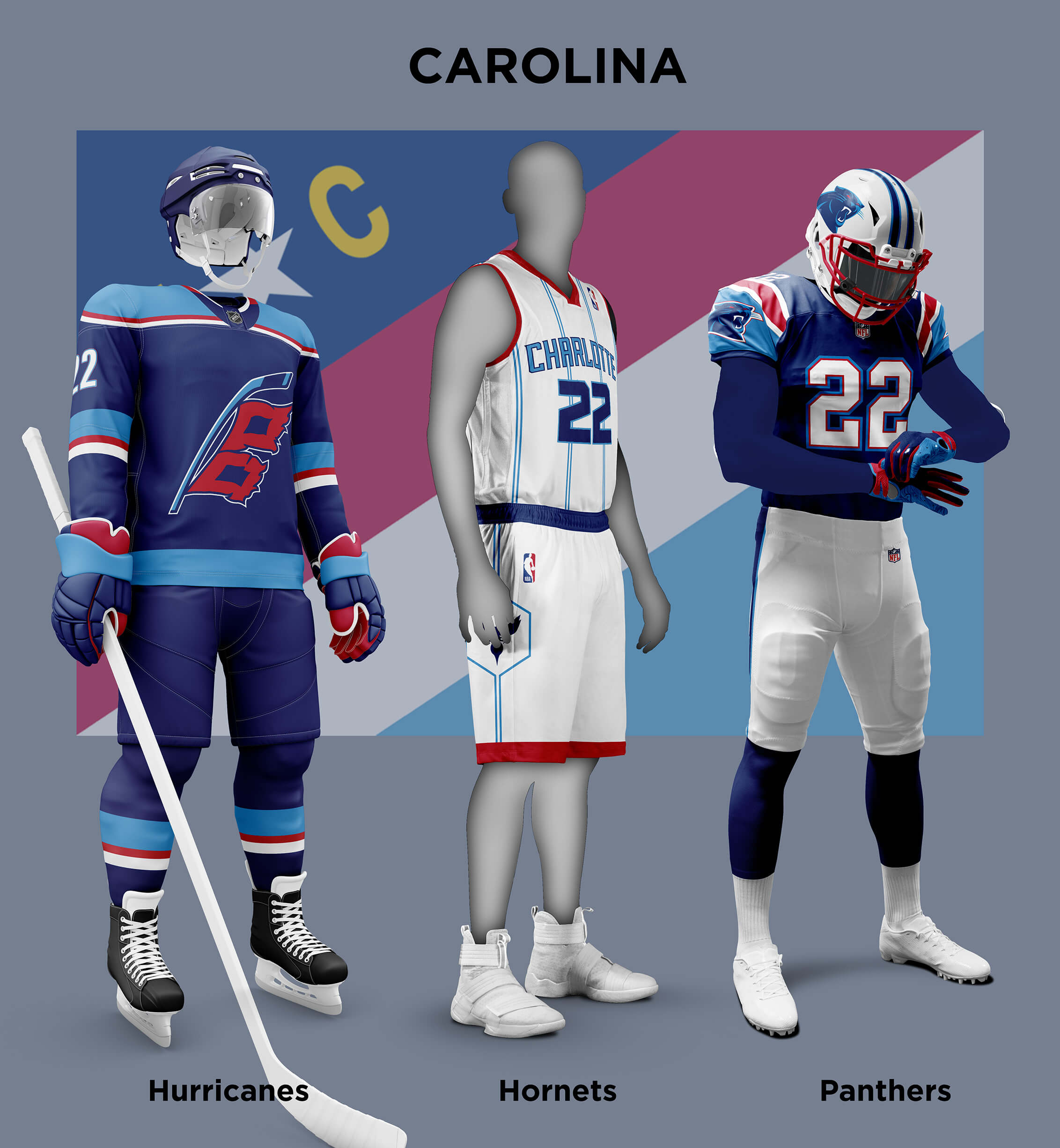 __________
Houston
Finally we come to Houston. Like Texas and Dallas, the Flag of Houston incorporates a star, but in this case the field is just blue with a mainly yellow crest. I did check out some re-designs but they came across a bit Eastern Bloc so I stuck with the current flag and colours. I was sorely tempted to give the Houston teams an across-the-board tequila sunrise look, but in the end I felt that was too Astros specific. The Texans already use blue so it's really just replacing red with yellow. Inevitably the new uniform has LA Rams vibes to it, but the design is solid so it looks good. Likewise with the blue based Astros, it is swapping out orange for yellow. But in this case it feels weaker for the loss of the orange. Finally the Rockets in blue and yellow look respectable enough.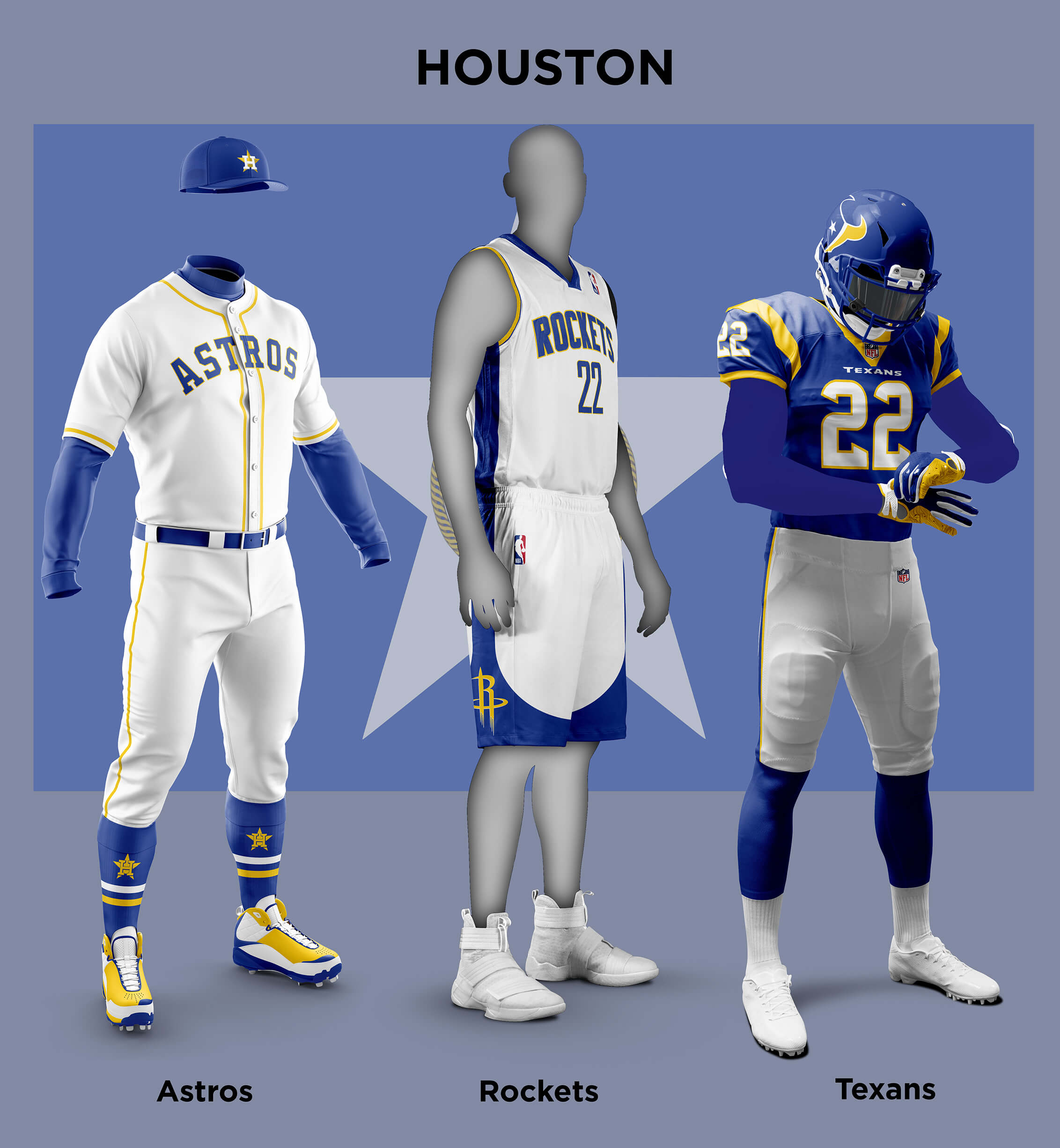 __________
Well that's it, twenty one cities and ninety two teams in all! I hope you've enjoyed checking these out as much as I did creating them. Many thanks to Phil for giving me the space to show all of them. More "What ifs?" hopefully coming along later this year 😊
• • • • •
Wow. Once again, fantastic job on that Chris. I've really enjoyed this continuing series — and based on Chris' outro, looks like he's not quite done yet!
Readers? What say you?