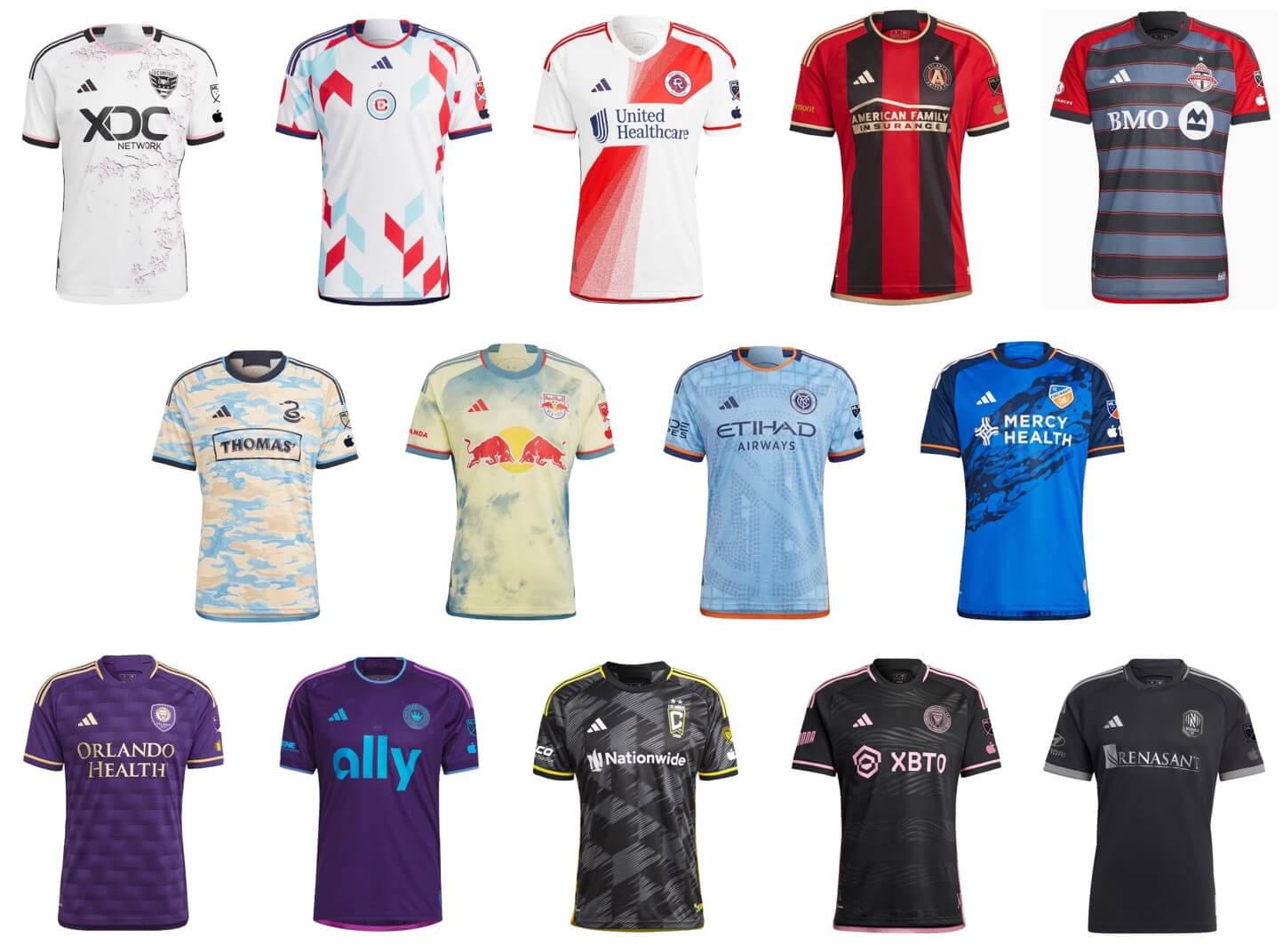 Good Saturday Morning, everyone! Hope you guys had a good week.
It's time for the annual MLS Preview, and I'm back once again (for their eighth season) with soccer guys Kyle Evans and CJ Fleck, who've not only previewed and reviewed the MLS kits and jerseys from previous years, but have also reviewed other leagues plus the Olympics and World Cup.
There's a lot to get to today — we'll begin with the Eastern Conference and conclude with the Western Conference later this morning — so let's get started.
• • • • •
2023 MLS Uni Preview — Eastern Conference
by Kyle Evans & CJ Fleck
Thanks Phil! We're glad to be back for our 8th(!) MLS season jersey p/review. The league kicks off today, now with 29 teams with the addition of St. Louis City SC (moving Nashville to the Eastern Conference) and LAFC are the defending MLS Cup champions. The competition format changes as well, with a month long Leagues Cup tournament between all MLS and Liga MX teams as well as an expanded MLS playoffs (9 teams in each conference).
All of the uniforms continue to be made by Adidas, but you will now see an AppleTV patch on the left sleeve of every jersey due to the league's new broadcast platform. As always, each team's primary and secondary jerseys are on a 2-year rotating cycle, meaning that every team reveals a new jersey each year and wears them for 2 seasons. Each of the new kits have a "name" primarily for marketing and storytelling purposes which we will avoid. On to the jerseys!
__________
Atlanta United (primary)
Red and black vertical stripes with gold accents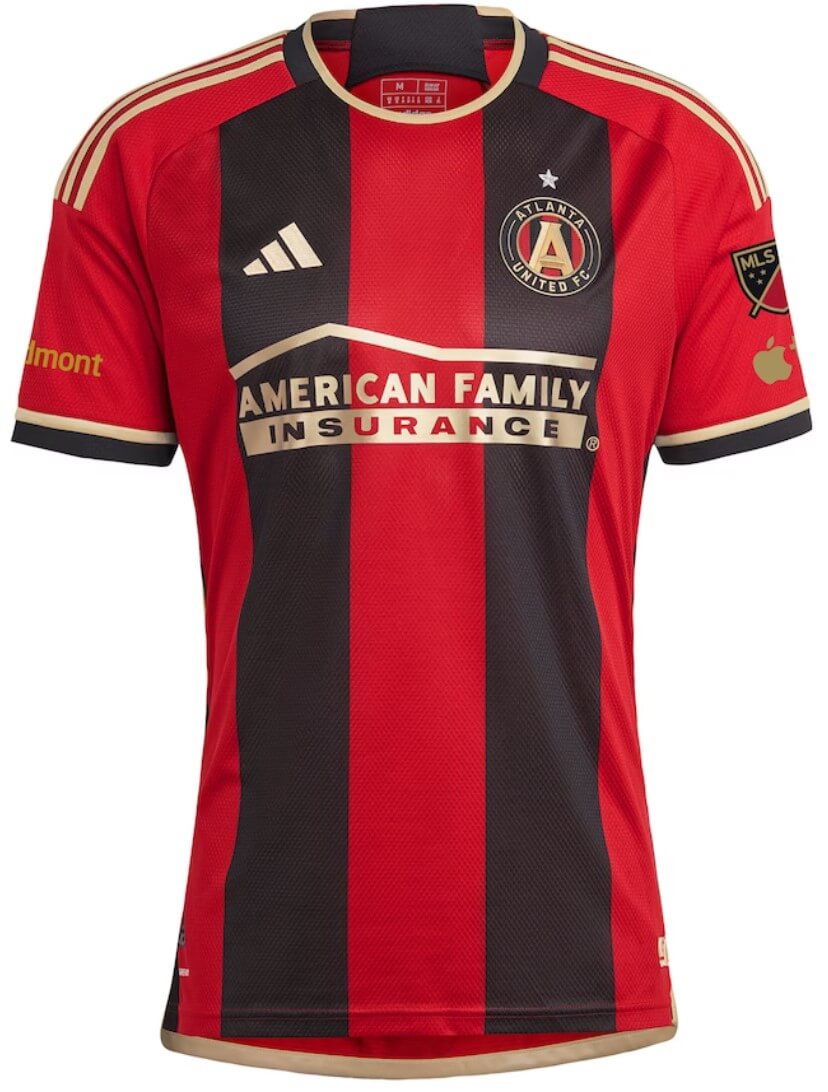 Kyle: The perfect look for the 5 Stripes and the gold elements are great.
CJ: I do like the use of gold as Kyle says, but let's remember they're still advertisements, including the Adidas stripes. Good look overall though.
_____
Charlotte FC (secondary)
Purple with neon blue accents and sublimated crowns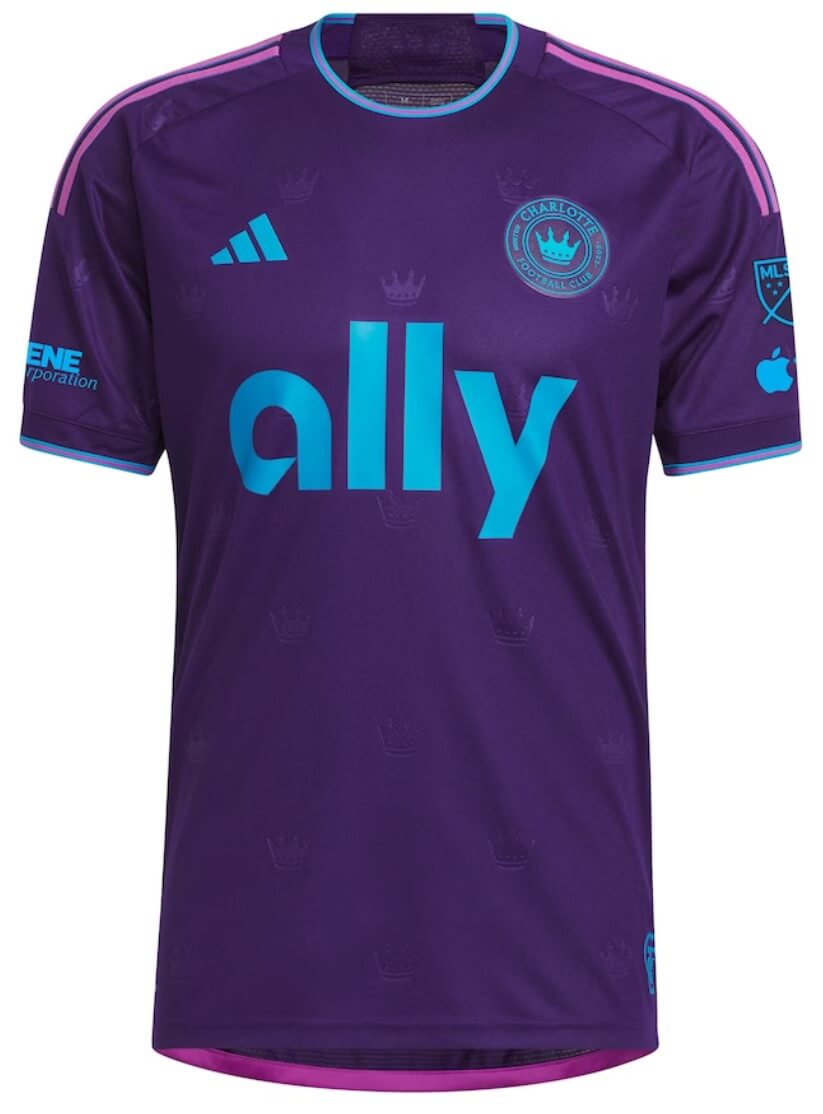 Kyle: I know you won't really see them, but I'm not a fan of the sublimated crowns. Maybe if they went with the Charlotte Crown team name.
CJ: Extremely 90s, though that enormous ad in the middle is certainly of the present age.
_____
Chicago Fire (secondary)
White with red and light blue parallelograms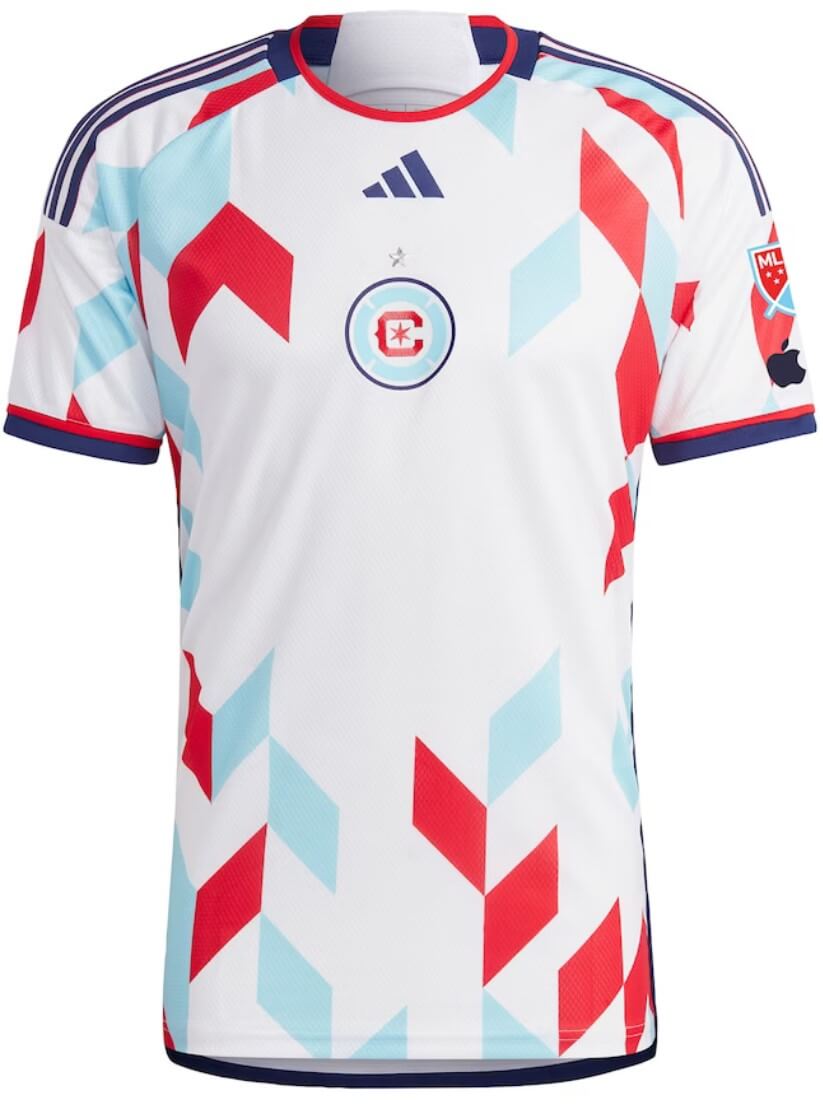 Kyle: I'm not saying there should be an ad, but the empty middle is certainly expecting one. As for the geometric design, it doesn't excite me.
CJ: Certainly eye-catching, but I'll wait to see an in-game look at it. Could be a blur at game speeds.
_____
FC Cincinnati (primary)
Blue with navy sleeves and a river-like diagonal pattern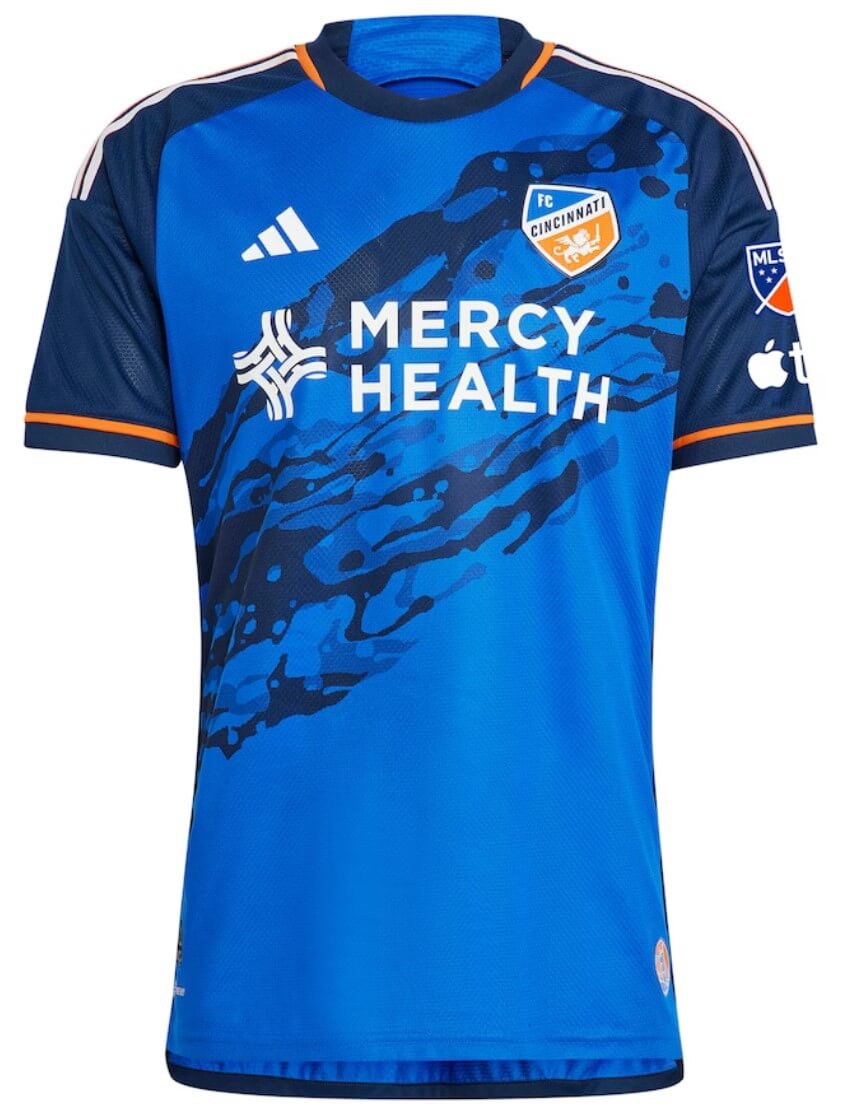 Kyle: Storytelling aside, the design works in the spirit of a sash.
CJ: I would rather a real sash design over an attempt in spirit, plus it could use more orange in general.
_____
Columbus Crew (secondary)
Black and gray slanted checkerboard design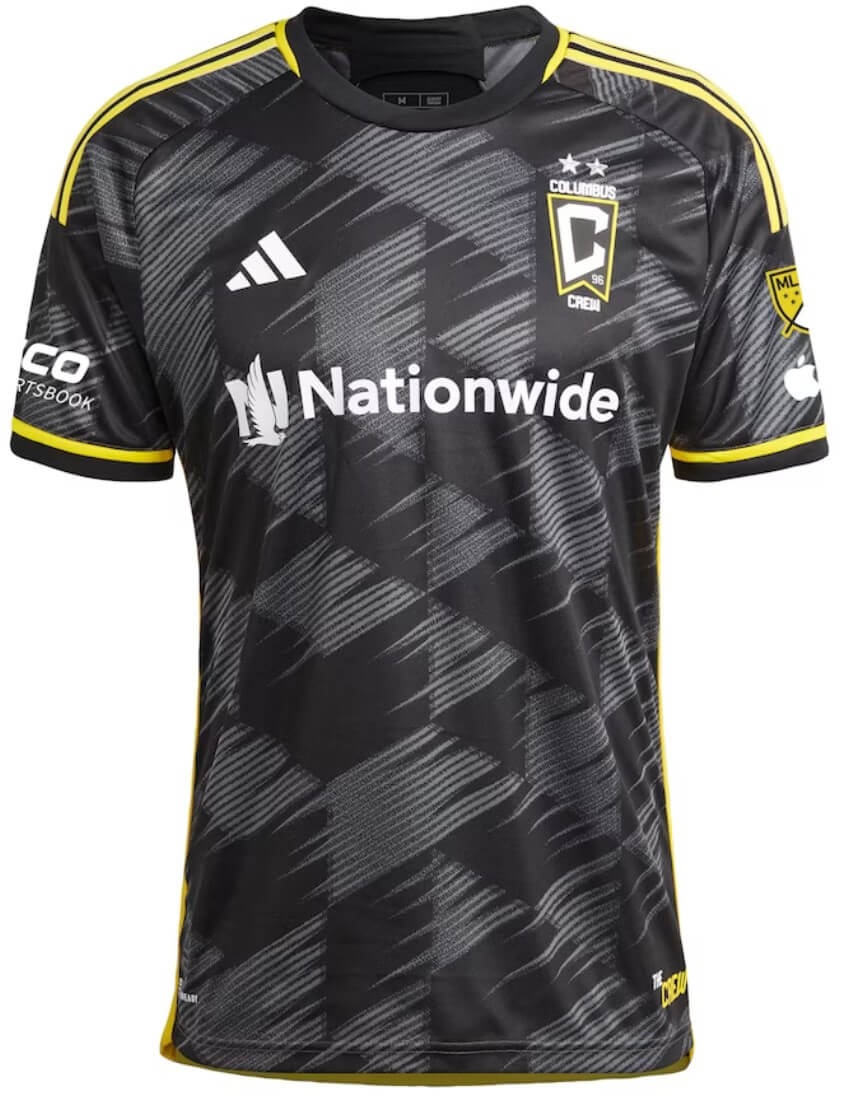 Kyle: Honestly, Columbus continues to be one of the best looking teams in the league.
CJ: Hard to disagree with Kyle here, though Columbus is blessed with an easy color combination.
_____
DC United (secondary)
White with cherry blossom design and black accents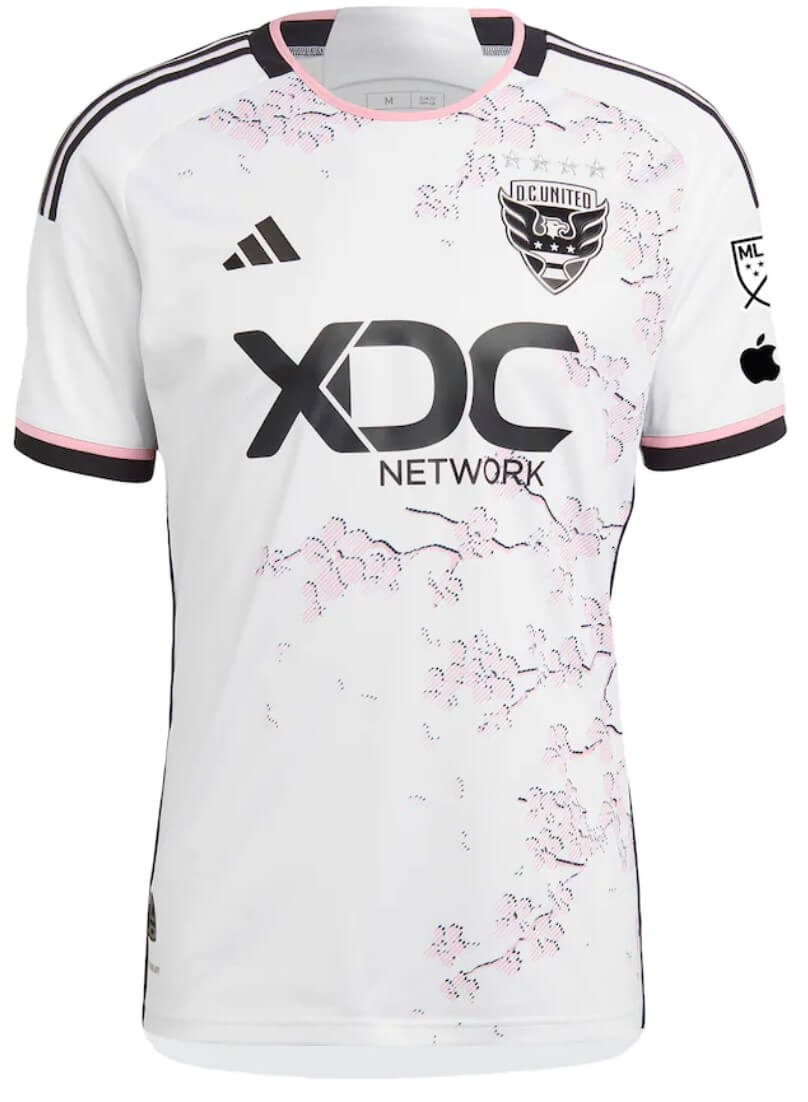 Kyle: Seems like every DC team is embracing the cherry blossom jerseys, and why not? I think this one has the right balance of not too overwhelming or too subtle.
CJ: Probably invisible on the field, but worth the design time for sure.
_____
Inter Miami (secondary)
Black with pink accents and subtle wave-like pattern in horizontal stripes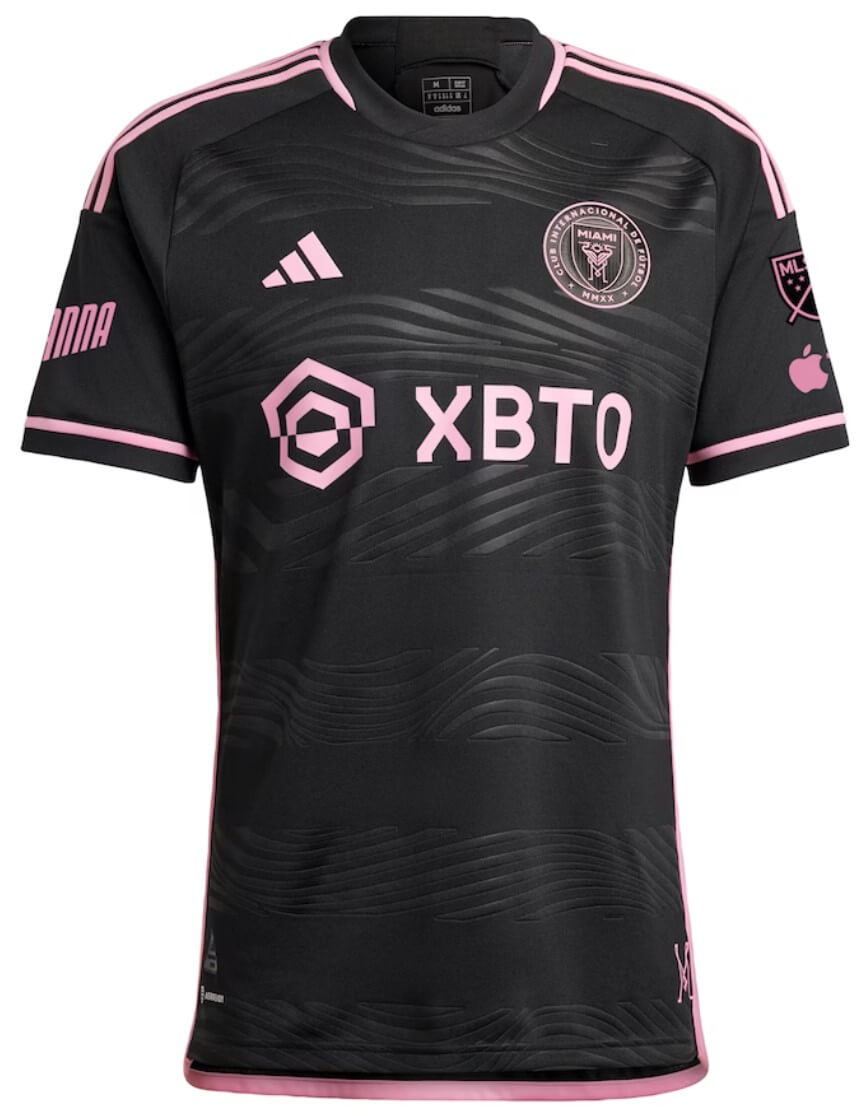 Kyle: Black and pink continue to work well together.
CJ: Much like Columbus, just a solid combination in general.
_____
CF Montréal (primary)
This is a leak and has not been officially released yet, there was a delay associated with the new rebrand.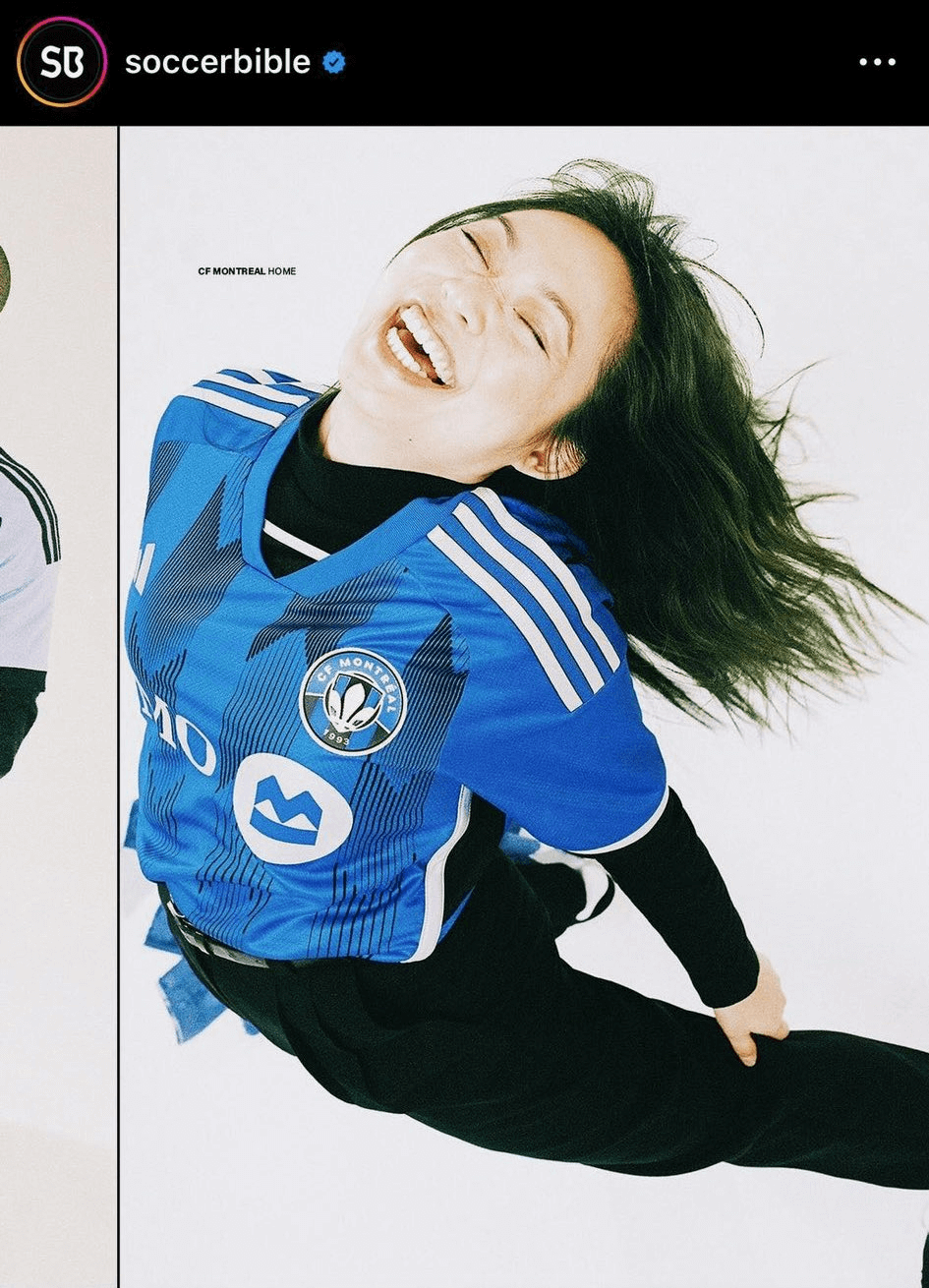 Kyle: I hope this is the actual jersey. And nice job on a much improved new crest.
CJ: Looks promising! We can only hope.
_____
Nashville SC (secondary)
Black with gray accents, tribute to Johnny Cash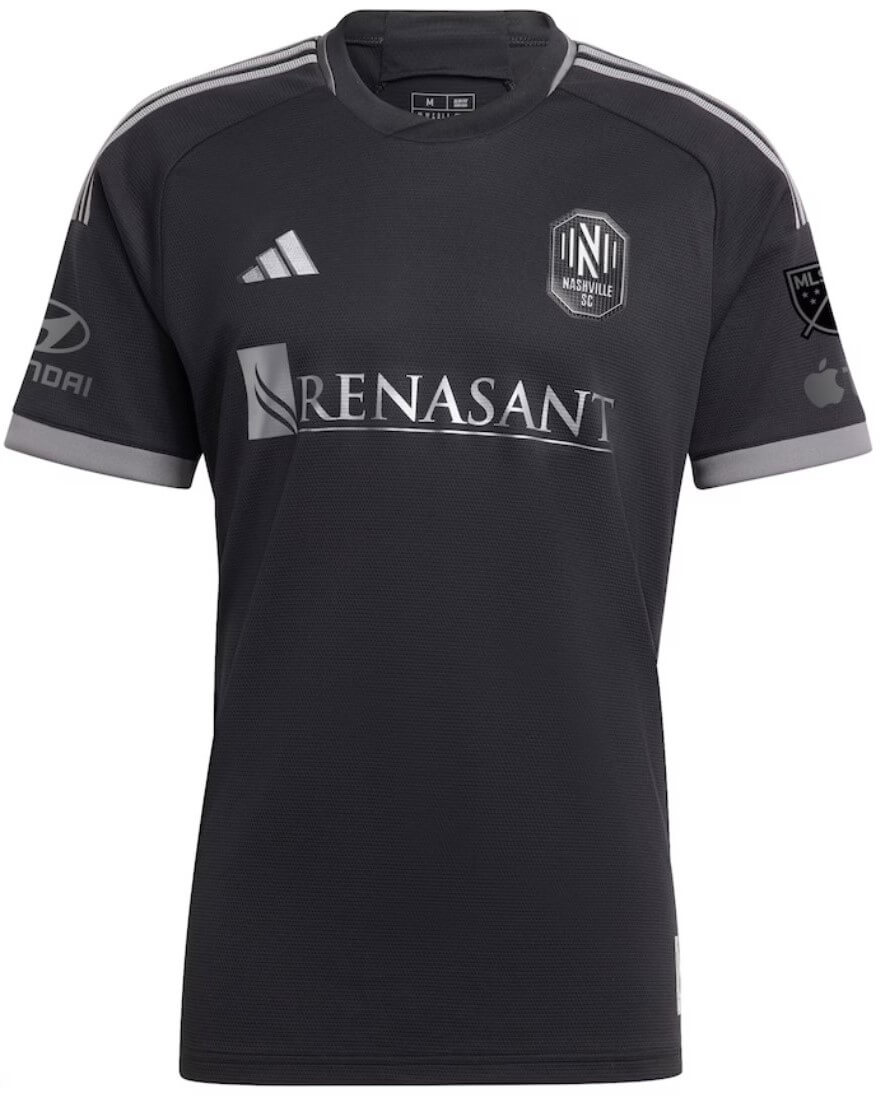 Kyle: There's enough black jerseys in the league, but I respect the collaboration and musical tribute.
CJ: I normally wouldn't buy the tie-in on a basic black kit, but the muted accent colors really make this for me.
_____
New England Revolution (secondary)
White with red rotating gradient sash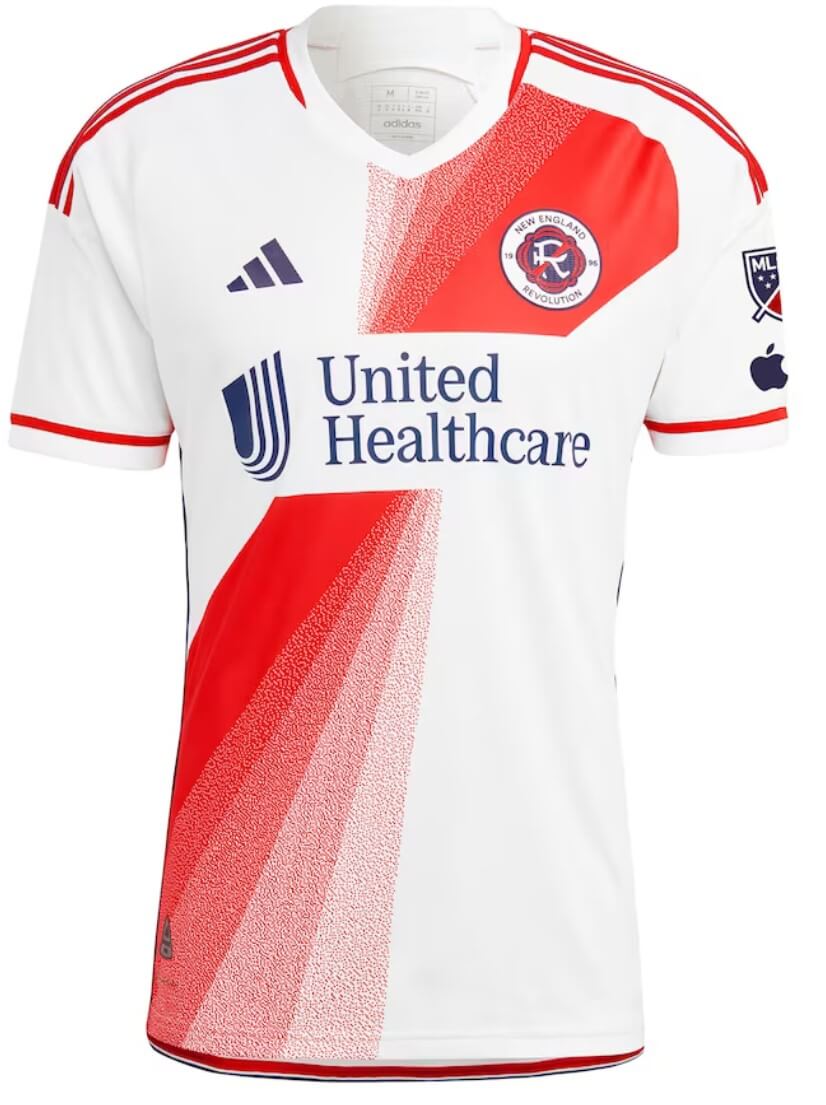 Kyle: One of my favorites of this season's releases, a unique take on a sash that matches the new team crest.
CJ: The sash is an unfortunate casualty of the ad, but it's a great effort.
_____
NYCFC (primary)
Light blue with navy/orange accents and a sublimated team crest in subway mosaic style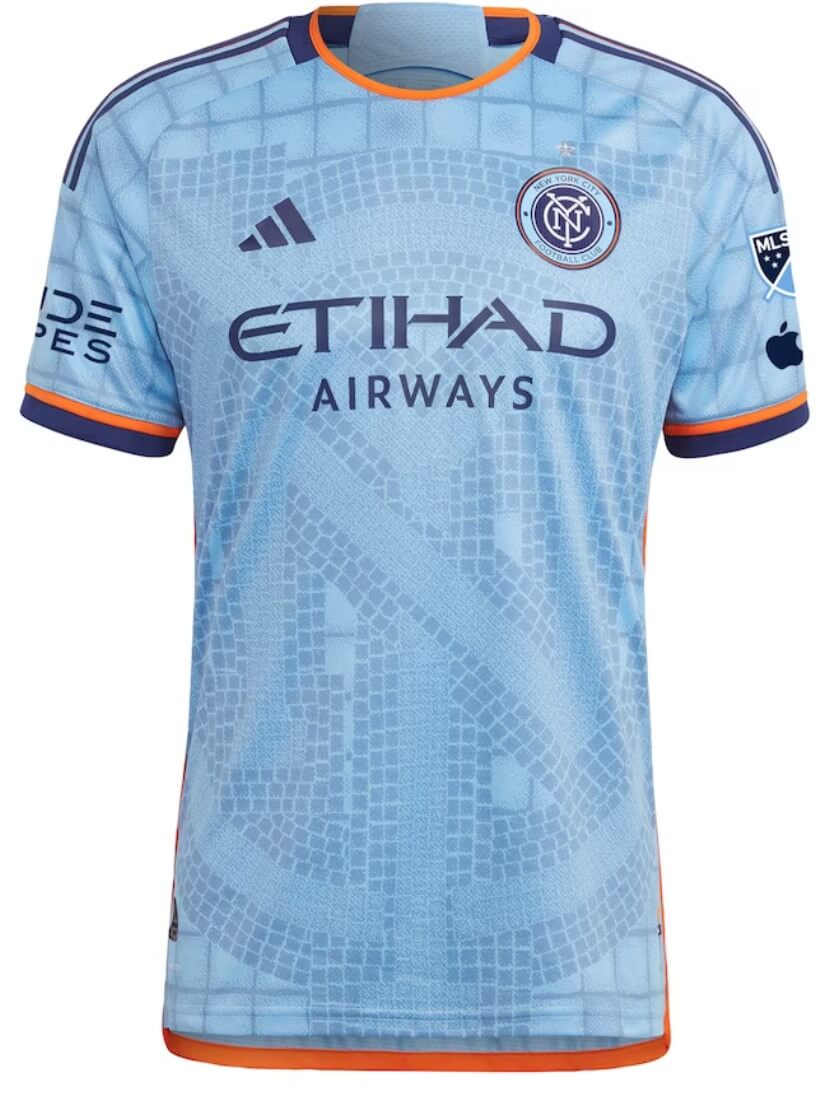 Kyle: The nod to subway mosaic art without being overwhelming is well done.
CJ: Another fashion element that probably gets lost on the field, but I agree with Kyle.
_____
New York Red Bulls (secondary)
Light yellow with splashes of pale blue, created by a luxury clothing designer
Kyle: This one has grown on me too, a really unique use of colors.
CJ: I'm not sold, but there certainly have been worse designs in the history of the league.
_____
Orlando City (primary)
Purple with gold accents and brick-style design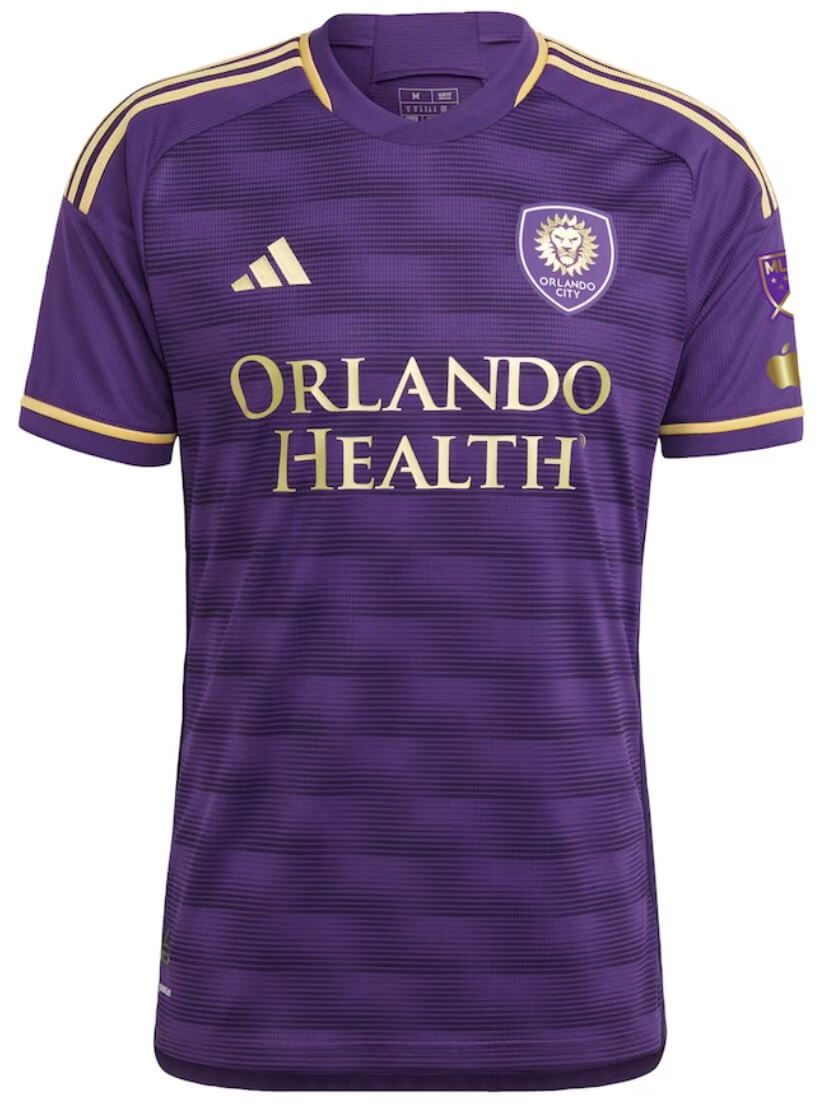 Kyle: Once again, the gold accents look great.
CJ: Well executed and solid look.
_____
Philadelphia Union (secondary)
Camo-style gold and blue design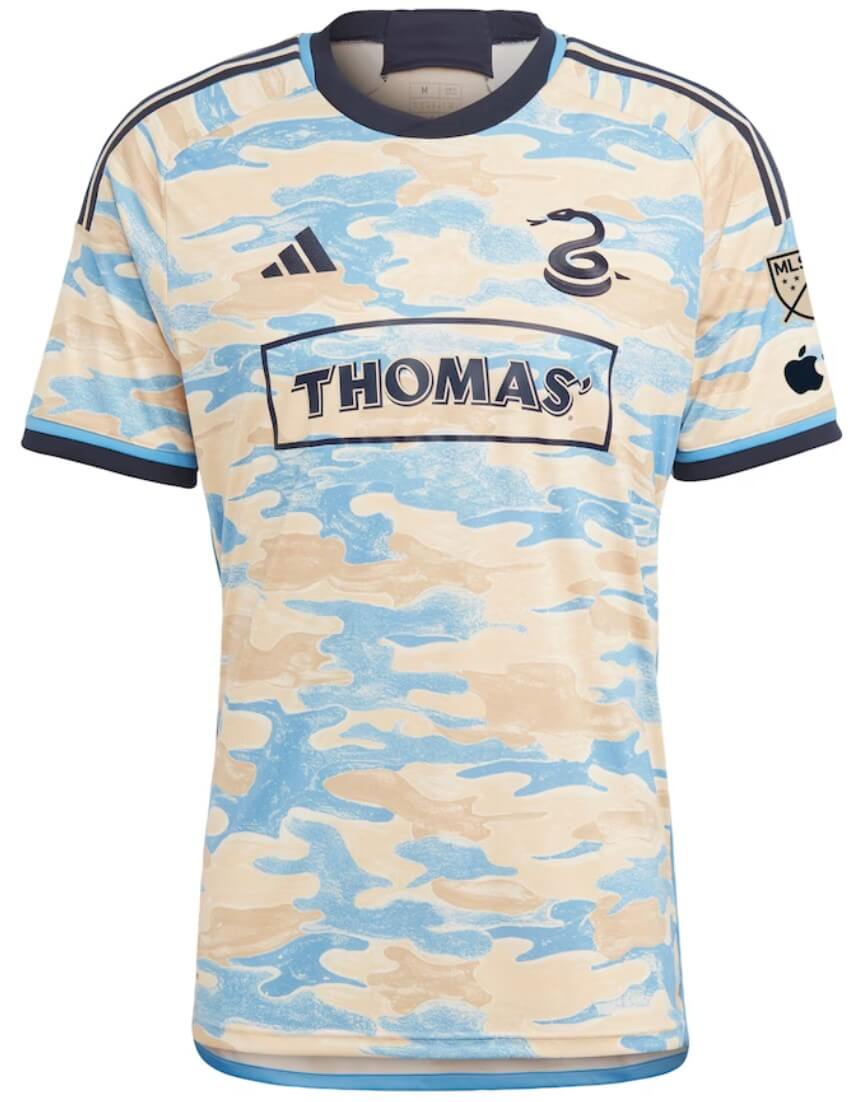 Kyle: Sorry CJ, this one looks like a training top to me.
CJ: Alternate logo use can't win out over the faded camo look. Even worse, it apparently gets paired with plain blue shorts and socks.
_____
Toronto FC (primary)
Gray and black horizontal stripes separated by thin red stripes and red sleeves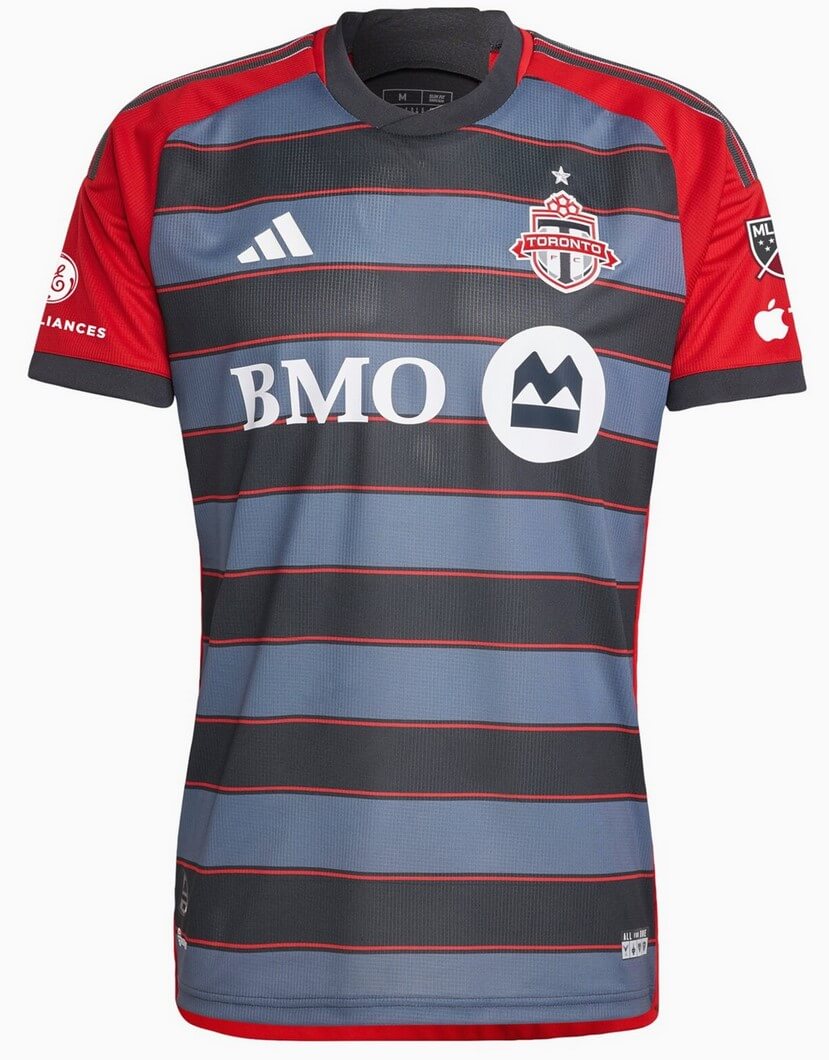 Kyle: This is the first primary kit in TFC's history to not be predominantly red and while it's not terrible, I think it's too far removed from their visual identity and history.
CJ: Quite like the last entry, this also looks like a training top. Given the limited kit options, it's surprising to go that far from their visual identity as Kyle says.
• • • • •
Thanks, guys! They'll be back again with Part II — the Western Conference — later this morning.