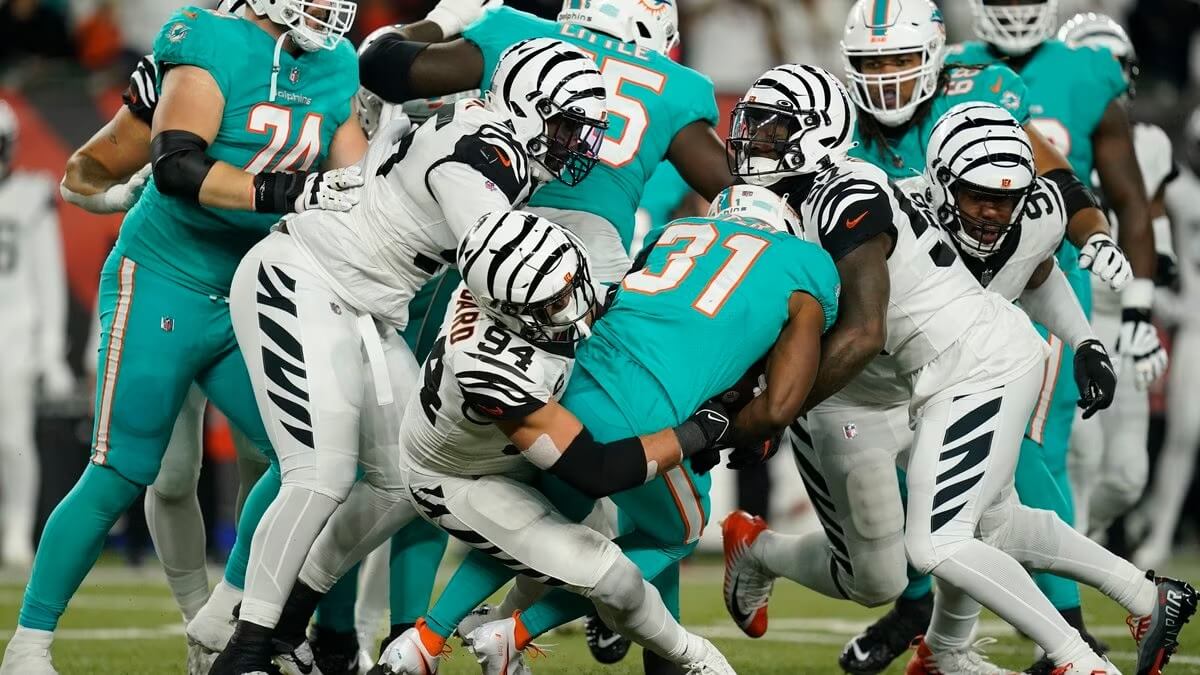 Greeting and a good Saturday morning everyone. I hope you've all had a good week.
With the NFL regular season in the books, today I wanted to take a look back at the "best" and "worst" uniform matchups for each week of the season. When I began this, I thought most weeks would have a "slam-dunk" best or worst, but it turns out it's not so simple. Some weeks, we had a plethora of good looking games — other weeks, there were a good half-dozen contenders for worst uni combos. For each week, I've included a link to the GUD for all uni combos that week (indicated by "Week XX") in the writeups, so you can see for yourself how all the teams were attired. I tried my best not to repeat any teams/combos, but in a few instances there will be repeats. Some "good" unis will always look good (it takes two to tango), while some teams with really bad looks won't need much to make the matchup a real stinker. The fact that the Bills in mono-blue below the neck didn't even make the list should tell you something. For the most part, I shied away from your "typical" great matchups that happen almost every season (though there are a couple of those), and tried to pick games that were the most visually appealing in a given week.
I'm sure you'll disagree with a few of my picks — actually I would hope you do. Indeed there were some weeks where I waffled between a couple games (either bad or good). And if you happen to like a certain "look," I'm sure you'll disagree because I don't. If nothing else, the 2022 season proved there are still some outstanding looking games…and we're well on the way to a lot of less-than-stellar matchups both this year, and certainly in the years ahead.
Enjoy!
• • • • •
WEEK 1:
BEST: Raiders/Chargers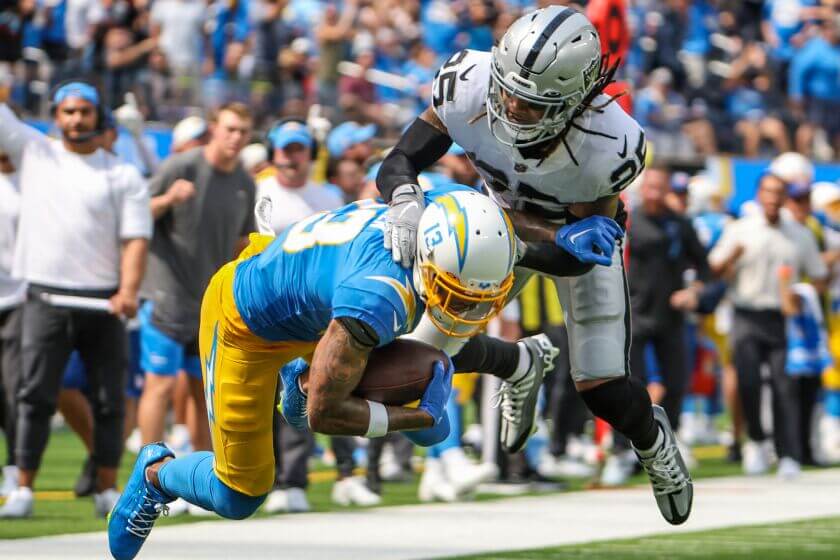 The original 1960 AFL rivals have almost always had wonderful looking games, and their Week 1 matchup was one of the best. The Chargers have (arguably) one of the Top 5 unis in football now, and da Raidahs never change (and that's a good thing).
WORST: Broncos/Seahawks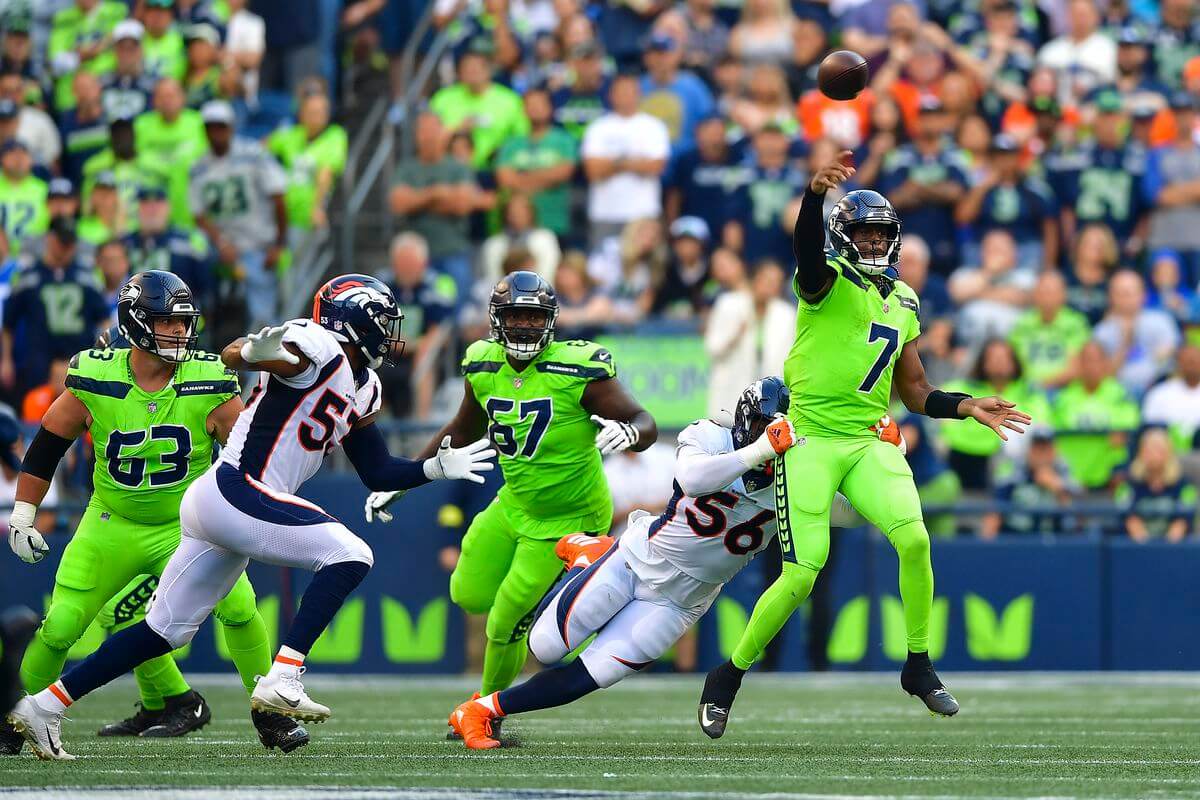 And it wasn't even close. Despite wearing these unis (and winning three Supes) for a quarter century, I think we can all agree the Broncos are due for new uniforms.
__________
WEEK 2:
BEST: Commanders/Lions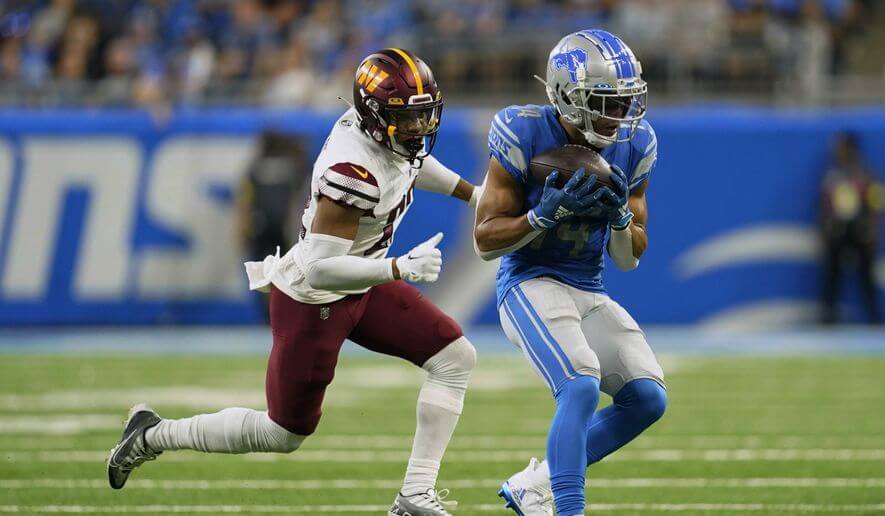 There were a number of good uni matchups in Week 2, (including the Packers/Bears), but the burgundy/white vs. Honolulu blue/silver was a pleasant surprise, especially considering some of the wretched combos both teams would wear thoughout the season.
WORST: Rams/Falcons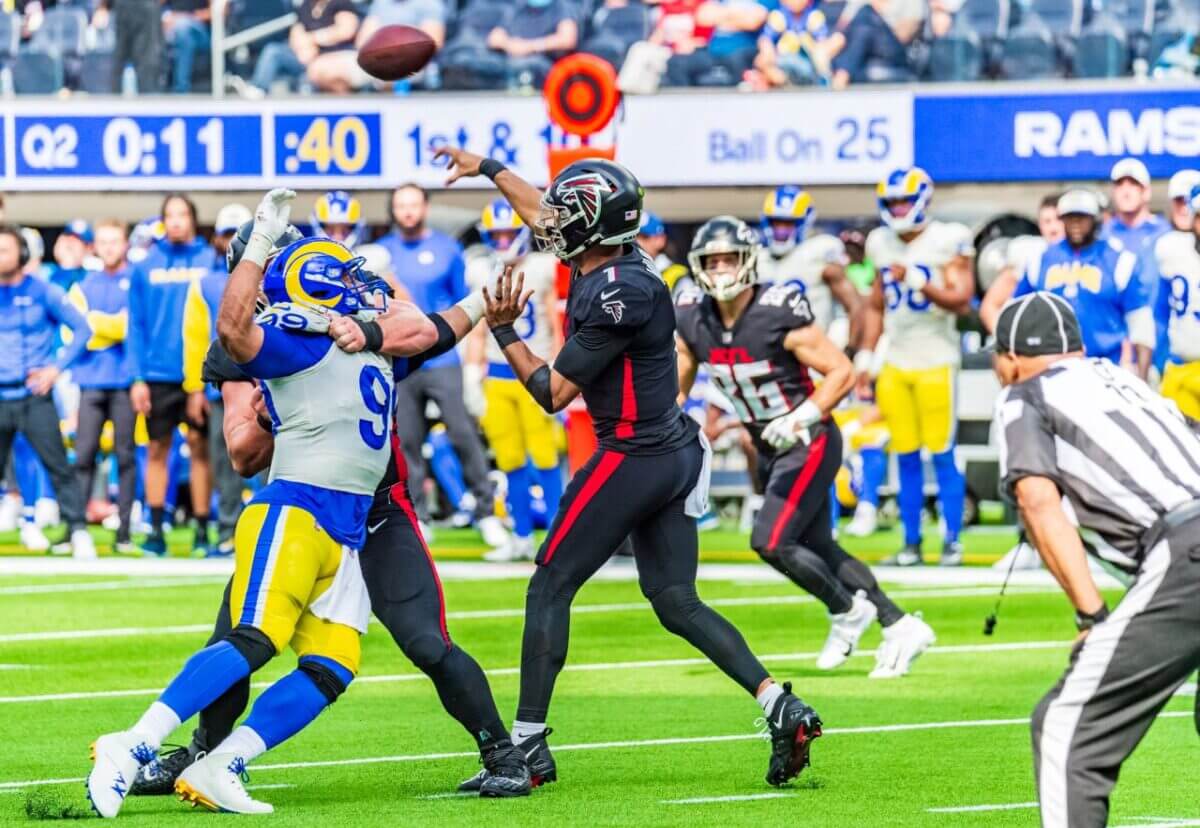 Week 2 also provided few truly awful matchups, but the Rams in their dishwater tops vs. a fully-mono-black Falcons club just did not look good. It could have been worse — both teams have even worse combos — but together they were the worst on the field for Week 2.
__________
WEEK 3:
BEST: Steelers/Browns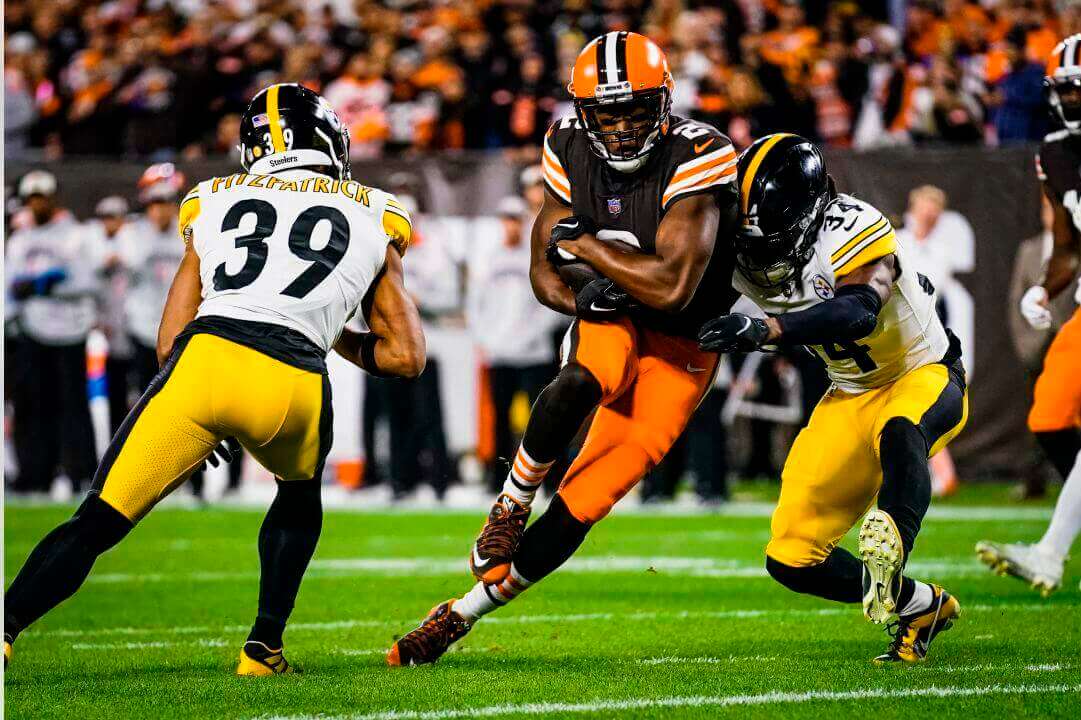 If you watched any TNF this season, you'll know there were a plethora of truly awful matchups, so I was pleasantly surprised by this gorgeous tilt between the Browns and Steelers. Honorable mention to the Giants/Cowboys, but there was just too much white in the Big Blue's palette to be the best.
WORST: Raiders/Titans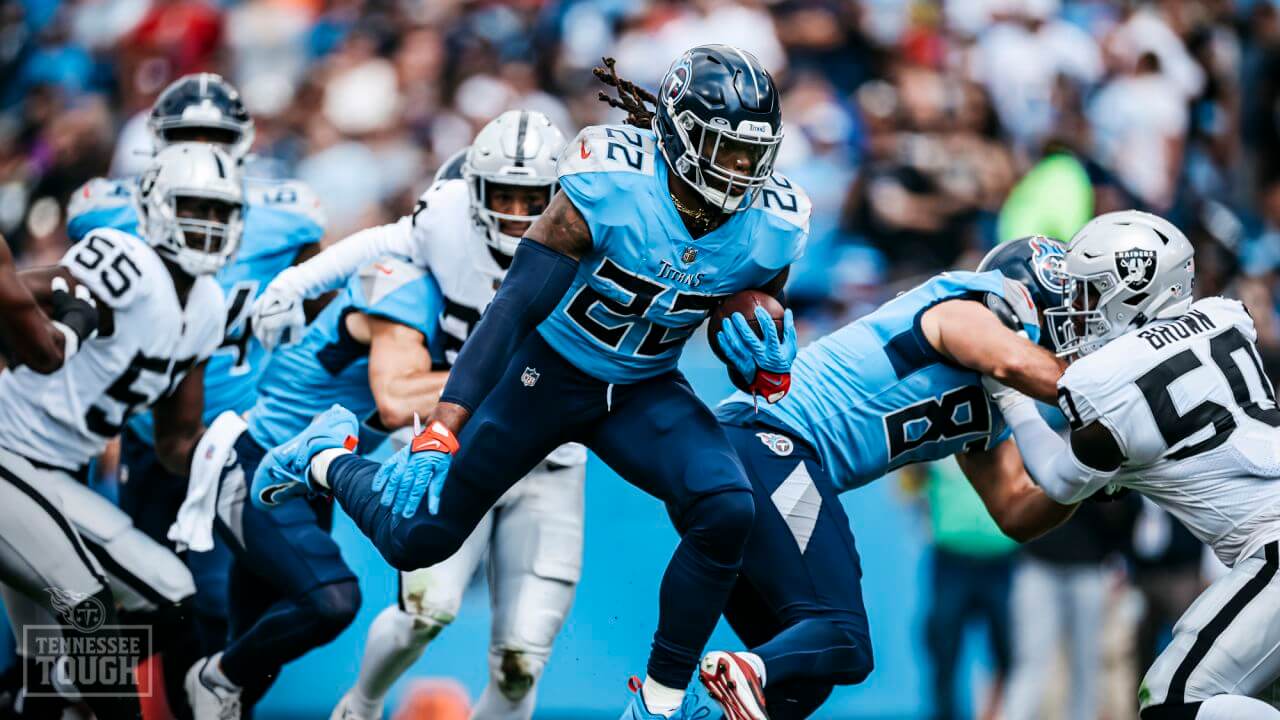 It takes two to tango — usually — to create a bad matchup, but Week 3 was also surprisingly good. I hate to penalize the Raiders, but the Titans navy/powder/navy-tights look is awful enough on its own to qualify this week.
__________
WEEK 4:
BEST: Bears/Giants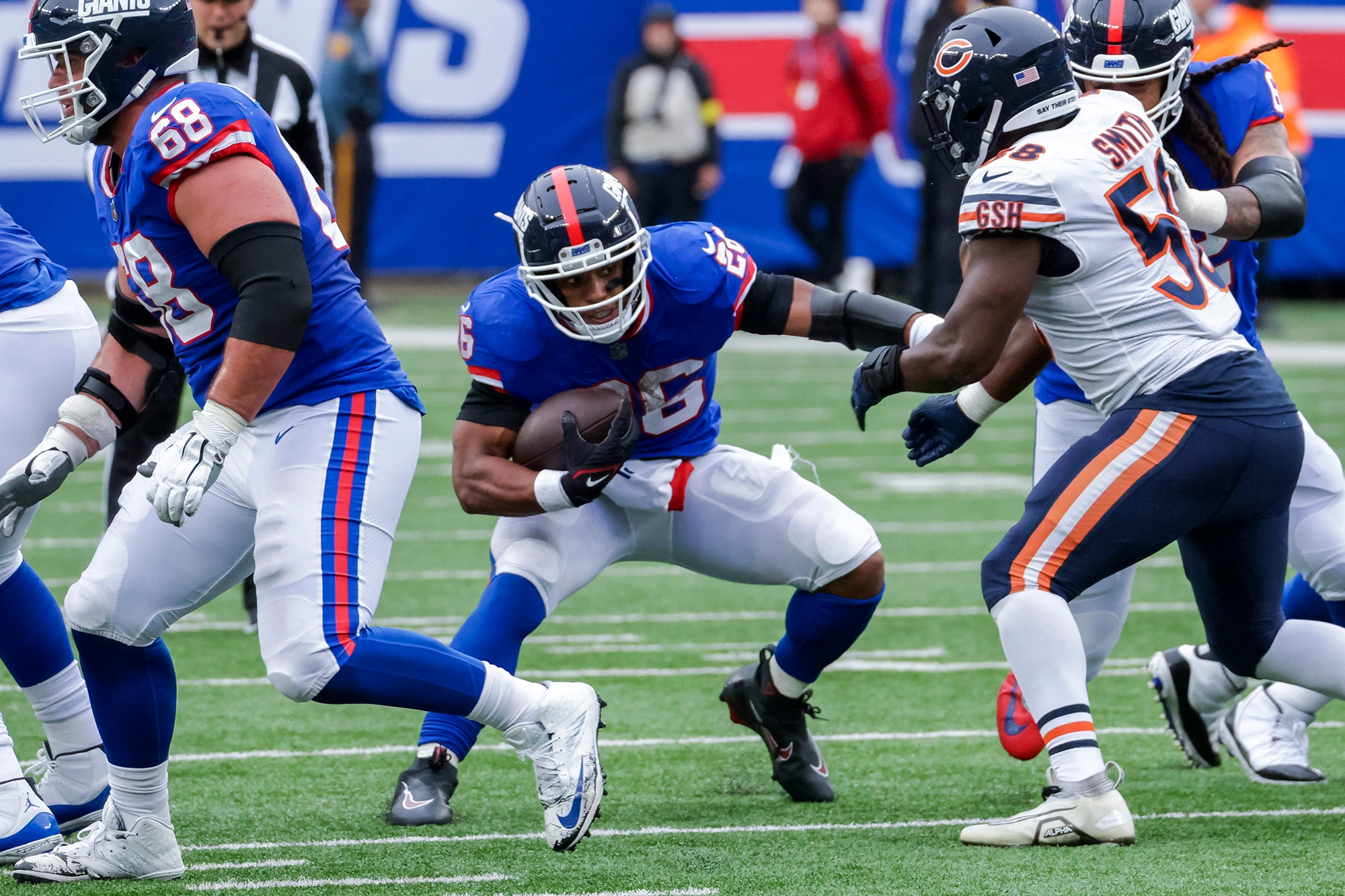 There were surprisingly few good matchups in Week 4, but the G-men in their 80s/90s throwbacks against da Bears really brought back memories of a great 80s rivalry. Great move by the Giants to bring back the two-time Supe winning look!
WORST: Dolphins/Bengals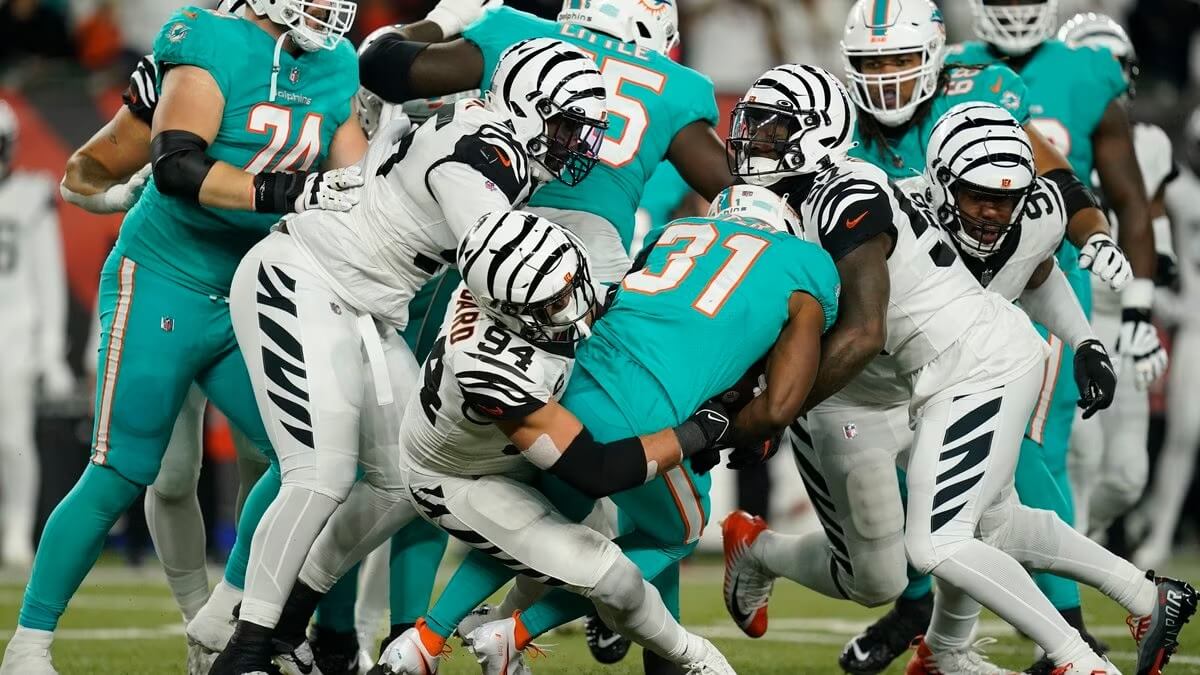 If you clicked on the "Week 4" link above, you'll note the multiple games with "mono-vs-mono" (at least below the neck) matchups there were, including not one but two mono-purple games. Woof. I almost hate to penalize the Bengals for their white tiger look (which I love), but that versus the all-aqua Dolphins? Not good. Feel free to disagree here, there were so many bad matchups this weekend.
_________
WEEK 5:
BEST: Lions/Patriots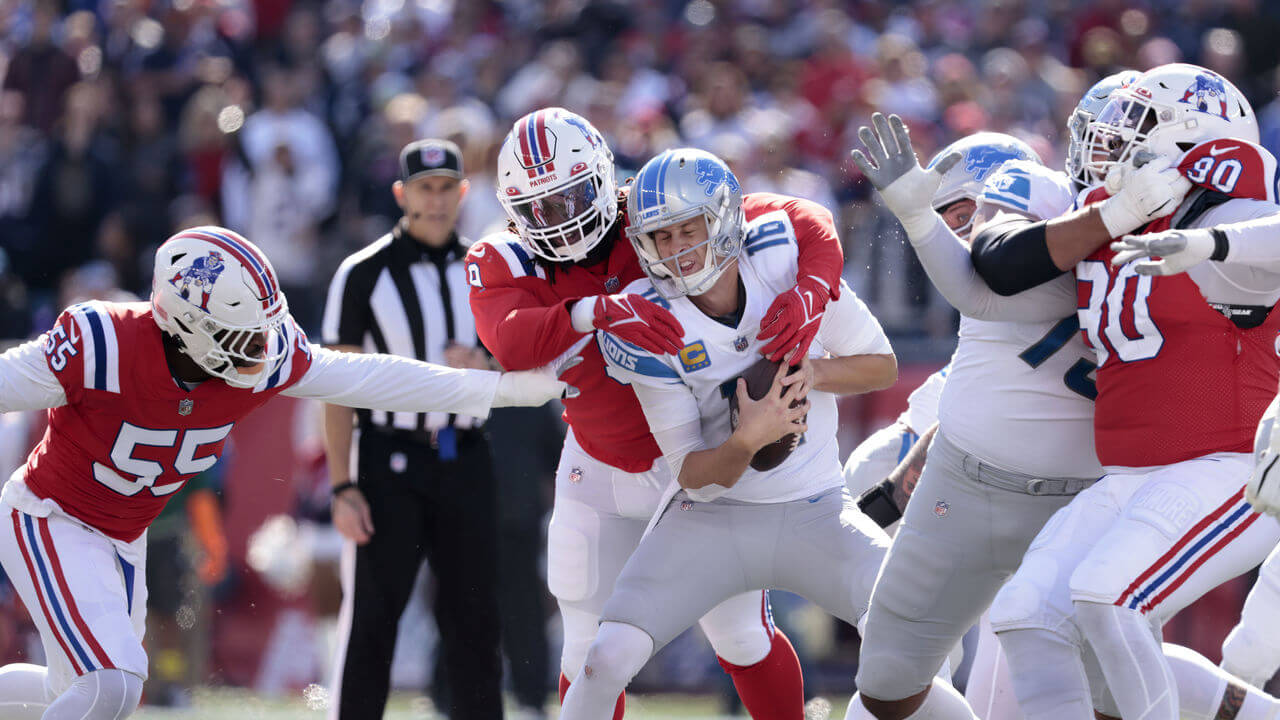 We have to thank the Lions for not ruining Pat Patriot's return in Week 5. The Lions will be on at least one "Worst" list, but not today. Ever since the one-shell rule was lifted, this was one of the most anticipated throwbacks, and the Patriots didn't disappoint!
WORST: Chargers/Browns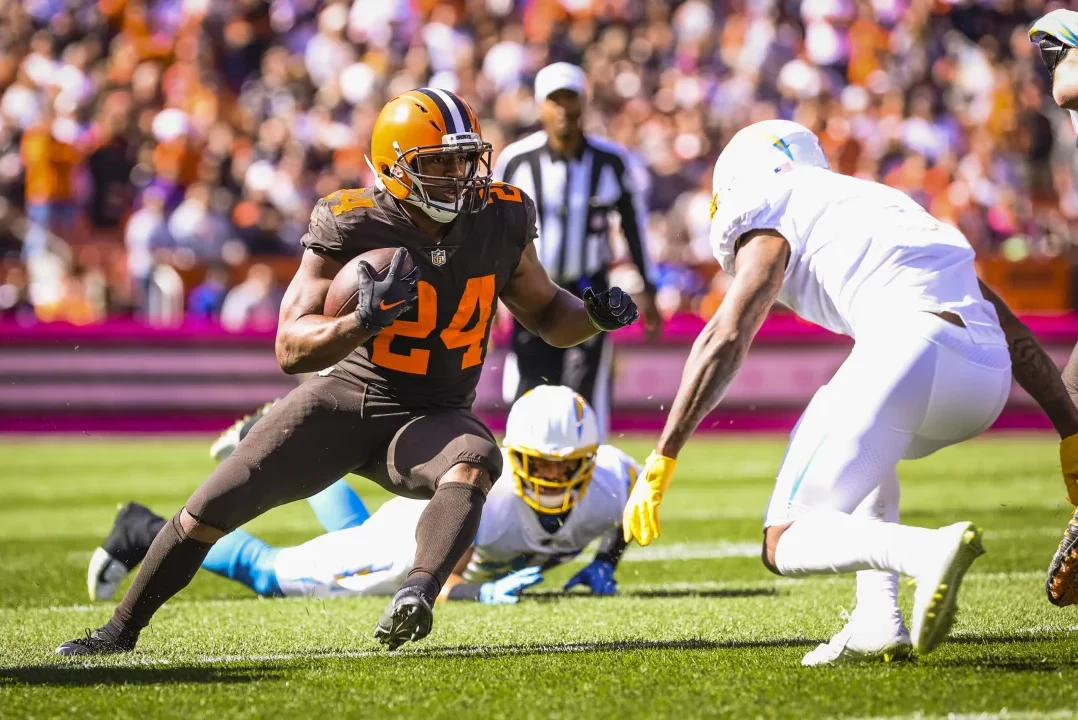 You won't find the Chargers on too many "worst" lists, but in mono-white, in the glaring sun, against the mono-brown-below-the-neck Browns, this was NOT a good matchup. Contrast wasn't the problem, but pretty much everything else was.
__________
WEEK 6:
BEST: 49ers/Falcons
Just like you won't find the Chargers on too many worst lists, you won't find the Falcons on many "Best" lists either, but their Week 6 tilt in their fauxbacks versus the Niners was damn near uni-perfection for both teams. We've said it before a thousand times: JUST. MAKE. THESE. PERMANENT. FALCONS.
WORST: Jets/Packers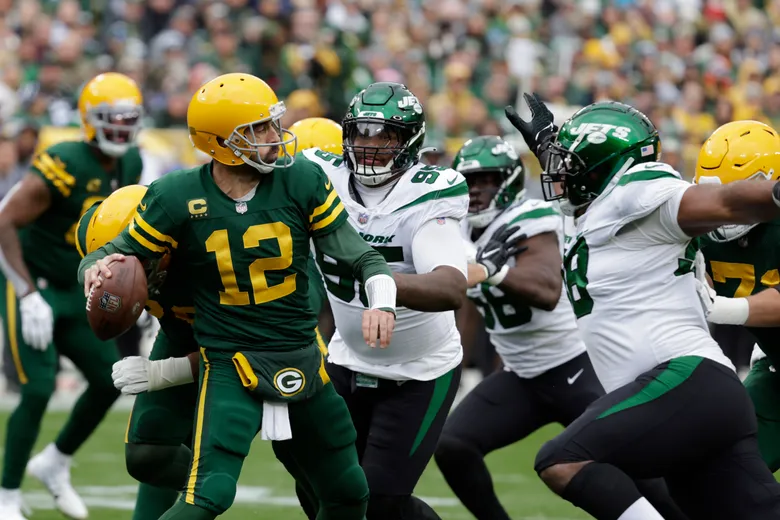 I like the Packers mono-green throwbacks (although I wish they'd wear constrasting socks), but when that look is paired with the Jets green/white/black-tights look, it's NOT a good combo. Two different shades of green (hunter and kelly-ish), tights-look for both, and the Jets so-dated BFBS-fetish made this one very hard to watch.
__________
WEEK 7:
BEST: Bears/Patriots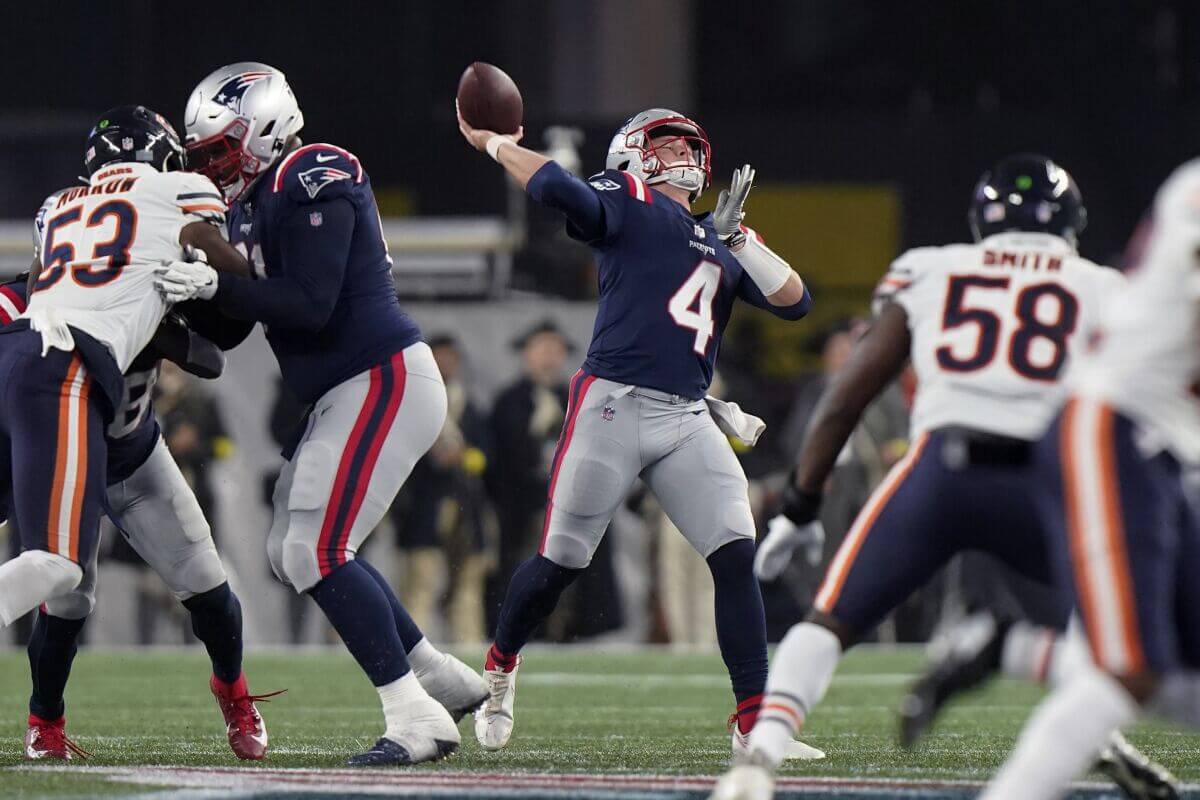 OK, so it wasn't quite Supe 20 good, but the Pats finally broke out the mythical silver/gray pants in Week 7 which they should wear every week, and the game looked fabulous! Unfortunately, the pants were a one-hit wonder, since NE lost wearing them. Let's hope they come to their senses next season and wear these — if not every week, then at least at home.
WORST: Saints/Cardinals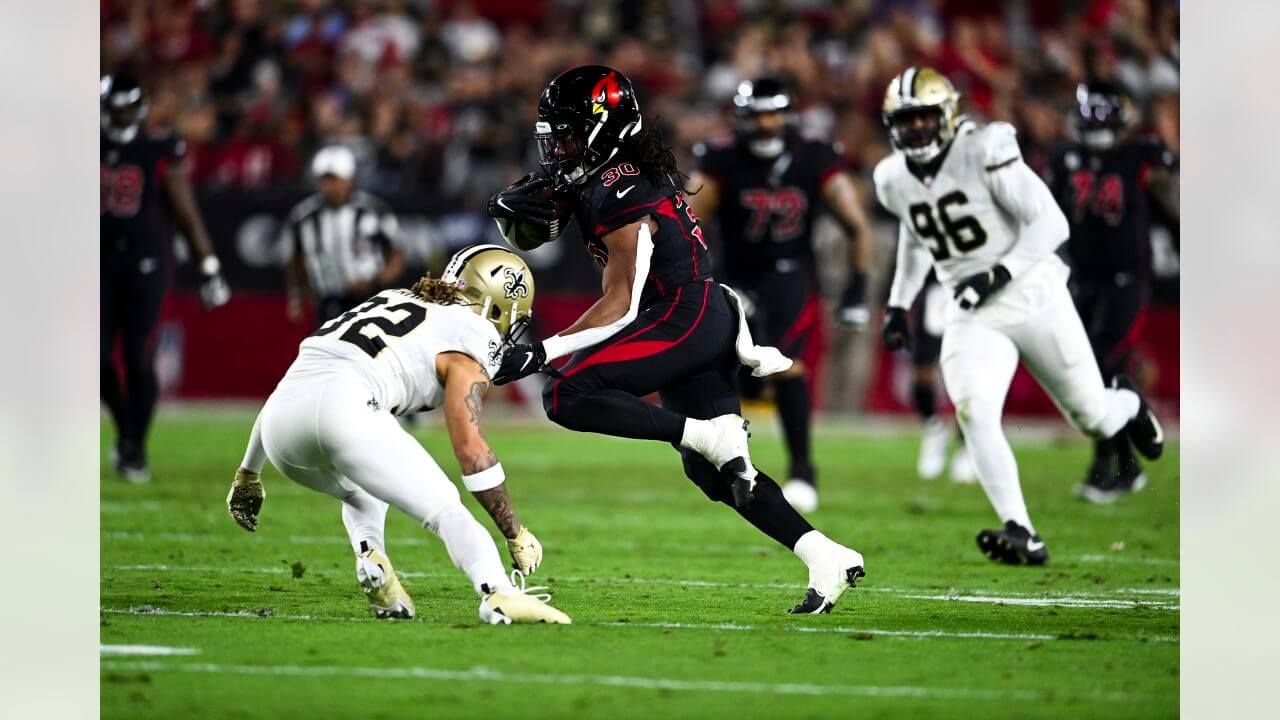 The only good thing I can say about this game is the Cardinals looked better with their alternate black helmet and CR unis than they did with their white hats. This one was a truly awful looking game.
__________
WEEK 8:
BEST: Cowboys/Bears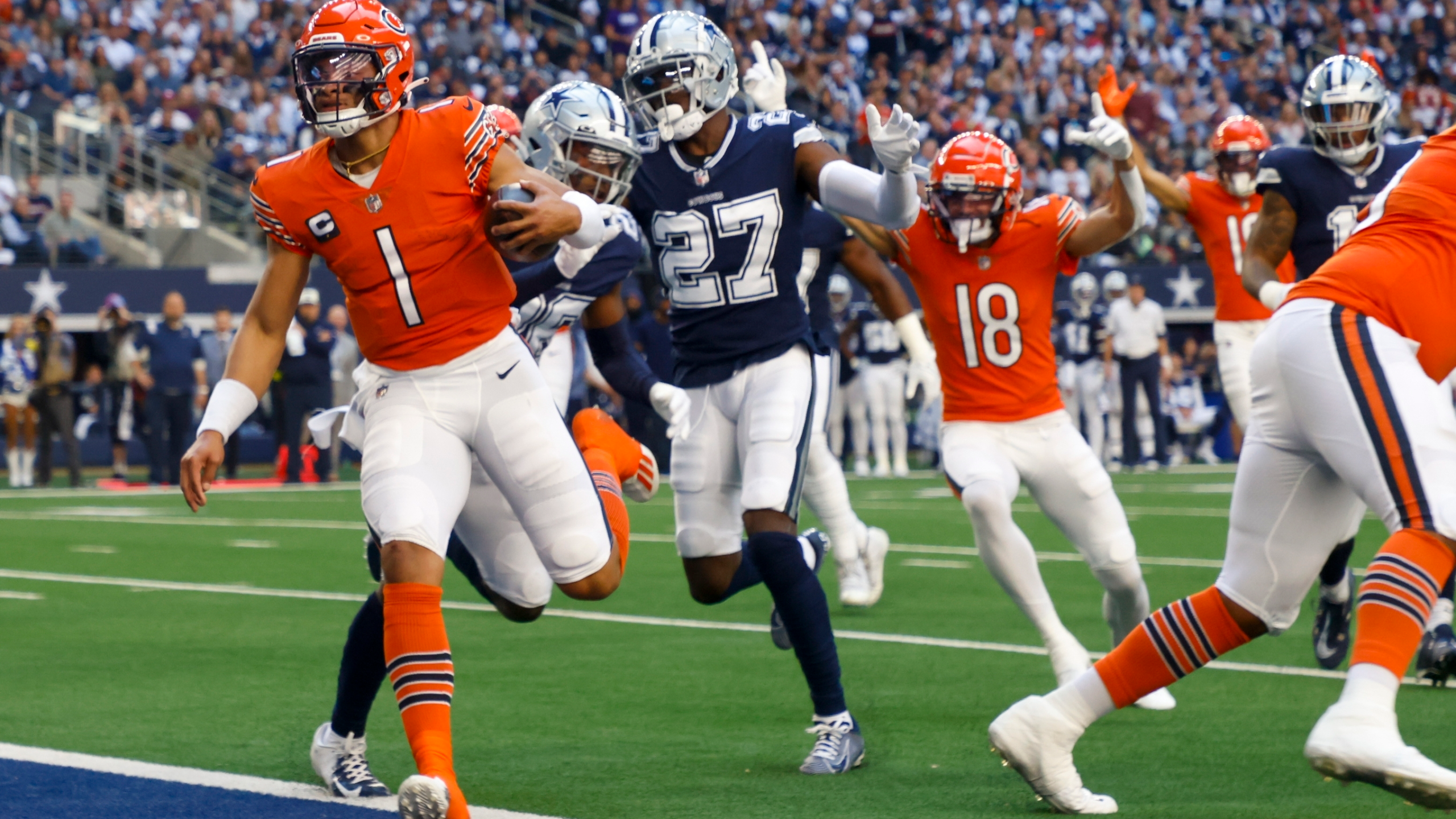 For Hallowe'en weekend in Week 8, we got a rare color-vs-color matchup. Yeah, I'm not a huge fan of the Bears alternate orange hats, and I didn't like that both teams wore white pants, but man…that navy against orange really worked well.
WORST: Dolphins/Lions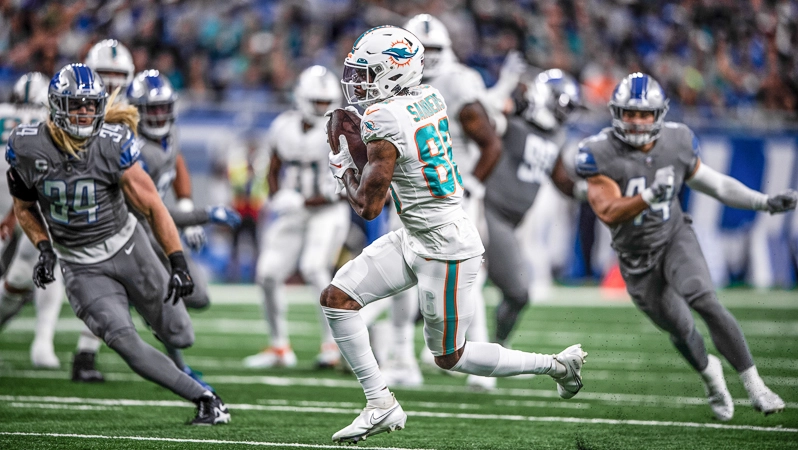 If the Lions mono-gray/silver isn't the worst uni in pro football, it's sure close to the bottom. Pair that against an entirely mono-white Dolphins and this was easily the worst matchup of the week.
__________
WEEK 9:
BEST: Kansas City/Titans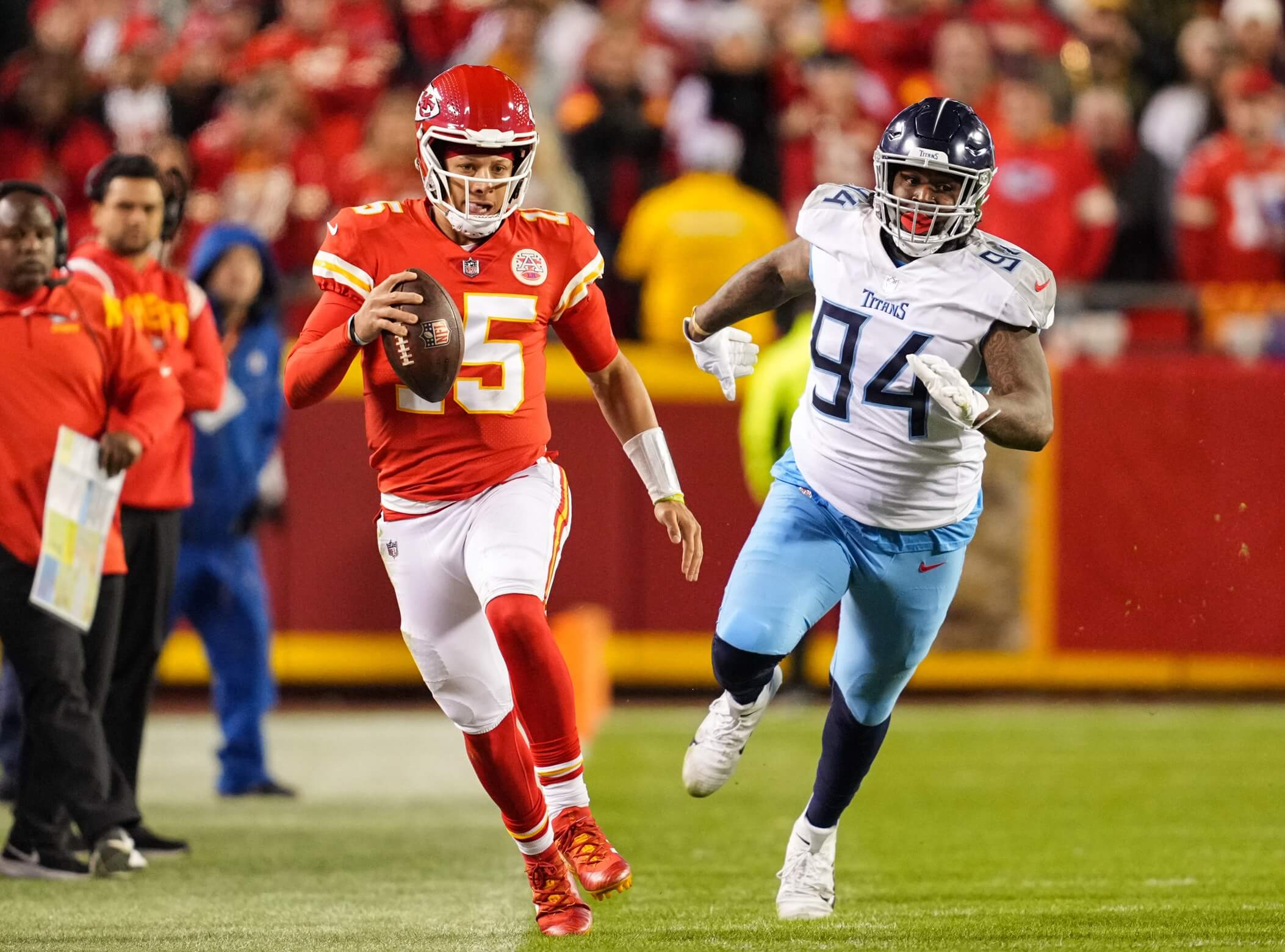 Wait…what? Yes, you know my feelings about KC's unis, and by-and-large the Titans have one of the worst uniform sets (and combos) in the NFL. But their Week 9 pairing was probably the best these two teams will ever wear against each other. Just aesthetically pleasing.
WORST: Commanders/Vikings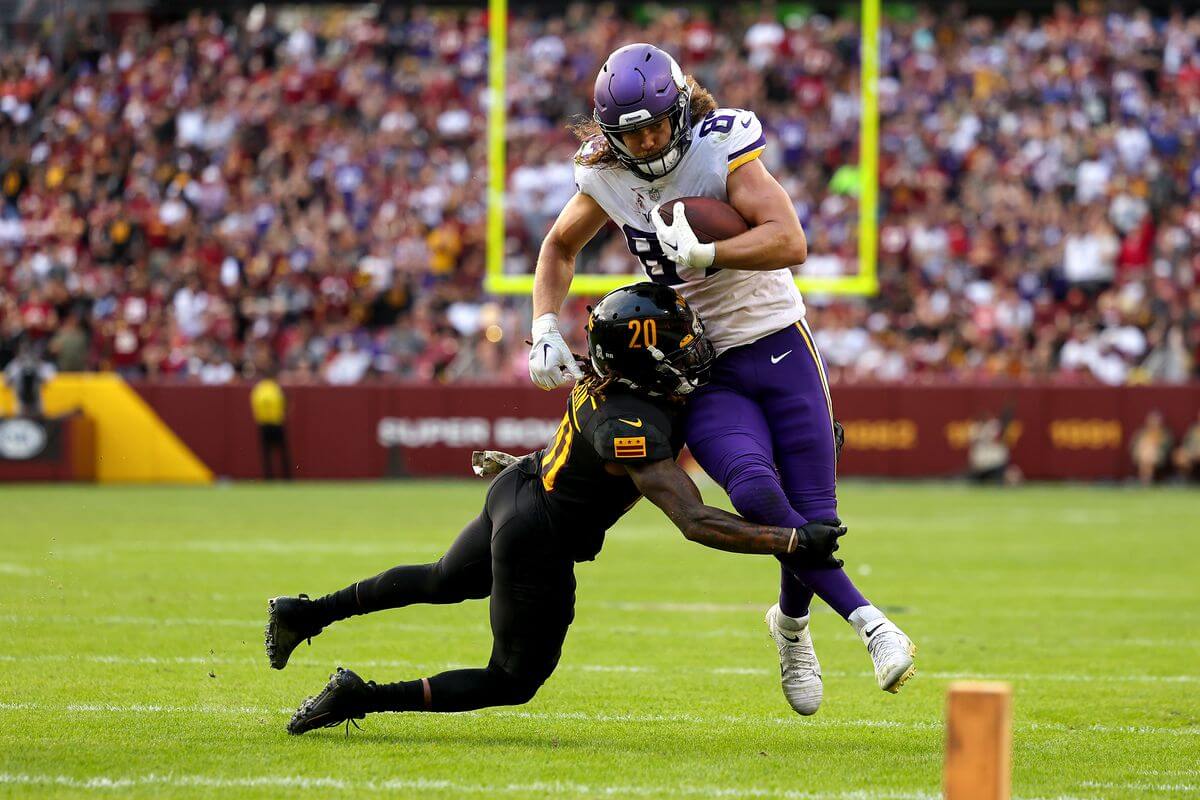 Yeah. No.
__________
WEEK 10:
BEST: Cowboys/Packers
There were a bunch of decent looking matchups in Week 10, but none topped the old school classic look of 'pokes vs. Cheeseheads. It honestly doesn't get much better than this pairing.
WORST: Titans/Broncos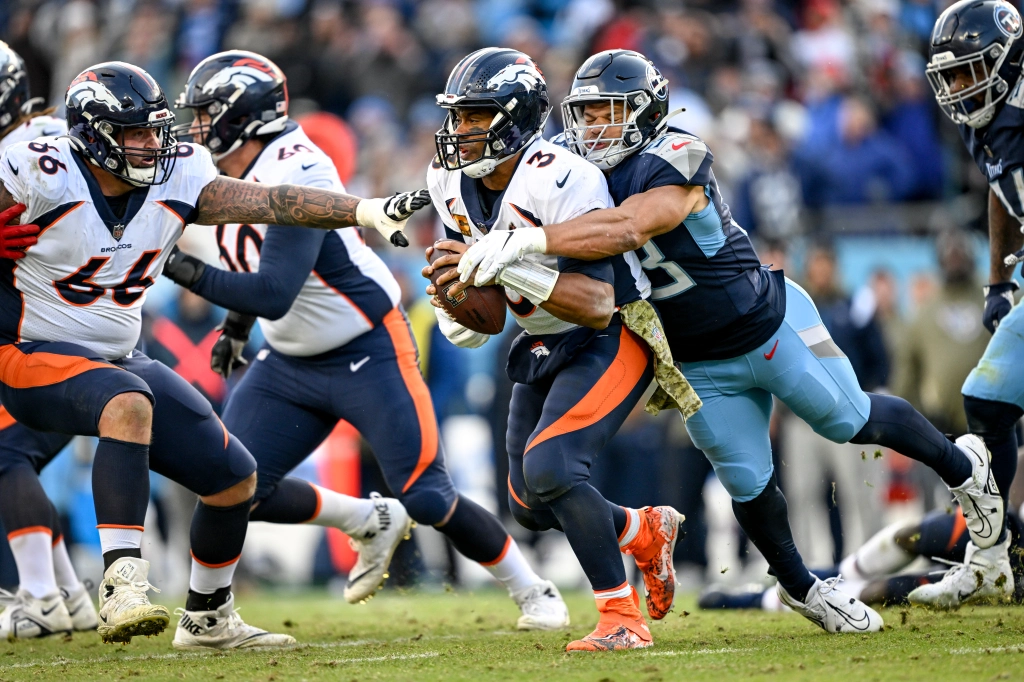 Sigh. Not only are these two uni templates awful by themselves, when seen together, there's also waaaaay too much navy. Combine that with the fact that (for the the second time this past season) the Broncos mixed and matched their navy side-panel jerseys with their orange panel (stripe?) pants, and you get a terrible mix.
__________
WEEK 11:
BEST: Saints/Rams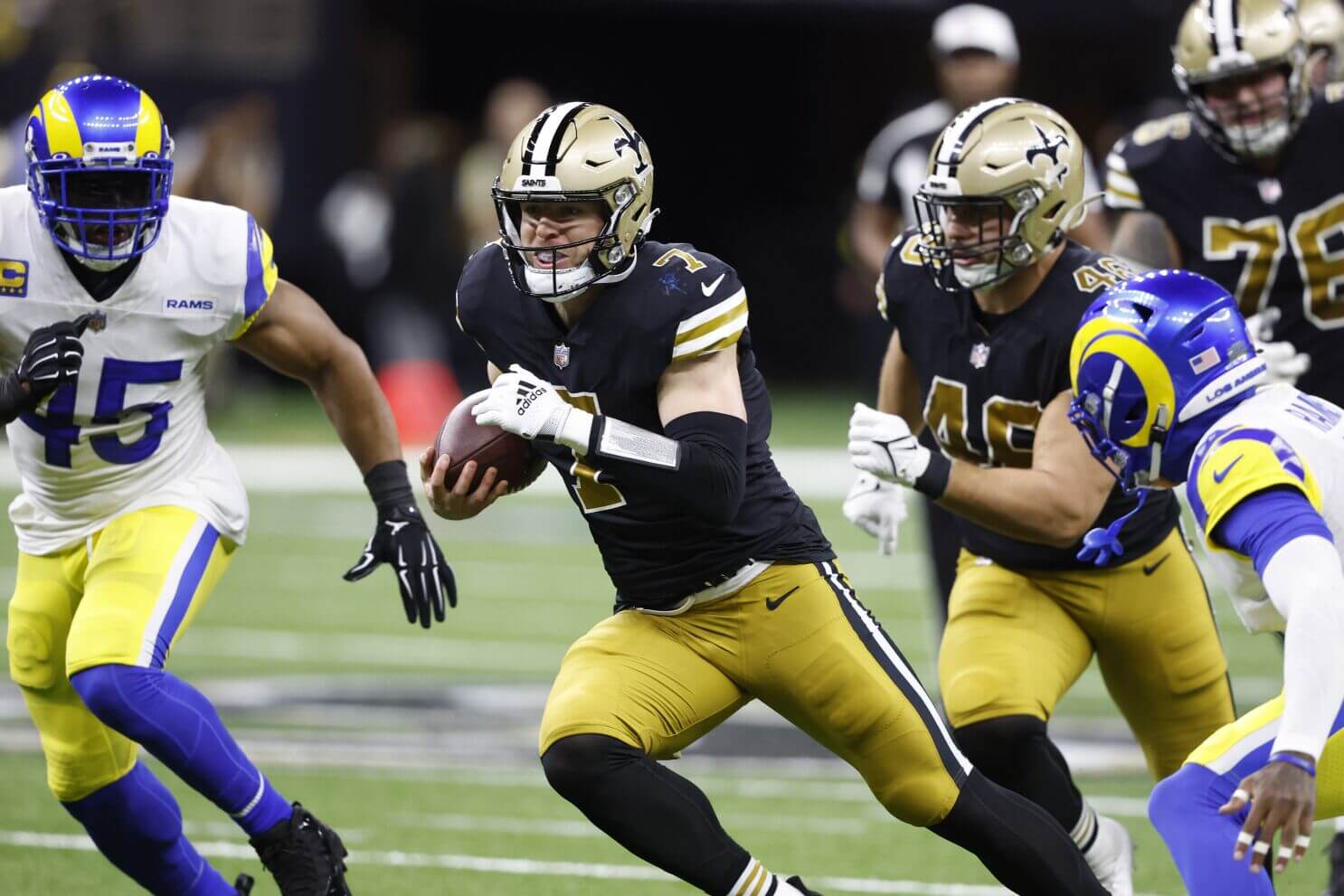 We can thank the Rams in Week 11 here for wearing their best look. Yes, the golds on the Saints unis don't match the helmet, but can anyone look at this throwback and truthfully say, "this doesn't look good"? No. Going forward, the Saints need to alter the gold helmet to be more of an old gold look (to match the unis) and make it permanent.
WORST: Falcons/Bears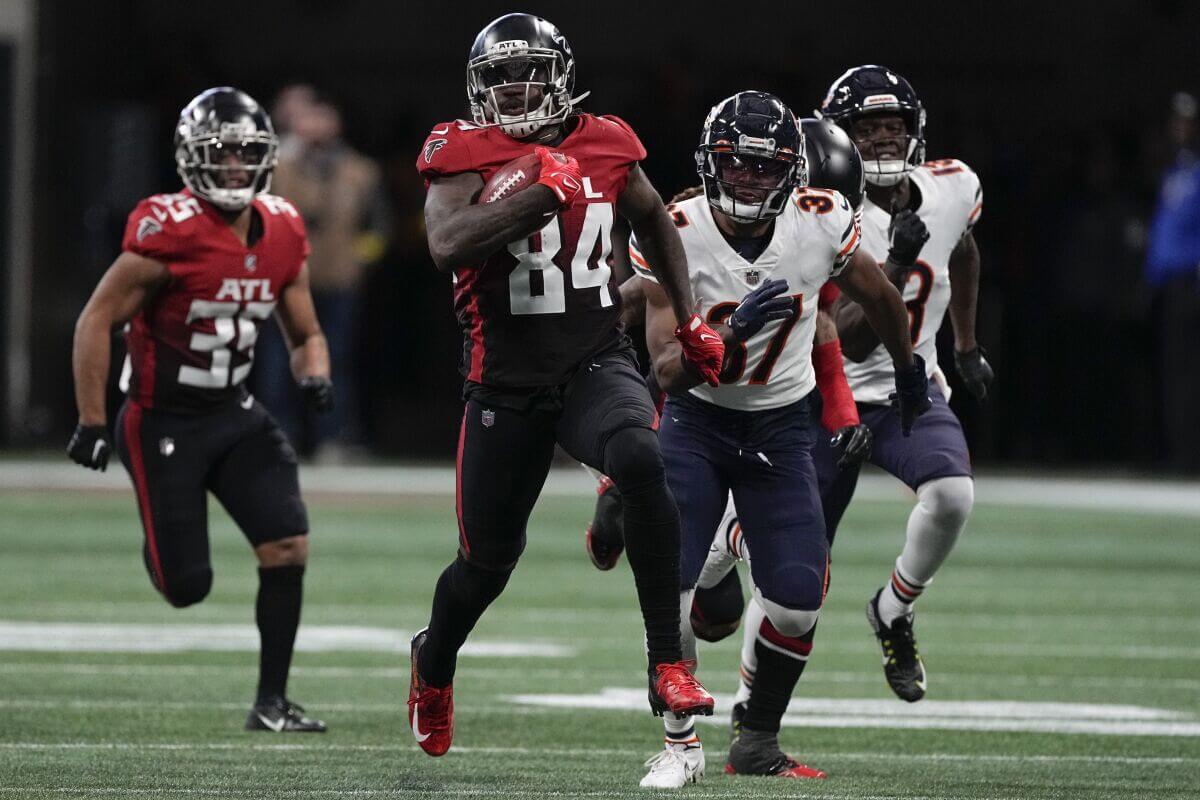 I can't really fault da Bears here — although I wish they'd wear midnight/white/white occasionally — but the gradient of the Falcons combined with the large amount of midnight blue in the dank lighting in the ATL adds up to a muddled mess. No bueno.
__________
WEEK 12:
BEST: Cardinals/Chargers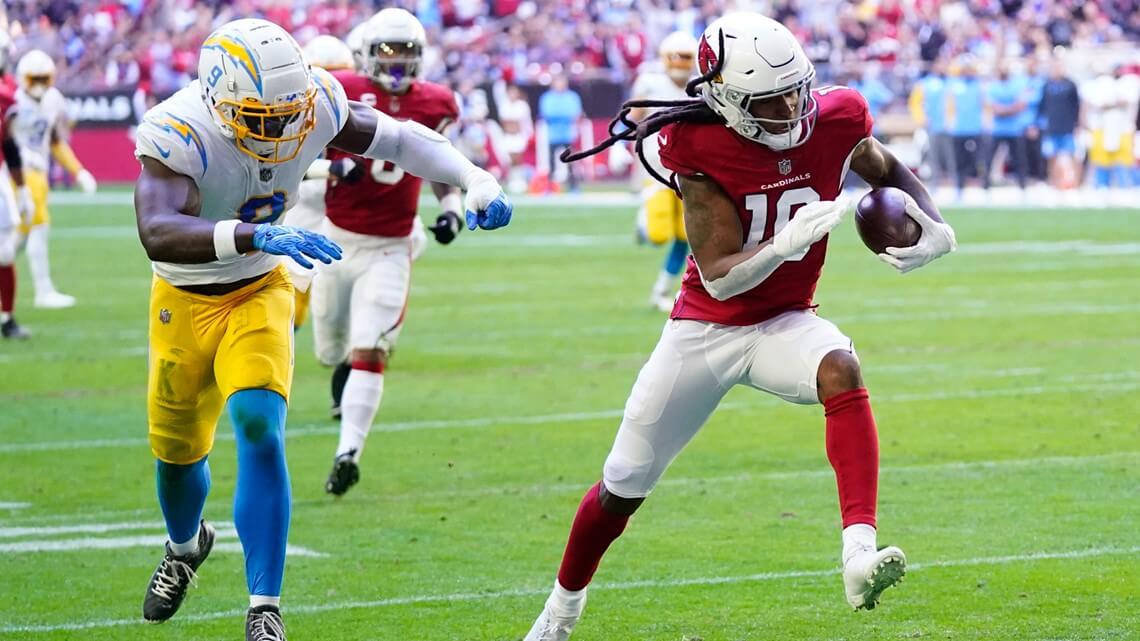 WHAT? For Week 12, a matchup between the Cards — who are the team in most need of a redesign in the NFL — and the Chargers are the best? OK, one could make an argument for a couple others, but this game in the late afternoon sun, with the Cards in their "best" (a relative term, sure) look and the Chargers (in their best road look) actually looked surprisingly good. Nothing this week really stood out (Steelers/Colts was nice), so looking at game photos, I found this one quite visually appealing.
WORST: Patriots/Vikings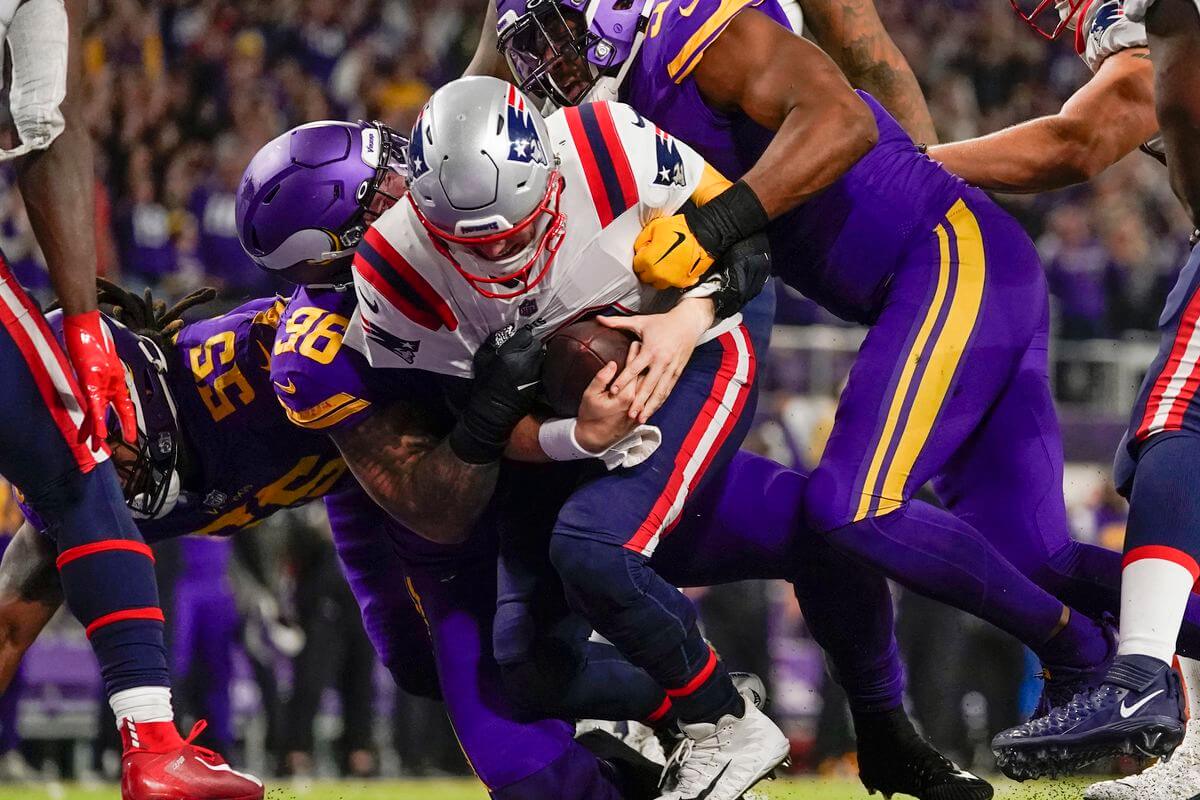 This game was brutal on its own, but the fact that neither the Patriots nor the Lions (playing Buffalo) wore throwbacks on Turkey Day was unforgiveable. Yes, the Vikings were home team, but they could have worn white jerseys against Pat Patriot. Instead, they chose to make Thanksgiving desert a fruit cake instead of a pumpkin pie. Feh.
__________
WEEK 13:
BEST: Colts/Cowboys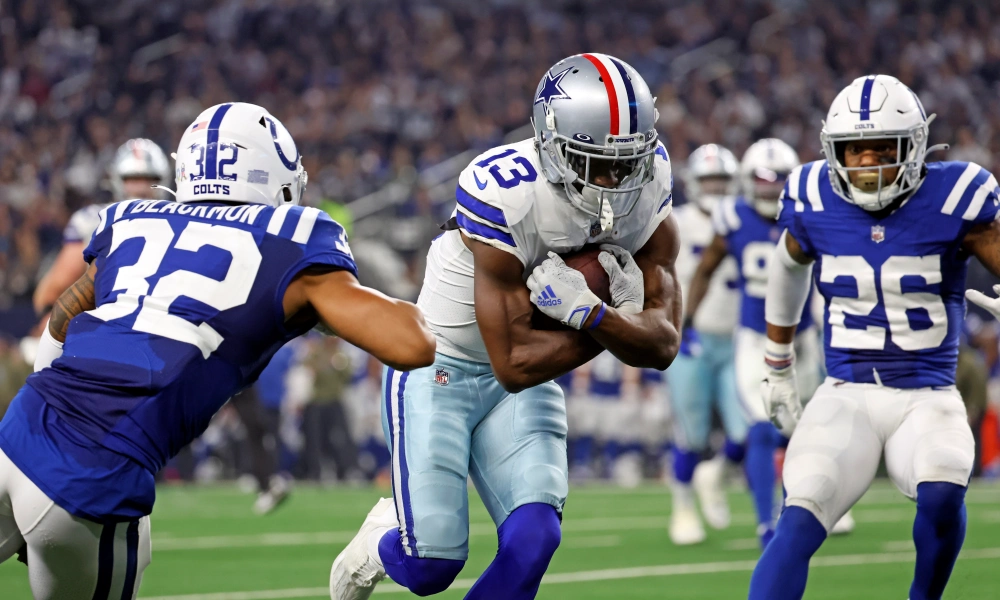 The Colts could probably make any "best" list at least half the time, but their Week 13 tilt against the Cowboys was superb. Bonus points to the 'boys for wearing their 1976-throwback helmet striping!
WORST: KC/Bengals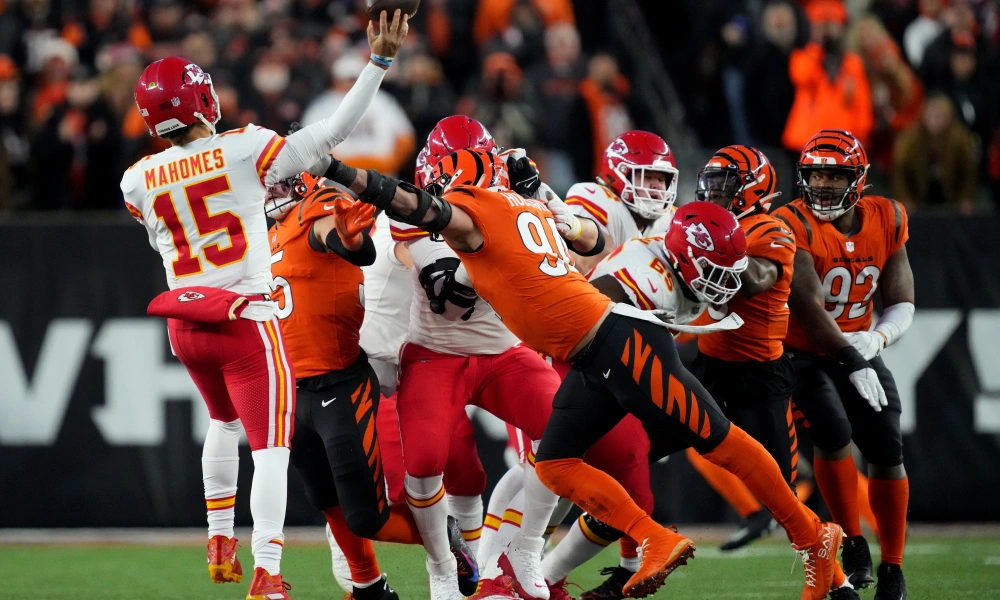 Individually, both of these unis aren't bad (though I prefer KC in white over white), but together? WOOF! Orange and red do NOT a good mix make. They're too close on the spectrum to work well together; instead, the visual is more that of an old analog TV set where you had to manually adjust the color contrast…and failing.
__________
WEEK 14:
BEST: Rams/Raiders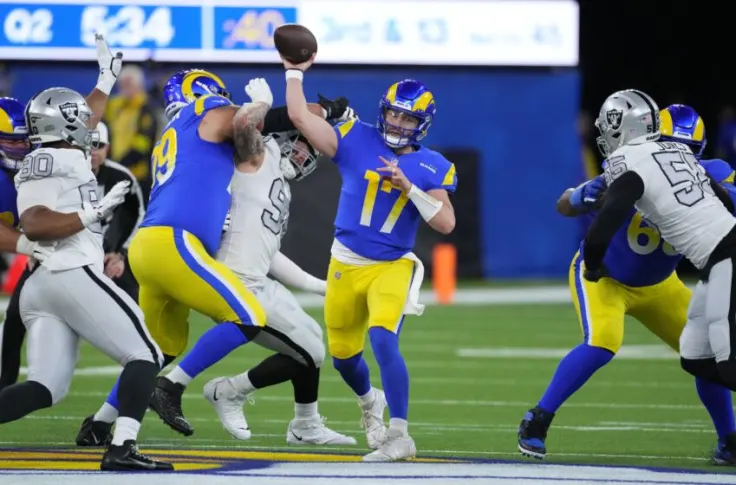 Like previous weeks, Week 14 didn't feature a runaway best by any means, but da Raidahs in their throwbacks (and most players wore black socks) against the Rams in their second best look, and the combo of the two was really nice looking. You could make a case for other games here, but this was my top choice.
WORST: Titans/Jaguars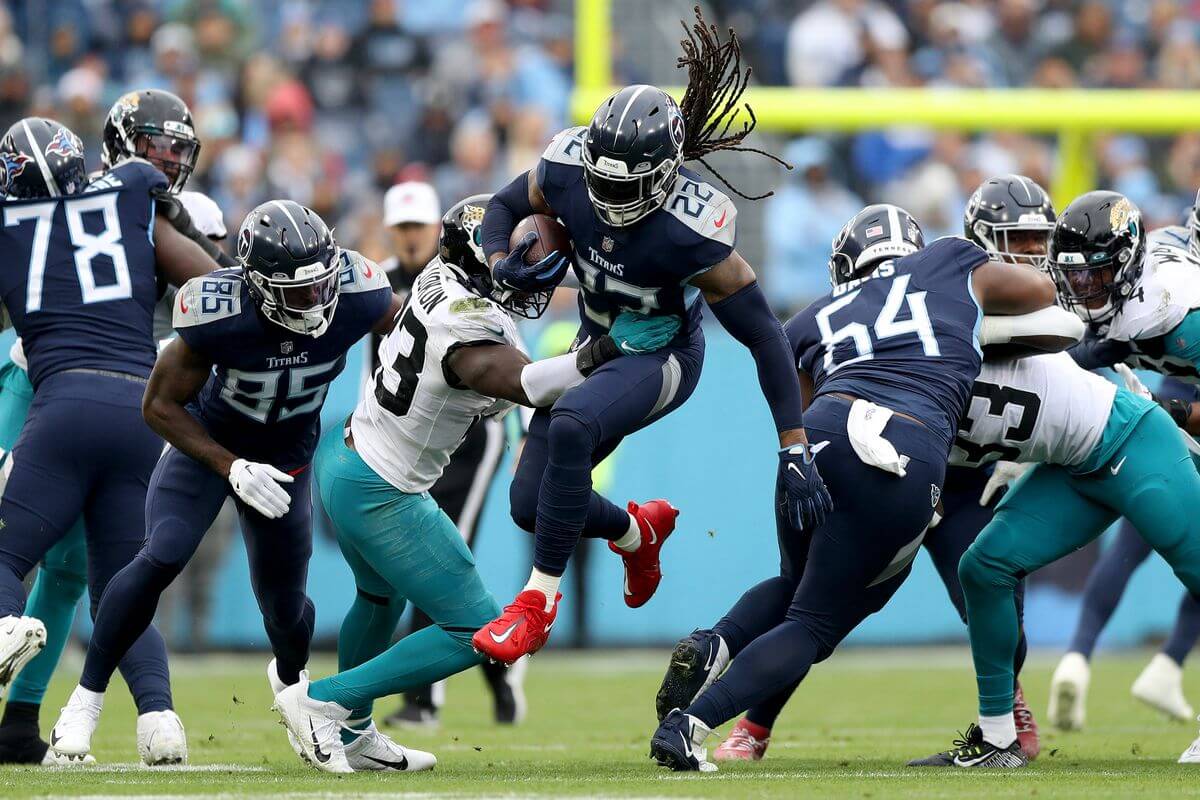 There is something about both teams wearing same color pants/socks, particularly if both are dark, that looks more high school or college than pros. Throw in the Titans in mono navy versus the Jags in teal leggings, and you don't get a very good NFL product, uni-wise.
__________
WEEK 15:
BEST: Bears/Eagles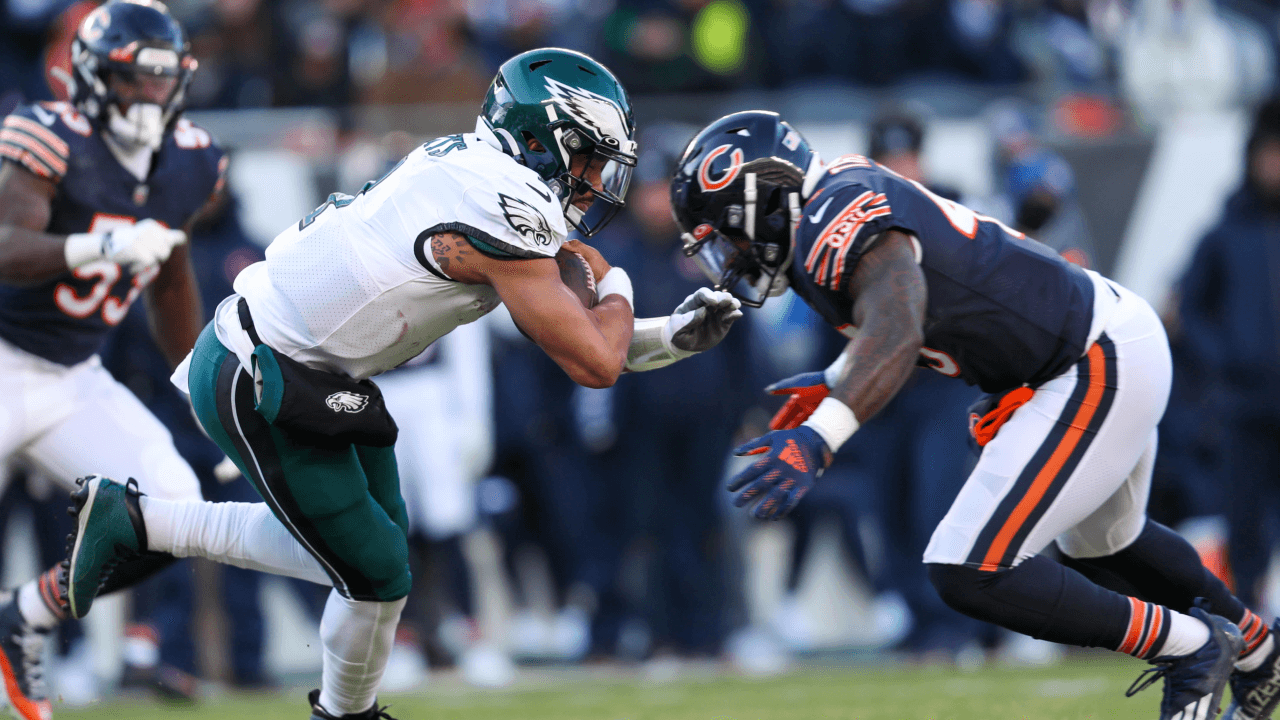 If you look at the Week 15 matchups, you'll find a half-dozen choices for "worst," but best? Honestly, I didn't love any of the combos, but Philly/ChiTown stood tall. Tallest midget, maybe, but tallest nonetheless.
WORST: Bengals/Buccaneers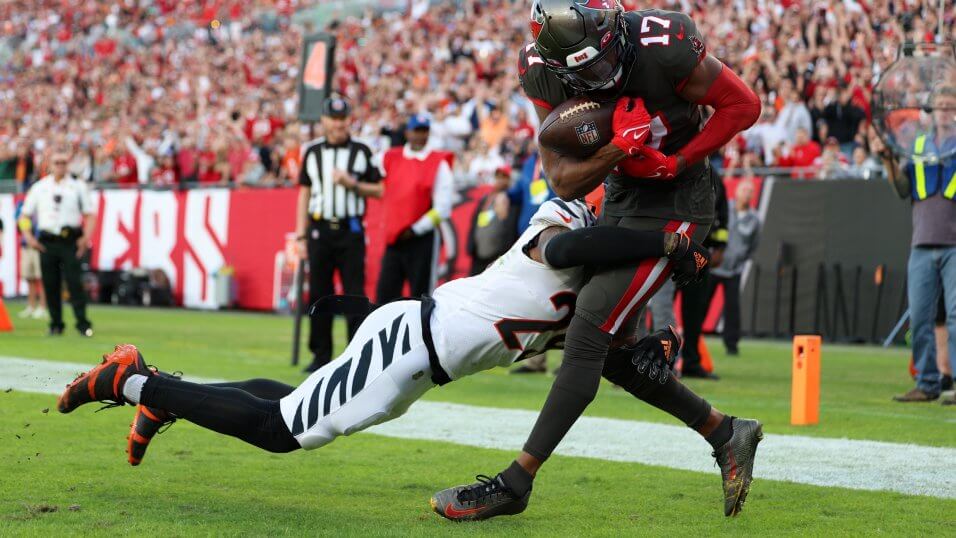 Lots of "bad" matchups to choose from here, but anytime the Bucs go mono-pewter, they take the clubhouse lead. It's just so drab, so devoid of anything approaching a "cheery" color (but not in an intimidating kind of way). I don't fault the Bengals here (indeed, anything they wore besides orange/white/white would probably have looked even worse). Let's face it: what the Bucs wear below the neck isn't what I'd call pewter (their helmet is close); it's really brown with the life stripped out of it.
__________
WEEK 16:
BEST: Steelers/Raiders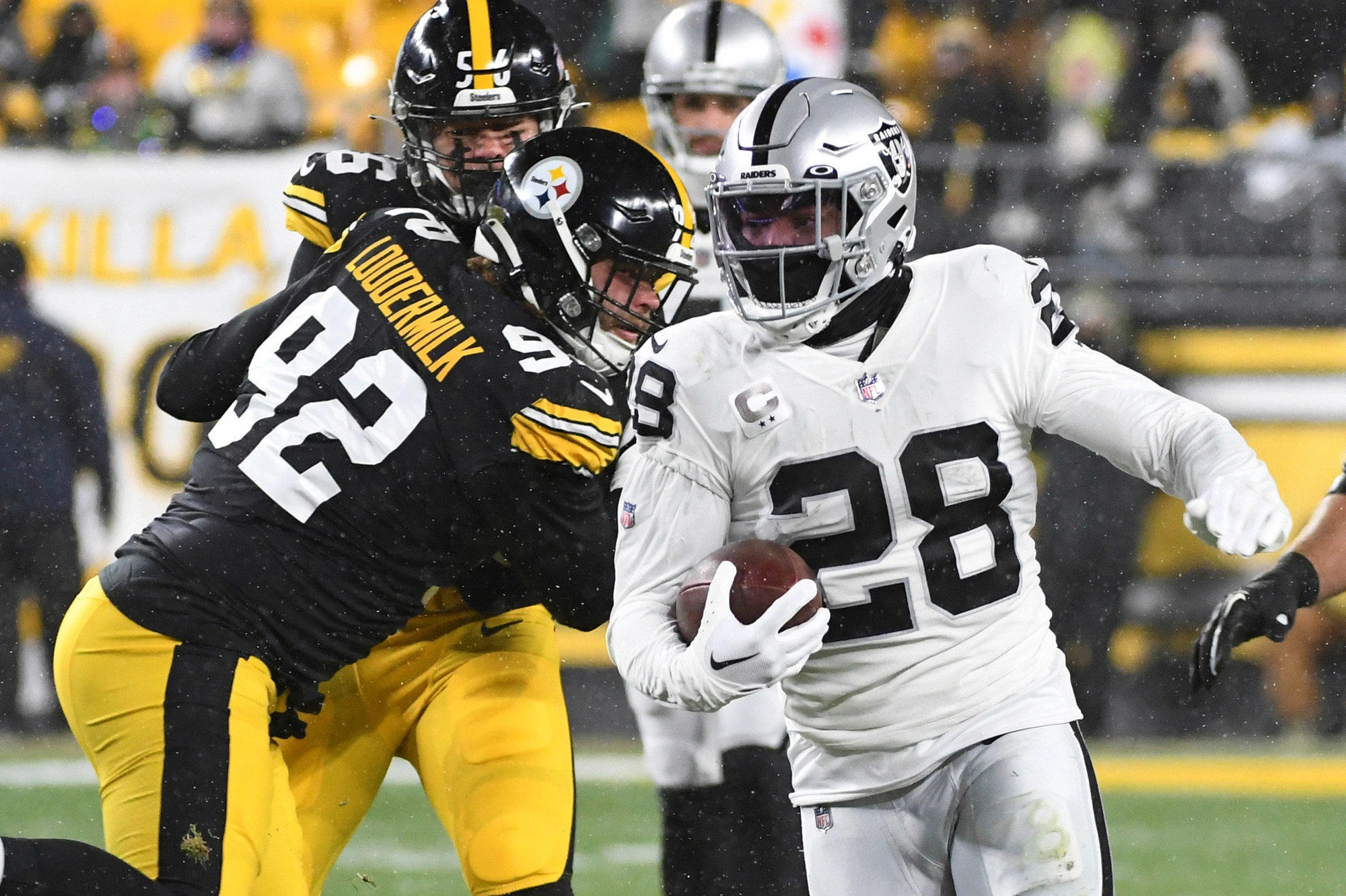 Oh baby. For Week 16, the Steelers and Raiders partied like it was 1972 — and indeed, the Steelers were honoring the "Immaculate Reception" with their throwbacks. Beautiful!
WORST: Jets/Jaguars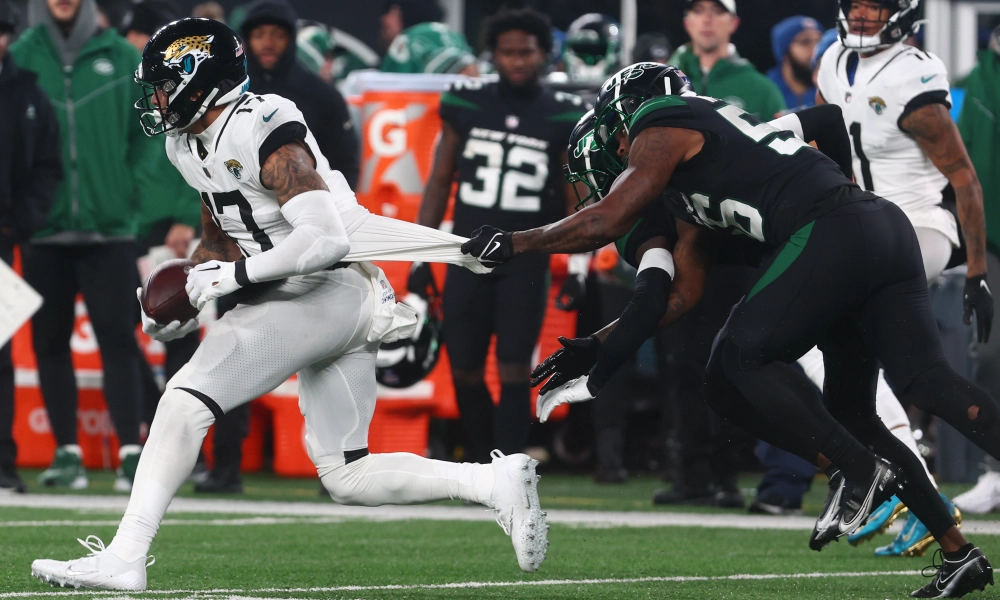 You probably think I'm picking on the Jags, but their decision to go black/white/white/white, with those white stripeless pants, against an entirely BFBS Jets, might have provided the greatest possible contrast, but that's about all it did. Just…no.
__________
WEEK 17:
BEST: Lions/Bears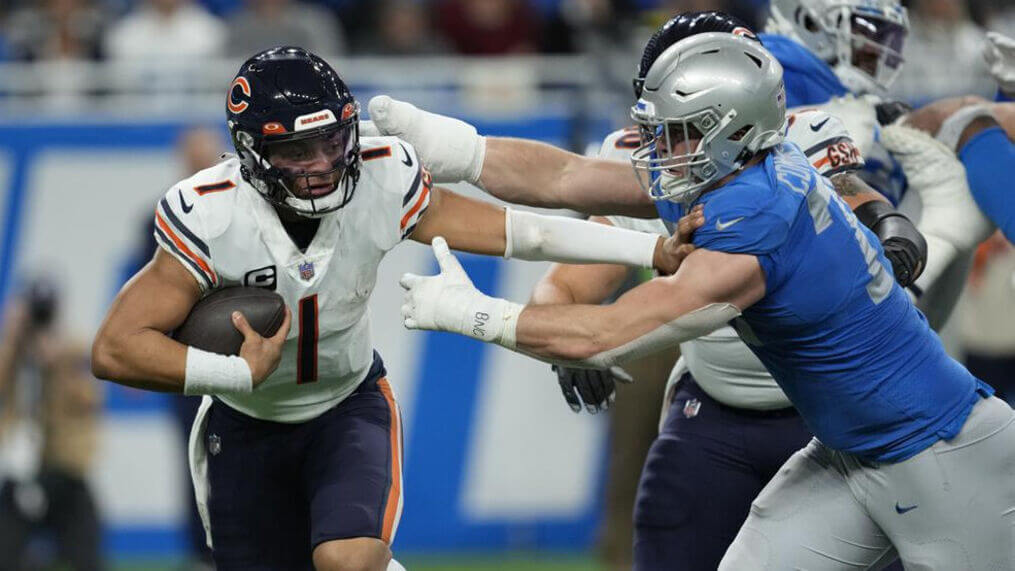 The Lions, for whatever reason, decided to wait until New Year's Day to wear their Thanksgiving Day throwbacks. Better late than never, I guess. And da Bears were just…da Bears. The funny thing about Week 17 was there really weren't that many bad looking games, and a bunch of good looking games. This was the best of the best.
WORST: Cowboys/Titans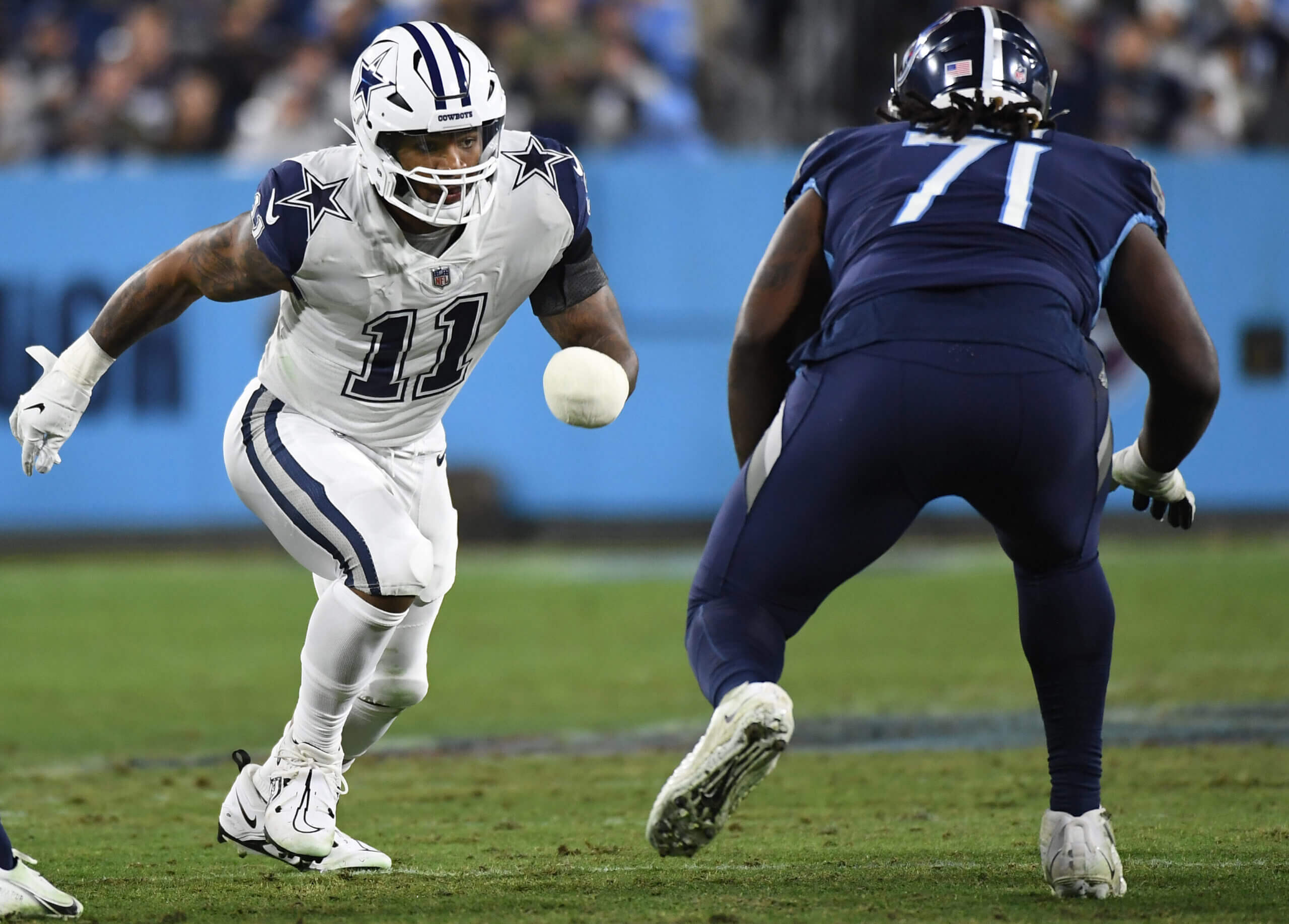 I hate to use the Titans mono-navy twice, but like I said above, there weren't that many bad looking games, but Dallas — creating a special uniform with the cringeworthy nickname of "Arctic Cowboys" — was the worst of the not-so-bad. Love it or hate it, the 'boys have a classic home uniform; they don't need to be messing around with icy whites.
__________
WEEK 18:
BEST: KC/Raiders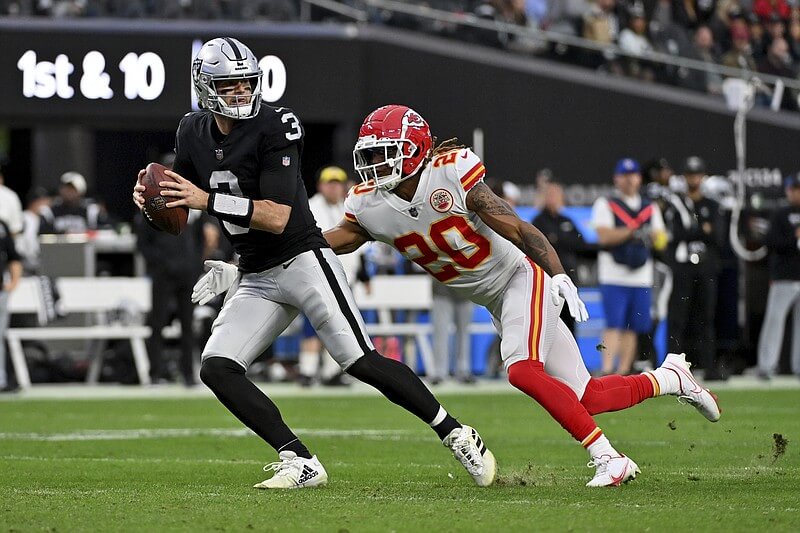 We'll get to the "worst" matchup for Week 18 in a sec, but half a dozen games could go there. But the best? Simply the best KC/Raiders possible matchup ever! I know some of you love KC in red pants, but red/white/white is BY FAR the better look. This looked as good in the AFL days as it did earlier this month. Hot damn!
WORST: Titans/Jaguars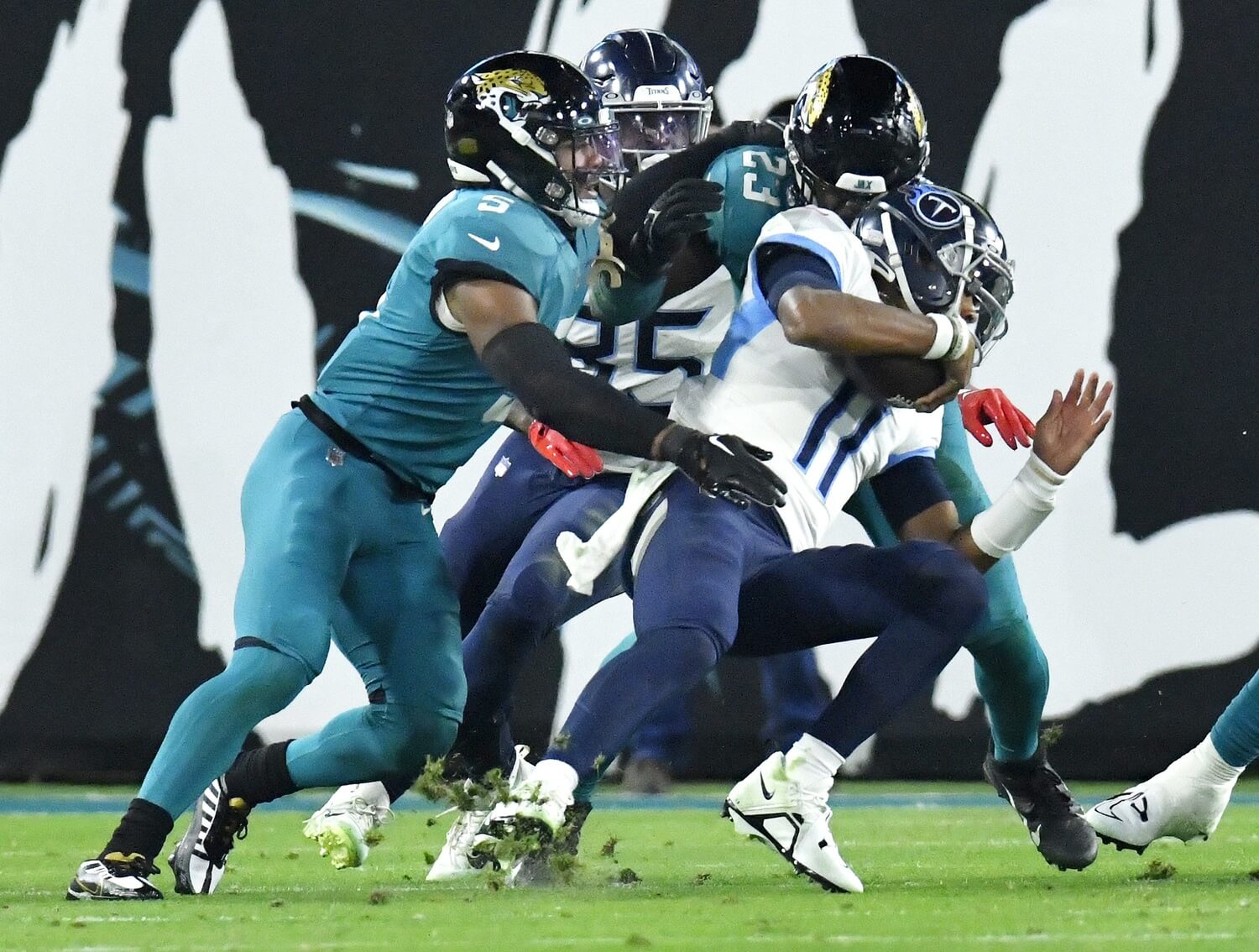 What is it about these two teams that makes them want to wear their worst looks against each other? The only thing worse than the Jags in teal tights is a teal body suit. FFS. But like I said, there were a number of candidates for worst matchup this week — feel free to pick another.
• • • • •
And there you have it. My picks for best/worst for the regular season. Feel free to tell me I'm wrong in the comments below.