With the Capitals and Hurricanes set to face off in this season's NHL Stadium Series Game on Feb. 18 at Carter-Finley Stadium in Raleigh, N.C., both teams yesterday revealed their uniforms for the game. Let's take them, one team at a time.
Capitals
As usual, the Stadium Series designs feature outsized graphics that should be visible even from the cheap seats — in the Caps' case, a chest-wide version of their "Weagle" logo. Honestly, I've never been a huge fan of this logo (I always think it looks like an eagle with an old-fashioned oil can stuck up its ass), but I think it looks great in this context! In fact, I wish they had the wings wrap around to the back, but they opted not to do that:
And in a pleasant surprise that almost qualifies as a minor miracle, the Caps have actually seen fit to share the entire uniform with us, instead of just the jersey: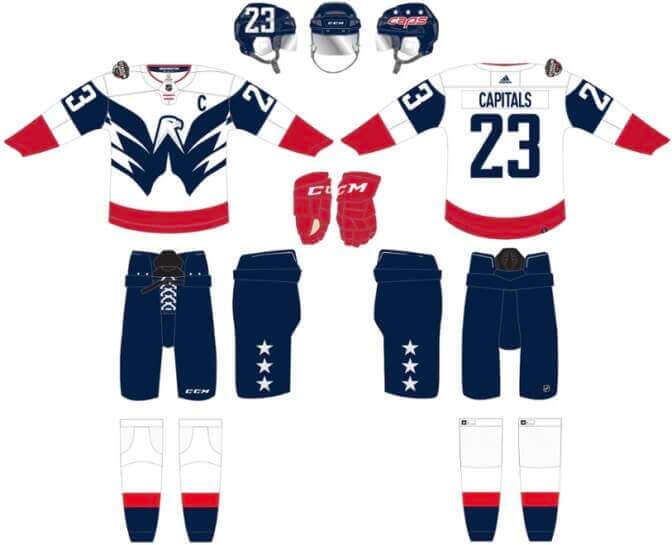 View this post on Instagram
I really like it! This is gonna look great.
In addition to the Stadium Series game on Feb. 18, the Caps will also wear this uniform for their Feb. 21 home game against the Red Wings.
Hurricanes
Holy shmoly, another full-uni view — it's like Christmas in January!
This is basically a rerun of the Stadium Series design that the Canes were supposed to wear in 2021, before that game was canceled due to the pandemic. I didn't love the design then and still don't love it now. It's the first Canes uni not to include any white, which according to the press notes gives it a "modern look," but I think it just looks drab. Some white accents would've helped things pop a bit more.
Unfortunately, this small image is the only rear-view shot I've been able to find:
The helmet has an oversized number on one side and an oversized team logo on the other:
———
Overall: A big thumbs-up for the Caps, and a "meh" for the Canes.