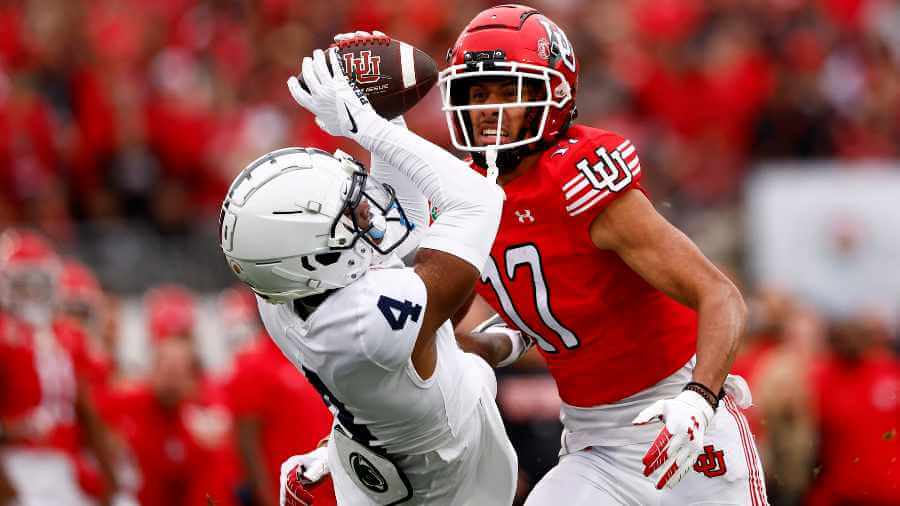 Good morning Uni Watchers, and welcome to the final installment of your Sunday Morning Uni Watch. Yes, I realize it's not Sunday and there were no College Bowl games played since last Monday, but the calendar is what it is. It has been a fun journey, bringing you almost all of the college uni-action since September of last year, and we still have one game to go (The Natty, which will be played this coming Monday evening), but this will close the books on another fantastic season of SMUW. Please join me in expressing your thanks down below in the comments to the entire SMUW crew: Terry Duroncelet, Jr., Jimmer Vilk, Wade Heidt (who provided us with some great Canadian University Uni Watching), Rex Henry, Dennis Bolt, Ethan Dimitroff and James Hill (who made his debut this season tracking the B1G Conference). All these folks have gone above and beyond and done a fantastic job, once again, this season. Thanks Guys!!!
Now then.
Monday featured four bowls, including the Granddaddy of them all, the Rose Bowl, which featured the Utah Utes and Penn State Nittany Lions (seen in today's splash). What a fantastic matchup it was — Utah broke out their home throwbacks, and Penn State (whether you love their minimalist unis or not) in their classic road whites. Actually all four games were pretty much eye candy, and the Rose was no exception. TJ will have all the deets on the unis, but the one thing which disappointed me, looks-wise, was no fault of the teams. It was the weather. Much of the west coast has been in the midst of some unseasonably wet weather of late, and because it was a mostly overcast day, we were deprived of our usual delicious sunset that often occurs during the second half of the game. Instead, cool and cloudy/overcast skies were the soup du jour.
Still, Monday's games gave us four of the best uni matchups of the entire Bowl season, and it was a great way to close things out. And now, for the last time this season, here's TJ with your…
• • • • •
Sunday Morning Bowl Watch
by Terry Duroncelet, Jr.
Happy New Year! Before we begin, a couple of notes: first off, I was reading the previous column, and one thing that I noticed from this pic was that there seemed to be an extra V-shaped seam underneath the collar, going across the chest. So I pulled the biggest images I could find of the Dawgs/THE game from last Saturday, and sure enough: all of the Nike teams are using a "new" template. From the look of things, it seems to be the same template that Oregon has been using for at least the last 2 years or so (although the ventileated "V-points" at the base of the collars are different: more of a grill pattern on the new ones). Maybe they're finally gonna roll this out for widespread usage for 2023? I'm all for progression in tailoring and templates, but it'll be a shame, since I like the minimal seam look of the current/outgoing?? template. Secondly, I totally missed the most important part of last Saturday's Fiesta Bowl tilt between Michigan and TCU: Robert Griffin III turning into The Flash after getting word that his wife was going into labor. Congrats! Also, as a menswear stylist, this is EXACTLY why getting the right fit for your suit is CRUCIAL. Imagine trying to pull a Sonic the Hedgehog in THIS (image on the left). Anywho, onto the vibes for 2023.
__________
From Monday, January 2nd, 2023
|
Illinois vs Miss State
|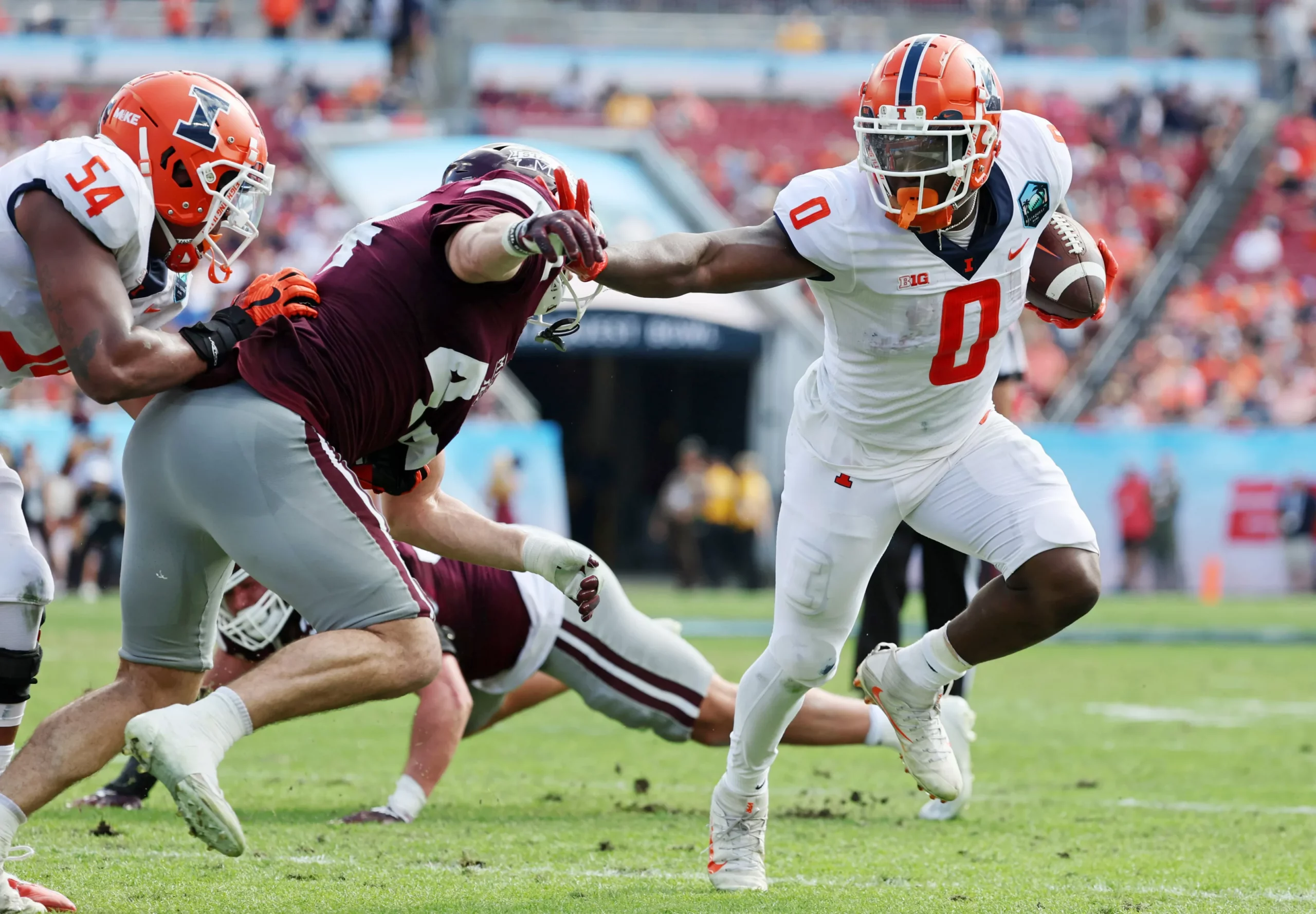 This was an emotional one for the Mississippi State University Bulldogs (I think writing their full name here would be weird in terms of flow, and kind of in poor taste, given the situation), who are playing their first game since coach Mike Leach's passing on November 30th, almost a week after their Egg Bowl victory over Ole Miss. They wore maroon helmets and jerseys with grey pants, and of course, they tipped the hat to their coach with this memorial decal (closer look, with thanks to none other than Blaise D'Sylva). They faced off against the University of Illinois Urbana-Champaign Fighting Illini, who wore orange helmets, with white jerseys and pants. Bulldogs: you done good.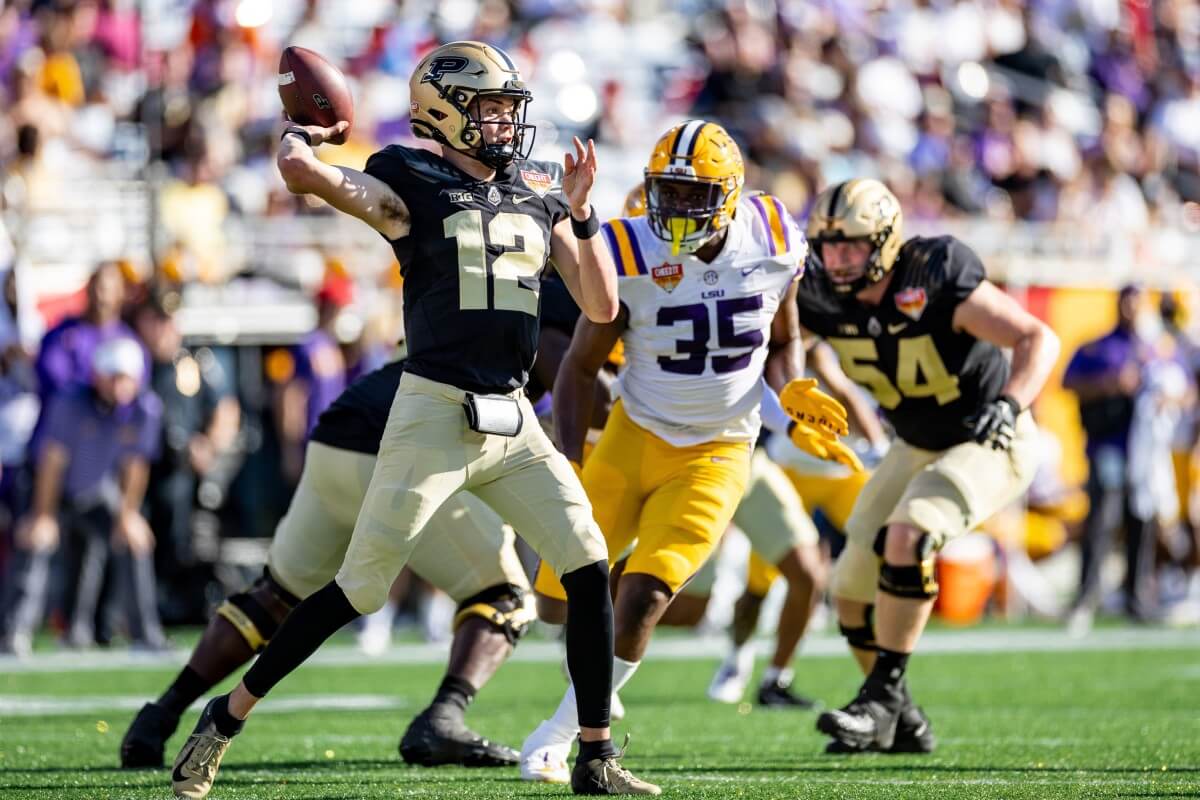 They really didn't think that bowl game logo through very well, huh? Or maybe they did. I dunno, it's a dumb-looking logo either way. But that's neither here nor there. This matchup features the Boilermakers of Purdue University, who wore gold helmets and pants, with black jerseys. They squared off against –say it with me now– the Louisiana State University and Agricultural and Mechanical College Tigers in the one uniform that they wear probably 87%-92% of the time (save for the occasional white lid/trou look, or the purple tops). No-nonsense looks from both teams, although Purdue may have a different opinion on the score.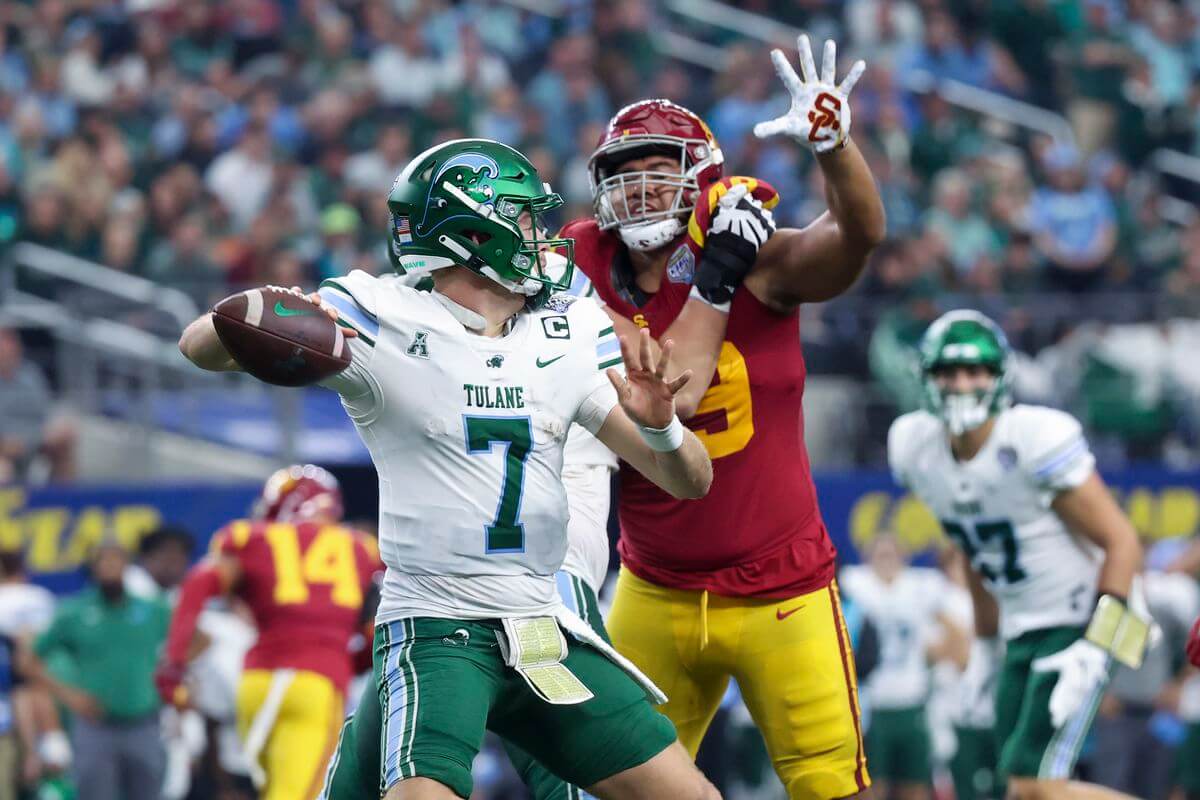 A real L.A. vs LA affair, ain't it? On one end of the ball, we have the University of Southern California Trojans in The Classics, and the Green Wave of the Tulane University of Louisiana (never knew that was their legal name until recently) in green helmets and pants, with white jerseys. A visual delight that would have only been made better if Tulane had gone with the blue jerseys. I also caught this fun little bit of number play: 6 vs 6, 4 vs 4. In honor of one of my all-time favorite bands, Animals As Leaders, I'm calling this one "Wave of Babies", because Tulane has the Trojans absolutely BAWLING right now.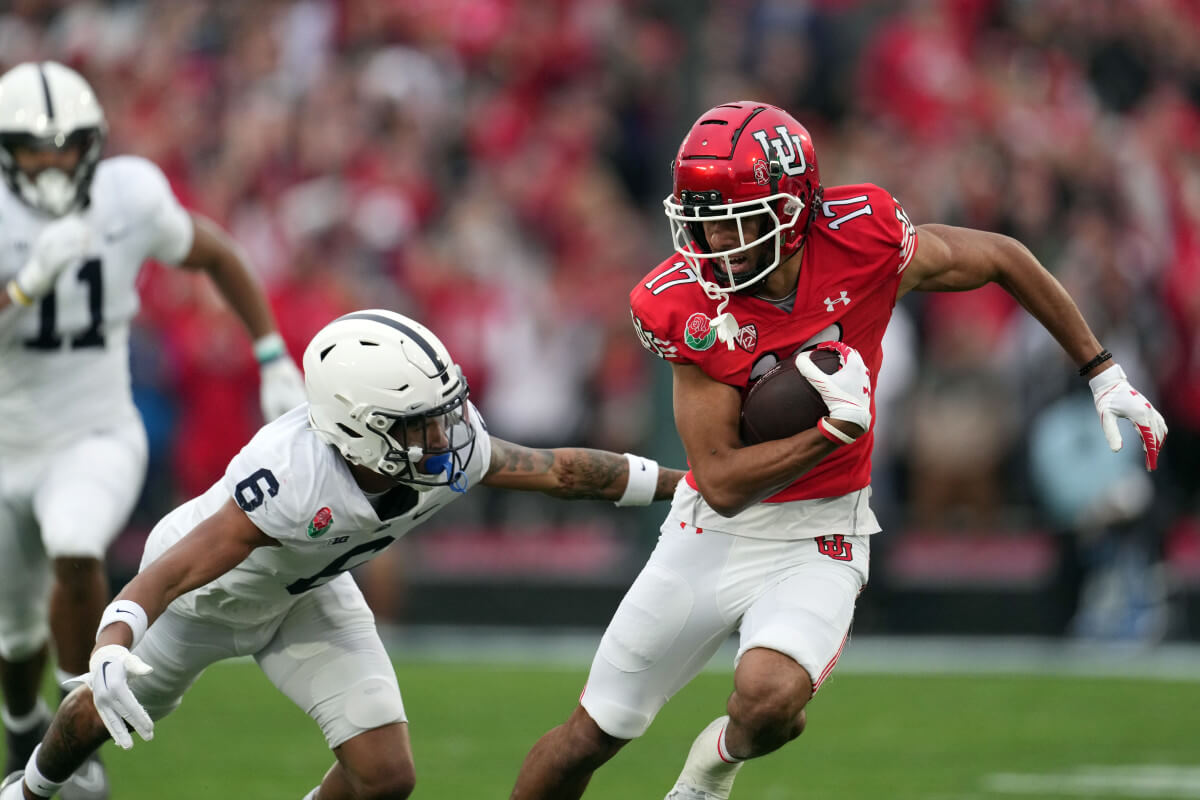 How's this for "100 years later"? What better way to close out the bowl season than with TGOTA? Partaking in their 5th Rose Bowl tilt in the last literal 100 years are The Pennsylvania State University Nittany Lions in the classic all-whites, accented by that satisfying ad-free jersey patch. They shared these historic walls –and the playing field therein– with the University of Utah Utes, who wore their retro-themed red helmets and jerseys with white pants. The helmets featured a rose-inclusive UU decal, and was very much an inversion of what they wore in last year's bout. What more could you ask for in this game? In honor of Nittany Lions Quarterback Sean Clifford's gold star performance to cap off an illustrious career at Penn State (and for the 100th anniversary of PSU's first dance), I'm calling this one "100 Percent", because apart from having damn-near every Penn State QB record (including this game, which landed him the most Wins by any PSU QB in school history), all we ever want from this game –regardless of the teams– is for both squads to give it their all. And they certainly did.
__________
Some of you might have noticed that I got to naming the New Year's Six games (an idea that I picked up from Adventures in Arcadia (of "Roll for Sandwich" fame). So far, we have:
• 🍊Tennessee vs Clemson🍊, a.k.a. "Orange SOREbet"
• 🍭Alabama vs Kansas State🍭, a.k.a. "The Bama Berry Parfait"
• 🔆Michigan vs TCU🔆, a.k.a. "Contrast Matters: New Year's Six Edition"
• 🍑Georgia vs Ohio State🍑, a.k.a. "REDBUM"
• 🐑USC vs Tulane🐑, a.k.a. "Wave of Babies"
• 🌹Utah vs Penn State🌹, a.k.a. "100 Percent"
This is quite guerilla, so the ranking system is… NONEXISTENT, I'm just going by what I look for in a perfect-looking game. In the future, I'd love to elaborate on how I rank games visually, but for now, here's the Quick 'n' Dirty:
"For the Memes": Tennessee/Clemson. The only game that you'd want to take full advantage of your team colors and go all the way to 11.
"Doesn't Quite Hit": Georgia/Ohio State. If this was the Rose, this would tie with Tenn/Clamp, but here, it's just… OKAY.
"Simple, but Effective": TIE between Alabama/K-State, and Utah/Penn State. The former reinforces how well reds and purples look together in the right contexts. The latter speaks for itself.
"Pleasant Surprise": USC/Tulane. I don't think anyone expected the Green Wave to be in this game in general, let alone WINNING? Big Boise State/Oklahoma energy here.
And finally, "Best Overall" Michigan/TCU. We all saw this coming a mile away, and I'm not talking about the Wolverines' pants, either.
My only regret for this entire bowl season (apart from how lackluster Part 1 was on my part) is that THE and OF lost their games, so we won't get to see the ultimate version of The Game*. Maybe next season (*yes, I'm aware of Harvard and Yale, LET ME LIVE).
And with THAT… the 2022 season comes to a close. This has been a fun one, a frustrating one, one of surprises, and it all culminates in two days from now with the crowning game between Georgia and TCU. Massive shoutout to Phil, for all of his support, tips, and patience (thanks day job, for slapping me with exhaustion 20 times over). And OF COURSE, I gotta give a huge thanks to Blaise D'Sylva, an actual legend. And finally, thanks to each and every one of you guys for your continued readership. You guys make it all worthwhile (even if my jokes are cryptic sometimes). I don't know about you guys, but I'm gonna go nap for… oh, we'll say about eight months?? See you then!
• • • • •
Thanks Terry! And thanks again for a FANTASTIC SMUW season! Great work all year and we look forward to doing this again in September!