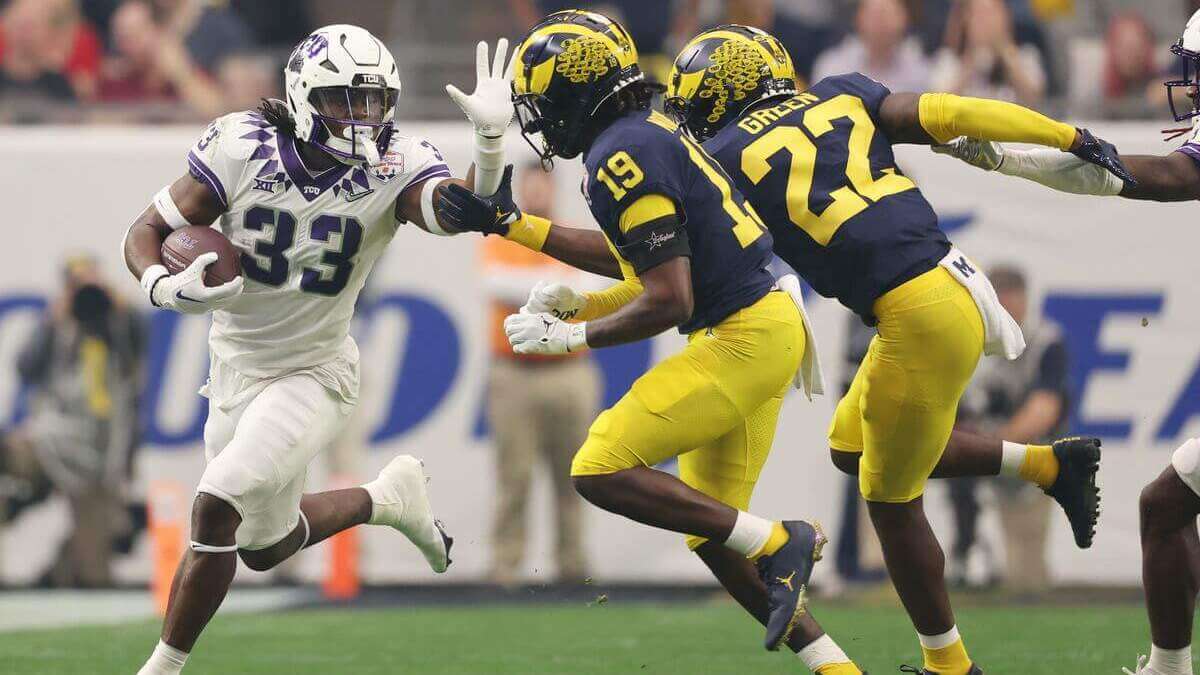 A good Sunday morning Uni Watchers, and a very Happy New Year to all! I hope everyone had a pleasant evening/morning (if you stayed up to ring in the New Year).
We're back today to bring you up to speed on the Bowl games played from Thursday through last night — and boy oh boy weren't those two playoff games something! You expected all four playoff teams to wear their "Sunday best" as it were, and for the most part they didn't disappoint. Georgia, Michigan and Ohio State — no strangers to the big stage — all wore mostly traditional looks (OSU went with a throwback jersey), and Michigan went with blue over maize (but wore maize socks instead of the more traditional blue). TCU, who wear a much more "modern" style uniform, even went with what is probably their best combo, though traditionalists would probably have preferred a purple helmet. Still, the uni game was as strong as the on-field game. Yesterday's other two games were also pretty pleasing to the eye: Alabama vs. Kansas State was pure eye candy, and even though Kentucky went mono-blue, their tilt with Iowa was also easy on the retinae.
You couldn't ask for much more.
And now, for the penultimate SMUW (Bowl Watch Edition) of the 2022(23) NCAAFB Season, I'll turn this over to Terry Duroncelet, Jr., who will bring you your…
• • • • •
Sunday Morning Bowl Watch (Part III)
by Terry Duroncelet, Jr.
From Thursday, December 29th, 2022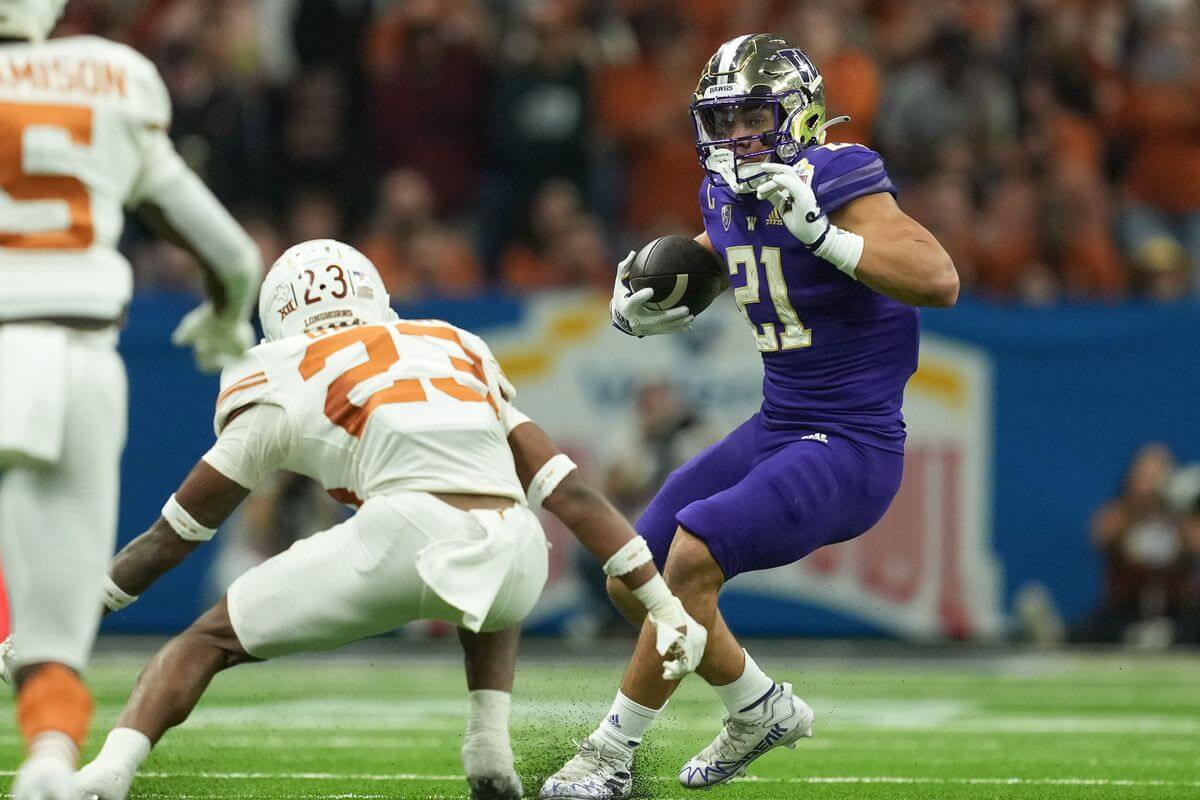 You know how after Christmas, there's that weird phase where time really becomes an illusion, and you don't know what day it is, or at least it doesn't feel like the day that you know it is? That's been this entire week for me, but especially yesterday and Thursday. Here, we have the Longhorns of the University of Texas at Austin, in none other than one of the best all-white uniforms in college football, past or present. They faced off against the University of Washington Huskies, in monochrome purple, and their gold chrome helmets.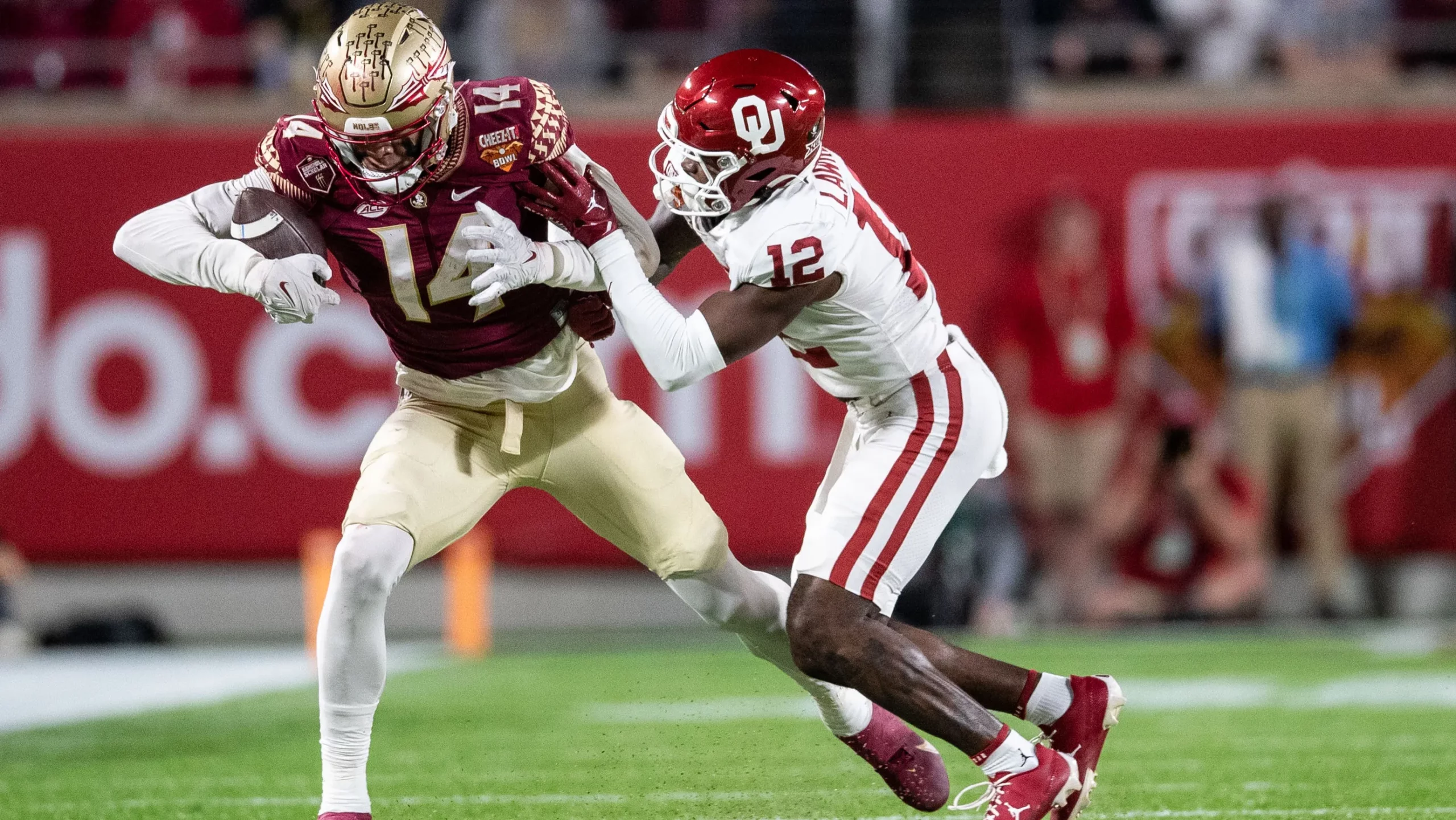 Up next, we have the Florida State University Seminoles in gold/garnet/gold, and the University of Oklahoma (do I REALLY need to bring up the Kansas thing again?) Sooners in crimson/cream/cream* (*I know it's HHHHHHHHwhite, not an actual cream).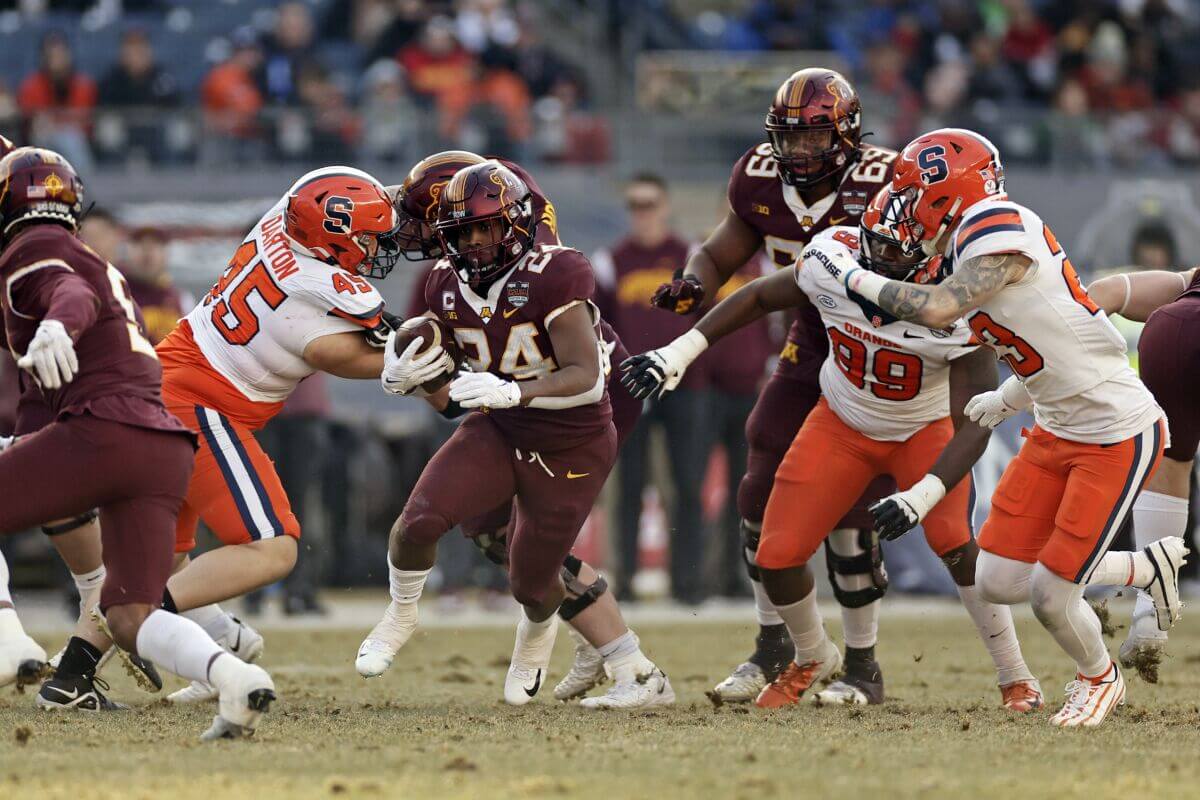 Here, we witness the University of Minnesota, Twin Cities Golden Gophers in all-maroon, while their opponent –the Syracuse University Orange– wore orange/white/orange. Another case of simple, but effective.
From Friday, December 30th, 2022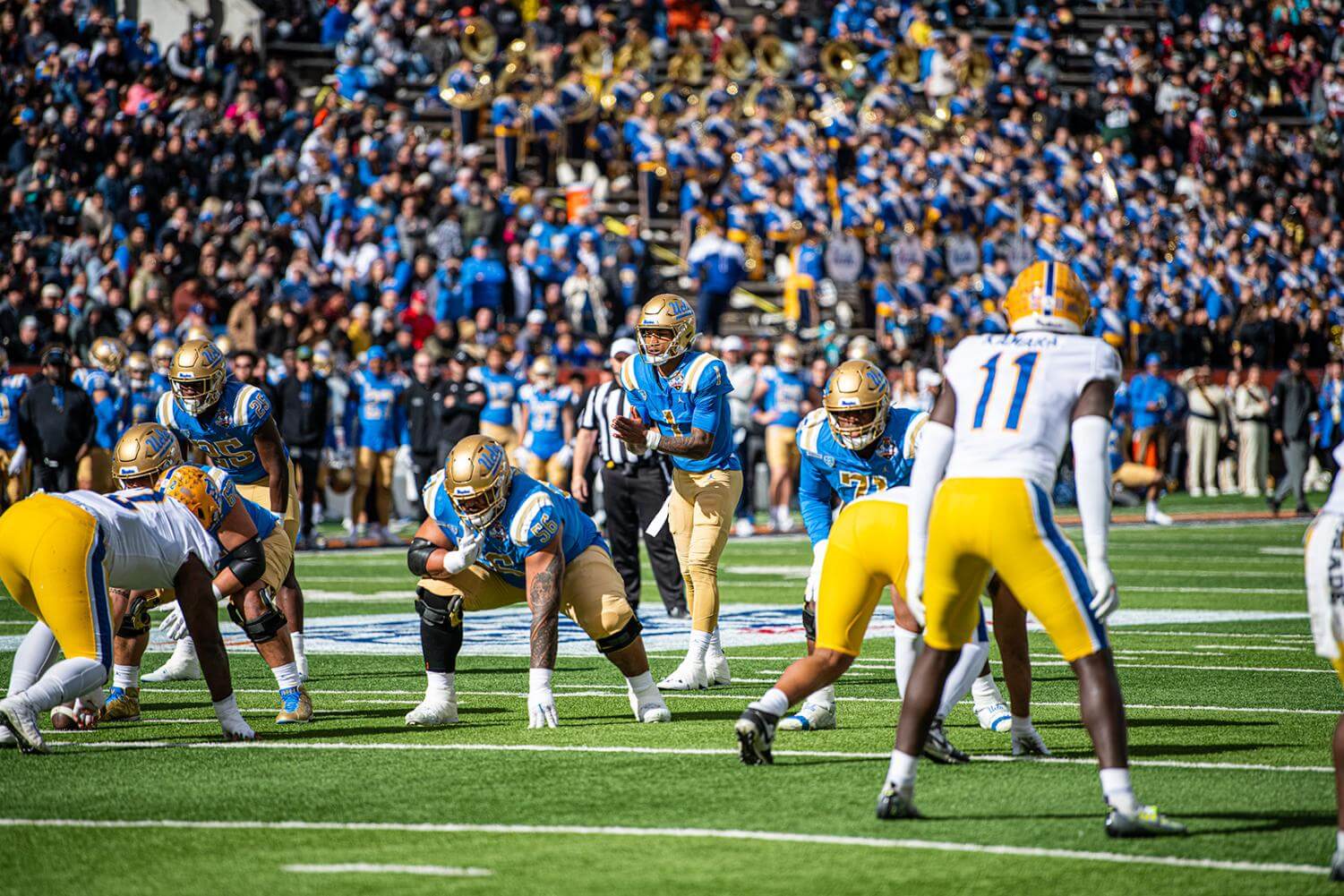 A blue and gold affair between two well-dressed teams. We have the Bruin of the University of California, Los Angeles in The Classics, and likewise for the University of Pittsburgh Panthers. One thing that I noticed while browsing for game photos was this odd helmet pairing. First off, what's with the old Ridell Revo helmet? That's a 20 year-old design that hasn't been seen on the gridiron in a few years, save for the few in the NFL that were grandfathered in with it. Secondly, that's clearly the previous facemask and script logo color from the old Adidas days. You're probably thinking "eh, probably an indie outlet trying to get something together", but no: this is DIRECT FROM THE SUN BOWL'S WEBSITE!! (obviously, this is more time-sensitive than others, sorry for distant future readers!)
|South Carolina vs Notre Dame|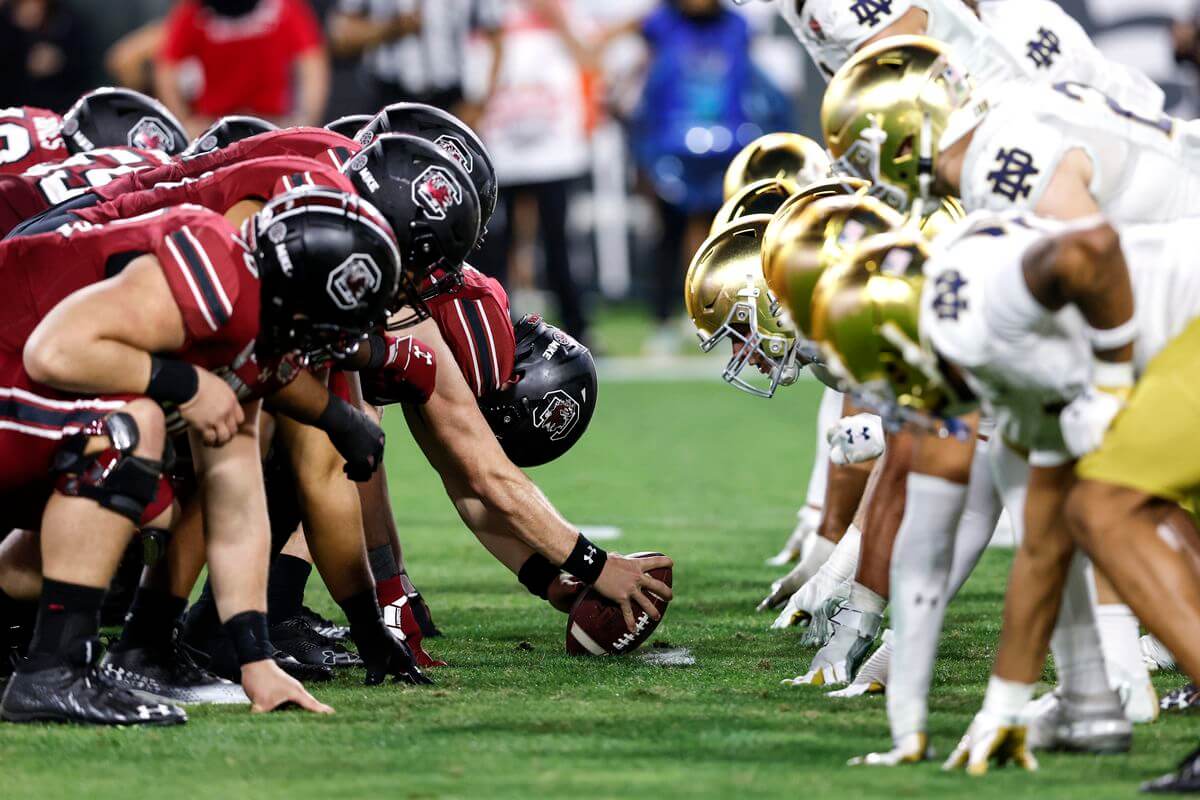 Friday treks on with the University of South Carolina Gamecocks in black/garnet/garnet, and the Fighting Irish of The University of Notre Dame du Lac in best-helmets-in-college-football/white/gold.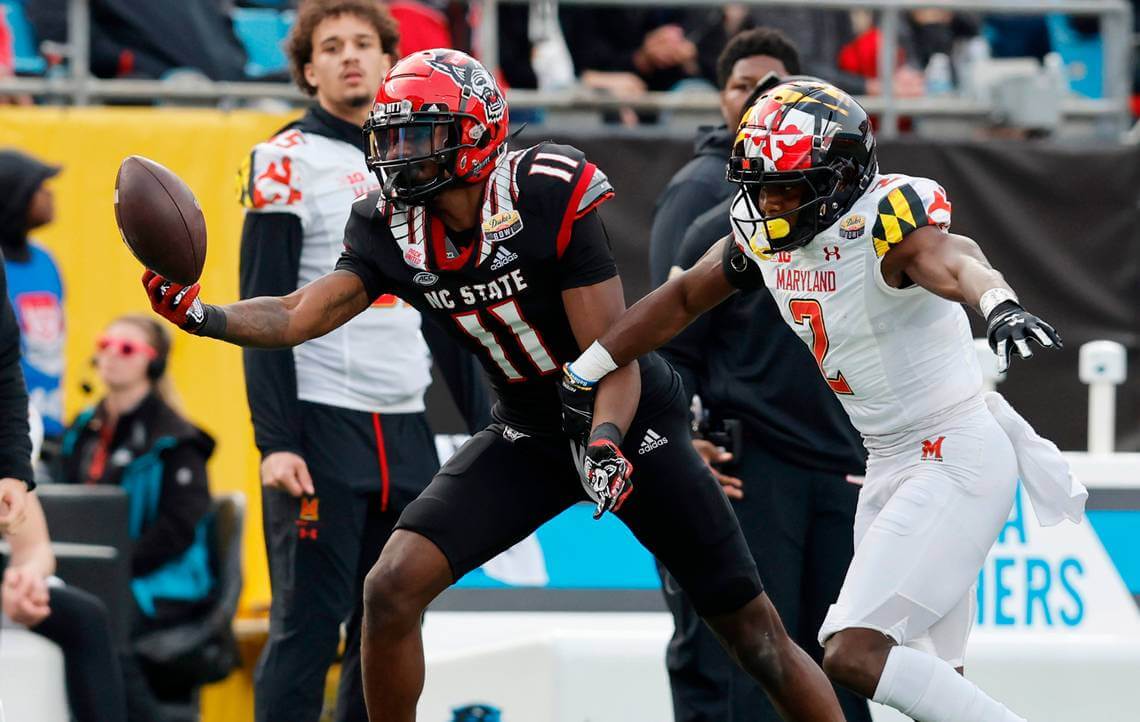 The North Carolina State University Wolfpack (one word) wore red/black/black, while the University of Maryland, College Park Terrapins wore flag/white/white.
Color-vs-color –when done right– never gets old. Here, we have the University of Wyoming Cowboys in white/gold/white, and <strike>THE</strike> Ohio University Bobcats in green/green/white.
Well, talk about living up to the name. In our first of the bigguns, we have the Volunteers of the University of Tennessee in the classic white/orange/white combo, while Clemson University Tigers wore quite literally the opposite combination. I'm calling this one "Orange SOREbet", because I bet you anything that Clemson is feeling pretty bitter right now. I just like to see Clamp suffer.
From Saturday, December 31st, 2022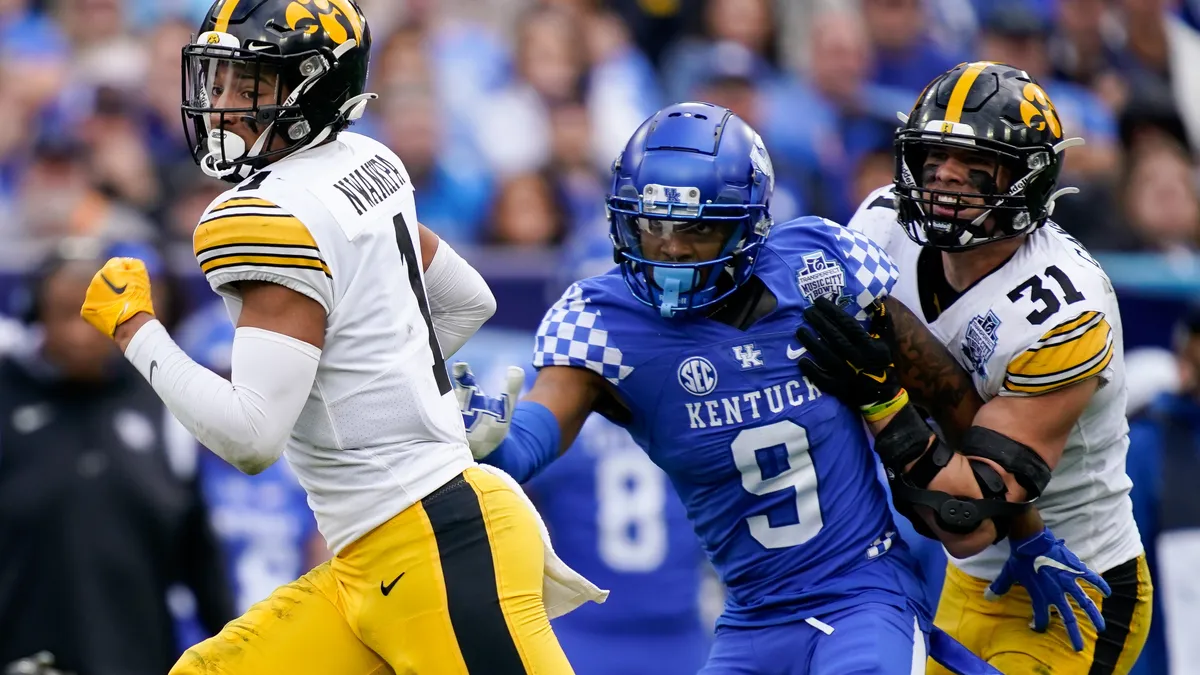 Last games of the (calendar) year begins with the University of Kentucky Wildcats in full-blue, and the University of Iowa Hawkeyes in the classic Steeler road unis. An unorthodox way of facilitating high-contrast, but I'll take it!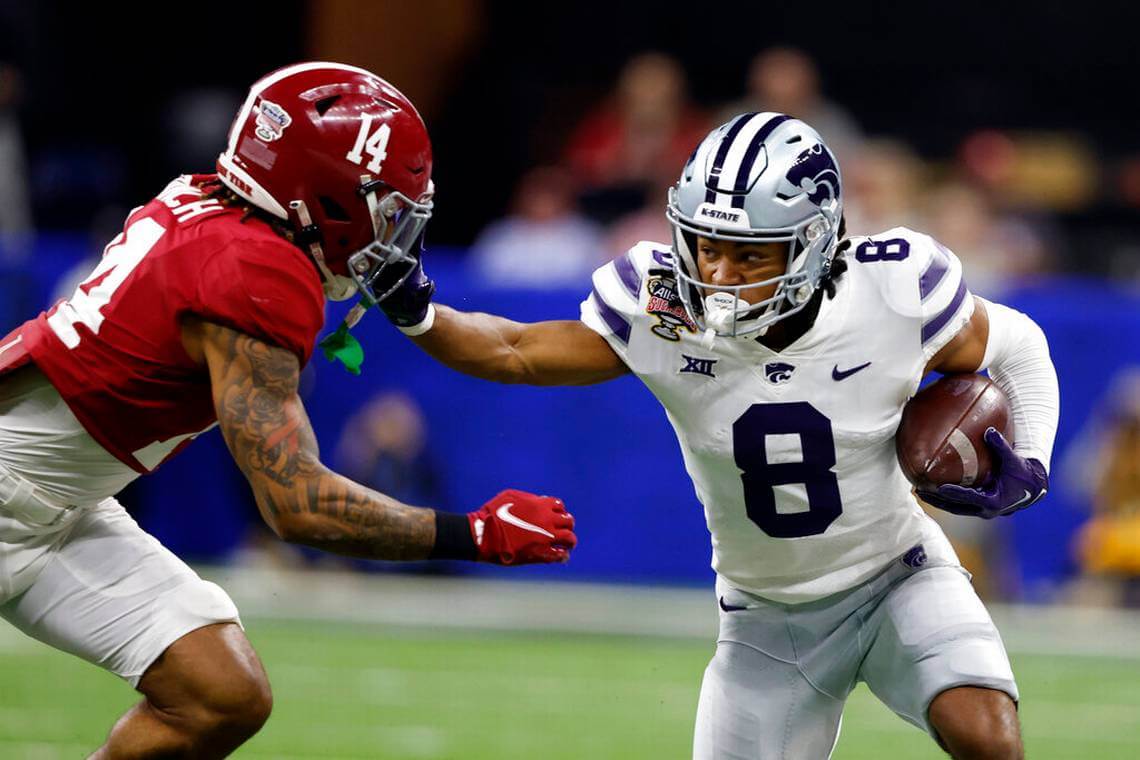 Well, at least the Saban Bois are in a major bowl game. They could've easily been in the Influencer-is-a-Terrible-Thing-to-Call-a-Person Bowl, sponsored by Raid Shadow Legends. Anywho, this storied game featured the University of Alabama Crimson Tide in the Crimson Classics, and the Kansas State University Wildcats in silver/white/silver. A sharp-looking game that's only topped by another that we'll talk about shortly, I'm calling this one "The Bama Berry Parfait", due to the berry-colored hues that was nothing short of decedent for the Crimson Tide.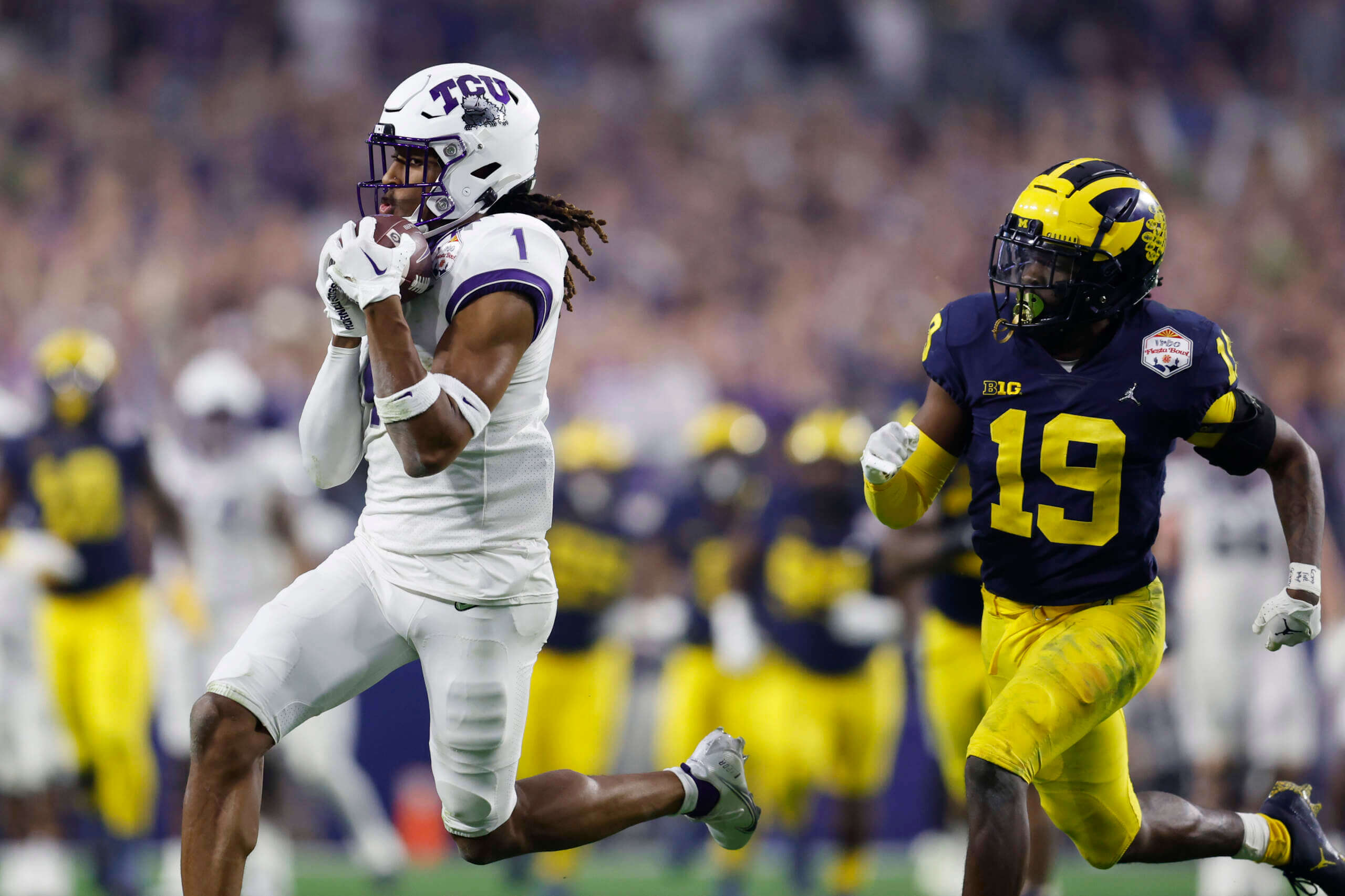 Another visual masterpiece, we have the University of Michigan Wolverines in GOOD, OLD, MAIZE AND BLUE!!! They squared off against the Texas Christian University Horned Frogs, who wore full-white, and I don't even have to try for a name here. I dub this "Contrast Matters: New Year's Six Edition", because from the unis to the high scoring, this was one to watch. That was totally targeting, tho. Also, Skott Schoonover notes: "Mike Sainristil's jersey doesn't have the TV numbers on either sleeve tonight. Nobody else is missing theirs."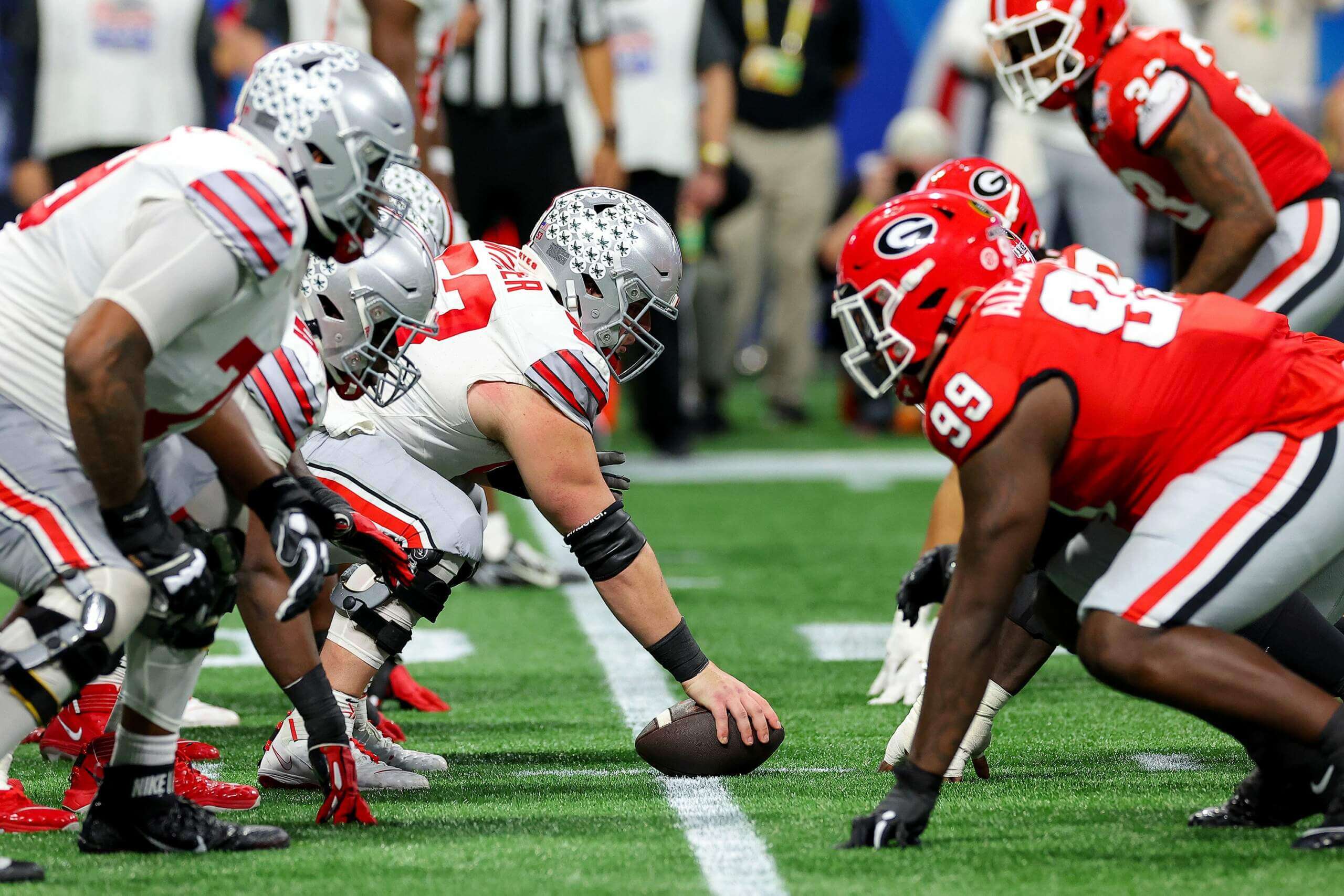 What better way to close out 2022 than another video game score nail-biter? Rounding out Saturday's bouts are the University of Georgia Bulldogs, and THE Ohio State University Buckeyes. Georgia wore the classic red/red/silver (britches), and Ohio State wore grey/white/grey, and if you look closely at the sleeves, these are the throwback-themed alts that they tend to dust off during a major bowl game. These look SO MUCH BETTER than their normal stripes. I'm calling this one "REDBUM", because I know THE would kill for the chance to have this one back.
• • • • •
Thanks TJ! Tremendous job as always, and a great job all season. TJ will be back next weekend for our final SMUW of the season, where we (almost literally) tie a bow on the bowls.