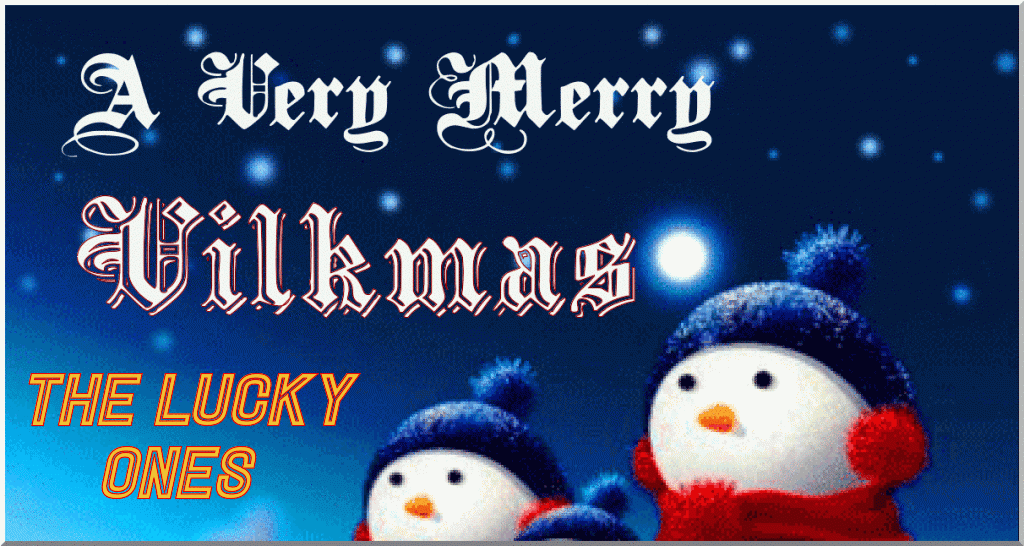 Seasons Greetings to all Uni Watch readers! Hope everyone has survived/is surviving what has turned out to be a brutally cold and windy holiday weekend for most of the lower 48. I'd complain about it going from 56° to 7° (with a wind chill of about -10° at 7:30 am this morning) in the space of 12 hours, but I know many of you have it worse. My best to you and yours for a happy, healthy and safe Christmas Eve/Christmas, a Happy Hanukkah and Kwanzaa to all who celebrate.
At least we can thank Jimmer Vilk for helping us end the year on a good note.
♪♪♪ Ho Ho Ho…Merry Vilkmas ♫♫♫
Last Sunday, right before the holidays, Jimmer Vilk offered up his wonderful assortment of sports ephemera and tchotchkes to the Uni-verse, and today we name the lucky winners.
I'll turn it over to Jimmer here…
• • • • •
Merry Vilkmas 2022 – The Winners
By Jim Vilk
Many things to be grateful for this season. Most importantly, Dad is out of the hospital and staying at my sister's, and I still have power after our blustery Friday. And now let me share my Vilkmas joy with five of you. Congrats to:
__________
1. Tim McKay
Akron Aeros inaugural yearbook
__________
2. Anthony Gonsalves
Coliseum shirt
__________
3. Justin Shawley
Super Bowl 43 program
__________
4. John Van Cura
Neil O'Donnell Jets jersey
__________
5. Jeff Lykes
USFL t-shirt
__________
No "&1" with this list of five, because you've all been very good, right? Thanks again to everyone, and have a great season. See you next year!
• • • • •
Thanks Jimmer!
And also a big, yuge THANK YOU to each and every Uni Watch reader for all your support, enthusiasm and your obsessive observations of the athletic aesthetic! You lucky winners can expect a package from Jim in the New Year!
Once again, Merry Christmas Eve/Christmas to all. Everyone please try to enjoy the final week of 2022, stay safe and be well! I'll be back next weekend (both New Year's Eve and New Year's Day) with the SMUW crew for our Bowl Game wraps, a Bowl Five and One, uni trackings and more. So until that time,
Peace,
PH