It's that time of year, once again…
♫ It's Beginning To Look A Lot Like Vilkmas…♫
Readers of Uni Watch know that our own Jimmer Vilk is a very generous reader and contributor; in the past he has gifted some of his most prized possessions to our readership (including shipping!). He began this wonderful tradition (based roughly on Paul's annual reader appreciation raffle, which you can read about below) back in 2015, and I'm pleased to AGAIN offer Jimmer's generosity to the Uni Watch readership. Some years, we've actually had more than one Vilkmas (Jim offered up a bunch of his stuff back during the pandemic's first months one year, and another time we had Vilkmas in August). If you're not familiar with Vilkmas, it is the most wonderful time of the year. Jim's annual gifting works very much like Paul's raffle (and the deets follow, so be sure to read all the way through). On that note…
Take it away, Mr. Vilk!
• • • • •
Merry Vilkmas 2022
By Jimmer Vilk
Things got off to an early start this Vilkmas, and *I* was the recipient! Big thanks to the mighty Wafflebored for gifting me one of his goalie glove ornaments (with Houston Oiler blue stitching!), and to Skott Schoonover for sending me some hoodies and vinyl transfer sheets. Now I can make a backup Skip Butler hoodie, or perhaps a Ken Burrough or Billy Johnson. While I ponder the possibilities, it's time for me to get back to my job of giving away things.
__________
ITEM #1.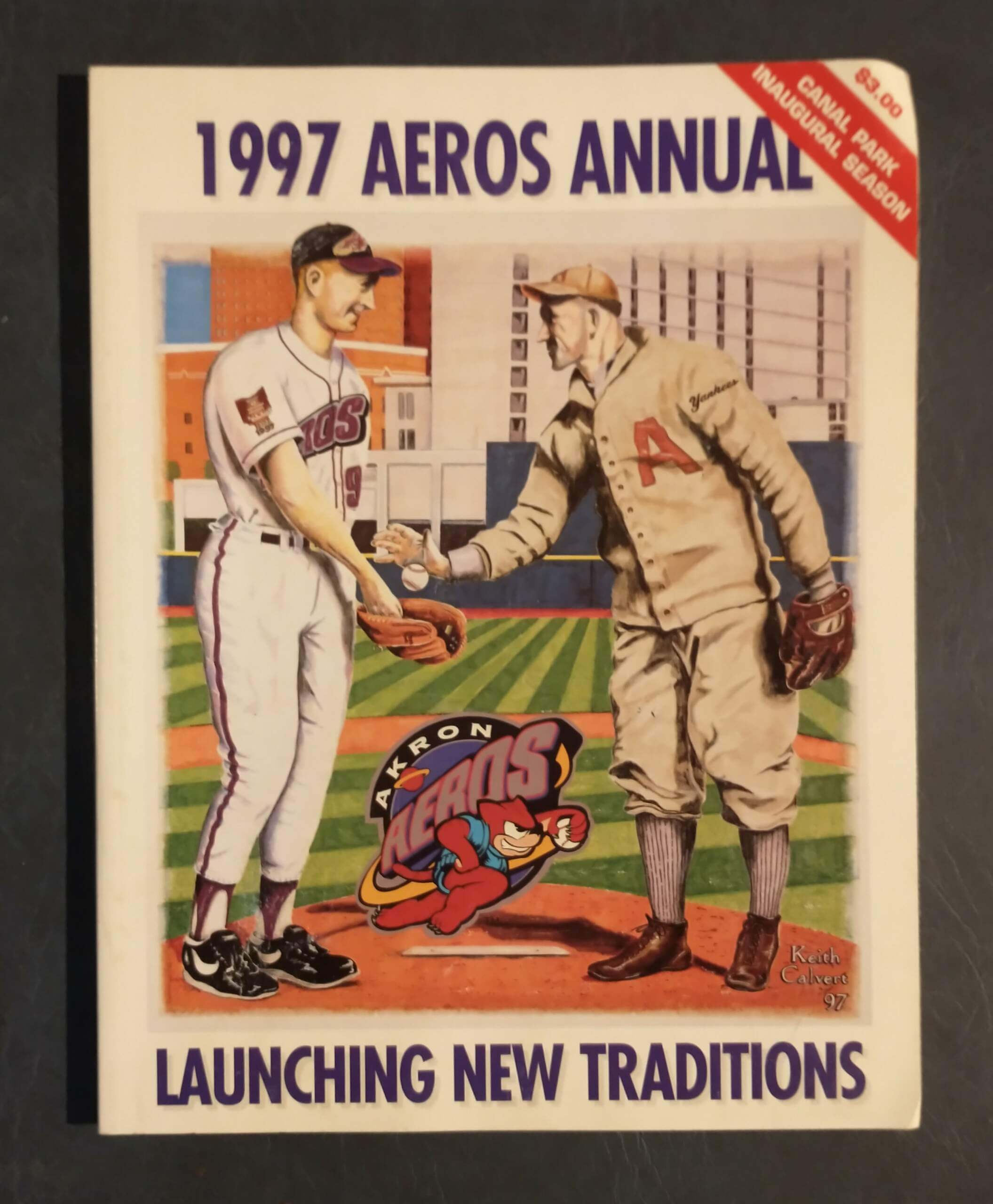 You can celebrate 25 years of minor league baseball in Akron, Ohio with this inaugural yearbook for the Akron Aeros (now known as the Akron RubberDucks), while I'm celebrating the fact that the city finally picked up my neighbors' leaves off our street this week.
___________
ITEM #2.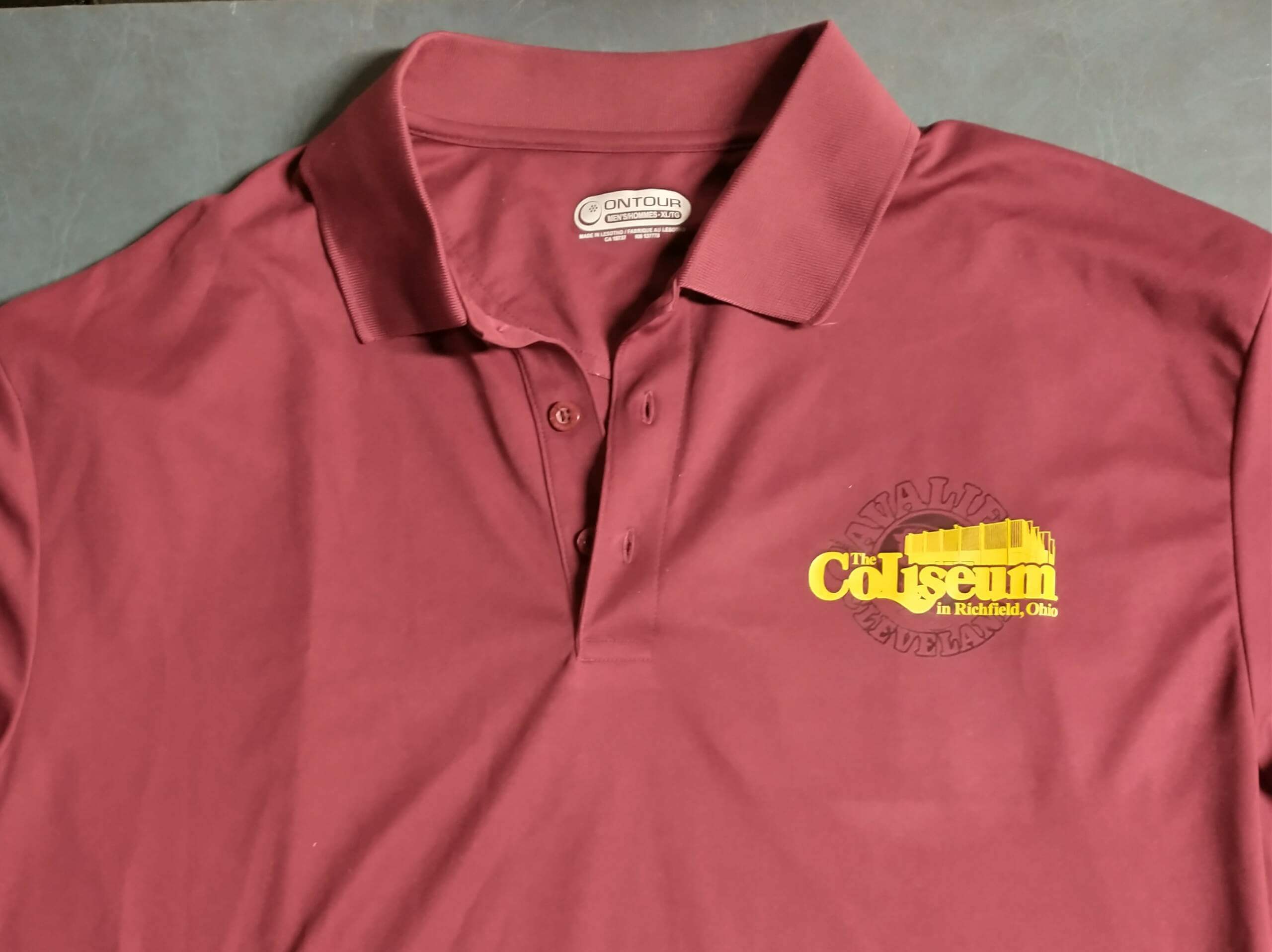 For a lucky Cleveland Richfield Cavaliers fan who wears an XL shirt, you can win this Coliseum polo with the old Cavs logo ghosted in the background. These were sold a few years ago at Cleveland's new arena, so it's not vintage… just awesome.
___________
ITEM #3.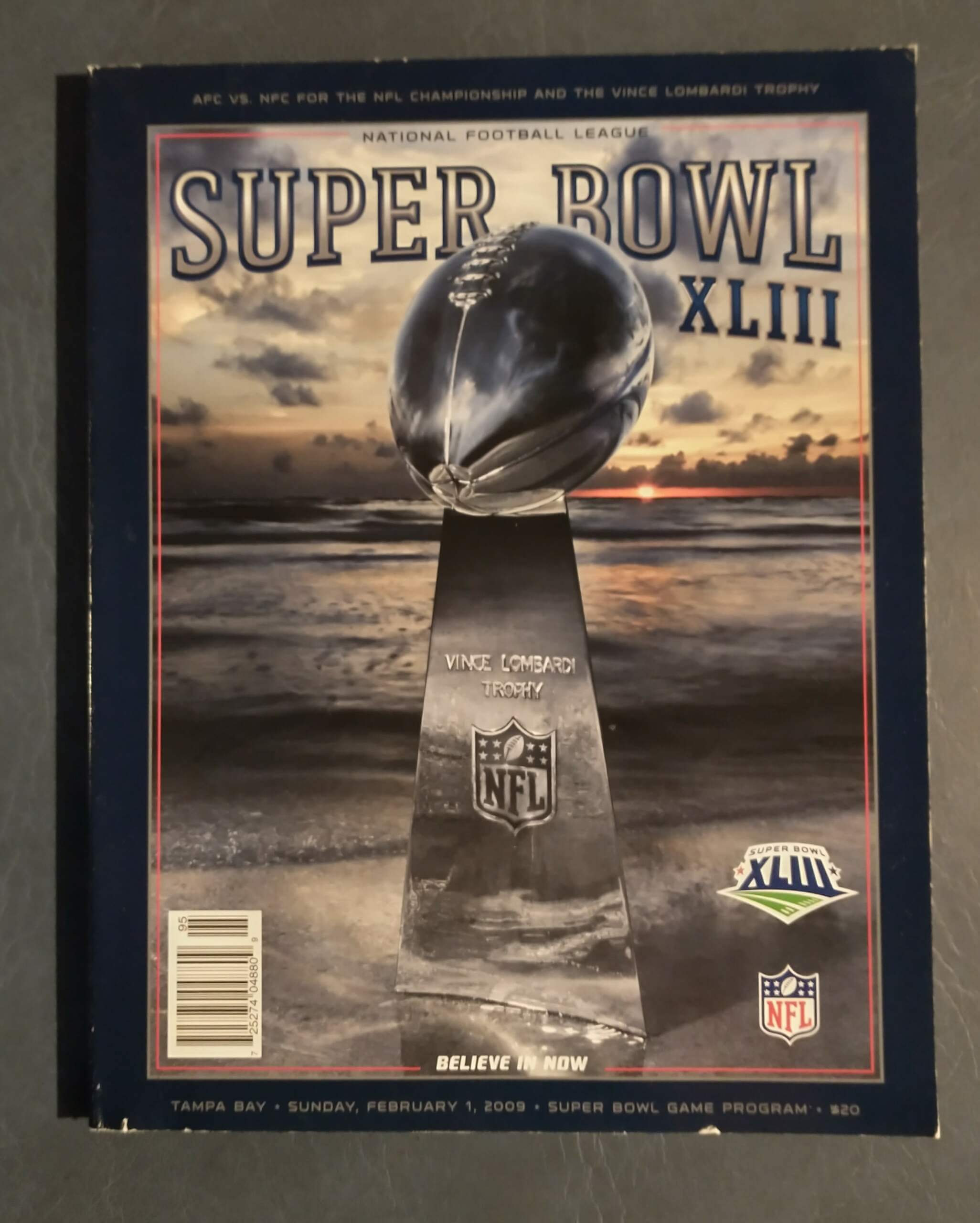 If you like late-2000s ads, you'll love this Super Bowl 43 program, which has some nice photos and articles included as well.
__________
ITEM #4.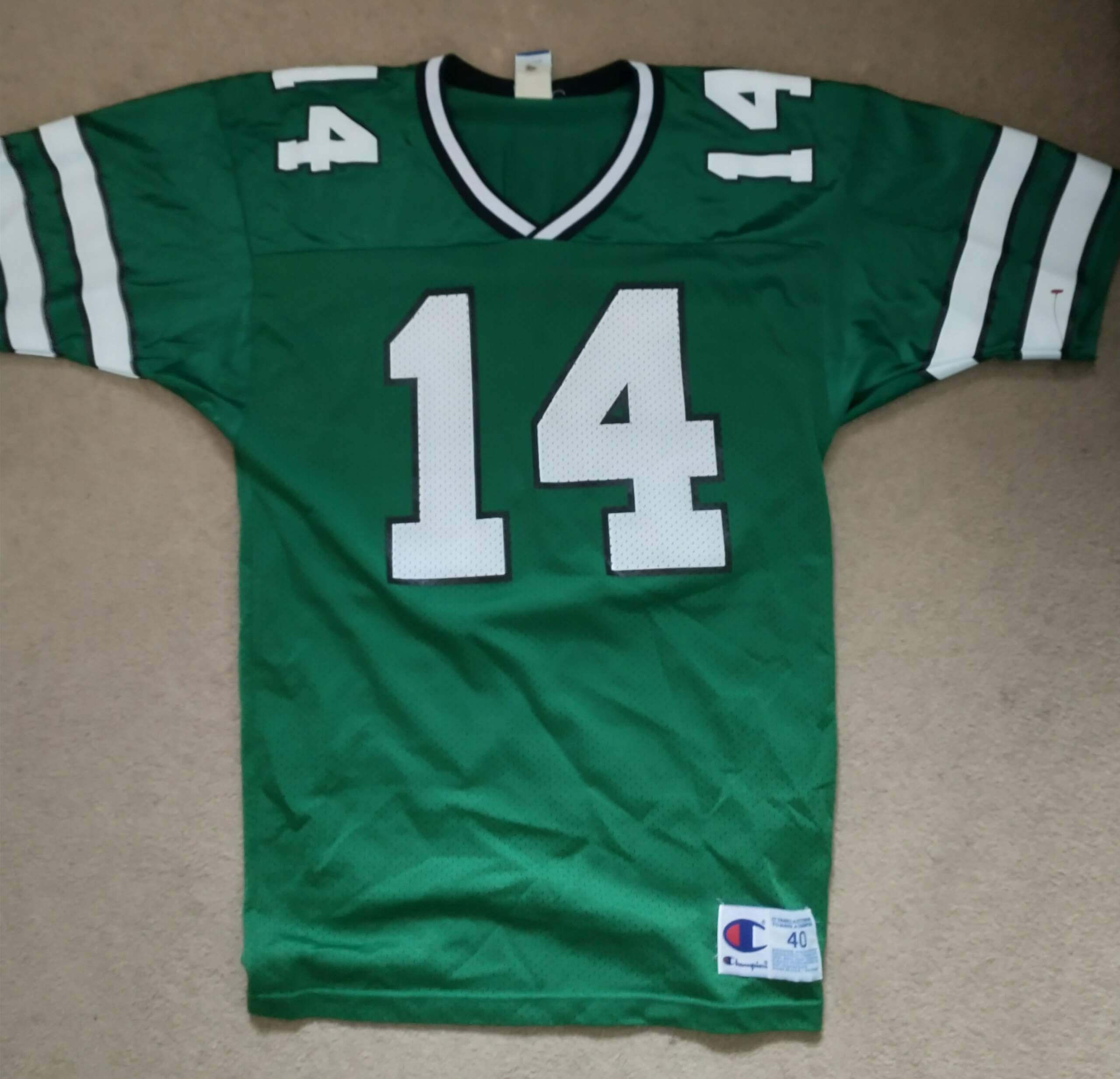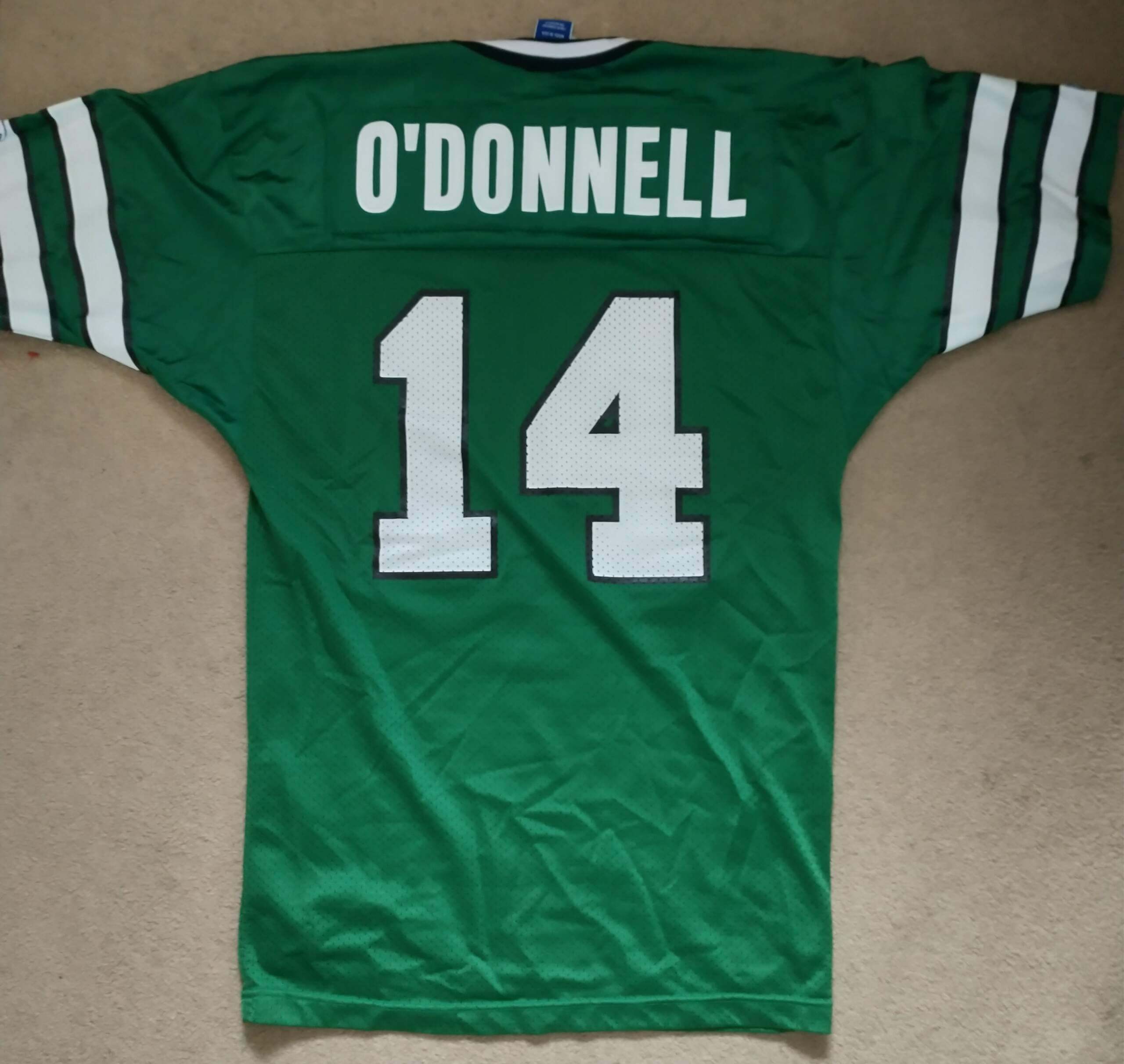 There's only one thing better than a v-neck Champion football jersey, and that's one that fits. Unfortunately, this size 40 Neil O'Donnell Jets jersey doesn't fit me, so hopefully it'll fit you.
__________
ITEM #5.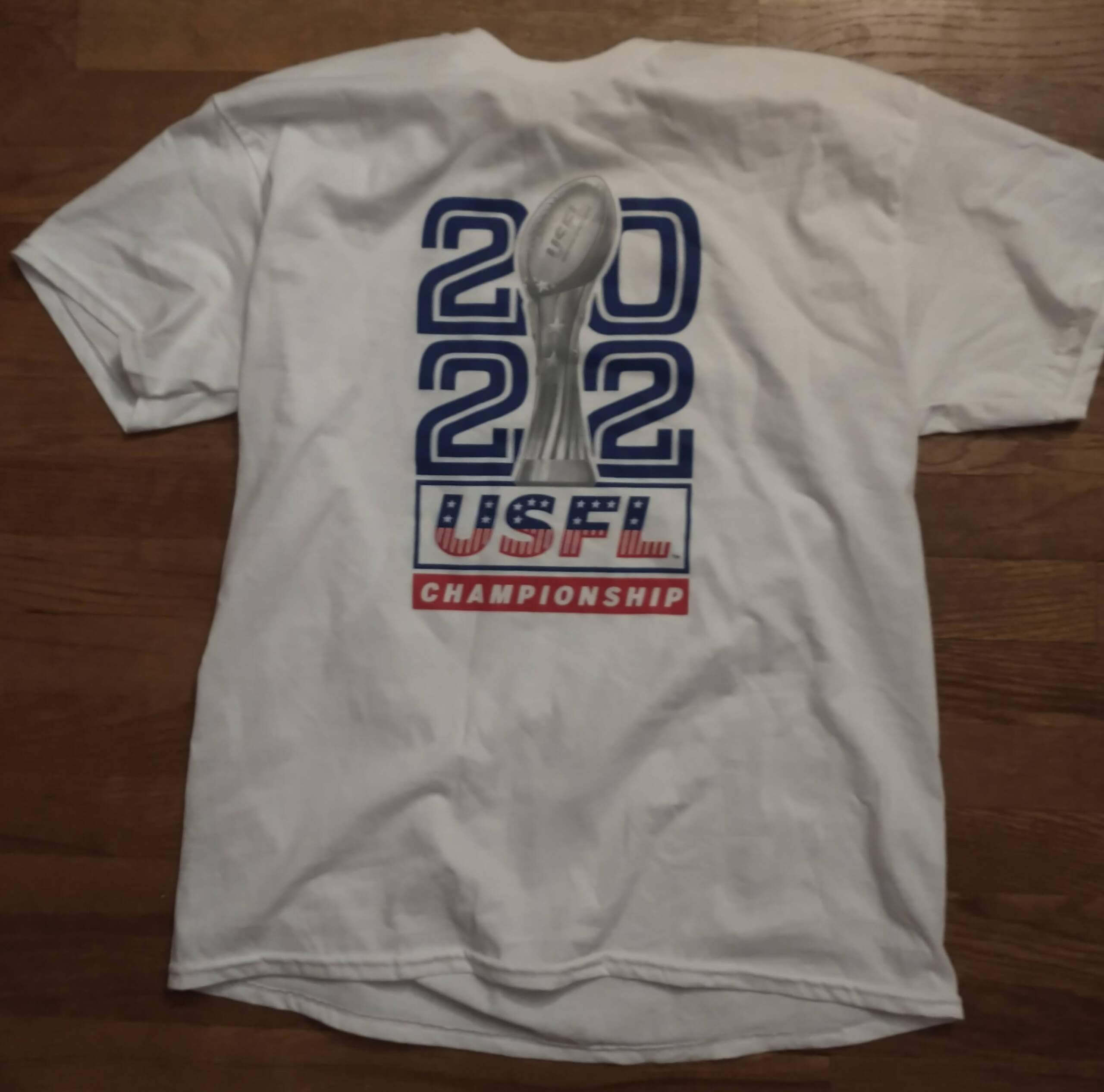 Speaking of not fitting, this USFL 2022 Championship t-shirt is available because they only gave away Larges if you went to the playoff games in Canton. Otherwise I'd be wearing it. Had a fantastic time at the semifinal games, but that's a story for another day.
__________
Thanks again, Wafflebored and Skott! Thanks to Paul and Phil and all of you for putting up with me. Merry Vilkmas to all, and to all a good night!
And now here's my elf Phil with the details.
• • • • •
Thanks, Jimmer! Your generosity never ceases to amaze.
OK, this is very similar to Paul's once-yearly raffle so here is how you enter:
1) Send an email to Phil.Hecken@gmail.com and put in the SUBJECT "Vilkmas 2022"
2) In the BODY of the email, please indicate (a) your name and shipping address and (b) your top 3 prize choices, in order of preference, by description. If you're only interested in, say, one or two items, then just list your top one or two choices; if you want all 5, you can do that too, but I don't really expect anyone to go that far. Jim will do his best to accommodate all the winners' choices.
3) Unfortunately, the raffle is limited to readers with USA addresses (since Jimmer foots the shipping costs). We apologize to anyone outside the US.
4) One email per person. Entry deadline is this TUESDAY (December 20), 12 Noon Eastern Time. The winners will be announced next weekend (on Vilkmas/Christmas Eve).
OK? OK!
And please, everyone please give Jimmer a nice round of thanks in the comments below. Thanks, Jimmer — you're still the best.