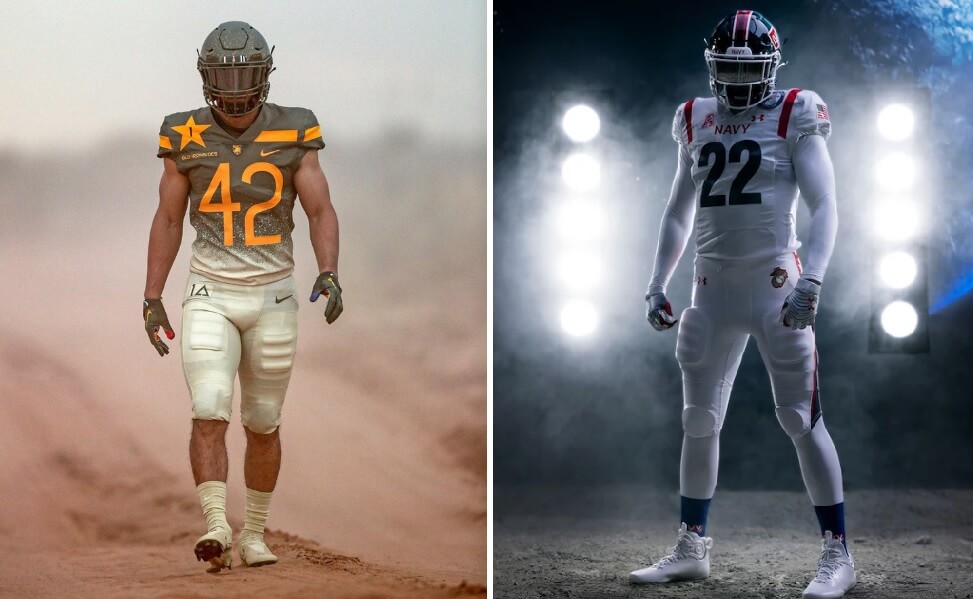 Good Saturday morning, readers, and I hope everyone has had a good week.
Army and Navy first met on the field on November 29, 1890, and have met annually since 1930 — with the game originally scheduled for the first weekend after Thanksgiving, but is now set as the second Saturday in December, which coincides with the end of the "regular" NCAA Football season and the beginning of Bowl season.
Normally (and for the past thirteen years or so) I would have a pretty huge post describing the special uniforms both squads will be wearing today, but since we switched over to the new "multiple posts per day" format on Uni Watch, Paul actually covered the unveilings of both Navy and Army as they were released. He had great coverage of both sets of unis in those, so if you're into this year's uni minutiae, those are great places to start. You can also read more about the uniforms for Army here and for Navy here.
As always, it should be a very good looking game. Little did we all know when, with little to no fanfare, way back in 2008, the two teams embarked upon a special "occasion" uniform rivalry that would later undoubtedly influence the proliferation of special uniforms across college football. Both schools were outfitted by Nike then, and their creation of special uniforms just for the game would lead to the uniform rivalry that is just as spirited as the game itself (hey, this is a uniform blog — I'd venture most of us care as much about the unis as the game, but I could see how that might not be the case for the rest of the country).
It's not like 2008 was the first time either academy altered their uniforms for the big game — that had been going on for years (witness Navy's "BEAT ARMY" helmet stripes and "Drive for Five" NOB from 1963 below):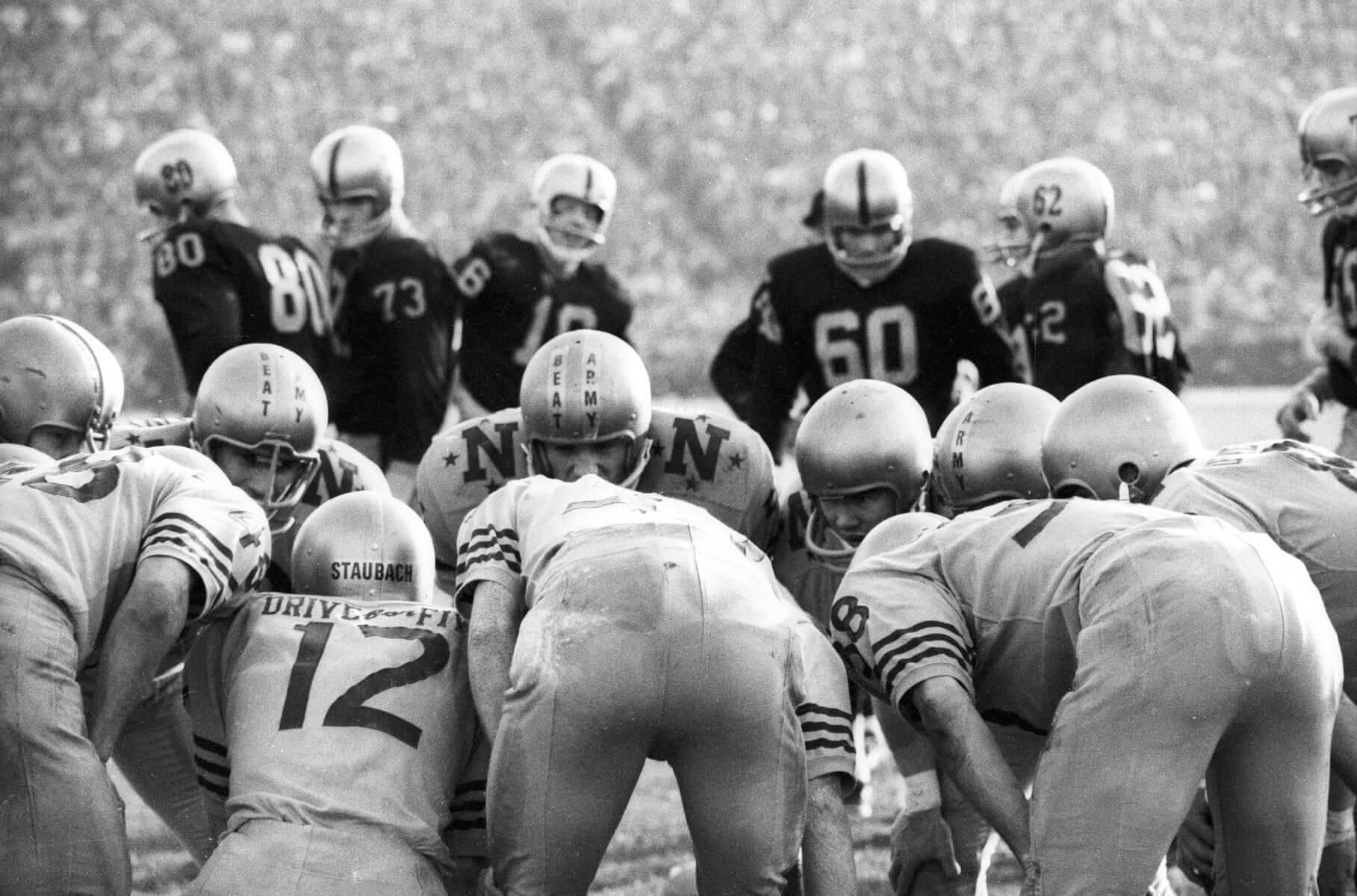 But 2008 marked the seminal moment when special uniforms were created just for the game. Let's take a look at how that started and how we got to the uniforms we'll be seeing on the gridiron (one word) today.
__________
2008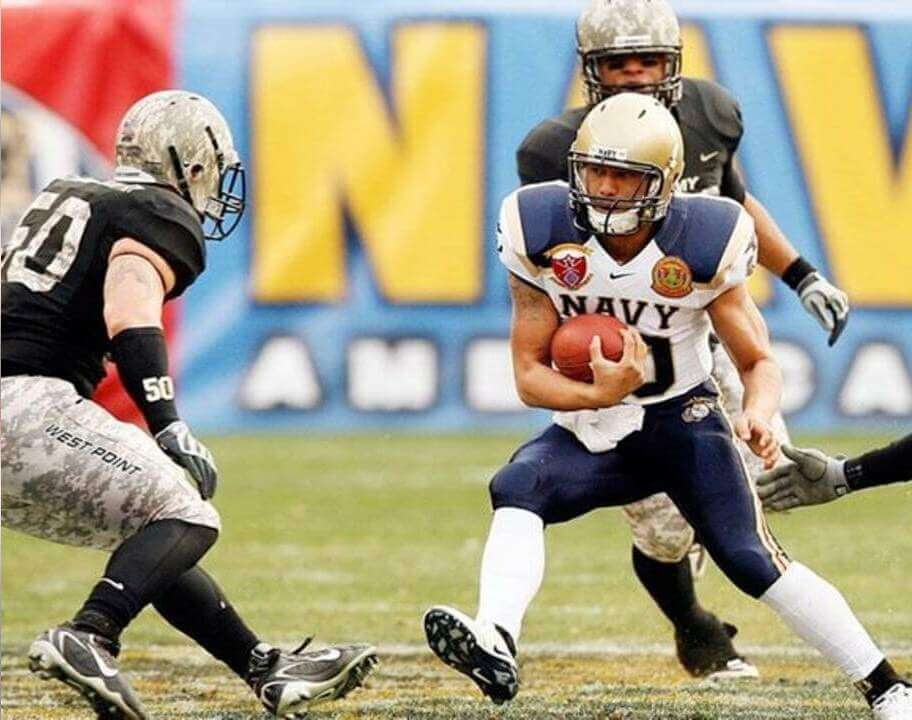 This marked the first game where Nike created special uniforms specifically for this game. Army wore camo helmets and pants (featuring "WEST POINT" down the legs) along with a black jersey featuring camo numbers. Army NOB's read DUTY. HONOR. COUNTRY. Navy wore their regular gold helmets, but added white jerseys with blue and gold "epaulettes" and navy blue pants featuring the gold/red stripe of the Marines' Evening Dress trowser.
__________
2009
Army would put the special uniform on hiatus for 2009, while Navy riffed on their 2008 unis. Navy kept their 2008 pants and gold helmets, but swapped their white jerseys for navy ones that were basically color swaps of the previous year.
__________
2010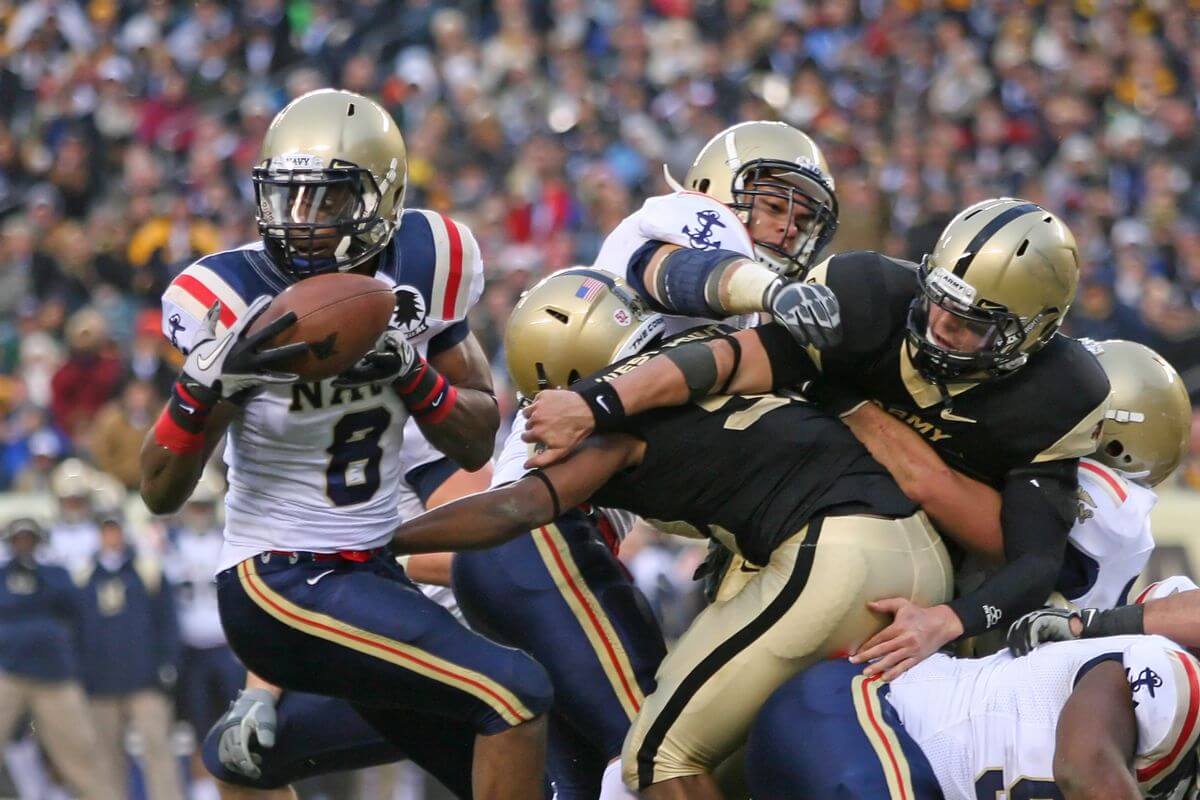 For a second straight year, Army wore its regular uniforms, while Navy slightly changed up their white jerseys from 2008. Whereas in 2008, the team had blue epaulettes bordered with gold, in 2010 they added red stripes and ditched the gold outline. This would be the last game the uniforms would not be a big "part" of the game (and the storytelling would begin).
__________
2011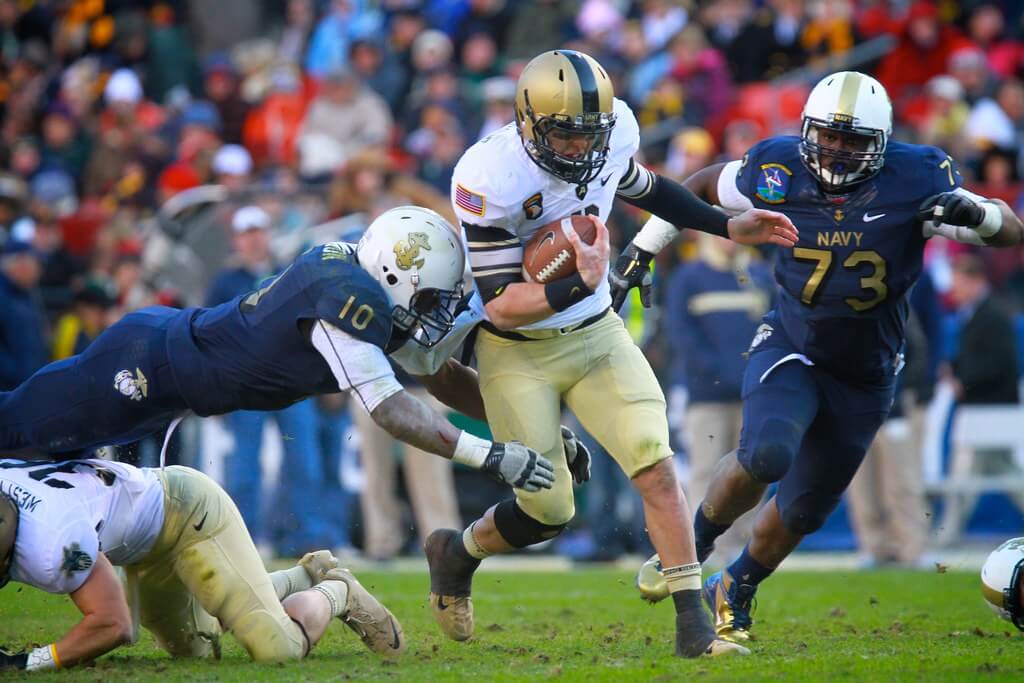 Do you remember the "Nike Combat" uniform? Well, 2011 would feature both teams in specialty uniforms, with Army donning gold helmets with a thick black stripe, basic white jerseys with black undersleeves featuring a modified northwest striping and gold pants. Jerseys would feature special stencil fonts, and shoes were meant to replicate combat boots. Navy got an entire new uniform, with a white helmet featuring an anchor on the side and a gold stripe, with the jersey and pants being mono-navy with gold numbers. While both uniforms would still be relatively staid, compared to what would follow, the uniform "battle" had truly begun.
__________
2012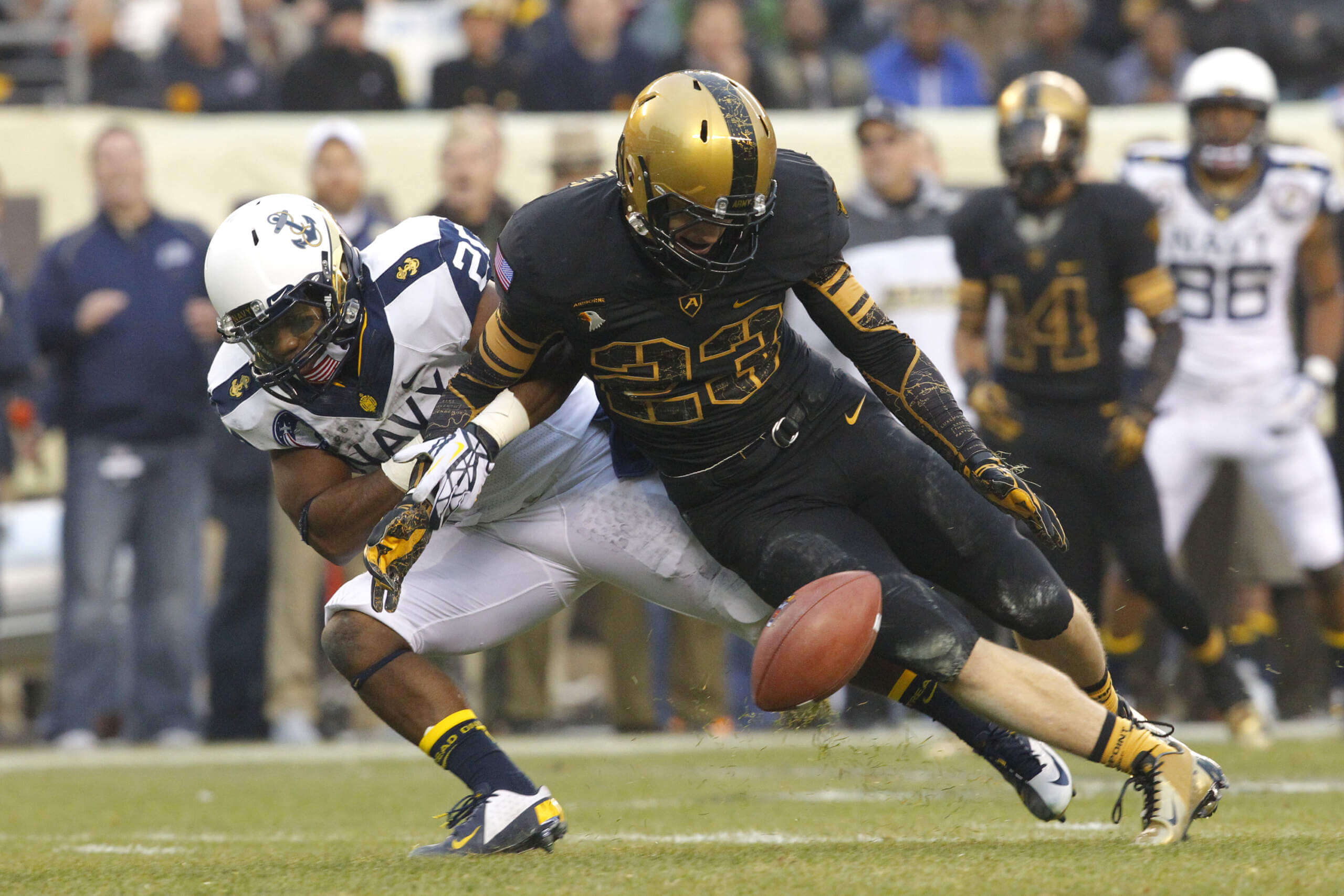 We'd get in 2012 what would unfortunately become the "norm" for many college uni matchups a decade later, when Army wore black jerseys and pants (with stealth stencil numbers with a map gradient) against Navy decked out in mono-white. This may be commonplace now, but back then it was much more of a novelty. The real "star" of the uni show, however, was Navy's custom helmet, which was pretty revolutionary for the time.
__________
2013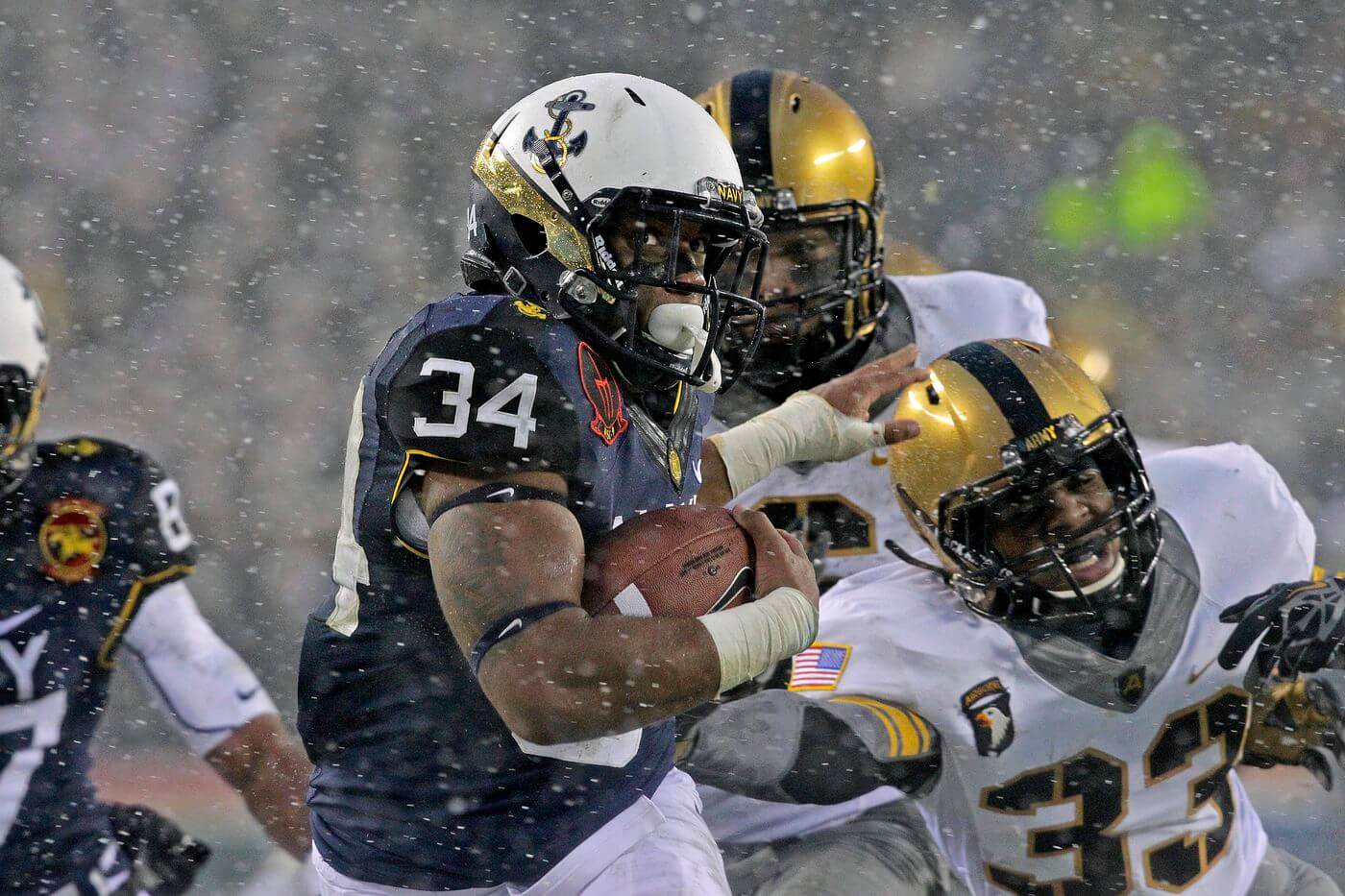 While both teams got special new uniforms in 2013, these would be somewhat mirror images of the prior year's matchup. Both teams kept their prior year's helmets, and Army swapped its black jersey and pants for a white jersey, with thick gray collar and gray pants, with a thick black stripe. Navy kept its white pants, but wore a blue jersey this time around. As memorable as the uniforms was the early season snowfall that took place that day.
__________
2014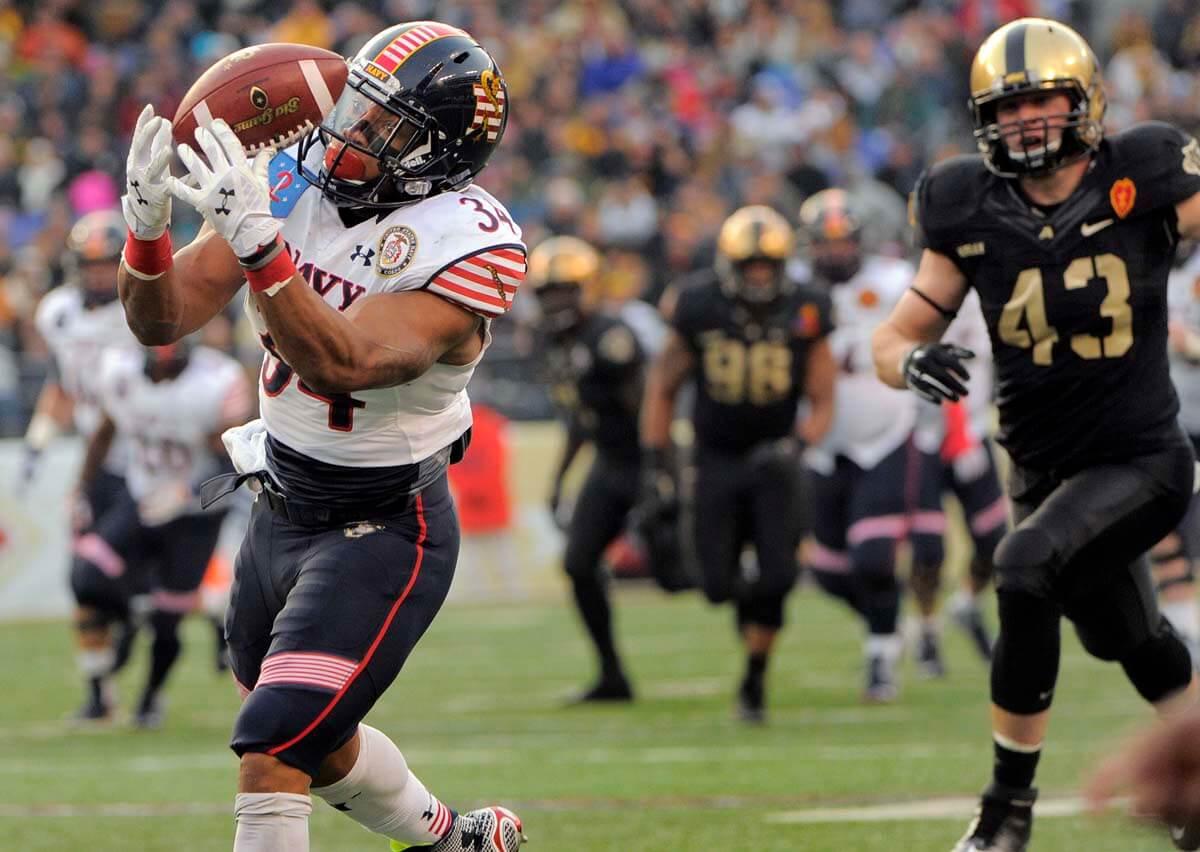 After 2013, Navy dumped Nike and moved to Under Armour for their uniform supplier, and 2014 marked the first time since the "specialty" uniforms for the game (back in 2008) featured different uni makers. And it showed. Nike stuck with a fairly sedate gold/black/black uniform for Army, while Navy's flag-inspired outfit from UA was quite the spectacle. Nicknamed the "Don't Tread on Me" uniforms, they even attracted attention from decidedly non-uniform-centered websites.
___________
2015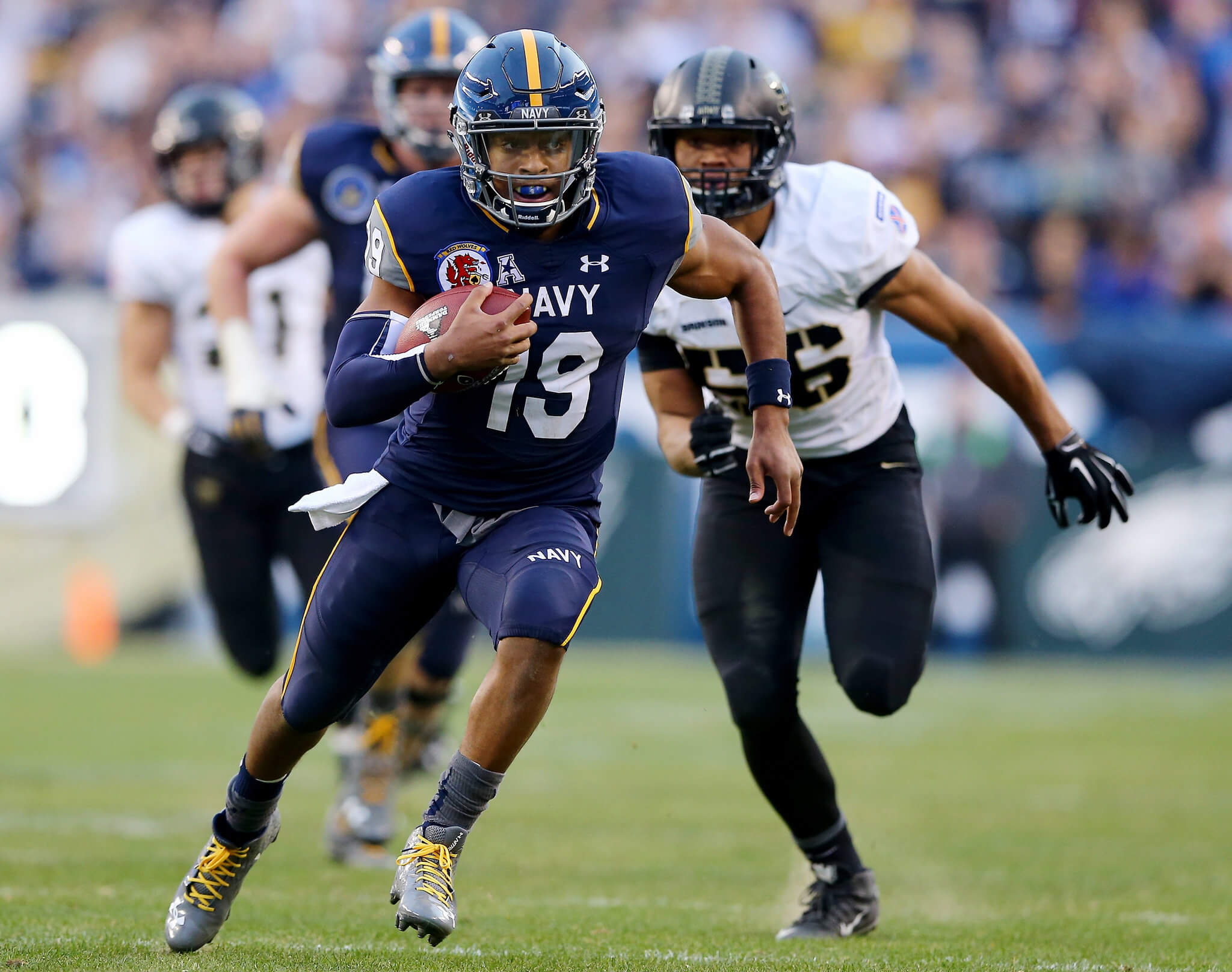 Helmets would be the big story of the 2015 game, with Navy introducing gorgeous custom-painted lids and Army later countering with black helmets featuring different military insignias for each position player. Army's uniform was pretty basic, with black/white/black, while Navy wore blue helmets, jerseys and pants, with some gray and gold accents.
__________
2016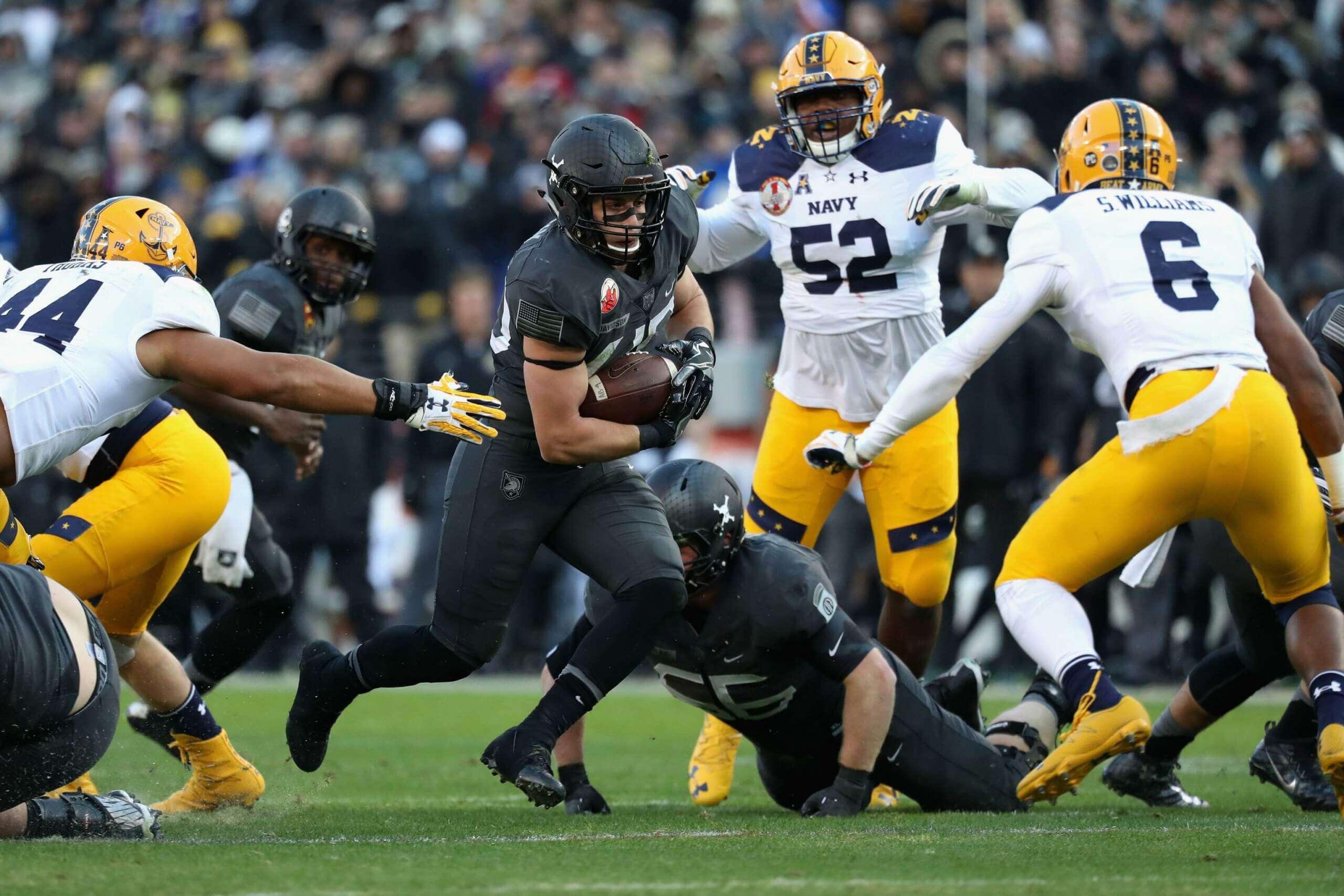 Army would lean into mono-black uniforms very heavily for 2016, inspired by the paratroopers of the 82nd Airborne from World War II. Navy countered with a new uniform which was heavy on athletic gold, which were inspired by the uniforms Navy wore during the 1963 football season. I particularly enjoyed Navy's gold/white/gold look, even if it wasn't your classic Navy uniform.
__________
2017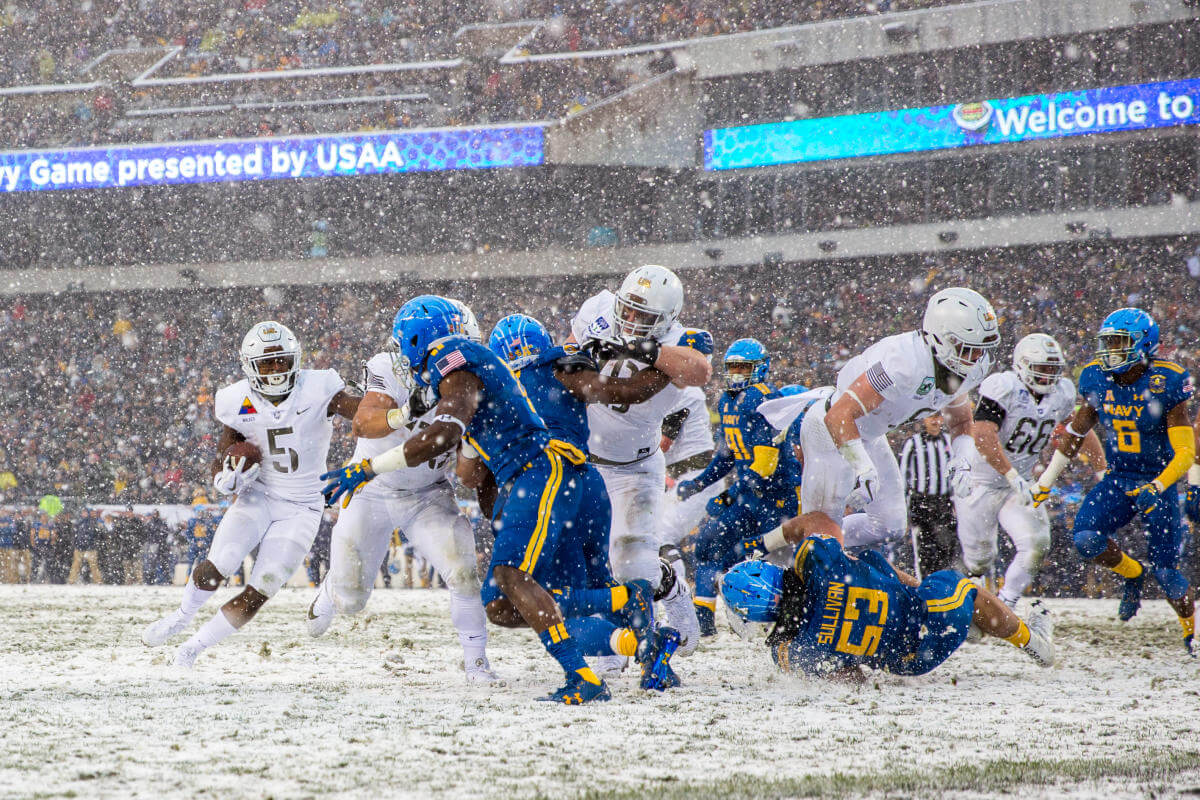 Of course Army didn't realize it at the time, but their 2017 uniforms — inspired by the Pando Commandos — were the ultimate camouflage uniforms, as another early season snowfall provided perfect cover for the mono-white clad squad. Navy went with a Blue Angels tribute, which were royal with athletic gold trim, with lighter blue custom painted helmets, and were quite striking in their own right.
__________
2018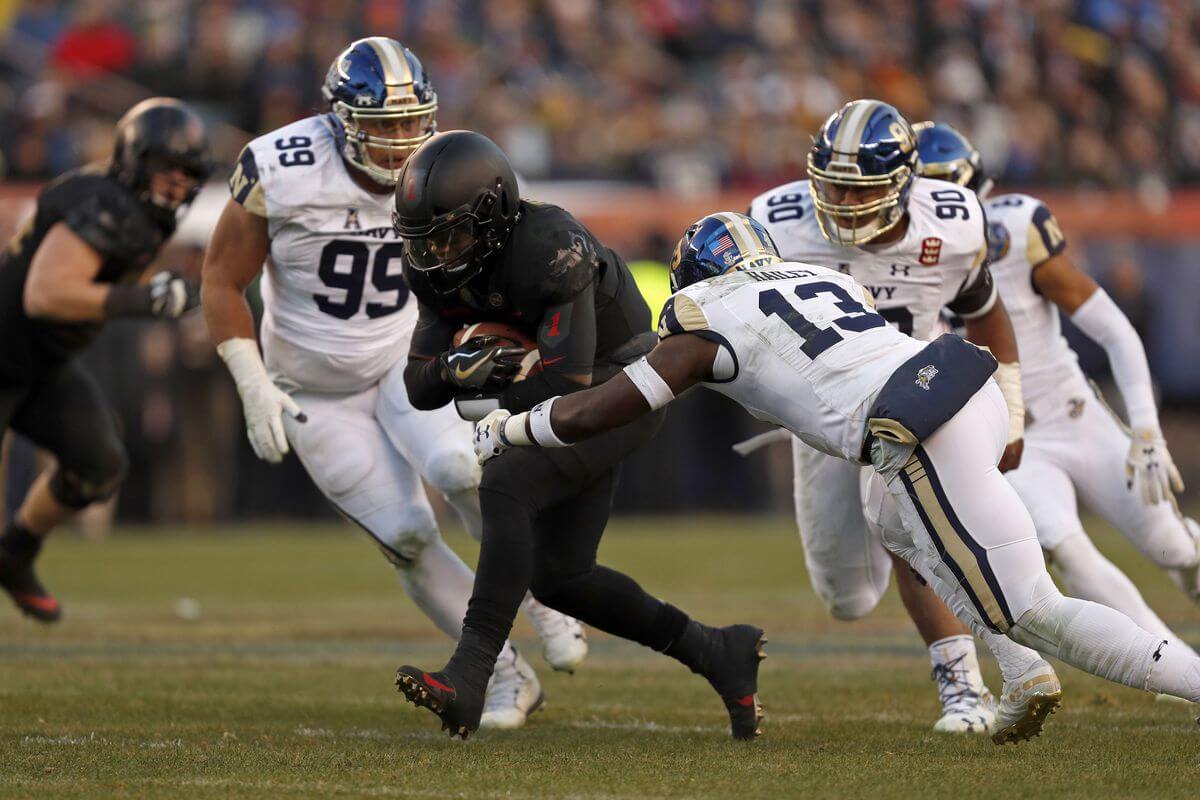 For their 2018 tilt, Army again went mono-black, this time honoring famed World War I unit nicknamed the "Big Red One," and their uniforms once again were fairly staid. Navy, meanwhile, dedicated their 2018 uniforms to honoring Bill the Goat, the Navy's animal mascot dating back to 1893! Their rather traditional-looking uniform was navy/white/white, and of course featured a logo of Bill the Goat prominently on the helmet.
__________
2019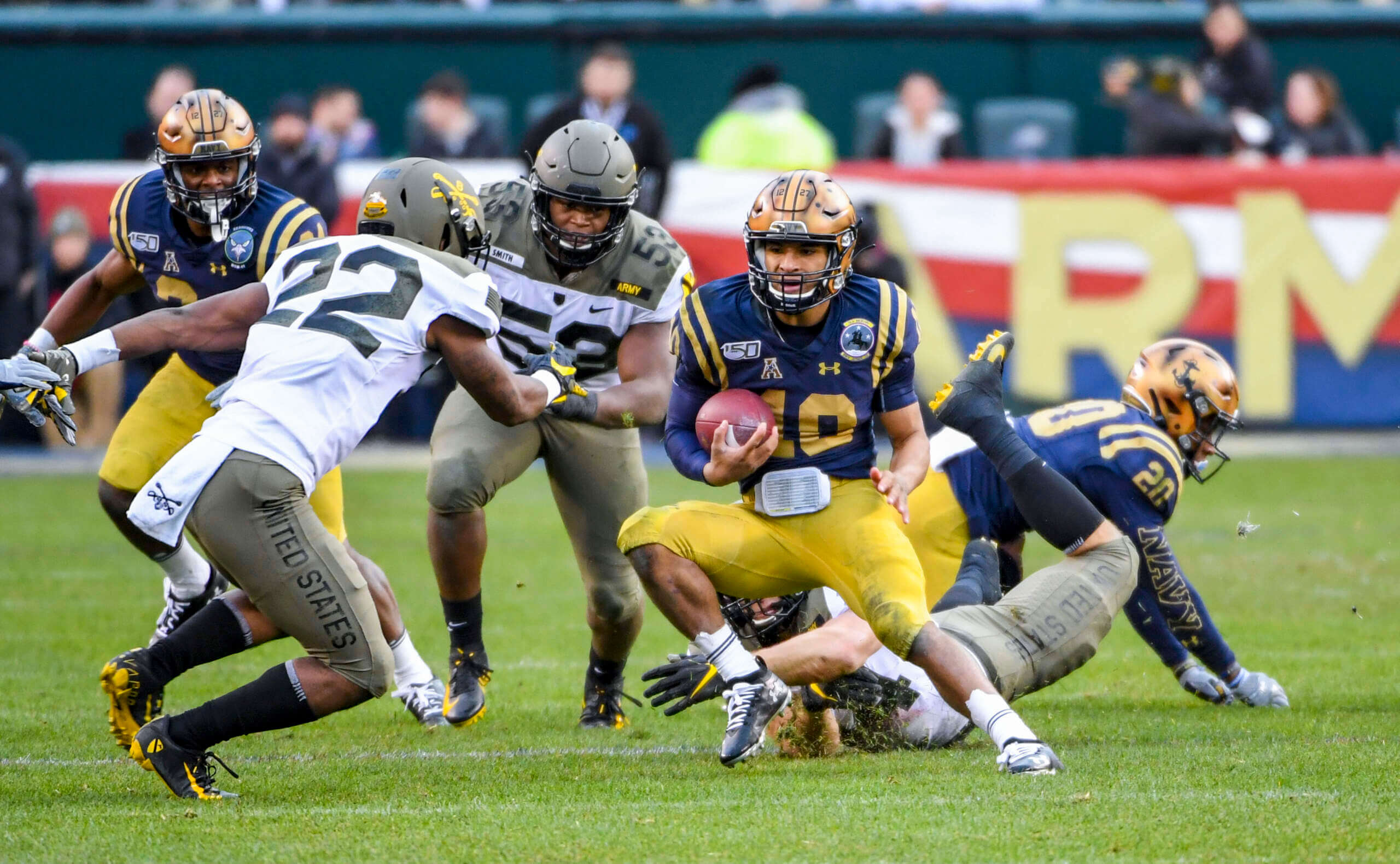 For the 2019 game, Navy broke out 1960s throwbacks which again featured custom painted helmets and navy over gold jerseys and pants. A nice solid look for Navy was countered by Army's olive green-heavy uniforms, inspired by the 1st Cavalry Division from 1965. While the game didn't have a throwback feel per se, both schools leaned into the 1960s for their uni-inspiration.
__________
2020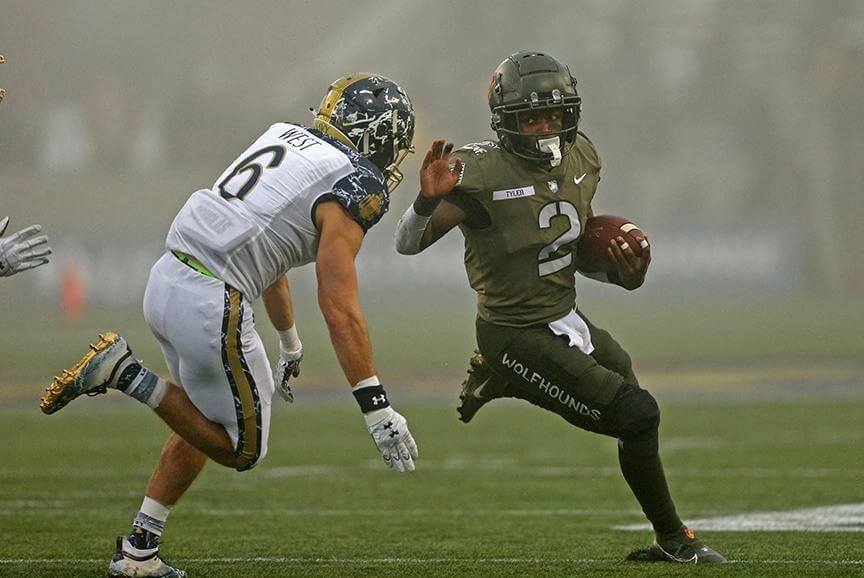 For the first time in forever, Army/Navy wasn't the "only game in town" in 2020, as the COVID-19 pandemic wreaked havoc on the football season schedule (and pretty much everything else in our lives) — but the game was still played. For this matchup, Army's uniforms drew inspiration from their 25th Infantry Division, going with a mono-olive uniform, that actually had (purposefully) different shades of olive. Navy countered with a blue/white/white uniform that celebrated 175 years of the Naval Academy. The (relatively) drab uniforms worn on a foggy late afternoon provided a perfect setting for a surreal year in which COVID cast a pall across the world.
__________
2021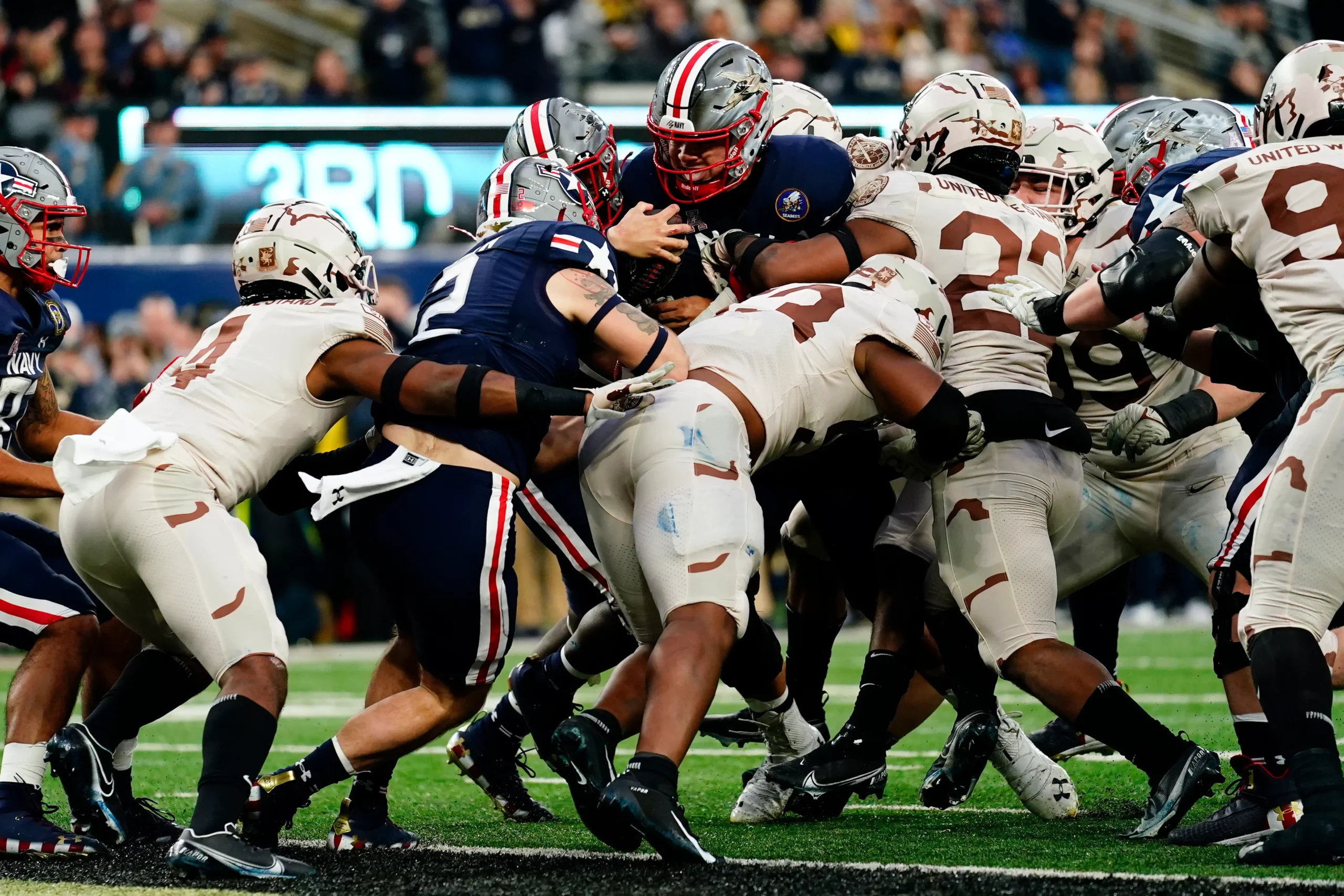 In 2021, Navy again wore custom painted helmets atop a mono-navy uniform, which itself paid tribute to naval aviation and the F/A 18 Super Hornet. Army went with a tan-colored outfit, inspired by that worn by soldiers of the U.S. Army Special Forces Command, and which were specifically designed to honor the US response after 9/11 (2021 marked the 20th anniversary of the terrorist attacks). While the game was certainly easy on the eyes, it was definitely more muted than prior years.
• • • • •
And there you have it. 14 (and counting) years of special Army/Navy uniforms on the day when all college football eyes are on The Game. Which year was your favorite? Do you like the idea of special uniforms (and backstories) every year for the matchup? Should they keep going or should they start to phase back to their regular unis? That horse may have already left the barn though.
And as an added bonus, even though there will be no SMUW tomorrow, Jimmer Vilk will be doing a special "5 & 1 — Army/Navy Edition" where he'll pick his top five and worst one uni matchups for A/N, all time (and I'm sure some of the 2008-2022 unis will make The List — so stay tuned for that).