Good  morning! Hope everyone had a good weekend, as I did.
Now then: It was Spy vs. Spy yesterday in Pittsburgh, as the Steelers and Bengals went mono-black vs. mono-white. Made for a strange viewing experience, but at least there was plenty of contrast! Lots of additional photos here and here.
Here's how it looked in action:
Pickett passes to Pickens!

Steelers rookies 📈

📺: #CINvsPIT on CBS⁰📱: Stream on NFL+ https://t.co/4yWkryI8cM pic.twitter.com/beDob2If3s

— NFL (@NFL) November 20, 2022
In other news from around the league yesterday:
The Commanders, whose training facility is in Virginia, added three rear-helmet memorial decals — "1," "15," and "41" — for the three UVa shooting victims: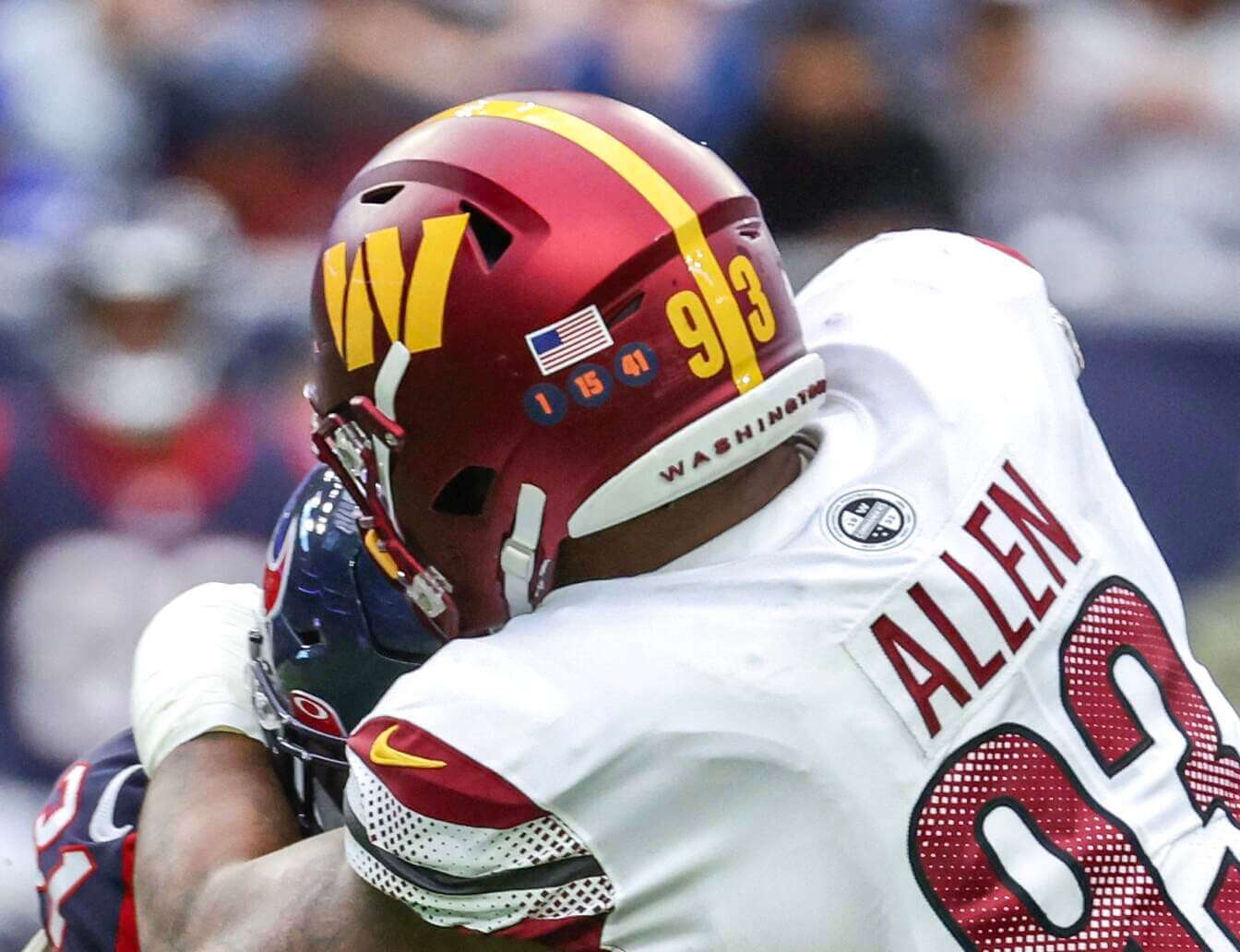 In addition, Commanders coach Ron Rivera and tight end Logan Thomas wore UVa T-shirts prior to yesterday's game:
Old school vs. new school in Denver, where the Broncos wore their Color Rash uniforms against the Raiders, whose uniforms are largely unchanged over the past half-century:
Very nice-looking game in New Orleans, as the Saints wore their gorgeous late-1960s throwbacks and the Rams wore white over yellow — their best-looking combo:
The Lions looked so bad, or at least weird, wearing white jerseys, plain white pants with no stripes, and white socks. It was like they were wearing white bodysuits. I realize that was probably the idea, but it didn't make for a good look on the gridiron, at least for my sensibilities:
The Falcons wore their red-to-black gradient alternates:
Panthers players showed up at for their game against the Ravens in Baltimore wearing Baltimore Banners hockey jerseys. Why? Because tight end Ian Thomas grew up in Baltimore, played for the Banners — a youth rec team — and is now trying to raise money for them. Additional info here.
Speaking of players showing up in hockey jerseys, Cowboys running back Tony Pollard arrived for yesterday's game in Minnesota wearing a Rangers sweater. Pollard has no NYC roots that I'm aware of (he grew up in Memphis), so I don't know why he was repping the Rangers:
With the Browns/Bills relocated to Detroit due to the heavy snowfall in Buffalo, the end zones and midfield area still had Lions logos:
In that same game, Browns running back Nick Chubb ended up with an imprint of his shoulder pads on his jersey. Weird, considering this game was played on artificial turf.
KC, which usually pairs its white jersey with red pants, went white over white against the Chargers (interestingly, the last time they wore this combo was 11 months ago, also against the Chargers):
Speaking of KC, safety Juan Thornhill, who played college ball at Virginia, wore custom-painted cleats for the UVa shooting victims:
In that same game, the Chargers wore rear-helmet decals with the initials of fallen military veterans (although linebacker Kenneth Murray Jr. didn't have one, and running back Austin Ekeler had two of them):
Prior to that same game, KC tight end Travis Kelce wore a shirt celebrating the three Fs — football, family, and Fonzie — because actor Henry "Fonzie" Winkler, who's a big Patrick Mahomes fan, was on the sidelines:
Not a single home team wore white.
(My thanks to Alan Kreit, L.J. Sparvero, John Turney, and our own Jamie Rathjen for their contributions to this section.)
---