The jerseys for this season's NHL Winter Classic are scheduled to be unveiled on Friday. But as is so often the case, a retailer has jumped the gun and given us an early view of one of the designs.
The photo you see above was taken by a Uni Watch reader at a store in Canada. It is, obviously, the Bruins' Winter Classic jersey. The basic design is no surprise, since the bruin's head logo and "Boston" lettering were both included as part of a Winter Classic logo set that was unveiled three weeks ago. Still, it's nice to see the full treatment, especially with all those stripes. (For the history-minded, the bruin's head was originally used as a shoulder patch from 1976 through 1995. This is its first appearance as a full-fledged crest.)
Here's a look at the inner collar, which is based on the scoreboard at Boston's Fenway Park, where the game will take place: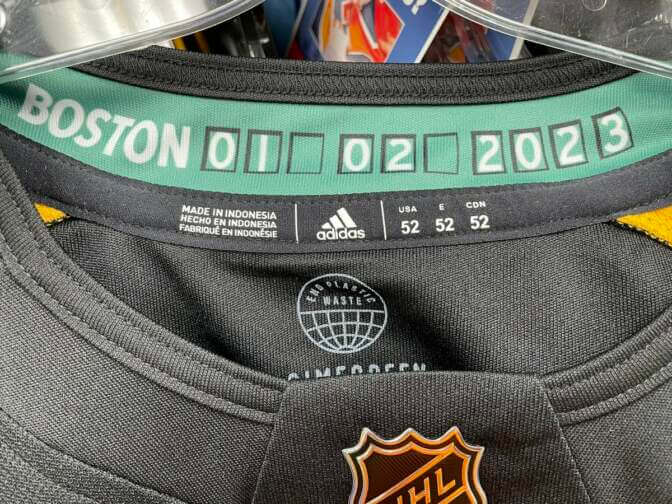 No leaks yet for the other Winter Classic team, the Penguins — at least so far.
The Winter Classic will be played at Fenway Park on Jan. 2. The league is deviating from its usual protocol of holding the game on New Year's Day because Jan. 1 falls on a Sunday, so they don't want the Winter Classic to conflict with NFL games.
(Special thanks to the anonymous reader who took these photos.)