Good Sunday Morning, Uni Watchers. Welcome to your Sunday Morning Uni Watch.
While the Third Saturday in November isn't necessarily known for the annual USC/UCLA color-vs-color tilt (though the teams are playing for the Victory Bell — and each year the victors paint it in school colors), since the color-vs-color matchup was revived in 2008, it's become must watch uni TV. But if you saw last night's game, it was just plain Must. See. TV.
But still, the unis…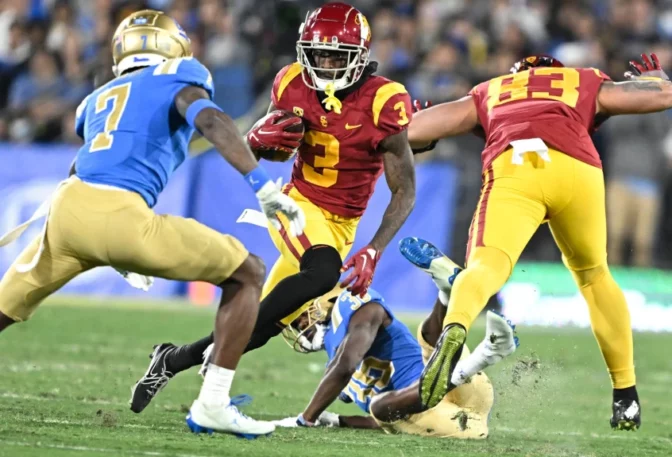 Uni Watchers may not realize the seminal moment that was 2008: it was the de facto reason for the change in color-vs-color rules in College Football. Let's rewind a bit: USC and UCLA shared the Coliseum from 1929 to 1981 — in those years, both teams would wear "home" (color) jerseys — they were not the only schools to do this, but it was one of the more storied color-vs-color games. Until 1983, players on both teams wore their home football jerseys for the game. But the tradition ceased in 1984 and games remained color-vs-white until the mid-2000s. What happened next, Wikipedia says better than I can:
Starting in 2006, the coaches at the time, USC coach Pete Carroll and UCLA coach Karl Dorrell, expressed an interest in restarting the tradition of both teams wearing primary colored home jerseys. At the time, the NCAA football rules Article 3. a. stated, "Players of opposing teams shall wear jerseys of contrasting colors, and the visiting team shall wear white jerseys." USC coach Pete Carroll said he would be willing to lose two timeouts during the game so that the USC team could wear their cardinal jerseys for the UCLA–USC football game on December 6, 2008. It was determined before the 2008 game that the visiting school would only lose one timeout for incorrect equipment. Carroll agreed to forfeit a timeout to satisfy the ruling and Coach Rick Neuheisel agreed to forfeit one, in return (even though, as the coach of the home team, he was not required to do so by the ruling) to get back this tradition, and it was renewed in the 2008 game. In the wake of the coaches' decisions, the NCAA decided to amend their rules regarding away teams' uniforms (which were originally put into place to provide more contrast for black-and-white photography and television broadcasts), changing the rule to state that the teams must agree on the decision for both teams to wear their colored jerseys before the game and that the uniforms must be of easily contrasted colors. Since the home team is already required to wear its colored home jerseys and would not be in violation of any equipment rules, this essentially leaves the decision up to them as to whether or not to allow the visiting team is to wear their home uniforms.
So, we have USC and UCLA, still the premiere color-vs-color game, for paving the way for other schools to wear home uniforms against each other. Every week, we have a couple color-vs-color games now, including one yesterday between Liberty and Virginia Tech, who went blue vs. orange to pay tribute to UVa (a very nice gesture). But this one is still the best.
One thing about the game that annoyed me. Take a look at the inline photo above. Notice anything amiss? That's right — the two USC players pictured were wearing different color socks (or sleeves, or tights, or whatever they were). One in solid black, providing nice contrast with the pants, and the other in gold socks, for the dreaded superhero look. This wasn't an isolated player or two…many players were sporting both color socks, and some went basically barelegged.
Some even had it "both" ways:
For their part, UCLA went either barelegged or wore gold tights. It wasn't a great look, but at least it was a bit more … uniform.
But all in all, this is probably still my favorite uni-matchup of the year. And one for which the two teams themselves are directly responsible.
More photos here.
And with that, I'll turn this over to TJ, who will bring you your…
• • • • •
Sunday Morning Uni Watch
by Terry Duroncelet, Jr.
From Tuesday:
• Toledo/Bowling Green: Contrast Matters: Return of the MAC Edition.
• Ball State/Ohio: I know I don't mention Ball State often, but for whatever reason, this look worked well with their red endzones and opponent Ohio in all-white. And who doesn't love this lad on the helmets?
From Wednesday:
• Kent State/Eastern Michigan: Odd light blue tops once again for Kent State.
• Central Michigan/Western Michigan: Yep. It's a November game in the State of Michigan, alright. Gotta love a good snow game.
From Thursday:
• Tulane/SMU: Hybrid elements for SMU. They wore their Dallas whites, but with the standard Mustang logo decal, as opposed to the big D. Oh, and Tulane in BFBS, I guess.
From Friday:
• Tulsa Tulsa/USF: The Golden Hurricane were seeing double on Friday night.
From Saturday:
• Liberty/Virginia Tech: As I'm sure you've heard by now, there was a horrible shooting recently on the University of Virginia campus that claimed the lives of Lavel Davis Jr., Devin Chandler, and D'Sean Perry, who were football players for the university. Liberty (based in Lynchburg, Virginia) and Virginia Tech (Blacksburg, Virginia) chose to honor their memory with a color-vs-color game (Twitter announcement here), with the Flames in full-navy, and the Hokies in mono-orange with white helmets (Virginia's school colors being navy and orange, of course). Virginia Tech even went as far as to theme out their Twitter account in UVA's colors.
• Because there are far too many to count, several schools responded to the tragedy by wearing helmet decals, including (but certainly not limited to): Ohio State, Vanderbilt, and LSU, among many others. Tennessee went as far as using Virginia's logo on the back of their helmets.
• Notre Dame/Boston College: I saw exactly 2 things in this game: Jack, and Shit.
• Minnesota/Iowa: Goldie sighting! (closer look)
• Columbia/Cornell: This truly was the day of color-vs-color! Also, this is apparently the first time in 40 years that Cornell has worn a helmet decal that wasn't a big 'C'.
• Utah State/San José State: …Case in-point. Also, Utah State wore #6 on the side of their helmets in honor of San José State RB Camden McWright, who passed away back in October.
• Harvard/Yale: No words. Only photos
• South Carolina/Tennessee: Now hear me out: ORANGE HELMETS. In terms of bringing out certain combinations in certain contexts, I think Tennessee has done the best job of this all season, and the new orange lids are a prime example of something that was so obvious it had to be done, but next-to-nobody thinks of it, and when it DOES get done, we all go "why didn't I think of that?!". The BFBS and smoke lids are great in the context of the 31 days of Halloween, but this is good year-round. Too bad that last night's result will forever curse this helmet with the name "Rocky Flop".
• LSU/UAB: The Blazers are green with envy. Except that the green is inconsistent. L.J. Sparvero writes; "UAB's nameplates look like they're a different shade of green (or at least a different material) than their jerseys."
• Arizona State/Oregon State: This is the most Sun uniform I've ever seen.
• Florida State/Louisiana: BFBS for Florida State.
• Louisville/NC State: I genuinely thought that this was a home game for NC State, but NOPE!
• Vanderbilt/Florida: Orange trou for Florida
• Charlotte/LA Tech: See, now this is an example of how NOT to do alternate colored jersey tops.
• Iowa State/Texas Tech: BFBS for Iowa State.
• Mississippi State/East Tennessee State: Remember these helmets? The Bulldogs flipped them for their game on Saturday.
• Cal/Stanford: I LOVED Cal's uniforms in this game. Stanford also broke out the throwbacks, which made the overall game look absolutely STELLAR (that Cardinal shot also gives us a shot of that 125th Big Game decal). Cal joins Cornell in wearing a helmet flavor that hasn't been seen in 40+ years.
• • • • •
Thanks TJ! Fantastic stuff, as always! And now we'll move on to Wade Heidt, with all the action from America's Hat.
---