The Twins today unveiled their long-awaited new uniform set. There are lots of moving parts to assess here, so let's go one element at a time, beginning with…
The New Primary Cap Logo
We pretty much knew this was coming, based on earlier leaks. Obviously, it's not a massive change, but there's nothing wrong with making a minor tweak if it improves things, and I think that's the case here. The new version is sleeker, more streamlined, and the "C" nests into the "T" more naturally. Also, note that they've brightened the shade of red. I'm fine with all of this — an upgrade, if only a slight one.
The Home Whites
Can't say I'm in love with this. It's not a terrible uniform, but I have lots of quibbles with it. One at a time:
I realize the Twins have flip-flopped on their primary team color several times over the years, but I think of them as a navy team with red trim, not the other way around, so I don't like the chest script being rendered in red.
More importantly, the script feels a little thin or spindly to me. Needs a shadow or some outlining.
Similarly, not a fan of using red for the back numbers.
Also don't like the red belts.
Note that they're showing some players in navy undershirts (which looks good) and one guy in red (awful). Will that also be the case with the caps? I feel like this may be a Texas Rangers mess in the making, where they're trying to have it both ways and end up with neither.
I hate asymmetrical pants striping. Make it red-blue-red, or blue-red-blue, or something, anything, that has symmetry.
Not a big fan of the number font. It feels like they removed the serifs from the "T" in the "TC" logo and put them on the numerals.
The sleeve patch is nice enough, but it's a little odd that they marked the Twin Cities region with a hypocycloid — I can't see that shape without thinking of the Steelers.
———
The Road Greys
I know some people have a problem with pinstripes appearing on road uniforms, but I don't mind that at all, especially since the Twins have a history of doing it. What I do mind, however, is pants piping (asymmetrical or otherwise) appearing on a pinstriped uniform — there should be a law against that.
The red/blue issues are still a problem here, although at least the chest lettering is in navy. And what about the rear view? Let's take a look:
So the front and back number colors don't match on the home jersey but do match on the road jersey. Have I mentioned that I don't like this number font?
Now let's take a closer look at that new road cap: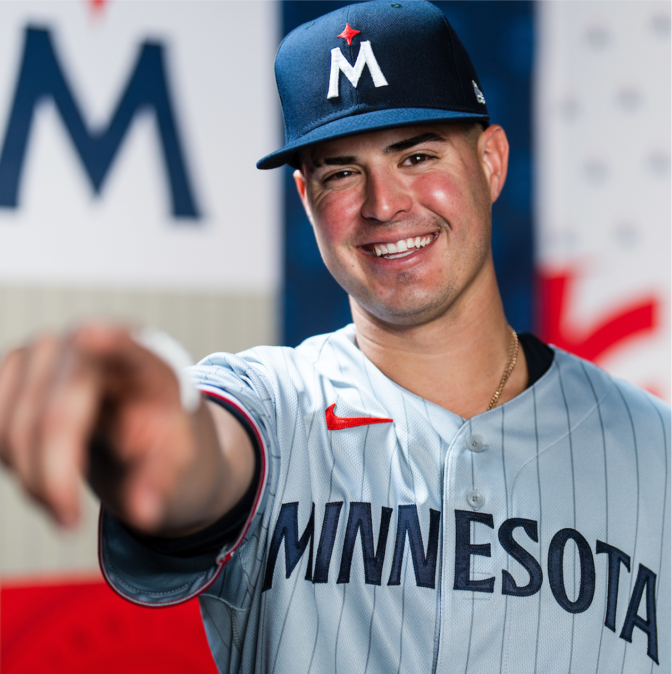 Ah, so now we see that the hypocycloid is supposed to be the North Star. But that trope seems so played out (already used by the Timberwolves, Wild, and, um, North Stars). More importantly, the execution here is completely snoozers. No zing, no pizzazz. I was never a big fan of the Kirby Puckett-era "M," but I'd certainly take it over this.
And yes, the red swoosh is annoying.
———
The Home Alternates
Very nice — a simple but effective nod to the team's namesake. The underscore on the script feels Just Right. I'm tempted to ask for a splash of a secondary color, but at least this avoids the red/blue issues (well, until some chucklehead decides to go rogue by wearing red sleeves and/or a red belt). Gotta like that sleeve patch, too:
———
The Navy Alternate Jersey
As you can see in the photos above, this jersey can be worn either at home or on the road. It's interesting, however, that they're apparently pairing the road cap with this jersey, even if worn at home (although I suspect they'll end up mixing and matching as the season progresses, because that's how things tend to work these days). Anyway: Feels like your standard-issue MLB softball top — not my kinda thing, but every team has to have one.
This is the best rear view I could find. Seems like the red NOBs may be hard to read — could've used some outlining:
———
All in all: Can't say I'm a huge fan of what they've done here. Disappointing.
Also, is there some sort of rule that says every single team has to refer to the past and future when releasing a new uniform set? Dig:
Come on, people — we've all heard that a jillion times now. Come up with a new marketing shtick already. Also, speaking of being inspired by the past, the single worst thing about this uni set is that there's no Minnie and Paul!
Want to learn more? There are press releases here and here, and lots of additional photos here.
Okay, that's it for me for this week. Enjoy Phil's Saturday and Sunday content, and have a great weekend!