Good Sunday Morning, Uni Watchers, and welcome to Week 11 of the Sunday Morning Uni Watch. I hope today's splash photo inflicted no damage to your retinae.
I thought I was done featuring Oregon this season but yesterday's tilt with the University of Washington was … something.
We knew earlier in the week that Oregon was going full highlighter, but up until a couple hours before gametime, it was assumed (wrongly as it turns out) that Washington would be going gold/white/purple. An early version of Dennis' Pac Tracker even had that combination. But apparently a few hours before kickoff, Washington asked for, and was granted, permission to wear their purple jerseys. Unfortunately for Oregon, it turned out to be a bad decision.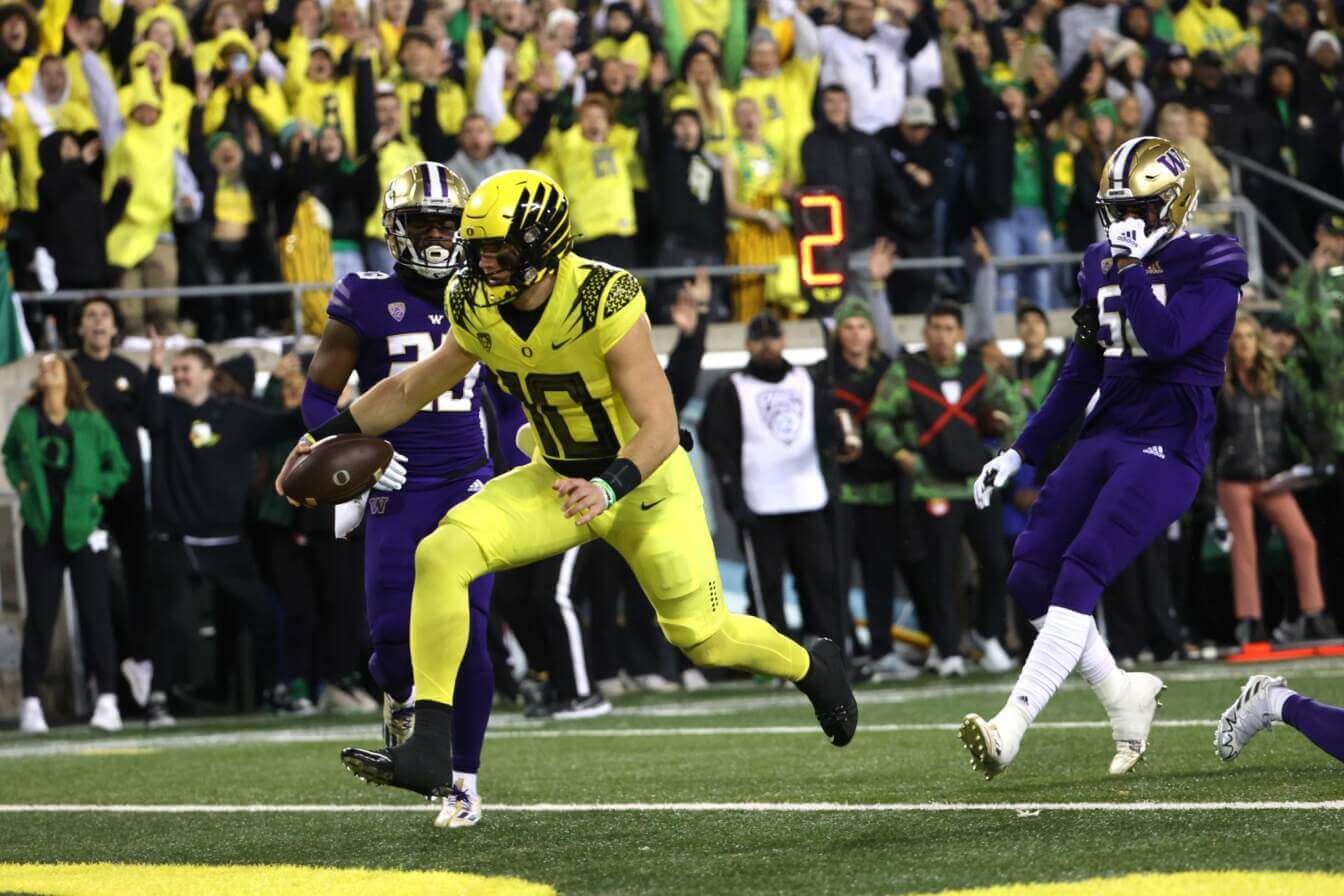 Now, I've argued over the years, and I maintain, that when teams wear gold (yellow) jerseys, those should be considered as "light," and opposing teams should wear their dark jerseys. I didn't envision a situation where my yellow jersey "rule" would apply to a team decked in head to toe yellow, as the Ducks were, opposing a team going all-purple from the neck down. But that's what happened yesterday evening in Eugene, where we had quite the uni-battle.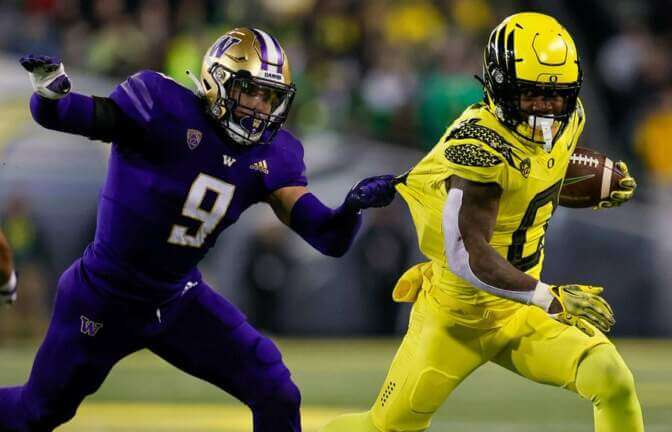 I watched almost the whole game, and honestly, it wasn't the worst uni matchup I've ever seen, and it certainly wasn't lacking for contrast. Twitter had a lot of fun with it, even invoking the almost mandatory Teletubby reference:
washington-oregon uniform matchup today pic.twitter.com/OqSQsPi2oM

— Brian Floyd (@BrianMFloyd) November 13, 2022
It was also pretty interesting that the line of scrimmage and line to gain superimpositions were in purple and yellow.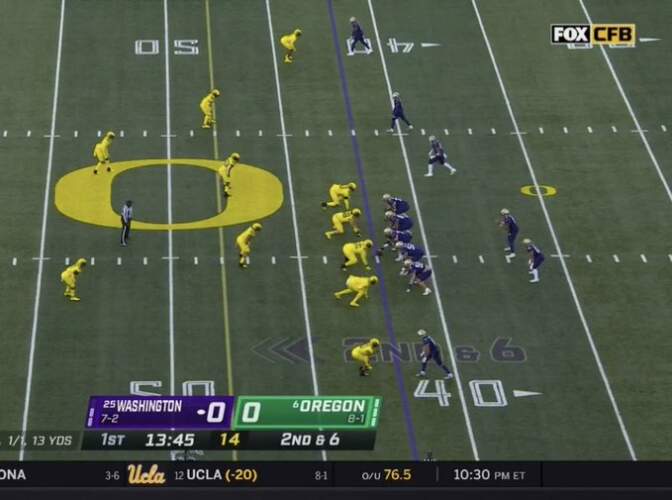 Also, you may have noticed during the game, the 4-yard lines were painted yellow (instead of the usual white). I think we've mentioned it before, but all Pac-12 teams honored Spencer Webb, a former Ducks tight end who died tragically this summer from a climbing accident, by painting their 4 yard lines yellow. Oregon is doing that all season long (h/t to Max Weintraub).
OK, I think I'm done (in more ways than one) with Oregon for 2022. But one more pic for posterity: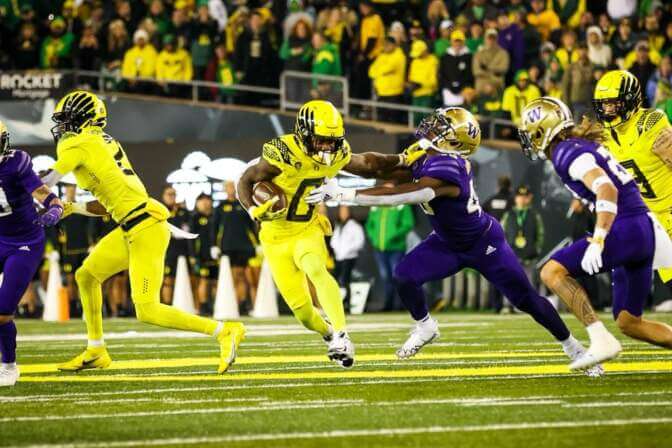 Should you so desire, you can see more photos here.
Ok. Now, on to TJ with the rest of your…
• • • • •
Sunday Morning Uni Watch
by Terry Duroncelet, Jr.
Hello, and welcome to Week 11! Now before we get on with what went down over the weekend, I want to shine some light on why I seemed low-energy last week. I, uh… was low-energy last week. Th-that's it, that's the statement. Last week was a chaotic week for me, and by the time I was finishing up last week's column, I almost fell asleep at my computer TWICE. With that being said, I'm sure I missed a bunch of obvious games, so apologies for that. This week should be better, though!
Anywho, buckle up, because there was A LOT of flag-pandering, a lot of camo, and a whole lot of dad Rock (it's jokes, promise). Yep, G.I. Joevember is in full-swing.
From Tuesday:
Miami (OH)/Ohio: Miami OH wore grey unis in recognition of the 50th anniversary of the relationship between the Miami Tribe of Oklahoma and Miami University.
• Toledo/Ball State: HOLY TOLEDO, we got a double-whammy on the visual side. Toledo wore BFBS (ya missed the window by about *consults my PC's calendar* TWO WEEKS) paired with camo decals, and Ball State is the first amongst the Week 11 participants to wear S&S decals on their helmets (closer look, with big thanks to Blaise D'Sylva, of course).
From Wednesday:
• Western Michigan vs North Illinois: GFGS for the Broncos (closer look at the helmet).
• Central Michigan/Buffalo: Nothing particularly uni-notable here, I just wanted an excuse to weave this run in.
From Saturday:
• Michigan/Nebraska: This game was SO CLOSE to glory, but then the Wolverines had to muck it up by going mono-navy. It's like when you have an otherwise delicious dessert, but then you add coconut shavings to it. VILE. This is how Michigan's mono-blue made me feel. And how's about a little bit of decal death while we're at it?
• As mentioned, there were PLENTY of teams with aesthetic demonstrations for (the day after) Veterans Day, including (but most certainly not limited to): Arkansas, Illinois, West Virginia, Michigan State, Louisiana-Monroe, Troy, Iowa, Middle Tennessee (yes, those are different stripes), UAB, South Alabama, FIU, Coastal Carolina, and… I have no idea who else. It's a cacophony of performative patriotism, it's been a long week, MY BRAIN NEEDS SLEEP
• Ole Miss/Alabama: Ole Miss wore their light blue lids and shirts against Bama.
• Clemson/Louisville: Clemson wore their seldom-seen purple tops for Military Appreciation Night against Louisville.
• Penn State/Maryland: Road throws for the Terps.
• West Virginia/Oklahoma: The Sooners wore their Rough Rider roads against West Virginia.
• South Florida/SMU: The USF Bulls also partook in the (post) Veterans Day festivities, but their look was just a bit more involved than just slapping a flag-pandering decal on the helmets and calling it a day. It almost has 4th of July energy, don't it?
• WKU/Rice: Western Kentucky not only wore mono-red, but brought out this friend on their helmets for the occasion! (closer look)
• Minnesota/Northwestern: I cannot stop laughing about how comically-big the decals that Minnesota's been using as of late.
• Navy/Notre Dame: I guess "2 ears, 1 mouth" doesn't apply here.
• Iowa/Wisconsin: One word to describe Iowa's pant stripe on their black trou is T H I Q Q.
• Okay, now it's just getting ridiculous.
• Marshall/Appalachian State: Every year, Marshall honors the 75 victims of the 1970 airline crash with some kind of uniform-based tribute. This year not only marks the 10th year in a row that they've done such, but this is also the first year that they've worn a black helmet, which honestly ties the look together. The one time in which non-October-sanctioned black uniforms are acceptable.
• • • • •
Thanks, TJ! Great stuff as usual. Now we move on to Wade, who brings you his…
---