Reader Steven Schapansky has had a really awesome DIY project running for the past eight years, and this year he enhanced it with a very special Uni Watch detail that I can't wait to share with you.
But before I can do that, let me hand the mic to Steven so he can fill you in on his long-running project:
In 2014 I designed and built a Lego baseball stadium. Around that same time, Lego came out with baseball minifigures wearing uniforms of a fictitious team called the Clutchers. Soon after that came another team, called the Stackers.

During the 2014 World Series between the Royals and Giants, I live-tweeted the games with amusing recreations of notable plays throughout the games, with the visiting team being represented by the Stackers and the home team by the Clutchers. I did the same thing in 2016, but things really took off in 2018, when I redesigned my stadium's outfield bleachers and unveiled the new design. Here's the Twitter thread showing all the new features in Clutchers Field:
Renovations are complete! Presenting the revamped Clutchers Field LEGO Baseball Park! Let's look at some of the changes. #legobaseball pic.twitter.com/tzK8JPFhjv

— Steven Schapansky (@Legopolis) July 5, 2018
Local news came by to do a story on it. MLB, too — here's the story that Cut4 did at the time.
Last year, I also did a short movie about Clutchers Field in the style of Ken Burns's Baseball:
The project has included occasional uniform-related references over the the years, like when I sprung for Clutchers caps to replace the generic red caps I had: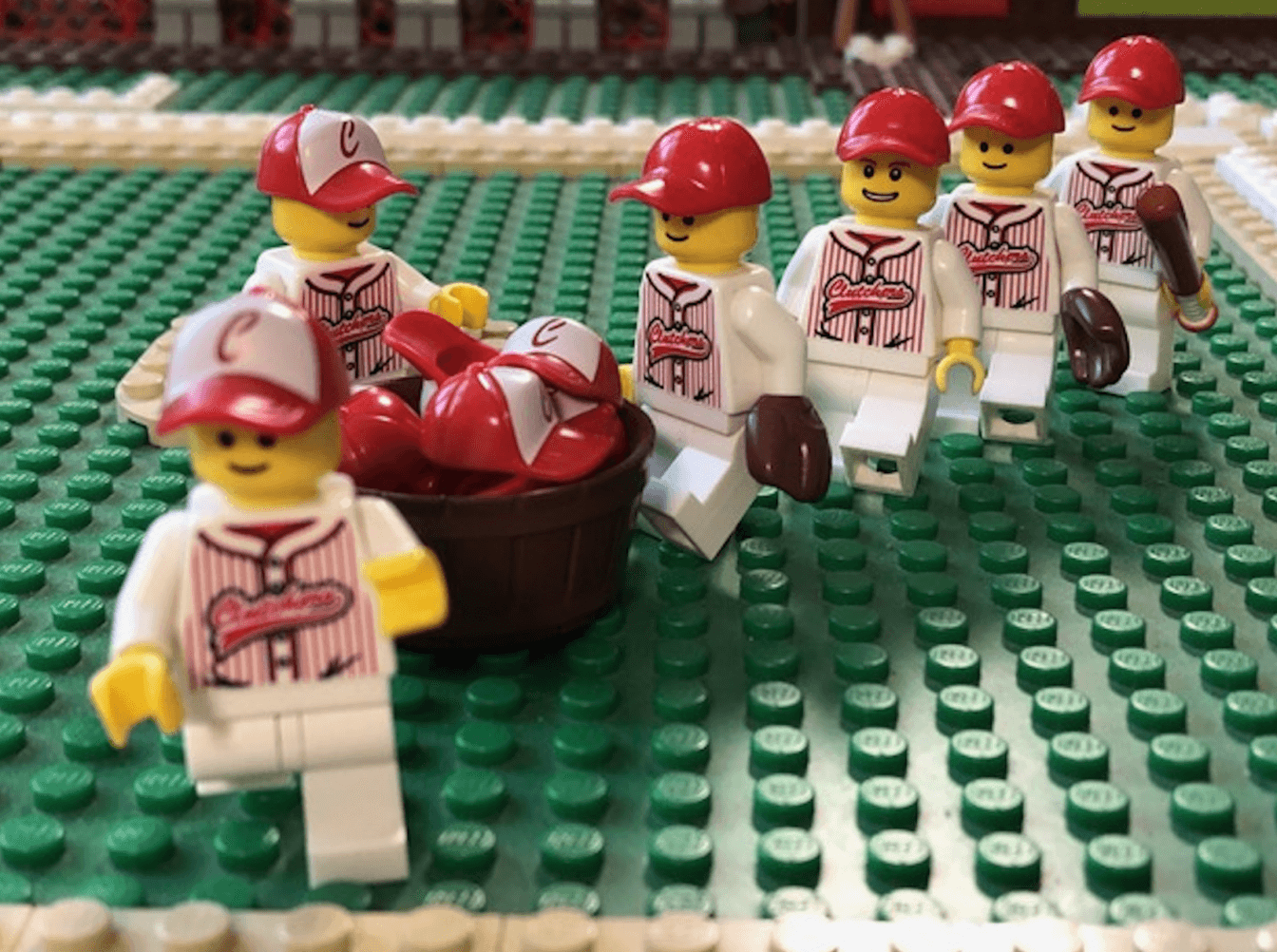 ———
Paul here. Okay, so those are the basics. Pretty awesome, right? I'm sure we've featured Steven's work in the Ticker a few times, but we really should have showcased him long before now.
Anyway: As you'd imagine, once the final out of a given World Series is recorded, Steven creates a Lego version of the winning team (the Clutchers, in this case) celebrating on the field. Here's a photo that he tweeted on Saturday night — see if you can spot anything unusual amidst the celebration: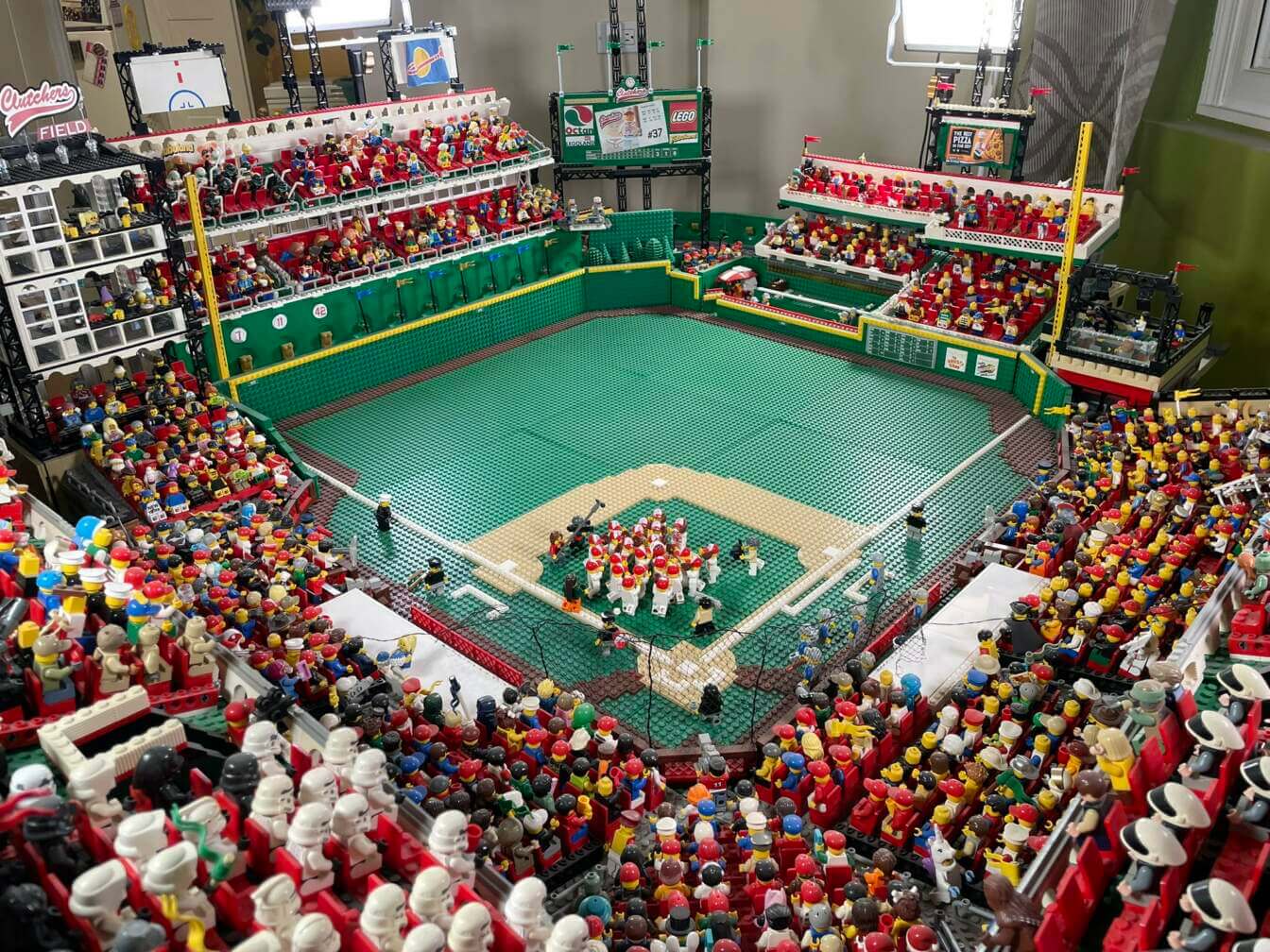 Here's another photo. Again, do you see anything that sticks out in a particularly Uni Watch way?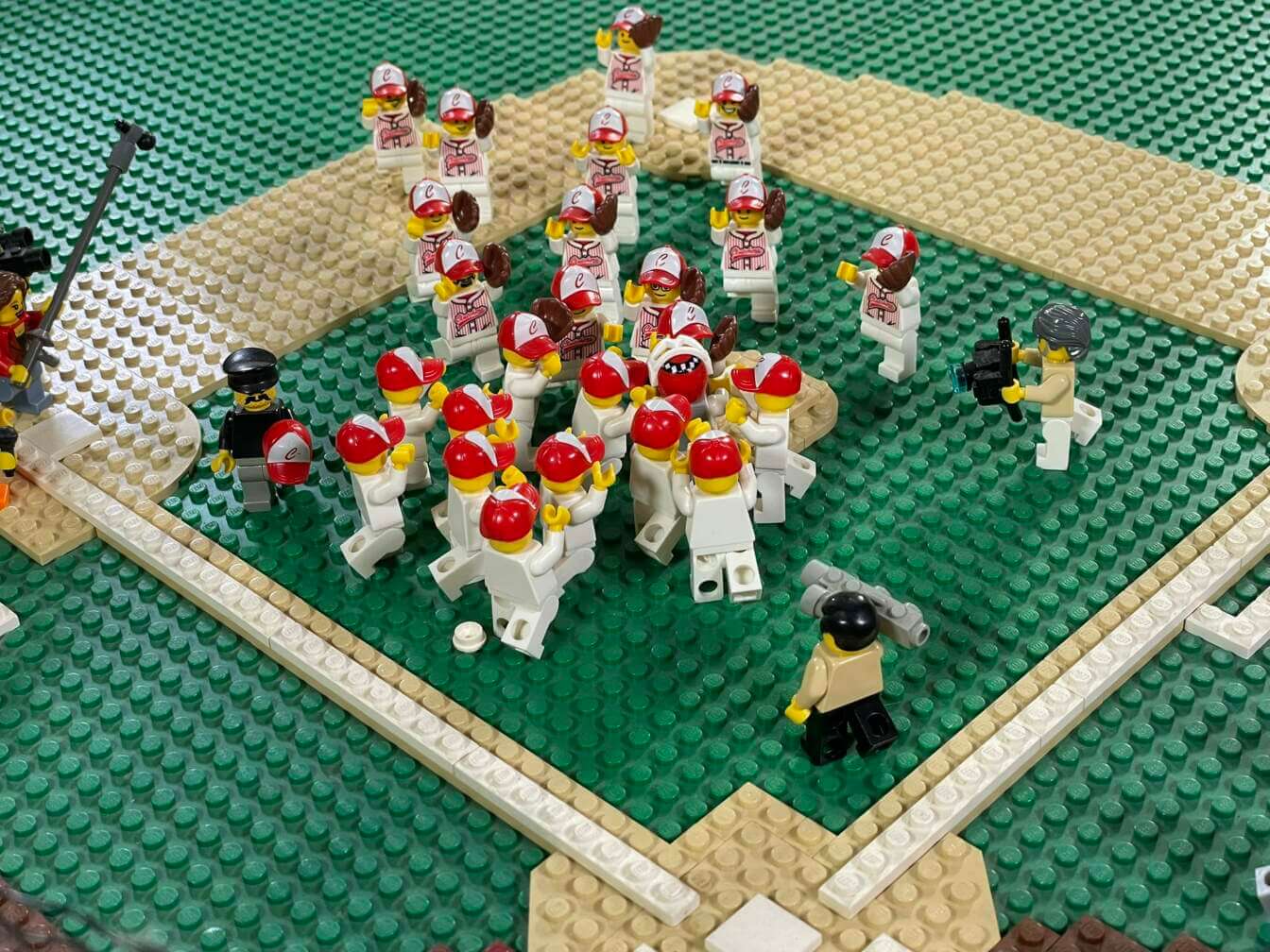 I wouldn't have spotted it myself, except that Steven basically spoon-fed it to me: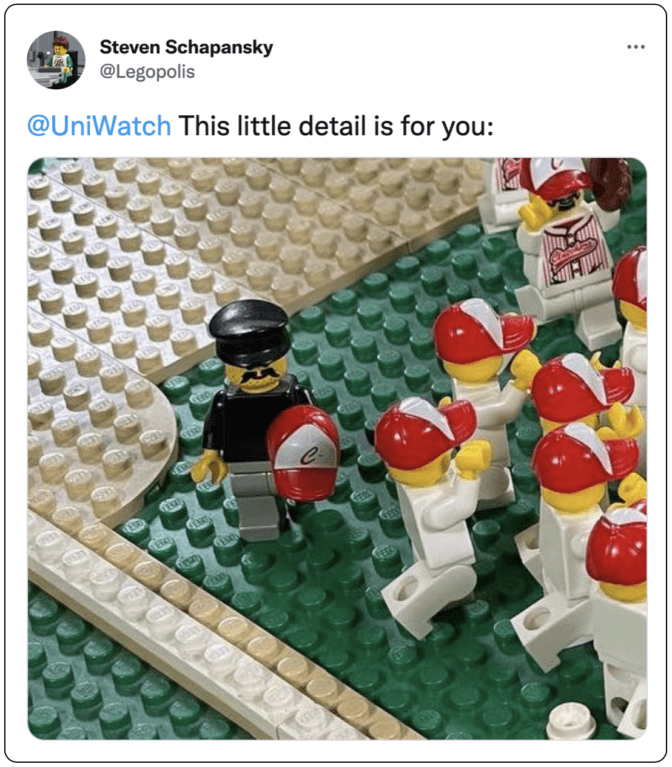 Now do you see? Steven had a little Lego umpire walking off with a Clutchers cap — a reference to my recent Substack article about umps who collect World Series caps! How cool is that?
"I already wanted to show the umpire walking off the field," says Steven, "and then it just struck me — why not show him holding a Clutchers hat? I loved your recent article about the weird trend of souvenir-hunting umpires, and thought it would be the perfect tribute to such a unique quirk in World Series history."
I'm tickled that Steven took my story and ran with it, and I'm honored that Uni Watch had an impact, however slight, on his World Series project this year. Thanks so much, Steven!
In case you can't already tell, Steven is pretty much a creative genius. Check out more of his great work on his Twitter feed.
One final note: I would have missed Steven's tweet to me, because I was on mini-vacation in Virginia and wasn't looking at Twitter, but Phil saw it and knew I'd want to check it out, so he emailed the link to me. If not for him, I would have missed the whole thing and this post wouldn't have happened. Thanks, buddy!
---