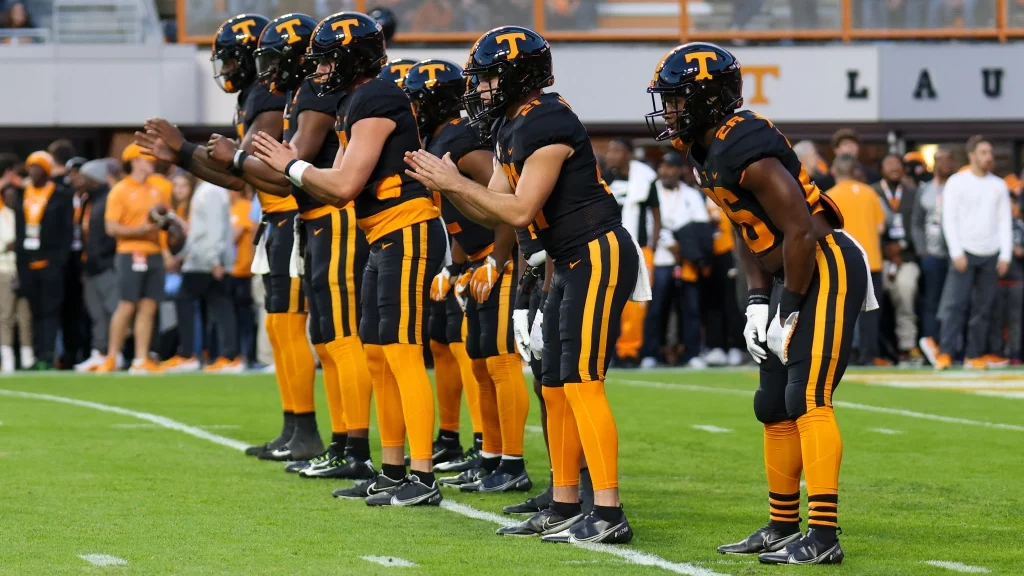 Good Sunday Morning, Uni Watchers. And welcome to Week 9 of your Sunday Morning Uni Watch.
Hallowe'en is tomorrow, but the University of Tennessee got a jump start on the holiday by breaking out their BFBS uniforms, this time complete with a BFBS helmet, which is new this year. As most of you know, I hate BFBS uniforms as a general rule, but there are some teams who do it right — and when they do, you gotta tip your cap to them. UT is one of those teams.
UT first introduced this black set last year, but unfortunately (supposedly due to supply chain issues), they were unable to add a black helmet, and as such, they didn't look quite right. But with the new black hats this year, the set looked pretty outstanding.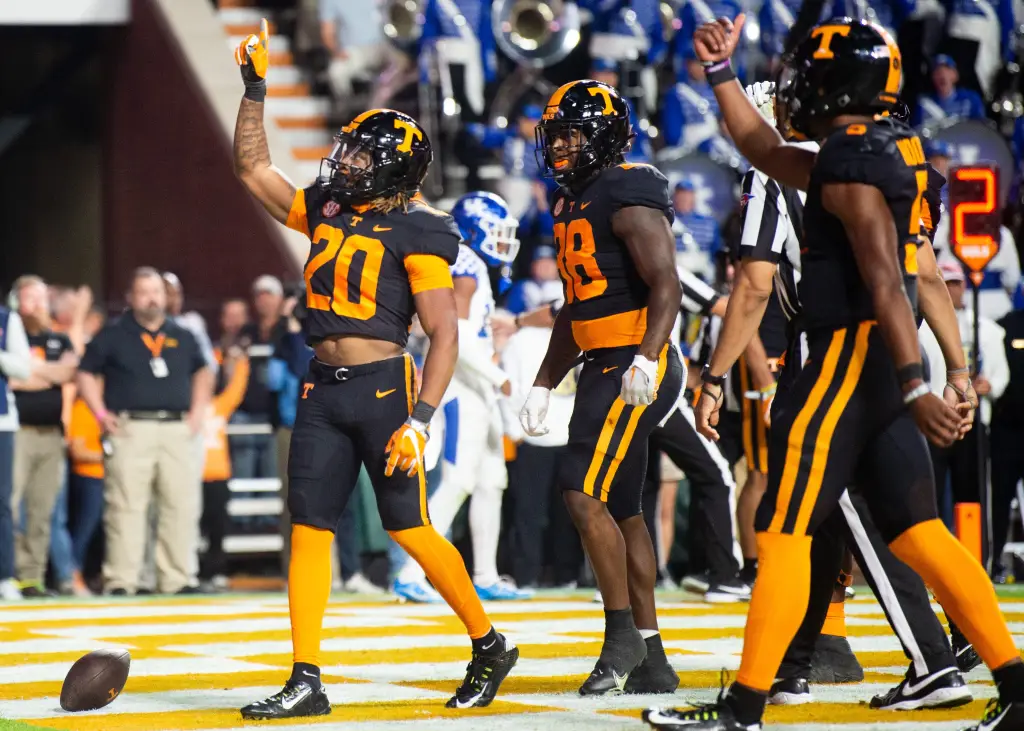 The combo of black and orange was perfect, the numbers popped, the striping was fantastic. And the festive holiday nature of the uniforms kinda excuses the BFBS — for this weekend anyway. As you can see from the splash photo, many players wore orange leggings, but more than a few did not — some went with black socks/leggings, which wasn't as aesthetically pleasing, while others were barelegged. But still, this was a fine looking uni.
Tennessee's opponent was the University of Kentucky, and they wore blue helmets and white jerseys/pants, so the game was an overall good looking affair as well.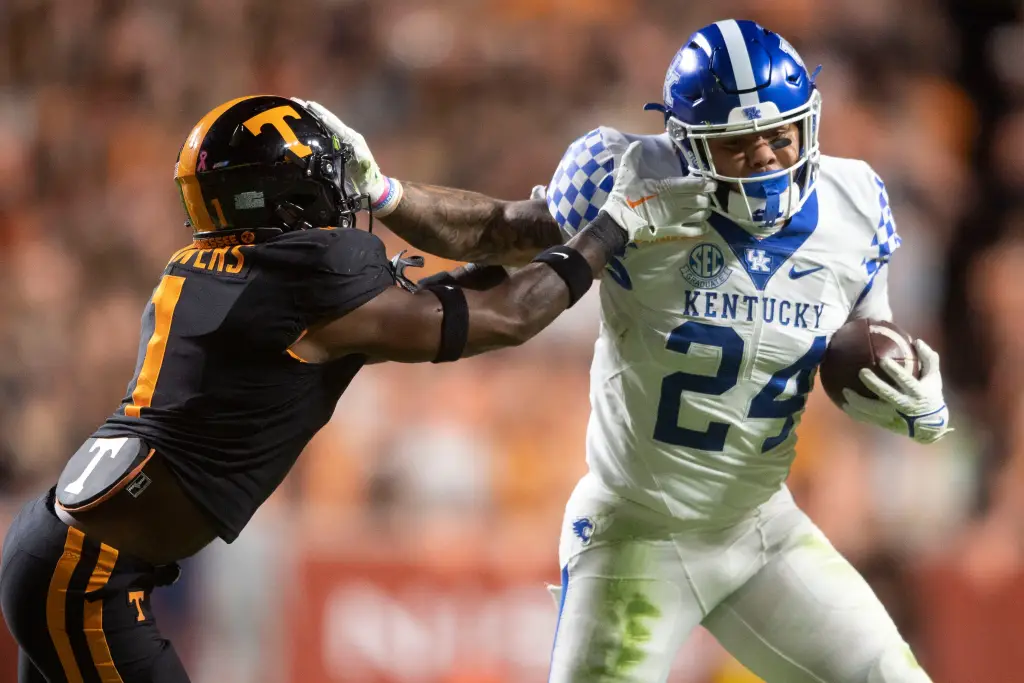 One not-funny-but-kinda-funny moment occurred during the game, when Tennessee's Jerome Carvin accidentally headbutted teammate without a helmet. Whoops!
You can see lots more game photos here. And for a history of UT's alternate uniforms in recent years, click here.
And with that, I'll now turn this over to Terry Duroncelet, Jr. who'll take you through the rest of your…
• • • • •
Sunday Morning Uni Watch
by Terry Duroncelet, Jr.
It's Halloween Weekend, which means that for all of college football, this is their last chance for the next year to do their worst before I go back to roasting them on November 5th. Tennessee did not pull any punches, so here's hoping D-1 (and maybe a little D-1AA) followed suit.
From Thursday:
• Washington State/Utah: Wazzu wore helmets that said, well, 'Wazzu' in their game against Utah, who wore their Aaron Lowe/Ty Jordan tribute helmets once again (closer look at that Cougs lid). While I was image hunting, I came across this gif, which I thought was really cool, and a great idea for fitting multiple action shots into one space (original article said gif is from).
From Saturday:
• SJSU/Nevada: The Wolf Pack wore white helmets with a 'CM 6' Spartan logo decal on the back of their helmets in their game against the SJSU Spartans. This was in honor and memory of Spartan Freshman Camdan McWright, who passed away earlier in the week.
• Fresno State/SDSU: Full navy togs (including helmets!) For the Bulldogs.
• Iowa/Northwestern: Best-looking game from Week 9, HANDS-DOWN.
• Minnesota/Rutgers: M A X I M U M   O V E R D R I V E  helmet decals for the Golden Gophers (and holiday-appropriate mono-black unis to-boot). There's a McDonald's joke here somewhere. On the other side of the ball, the Linen Knights wore their full-white uniforms. Ghostly!
• South Carolina/Missouri: Interesting helmets from Mizzou. At first when I saw the Tweet to this, my first thought was "I feel I would like it a bit more if the 'Tigers' script had a gold stroke", but once I saw them on the field, my thoughts quickly turned to "Nah, they nailed it". South Carolina also wore their garnet helmets.
• Florida/Georgia: [SIDE NOTE: Yes, I know that billing should technically be 'Georgia/Florida', but this flows better for obvious reasons.] The Bulldogs wore helmet decals in honor of recently-deceased Georgia great Charley Trippi. Aesthetics-wise, it was about what you'd expect (the blue pants for the Gators are a nice touch), but in the [holiday] spirit of things, it would've been nice to see Georgia in these (maybe even with the seldom-seen black helmets), and Florida in the orange unis. But this works. One final note: Georgia lost another legend in their ranks the day before this game; former Bulldogs coach Vince Dooley, the winningest coach in the history of the program. Due to the timing, they were not able to manifest any sort of uni-based memorial. They do have something planned for next week, however.
• Florida State/Georgia Tech: Another F/G Line game was taking place, and Florida State broke out the white helmets again. This time though, they had garnet facemasks in place of the white.
• Texas Tech/Baylor: Throwback uniforms for the Red Raiders.
• Syracuse/Notre Dame: Christopher Moretti notes: "You see misspellings on uniforms reasonably regularly, which is nevertheless worth a submission in general, but I found one today particularly interesting because it had to do with punctuation, putting a hyphen in the wrong spot in a three-word last name: Syracuse misspelled (mis-hyphenated?) their own QB's name on his uniform in Saturday 10/29's game versus Notre Dame. QB Carlos Del Rio-Wilson's nameplate showed "DEL-RIO WILSON"."
• Virginia/Miami: Virginia's coaching staff wore pink jackets in their game against Miami.
• Michigan/Michigan State: Contrast Matters: Great White North Edition (please don't kill me if that's not the right usage of "Great White North", I've been a desert-dwelling Southern transplant my entire life). The highlight of course is the latest variation of the Spartans' white helmets, which feature a Spartan head logo in white edged in green (closer look). The Wolverines wore their mono-blues, but a lot of them were also wearing maize socks, which I think really brought the look together. Lastly, Moe Khan on Twitter noticed a Michigan player's Jumpman logo was on the incognito side.
• FAU/UAB: Because it's otherwise IMPOSSIBLE to show you via game photos (at least, in detail), FAU wore palm trees on the back of their helmets in their game against UAB.
• Georgia State/Old Dominion: The Panthers had a star-spangled logo at midfield on Saturday against Old Dominion.
• Tulsa/SMU: Red tops for Tulsa.
• Boise State/Colorado State: Boise State getting into the holiday spirit in a non-black-inclusive way against Colorado State.
• UAlbany/Stony Brook: Another rare FCS mention, with the Great Danes of UAlbany wearing BCA pink decals and stripes against rival Stony Brook (closer look).
• Colorado/Arizona State: @FSU561 on Twitter spotted a relic from the past: a Flywire jersey STILL IN USE in 2022! For those who (understandably) don't keep up with Nike's hootenanny, the Flywire collar was designed in 2011 or so to act as a pre-2012 Dallas Cowboys-style tie-down for the jersey tops. It faded into obscurity, I would say around 2015, 2016. Maybe it's a preference thing? Or maybe they were just trying to use up some NOS?
And with THAT, Week 9 is in the books, as is October. The 'Ween isn't until tomorrow, but at any rate, have a spectacular Halloween, full of fun, scares, tunes, a hefty dentist bill (unless you have insurance, in which case it'll only be partially-hefty), and I'll see you next week!
• • • • •
Thanks, TJ — fantastic stuff as always. Next up is Wade with your…
---